Foster Siyawareva has a quiet, solid presence that you quickly notice, even in a large space. He has a pleasant, ageless face, and only the grey in his hair hints at his years. Impressively, Foster was one of the first black Zimbabweans to earn the prestigious qualification of Professional Hunter and Guide in the country.
He became a guide before I was even born, and his lifetime of experience shows in his calm and professional demeanour, and the respect he has for the bush. His solemn manner breaks easily, and his eyes twinkle mischievously as he laughingly regales us with a story or joke beside the camp's fire.
When asked how he came to be a guide, Foster recounts: "I was really interested in the bush when I was a young boy looking after cattle. I used to see birds and trees, and I would ask my grandmother and my mother about them… so I was always interested, even in those days".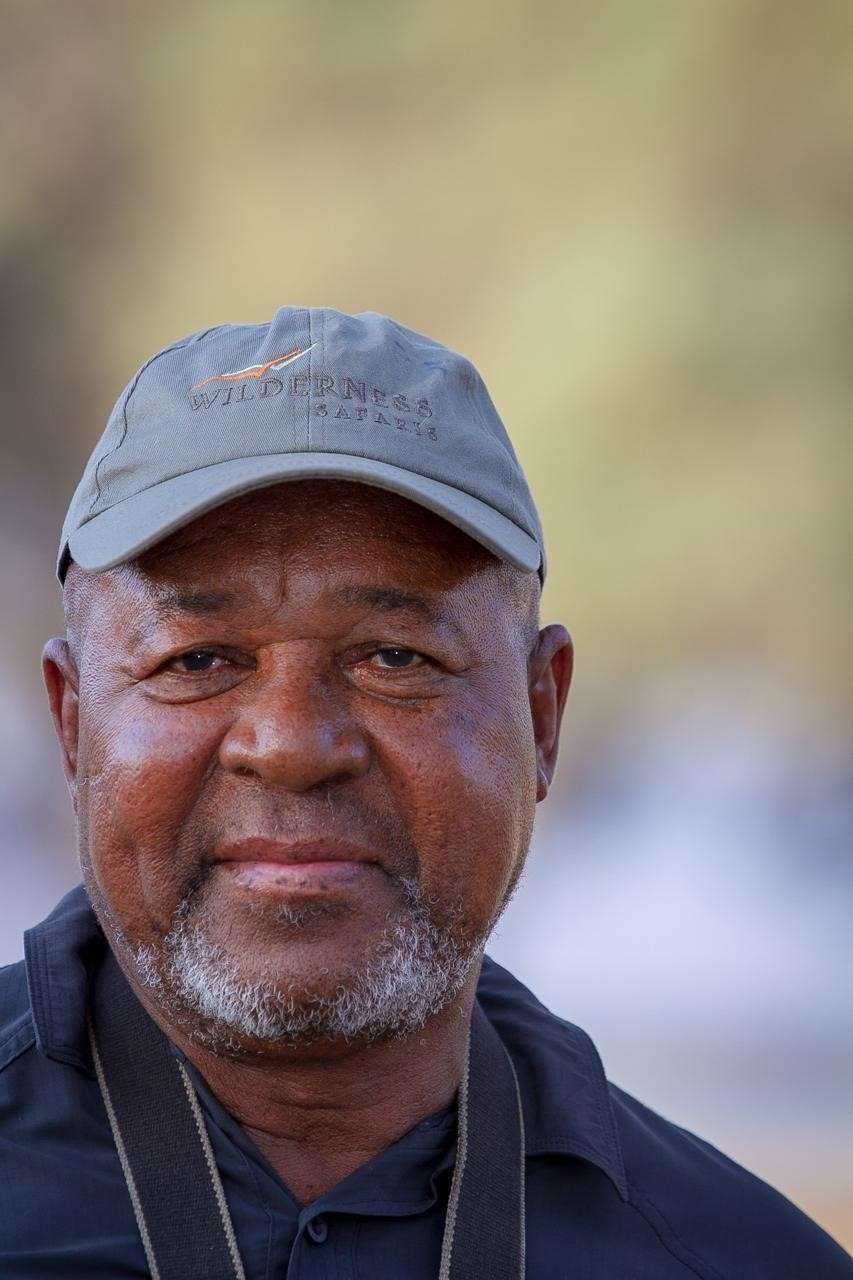 "I remember the first trips that I led as a guide, at Lake Kariba on Fothergill Island. When I took my guests out I was afraid of getting close to lions because…" At this, he chuckles, "I had no experience! So my vehicle used to be parked quite far from where the cats were".
When I began guiding, my main mentor was Mr Johnson, when I was working at a ranch, way down in the Lowveld. He started teaching me about the law, hunting and guiding.
In 1984, after years of apprentice guiding, Foster received his full licence. He is certainly no longer afraid of the bush and the animals, but knows to respect them. One thing that has remained throughout his 35 years as a guide, is that when it comes to safety he takes it very seriously. When I ask him about his experiences over the years he tells of a face-to-face with an aggressive lion that had been wounded after stepping on an anti-personnel mine on the Mozambique border. This and countless other experiences, both wonderful and hair-raising, explain his encyclopaedic knowledge, his affinity with the bush and his calm yet alert demeanour when in the wilderness.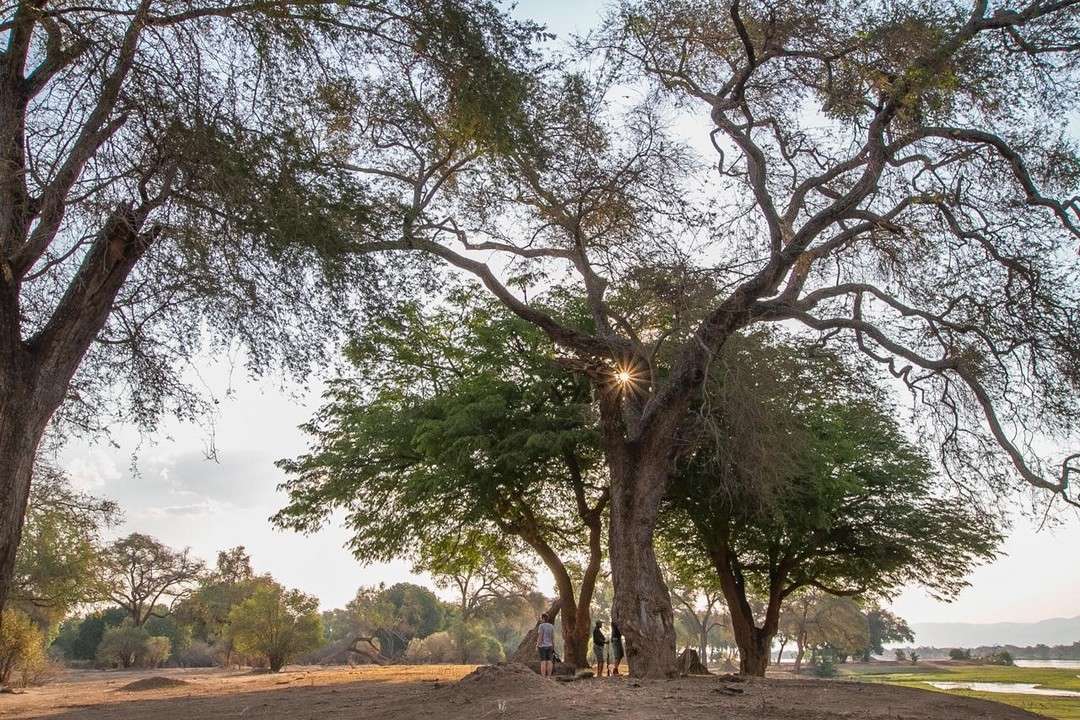 If there is anyone you want to accompany you on a walking safari in the presence of large, potentially dangerous game, Foster is that person. I got to have just such an experience at Chikwenya Camp when I fulfilled a lifelong dream of walking with a large bull elephant in Mana Pool's iconic albida forests.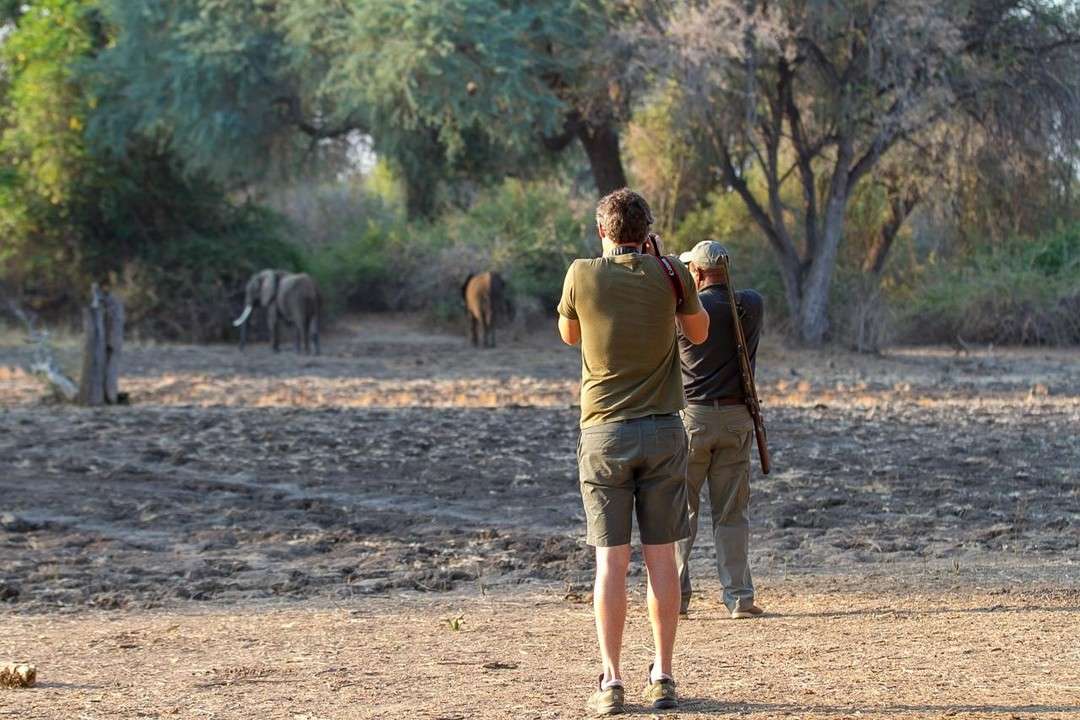 As we walked underneath the majestic trees my senses were heightened, my pulse racing, saliva quickening in my mouth, my ears alert to the crackle of leaves underfoot as we approached a large bull elephant. Before we left the vehicle Foster had explained that it was likely the bull would mock charge, and we were to simply stay motionless behind him in the event that this happened. We walked in single file behind him at a steady pace and an obtuse angle, giving the bull a chance to view us.
As we drew closer my heart appeared to jump into my throat, I could hear every beat loudly in my head, and I had the thrilling sense of being very alive. We got to about 20 metres away and paused. The bull turned and faced us, eyed us out for a few long seconds and then lumbered forward towards us at an alarming pace. Foster stepped forward and confidently shouted "Hey, go back!" while meeting the elephant's charge head on…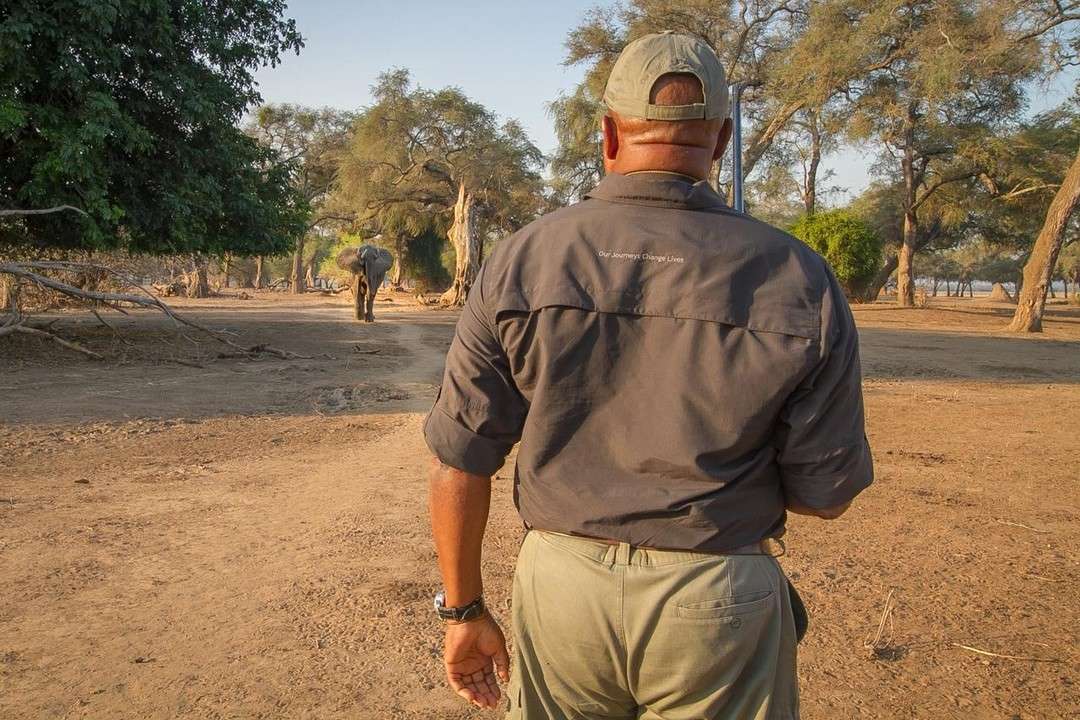 I obeyed our instructions to remain motionless behind him (whether this was willed or due to sheer paralysing fear I am not sure), and the elephant stopped in its tracks mere metres from Foster. It eyed him and, seemingly content with his confidence, pivoted and started moving away.
Once he was sure of the elephant's retreat, Foster turned back towards me with an easy grin and a raised eyebrow, as if to say, 'Wasn't that an experience?!" He returned and motioned that we should retreat. However, my knees appeared to have forgotten their function and it was a few moments before my quivering legs would obey my mental commands before we walked slowly away. Foster was entirely calm. He was aware and alert but seemingly unaffected by the fact that mere moments before he had stood down a charge from several tonnes of bull elephant. Adrenaline coursed through my body and I was ecstatic at having had such a special experience, so safely.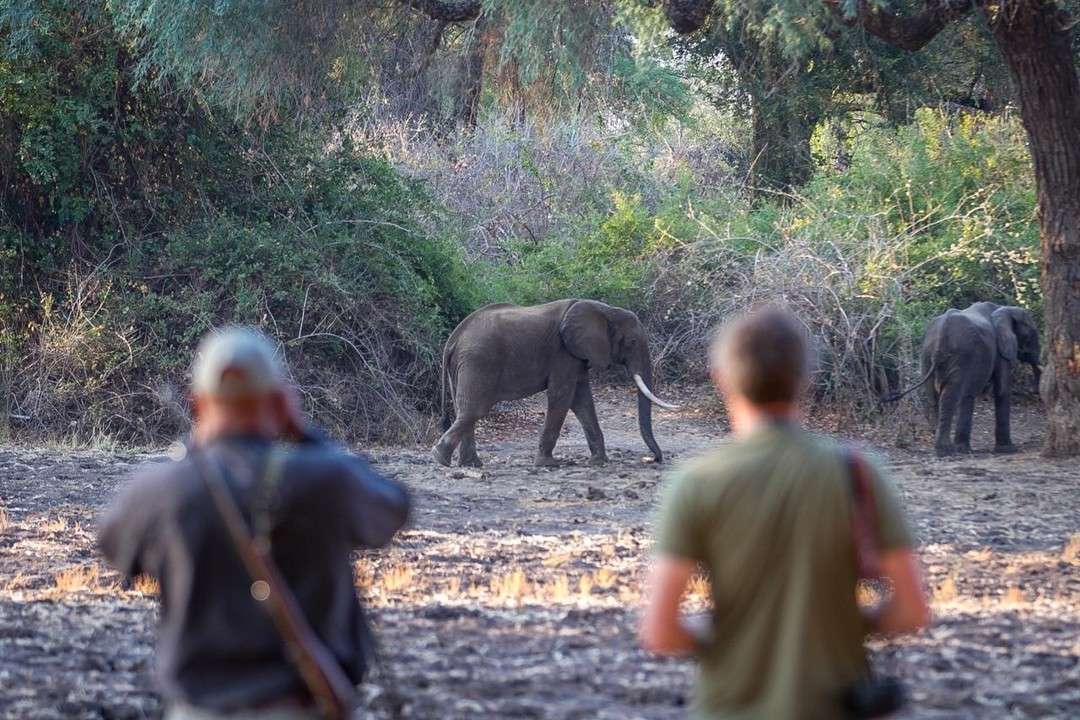 Over the course of the next few days with Foster we had other, equally special moments with wildlife, all enhanced by Foster's knowledge. We walked again with elephants – this time the luck of the wind meant we could approach and watch without them being aware of our presence. Watching three large bulls graze peacefully surrounded by a troop of foraging baboons was an incredibly special experience. We felt as if we were bearing witness to an undisturbed Eden.
Knowing of his time spent with nearly all of Zimbabwe's iconic big game animals, I ask Foster which is his favourite. I am surprised to learn that the big man has a soft spot for a tiny creature. "My favourite animal, I love it, is the smallest antelope – called a suni; it's VERY small". He laughs just thinking of it, shaking his head and emphasising its diminutive size. This love of all creatures big and small is also evident in his birding ability. Foster can recognise calls from afar and is adept at ferreting out the hardest to find species; from the eastern nicator to racket-tailed rollers and Livingstone's flycatchers, we saw them all in my few days in Mana Pools with him.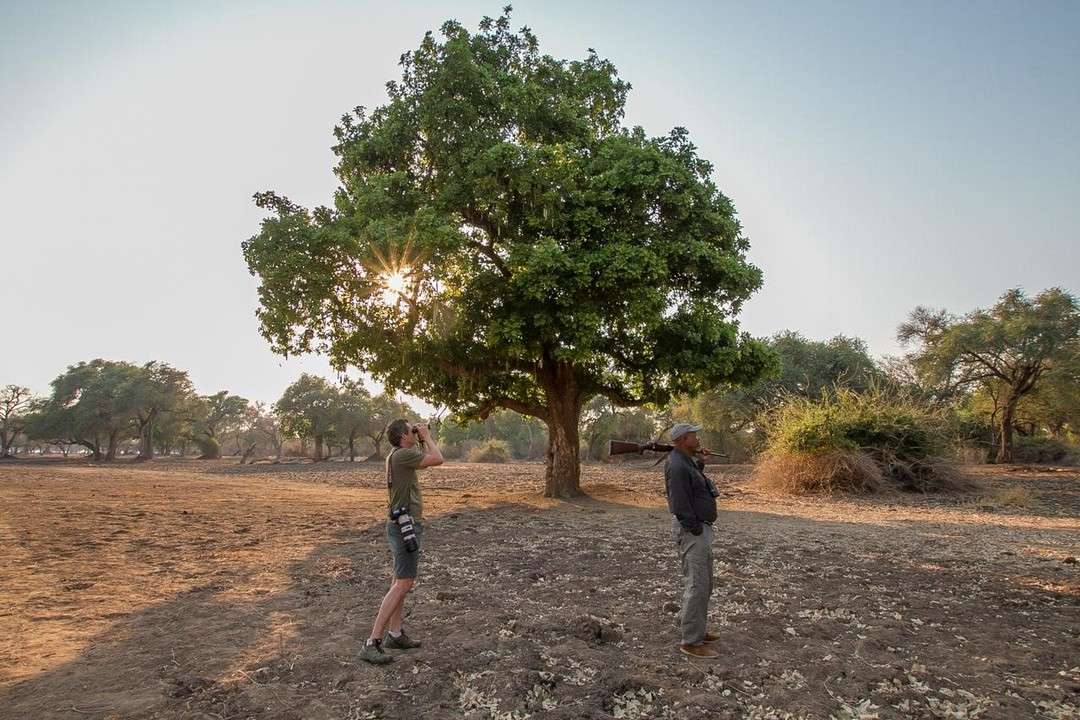 He also offers some advice to young guides in the industry. "My first piece of advice would be to work hard to put tourism on the map! The second thing is that you must have discipline. If you don't have discipline it will be a problem".
If you would like to be guided on safari by Foster Siyawareva – he guides at Wilderness Safaris' luxurious Chikwenya Camp situated on the eastern boundary of Mana Pools National Park. Chikwenya is open seasonally between April and mid/late November.
Written and Photographed by Sarah Kerr
"If there is anyone you want to accompany you on a walking safari in the presence of large, potentially dangerous game, Foster is that person. "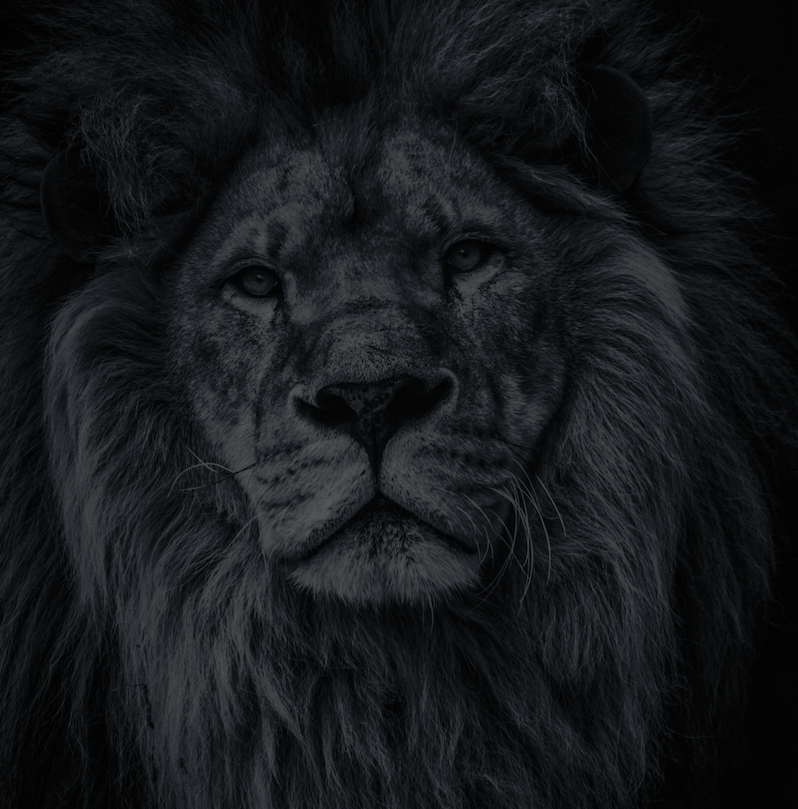 Let's plan your next journey
Ready?
When we say we're there every step of the way, we mean it, literally. From planning the perfect circuit, to private inter-camp transfers on Wilderness Air, and easing you through Customs. We're with you on the ground, at your side, 24-7, from start to finish. Ready to take the road less travelled? Contact our Travel Designers to plan an unforgettable journey.