You'll be spoiled for choice at Wilderness Abu Camp, one of our most stunning, activity-rich camps in Botswana's Okavango Delta, specifically the 180 000-hectare Abu Private Reserve. Adventures await on both land and water, as well as the skies – with thrilling helicopter excursions over the Delta's vast mosaic of watery blue channels, perhaps en route to the ancient Tsodilo Hills, sacred to Bushman culture. Wildlife around Abu is prolific, given its varied settings of woodlands, grassy floodplains, waterways, and palm-studded islands. Elephants abound, as does a variety of plains game and big cats. It's a birding hotspot. In-camp and bush 'wow' experiences keep coming. And coming.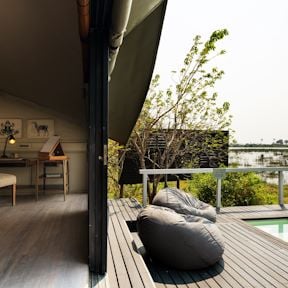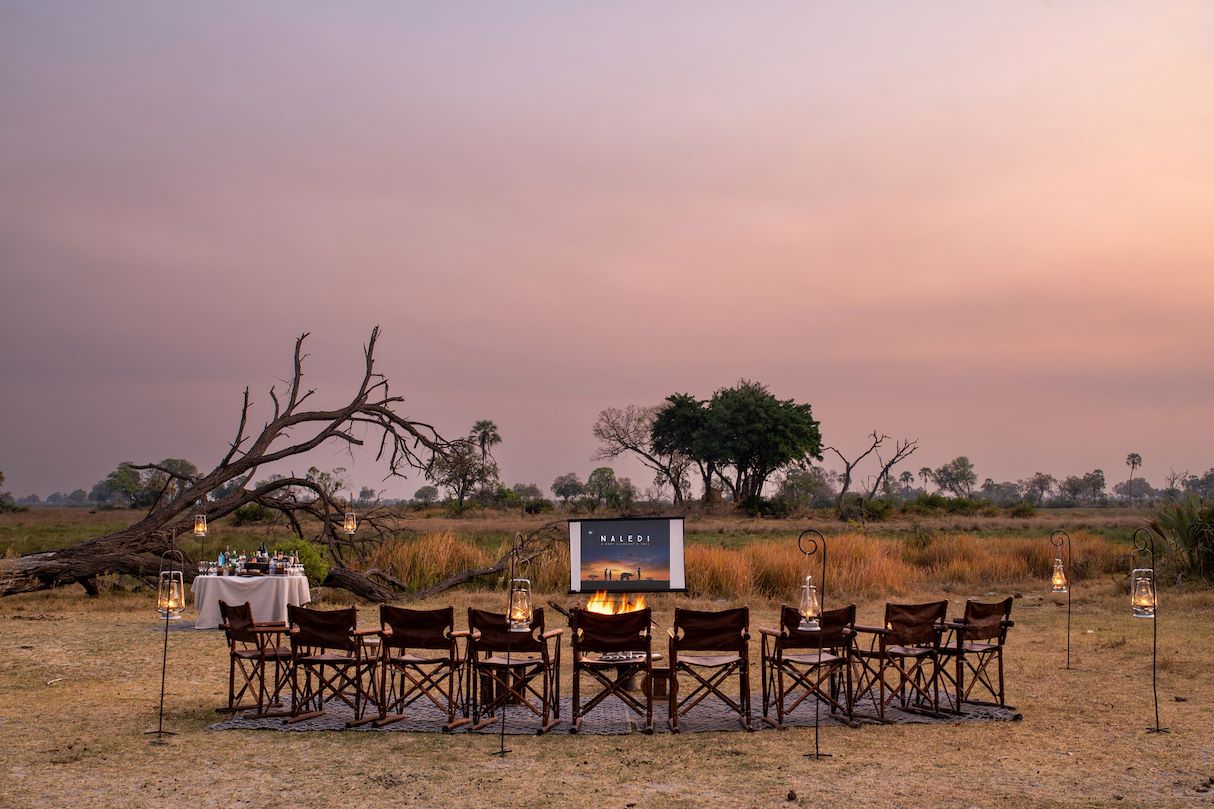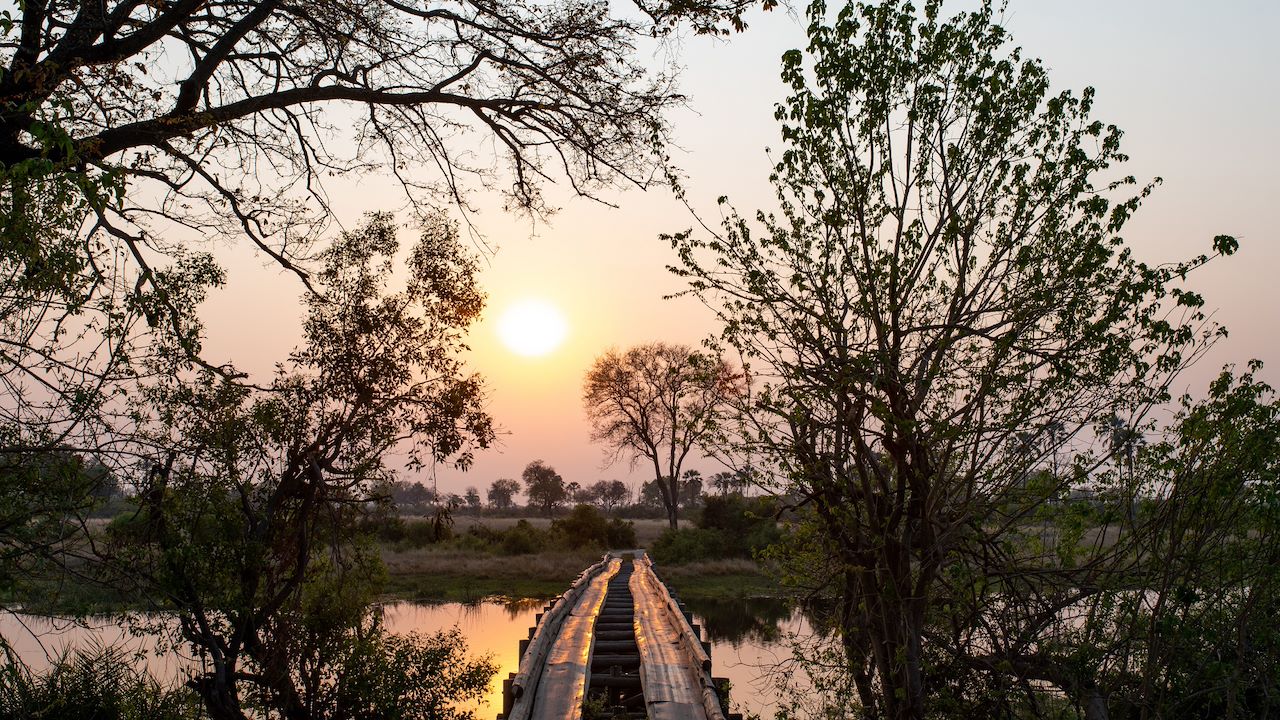 ON LAND
Game Drives – by day, set out in search of a host of creatures such as lion, leopard, hyena, possibly African wild dog, and plains game including buffalo, wildebeest, giraffe, zebra, and a multitude of antelope. Night drives might yield an adorable bush baby or two, or an aardvark scouring for termites.
ON THE WATER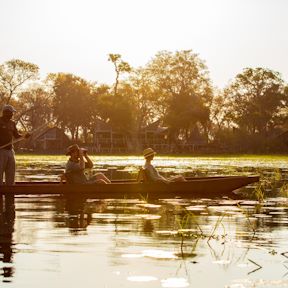 Mokoro Rides (seasonal) – gliding along in a traditional dugout canoe, through the reeds and over clear, pure water laced with water lilies, is definitely one of the highlights of an Okavango visit. Your professional poler – standing at the stern like a gondolier – navigates gently through the channels, sharing all he knows of the creatures calling the water home. Tiny reed frogs, otters, various birds, fish, and others may appear all around you – as well as larger game coming to the water to drink or bathe.
Boating – pick up the pace in a Delta boat, humming through the channels past spectacular landscapes and various game: hippos or crocs in the water, perhaps, red lechwe leaping across it, elephants and others on shore. End the day with sundowners on the water… a true Delta experience!
Fishing (seasonal) – if you want a bit more action on the water, Abu offers fly fishing (on a catch-and-release basis, and prohibited during January and February, which are breeding months).
IN THE SKIES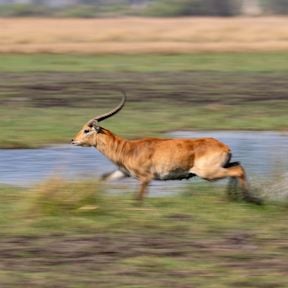 Scenic Helicopter Flights (at extra cost) – the best way to appreciate the Okavango's size and design. From the air the Delta looks like an abstract painting with swirls of blue on green. Flights last 30, 45, or 60 minutes, with a minimum of two guests and maximum of five or six, depending on the helicopter.
Every day at Abu, invites something new to explore …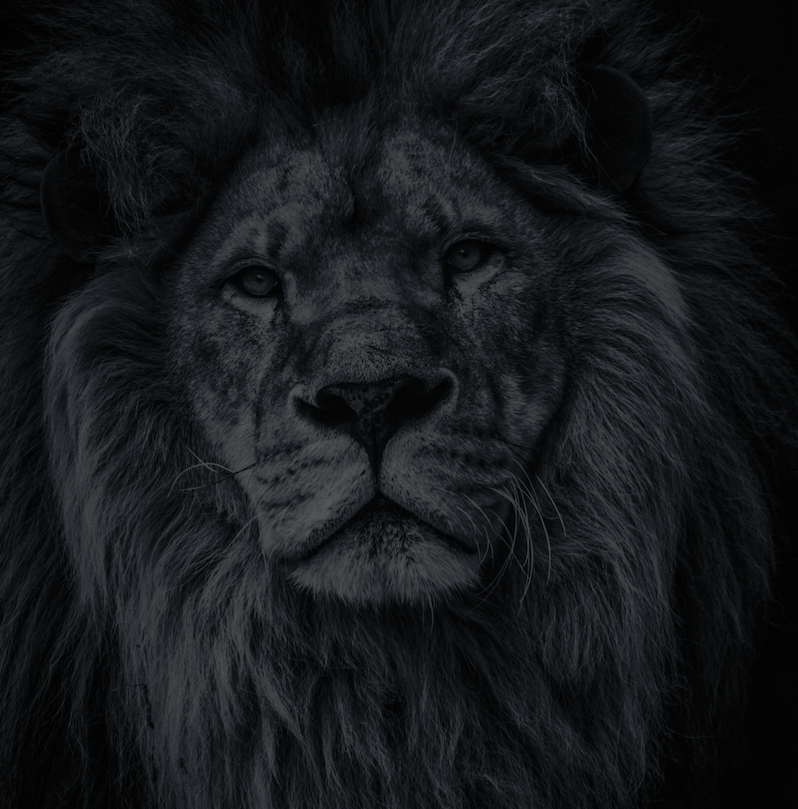 Let's plan your next journey
Ready?
When we say we're there every step of the way, we mean it, literally. From planning the perfect circuit, to private inter-camp transfers on Wilderness Air, and easing you through Customs. We're with you on the ground, at your side, 24-7, from start to finish. Ready to take the road less travelled? Contact our Travel Designers to plan an unforgettable journey.