Guests making use of the new Bisate Kwanda Day Lounge have local craftsmen and women to thank for its uniquely Rwandan flavour. From hand-tooled wooden utensils and food boards to delicate crockery; striking entrance floors and hallways, volcanic rock walls and facings; hand-woven lightshades, placemats and garden pots; everything has been designed and hand-crafted by Rwandans to create a truly authentic ambience.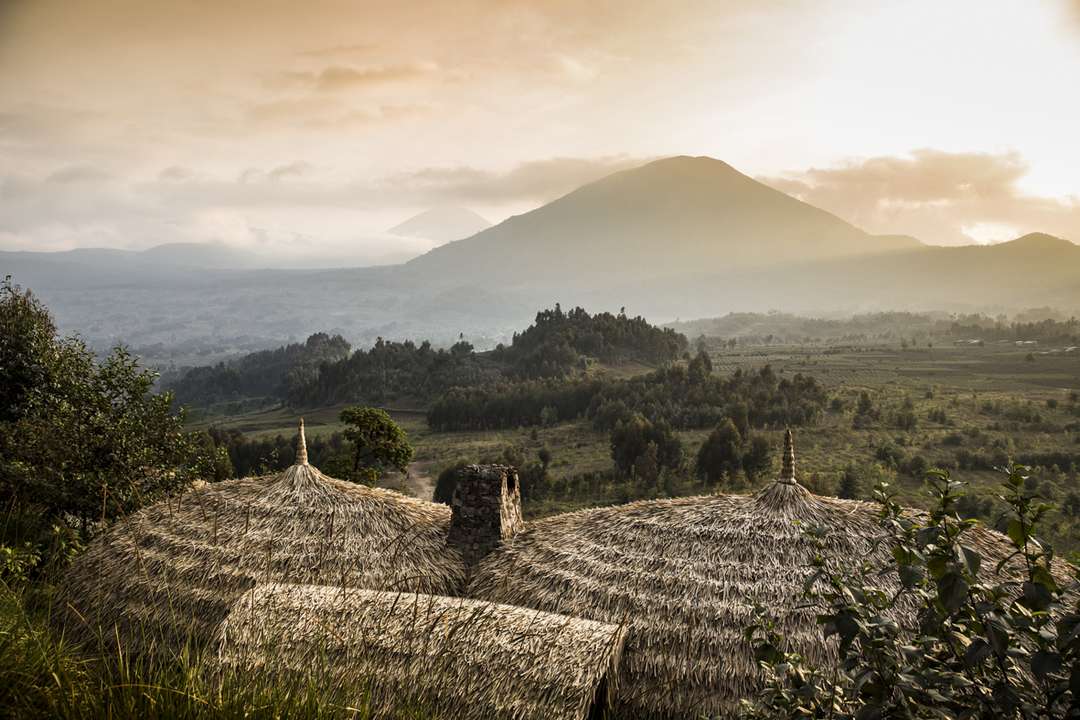 Tugirimana Woodworks
Since he was a young man growing up in rural Rwanda, qualified computer professional Patrick Tugirimana loved working with wood from the surrounding forest. A passion that eventually turned from a hobby into a thriving full-time business. Today, his eponymous Tugirimana Woodworks is a respected Rwandan company specialising in kitchen and home essentials, burnt live-edge tables, solid dining table sets and high-end home furniture and decorations. Patrick's work is minimalistic and imbued with a timeless modernity.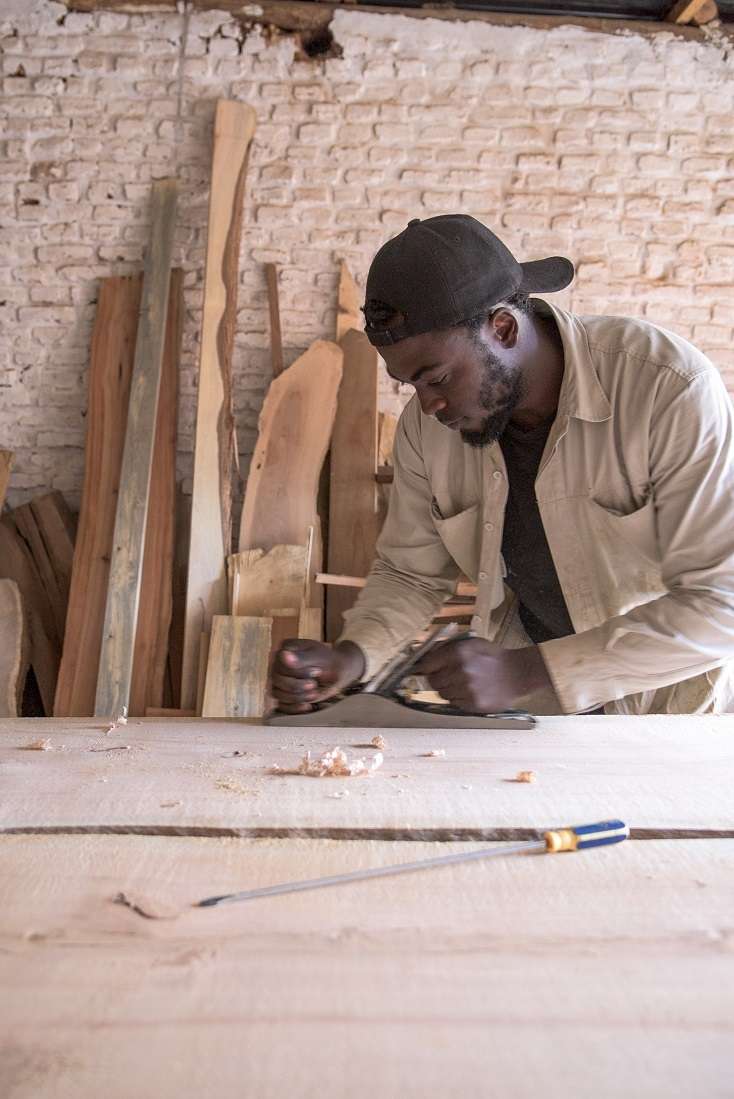 The essence of his craft lies in the use of only the highest quality hardwoods, such as red eucalyptus, sourced from conflict-free areas in East Africa, preferably from Rwanda itself. Every piece is lovingly hand-crafted to bring out the wood's unique character, colour and grain.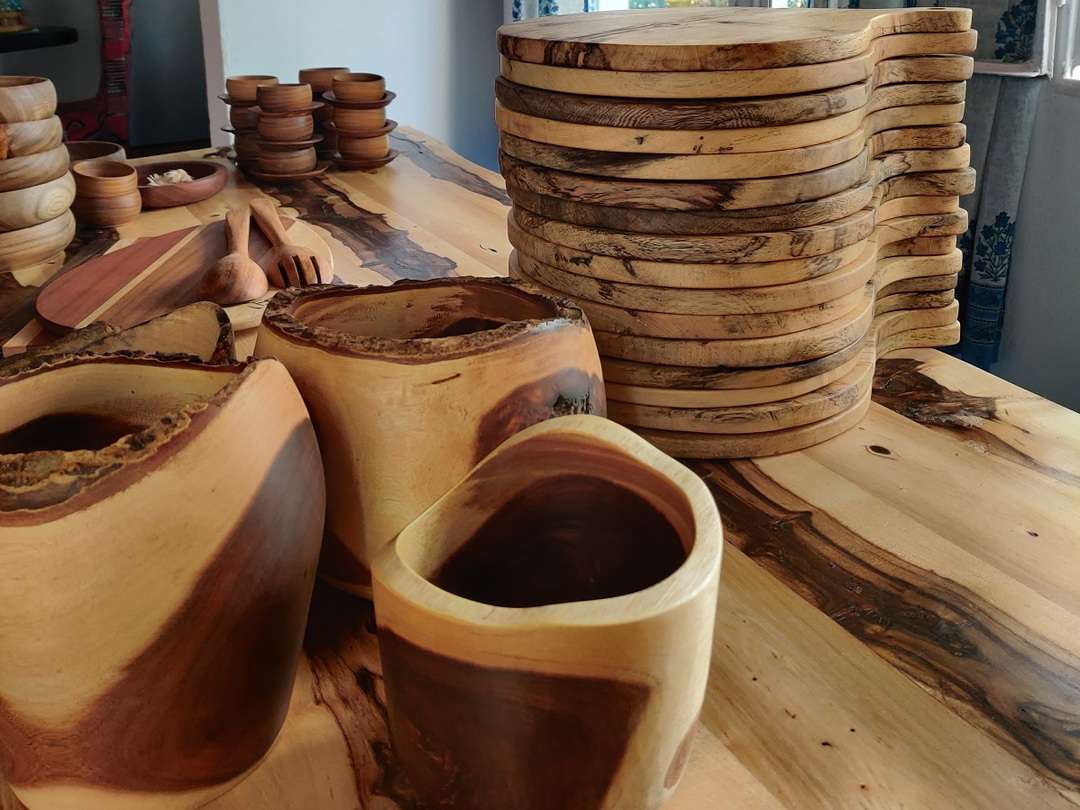 For the Bisate Kwanda Day Lounge, Tugirimana Woodworks provided custom-made pizza boards, mezze platters, three-tier food serving trays, wooden bowls and more.
Kigali Pottery
Kigali Pottery is a producer and collector of handmade pottery. Part of its mission is to use pottery to generate employment in rural areas. Rwandan pottery has a rich tradition dating back to the mists of time. Much of the work produced by Kigali Pottery Collection is still made on a wheel – ensuring each piece is an original – and includes a wide variety of products such as glazed ceramic cups, plates, decorative vessels, flowerpots, candle holders and vases.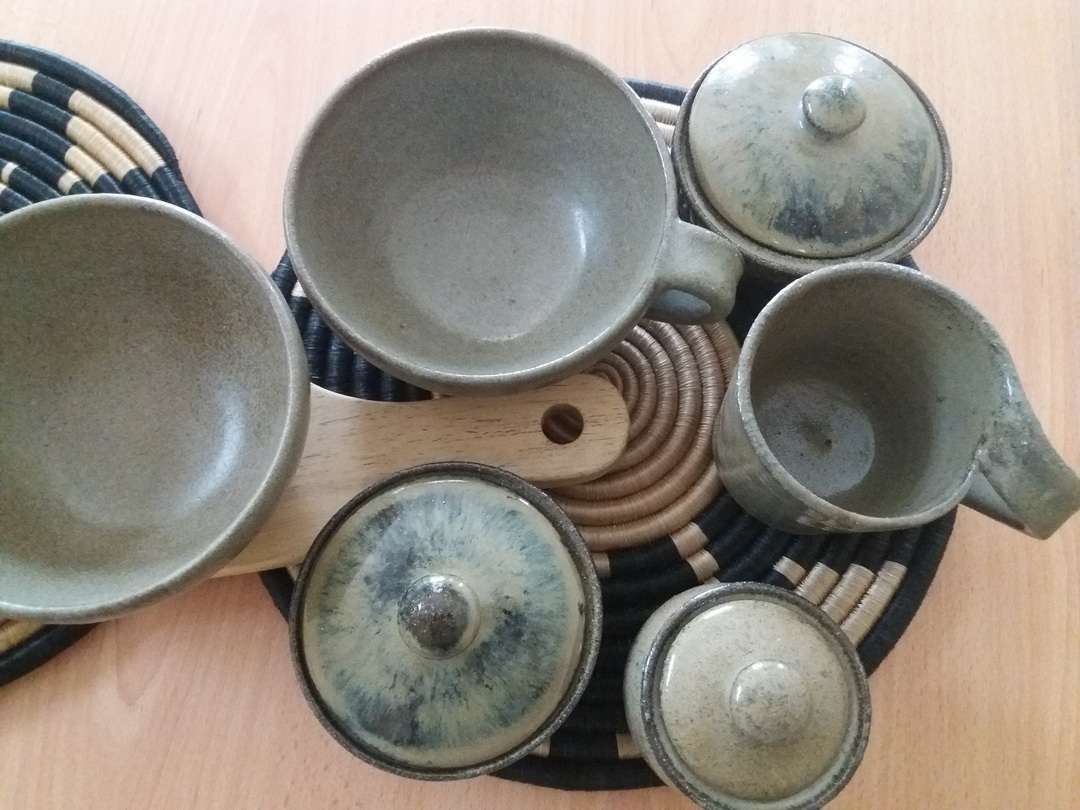 Guests at Bisate's Kwanda will enjoy their homemade soup of the day (with fresh ingredients from the organic garden) in custom-made soup cups from Kigali Pottery, while their Rwandan coffee will be served in delicate Kigali Pottery coffee mugs.
Jean Pierre Munyandinda's "Crazy Paving"
One of the first things guests will notice when arriving at the Day Lounge is the stunning entrance floor made from locally procured slate. Along with the corridors and bathrooms in the Day Lounge, they are the work of Jean Pierre Munyandinda, who was employed by the construction company responsible for the volcanic rock tiles in the bathrooms of the Bisate Forest Villas.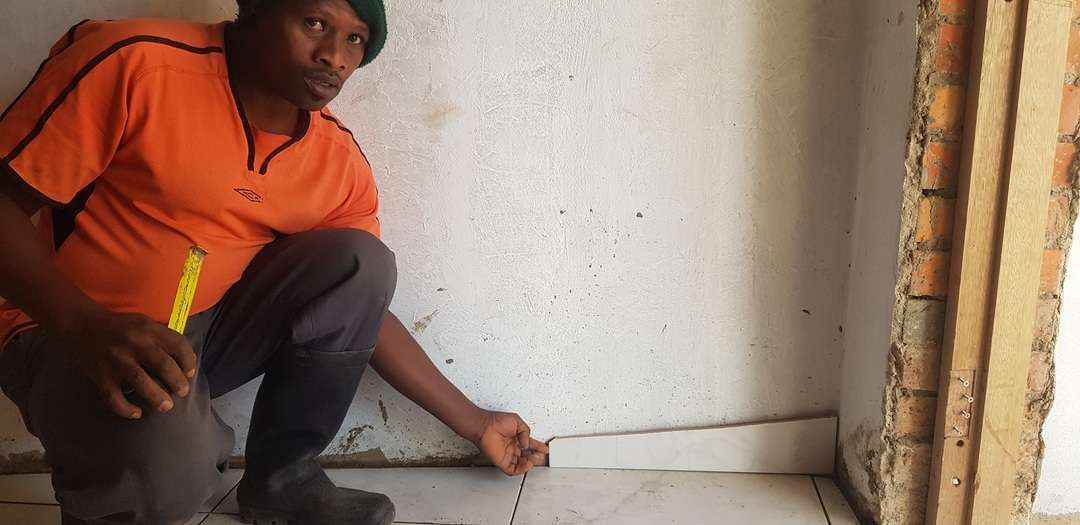 In 2017, because of the popularity of his work, Jean Pierre moved from Bisate to the capital Kigali, where he now fulfils floor and tiling orders for clients throughout Rwanda and across its borders.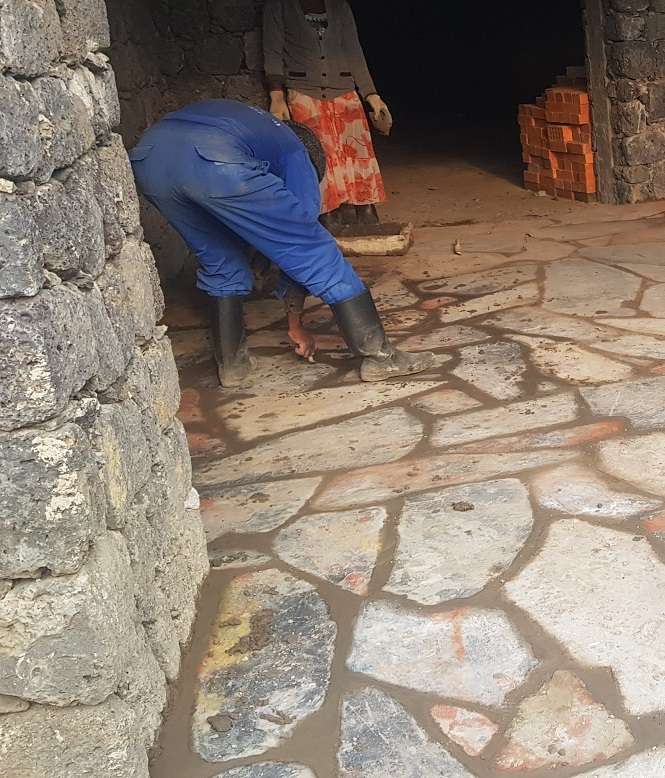 But for the floors of the Bisate Kwanda, he returned in person to his home village to complete, in his own words, "a labour of love". And what is now affectionately called Jean Pierre's crazy paving by the staff at Bisate.
Festo Nizeyimana
Bisate Lodge enjoys a long-standing relationship with Festo and his team of volcanic rock craftsmen. Over the years, he and his team have built pathways, supporting and decorative walls, and even a small cover around the gorilla sanitiser dispenser that welcomes guests at the arrival area.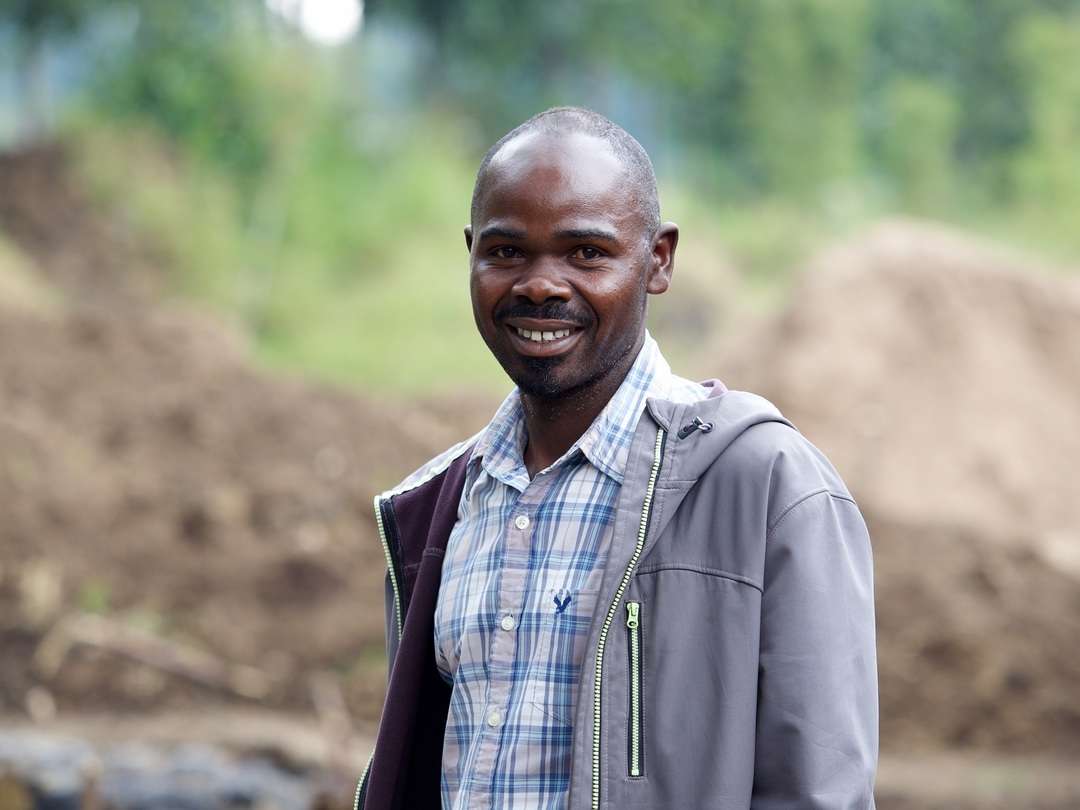 For the Bisate Kwanda, Festo and his team assisted us once again by building the pathways and vegetable beds for our organic garden.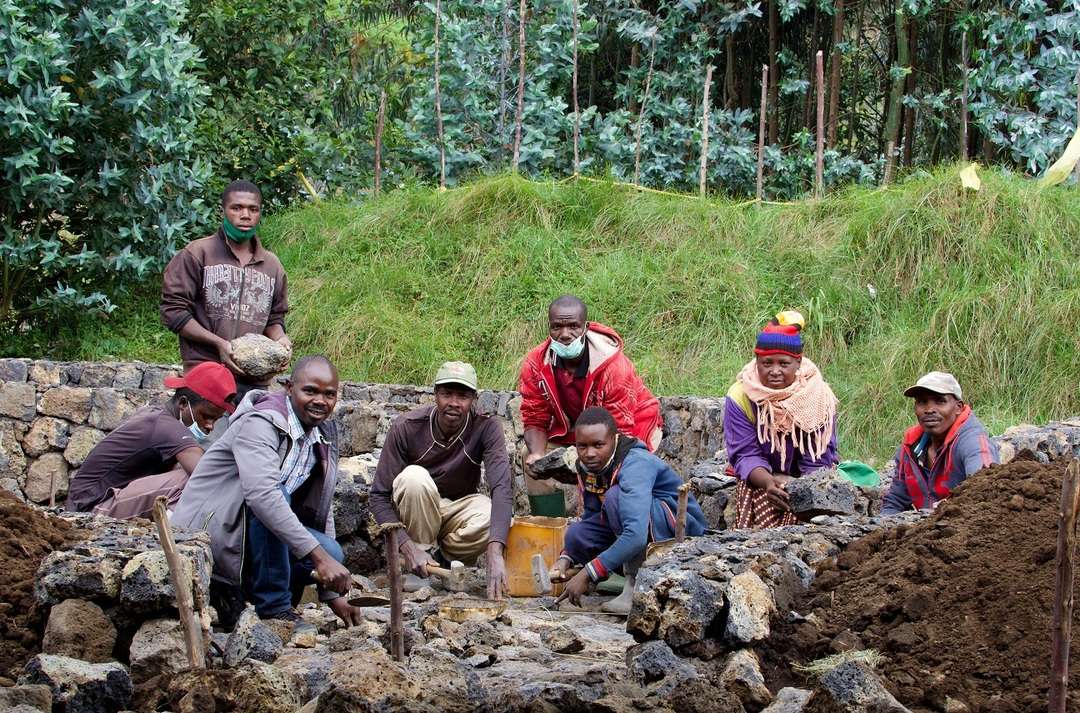 Irene Nyirampuruza and Her Mother
Irene and her mother assisted us with beautiful traditional baskets which we have repurposed into refreshingly unique ceiling light covers. These traditional Rwandan baskets are called Vintage Tutsi Vase. Irene purchases all the materials she needs in southern Rwanda and uses them to fashion exquisite baskets at her Kigali home.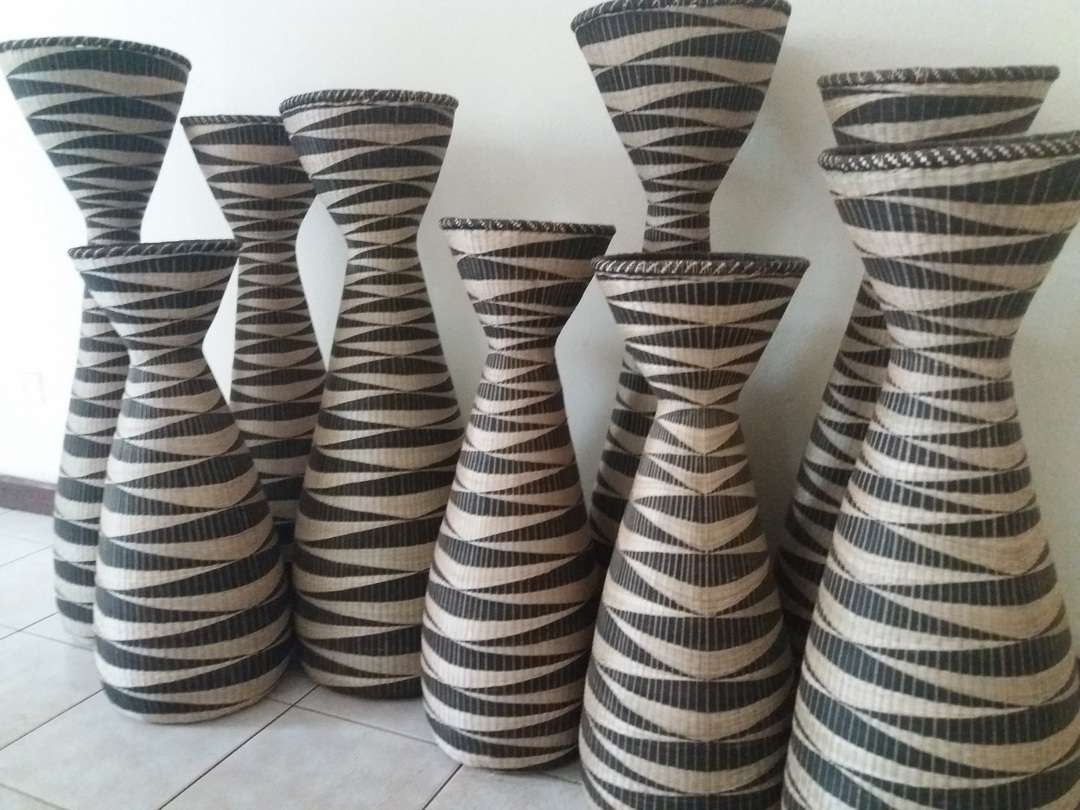 Azizi Life
Azizi Life started as a Rwandan initiative in 2008 with the aim of providing fair wage income to predominantly female artisans, by promoting and marketing their work to global customers. Today, Azizi Life works with over 40 artisanal cooperatives, some of whom host our guests on cultural experience days. With the income they receive, they feed, clothe, and provide education for their children, build better homes and are becoming leaders in their communities.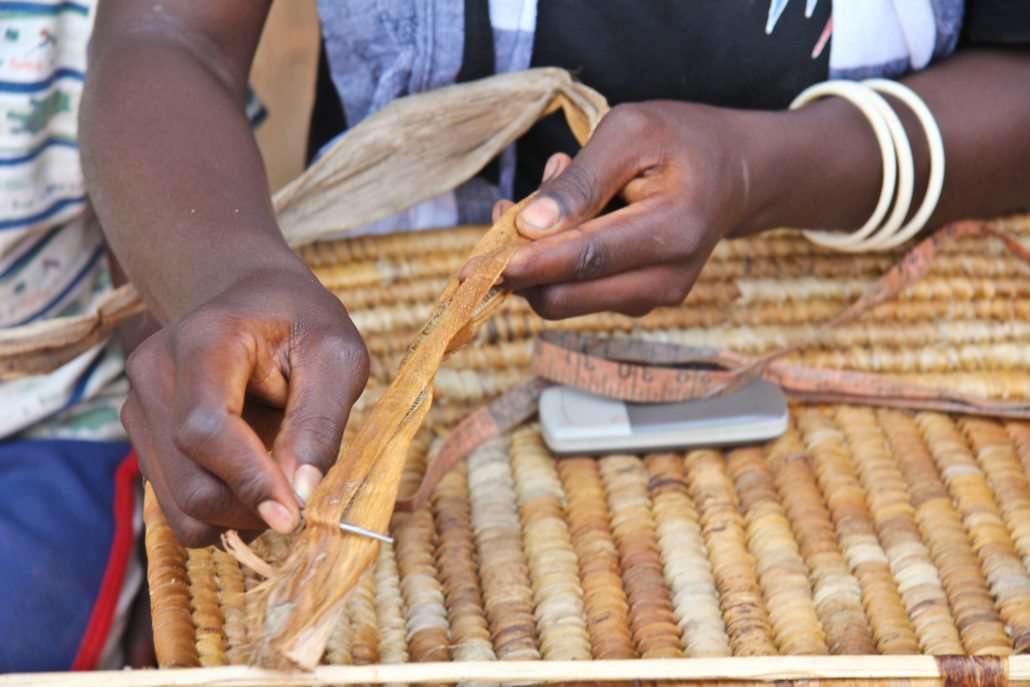 For the Bisate Kwanda, Azizi Life artisan partners supplied us with custom-made placemats and serving trays.
Niyigena Habineza's Planting Pots
Niyigena is a talented young Rwandan who makes garden pots and sells them on the streets of Kigali. For the Bisate Kwanda we ordered his pots in which we now grow herbs, vegetables and flowers. Guests will be able to admire his handiwork as one of our resident chefs gives them a tour of the Day Lounge's organic garden, or while they enjoy lunch on one of the terraces overlooking the garden.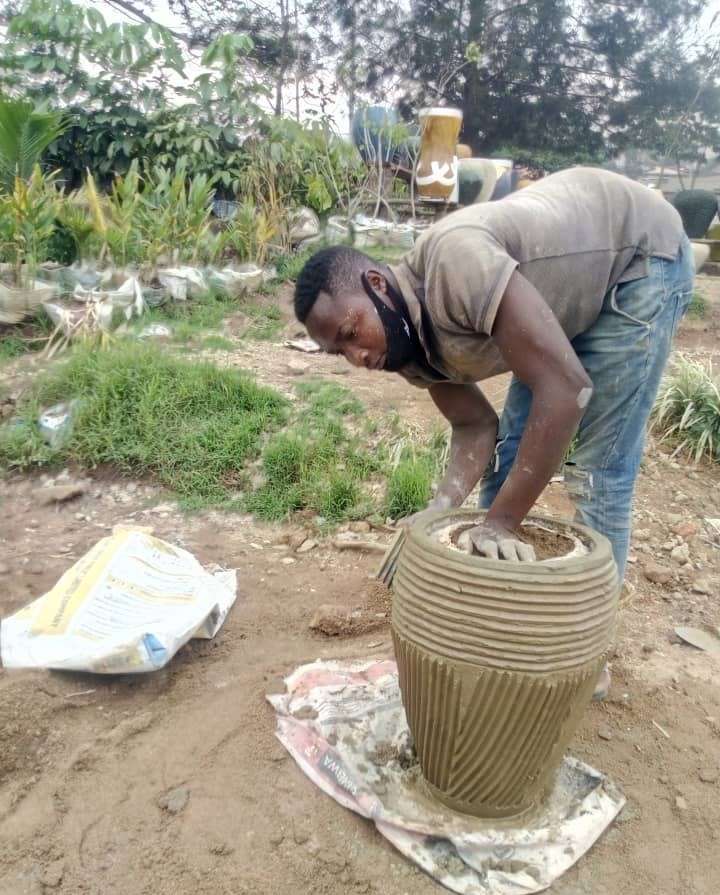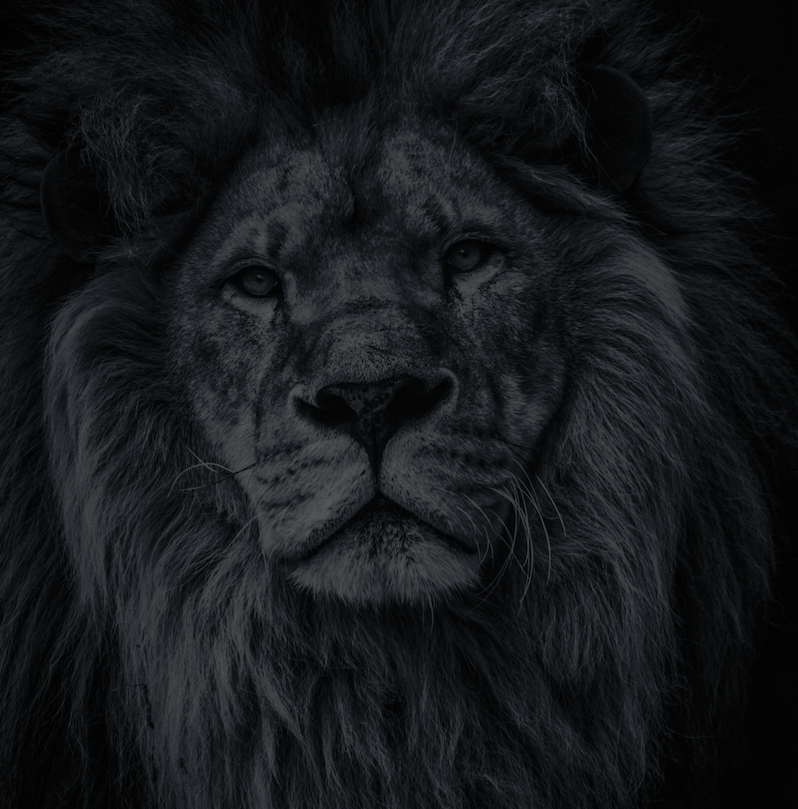 Let's plan your next journey
Ready?
When we say we're there every step of the way, we mean it, literally. From planning the perfect circuit, to private inter-camp transfers on Wilderness Air, and easing you through Customs. We're with you on the ground, at your side, 24-7, from start to finish. Ready to take the road less travelled? Contact our Travel Designers to plan an unforgettable journey.