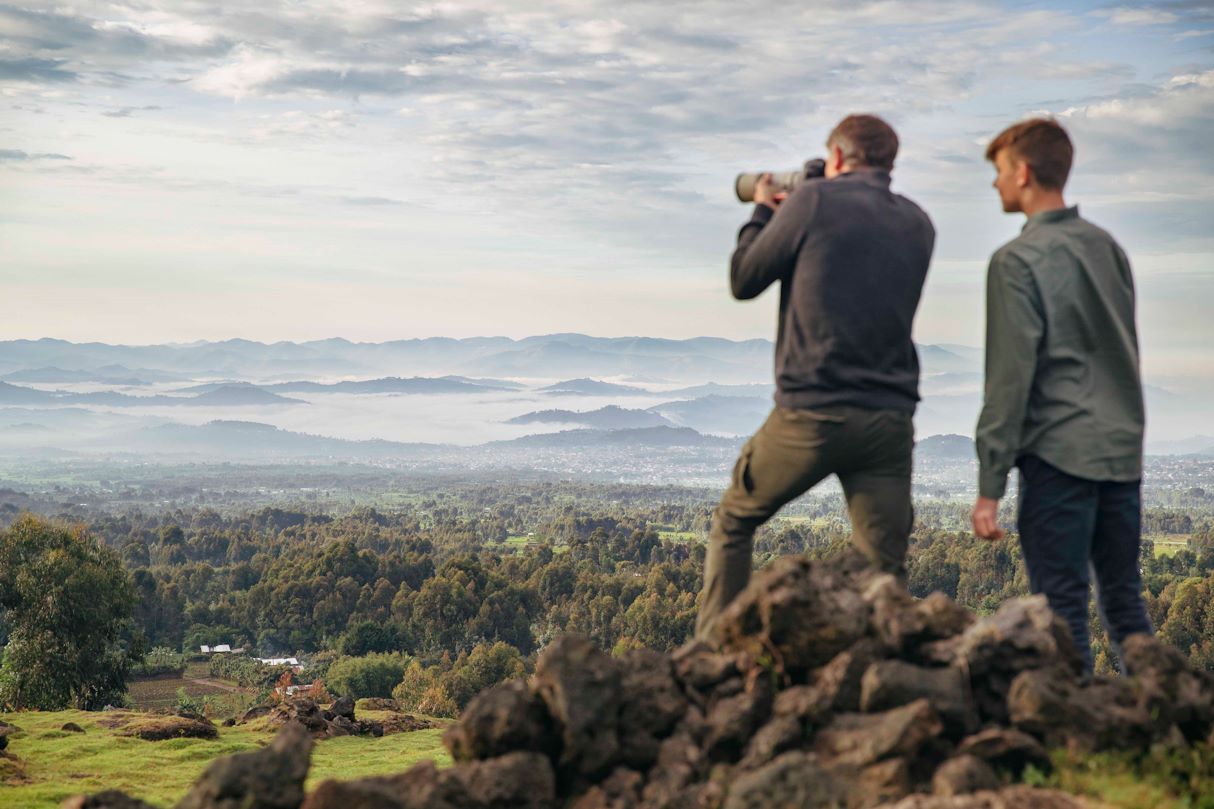 Rwanda
Volcanoes
Immerse yourself in the beauty of Rwanda's Volcanoes National Park, with mountain gorillas and golden monkeys the stars of the show.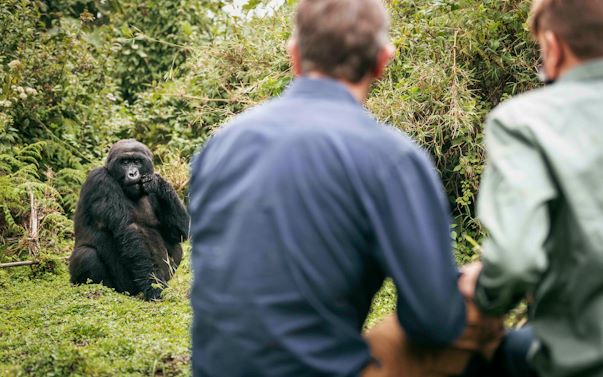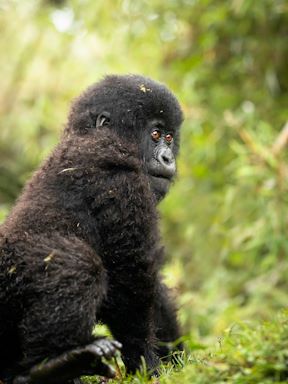 Encounter gorilla families in Volcanoes National Park
Spend one precious hour with the famous mountain gorillas of Volcanoes National Park. Grooming each other, climbing effortlessly into the bamboo. The young ones, playing, making faces, somersaulting over their mothers. Along the way, the sounds of myriad bird calls, and other wildlife, provide the soundtrack to this once-in-a-lifetime encounter. 
WHAT YOU NEED TO KNOW
Ready to go gorilla trekking?
A visit to Rwanda's Volcanoes National Park is unforgettable. The adventure begins the moment you arrive at your luxurious Bisate Forest Villa - and gaze through a curtain of mist at the area's two extinct volcanoes, Bisoke and Karisimbi. This is the 'Land of a Thousand Hills'; of warm, colourful people, rich and fascinating cultures, and iconic African wildlife.
Key Facts
Habitats
Wildlife
Weather
---
Volcanoes key facts
Bisate, perched dramatically on the edge of Volcanoes National Park in north-west Rwanda, is one of the most thrilling safari destinations in Africa, and has already racked up 34 awards. It is nestled in the perfect location to go trekking for mountain gorillas, golden monkeys and many other fascinating forest species and birdlife.
BEST TIME TO VISIT
All year round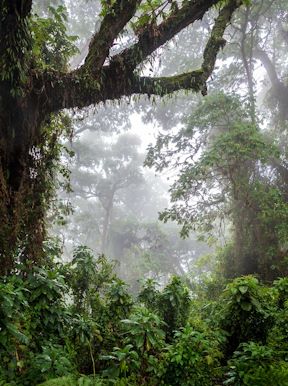 Rainforest
Explore the incredible biodiversity of life in a Rwandan rainforest.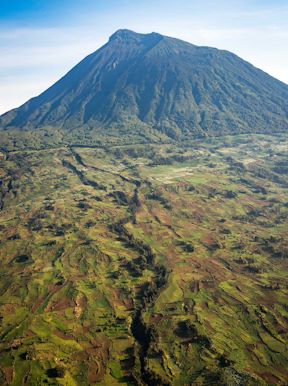 Open grassland
Thickets, montane grassland and shrubland.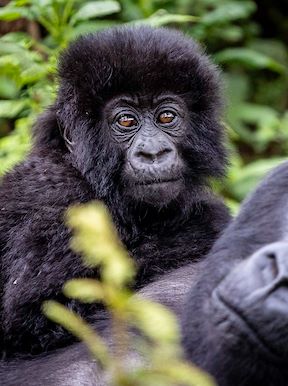 Mountain gorilla
Just over 1000 remain, protected in the remaining natural islands of the Virunga Massif.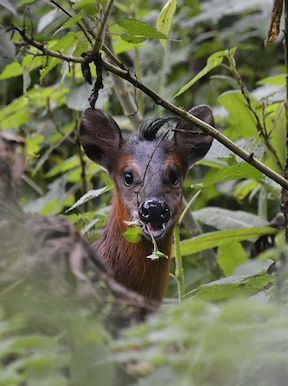 Black-fronted duiker
These small antelopes can be seen foraging in open marshy meadows around dawn and dusk.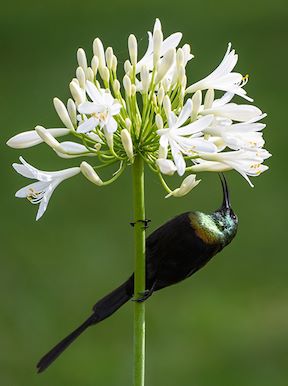 Bronze sunbird
Bronze sunbirds call through a jumble of twittering notes, followed by cleaner whistle sounds.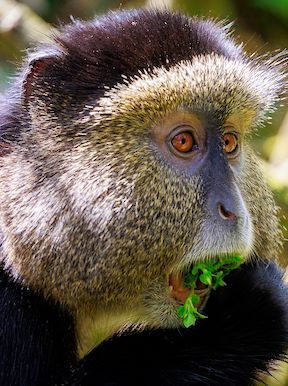 Golden monkey
Trekking to see golden monkeys is another highlight of Volcanoes National Park.
Weather
Rwanda has a lovely temperate, tropical highland climate. Thanks to its high elevation, it experiences lower temperatures than one would expect of an equatorial country. It is warm every month, and has two rainy and two dry seasons. The mountainous north-west is generally cooler than the lower-lying east, and experiences about 886 inches of rain a year, with an average humidity of 84%.
RAINY SEASON
March to May & Oct to Nov
DRY SEASON
June to Sep & Dec to Feb
THINGS TO DO
Rwanda's Volcanoes National Park
Rwanda's Volcanoes National Park is ethereally beautiful, with extraordinary biodiversity, iconic wildlife, volcanoes and montane forests that few travellers have the chance to experience. Enjoy thrilling adventures traversing mountains covered in mist, tracking mountain gorillas, and seeing other magical wildlife and tiny creatures - a kaleidoscope of new sights, sounds and scents awaits.
MAP
Groundbreaking Bisate
Bisate, situated on 42 hectares (103 acres) of land, lies on the lower slopes of long-dormant Bisoke volcano, adjacent to Volcanoes National Park. Immediately outside the rock wall that marks the park boundary lies densely cultivated farmland taking advantage of the rich volcanic soil. It is here that our award-winning lodge and its groundbreaking reforestation project are located.
Go to destination map
JOURNAL
Volcanoes National Park featured stories
Longing to travel to see the mountain gorillas of Rwanda? Read our featured stories and discover the thrilling adventures that await on a trip to Rwanda's Volcanoes National Park. Coffee hot? Comfortable? Enjoy.
SEE ALL STORIES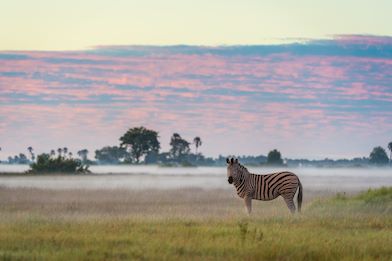 International Day of Forests: Reforestation at Bisate Lodge
We raise awareness of our reforestation efforts at Bisate Lodge. Visit Wilderness in Rwanda and beco...
Read more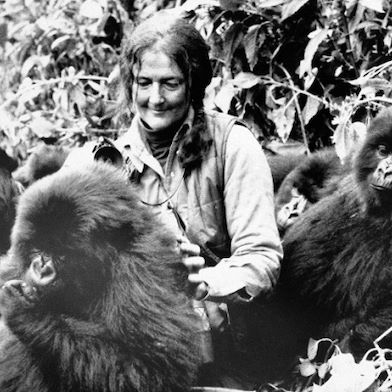 Dian Fossey – Hero or Has-Been?
Learn about Dian Fossey's work on mountain gorilla survival in Rwanda. Support our reforestation pro...
Read more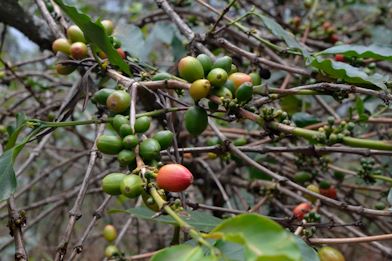 The Story of a Small, Very Beautiful Coffee Farm in Rwanda
Vist our Bisate Lodge, savour a cup of the local Rwandan coffee. Learn here about the beautiful farm...
Read more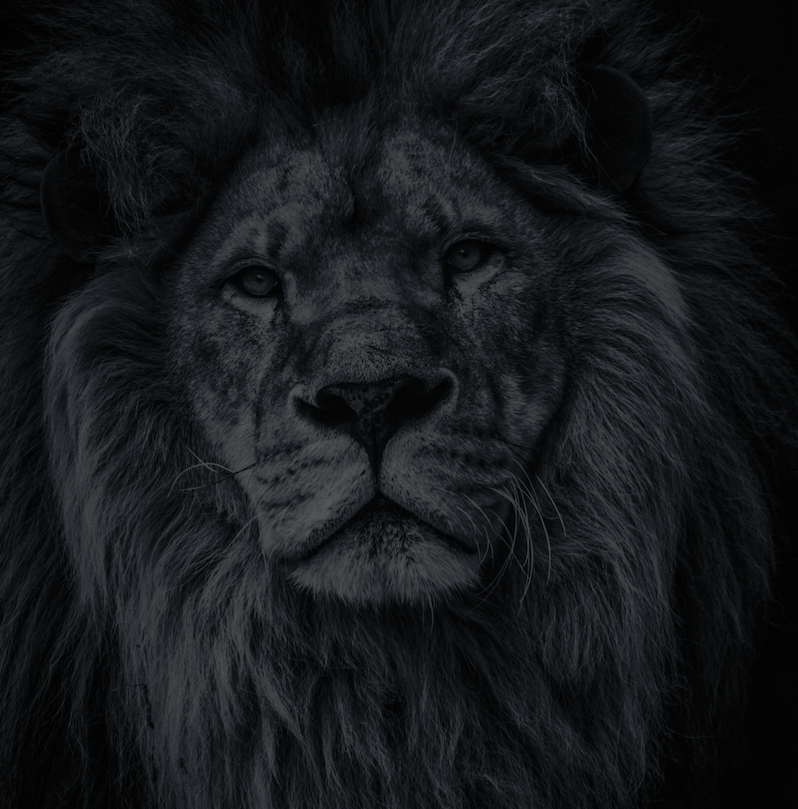 Let's plan your next journey
Ready?
When we say we're there every step of the way, we mean it, literally. From planning the perfect circuit, to private inter-camp transfers on Wilderness Air, and easing you through Customs. We're with you on the ground, at your side, 24-7, from start to finish. Ready to take the road less travelled? Contact our Travel Designers to plan an unforgettable journey.