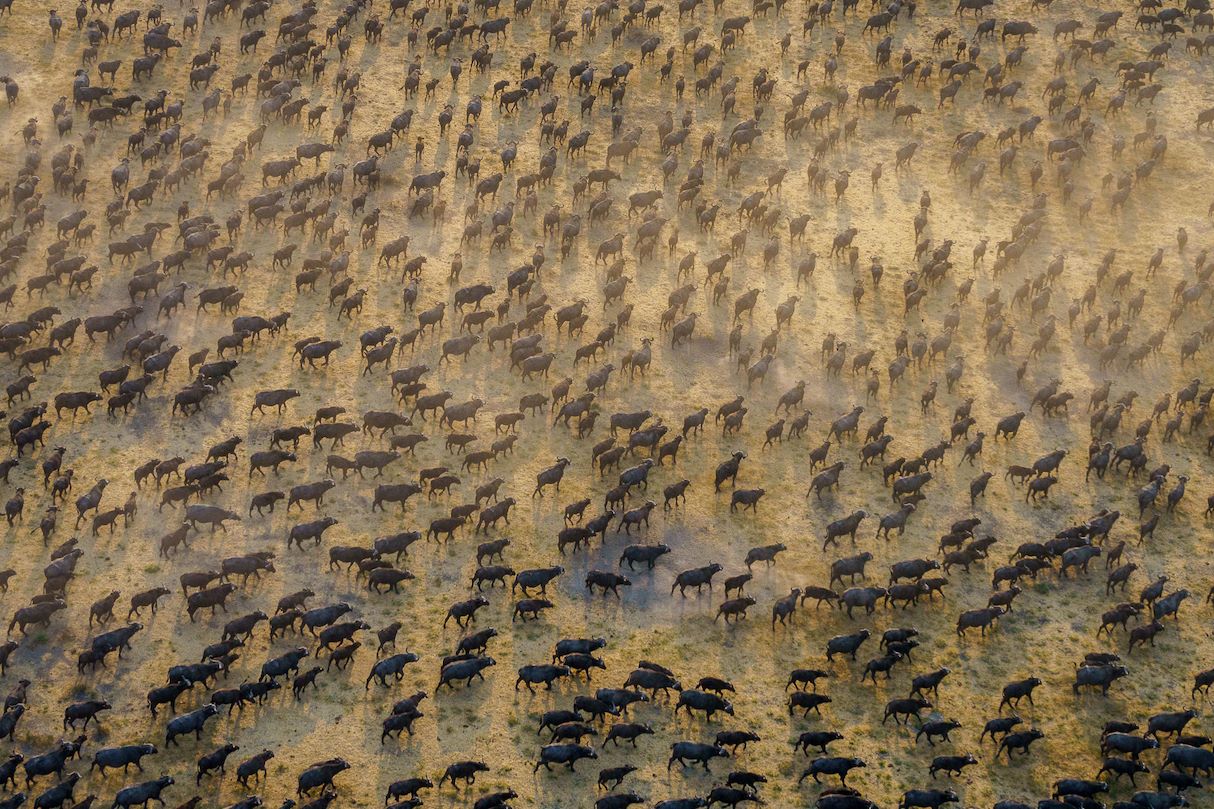 Botswana
Mababe
Discover a unique pulse and energy on the plains of Botswana, with a visceral safari unlike anything you've ever seen before.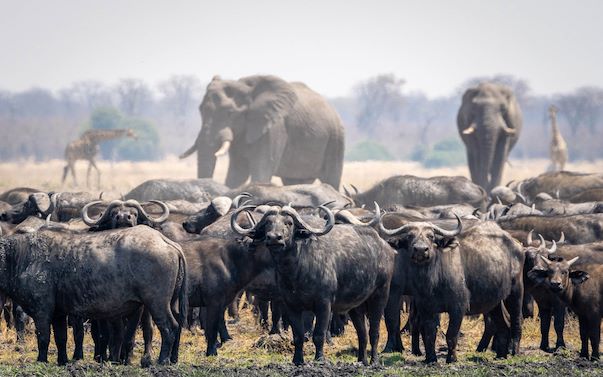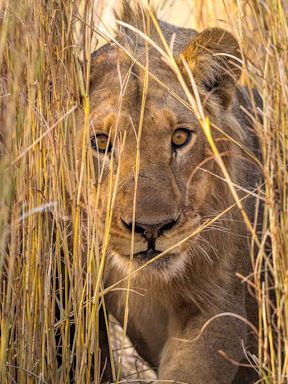 As wild as it gets
Imagine a place where you can witness lion kills every day, perhaps even multiple times a day. A place where you can fly over the same buffalo herd for a solid ten minutes, the spectacle stretching the breadth of the horizon. Where you'll be dazzled by the zebra  migration, creating a world of black and white. A place where you will stay at the only lodge in 50,000 hectares. Now stop imagining. Welcome to Mababe.
WHAT YOU NEED TO KNOW
Mababe at a glance
The Mababe Depression marsh fills in the summer season, creating a wetland of some 2,600 hectares. This progressively disappears in the dry season, although never completely, with permanent water feeding nutrient-rich grasslands, welcoming great herds. Here it's not uncommon to see vast buffalo herds, tsessebe in their hundreds, and large prides of lions following in their wake.
Key Facts
Habitats
Wildlife
Weather
---
Mababe key facts
Fly west to east, following the Nqogha and Khwai channels, across the palm-dotted floodplains of the Delta, over riparian forest to acacia woodland, and finally large swathes of mopane, which abruptly gives way to the shoreline of an ancient lake. And on the other side - one of the most unique ecosystems in Botswana: the great expanse and immense grasslands of the legendary Mababe Depression.
BEST TIME TO VISIT
All year round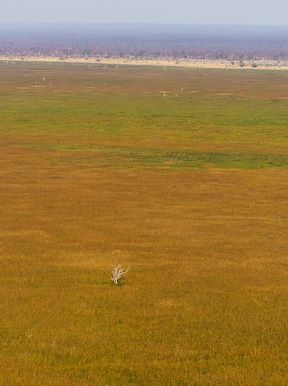 Grassland
Core grazing for an extraordinary diversity of life.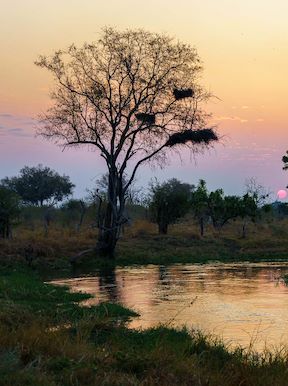 Mopane woodland
A secure refuge for woodland birds and leopards.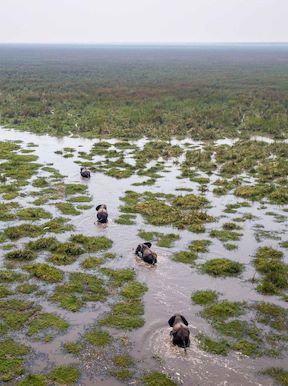 Wetland
A scarce water source for wildlife from miles around.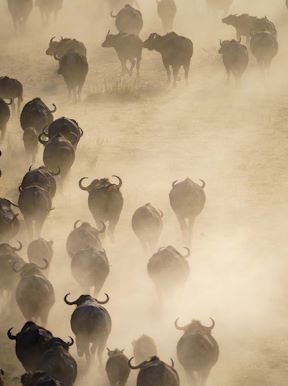 Buffalo
A clash of the titans when buffalo meet lions.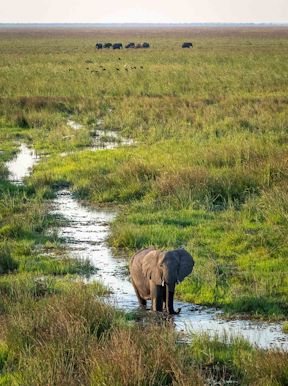 Elephant
Hundreds congregate at the water.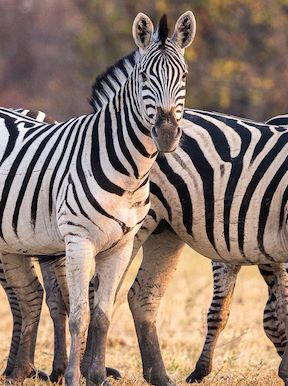 Zebra
Massive herds with a spectacular seasonal migration.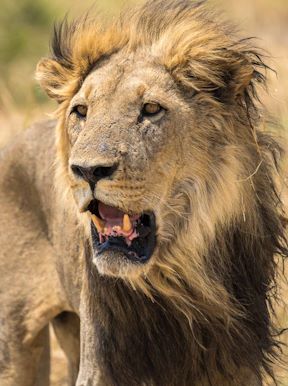 Lion
Predators aplenty, with lion hunting all day long.
Weather
The dry season from April to December welcomes staggeringly big herds of buffalo and elephant, while large densities of tsessebe, wildebeest & zebra seasonally migrate through the area at the turn of the seasons, in January & April. The warmer it becomes, the more animals seek out the precious water, bringing with them a plethora of predators. Birds -raptors in particular- are present year round.
DRY SEASON
April to December
SUMMER SEASON
January to March
THINGS TO DO
Mababe experiences
Go on a game drive by day or night, following lions as they push buffalo to the waterline. Spend hours at the sunken hide, eye-to-toe with a breeding herd of elephants. Take a walk, quiet as a field mouse, as you spot some of Africa's rarest birds.
MAP
Explore our camp in Mababe
In the plains of Botswana lies Mababe, an incredibly productive region which isn't visited by many. Mababe is situated in this remote and wild place, where predators follow in the wake of abundant wildlife herds.
Go to Destination map
JOURNAL
Mababe featured stories
Mababe may be new to the Wilderness collection, but set as it is between Wilderness' exceptional safari areas in the Linyanti and Okavango Delta regions of Botswana, it already has its fair share of stories.
SEE ALL STORIES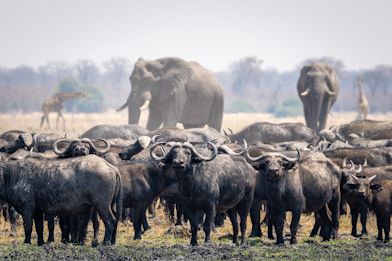 New camp opening in Botswana's Mababe area
Vast, remote and teeming with game, Mababe is an exceptional Botswana safari destination.
Read more
Wilderness blogger
04.04.2023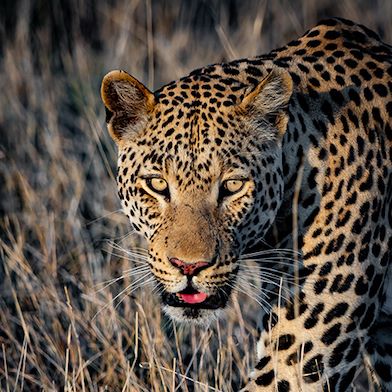 Close encounters in Botswana's wildest regions
From the iconic Okavango Delta to the remote Mababe to the teeming Linyanti, see Botswana's wildlife...
Read more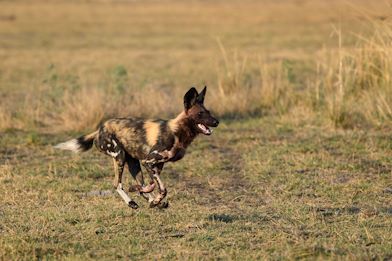 Solo: The End of an Era?
It has been more than two months without a sighting of Solo, the lone wild dog who became famous for...
Read more
Graham Simmonds
21.02.2014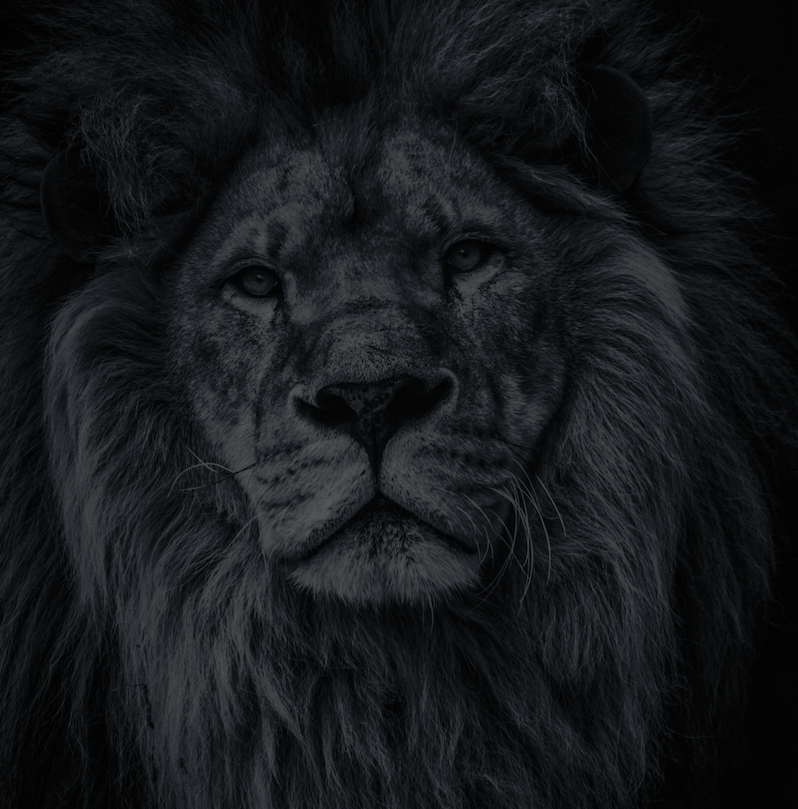 Let's plan your next journey
Ready?
When we say we're there every step of the way, we mean it, literally. From planning the perfect circuit, to private inter-camp transfers on Wilderness Air, and easing you through Customs. We're with you on the ground, at your side, 24-7, from start to finish. Ready to take the road less travelled? Contact our Travel Designers to plan an unforgettable journey.