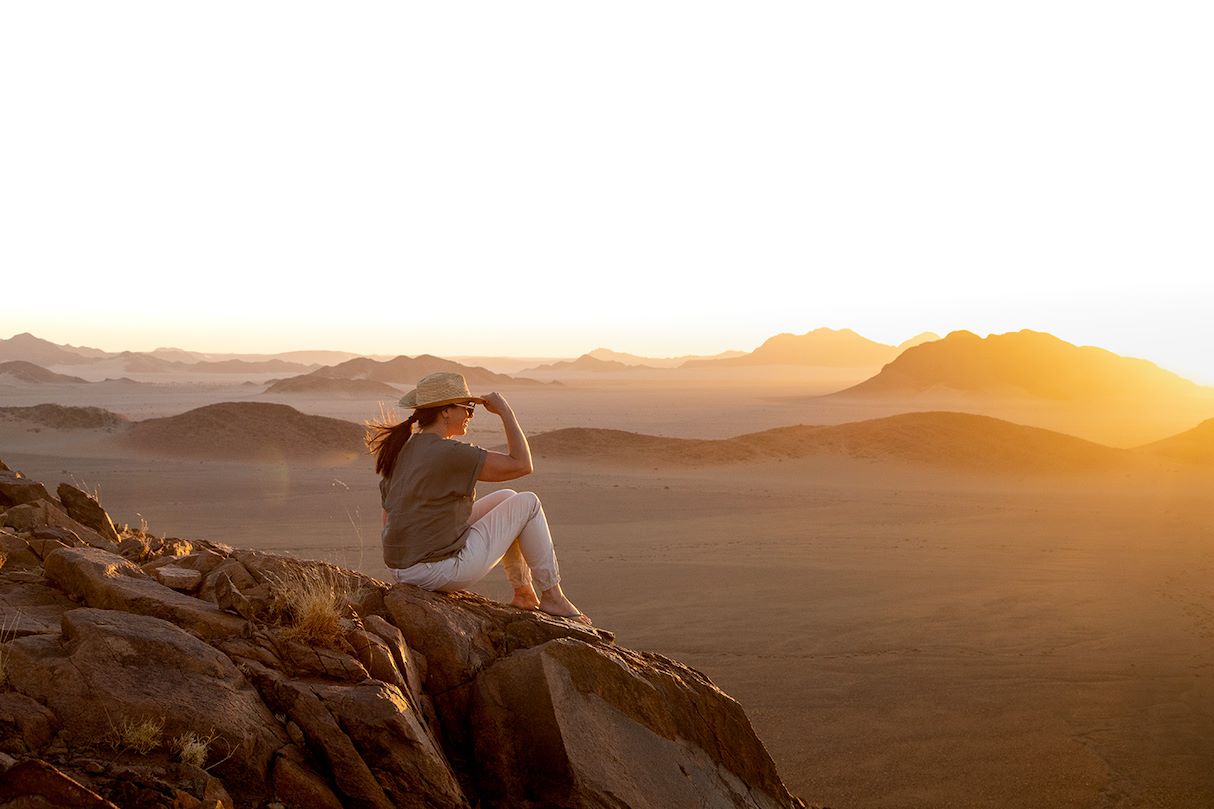 Namibia
Sossusvlei
Sossusvlei, in the Namib – one of the world's oldest deserts – is a photographer's dream. Sun-drenched dunes, in a sea of ochre-red sand.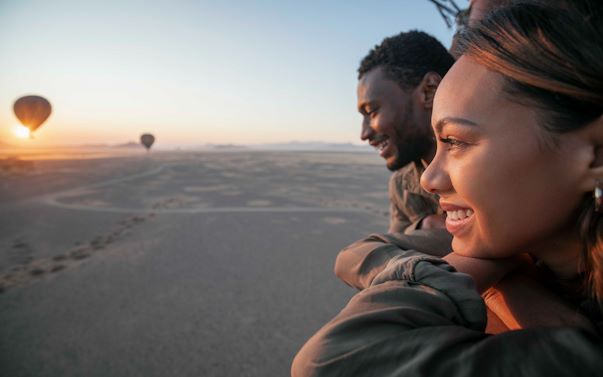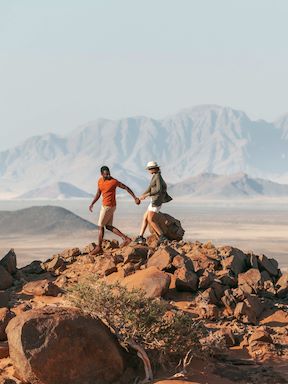 Experience the serenity of Sossusvlei
Explore horizon-wide vistas on your Sossusvlei adventure. Spend evenings dining under the stars. Venture on foot or e-fatbike over a landscape that's remained unchanged for millions of years. Spot desert-adapted wildlife such as ostriches, oryx, bat-eared foxes, or even the endemic dune lark. At dusk hear the call of barking geckos, as you fall asleep under a star-filled Namibian sky. 
WHAT YOU NEED TO KNOW
Sossusvlei at a glance
Have you heard of Dune 45 and Big Daddy? Marvel at these world-famous Sossusvlei dunes, which are yours to explore from our luxury camps. These dunes in the Namib-Naukluft Park are part of the Namib Sand Sea – a UNESCO World Heritage Site. The world's only coastal desert with widespread dune fields where fog is the main source of water.
Key Facts
Habitats
Wildlife
Weather
---
Sossusvlei key facts
Improbably beautiful. There's much to discover in Sossusvlei. From the biggest sand dunes in the world, the second deepest canyon, to fascinating desert-adapted wildlife and 900-year old fossilised camelthorn trees at Dead Vlei. Best explored from our two Sossusvlei luxury safari camps - Little Kulala and Kulala Desert Lodge.
GEOGRAPHIC SIZE
32,000km²
BEST TIME TO VISIT
All year round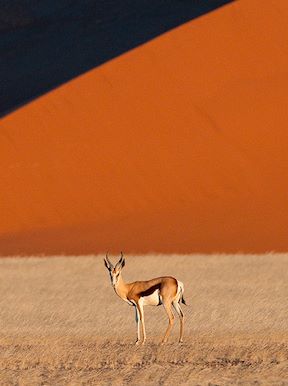 Dunes
Red sand, stained by an iron oxide coating, rising up to 300m.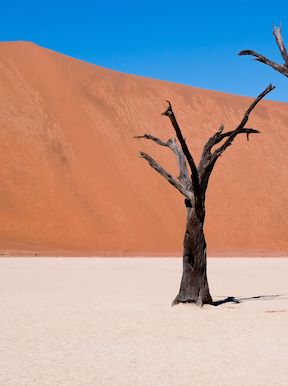 Vlei / Marsh
Large trees dotted across a white clay pan.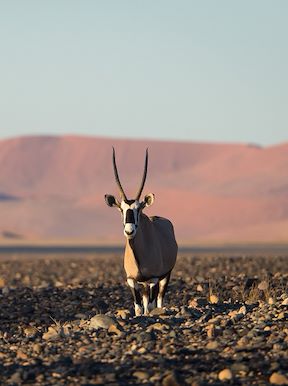 Oryx
This powerful animal is synonymous with the Namib Desert.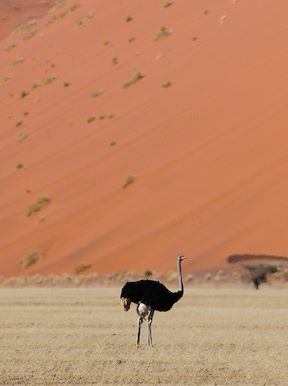 Ostrich
The world's largest bird, and the fastest, they can run at over 70km/h.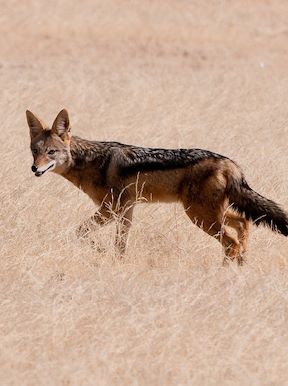 Black-backed jackal
The cry of a jackal is one of the wild's most hauntingly beautiful sounds.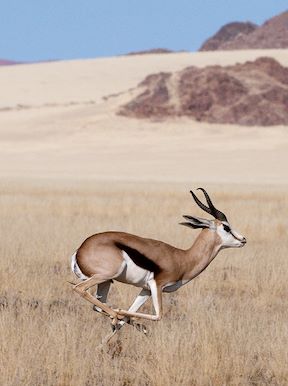 Springbok
Springbok are mainly active at dawn and dusk.
Weather
With an average of 300 sunny days, Sossusvlei can be visited any time of the year. Depending on the amount of rainfall, the desert plains may be transformed into lush grassland. Dramatic Dead Vlei occasionally fills with water in late summer – a rare and special sight. All forms of life are attracted to these short-lived pools of water.
DRY SEASON
June to October
SUMMER SEASON
December to March
TRANSITIONAL SEASON
April, May, November
THINGS TO DO
Sossusvlei experiences
The Sossusvlei dunefield sets the stage for some thrilling adventures. Conquer the 300-metre orange dunes at Sossusvlei itself, and take in the view across a sea of sand. On the Kulala Wilderness Reserve, cycle past a herd of oryx, maybe an ostrich or two, or up the speed on a quad bike sunset ride. Savour a glass of bubbly over breakfast after a hot-air balloon ride.
MAP
Explore camps in Sossusvlei
No visit to Namibia is complete without a visit to the dunes and escarpment of the oldest desert in the world – the Namib. Best explored from our two elegant desert sanctuaries, Kulala Desert Lodge and Little Kulala. Located in the 27,000 ha Kulala Wilderness Reserve, our camps feature a private gate to Sossusvlei, for the closest, exclusive access to one of the most famous landmarks in Namibia.
Go to destination map
JOURNAL
Sossusvlei featured stories
Wander across ancient sand dunes with us. Scroll through our award-winning wildlife images, travel tales in Sossusvlei, Namibia and updates from the desert. Coffee hot? Comfortable? Enjoy.
SEE ALL STORIES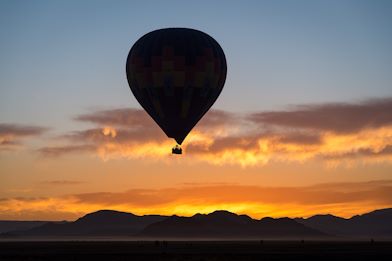 Little Kulala - A Wilderness Restored
For many years, our guests have enjoyed its notable architecture, elegant accommodation, warm Namibi...
Read more
Wilderness Blogger
06.12.2019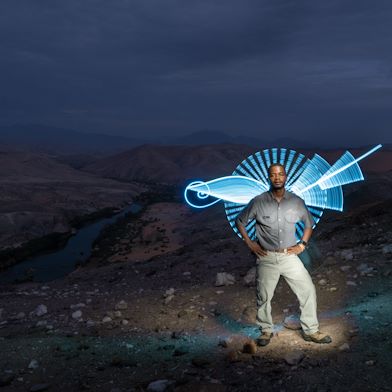 Light Painting with Hanny Huhtamo in the Namib Desert
Hanny Huhtamo shares tips from the splendid technique of light drawing, using Olympus gear, whilst i...
Read more
Tenneil Zondagh
21.01.2020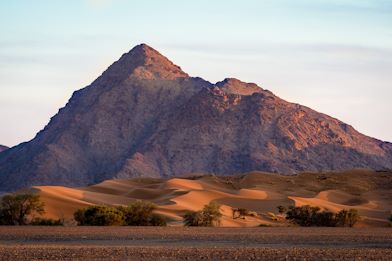 Kulala - Earth's History Revealed
With isolated mountains, gravel plains and towering sand dunes, the Kulala Wilderness Reserve is par...
Read more
Conrad Brain and Ginger Mauney
23.01.2020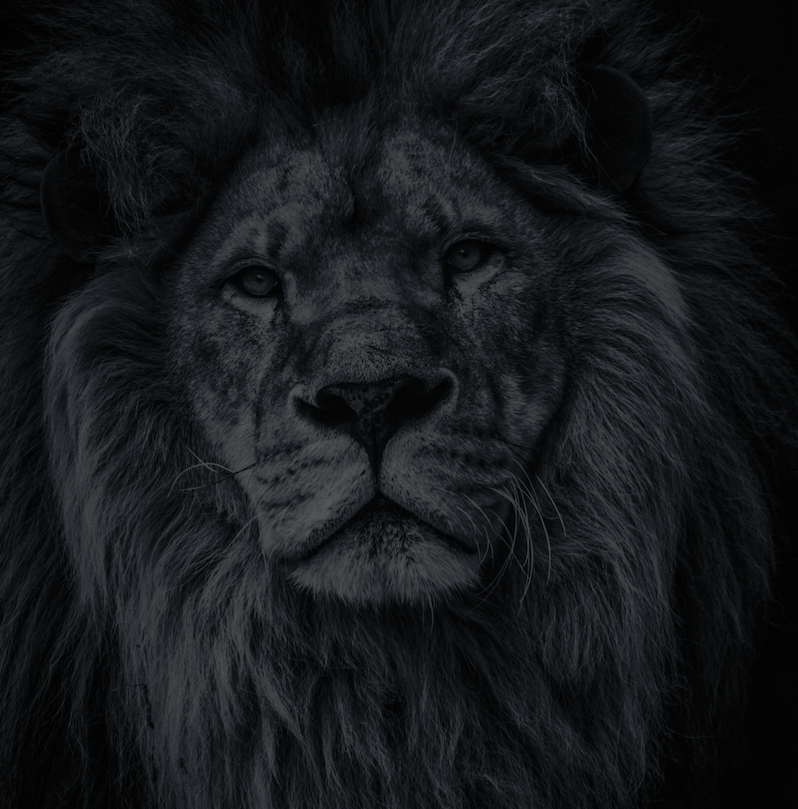 Let's plan your next journey
Ready?
When we say we're there every step of the way, we mean it, literally. From planning the perfect circuit, to private inter-camp transfers on Wilderness Air, and easing you through Customs. We're with you on the ground, at your side, 24-7, from start to finish. Ready to take the road less travelled? Contact our Travel Designers to plan an unforgettable journey.