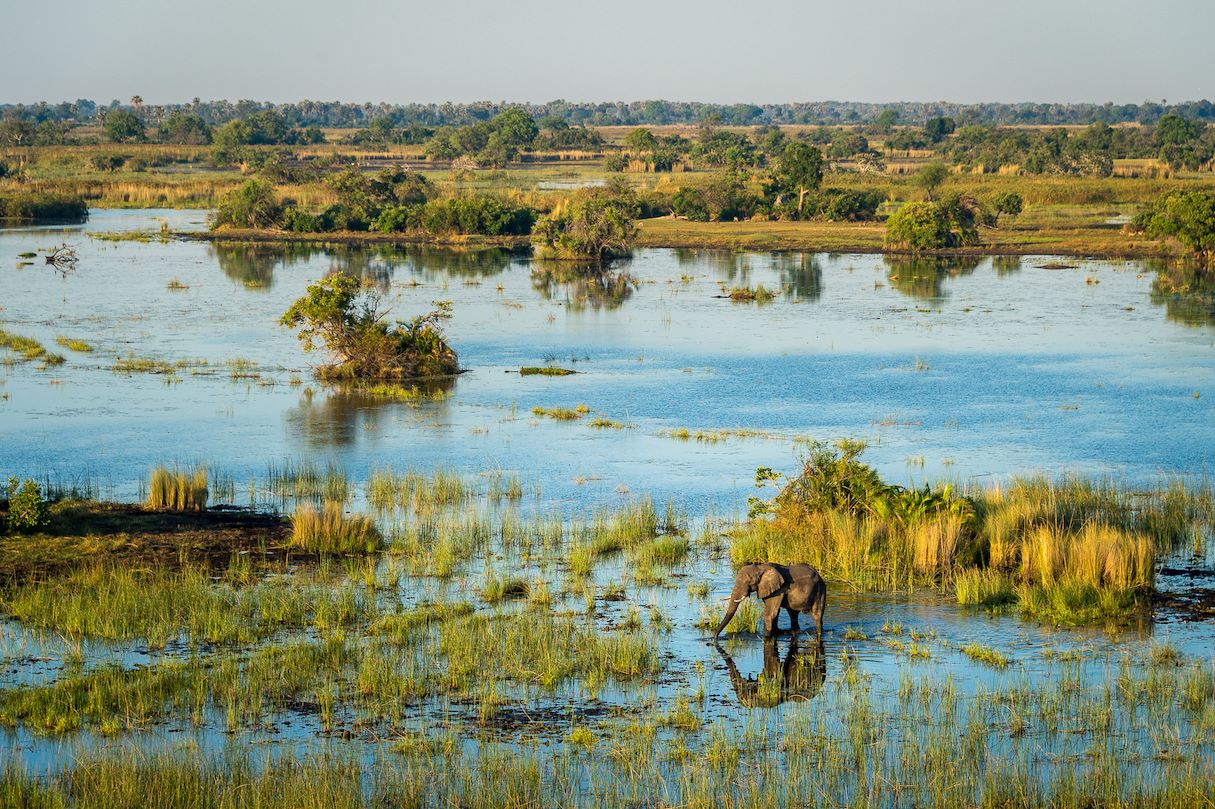 Botswana
Okavango Delta
Wild, vast, abundant. Botswana's Okavango Delta teems with life, one of the last great sanctuaries for Africa's wildlife.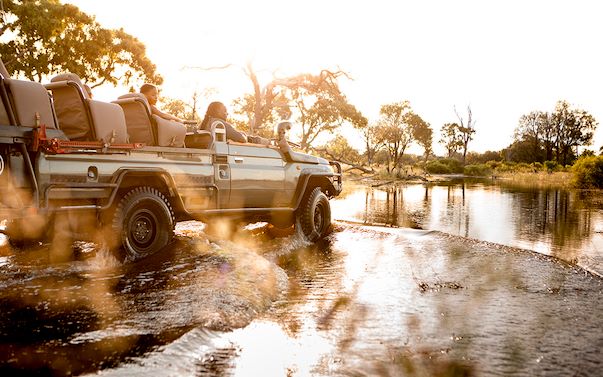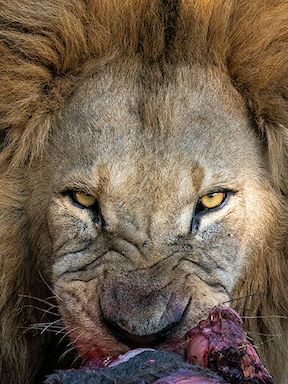 Astonishing wildlife and landscapes
A safari in the Okavango Delta will have you exploring a wetland paradise brimming with wildlife. Marvel at territorial hippos 'yawning' at each other in battle, watch African jacanas pick weightlessly over waterlily pads as they search for lunch, while a fish eagle calls melodically from above. Endless floodplains, pristine waterways and abundant food attract elephant, buffalo and antelope, followed closely by predators. Watch them hunt.
WHAT YOU NEED TO KNOW
Okavango Delta at a glance
Explore pristine lagoons and channels on an unforgettable Okavango Delta safari. Here, some of Africa's most iconic wildlife thrive in one of the continent's most unique natural habitats. Take in the wonder of this wetland, as water flowing in from thousands of miles away attracts huge herds of animals.
Key Facts
Habitats
Wildlife
Weather
---
Okavango Delta key facts
Made up of over 150 000 islands, the Okavango Delta swells to three times its size between March and August, when the grass plains fill with water, attracting thousands of animals to this pristine tract of wilderness. It is the largest inland delta in the world, and its permanent crystal clear waters have earned it UNESCO World Heritage Site status.
GEOGRAPHIC SIZE
16,000km²
BEST TIME TO VISIT
All year round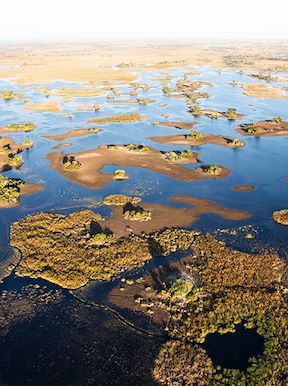 Floodplains
Grassy plains submerged by seasonal inflow of Delta waters.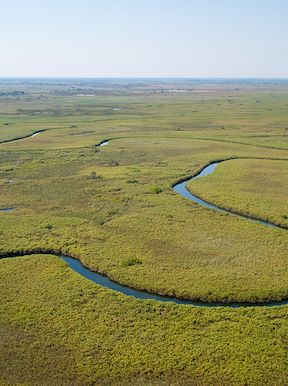 River channels
Deep and shallow lagoons that culminate in a central floodplain.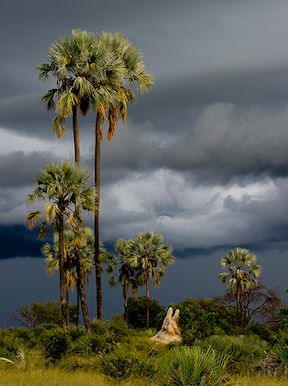 Forested islands
Seasonal islands that emerge when water levels drop.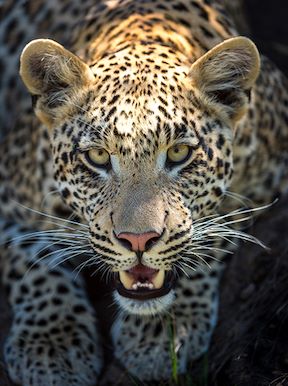 Leopard
Though notoriously elusive, leopards thrive in the Okavango Delta.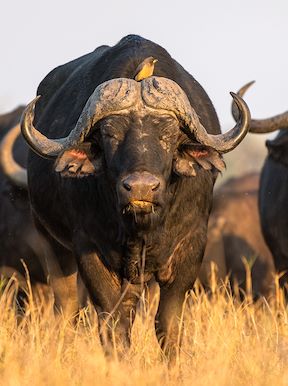 Buffalo
Large and formidable, buffalos gather by the thousand in Botswana's Okavango Delta.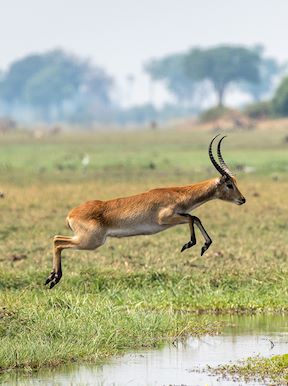 Red lechwe
The semi-aquatic red lechwe is in its element in the seasonal floodplains.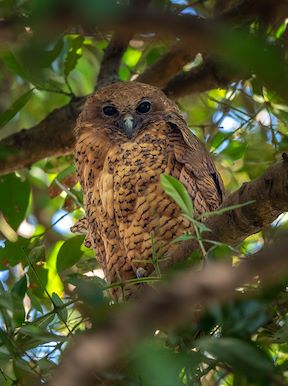 Pel's fishing owl
The second-largest owl in Africa, the Pel's fishing-owl roosts in the dense forests of the Delta.
Weather
The Okavango Delta has distinct wet and dry seasons, with all its rain falling in the summer months from October to March. The climate is mostly warm, with summer temperatures often exceeding 30°C (86°F). Mornings and evenings in the dry season are fresh to chilly, with temperatures sometimes dropping to 7°C (45°F).
SUMMER SEASON
October to March
DRY SEASON
April to September
THINGS TO DO
Okavango Delta experiences
Glide through the Delta's channels in a dugout mokoro, eye-level with a malachite kingfisher flashing its jewel colours. Watch out for tiny reed frogs resting in the reeds, gathering their strength for their tinkling nocturnal choral performances. See delicate dragonflies hover low over the lagoons, as you fish the Okavango's waters.
MAP
Explore camps in the Okavango Delta
One of Africa's last great natural sanctuaries, the Okavango Delta is home to the majority of our Wilderness camps in Botswana. This vast African eden is a quintessential safari destination, with abundant wildlife, wonderful people and camps to suit every kind of traveller.
Go to Destination map
JOURNAL
Okavango Delta featured stories
Wilderness and the Okavango Delta go way back. These are our stories, photographs, and updates from our community and conservation teams on the ground.
SEE ALL STORIES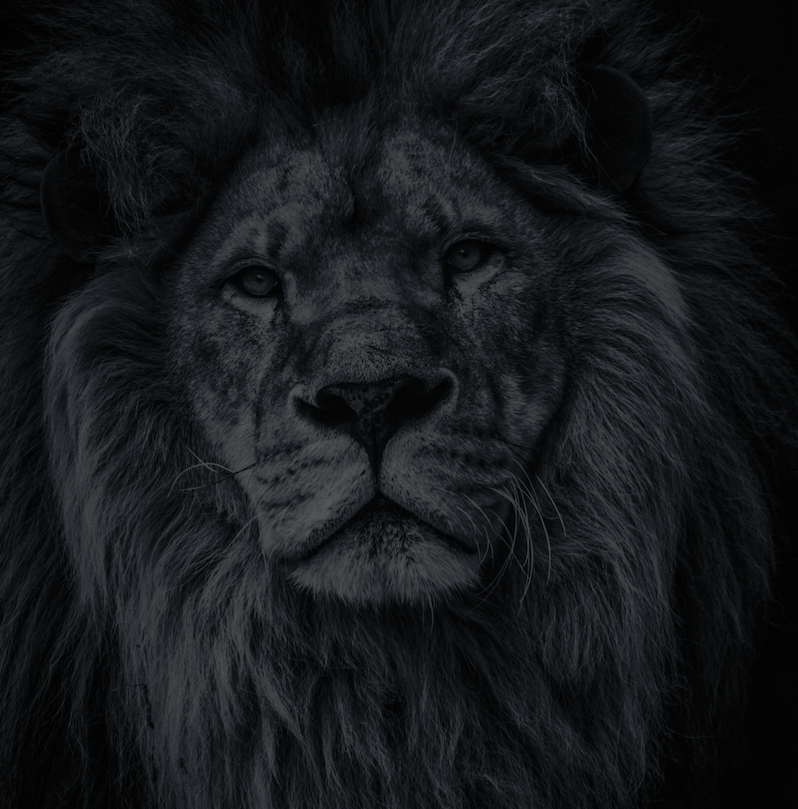 Let's plan your next journey
Ready?
When we say we're there every step of the way, we mean it, literally. From planning the perfect circuit, to private inter-camp transfers on Wilderness Air, and easing you through Customs. We're with you on the ground, at your side, 24-7, from start to finish. Ready to take the road less travelled? Contact our Travel Designers to plan an unforgettable journey.