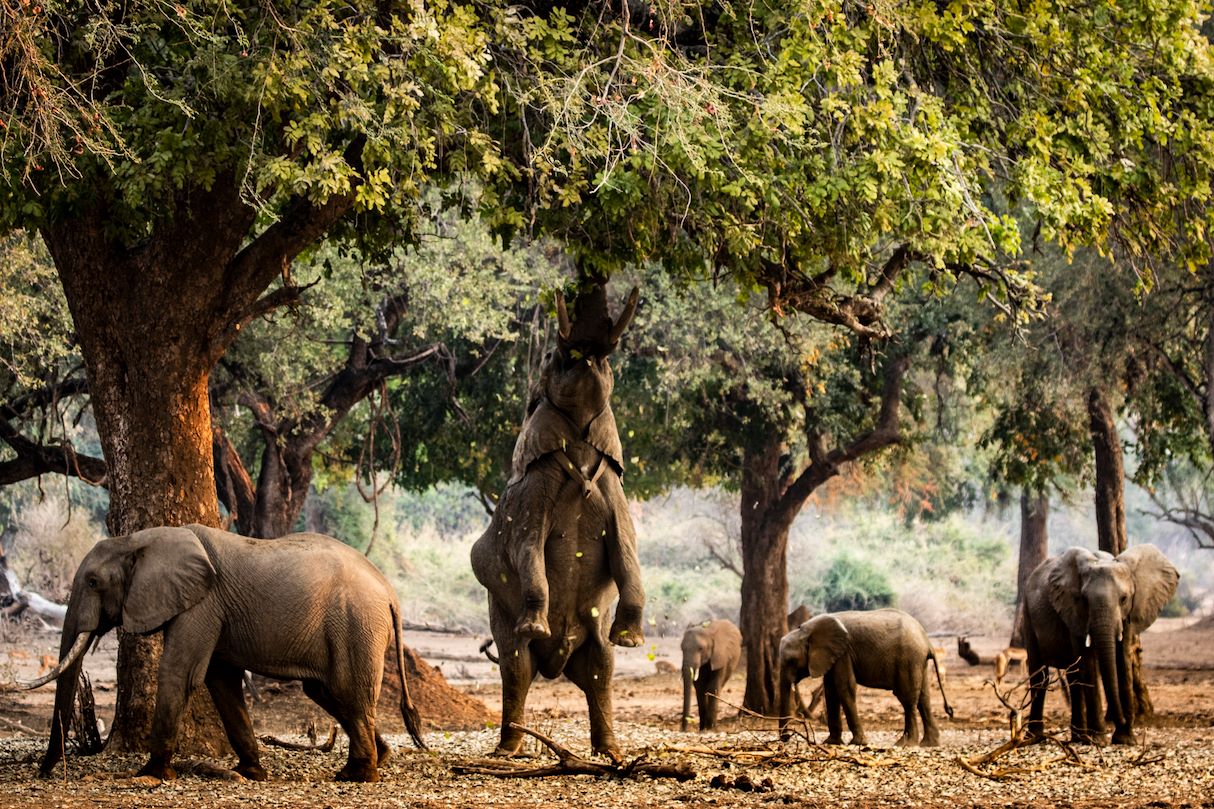 Zimbabwe
Mana Pools
One of Earth's most beautiful and authentic safari destinations, Zimbabwe's Mana Pools National Park will leave you breathless.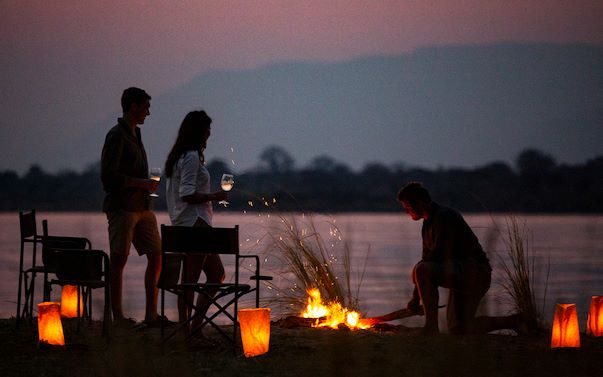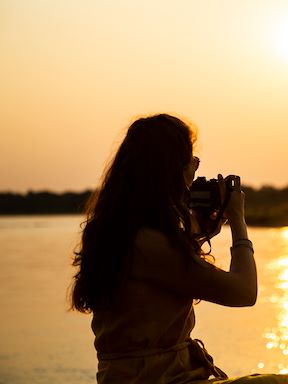 The untamed wilderness of Mana Pools National Park
Drift. Splash. Listen. Canoe down the Zambezi with the rising sun. Spot hippos bobbing to the surface while ghostly elephants drift through the cathedral-like trees, and a bright red flurry of carmine bee-eaters dazzles on the riverbank upstream. As the sun sets and the evening campfires start, listen to the local lore. Tales of river gods, guarding the land, while in the distance a lion roars.  
WHAT YOU NEED TO KNOW
Dreaming of an African Safari?
Explore one of the world's most scenic wildlife destinations. Mana Pools is known for abundant wildlife and spellbinding vistas. Travel by game vehicle, searching for elephant, buffalo, lion, leopard, wild dog, and numerous antelope. Take to the Zambezi river by boat or canoe, scanning for wildlife and revelling in the avian abundance.
Key Facts
Habitats
Wildlife
Weather
---
Mana Pools key facts
It's easy to reconnect to the natural world in this pristine African wilderness. Inscribed as a UNESCO World Heritage site, Mana Pools offers 2,500km² of untouched nature to explore. Home to over 100 iconic African mammals, and more than 450 bird species, it has the highest concentration of hippos and crocodiles in the country.
BEST TIME TO VISIT
Dry months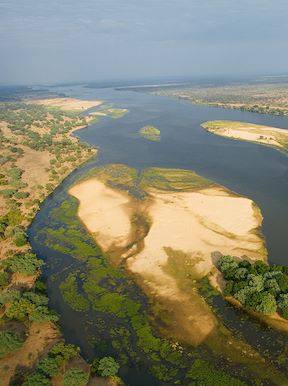 Rivers
The mighty Zambezi is the lifeline of the park.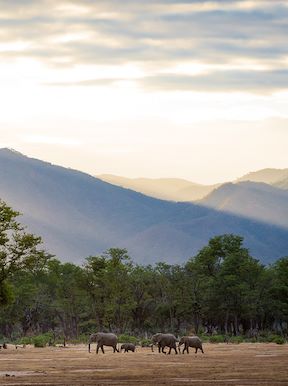 Dry woodland
Riverine forests of mahogany, wild fig, and baobab trees.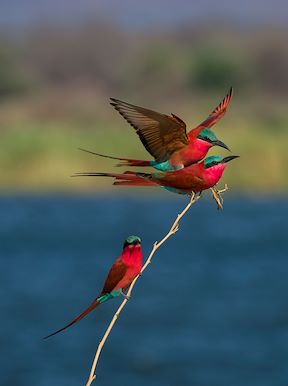 Carmine bee-eater
Look out for these bright and beautiful birds found nesting in the riverbanks.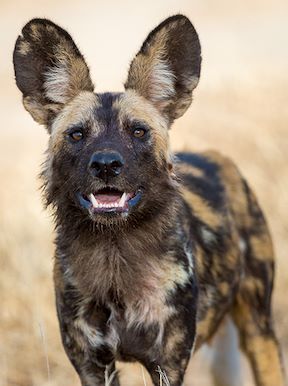 African wild dog
The painted wolves of Mana Pools are arguably one of the park's best-known and loved species.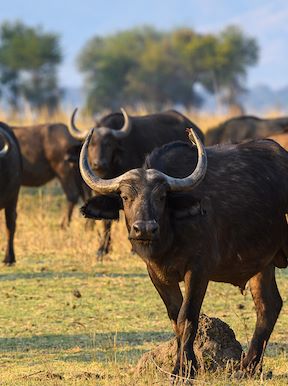 Buffalo
There are estimated to be 16,000 buffalos in Mana Pools.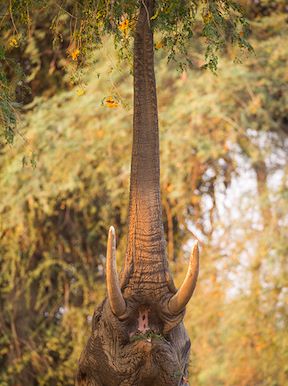 Elephant
Elephants seek out highly nutritious albida pods, reaching high into the trees to feed.
Weather in Mana Pools
Mana Pools National Park enjoys a wonderful warm climate. Yet the winter season can get quite cool - particularly on the early morning game drives, with temperatures dropping to 12°C, so make sure to pack accordingly. The summer months (Sep to May) are extremely hot with temperatures soaring to 40°C and above.
SUMMER SEASON
December to March
DRY SEASON
June to November
THINGS TO DO
Safari in Zimbabwe's great wilderness
Supremely remote and wild, a safari to Zimbabwe's Mana Pools is the ultimate African adventure. Spend warm days cruising the Zambezi River, spotting elephants, zebras and buffalo along the banks, a chorus of birdsong providing the soundtrack to the morning. Learn secrets of the wild from Africa's finest guides, track cats like leopard on evening game drives.
MAP
Our camps in Mana Pools National Park
Mana Pools National Park is set in the heart of the Lower Zambezi Valley, where Africa's fourth-largest river meanders along Zimbabwe's northern border on its way to the Indian Ocean. Little Ruckmoechi and Ruckomechi camps lie in a private wilderness area at the western end of Mana Pools. Luxurious Chikwenya sits on the eastern boundary of the park, also overlooking the Zambezi River.
Go to Destination Map
JOURNAL
Mana Pools featured stories
Looking for the ultimate, untamed safari in Africa? Our featured stories about Mana Pools in Zimbabwe will have you wanting to pack for your next adventure. Watch our thrilling videos of the wildlife you can encounter and explore our intimate, luxury safari camps. Coffee hot? Comfortable? Enjoy.
SEE ALL STORIES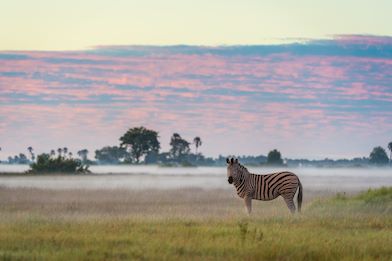 A Busy Fortnight since Ruckomechi Opened for the Season
Saturday the 15th April marked two weeks since we opened our camp doors for the new season at Ruckom...
Read more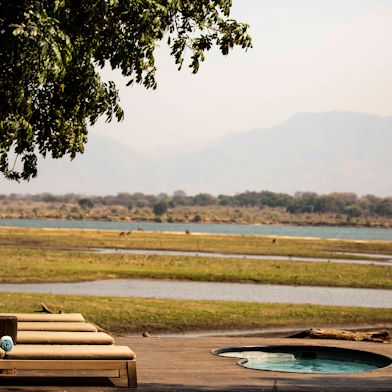 New Season around the Corner for Ruckomechi
In just a few weeks from now we will open our warm hearts and doors to our first guests at Ruckomech...
Read more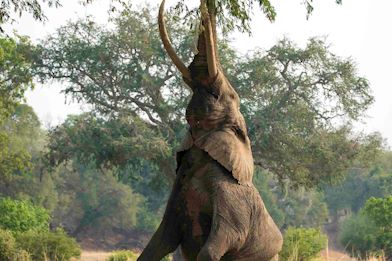 A Ruckomechi Concession Traverse
Immerse yourself in a game drive around the Ruckomechi Concession with camp manager Edmond Mudzimu a...
Read more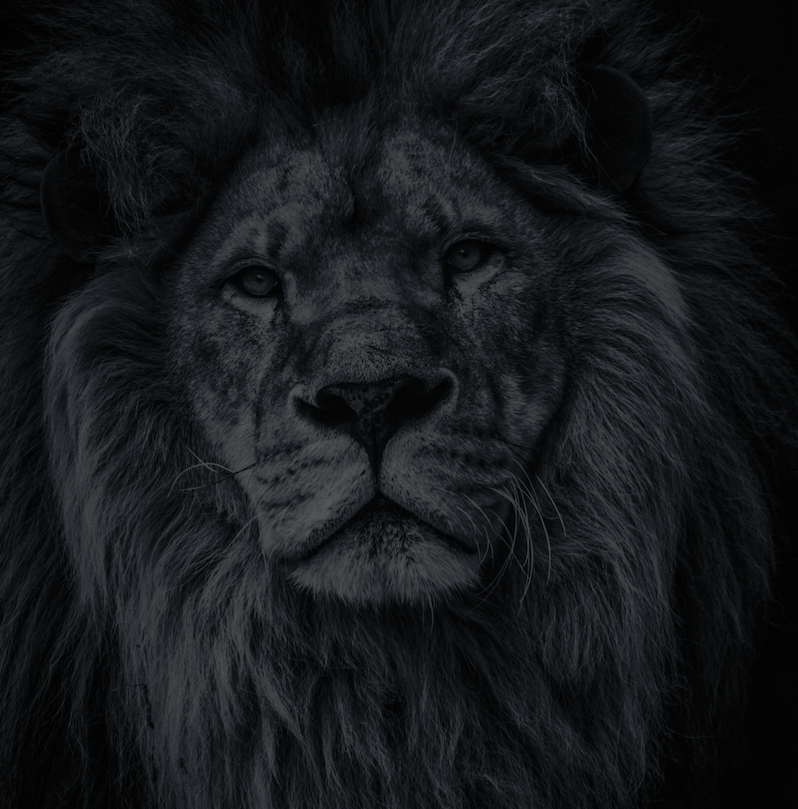 Let's plan your next journey
Ready?
When we say we're there every step of the way, we mean it, literally. From planning the perfect circuit, to private inter-camp transfers on Wilderness Air, and easing you through Customs. We're with you on the ground, at your side, 24-7, from start to finish. Ready to take the road less travelled? Contact our Travel Designers to plan an unforgettable journey.