Join Wilderness Safaris' CEO, Keith Vincent, and Impact Manager, Dr Neil Midlane, with WildAid's CEO, Peter Knights, and special guests as they discuss the importance of conservation tourism returning to Africa. They will be joined by an on-the-ground guide and an advocate to convey what you can do to amplify their critical work to protect wildlife.
Register for this exclusive event HERE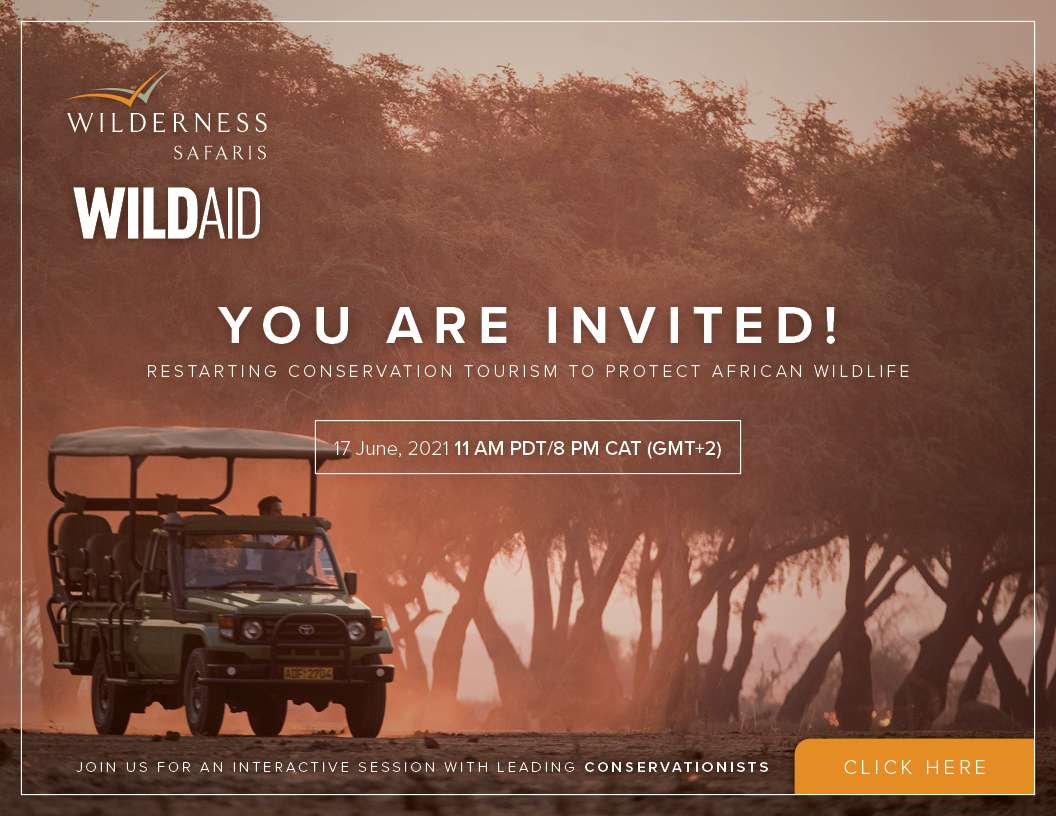 Restarting Conservation Tourism to Southern Africa
17 June, 2021
11 AM PDT/8 PM CAT
Who is Wilderness Safaris?
At Wilderness Safaris we believe in creating life-changing journeys and have been doing so for over 38 years. Our purpose today is stronger than ever in our dedication to conserving and restoring Africa's wilderness and wildlife.
Explore Africa with us across seven countries and 40 luxury camps, located in some of the continent's most remote, pristine and game-rich wilderness areas. Acclaimed as the foremost ecotourism operator in Africa, Wilderness Safaris offers unforgettable high-end adventures that help preserve biodiversity, conserve wildlife and uplift local communities. Since our founding in Botswana in 1983, we've shared our passion for Africa with thousands of guests, as well as our custodial sense of protection, and the urgency to protect these ecosystems and the life they support.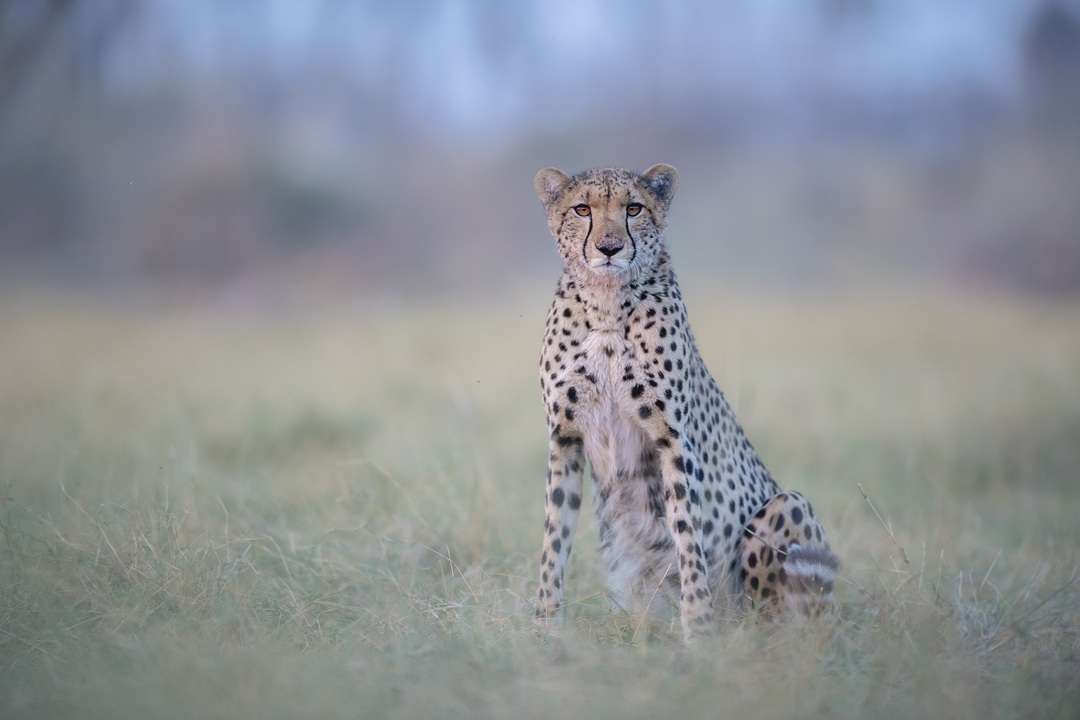 Who is WildAid?
WildAid's mission is to protect wildlife from illegal trade and other imminent threats. We envisage a time when illegal wildlife trade is a rare aberration, rather than a multibillion-dollar industry, and when humanity truly values wildlife conservation as an essential priority. WildAid delivers cost-effective, long-term solutions for protecting wildlife against imminent threats, such as illegal trade, poaching, and human-wildlife conflict. WildAid protects wildlife across the globe by reducing demand for wildlife products with world-class communications campaigns that support stronger policies and improved enforcement, and inspire public support for stronger conservation. By reducing consumption of wildlife and bushmeat and closing commercial trade in live wild animals in key target countries, WildAid is also helping to prevent another zoonotic disease pandemic. WildAid increases the effectiveness of marine protected areas through new technology, professional training, and capacity building. By using widespread and innovative forms of media and communication avenues to deliver locally resonant, respectful, and culturally appropriate conservation narratives, we will make clear that protecting wildlife and the environment must be a central part of our lifestyles and sustainable-development policies and plans, resulting in behavior and policy changes that acknowledge that human quality of life depends on the health of natural ecosystems and all their inhabitants.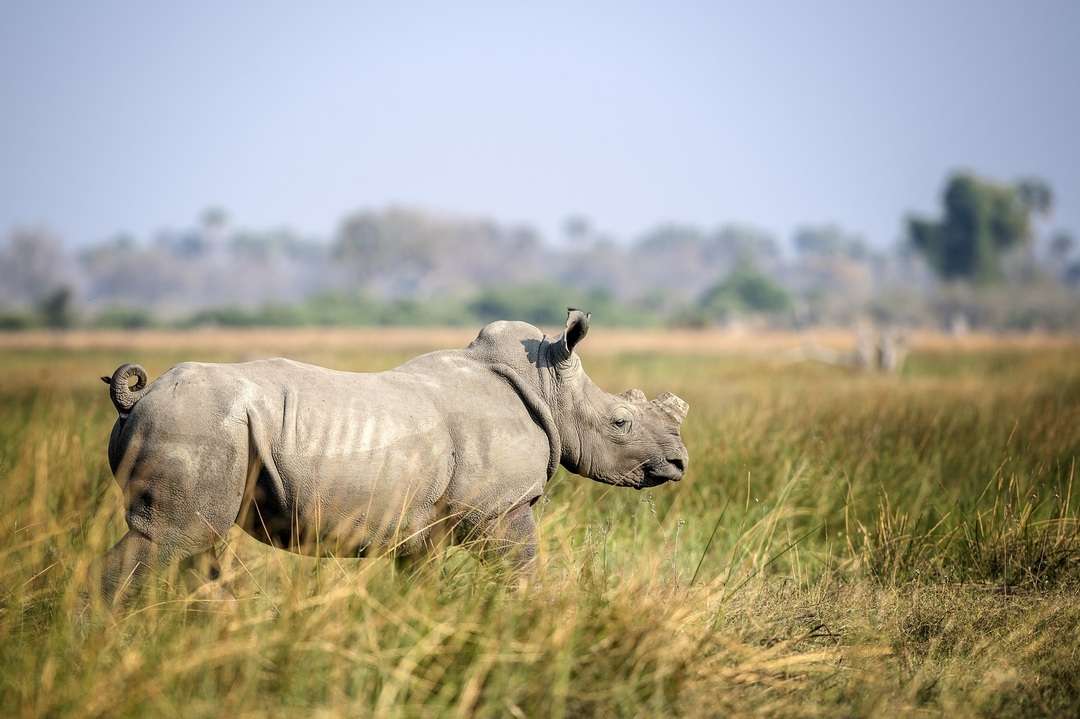 Restarting Conservation Tourism to Southern Africa
These two powerhouse conservation companies are coming together in a live panel discussion to talk about restarting Conservation Tourism to protect African Wildlife. Conservation is at the heart of both organisations and is indeed the guiding light of all our operations. Topics that will be discussed include what the future of African safaris looks like.
Joining the panel will be Wilderness Safaris' Tendai Mdluli and Agnes Tjirare, who are change-makers on the ground in Zimbabwe and Namibia respectively. They will be discussing what it is to be a conservation hero, and the contact they have experienced in the field during the pandemic.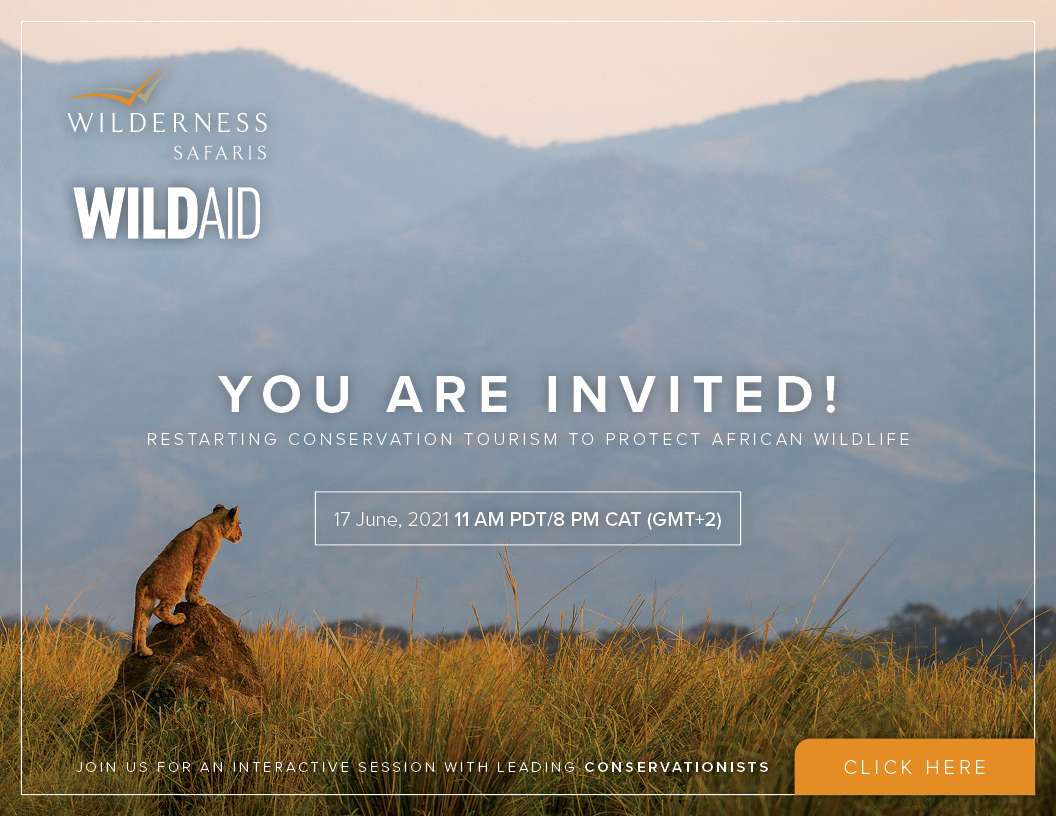 Meet the Panel of Experts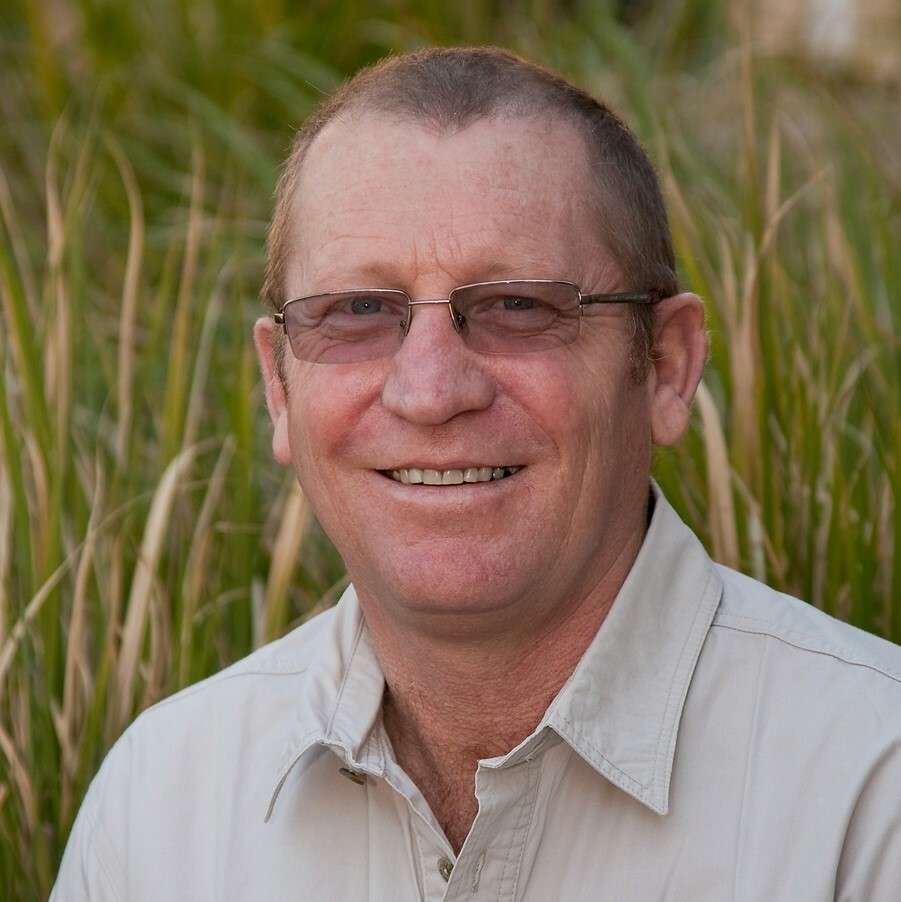 Keith Vincent has been committed to the Wilderness Group for over 20 years, playing an instrumental role in creating a strong company culture, centered on making a positive impact to conservation and community empowerment. He was appointed CEO for Wilderness Safaris in July 2013.
Keith is extremely proud of the remarkable people who have grown the company to where it is today, and looks forward to ensuring that the Wilderness Group continues to make a difference, building further sustainable conservation economies in Africa. Keith's main goal for the business is to make sure that its unique, financially viable model of non-consumptive ecotourism land-use continues to generate benefits for the people and wildlife in the areas in which it operates, and those in which Wilderness might be present in the future.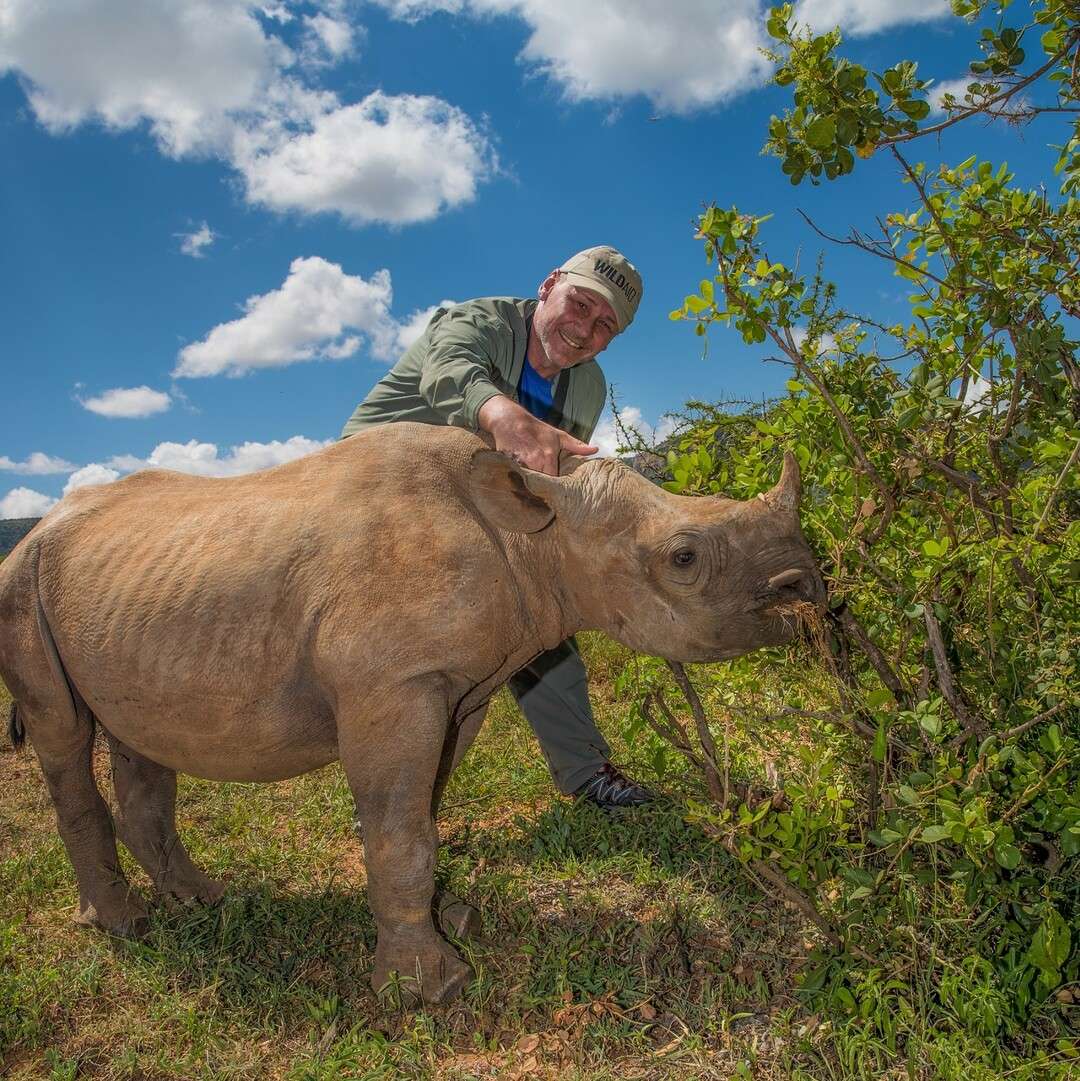 Peter Knights: after graduating from the London School of Economics, Peter Knights worked on wildlife trafficking as an investigator and campaigner for the Environmental Investigation Agency. He specialised in global on-site investigations and campaigning against the trade in wild birds for pets, as well as consumption of endangered species in traditional Chinese medicine, such as bear gallbladder, rhino horn, and tiger bone. Peter's investigations have been featured in the TV series "Animal Detectives". This work led to over 150 airlines stopping the carriage of wild birds, and to the Wild Bird Conservation Act, which cut imports of wild birds into the US from 800 000 to 40 000. As a director of the Global Survival Network, in 1996, he introduced conservation to the concept of demand reduction that is now widely accepted as an important tool in solving trafficking problems.
In 2000, Peter co-founded WildAid and received an Associate Laureate of the Rolex Award for Enterprise for this demand-reduction work.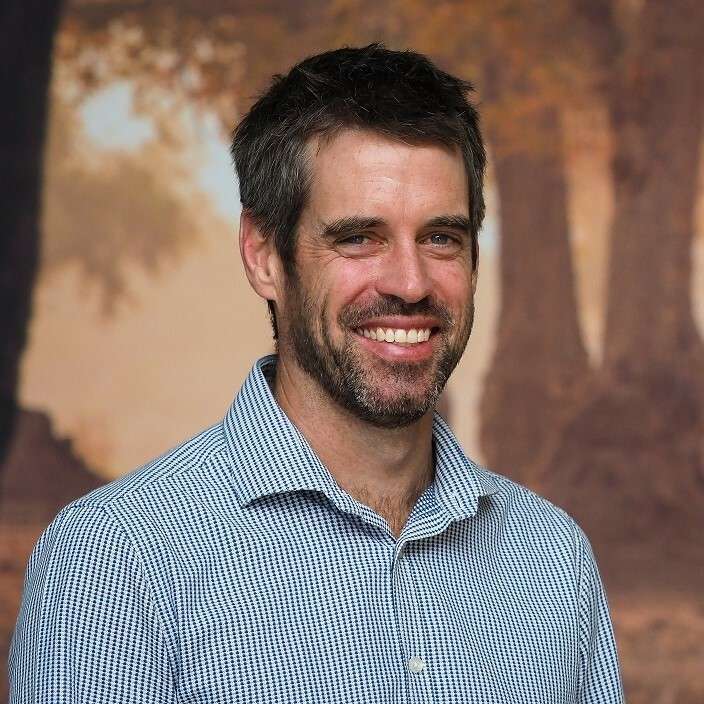 Dr Neil Midlane: With extensive experience in ecotourism, a substantial financial background and a pragmatic understanding of the conservation issues facing protected area management in Africa, Dr Neil Midlane was appointed Wilderness Safaris Group Impact Manager in April 2019.
In his role as Group Impact Manager, Neil's main focus is to drive the company's mission of using its conservation tourism business to conserve and restore Africa's wilderness and wildlife, contribute to community development, and to inspire people to advocate for positive change. Neil works with all other elements of the business to ensure a cohesive approach to utilising conservation tourism as a force for lasting positive impact. Neil is a member of the African Lion Working Group, which is affiliated with the Cat Specialist Group of the International Union for the Conservation of Nature Species Survival Commission, as well as a member of the Mozambique Carnivore Working Group, the KAZA Elephant Working Group, the KAZA Carnivore Working Group and the Transfrontier Specialist Group.
As a passionate conservationist and advocate of the valuable role that conservation tourism plays in protecting Africa's wildlife and pristine areas, Neil is excited to be a part of the Wilderness journey, and for the opportunity to make a significant, positive contribution to the development of sustainable wildlife-based economies across the continent.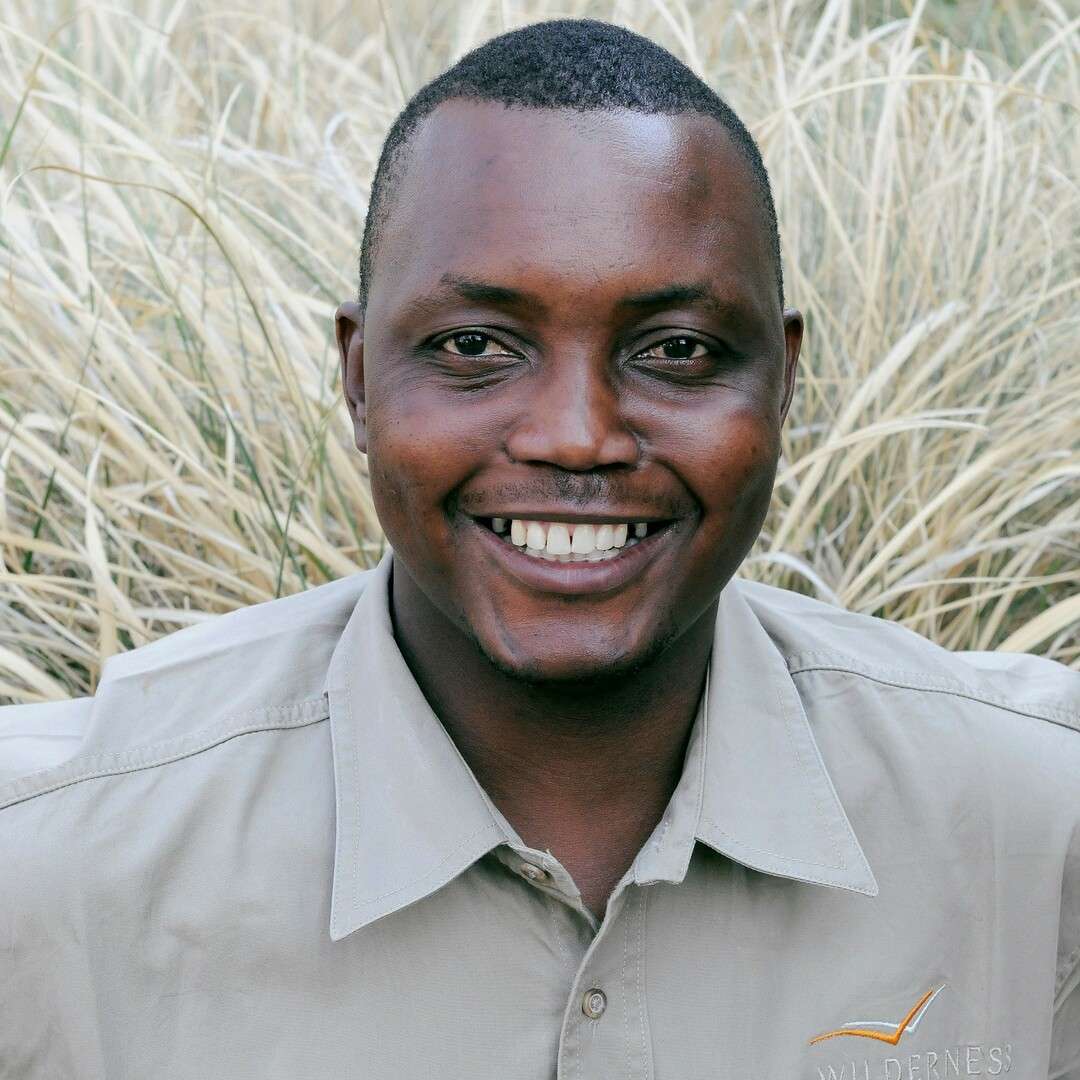 Tendai Mdluli, Guide Training Co-ordinator and Trade Relationship Manager: With over 22 years' experience with Wilderness Safaris, Tendai's unique knowledge ensures that his guiding team receives world-class training to deliver life-changing journeys. In addition to his role as Trade and Relationship Manager, Tendai spearheads a culture of excellence as Guide Training Co-ordinator for the region. His experience in the bush, and a lifetime spent in Zimbabwe's remote wilderness areas, as well as his eye for service excellence, plays an important part in maintaining the unmatched knowledge and skills of these guides.
Tendai's role regularly takes him through the camps to spend hands-on time with the guides, imparting his invaluable knowledge and experience to all. This critical role helps to ensure that Wilderness Safaris remains a forerunner in the safari industry, both regionally and further afield.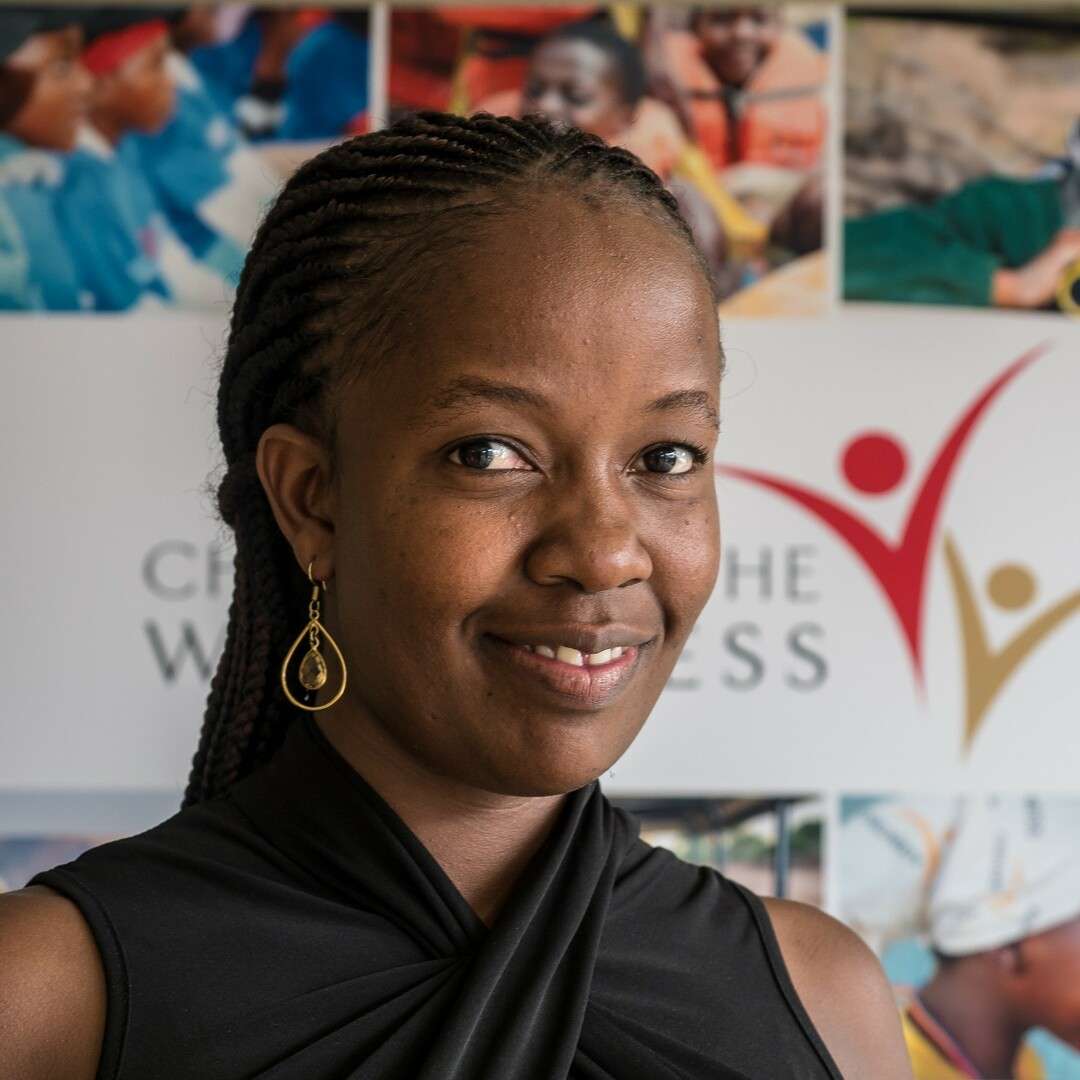 Agnes Mujozikua Tjirare drives and contributes to a number of community and culture-related projects in order to positively impact a number of schools and communities across Namibia. Since 2015, Agnes has been in her current role of Wilderness Safaris' Children in the Wilderness (CITW), Culture and Stakeholder Officer, overseeing the CITW Namibia programme, and working with more than 10 schools and over 800 learners. In conjunction with CITW's partner company, Wilderness Safaris, Agnes drives and contributes to a number of community- and culture-related projects in order to positively impact a number of schools and communities across Namibia.
"I have been privileged to work for an organisation that is so passionate about making a difference to local communities, encouraging me to also inspire positive action within my own spheres of influence. I am proud of the work that we continue to do in our communities, and look forward to changing the lives of many more children and individuals through my position", says Agnes.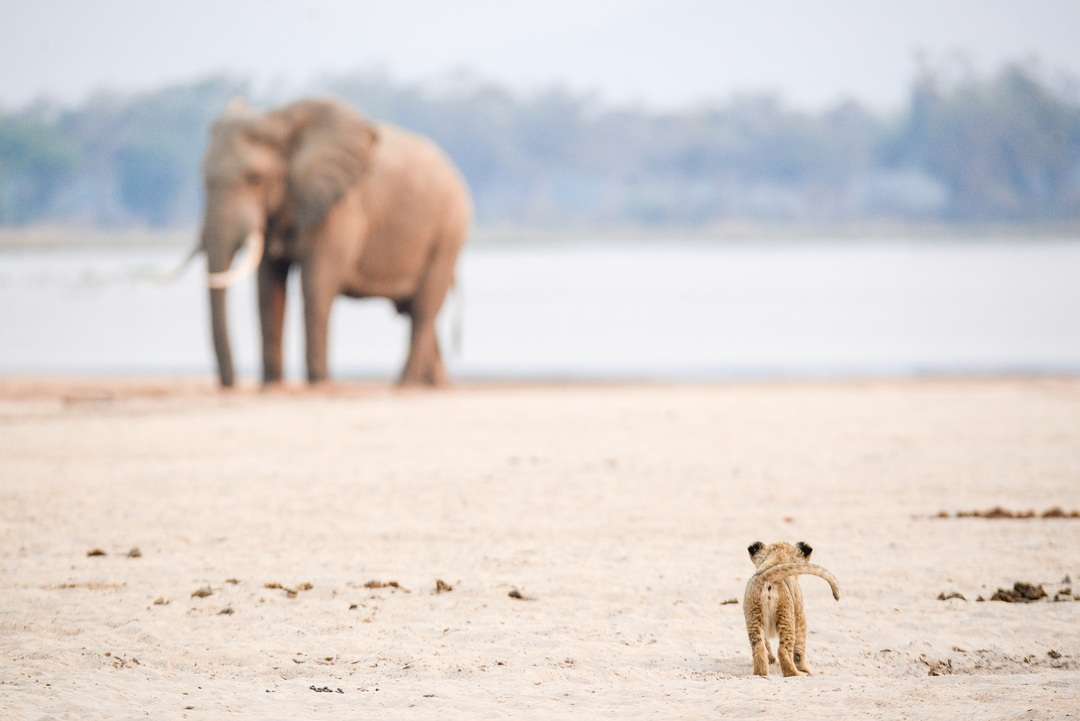 Join these dynamic leaders and learn about conservation and what traveling to Africa looks like today.
Register NOW.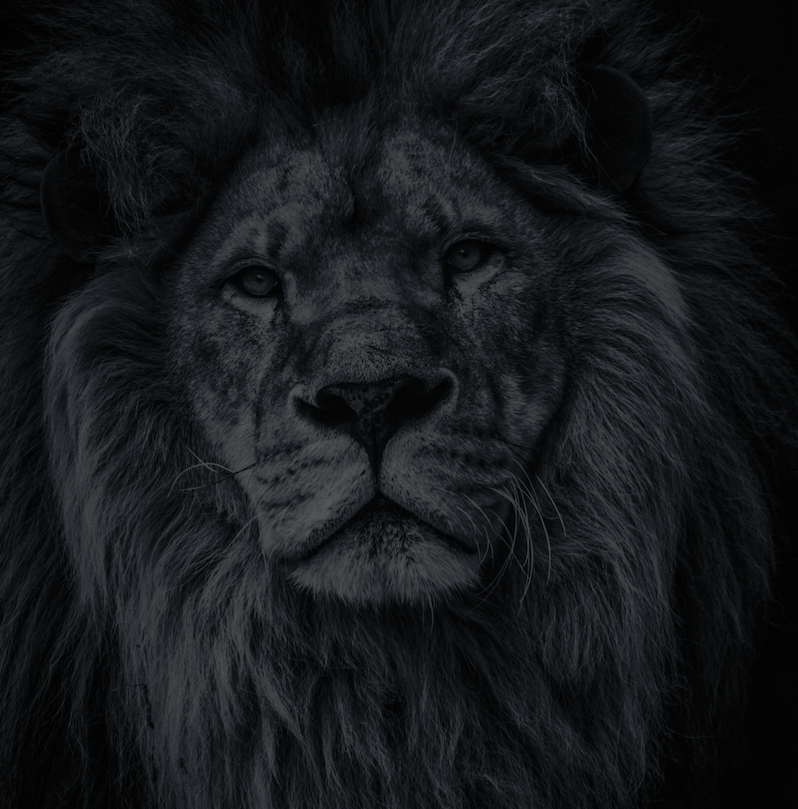 Let's plan your next journey
Ready?
When we say we're there every step of the way, we mean it, literally. From planning the perfect circuit, to private inter-camp transfers on Wilderness Air, and easing you through Customs. We're with you on the ground, at your side, 24-7, from start to finish. Ready to take the road less travelled? Contact our Travel Designers to plan an unforgettable journey.