[ED. NOTE: This is a three-part blog about Siebert's recent trip to Botswana; parts two and three will be posted in consecutive weeks.]
Part One: In Flight; Dancing at Savuti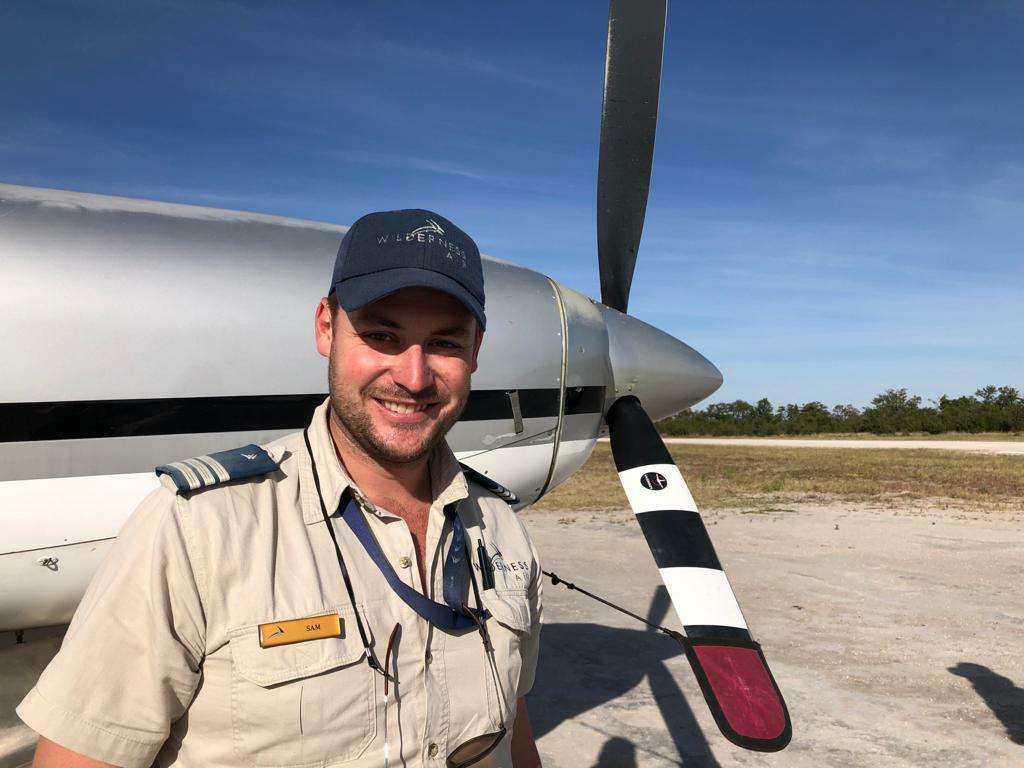 I know who you are. I've got your seat all ready…
Wilderness Air Pilot Sam O'Donovan gives me a hearty handshake, shepherding me to the front of the Grand Caravan resting on Maun's breezy airstrip as the other guests file onto the 14-seater plane. An awkward hoist and I'm in the co-pilot's seat; I've sweet-talked my way here, and feel pretty foolish contending with the five-point seatbelt but there, it's done. Sam performs a multitude of checks on the mind-boggling control panel a foot away from my face. The engine roars louder, the prop blades spin faster, and within minutes we soar into the Botswana skies, headed to the far north, the Linyanti.
It's happening. My long-awaited, COVID-19-delayed adventure to a trio of Wilderness camps, two in the Linyanti Wildlife Reserve and one in the Okavango Delta. To some of the world's most astounding game viewing across gorgeous, varied landscapes, laced with water. As the plane ascends, leaving Maun's sprawl behind, I'm in heaven.
Soon, roughly 7 500 feet below, appears the Okavango – the largest inland delta on Earth. Though technically not a delta as it never empties into the sea; more of an alluvial fan, I'm told. Whatever it is, its vast green, blue and grey-brown mosaic astonishes. Some thirty minutes out of Maun, we're flying over the Linyanti, much more densely forested. Sam points out the landmarks he uses when not flying on GPS: mostly waterways, treelines, airstrips, and the one hill in the distance. It's one enormous spread of unidentifiable wilderness to me.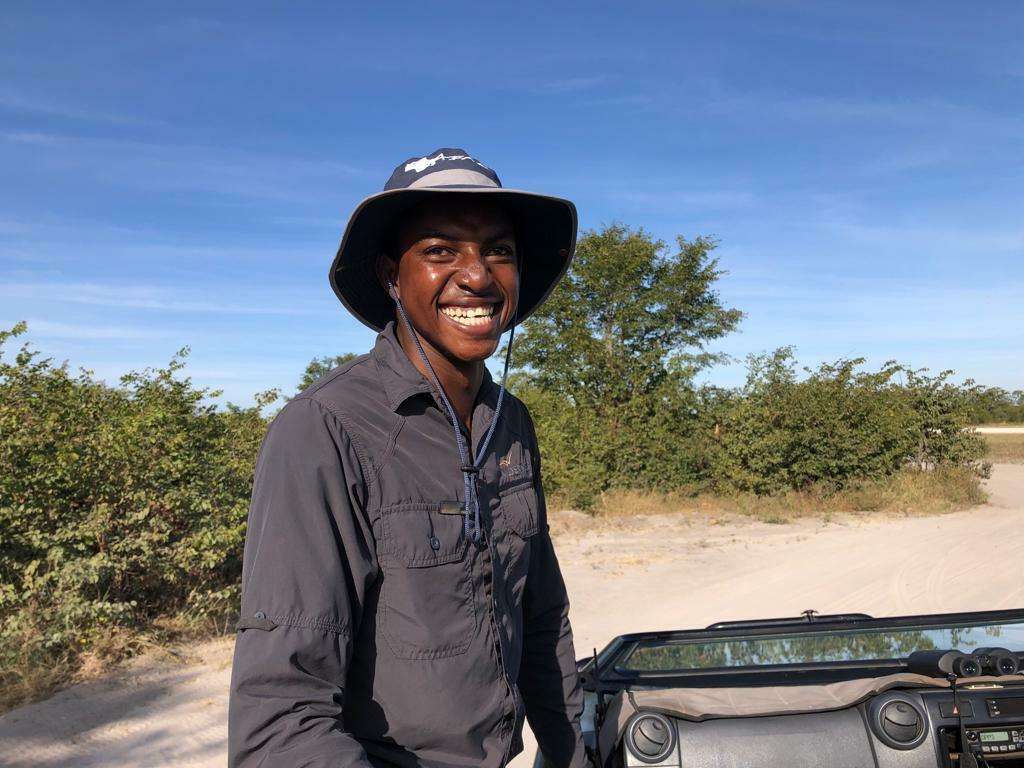 We land about five minutes later on the Chobe Airstrip, servicing all five Wilderness camps in the Linyanti. I'm headed first to Savuti; my Savuti guide Boifang Keith Wasimona is the first smiling face I see on the runway. (Wasimona, he later tells me, means 'Given the opportunity, don't waste it'; I discover he lives up to his name.) Sam says goodbye, handing me over to Keith and what lies ahead; this handover, from one warm, kind, attentive, highly skilled Wilderness person to another, becomes a hallmark of the trip.
Soon Keith and I, and gratefully no one else, are bouncing on the giant Toyota Land Cruiser down the white sand track towards camp. It's 4:30 pm; I left home in Cape Town more than eight hours ago. I'm exhausted, but there's nothing like the bush to revive you, recalibrate your energy and spirit. One by one my senses come alive: seeing untamed nature all around me; hearing the chants and cries of myriad birds; inhaling impossibly fresh, cool air, periodically scented with wild sage, almost tasting it; not touching much except the game vehicle to steady myself.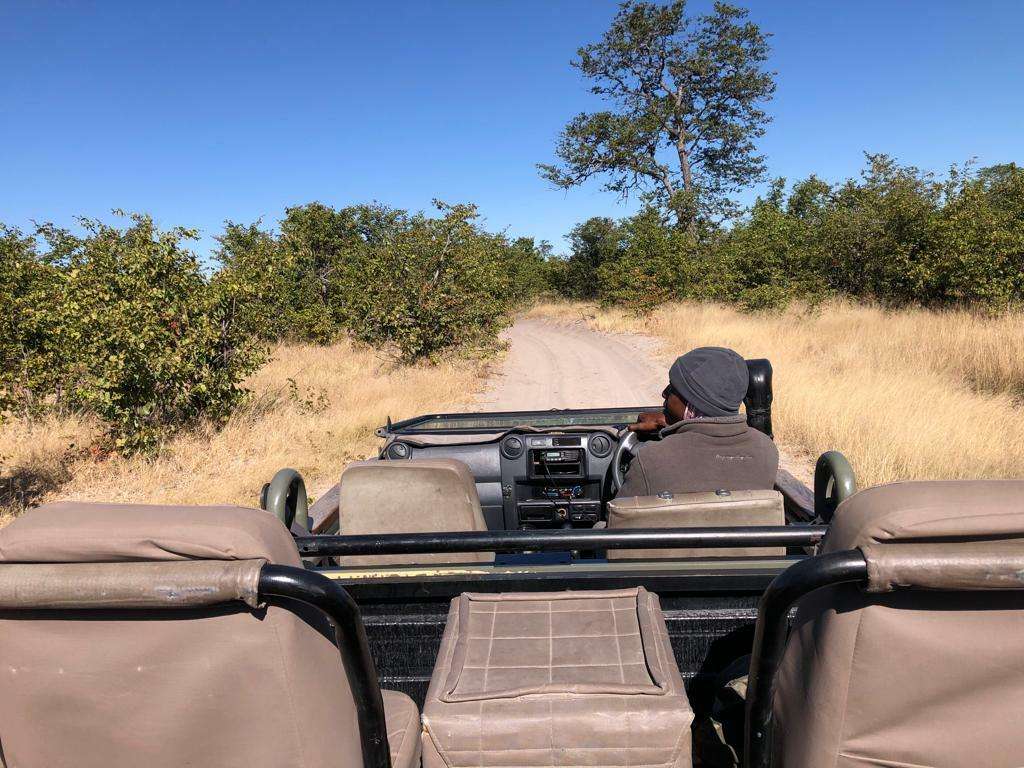 Within minutes Keith is checking lion tracks in the sand. 'That's what I love most about my job', he says. 'Tracking. It's like a treasure hunt'.
The sand track – seriously deep in parts, swerving us around – is fringed by mopane and Kalahari apple leaf woodlands. The latter, I learn, signifies lots of sand, places formerly under water. Driving at a reasonable clip, Keith spouts interesting bush knowledge from the front; I hold on, try to take notes. We talk about mopane leaves shaped like butterflies; our mutual distaste for mopane worms, a delicacy to many; our shared love of elephants and leopards; how the lilac-breasted roller, repeatedly on display this afternoon, was Botswana's national bird but has been displaced by the non-flying (and not nearly so attractive) kori bustard; how small giraffe dung is (he shows me some, like small marbles); how vulnerable they are when they drink; how worker termites in the ubiquitous termite mounds make compost that fertilises trees; how northern Botswana's 130 000 elephants are scarcely visible during the rainy season; how we both have been charged by elephants. ('After that happened, I told them I was resigning', Keith says. 'They told me "just learn more about elephants and you'll be fine"'.)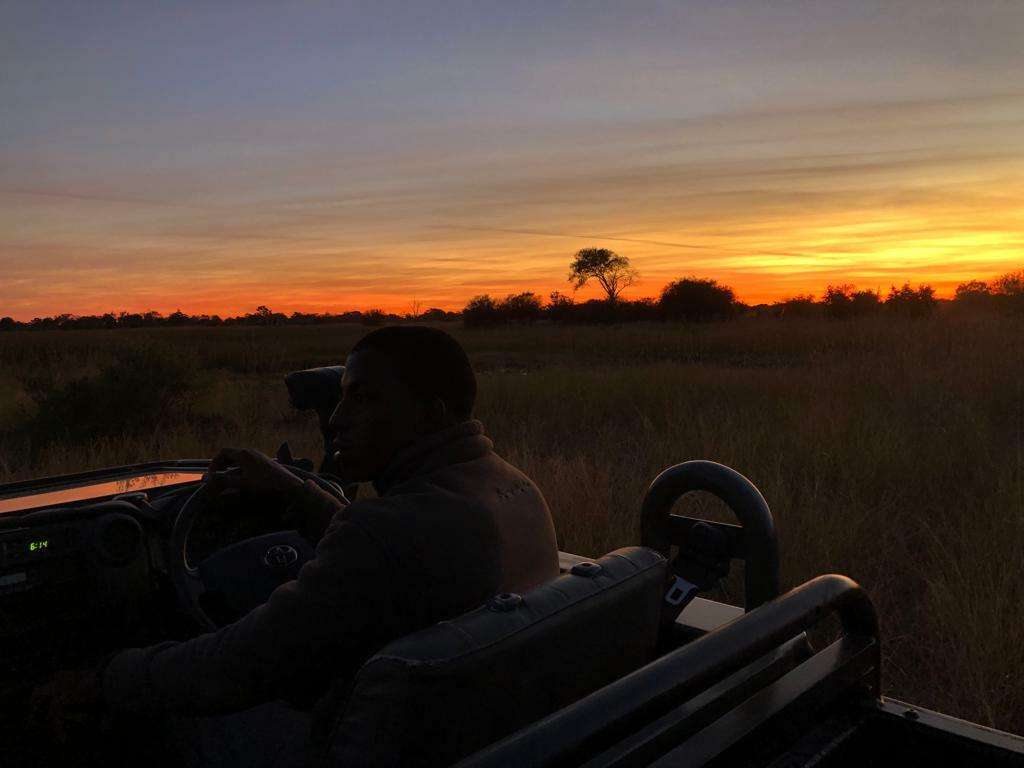 We pass lots of francolins and hornbills, or they pass us, as the sun starts to drop, along with the temperature. We pass pans where young giraffe, impala, and waterbuck watch us curiously, where hippos clumsily mate and stay in the water to keep warm, where grey herons rest peacefully. The trees are huge and majestic: jackalberry, burnt plum, rain trees, and others. The night chorus begins: the tinkling sound of reed frogs, the grunting of hippos. In the near-dark we pass what's left of a buffalo carcass, a recent lion kill: skull, horns, ribcage, a smiling rictus of teeth. Chilling. Wild dog and jackal call; Keith tells me that lion are taking over, driving wild dog and leopard off. There may be just three wild dogs left in the area.
The moon and the sun now share the sky; Keith says it's a sign of a good harvest. The sun sets, though its glow lingers on the golden grasses. Soon it is totally dark, except for the massive spotlight used on night drives beaming into the bushes. We spy one precious African barn owl before reaching camp, which I can barely see, though make out silhouettes of people waving on the grand wooden steps at the entrance, and beyond a looming wood and thatch structure and fairyland of lanterns.
GM Bonno Aobakwe (I cannot resist the U2 reference) greets me and takes me into the main area for conversation and check-in. From what I can see in the dim light it's lovely: open, spacious, rustic yet elegant with African sculptures, giant djembe drums, and other ethnic artifacts artistically placed. Then I am whisked off to the boma – a traditional outside, high enclosure made from vertical logs – for the Monday night Boma Evening, a celebratory event at all Wilderness camps.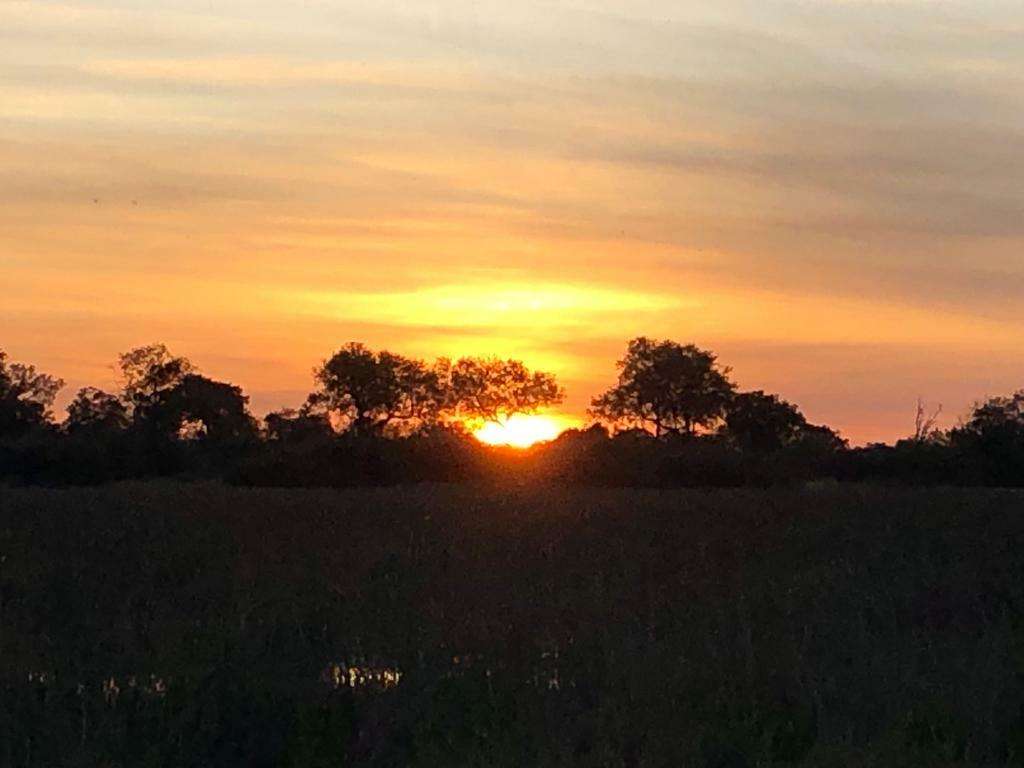 There's a large, welcome fire in the middle, and two other guests, Mandy and Chris, from Scotland. Keith takes a camp chair next to me, and within minutes all 40+ of Savuti's staff enters the boma, breaking into traditional song and dance, the women ululating and the men strutting forcefully. We sing along to 'Beautiful Africa/Botswana/Savuti…I shall never forget…' By the end we guests are up dancing, stomping and wiggling and laughing; I dance with Bonno. The dancing ends with all of us in a circle, joining hands, lunging rhythmically towards the fire then stepping back, mesmerised, over and over.
A scrumptious supper follows, served in the camp's signature potjies (little cast iron pots): oxtail, vegetable tagine, bream, and more. Keith escorts me to my room, at last, and it's perfectly beautiful, with classic safari décor. The mosquito-netted bed beckons. I lie there listening to the silence, absolute until…it's not. Hyaenas cackle; hippos grunt; elephants slosh in the Linyanti River, right in front of my room. Actually, I barely want to sleep, but finally succumb.
TUESDAY, 7 JUNE
We're out early on a game drive, headed north. The sun has just risen; I'm clutching my hot-water bottle and wrapping a tentlike poncho around me. As we approach the airstrip Keith says to look out for wildlife. 'Sometimes we find animals sleeping here', he says. 'It keeps the warmth of the day'.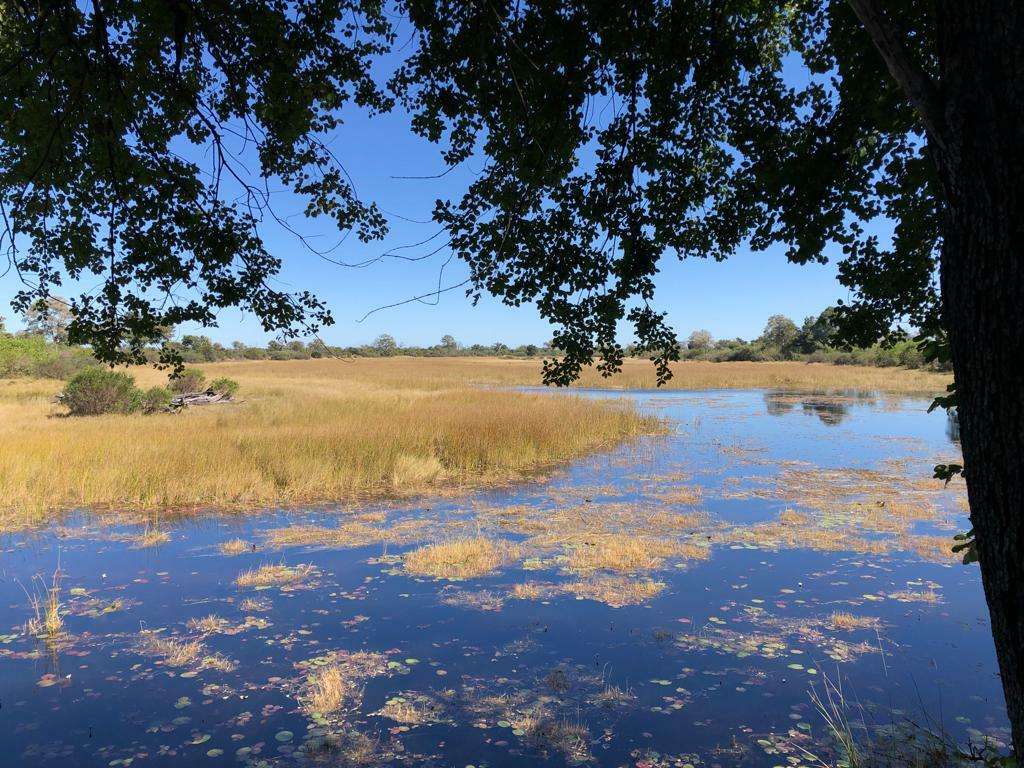 We pass a male impala and his harem; 'poor guy has to mate with all of them', Keith laughs. 'That's what it's all about in the wild – spreading your genes around as far as possible'. I stare into the thick bush looking for elephants, always looking for them; Keith says they're still in the bushes, trying to stay warm, but 'they're in there'.
Then we see one: a huge bull on the track ahead, and Keith immediately assesses him. His penis is erect, he toes the sand, liquid drips from the temporal gland on the side of his head, his tail twitches – all signs of stress. Then he urinates on his back legs, meaning that we're facing a massive bull elephant in musth, potentially dangerous.
'He's going to chase us', Keith says, reversing slowly. The bull advances, but then detours off the track towards a tree. 'He's going to shake that tree to show us who's in charge'. Keith's not wrong. 'I'm going to drive around him fast, hold on!' We pass the bull successfully. I breathe again. I want more close encounters.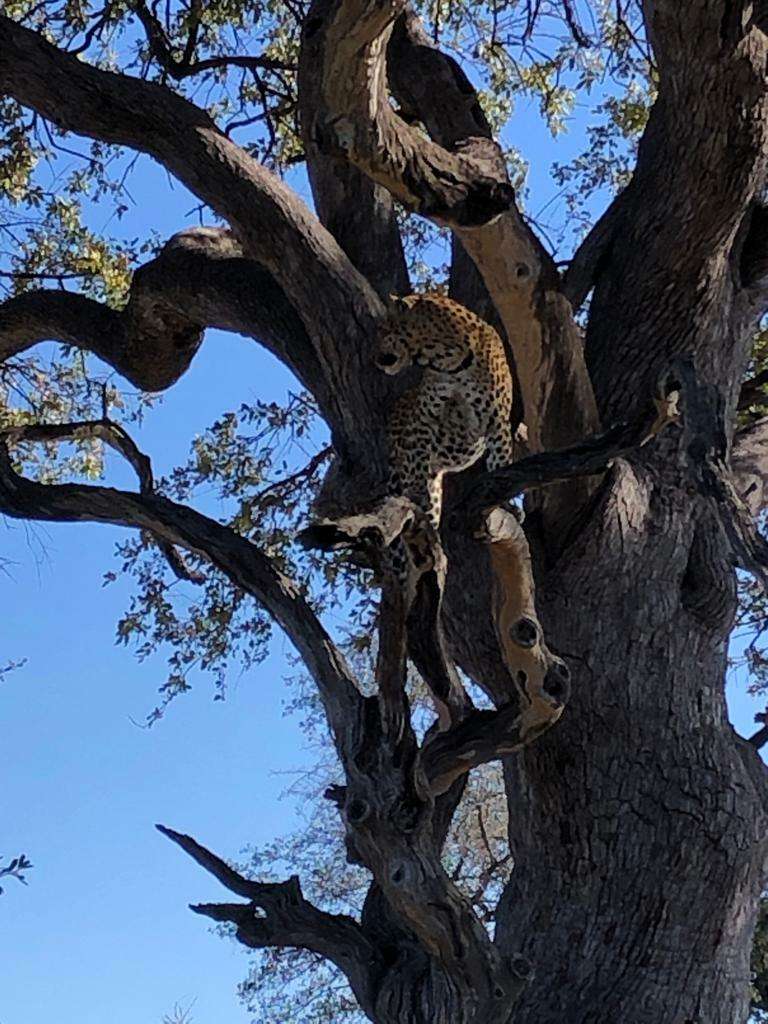 We get one. Keith has learnt on the radio from fellow guides that not far off a drama's unfolding. A lion has followed a leopard up a tree and stolen its warthog kill, or most of it. We drive for roughly ten minutes, and there it is: the leopard high in a burnt plum tree, tearing into warthog remnants, the lion nowhere to be found.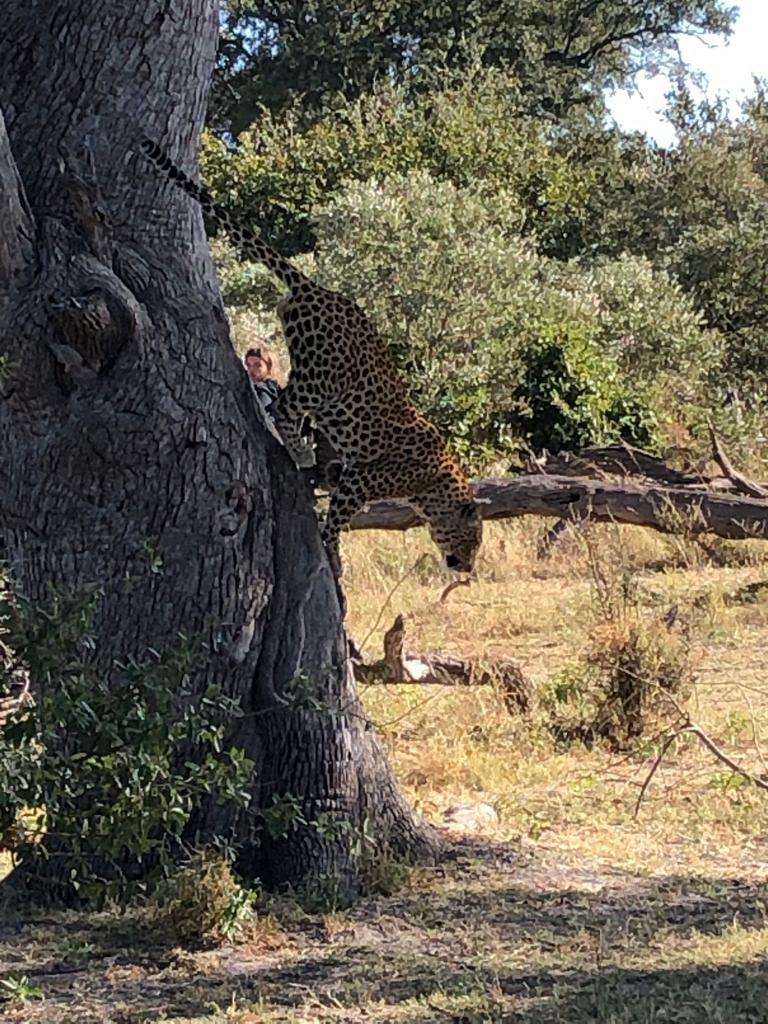 But then the leopard drops the meat, and gracefully descends to retrieve it. He can't seem to find it, and disappears. The two other vehicles depart, but Keith and I press further. Keith spots the lion, chowing under a bush contentedly. We pull back, and spy the leopard again, sniffing around another tree where he must have made the kill, looking for scraps. Sitting on an anthill and staring at the thief who stole his prize. Someone from King's Pool later posts a video of the theft.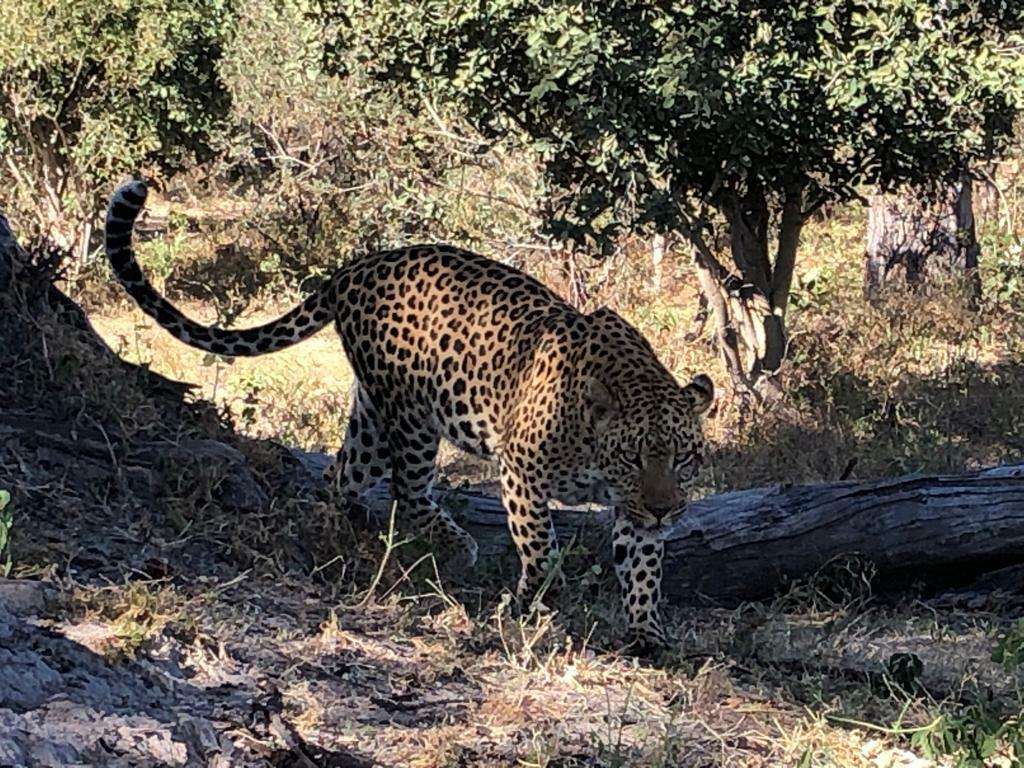 Further commemoration awaits. When I ask Keith later how he finds his way across this wild terrain, he says road names, bodies of water, east-west-north-south directions, fallen trees or trees marking junctions, and this: 'An event happens and as time goes on we will call a place by that name…like "Leopard Kill"or "Lion and Leopard in One Place"'.
The afternoon is much more low-key, taking a Delta boat out on the Savuti Channel, renowned for its 'disappearances', and into the Zibadianja Lagoon, which feeds the channel with water coming down through Namibia from the Angolan highlands. We untie the boat at Savuti's striking sleep-out hide, motoring out on the crystalline water covered in waterlilies, soon finding a number of elephants tearing up their roots/rhizomes and munching on them. As Keith prepares me the classic G & T sundowner, he describes how his mother – still in Kasane where he grew up – makes traditional tswii, a dish of waterlilies and meat, how the local women dive down to get the lily roots. He talks more about the Channel, about how during one recent drought the Savuti Pride of lions became infamous for taking down big game. He must have seen a thousand Savuti sunsets but to me – in its shades of red and gold, with dark palm silhouettes marking the border with Namibia – it's spectacular.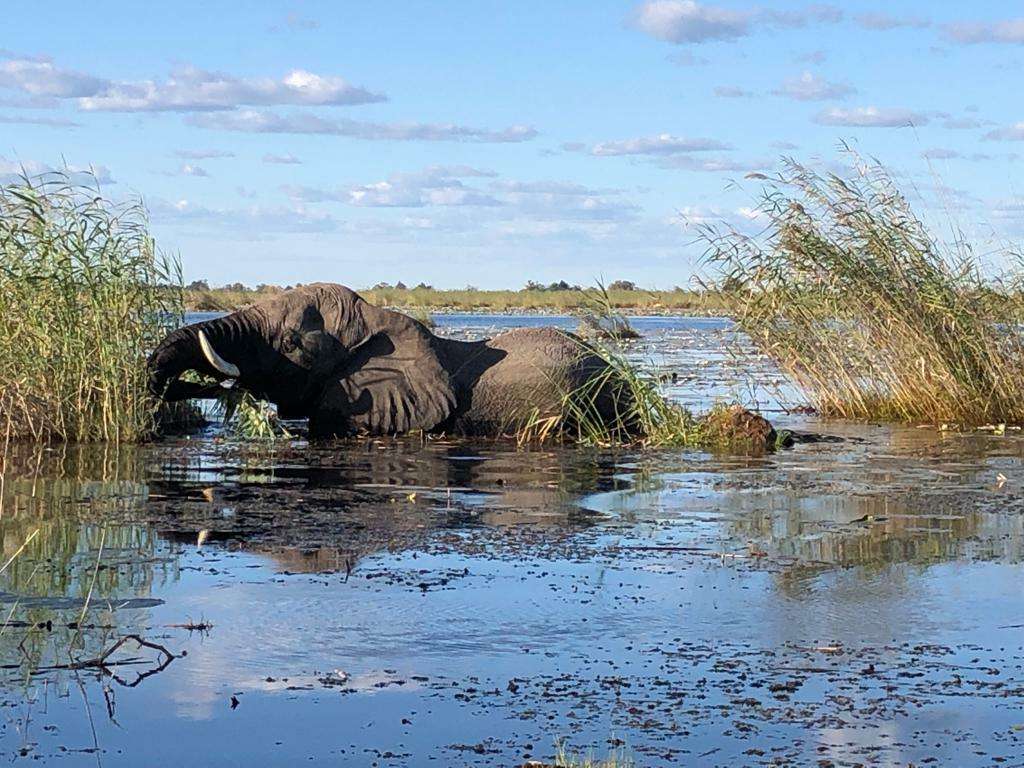 WEDNESDAY, 8 JUNE
Our game drive this morning serves as a transfer to the airstrip, where I'll meet my next guide, See Oja, and journey on to DumaTau. We're on our way, after a few snaps with Bonno, Keith and me before departure. I've known these people for a mere 36 hours, but it feels heartsore to leave them. Keith is still with me, of course, but I dread saying goodbye; we talk about his visiting me and my son (they're almost the same age) in Cape Town.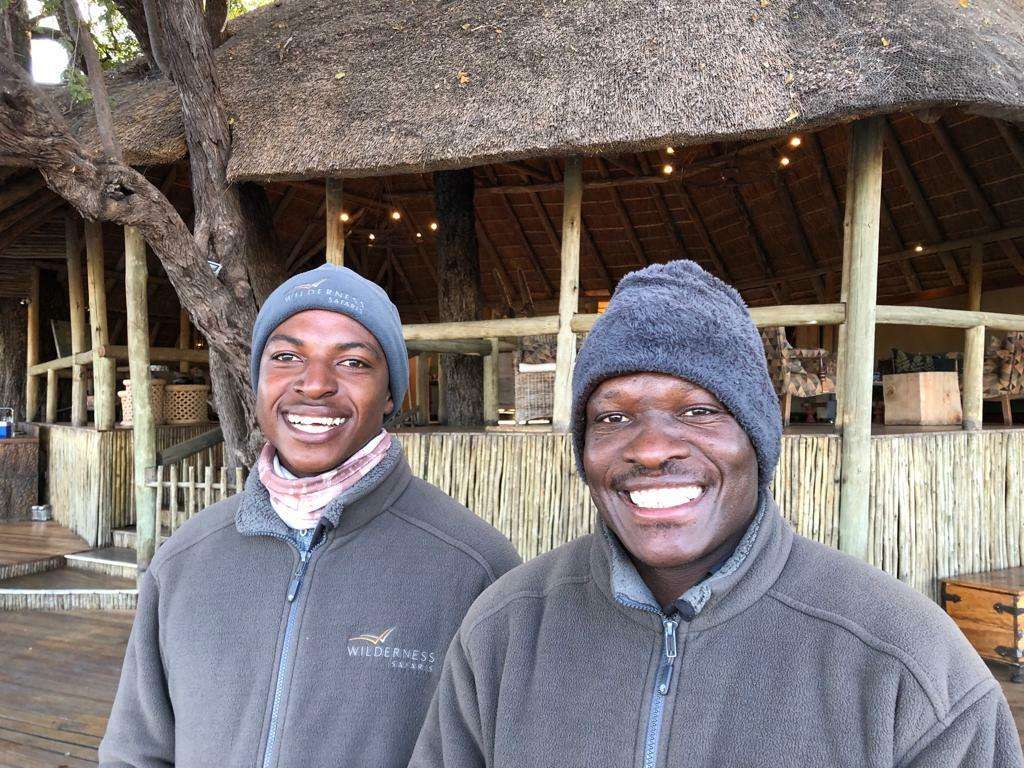 We don't see much game, just a pearl-spotted owl sunbathing, a saddle-billed stork and a few impala. But then Keith is on the radio again, and starts driving a bit faster. Apparently a lioness is on the move, out in the open, going back to her cubs.
Soon we see her, darker than the golden grass, walking along the track silently (she doesn't want to attract hyaenas, Keith says, and lead them to her cubs); she raises her head periodically, listening for her pride. We follow her for at least thirty minutes, watching, listening. Somehow it's a privilege to be following a lioness out of Savuti.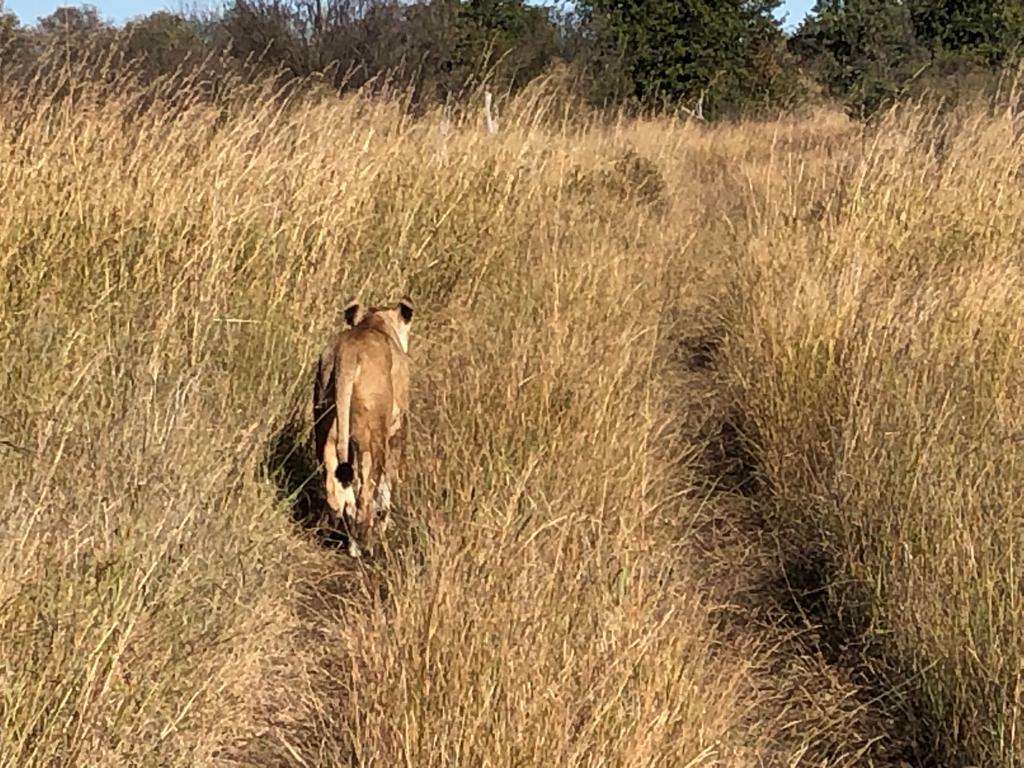 But it's time to go; we drive to the airstrip, where rows of game vehicles and guides are waiting. When I ask about See, Keith says, 'He's very tall'. Nothing else? I ask. 'He's lovely'.
Keith helps me descend, gathering my bag for me, as See approaches. Again, I'm carefully handed over. It's bittersweet. I hug Keith goodbye, actually tearing up a little. But See – he is very tall, with a smile flashing across his face – and DumaTau are waiting.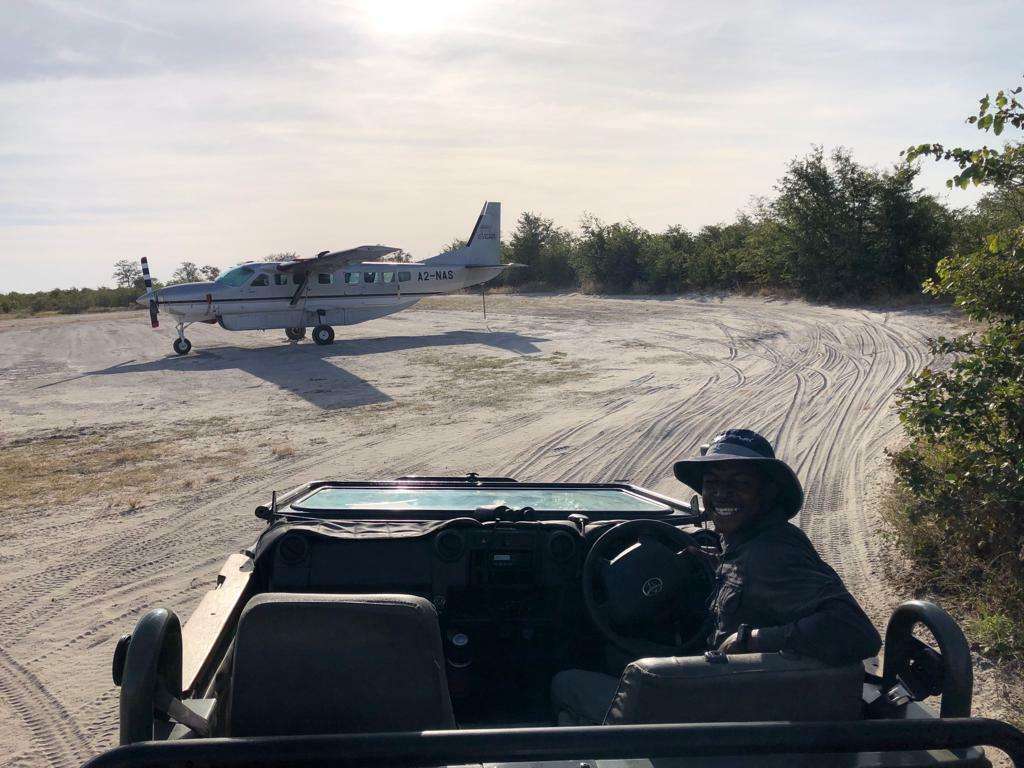 To be continued...
Photographs by Melissa Siebert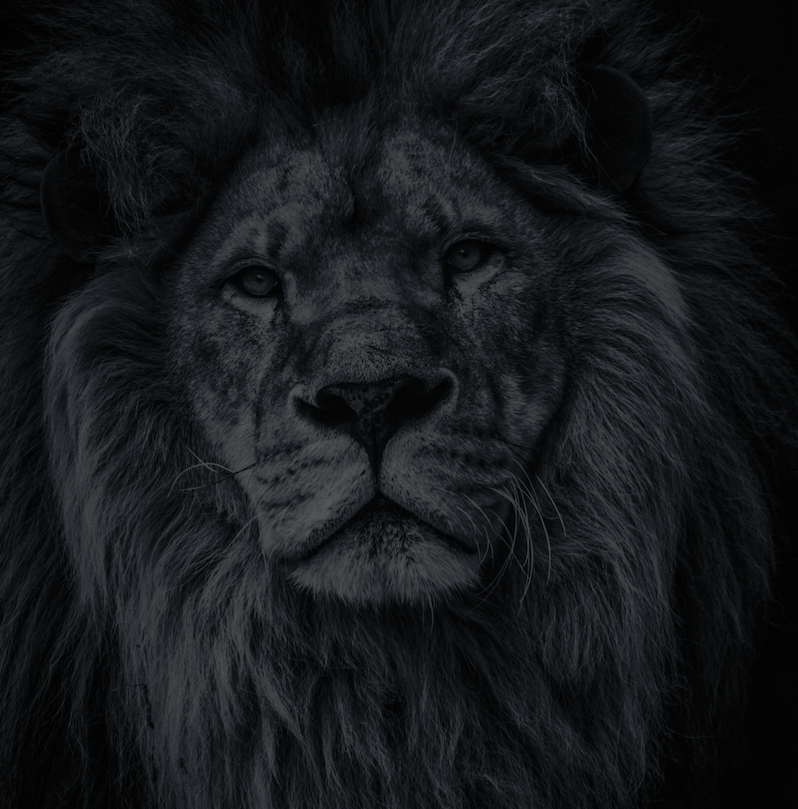 Let's plan your next journey
Ready?
When we say we're there every step of the way, we mean it, literally. From planning the perfect circuit, to private inter-camp transfers on Wilderness Air, and easing you through Customs. We're with you on the ground, at your side, 24-7, from start to finish. Ready to take the road less travelled? Contact our Travel Designers to plan an unforgettable journey.