There won't be snow in Africa this Christmas, but there will be a Festive Feast! Our chefs from all over the wilderness have shared some of their favourite recipes for the season. Led by the genius that is Linda Van Rensburg, Wilderness Group Food Experience Manager, and her wonderful team of trainers and managers, we have put together a festive menu inspired by Africa, so that while you may not be able to visit us just yet, we wanted you to at least have a taste of Africa in your home, to keep your love of the wilderness alive.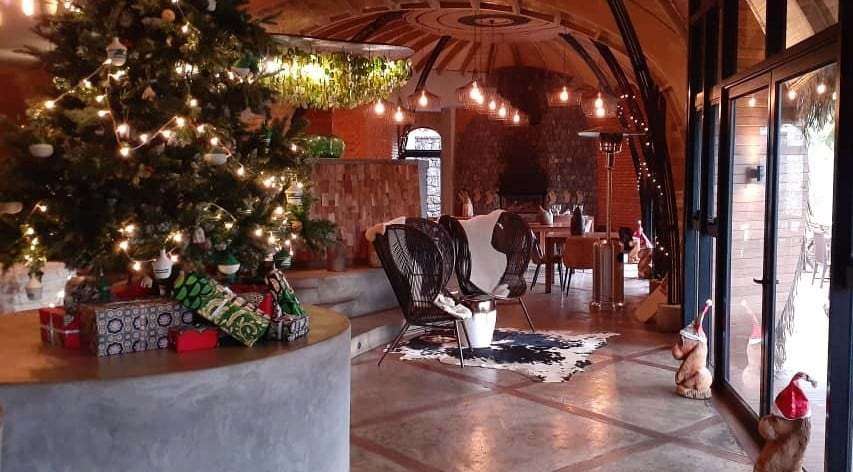 With our mindful menu philosophy, all ingredients are sourced locally and sustainably.
Christmas Morning – Muffins from Botswana
INGREDIENTS
250g plain flour
2 ½ tsp baking powder
½ tsp bicarbonate of soda
100g caster sugar
1 tsp ground cinnamon
Good grating of fresh nutmeg (or ¼ teaspoon ground nutmeg)
2 clementines/satsumas (approximately)
125ml full-fat milk
75ml vegetable oil (or melted butter left to cool slightly)
1 egg 175g dried cranberries
FOR THE TOPPING: 3 tsp Demerara sugar
Serves: 12
METHOD
Preheat the oven to 200°C/gas mark 6 or 400F. Line a 12-bun muffin tin with muffin papers or silicone inserts. If you don't have inserts you can simply grease the muffin tin with a light coat of butter or oil and a light dusting of flour to stop the muffins from sticking to the tin.
Measure the flour, baking powder, bicarbonate of soda, caster sugar, cinnamon and nutmeg into a large bowl; grate the zest of the clementine/satsuma over, and combine. If you are doing this in advance, leave the zesting till Christmas morning.
Squeeze the juice of the clementines/satsumas into a measuring jug, and pour in the milk until it comes up to the 200ml mark.
Add the oil (or slightly cooled, melted butter) and egg, and lightly beat until just combined.
Pour this liquid mixture into the bowl of dried ingredients and stir until everything is more or less combined, remembering that a well-beaten mixture makes for heavy muffins: in other words a lumpy batter is a good thing here.
Fold in the cranberries, then spoon the batter into the muffin cases and sprinkle over the Demerara sugar. Bake in the oven for 20 minutes, by which time the air should be thick with the promise of good things, and the good things themselves golden brown and ready to be eaten, either plain or broken up and smeared, as you go, with unsalted butter and marmalade.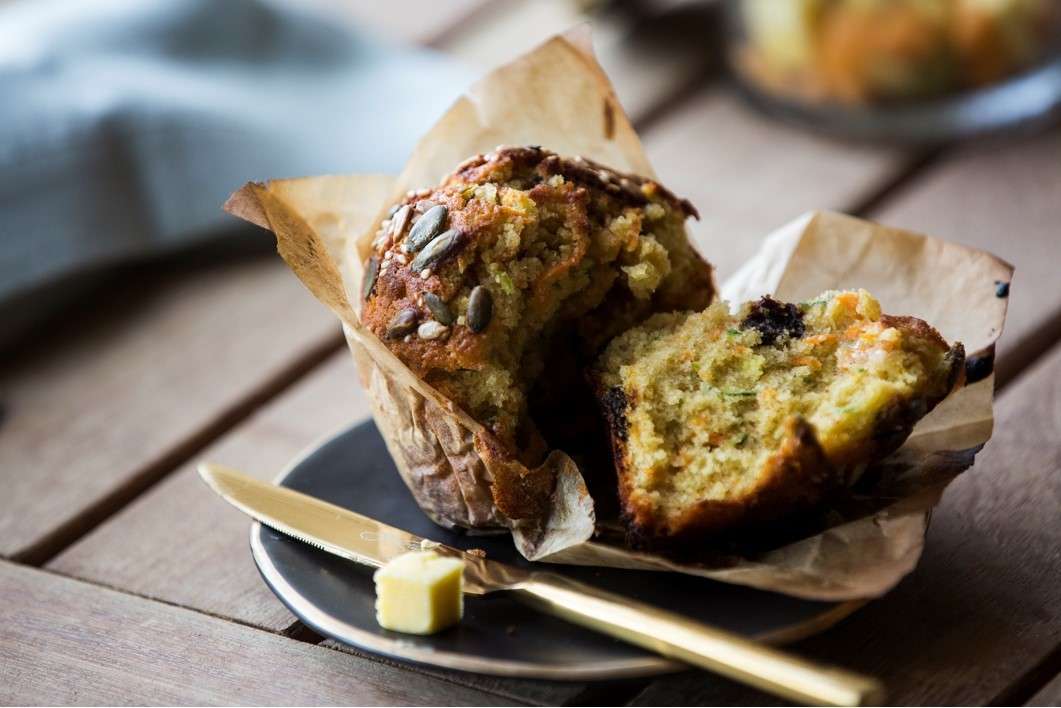 Festive Cocktail – Vanilla Chai Old Fashioned from Rwanda
Chai Simple Syrup
4 chai tea bags
1/3 cup real maple syrup
1 tsp vanilla extract
Chai Old Fashioned
2 oz. (1/4 cup) bourbon
1 oz, lemon juice
1 dash orange bitters
1-2 oz. (2-4 tablespoons) chai tea syrup
Sparkling water, for topping
Cinnamon & star anise, for serving (optional)
METHOD
Chai Simple Syrup
In a medium pot, bring 1 cup water to a boil. Remove from the heat, add the chai tea bags, cover and steep 10-15 minutes. Remove the tea bags and add the maple syrup. Bring to a boil over high heat. Boil 3-5 minutes, then remove from the heat. Stir in the vanilla. Allow to cool. Keep in the fridge for up to 2 weeks.
Old Fashioned
In a cocktail shaker, combine the bourbon, lemon juice, orange bitters and 2 tablespoons of the chai syrup. Shake to combine.
Strain into a glass. If desired top with sparkling water. Garnish with cinnamon and star anise.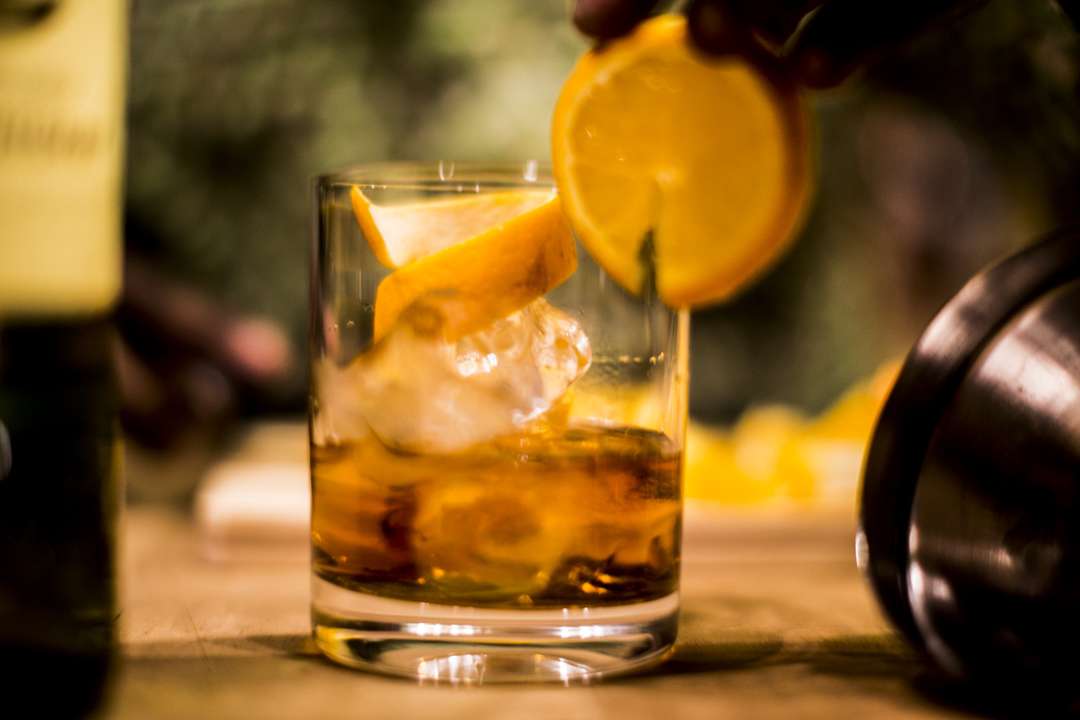 Starter – Biltong bites with sweet mustard sauce from Botswana
INGREDIENTS
4 oz. (120 g) butter
4 oz. (120 g) flour 375ml
(1½ cup) milk 7 oz.
(200 g) biltong dust (biltong is similar to beef jerky)
Salt, to taste
3 eggs, beaten
5 oz. (150 g) breadcrumbs
Oil for deep-frying
SWEET MUSTARD SAUCE
125 ml (½ cup) condensed milk
125 ml (½ cup) white wine vinegar
5 ml (1 tsp) Dijon mustard
5 ml (1 tsp) wholegrain Mustard
METHOD
Gently melt the butter, mix in the flour and stir for a few minutes over the heat, slowly add the milk.
Add the biltong dust to the milk-and-flour mixture, chill for an hour.
Form small balls by rolling in the palms of your hands, dip into the egg and then the breadcrumbs.
Chill the balls and then deep-fry until golden brown.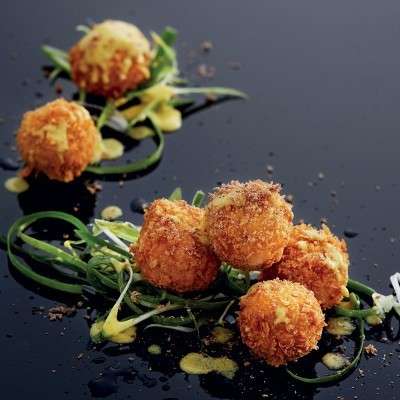 Starter – Beef Carpaccio with Beetroot Chutney on a Bed of Rocket and Parmesan from Namibia
INGREDIENTS
1½ kg raw beetroot, trimmed, peeled and diced (wear gloves!)
3 onions, chopped
3 eating apples, peeled and grated
Zest and juice 3 oranges
2 tbsp white or yellow mustard seeds
1 tbsp coriander seed
1 tbsp ground cloves
1 tbsp ground cinnamon
700ml red wine vinegar
700g golden granulated sugar
Beetroot Chutney
In a preserving pan or your largest saucepan, mix together all the ingredients well. Bring to a gentle simmer, then cook for 1 hour, stirring occasionally, until the chutney is thick and the beetroot tender. While the chutney is cooking, prepare your jars by running through a short hot wash in your dishwasher. Or wash thoroughly by hand, then put in a hot oven to sterilise for 10-15 minutes. Once the chutney is ready, let it settle for 10 minutes, then carefully spoon into the jars and seal while still hot. You can eat it straight away but it will be even better after a month. Will keep for up to 6 months in a cool dark place. Once opened, refrigerate and eat within 2 months.
Beef Carpaccio
Thinly sliced beef fillet (frozen makes it easier to slice) Parmesan Grated Olive oil for drizzling Rocket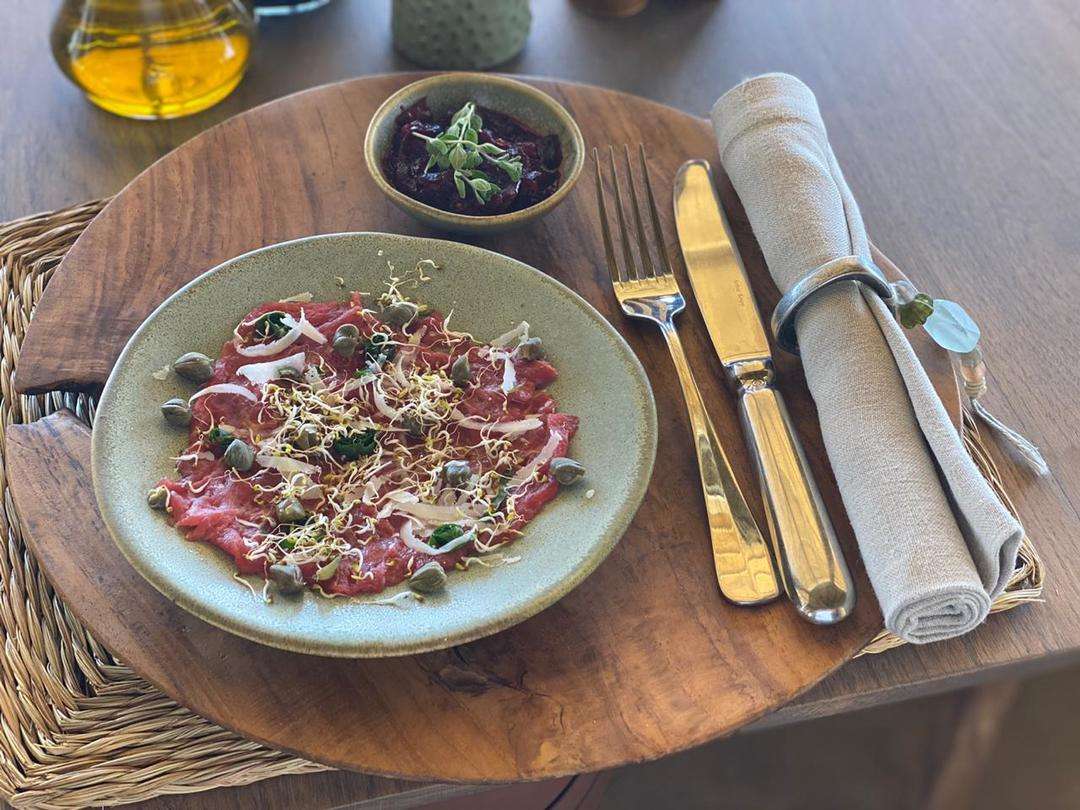 Main – Soya and Honey Chicken from Zimbabwe
INGREDIENTS
8 chicken thighs, skin on
2 tbsp (30 ml) olive oil
4 tbsp (60ml) Dijon mustard
6 tbsp (60ml) soya sauce
¼ cup (80 ml) honey
¼ cup (80 ml) Mrs Ball's peach chutney
Juice of 1 lemon
METHOD
Pre-heat oven to 180°C. Line a baking tray with tin foil.
Combine the olive oil, mustard, Worcester sauce and honey and chutney. Marinate the chicken thighs in the mixture for 2 hours in the fridge.
Roast for 10 – 15 minutes, basting occasionally until done.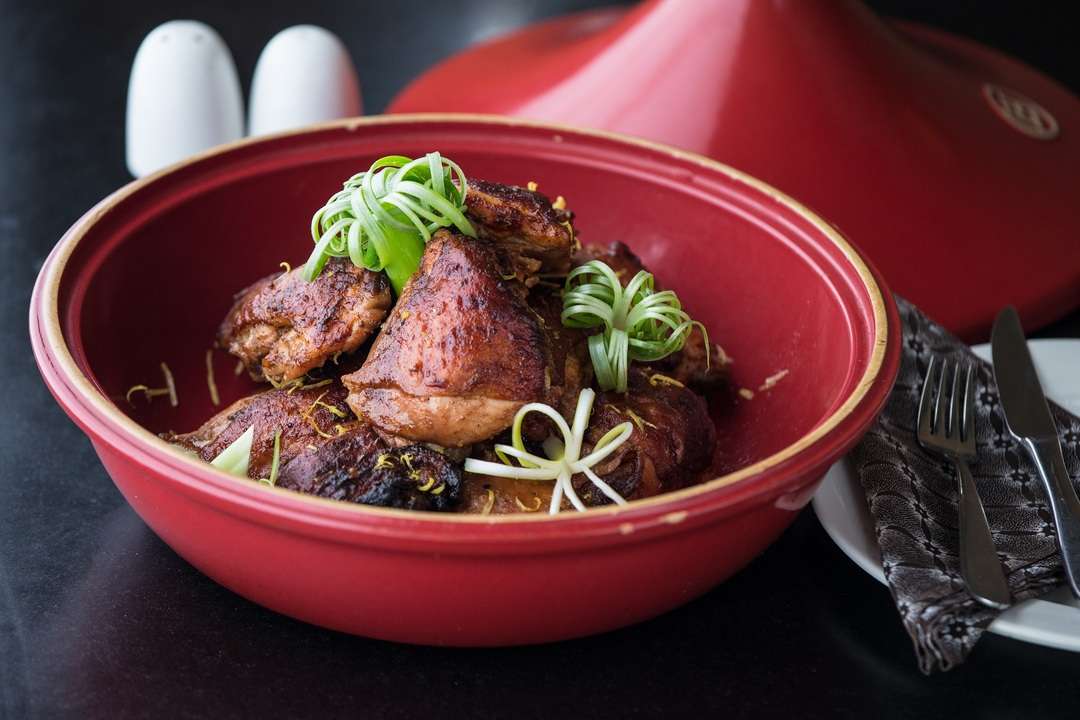 Main – Butternut and Quinoa Bobotie from Namibia
INGREDIENTS
30 g butter
1 large onion, finely chopped
1 tbsp curry powder
1 free-range egg
¼ cup buttermilk
2 brown bread slices, crusts removed
2 cups cooked quinoa
500 g butternut, cooked and mashed
2 tbsp lemon juice
Sea salt and freshly ground black pepper, to taste
6 small bay leaves
Butter, for greasing
Fruity chutney, for serving
Cooked brown rice, for serving (optional)
For the topping, whisk:
2 free-range eggs
1 cup buttermilk
¼ tsp turmeric
METHOD
Preheat the oven to 180°C. Gently cook the onion in the butter until very soft. Stir in the curry powder and remove from the heat.
Beat the egg with the buttermilk.
Crumble the bread and add to the beaten egg mixture and mash well. Mix the quinoa and mashed butternut, then add the onions, bread mixture and lemon juice. Mix well, seasoning to taste. Turn into a one-litre buttered baking dish. Press in the bay leaves.
Bake for 15 minutes, then ladle over the topping. Bake for a further 15 minutes, or until the topping is set.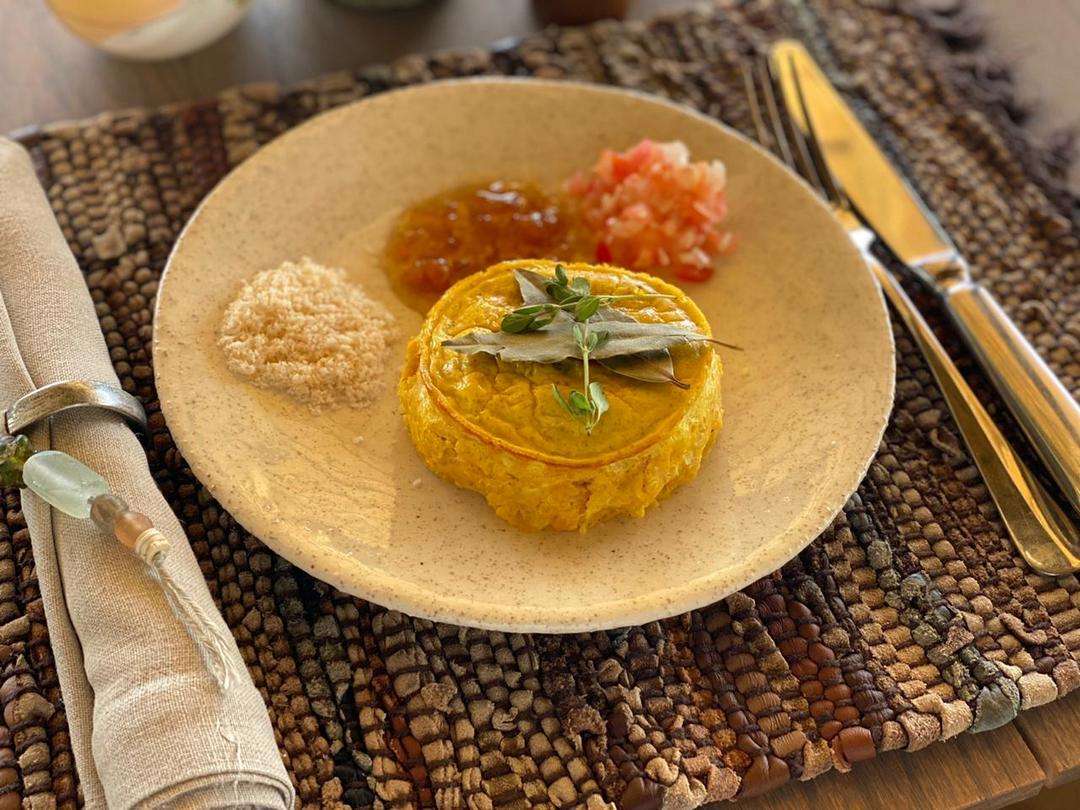 Main – Corn, Basil, Feta and Lime Salad from Namibia
INGREDIENTS
4 ears of corn, husked
3 tbsp butter
4 tbsp olive oil
1 minced garlic clove
1 tsp chopped thyme
1 bunch of green onions, chopped
Salt and pepper
500g cherry tomatoes, halved
8 oz. crumbled feta cheese
½ lime, juiced
2 tbp chopped basil
METHOD
Cut corn kernels off each ear of corn. Set aside.
Warm butter and 2 tablespoons olive oil, add garlic and sauté for about 30 seconds. Then add the corn until just tender (about 4 minutes). Add the thyme and the green onions and sauté for about 1 minute. Season with salt and pepper and cool in refrigerator for about 1 hour.
In a separate bowl combine tomatoes, feta cheese, 2 tablespoons olive oil, salt and pepper, and basil. After corn has cooled combine with tomato mixture and toss with lime juice.
Serve cold.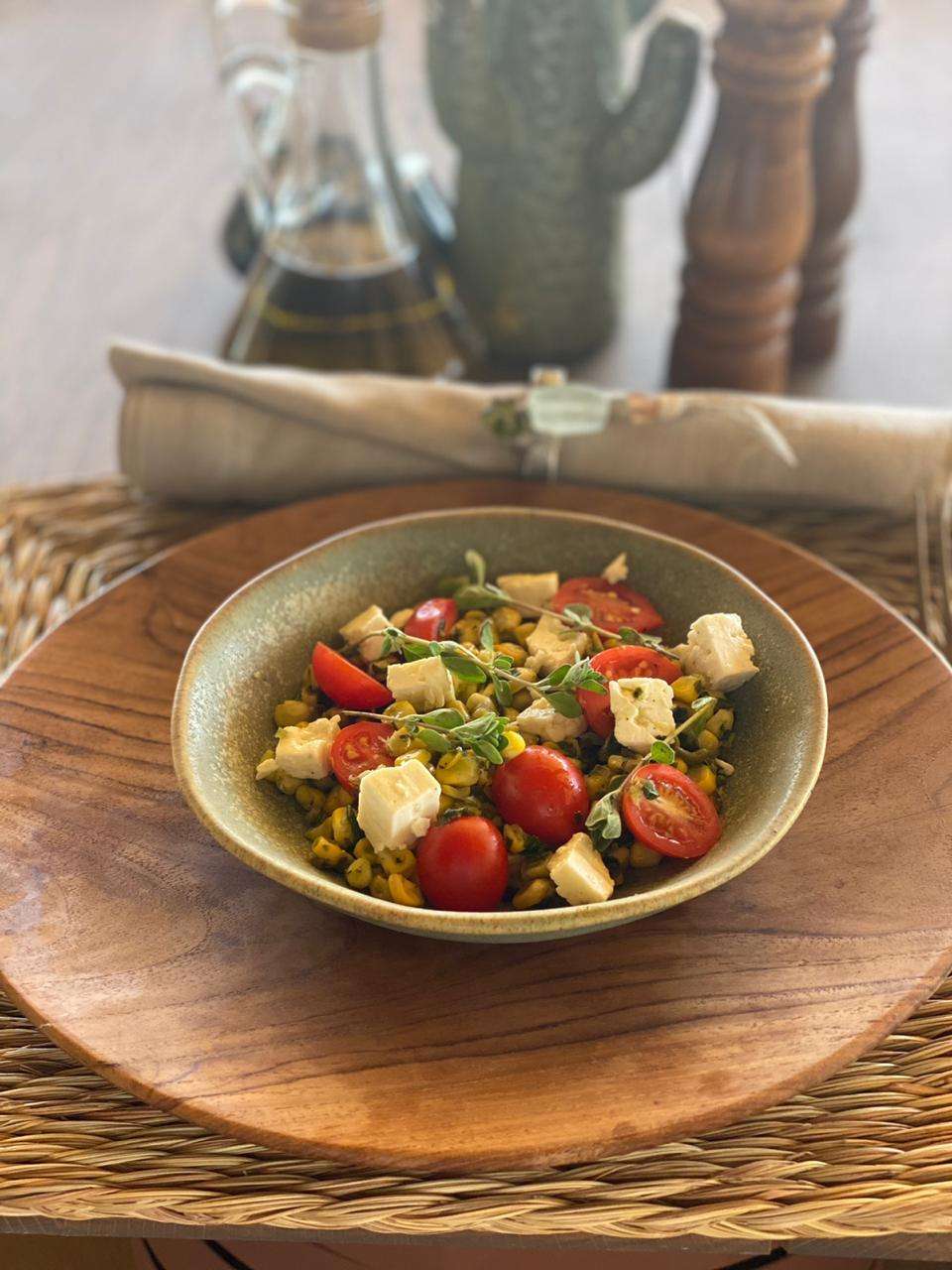 Dessert – Spiced Christmas Ice-cream from Rwanda
INGREDIENTS
300ml cream
300ml milk
1tsp cinnamon
½tsp cloves
½tsp cardamom
1tbsp syrup
2 egg yolks
1 egg
100ml caster sugar
METHOD
Warm the milk and cream, add all the spices & syrup
Beat the sugar, eggs and yolks till thick and creamy
Gradually add the warm milk mixture to the eggs Place back on the heat until it coats the back of the spoon, do not boil or overheat or the eggs will curdle
Strain and cool in the fridge
Place in an ice-cream machine
Serve garnished with a spiced biscuit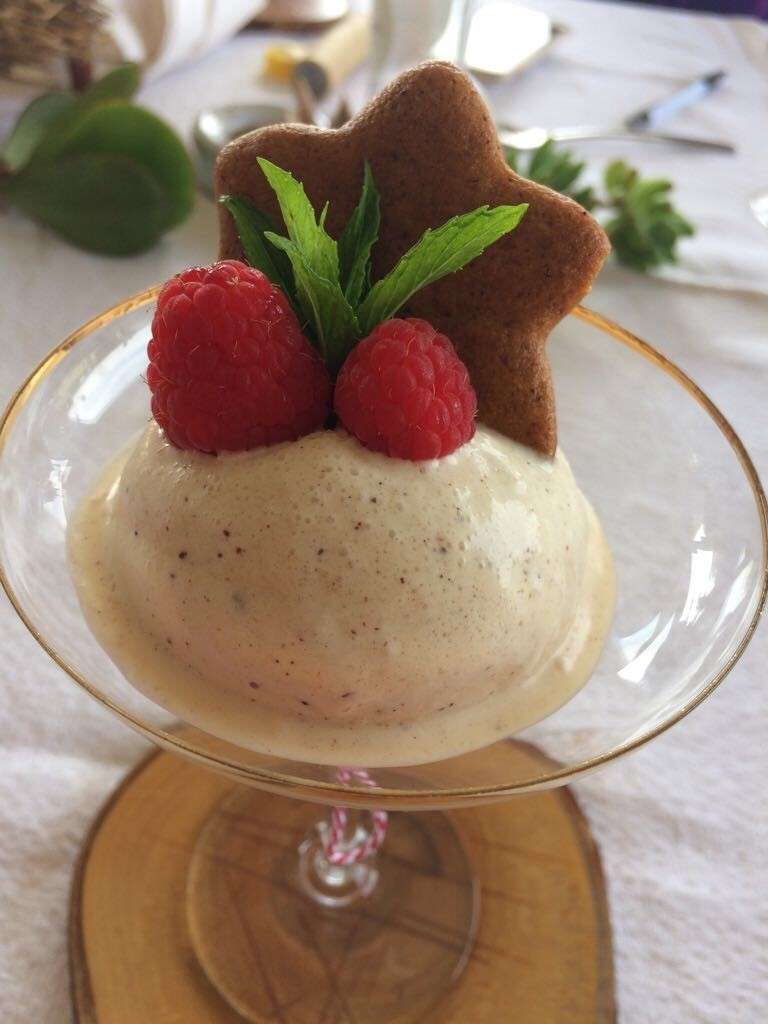 Desert – Tipsy Tart from Namibia
INGREDIENTS
250 g dates, stoned and chopped
1 cup boiling water
1 tsp bicarbonate of soda
½ cup (125 g) butter
1 cup (200 g) soft brown sugar
2 large eggs, beaten
2 cups (240 g) flour
1 tsp baking powder
½ tsp salt 1 tsp cinnamon
½ tsp ginger Pinch nutmeg
Zest of 2 oranges
1 cup (100 g) walnuts or pecan nuts (chopped)
METHOD
Pour the boiling water over the chopped dates in a saucepan or microwave dish. Heat to boiling point. Remove from heat and mix bicarbonate of soda into mixture. Mix well and leave to cool.
Cream the butter and sugar, beat egg in to make a smooth mixture.
Sift flour, baking powder, salt, cinnamon, ginger and nutmeg over the creamed mixture and fold in. Mix in the dates, nuts and orange zest. Ladle into a baking dish. For the small pudding, use a 1.5 litre baking dish, such as a 23-cm pie plate.
For the large pudding, use a 3 litre dish with a base that measures approximately 280mm x 280mm. Bake at 180°C for 30 to 40 minutes (small pudding) or 40 minutes (large pudding), or until the puddings springs back when pressed at the centre.
Prepare the syrup while the pudding is baking.
Heat the butter, sugar and water and stir until the sugar dissolves. Increase heat and boil for 1 minute and add the cinnamon quill. Remove the mixture from the stove and stir in the brandy, vanilla and salt. Leave to infuse while the pudding is baking. When the pudding is baked, remove the cinnamon quill from the syrup and pour the liquid over the pudding.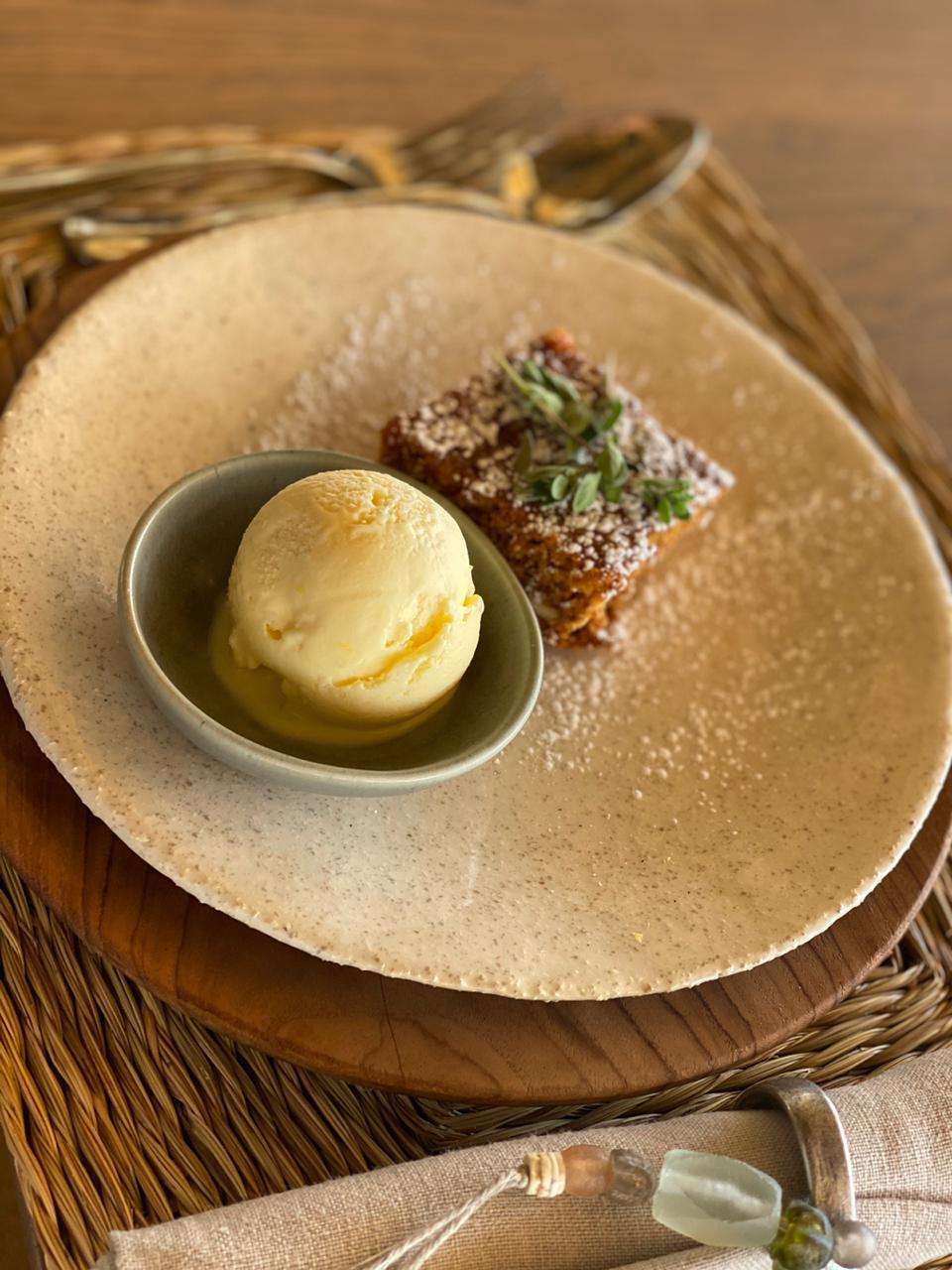 From everyone in the wilderness we would like to wish you a Merry Christmas and would love to see your attempts at our Festive Menu. Please share your comments and photos with us at socialmedia@wilderness.co.za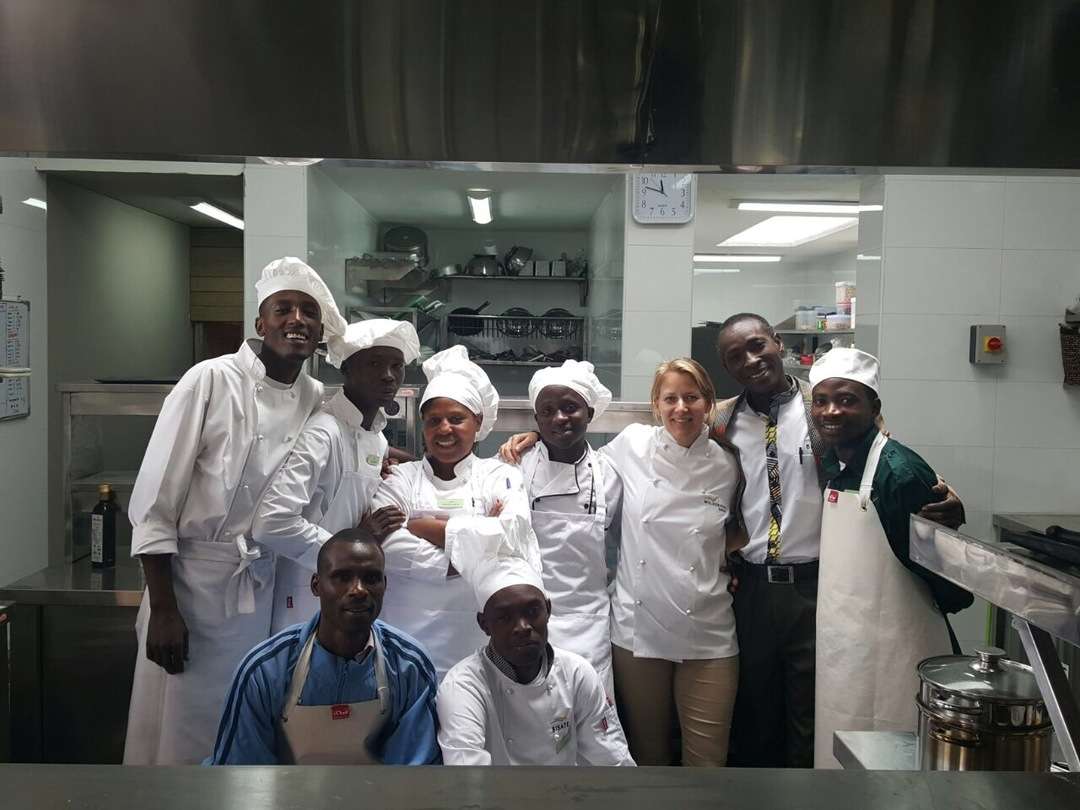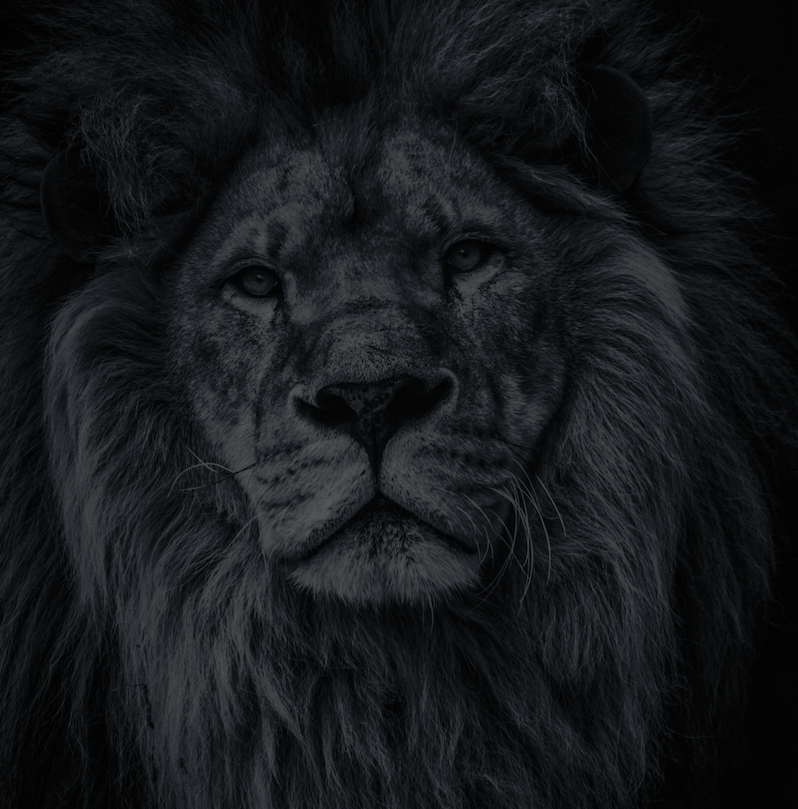 Let's plan your next journey
Ready?
When we say we're there every step of the way, we mean it, literally. From planning the perfect circuit, to private inter-camp transfers on Wilderness Air, and easing you through Customs. We're with you on the ground, at your side, 24-7, from start to finish. Ready to take the road less travelled? Contact our Travel Designers to plan an unforgettable journey.