While not everyone may be into bird watching per se, the value GOOD binoculars can add to any wildlife trip cannot be underestimated and should always be in the mix as part of gear to bring along on safari. Good binoculars eke out more light than the human eye can at dawn, dusk or in overcast conditions making viewing shyer or distant mammals far easier and pleasurable. The converse to this is the sheer enjoyment and finer detail observation possibilities that can be had by viewing a beautiful, iridescent bird or looking at the eye of an elephant feeding nearby through a binocular. It certainly adds another wonderful dimension to any safari.
In late 2018, Olympus launched two new professional binoculars, the 8X42 and 10X42 PRO models. I had the opportunity to try out the 8X42 PRO on a recent intensive bird atlasing survey in the Okavango Delta, Botswana. Birding is often a big test for binoculars in observing specific, sometimes very slight, plumage traits to aid and clinch identification. When observing small birds in dense foliage and on treetops or larger raptors flying overhead, isolating specific traits such as leg and eye colour, bill shape and size, tail and underwing patterning can be quite hard at the best of times. This is when good clarity, contrast and colour rendition are particularly important in a binocular. My demands on an optic are thus always very high.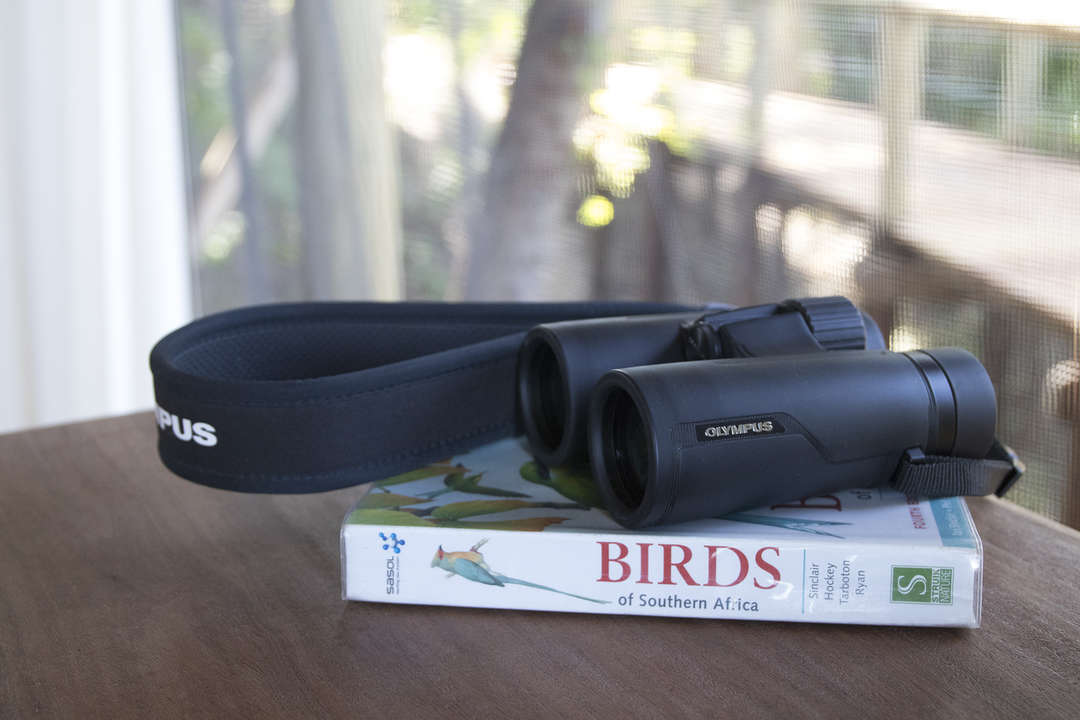 After a week of gruelling field use, overall, I was impressed with how the 8X42 PROs performed and optically they were very good in terms of sharpness, eye relief (when using glasses) and colour rendition in particular. The optic was also comfortable to hold and use for extended periods whilst birding and are quite light in weight (24 ounces; 670 grams). One can also hold and focus the binocular with one hand, which is very handy at times.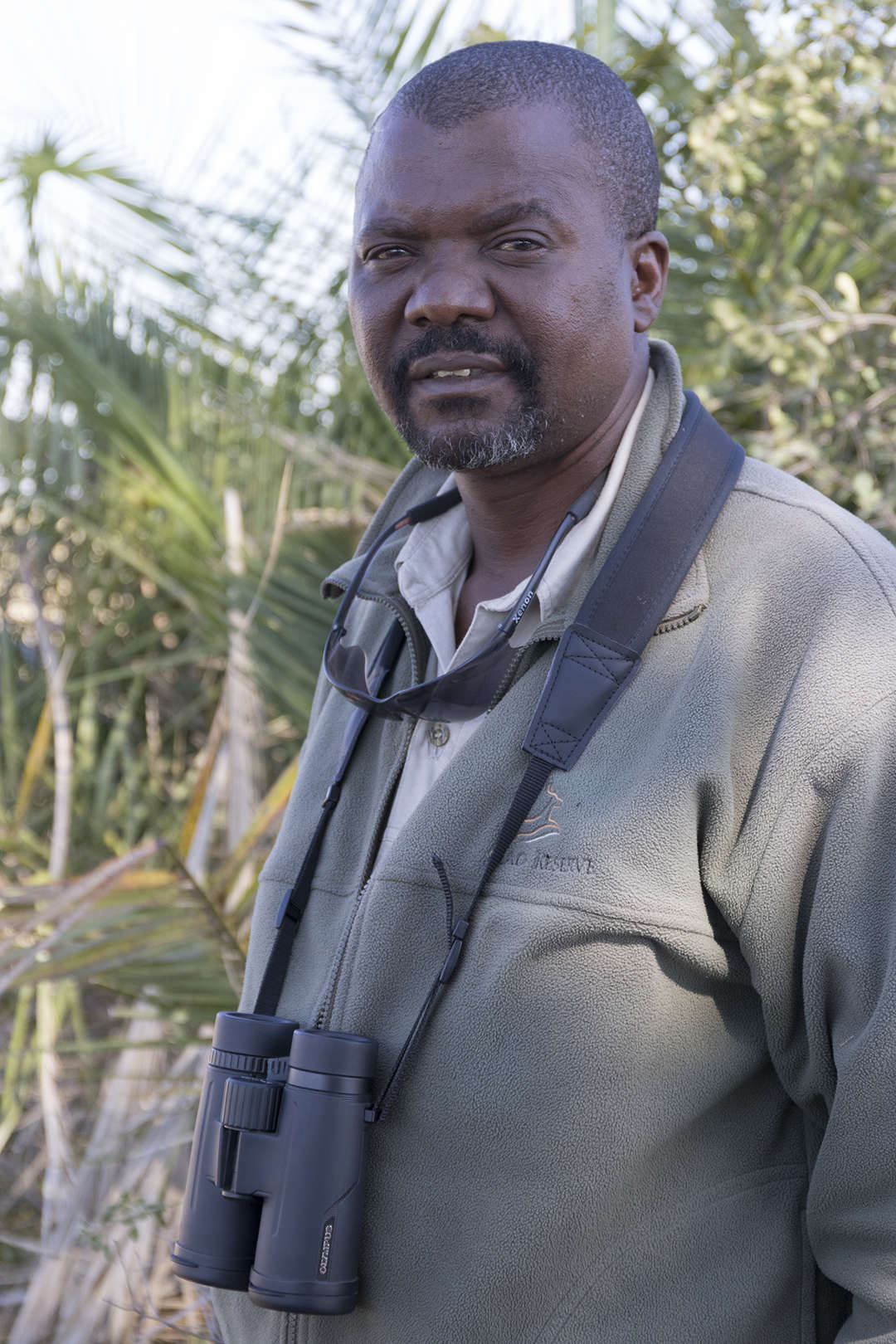 Comfortable ergonomics and weight make for an ideal safari binocular. 
The 8X42 PRO is a roof prism design (Schmidt-Pechan) with good quality BAK-4 prisms that uses extra low dispersion (ED) glass with ZERO (Zuiko Extra-low Reflection Optical) coatings which results in a claimed light transmission of 94% although that actually came in at 85% in real-world tests. The lens coatings also have repellent coatings making them easier to keep clean.
The optic is nitrogen-sealed so water- and fog proof. They are thus also sealed against dust ingress when glassing in drier conditions too. Collimation appeared near perfect and chromatic aberration well controlled. The 42 mm objective lets in a lot of light and I personally prefer the wider field of view an 8x magnification provides. For birding, it is also often easier to pick up movement. The 10x would give more detail owing higher magnification but that is at the expense of a narrower field of view and typically letting in less light. One thus needs to decide what is most important when weighing up an 8x vs. 10x.
The housing has an elegant, clean look to it and casing is finished in black rubber armouring with discrete Olympus branding. The eyecups are also rubberised and can be twisted in and out smoothly. The focus wheel, while nice and fluid, needs a lot of turning when focussing between near and far through the whole range. A bit more than I would have liked personally here but probably not a factor for many users. Dioptre correction is on the right eyepiece and care must be taken to not inadvertently move this while out glassing. This setting moved by mistake a few times while I was using them in the field so this is something to be aware of. Field of view is measured at 7, 5˚ which is decent and enhances viewing experience. The close focus is just 1.5 metres too – ideal for observing insects such as butterflies and dragonflies. But any binocular is also only as good as its after-sales service and Olympus offers a 15-year warranty in this regard. By registering the 8X42 PROs on their MyOlympus page you can extend that period even further. Also supplied is a protective case, objective caps, rainguard and neck strap.
The 8X42 PRO offers great performance and value for money. An ideal optic for wildlife viewing in general and birding.
So when you are packing for that next wildlife trip to some exotic location in the world, remember those binoculars and how they can enhance your overall experience, not just for birds!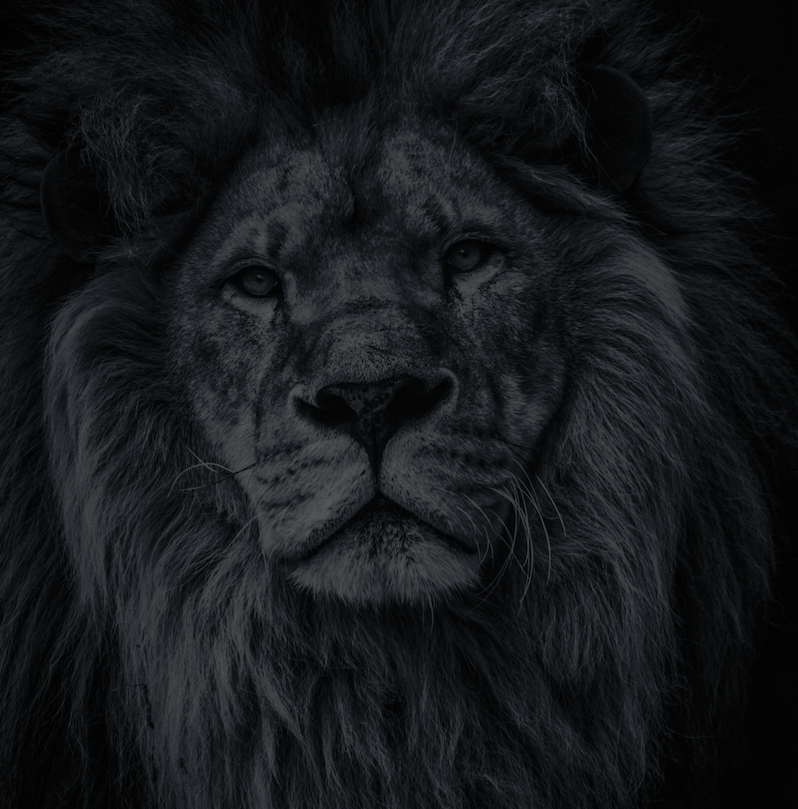 Let's plan your next journey
Ready?
When we say we're there every step of the way, we mean it, literally. From planning the perfect circuit, to private inter-camp transfers on Wilderness Air, and easing you through Customs. We're with you on the ground, at your side, 24-7, from start to finish. Ready to take the road less travelled? Contact our Travel Designers to plan an unforgettable journey.