Every naturalist using binoculars has an opinion on magnification, and there is never a shortage of advice as to what constitutes the best magnification for safari goers and birding. Yet magnification is not the only prerequisite of a good birding binocular – let's not forget the importance of objective and related features in our decision making process! As a possible first-time safari goer to Africa you may also be asking why do I need binoculars in the first place. Please bear with me and read on…
Historically, when it comes to binoculars, I have been a supporter of 10X42 optics, and I always thought that 10x was the best "one bin fits all" and the magnification of choice for observing distant wildlife subjects or soaring raptors. As a guide the last thing I wanted when peering at the distant bird was to say 'I don't know what it is'! When I started birding, 10-power was indeed seen as the magnification of choice by 'experts'.
Then circumstance conspired to lay a pair of exquisitely-crafted 8-power Swarovskis in my hands recently and I have enjoyed field testing the cutting-edge Swarovski Swarovision EL 8 X 32. In short, the compact size of the Swarovison 32 range soon had me leaving my bulky 10-powers at home!

Using these new Swarovski 32s, I thought I would sacrifice some light gathering power due to smaller objective and image magnification (going from 10- to 8-power) for a lighter pair of binoculars in the field, but I was wrong. I could still ID (or identify) soaring eagles with ease – it did everything a 10x was supposed to be better at and was much lighter (20.5 ounces) and a far more compact design! The very wide, class-leading field of view is another plus, as is the nice rubber armouring with thumb indentations for comfortable holding.
So what does one consider when choosing the best binoculars for safari and birding? Terms that get me excited include close focus (for insects and butterflies), nitrogen-purged (so they don't fog up on cold mornings or in humid conditions), flourite coatings, high eye relief and roof prism design (as opposed to the more bulky Bak-4 prism). Being fairly compact and easy to travel with is another consideration. Most modern binoculars by Swarovski, Leica and Zeiss (what I like to call the 'Big 3') set the standards in this regard and have all the right attributes.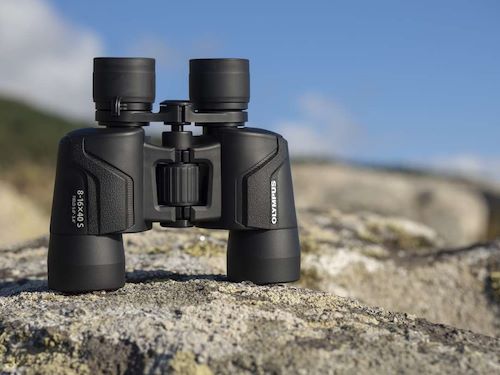 Generally, choose a binocular with a magnification of 7, 8 or 10. Basically, the higher the magnification, the narrower the field of view. One also needs to remember that a 10-power binocular, while magnifying a subject more, also gives you a narrower field of view so it can be harder to find the subject through the higher-power optics. 8-power is thus a good choice for bird watching and general safari viewing. Even non-birders can still benefit from carrying binoculars as wildlife subjects can often be more distant and 'bins' definitely enhance the overall experience. Just look at the eye of an elephant through binoculars next time to appreciate what I mean!
The second number on the binoculars (24, 32, 42, 50) is the diameter in millimetres of the objective lens. A general recommendation for safari and birding has always been to choose a 42mm diameter. The 32mm EL Swarovison binoculars are however even better than most average 42 binoculars – they are that good! The lenses are HD flourite glass and the optics include the Swarovsion 'field flattener' technology that gives unsurpassed image edge sharpness and distortion free viewing. The HD glass gives excellent light and colour transmission, so the subjects you are seeing in whatever light conditions are portrayed in true colours.
Eye relief and field of view are another two important considerations in binocular choice. The Swarovski EL32 range has an eye relief of 20mm, making it a comfortable binocular to use especially if you bird with glasses. The minimum accepted norm these days is an eye relief of 16mm, so the EL32 exceeds this by quite a margin. The field of view on the 8×32 EL Swarovision is 423 feet, the largest field of view on a roof prism binocular that Swarovski has ever done at the date of this post.
Swarovski's meticulous craftsmanship and attention to detail along with the superior optics separate the EL Swarovision as one of the best 32mm binoculars available today. The fact that you are getting this kind of performance in a binocular that is this big is truly astounding. If you plan on using one pair of binocular for all your birding and mammal viewing, a high-quality 8x optic – like this new Swarovski – is a good option and my new personal choice go-to binocular for spotting that warbler flitting through the undergrowth, observing western lowland gorillas in dim light or that gold-banded forester butterfly perched on the forst trail.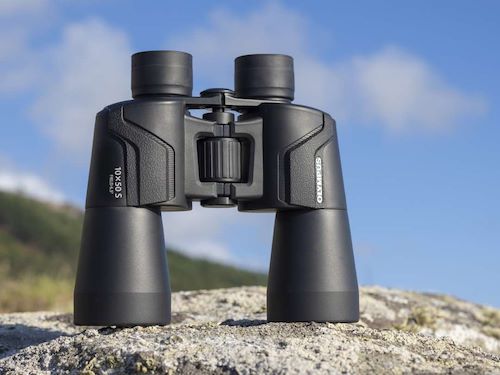 For more budget-minded safari goers and birders there are also other choices besides the European 'Big 3' optics manufacturers. The compact Nikon Monarch PC 8×36 ATB or Nikon Monarch 3 10×42 immediately come to mind. Opticron also make some excellent economical glass and many UK birders swear by them. Bushnell (like the Legend Ultra HD 8×42) also manufacture a varied range.
How to choose Binoculars
Infographics by http://binocularstoday.com/
Written by  Martin Benadie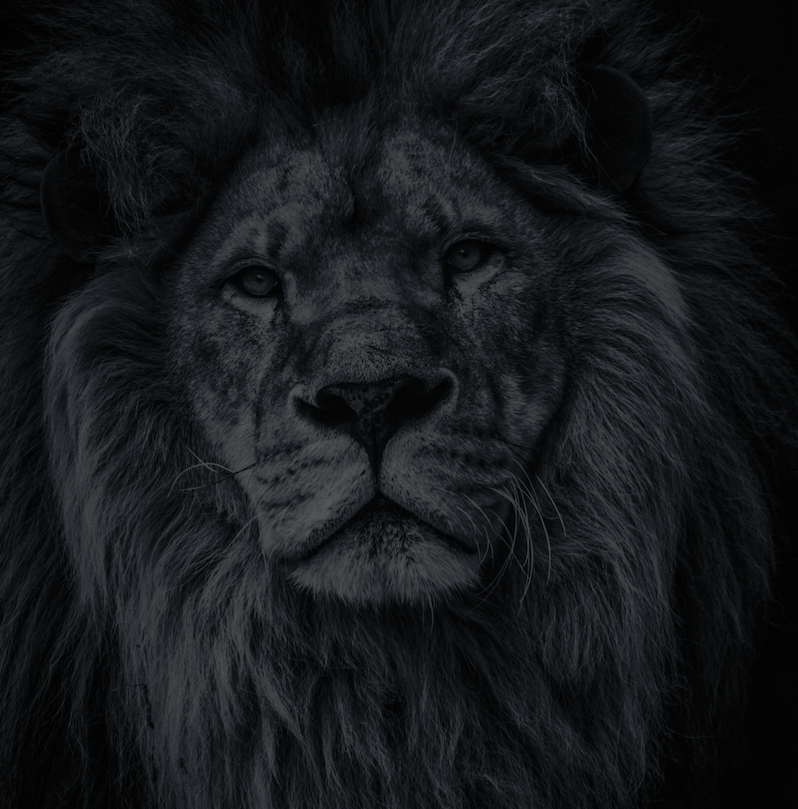 Let's plan your next journey
Ready?
When we say we're there every step of the way, we mean it, literally. From planning the perfect circuit, to private inter-camp transfers on Wilderness Air, and easing you through Customs. We're with you on the ground, at your side, 24-7, from start to finish. Ready to take the road less travelled? Contact our Travel Designers to plan an unforgettable journey.