In the spirit of Thanksgiving, observed primarily in America but sometimes elsewhere around the world, we at Wilderness Safaris want to give thanks – to you, our guests, donors and trade partners, for your ongoing support in the conservation of wilderness areas, their wildlife, and the livelihoods of adjacent communities. Without your help, protecting the wild for future generations would be far more challenging, perhaps impossible.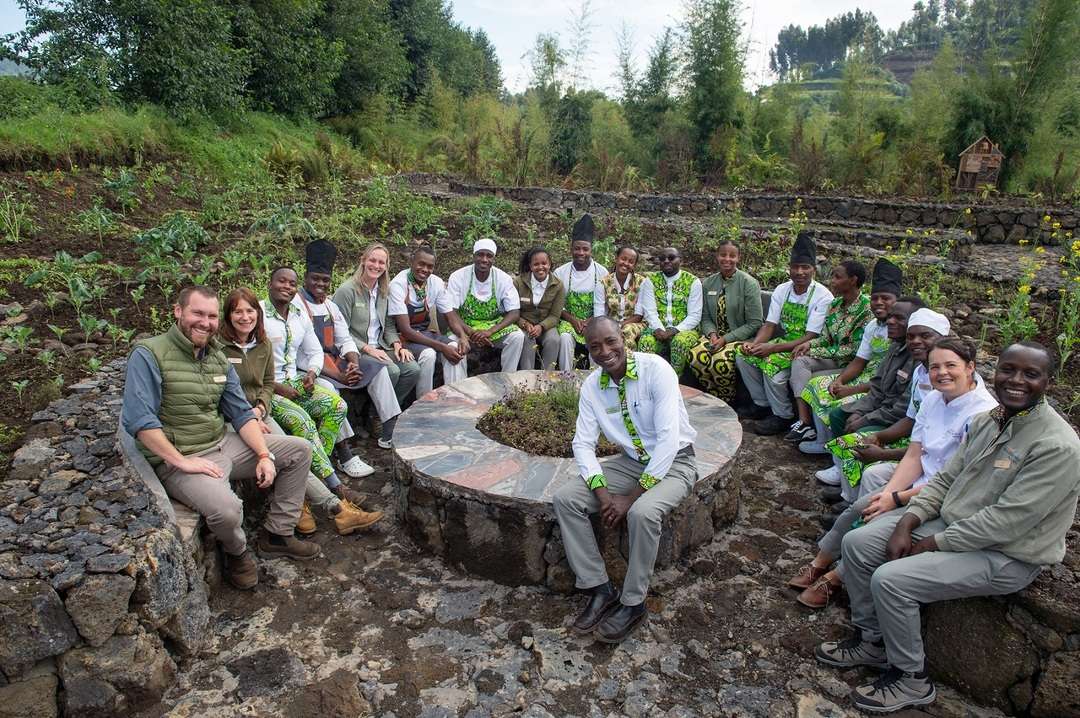 Let's celebrate, and be grateful for, some of the conservation success stories that you have helped us achieve…
Children in the Wilderness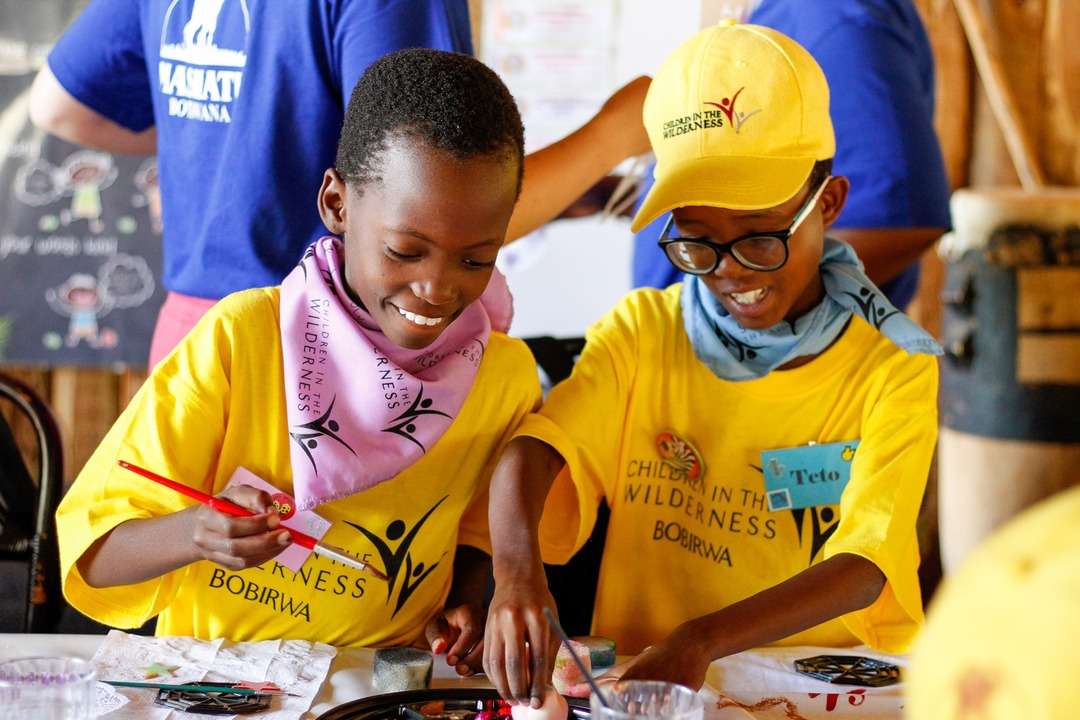 For two decades we've been supporting our non-profit partner, Children in the Wilderness (CITW), in their vital initiatives training rural African children in life skills, leadership development, and environmental education. CITW has so far enriched the lives of more than 40 000 children from remote villages near the areas where we operate – in Botswana, Namibia, South Africa, Rwanda, Zambia, and Zimbabwe – creating armies of young eco-warriors.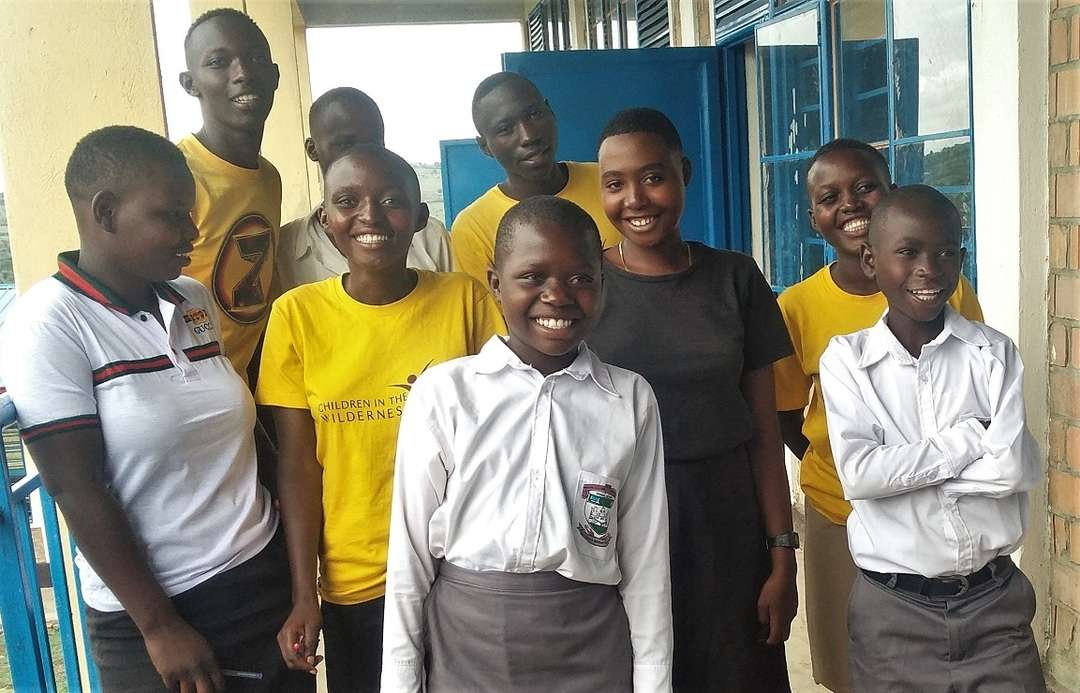 Recent CITW project highlights include a five-day Conservation Science Camp for 30 girls from Ngambao Community Junior Secondary School in Seronga, Botswana, part of a one-year project funded by the US Embassy there; through the generosity of the Bourke Family Foundation, the distribution of more than 850 solar lights at 12 schools in Tsholotsho, Zimbabwe, as well as eye-testing at various schools in the region; Books for Africa's donation of 200 boxes of books to 17 schools near Victoria Falls; and 30 new six-year scholarships awarded to learners at secondary schools near our Rwandan properties Bisate Lodge and Magashi Camp, as well as near our reforestation project at Gishwati Forest. Scholarship funding has been provided by Bisate Lodge and Magashi Camp guests, with the now 110 scholarships in place covering school fees, school meals, books and uniform costs for the duration of the children's secondary school education, giving them an unprecedented opportunity to shine.
We thank CITW for its ongoing invaluable work, as well as all of you, our guests and other donors, for helping us support Children in the Wilderness over the years. Thanks are also due to Nedbank's Tour de Tuli thrilling mountain bike adventure, held since 2005 and to date raising more than R25 million for CITW. Due to COVID-19, the tour was cancelled in 2020 and 2021, but will commence again in July 2022. To learn more and register, visit here.

Conservation Heroes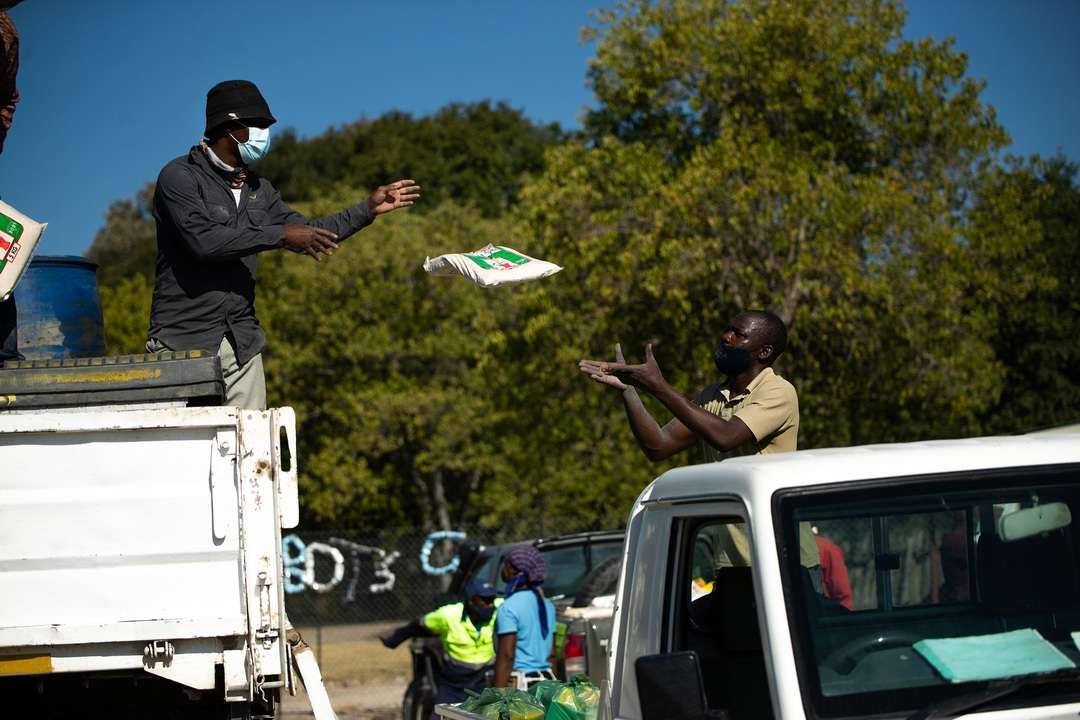 Huge thanks also go to all of you who have donated to help support communities most impacted by tourism's downturn during the COVID-19 pandemic. As Conservation Heroes, you have helped us with food relief across six countries: Botswana, Namibia, Kenya, Rwanda, Zambia, and Zimbabwe. During the first 13 months of lockdown alone, we delivered 17 600 food parcels (700 tonnes of food) to more than 35 villages, impacting more than 88 000 people.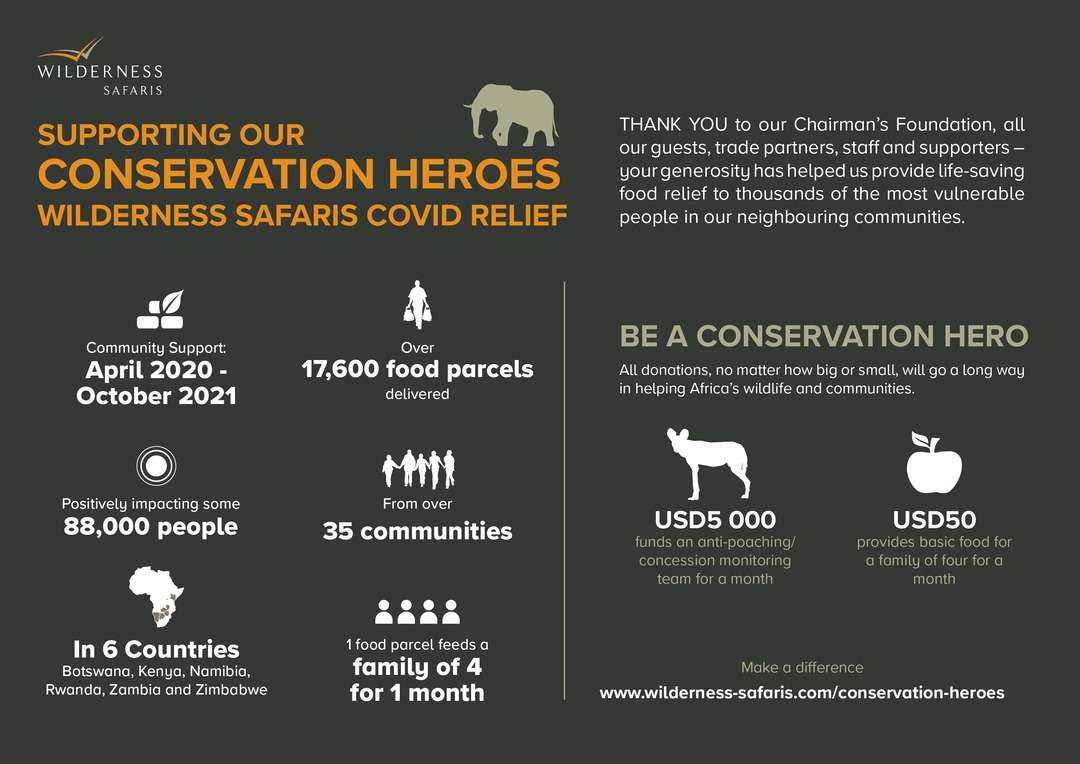 Communities neighbouring our properties rely heavily on tourism income to survive; with the pandemic, they've been hit hard, and this food delivery has been crucial. With your donations, we've also been able to provide sanitation materials as well as, in some cases, additional water supplies. Our work supporting communities this way continues. We thank you all for what you've given so far, and continue to provide for those most in need. Click here to read more about our Conservation Heroes Relief Programme.
Reforestation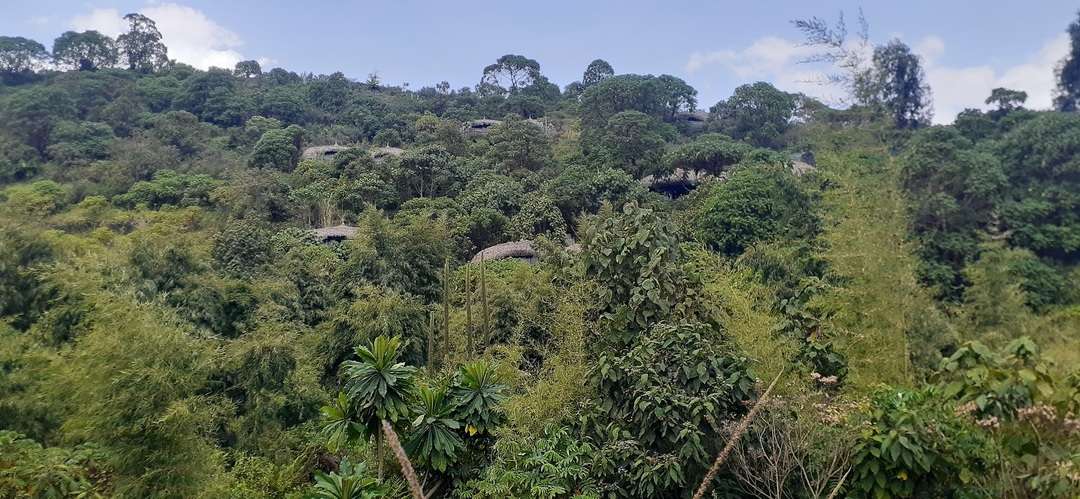 Many thanks for our guest and trade partner contributions to reforesting the area – reclaimed farmland – around Bisate Lodge on the edge of Rwanda's Volcanoes National Park. Thanks to your tree planting and donations, more than 60 000 planted trees and an on-site nursery holding thousands of saplings, local wildlife is starting to feel more at home in the newly forested habitat. Earlier this year, and for the first time since the lodge's opening in 2017, a silverback mountain gorilla was caught on one of our camera traps, lumbering along the Bisate Nature trail. Thrilling as an event, of course, but even more so in its implications: reforestation is obviously paying off in terms of attracting wildlife back to the area. Local villages are also involved in reforestation and other conservation efforts, enhancing the symbiosis between the camp and communities, between people and the environment.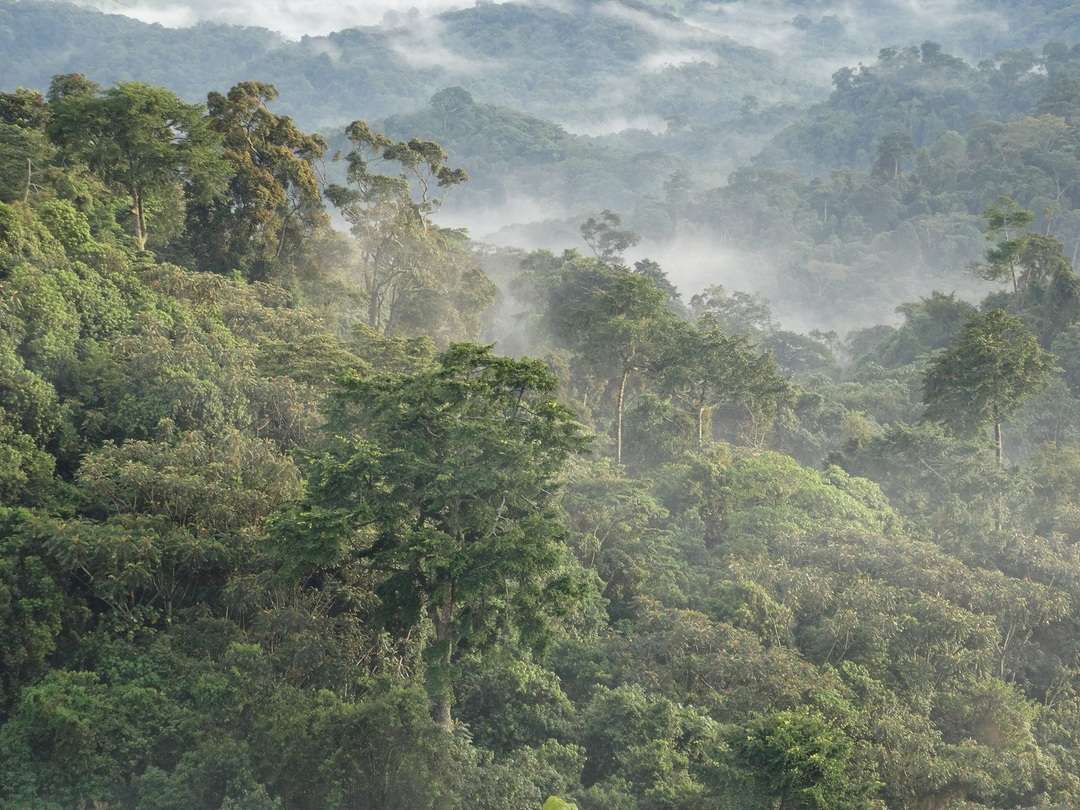 In the west of Rwanda, our latest project in the country focuses on the expansion and reforestation of Gishwati-Mukura National Park, home to an isolated group of about 35 chimpanzees, as well as to endangered golden monkeys and other creatures. Since the 1970s, Gishwati Forest has lost 98% of its original area, resulting in severe environmental degradation, including landslides, erosion, loss of biodiversity, flooding and silted rivers – all causing a loss of livelihood in local and downstream communities.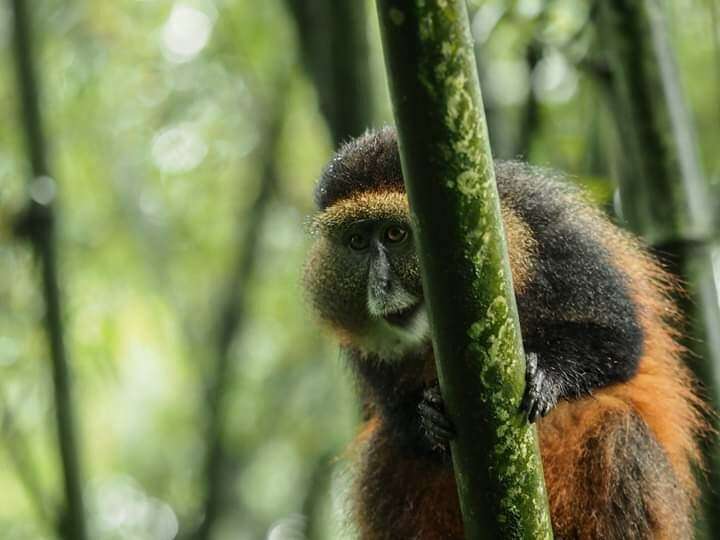 In 2019, we purchased ten hectares of land bordering Gishwati-Mukura, to be eventually donated to the park. With our partners Forest of Hope Association and the Rwanda Development Board, we founded a nursery that has already propagated 10 000 indigenous saplings; the trees have been planted on farmland adjacent to the forest, furthering the restoration of habitat for local birds and wildlife. The onsite nursery is currently growing over 10 000 new saplings to be planted in coming months.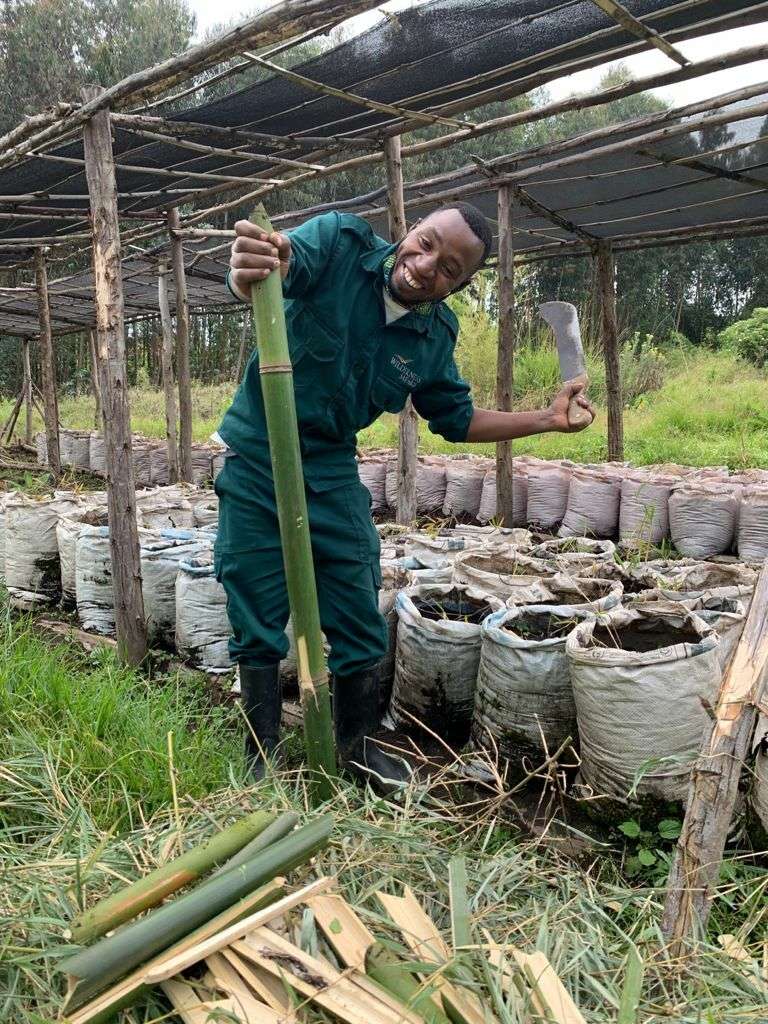 Thanks to all who have supported the Gishwati reforestation initiative thus far. If you'd like to join this exciting venture – by helping acquire more land for the park or assisting with ongoing reforestation there – we'd love to hear from you.
Meanwhile, let's be grateful for all these gifts, for all the people who make them happen. Let's be grateful for all the wondrous, pristine wildernesses that remain, with more to be protected. Let's be grateful for Earth herself, and all the life she sustains.
HAPPY THANKSGIVING…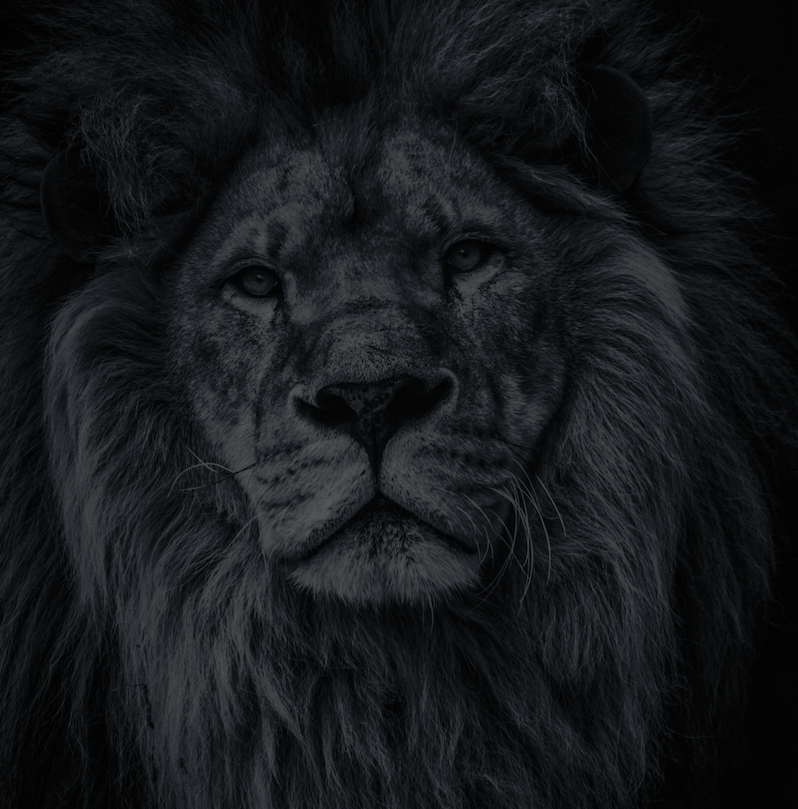 Let's plan your next journey
Ready?
When we say we're there every step of the way, we mean it, literally. From planning the perfect circuit, to private inter-camp transfers on Wilderness Air, and easing you through Customs. We're with you on the ground, at your side, 24-7, from start to finish. Ready to take the road less travelled? Contact our Travel Designers to plan an unforgettable journey.