For the last three years Wilderness Safaris has teamed up with the Trans-Kalahari Predator Programme for the Okavango Delta Carnivore Survey – a wildlife camera-trapping initiative covering a significant portion of the Okavango Delta.
In collaboration with the Department of Wildlife and National Parks, the aim of this wide-scale survey is to provide reliable estimates of the Okavango's large carnivores, including lion, leopard, wild dog, cheetah and spotted hyaena.
Recent concessions covered by the survey included Vumbura Plains, arguably one of the Delta's most diverse areas, with permanent swamp, seasonal floodplains, open grasslands as well as riparian and dry woodland.
The survey revealed a wide array of species, including some rare antelope, some of the seldom-seen nocturnal carnivores, and a healthy number of large carnivores.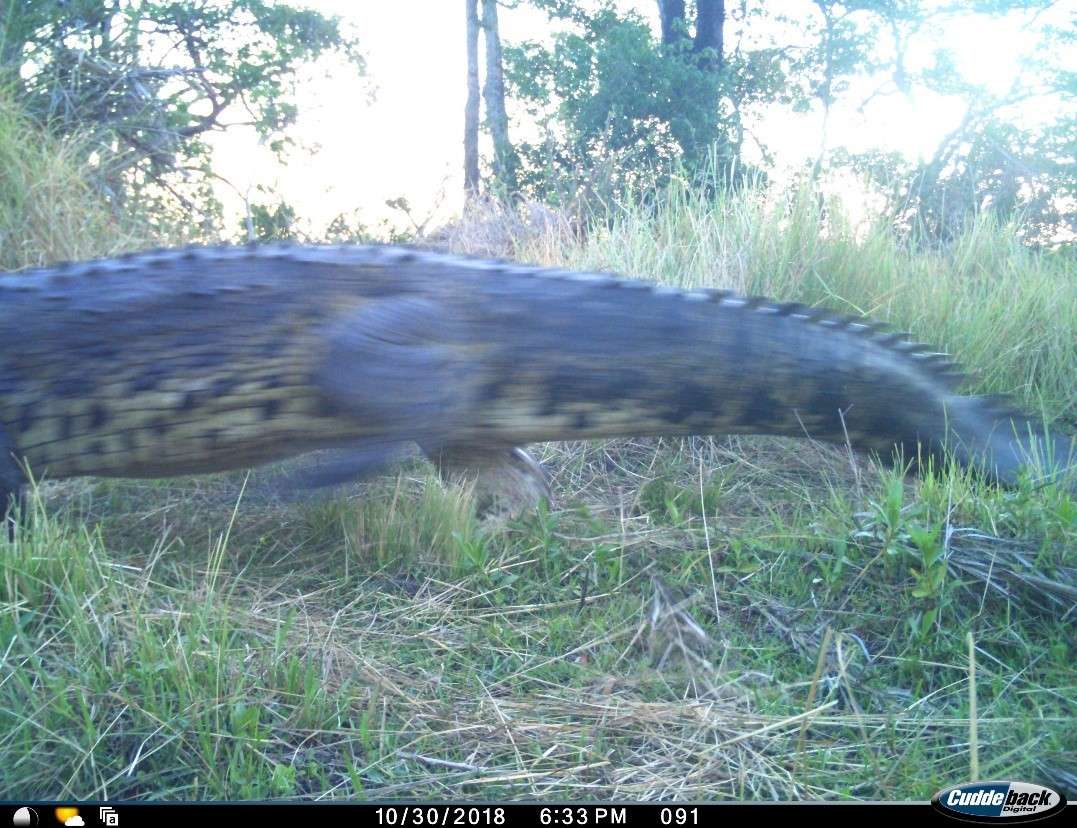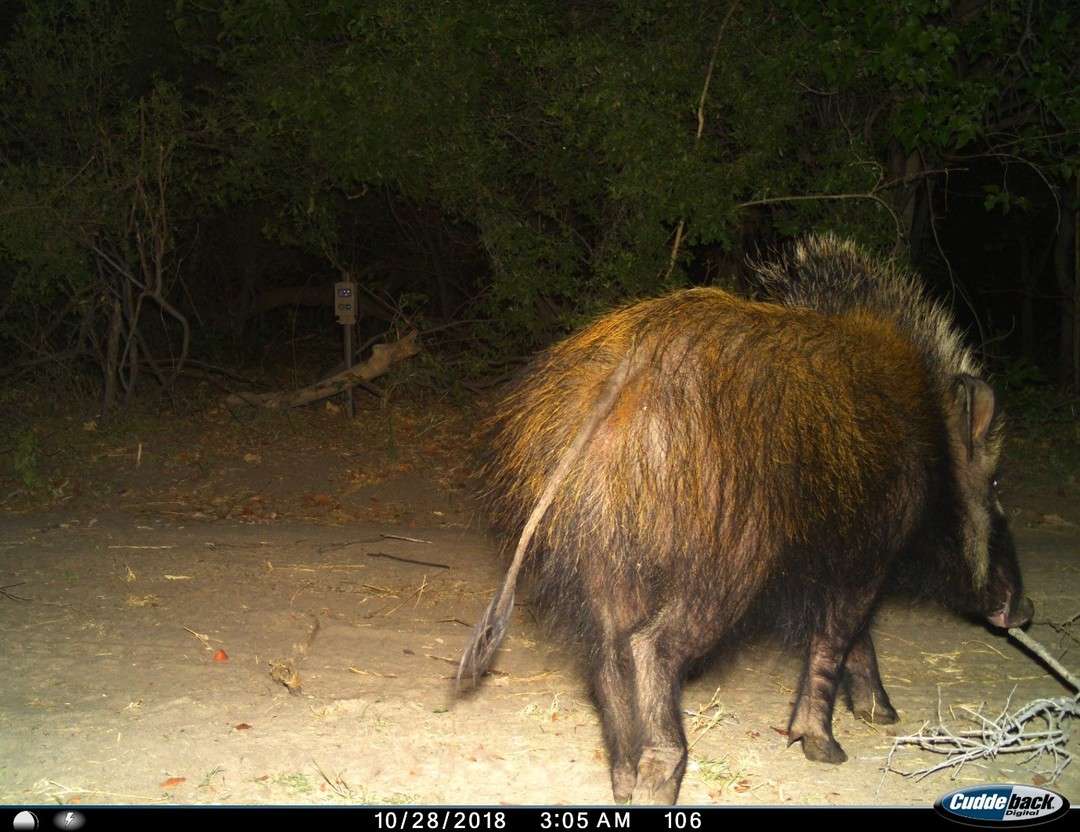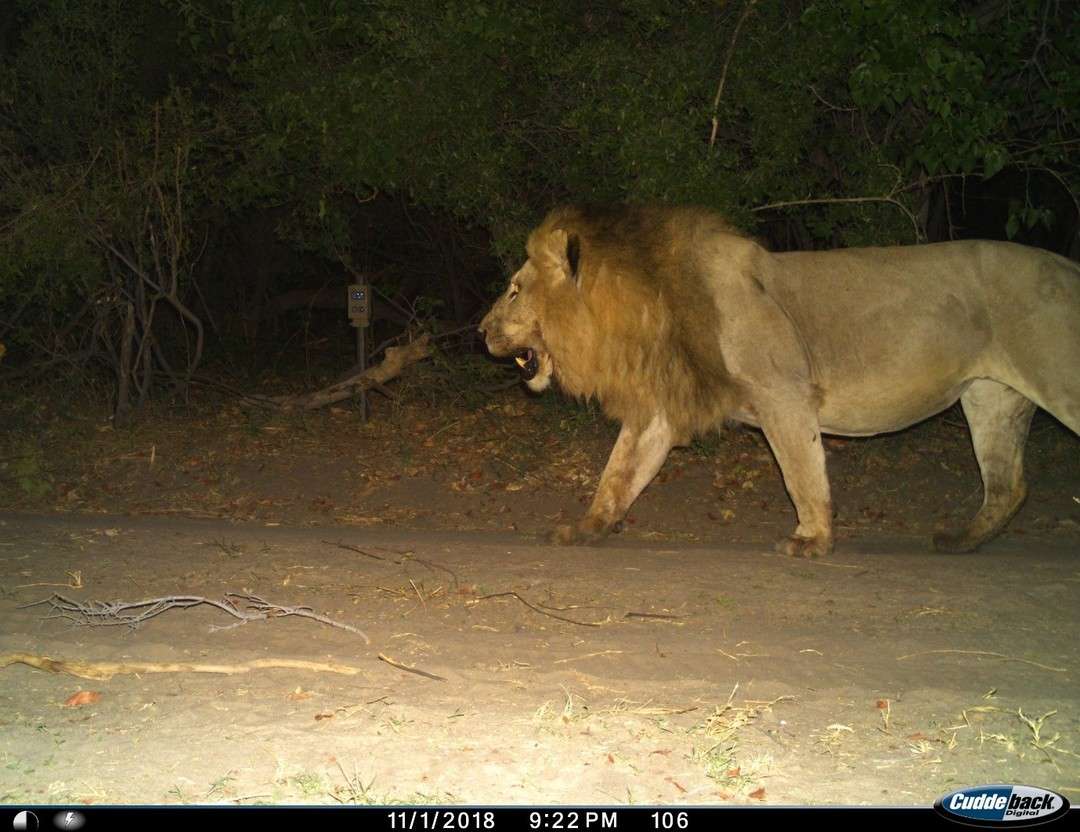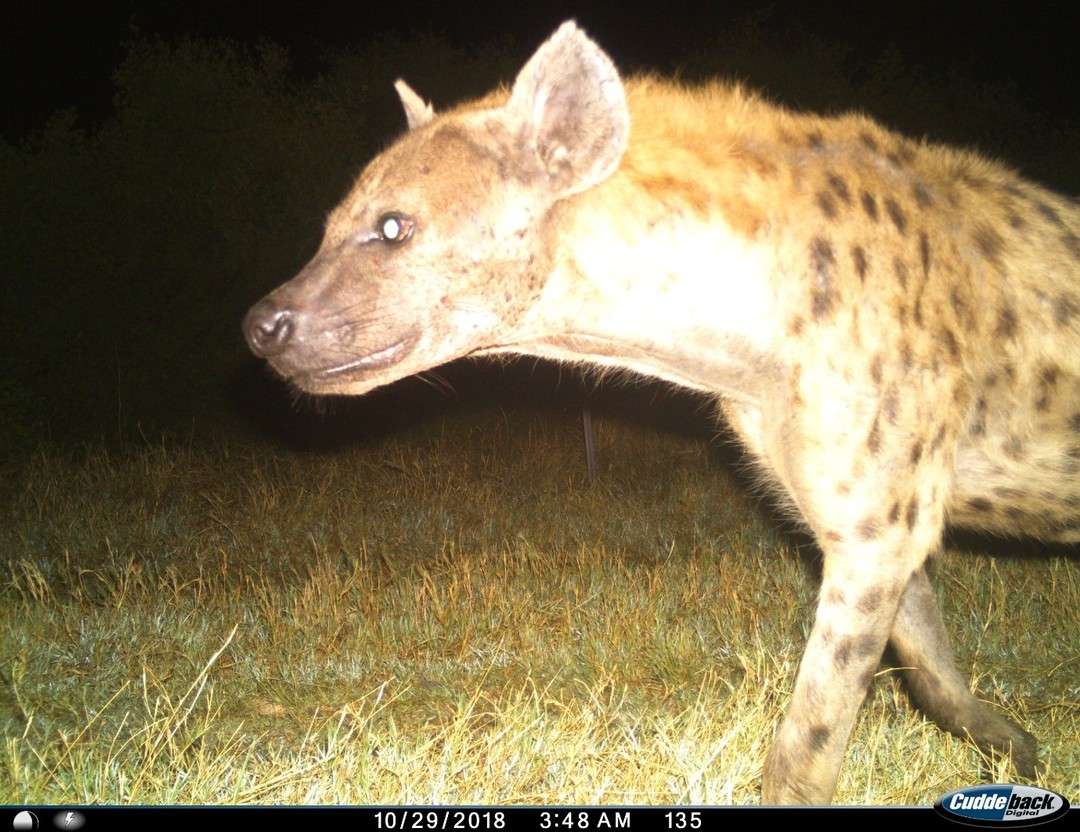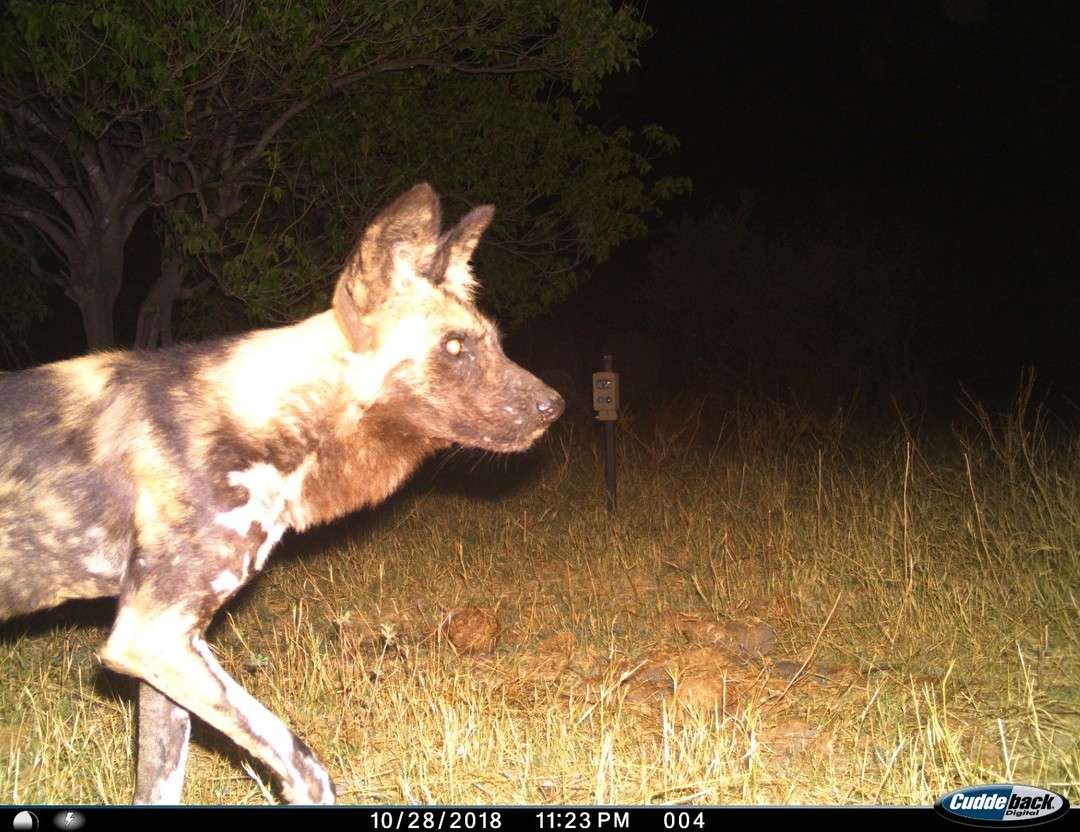 Perhaps among the more interesting discoveries were what we recorded out on the small, isolated islands, which are surrounded by permanent water. In an attempt to cover all habitat types available, the TKPP and a team from Wilderness Safaris' Environmental Department set out by boat, packed with equipment, to several dry islands dotted along Vumbura's main channel. While semi-aquatic species such as hippo, lechwe and sitatunga make frequent use of these dry oases, we were interested to see if any of the large carnivores were using these islands as stopping points on their way through the swamps. Interestingly, while the Okavango Delta is well known for its swimming lions, little did we know that leopards are in fact the swamp cats that frequent these islands on a regular basis…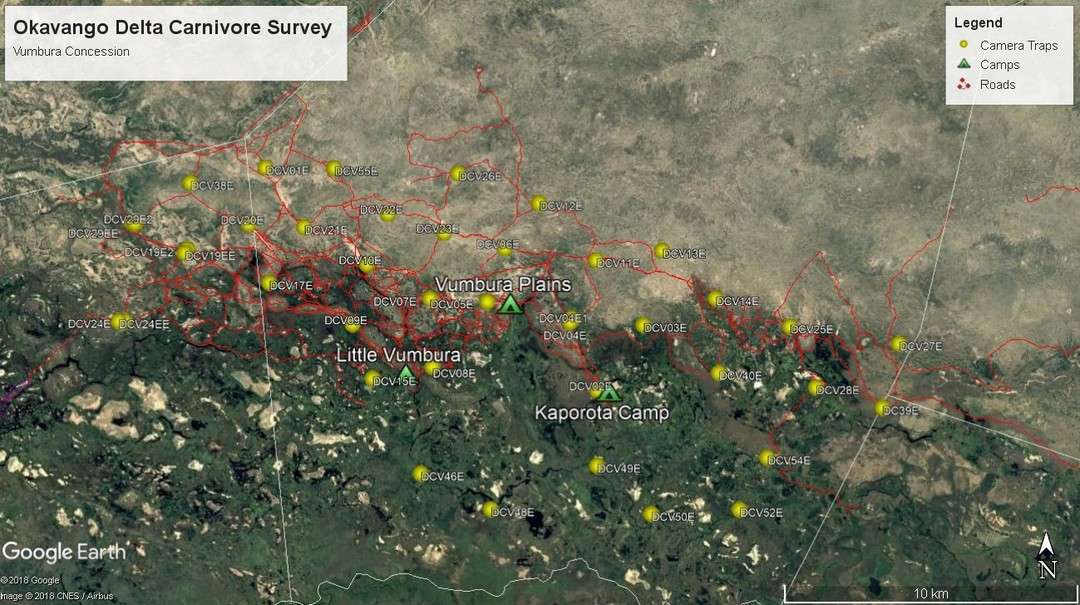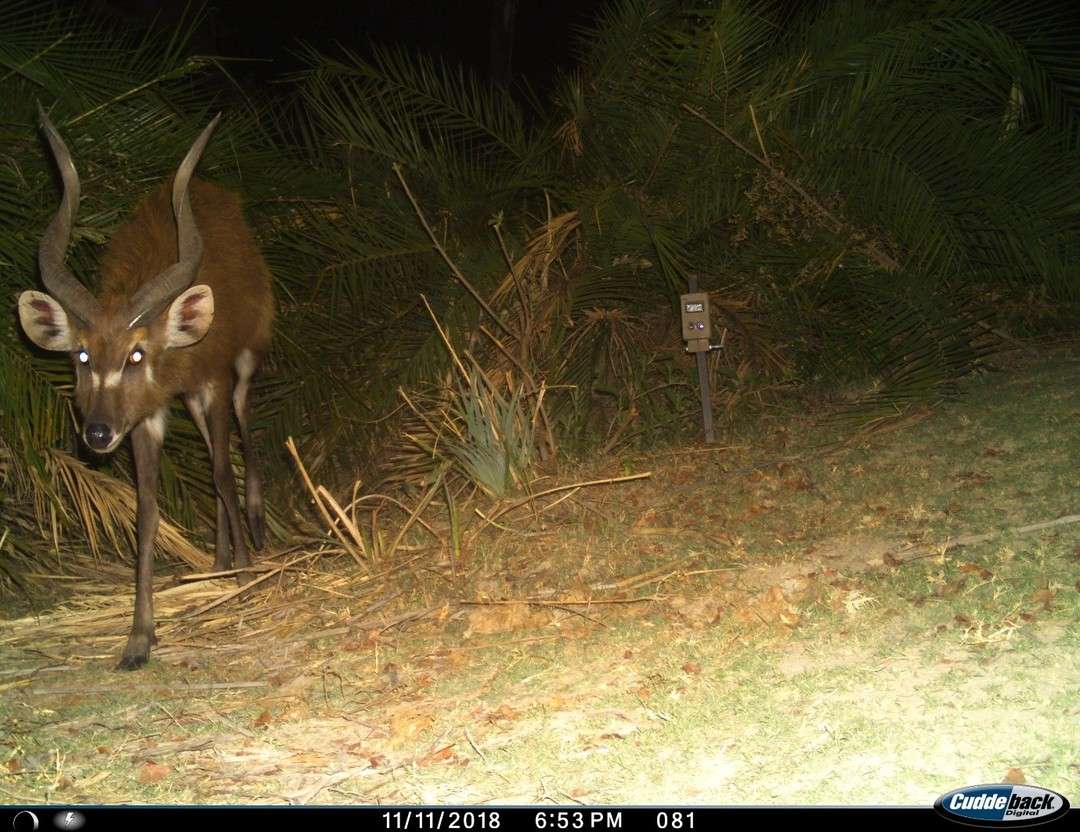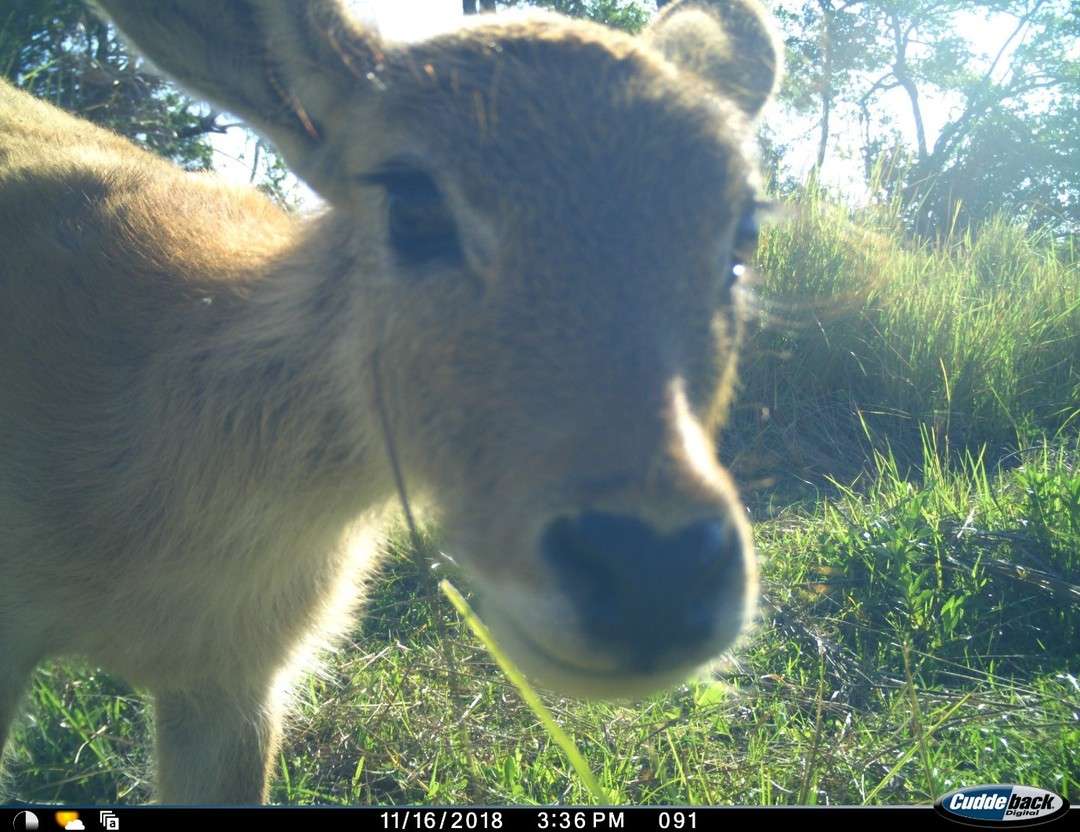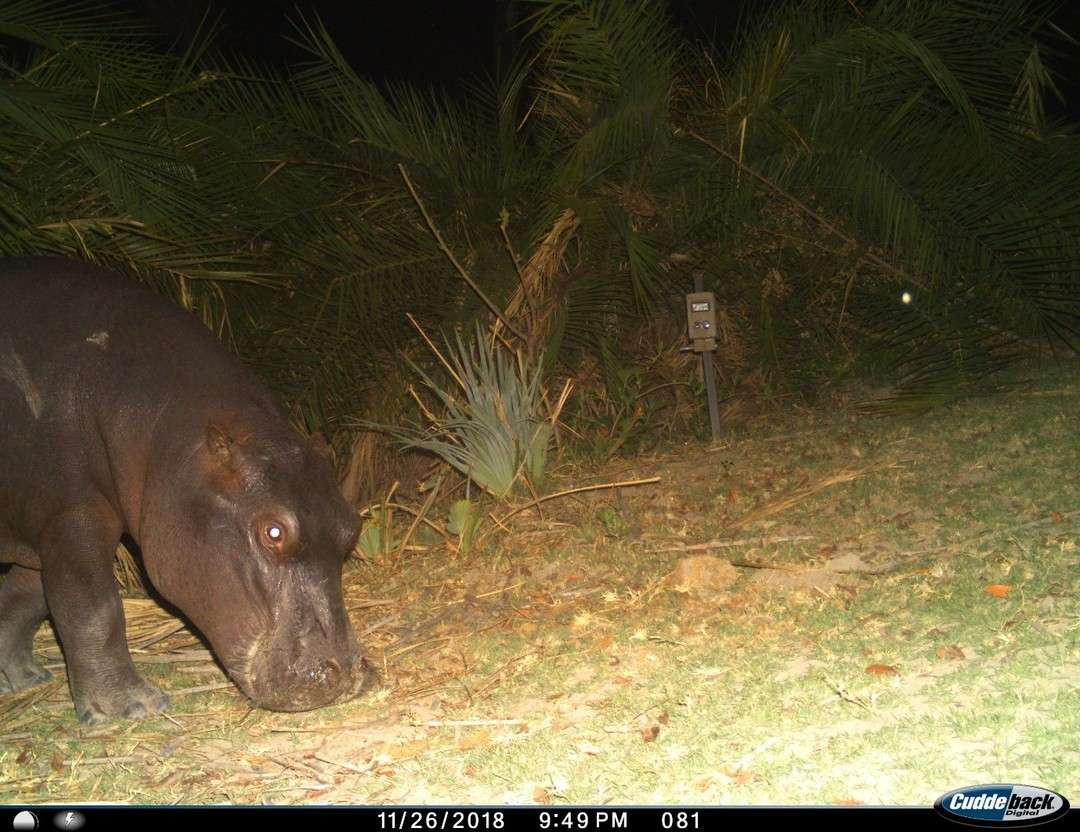 As naturally elusive cats, leopards can be hard to find and observe. Like lions, they don't particularly like water, but in a seasonally flooded environment, they too need to cross channels and floodplains in search of prey. We captured images of leopards on not one, but three separate islands – and on one small island alone captured images of an adult female with two cubs, and an adult male! From a leopard's perspective, the islands are ideal hunting grounds: there are an abundance of lechwe and sitatunga which fall into their preferred prey size, there is thick cover for hunting, and the islands are also free from other competing large carnivores such as lions or spotted hyaena that may attempt to steal kills. As leopards are one of the most adaptable and widespread large carnivores on the planet, it is not surprising that they too have adapted to a life in the swamps.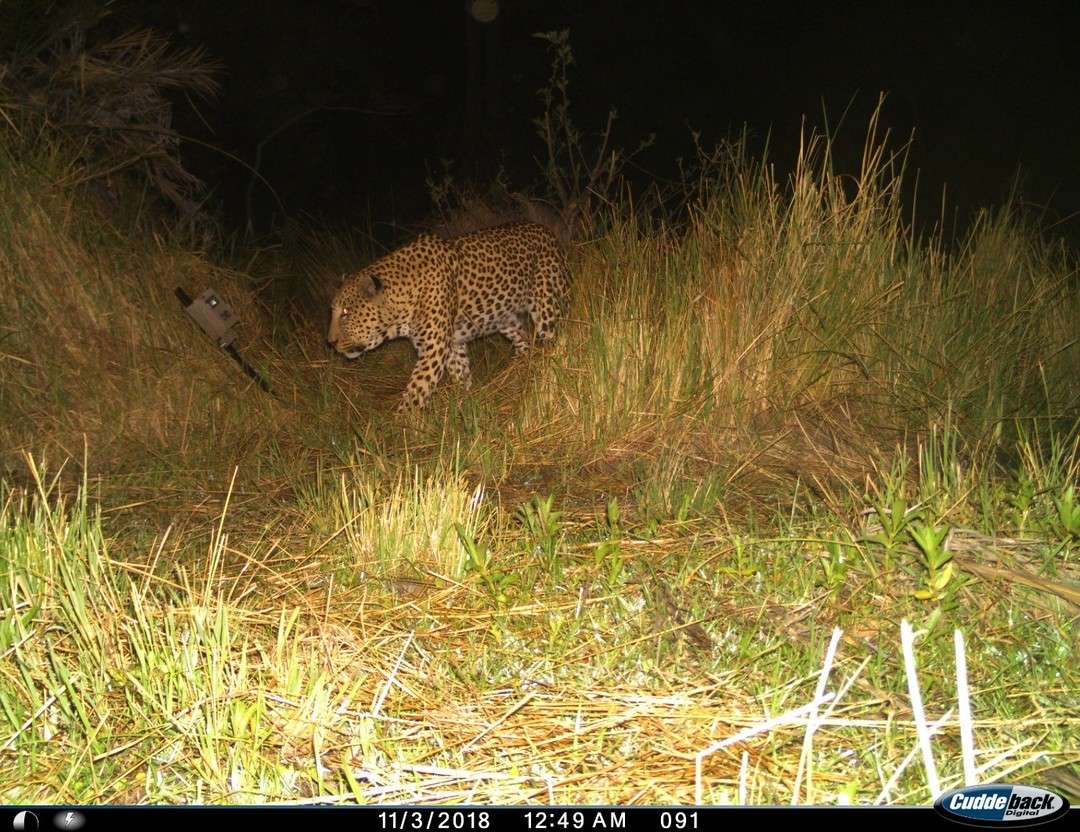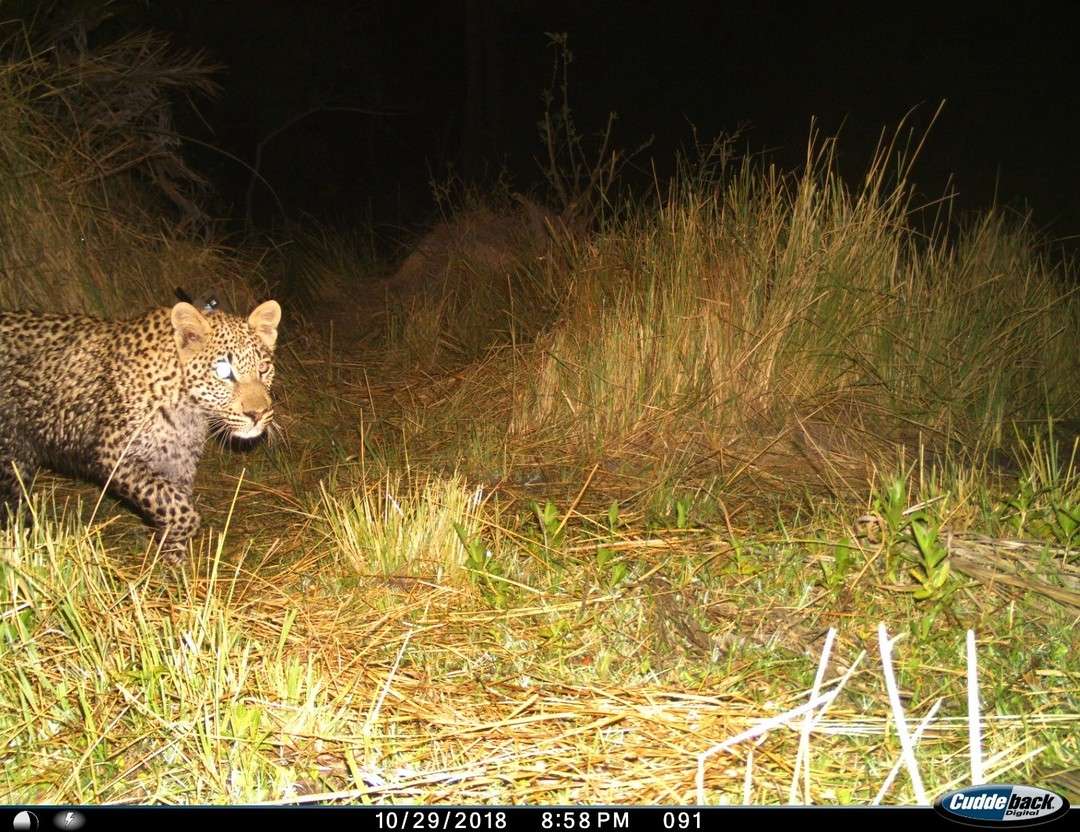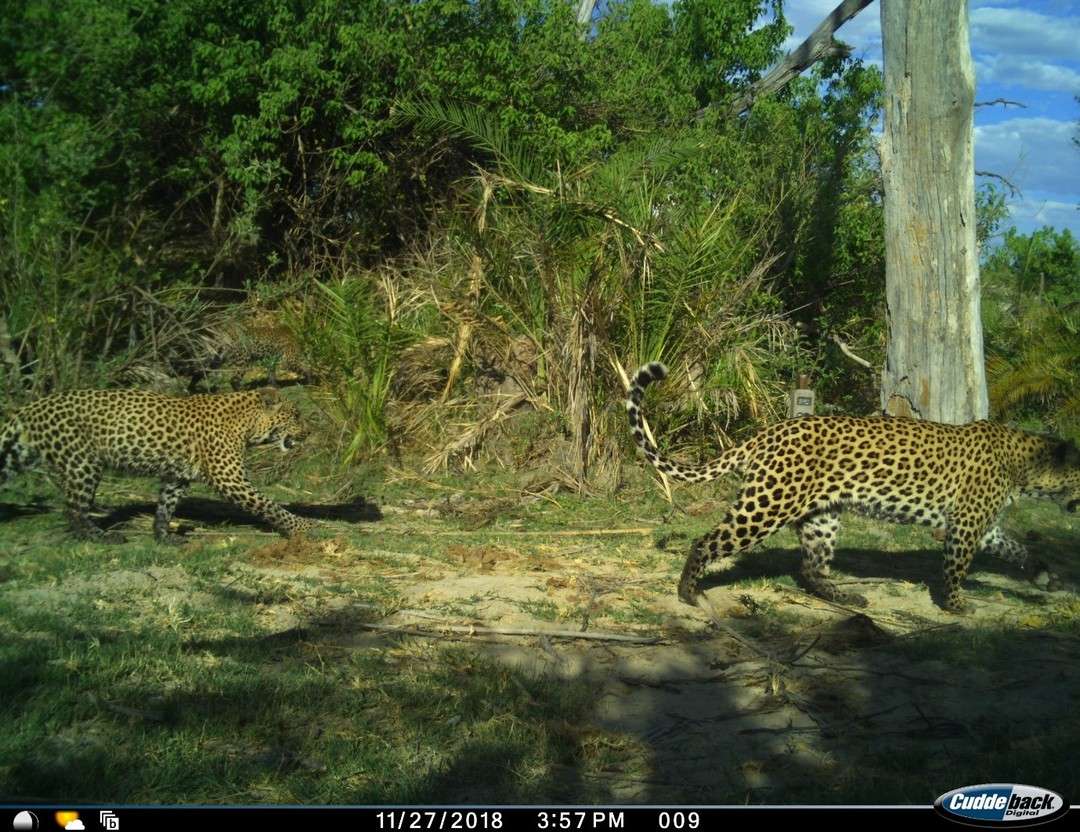 Upcoming Abu and Seba Surveys
The Trans-Kalahari Predator Programme is gearing up for the last of six extensive camera trap surveys across the Okavango Delta. With assistance from Wilderness Safaris' environmental team, the TKPP set up over 200 camera traps across the western Okavango Delta between September and November 2019. These traps will be set out with paired cameras in a predetermined grid, about 4km apart, along roads and game trails frequently used by large predators. While the main target species for the survey are the Okavango's large carnivores, the cameras are also vital in collecting data on the distribution of smaller carnivores as well as lesser-studied nocturnal species.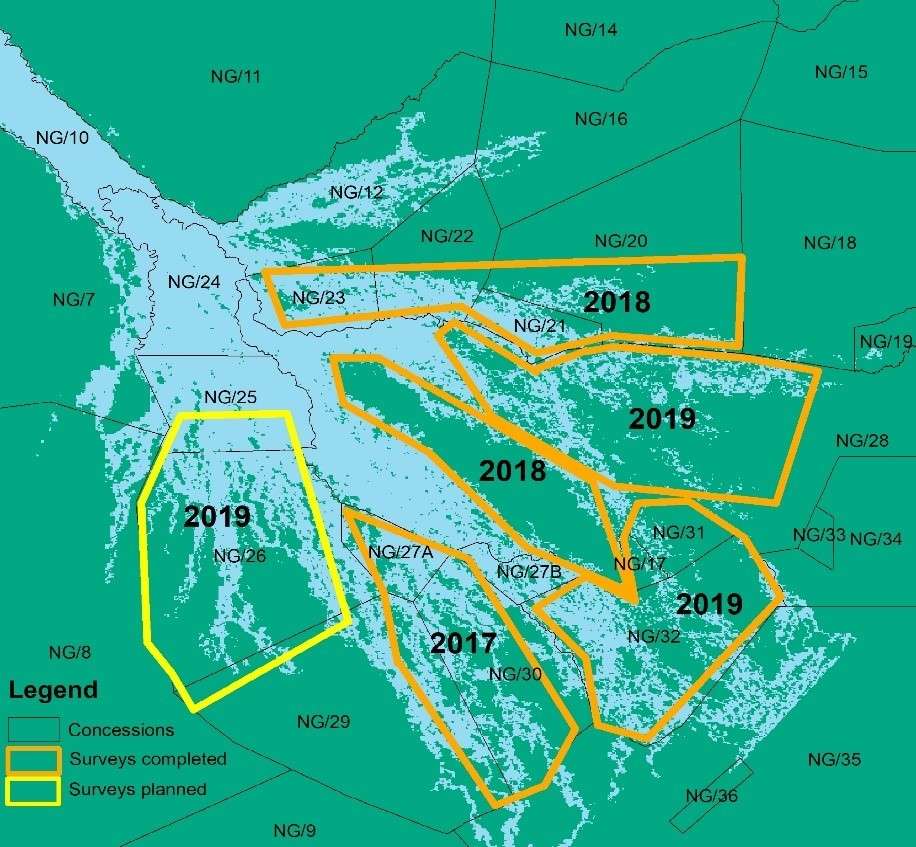 We expect that this last survey will show an interesting mix of wet- and dry-land species in both the carnivore and herbivore guilds. As NG26, home to Seba and Abu Camp, makes up the westernmost edge of the Okavango Delta, this area is also known to be frequented by some of the desert-adapted animals such as oryx, eland and roan antelope, which may move into the Delta from dry areas to the west to access water during the dry season. These species are generally absent from the wetter areas of the Okavango further east.
Additionally, at this time of the year, the northern reaches of NG26 also host some of the largest herds of buffalo, numbering in their thousands, which converge across the floodplains to access the flood waters and the last of the green grazing. As the inundation was low this year in comparison to previous years, we are interested to see what the camera surveys will reveal. Watch this space for follow up blogs on the surveys!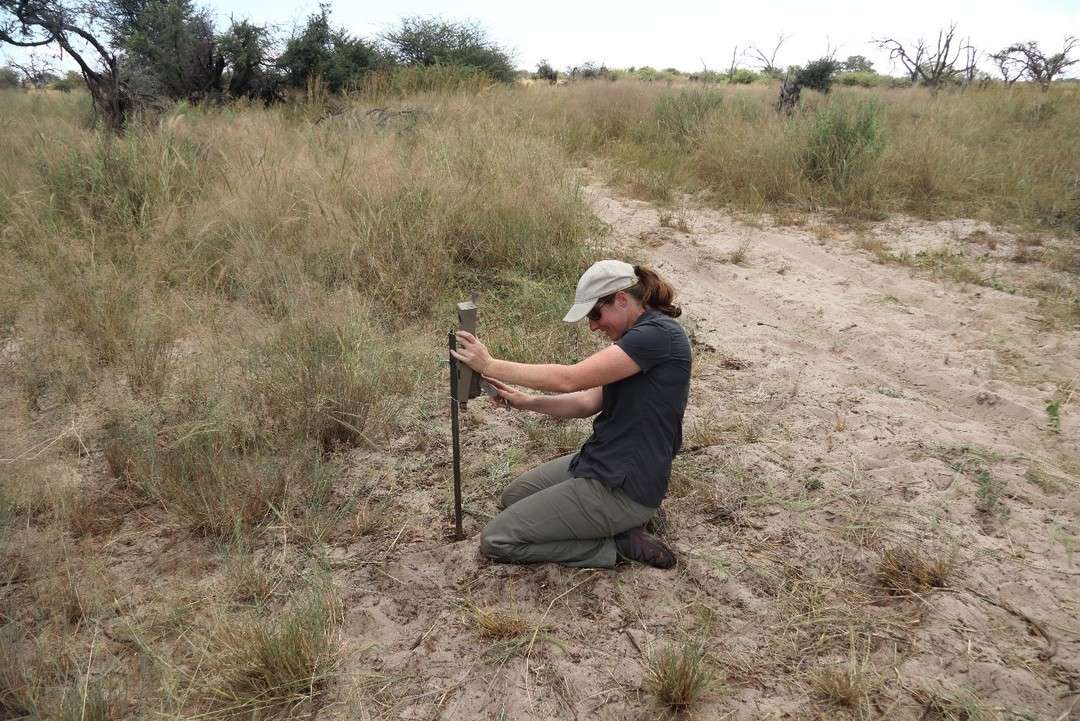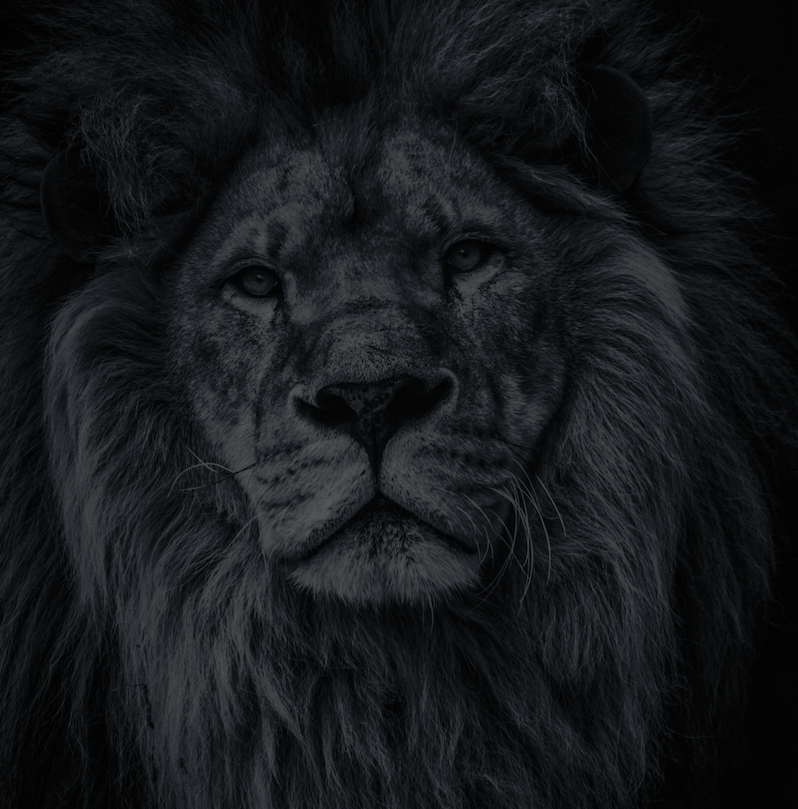 Let's plan your next journey
Ready?
When we say we're there every step of the way, we mean it, literally. From planning the perfect circuit, to private inter-camp transfers on Wilderness Air, and easing you through Customs. We're with you on the ground, at your side, 24-7, from start to finish. Ready to take the road less travelled? Contact our Travel Designers to plan an unforgettable journey.