For 38 years Wilderness has been inspiring positive action through our life-changing journeys, underpinned by our unwavering vision to conserve and restore Africa's wilderness and wildlife.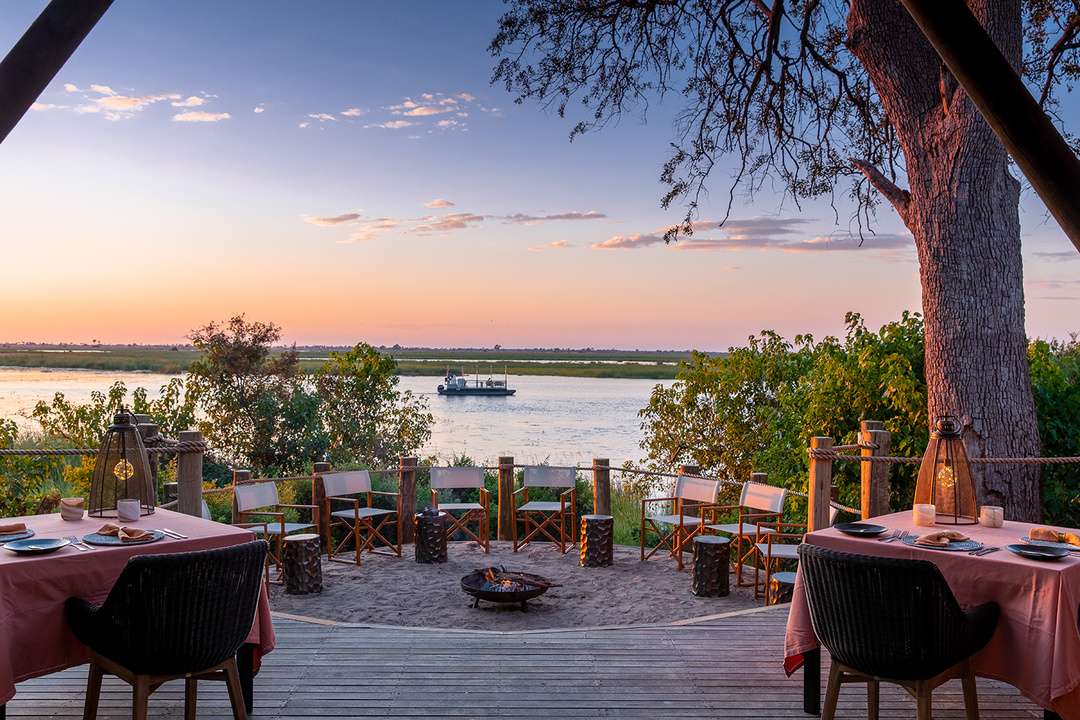 With positive impact at the heart of our culture, working for Wilderness is not just a job, and our successes have been made possible thanks to the dedication and passion of our employees, who continue to push the boundaries in conservation and ecotourism. Combine this with the significant investment we make in training and mentoring our staff, alongside the generosity of spirit that they are so renowned for, and it is not surprising that we continue to attract people from all walks of life to join our family and our journey to change lives.
"Our safaris change the lives of not only our guests, but also our staff, neighbouring communities and the very ecosystems that we operate in "
The family that is now part of the new DumaTau is no different, and as big an inspiration, through their combined passion and dedication. Here is a sneak peek at some of the amazing people you will meet when you visit the heart of the Linyanti Wildlife Reserve.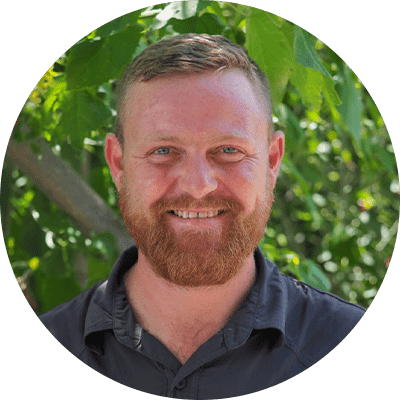 Corrie Brits – DumaTau General Manager
General Manager at the new Duma Tau, Corrie and his wife started with Wilderness in 2018 as the Relief General Manager couple for Abu Camp, Mombo Camp and Vumbura Plains. However, they were soon promoted to GM couple for Little Vumbura in 2019.
"As soon as I started working with Wilderness, I knew I had found a company with fundamental values and passion for conservation, not only wildlife but also ecological biodiversity and community, which is similarly a passion of mine".
"Wilderness Safaris is a special family to be part of with lots of people with a great passion for the hospitality industry. "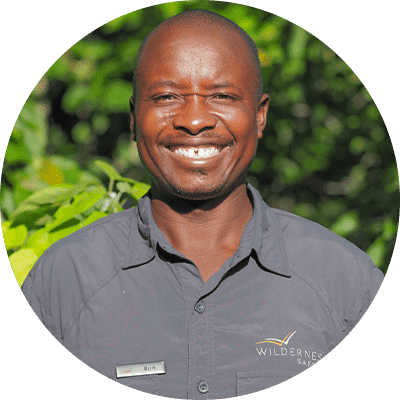 Ronald Masule
Head Guide at DumaTau, Ronald 'Ron' Masule joined the Wilderness Guide Training Programme in February 2006, and was employed full time at Savuti in July 2006.
In his time with Wilderness he considers himself lucky to have worked and explored some of the most beautiful areas in Botswana: from DumaTau and King's Pool in the Linyanti Wildlife Reserve to Vumbura Plains and Mombo in the Okavango Delta. Now, as DumaTau Head Guide, he is back where it all began for him. He and his team are extremely excited at the prospect of opening and re-launching DumaTau as Wilderness flagship camp in the Linyanti, and taking it to new heights.
Ron feels a very special connection to the Okavango Delta, but DumaTau and the Linyanti are home. He enjoys nothing more than spending time on safari; observing the animals in their natural habitat; meeting people from around the globe; and creating unique experiences.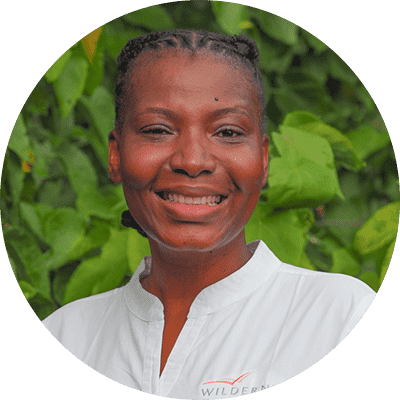 Faith Moutloatse
Little DumaTau Camp Manager Faith was born far from the tourism circuits of Botswana in the small town of Lobatse, south-west of Gaborone. She began her working life in the capital city as an insurance clerk, never imaging herself working in the wilderness – until she met her husband, Peter Moutloatse, a knowledgeable and dedicated Wilderness guide.
During her time with Wilderness, Faith has established a deep love for the wide-open wilderness. She is now proud to call the bush her home. "This is where I connect instinctively with who I am supposed to be, where I can bond with nature and wildlife. In this place my five senses are at their best, without any distraction of civilisation".
Faith loves hosting and "creating beautiful memories with strangers, who at the end of their journeys become family". She also enjoys learning about new cultures from guests, as well as sharing her own. She is a natural storyteller, often relating tales passed down by her late grandmother.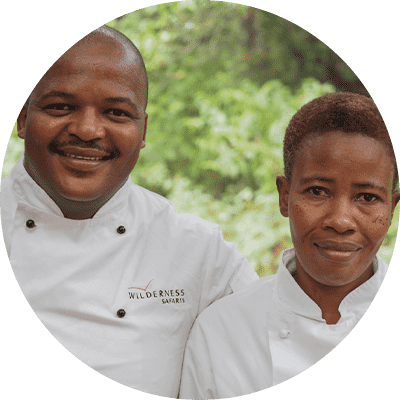 Kapeturua "Pet" Tjetjoo
Head Chef at the brand new DumaTau, Kapeturua AKA Pet, began her journey with us as a trainee at King's Pool in 1999. Her hard work and commitment saw her growing into the talented chef she is today.
"I spoke to Linda Van Rensburg via phone, and sent my CV to her. She loved my CV and offered me a role the very day I met her at the Wilderness Head Office. I had one day to prepare myself and fly out to camp. That was the 24th of April, 1999. "
Pet is excited about DumaTau's new food offering, which includes a sustainable approach to fine-dining and thoughtfully blends elements of Botswana heritage, community and nutrition. With an increase in locally sourced ingredients on offer, as well as a mindful menu, DumaTau guests can expect a wide selection of deeply-flavoured, fresh and appetising plates.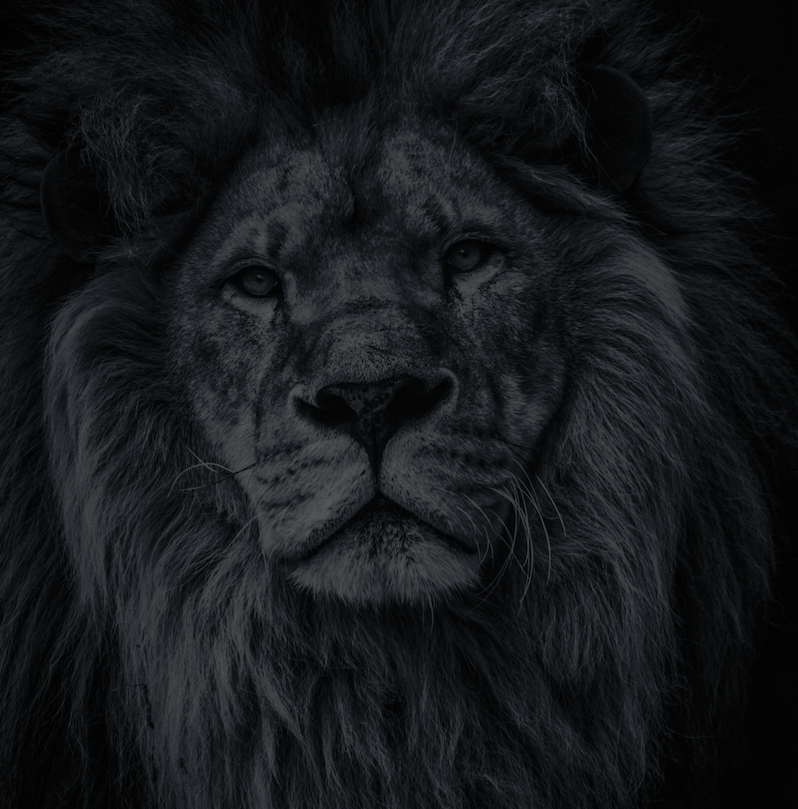 Let's plan your next journey
Ready?
When we say we're there every step of the way, we mean it, literally. From planning the perfect circuit, to private inter-camp transfers on Wilderness Air, and easing you through Customs. We're with you on the ground, at your side, 24-7, from start to finish. Ready to take the road less travelled? Contact our Travel Designers to plan an unforgettable journey.