After months of construction, design and décor input, game drive loop creation, procurement, recruitment, training, unpacking, cleaning, and constantly pushing the timeline, it all came together… the team at Magashi welcomed our first guests on 1 May, and we could not be more proud!
Staff Training and Systems
The week before opening was an intense few days of training. We completed chef training, service training and emergency response training. Systems were put in place, and by the end of the week every Magashi team member knew exactly what would be expected of them.
The chef training was probably the most rewarding as we all had to taste every single dish – thank you very much Cecilia Briggs and Linda van Rensburg! All dishes on the menu are delicious, with fresh ingredients and some of the best Rwandan flavours. See some of our first guests' comments below regarding the meals, which they all enjoyed.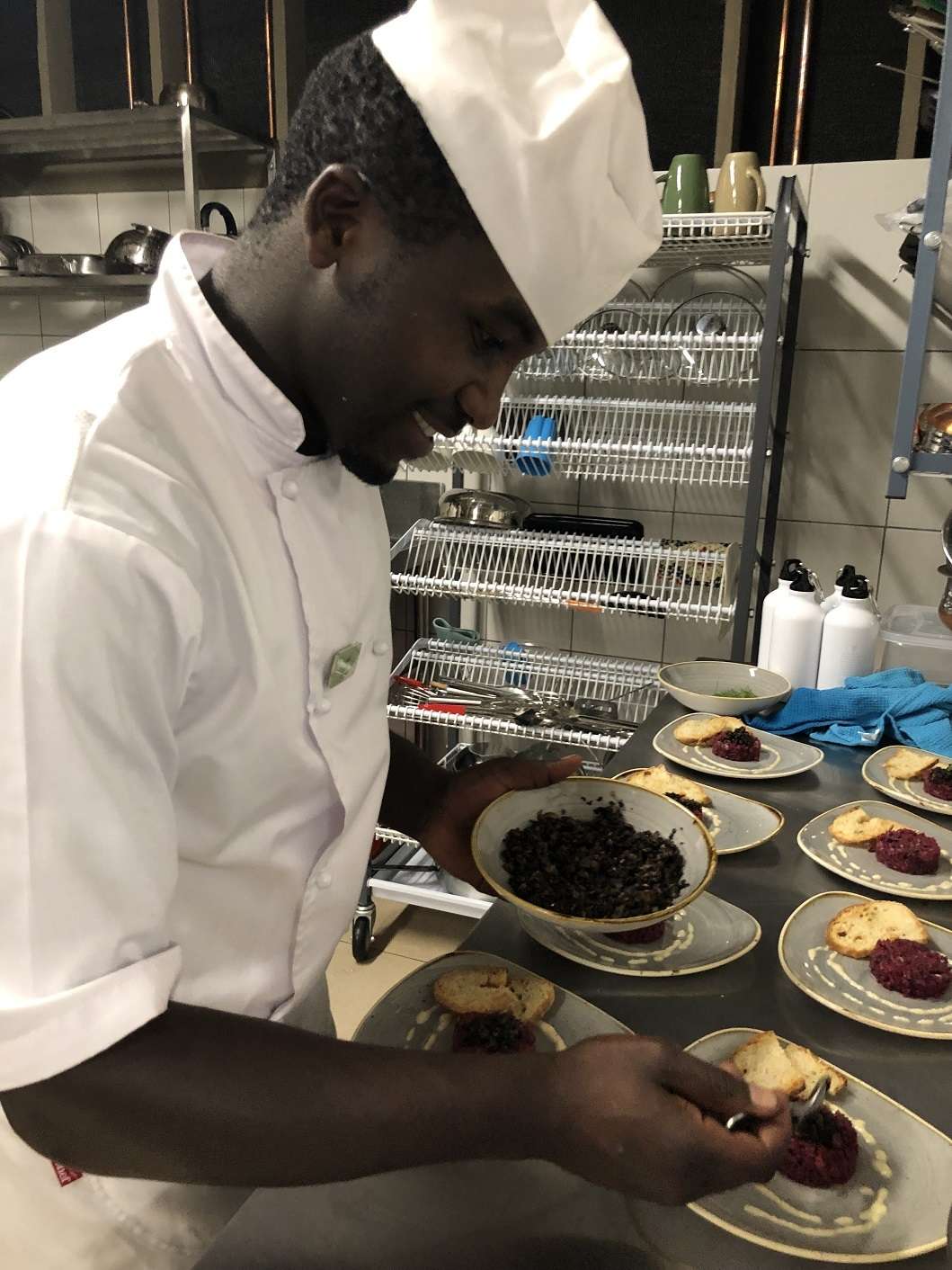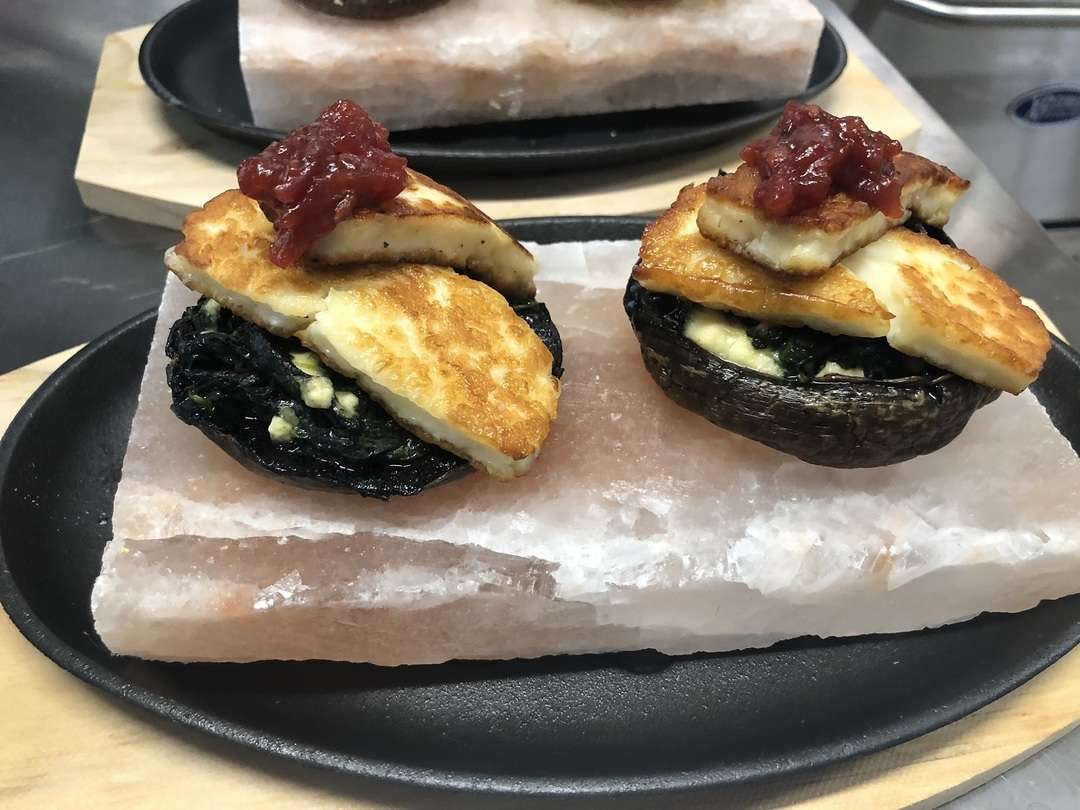 Kugisha Dinner
Our first traditional dinner, the Kugisha, was a big success; on this occasion our guests are taken on a cultural and culinary "journey"…
Driving from Kigali to Akagera National Park guests will see the most beautiful cattle in Africa: these are the world-famous Ankole cattle, known for their massive horns and the impressive quality of their meat. In the past, and still in many places in the east of Rwanda today, Ankole are considered royalty. The lives of the pastoralists of the region were completely intertwined with their herds: they divided their day into 20 periods – 19 of which involved cattle-related activities; slaughtering a healthy cow was seen as a form of cannibalism. However, when a cow died every part of it was used, with the hides made in to mats, drum-coverings, and clothing, and the horns made into musical instruments and ornamental jewellery. Dung was used to plaster buildings and to create art – known as Imigongo – which is still found in Rwanda.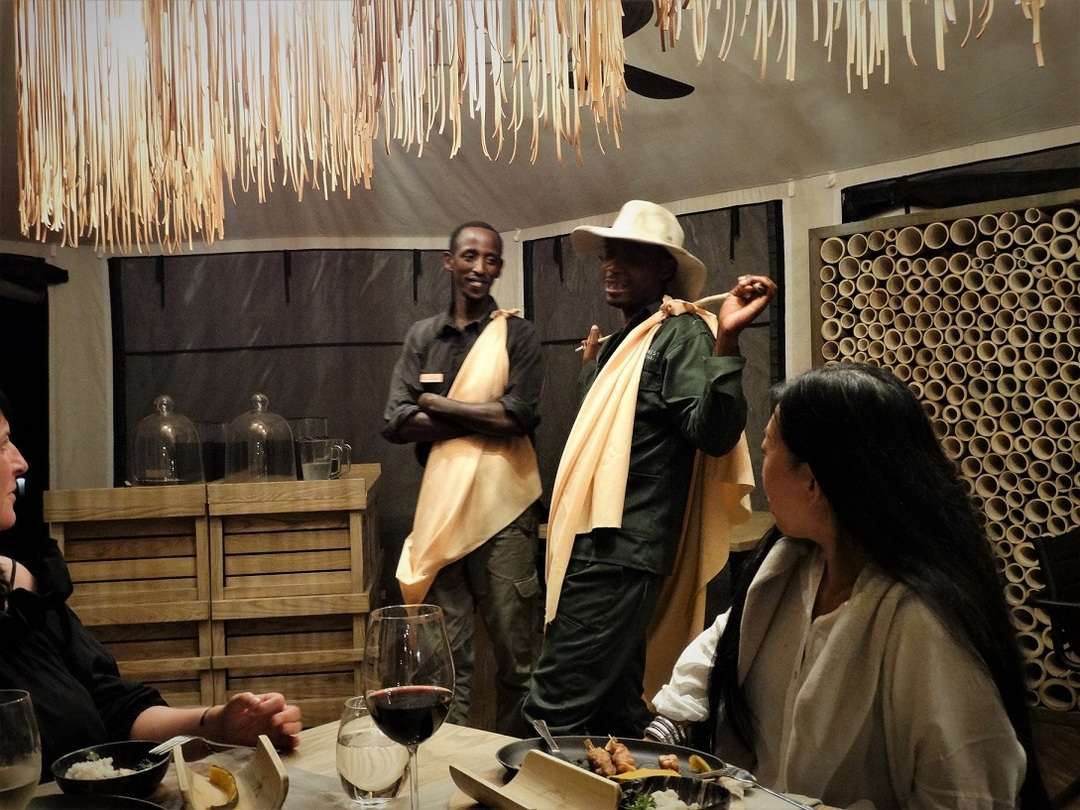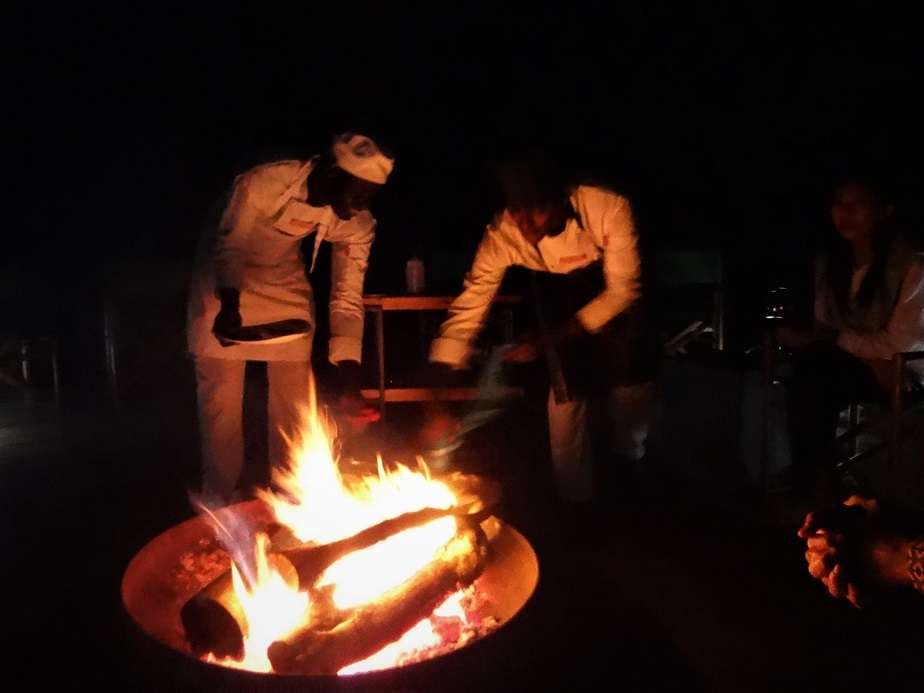 Since many of the Magashi staff members come from families of pastoralists, they are eminently qualified to share these stories with our guests. Some of the staff members were cattle herders as small boys, others until they joined the Magashi team! During dinner snippets from the life of a cattle herder are showcased – very entertaining, but also very informative! All of this happens while the guests move around the beautiful main area setting, from one local dish to the next… constantly looking for better pastures.
Guiding and Sightings
We really didn't know what to expect, wildlife-wise, in Magashi's first week. Naturally, the guides have been exploring the area and have been involved in a leopard-habituation programme since November last year, but all is very different when going out with guests for the first time.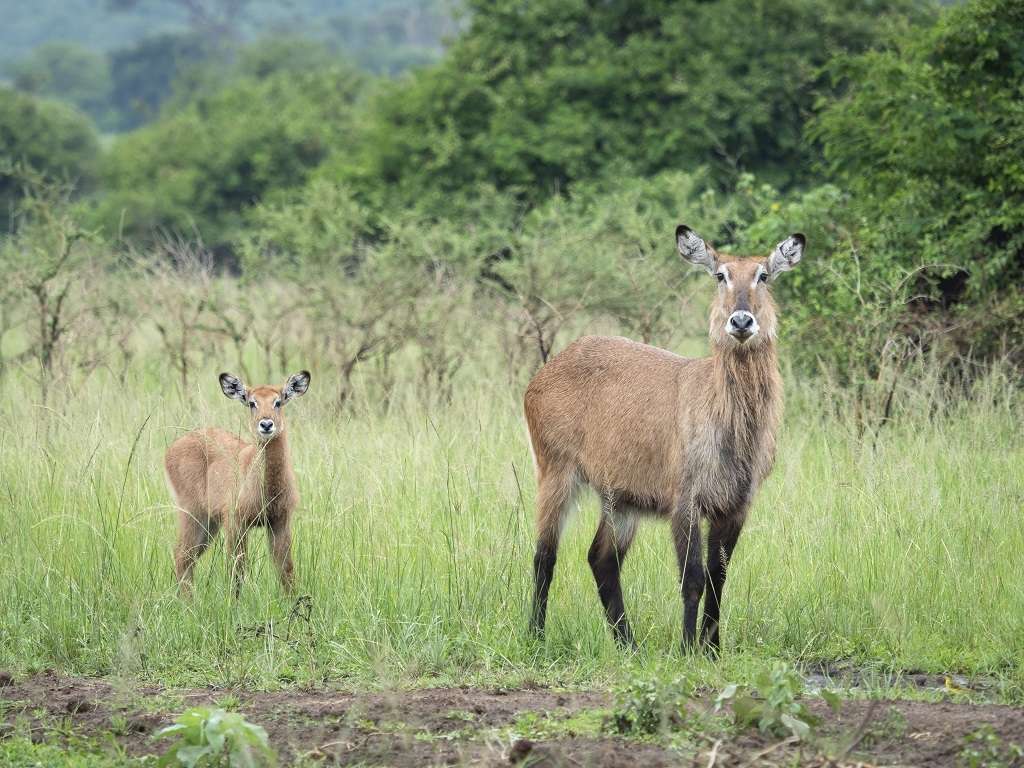 To our great surprise, we were rewarded on our first morning game drive with the discovery of four tiny six-week-old lion cubs we hadn't been aware of. What made it even better was that we could spend a lot of time with them, and since that first sighting, we have been able to find them every day. On most days we have seen the whole pride together – up to 12 members, and if the big male joins them, 13 lions in total.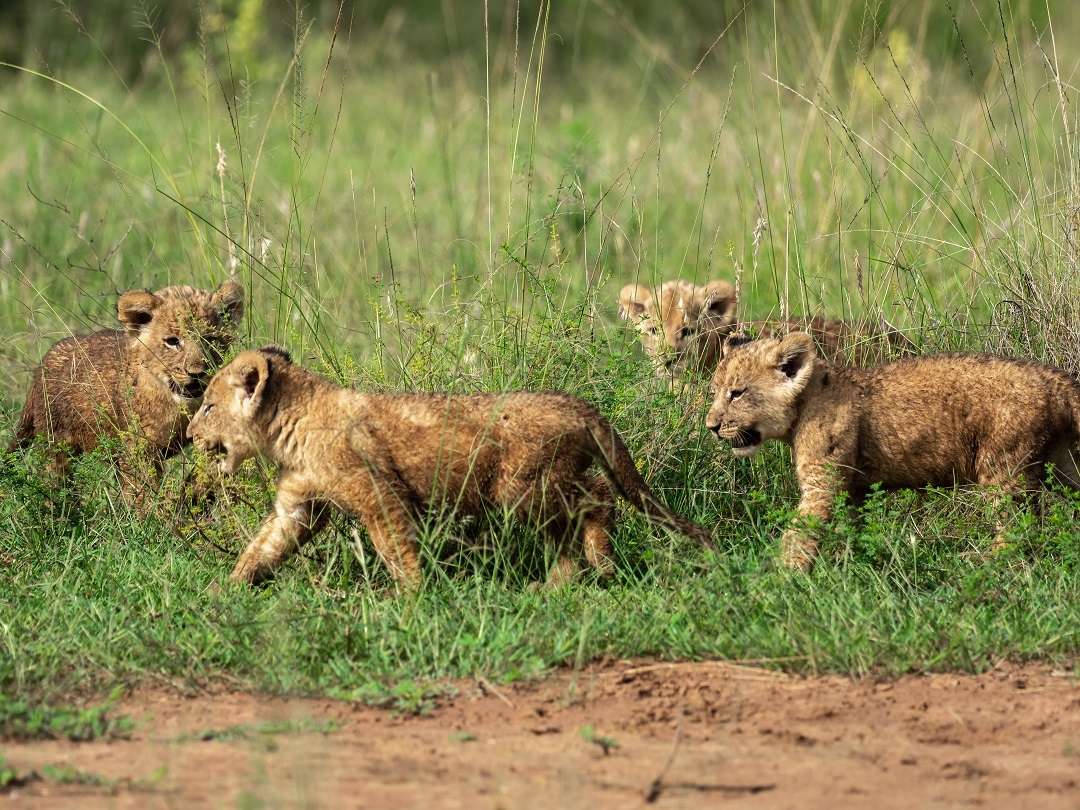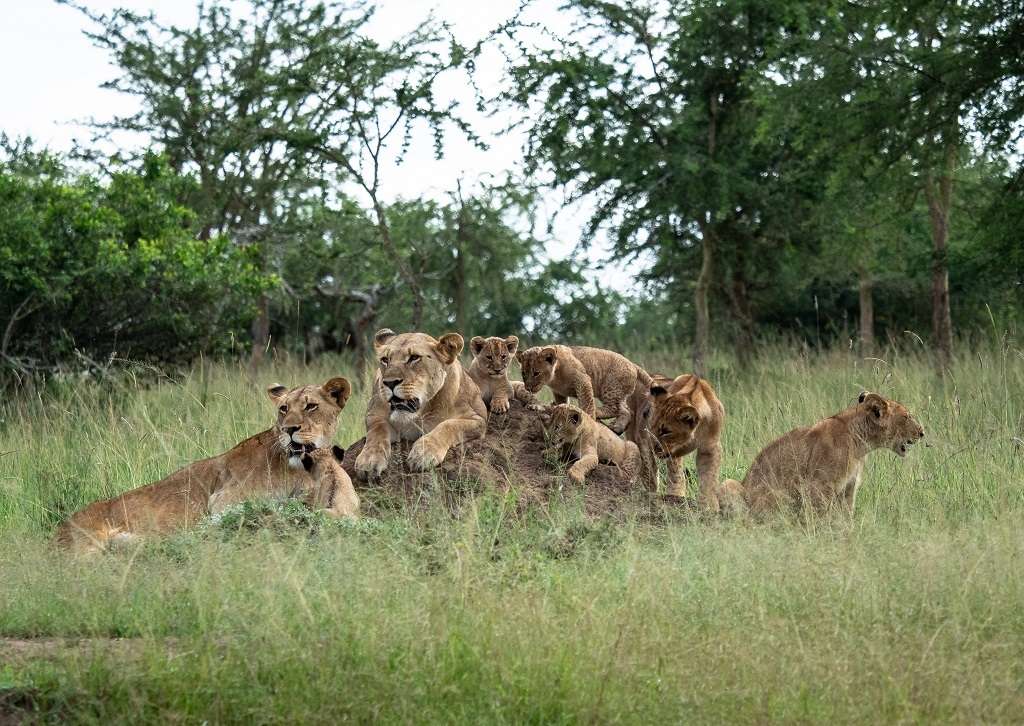 Plenty of elephant and general game are scattered throughout the northern section of the park towards Magashi. The transfer to camp from the park's North Gate is very active, especially with large herds of zebra. The occasional elephant herd and lone bull greets us too, sometimes keeping us from getting to our destination on time!
The drive from the gate to reach the camp can take from an hour to two hours, depending on what we see along the way.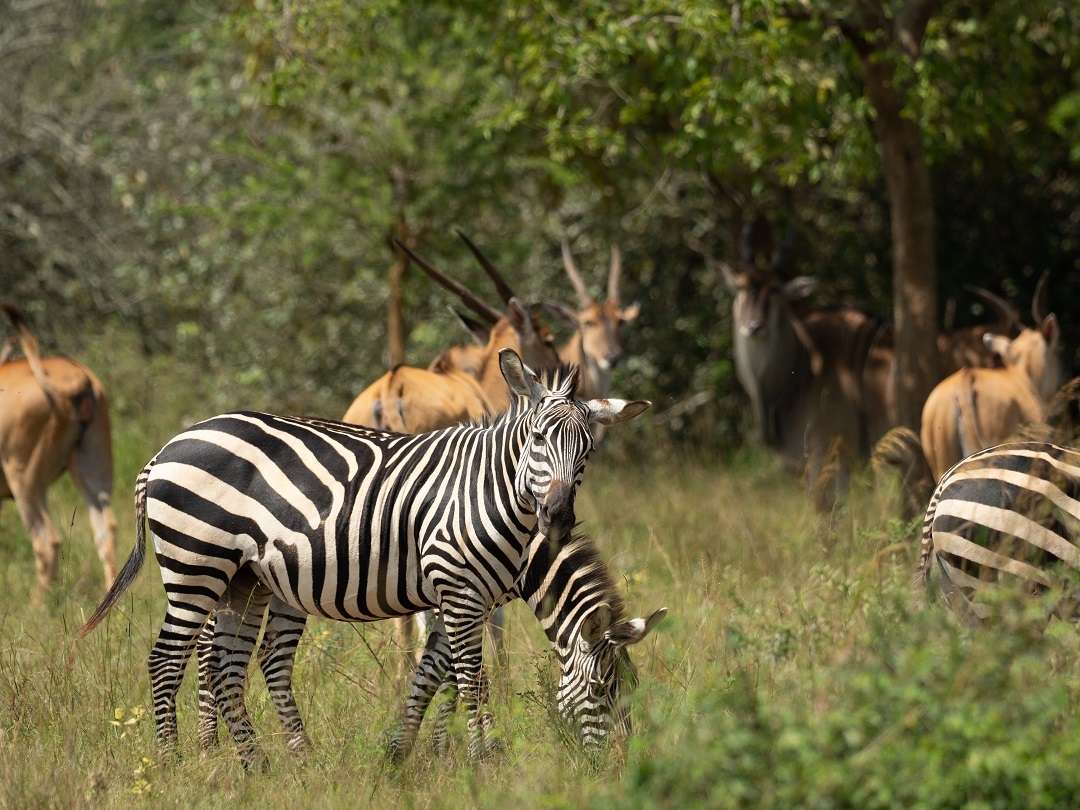 By then, as our guests have been travelling for quite some time, it is a pleasant surprise when we stop off at the Muhana picnic area, and step into one of our sturdy aluminium motorised boats for the last leg of the journey. On arrival at the boat, guests are greeted by hippo displays, grunts, snorts and yawns. Occasionally the large crocodiles of Lake Rwanyakazinga are seen basking in the afternoon sun – a spectacular welcome.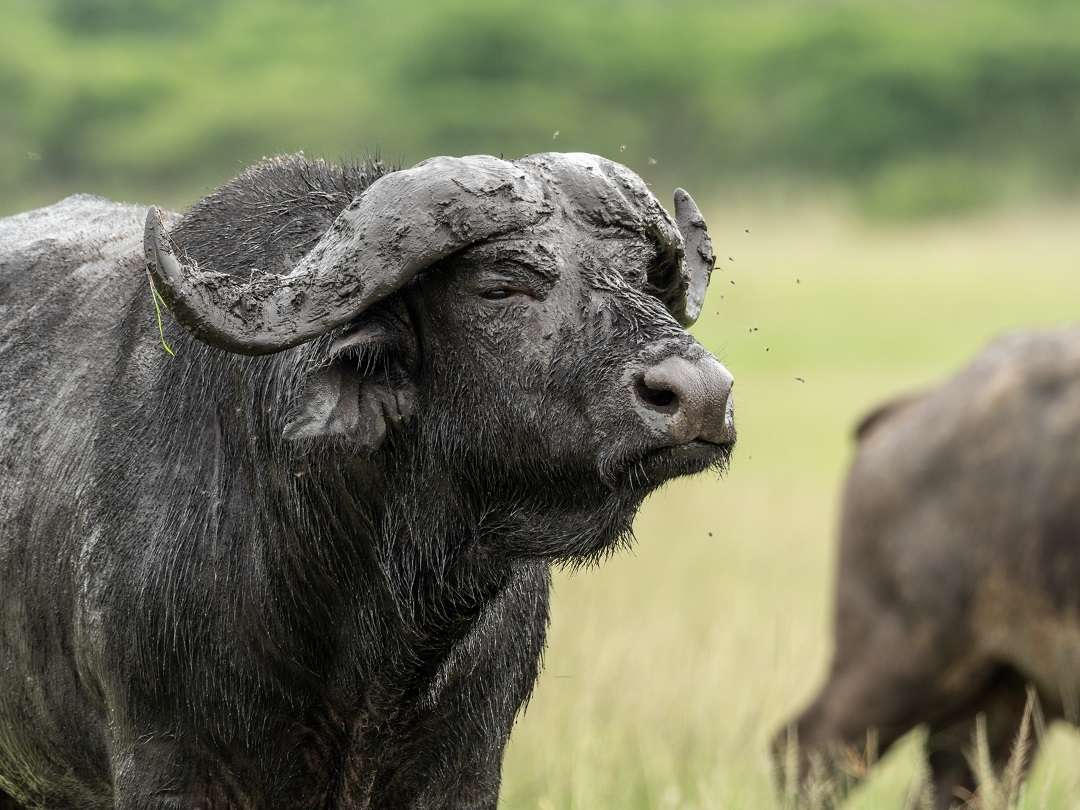 There is always something to see along the lake shore: buffalo bulls wallowing in the shallows, hippos spraying water as they come up for air, impala and giraffe in numbers, warthogs scurrying around with their tails in the air, the sound of fish-eagles crying out to their partners, and large herds of elephant moving through; our first guests unquestionably had a very different and very warm welcome to Magashi when they saw elephants swimming close to the lodge.
The last three nights have been particularly amazing, with sightings of the same female leopard around the same area: she was seen hunting a young impala on the first night; on the second night she brought down a fully-grown female which hyaenas promptly stole from her; and on the last night she was seen lying out in the open for our guests to observe her again.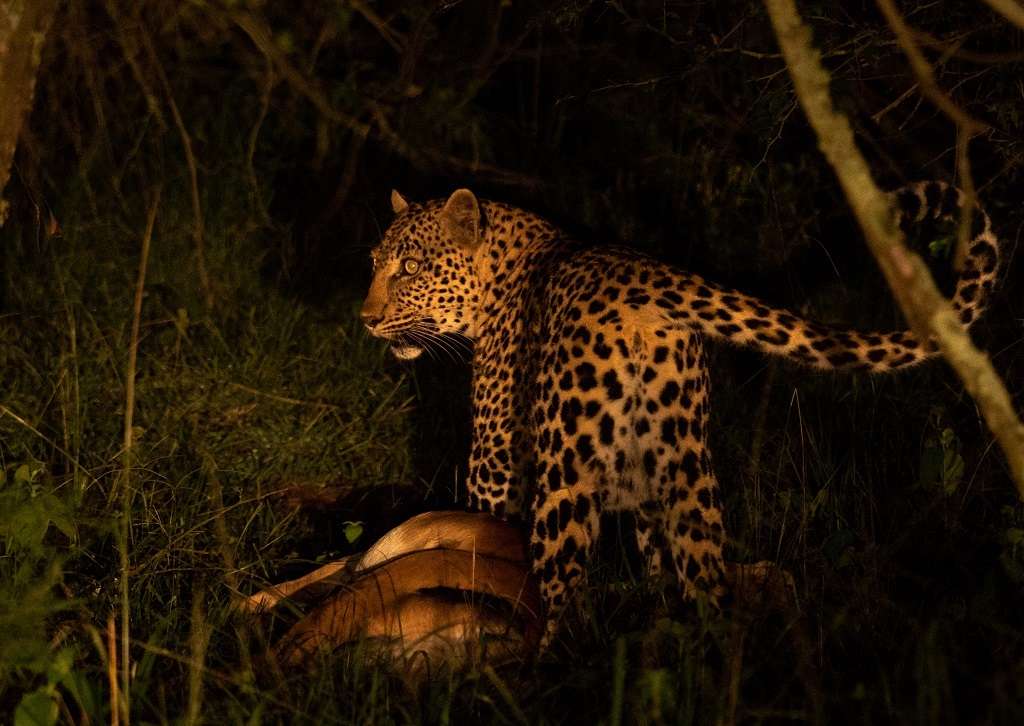 The hyenas have been active, and very vocal around Magashi over the last few nights, filling the air with their whoops and giggles. Other interesting sightings have been porcupine, blotched genet, Egyptian mongoose, eland and plenty of olive baboons.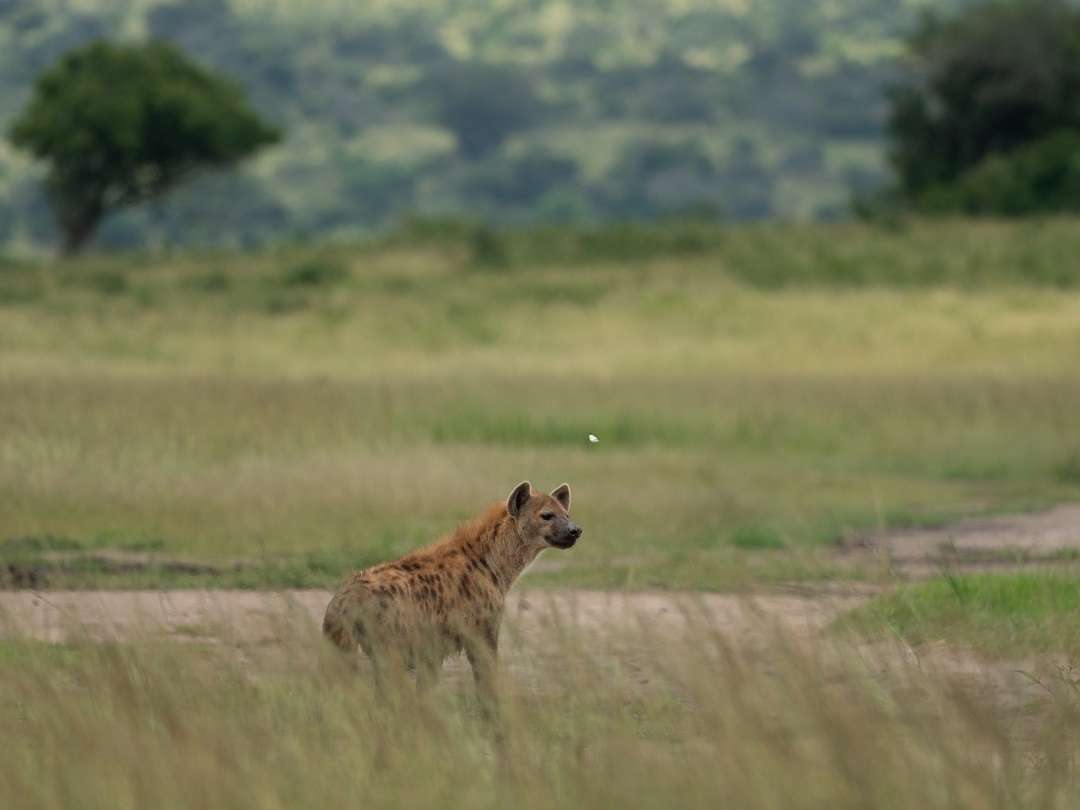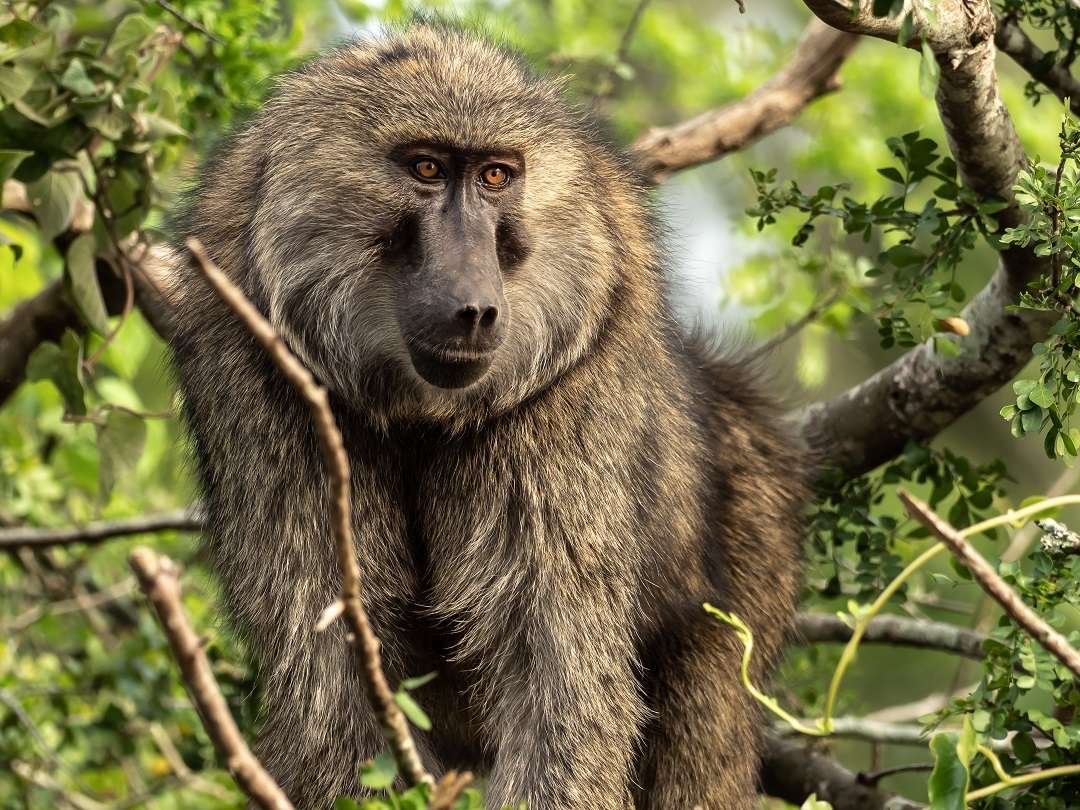 Bird song is obviously our wake-up call. With Akagera being home to over 500 species of birds, the variety around camp is simply breathtaking, from black-headed gonoleks to very chatty white-browed robin-chats. Ross's turacos were spotted a few times in the Muhana Plains area, as were palm-nut vultures. African fish-eagles are seen everywhere and the birdlife around the water is plentiful. Guests also witnessed a juvenile martial eagle hunting banded mongoose – without any success, though.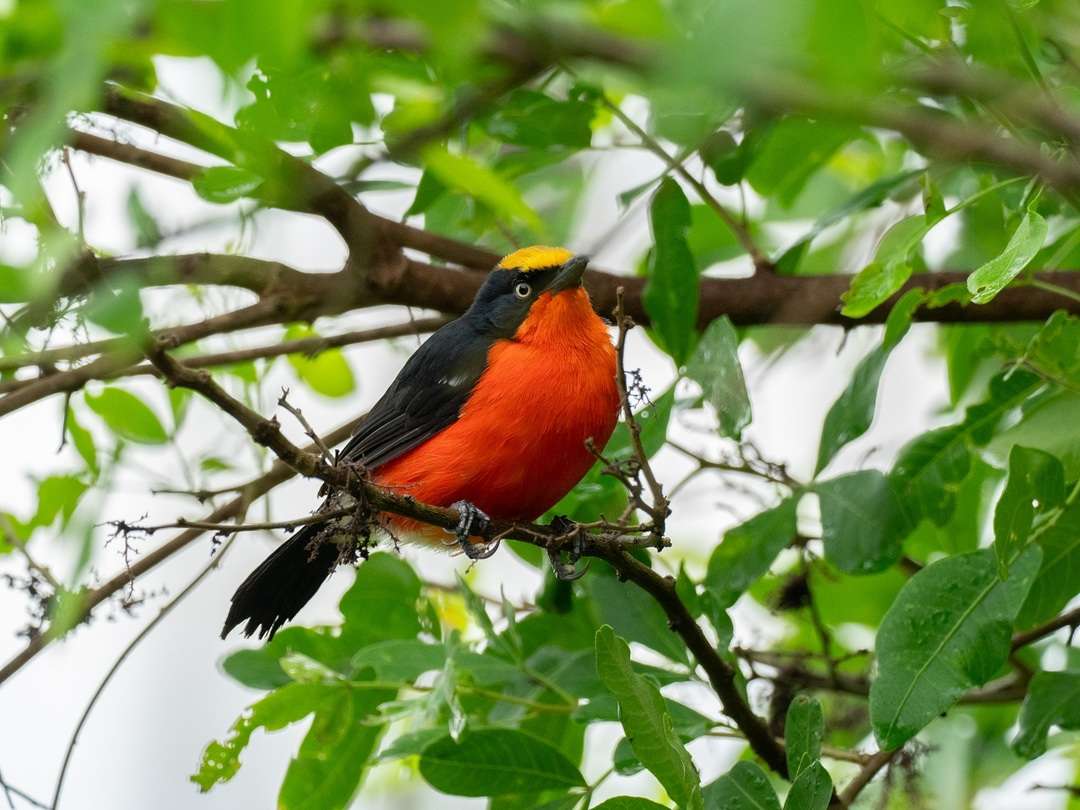 Papyrus gonolek. Photograph by Adriaan Mulder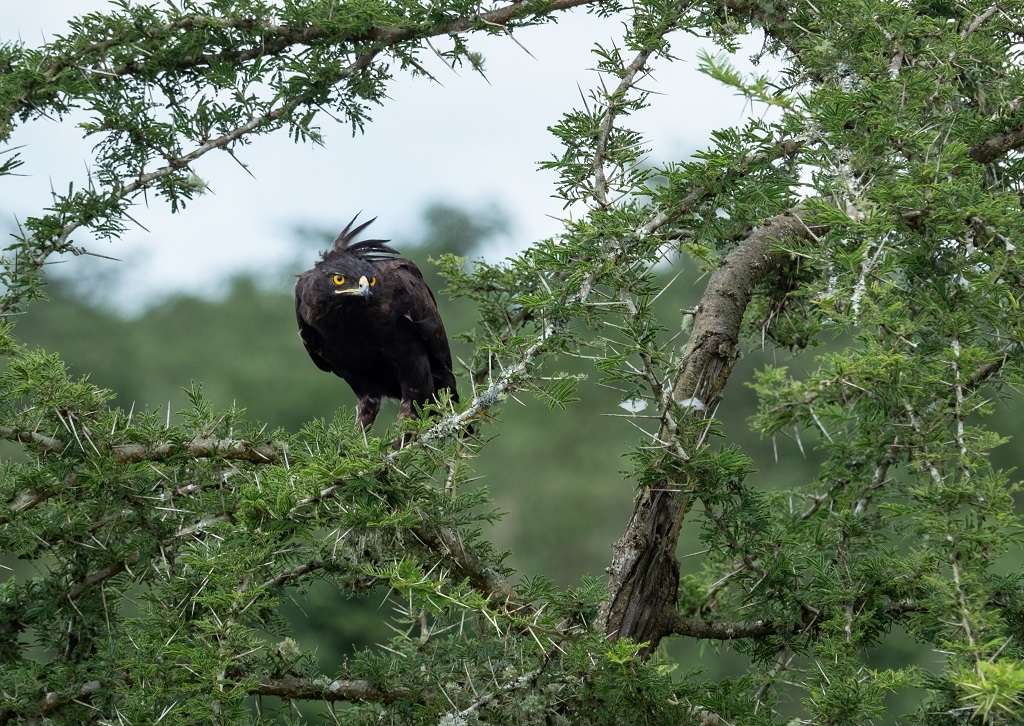 Long-creasted eagle. Photograph by Hein Myers
The first week of Magashi's operation has been unforgettable, and the wilderness has rewarded its visitors with amazing wildlife and scenery.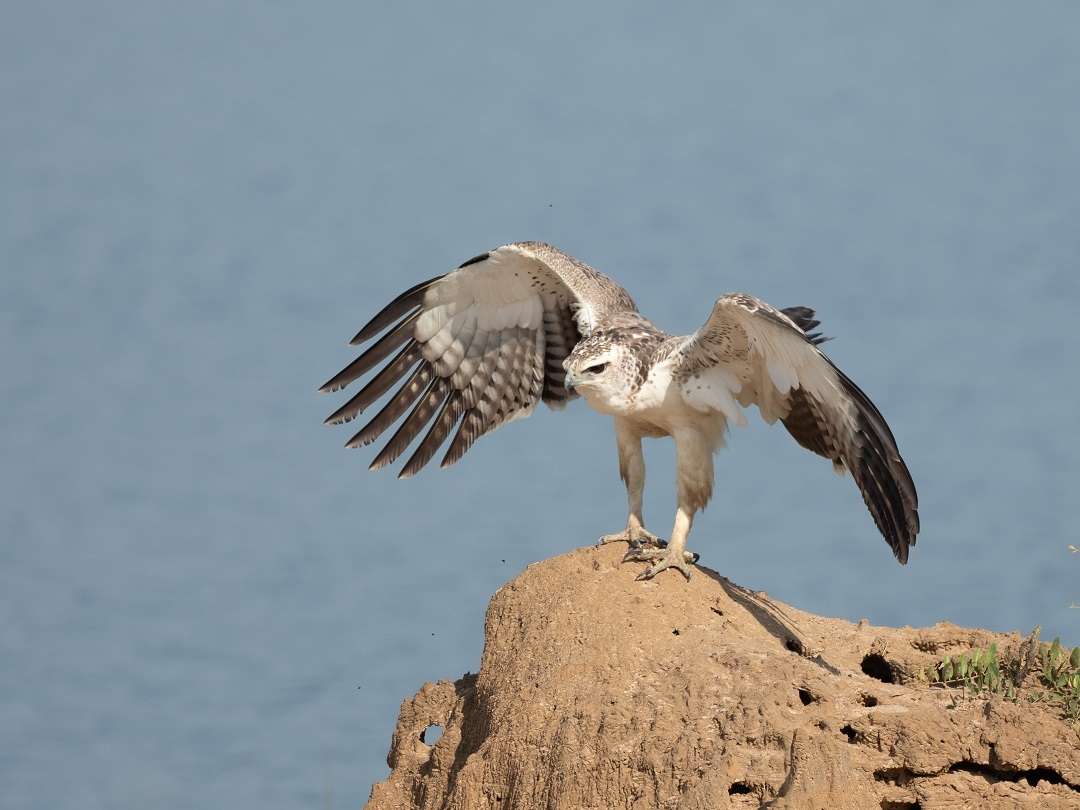 Juvenile martial eagle. Photograph by Adriaan Mulder
Guest Comments
Julia – Russia:
"If you would like to stay in a paradise with warm people, a strong and kind team with permanent smiles and lovely souls – this is the place! You did an incredible job. If I receive this quality of service during the first day of official opening, I can't even imagine what it will be like in 1 year! Good luck!"
Rachel – Rwanda:
"This has been the most exhilarating experience I have ever had by far. Thank you for making it feel like home away from home. The staff are very friendly and professional! Special thanks to Hein for taking us on an extraordinary game drive last night where we got to see 6 lions and a female leopard hunting. Magashi is just mind blowing! Thanks a lot for the treat. I will surely recommend to everybody!"
Michael & Pauline - Ireland
"What a privilege to be one of your first guests. This is a truly magical place, in a special location, made so warm and welcoming by a wonderful staff team. The food is the best we have ever had at any safari lodge (and we have been to many!) Our guide, Adriaan, really delivered! We had such a great time with him over 3 days. There is so much we could say! But we chose to come here to celebrate my 50th birthday and we are so glad we did. It cannot be matched!"
Barbara & Aymeric – France
"This has been an amazing experience, into the wild with all the luxury and kind attention of the Wilderness team! Feeling at home, the team is so professional and friendly. Special merci to Adriaan who shared his knowledge and took us on great drives. We will definitely let everybody know how great Magashi and the team are! Feeling so grateful to have been able to be among the first guests here!"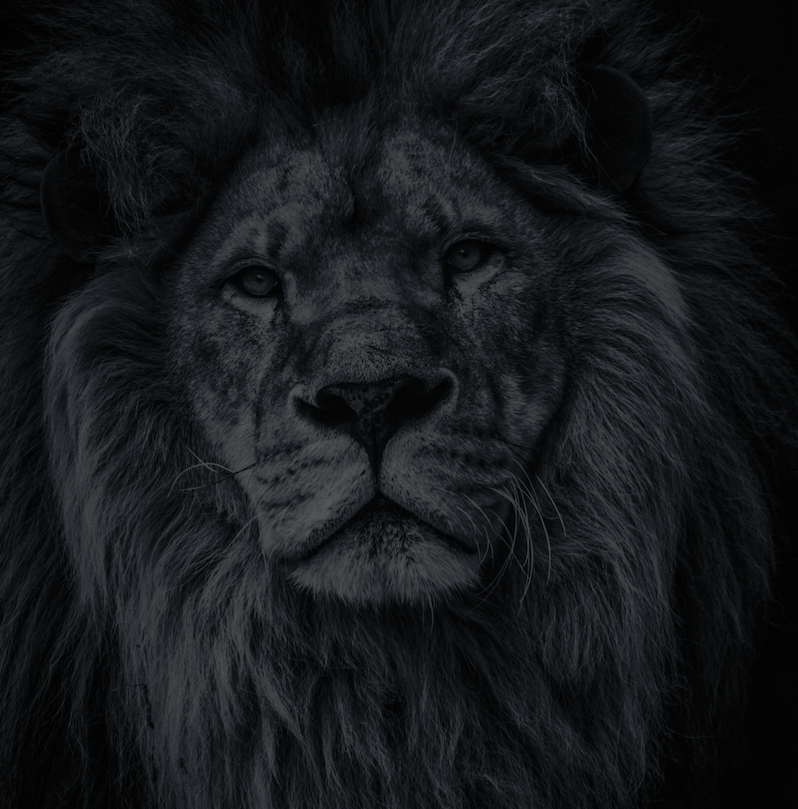 Let's plan your next journey
Ready?
When we say we're there every step of the way, we mean it, literally. From planning the perfect circuit, to private inter-camp transfers on Wilderness Air, and easing you through Customs. We're with you on the ground, at your side, 24-7, from start to finish. Ready to take the road less travelled? Contact our Travel Designers to plan an unforgettable journey.