On Saturday 9th January 2021 at 15:36, whilst staying at Santawani, we found (unknowingly at the time) a red-necked buzzard Buteo auguralis, which is potentially only the third time this bird has been identified within Botswana, and the first record of an adult bird in the country. Upon reflection, this was coincidentally the same date that I started my journey at Wilderness last year which, for all that has happened since, now seems so long ago.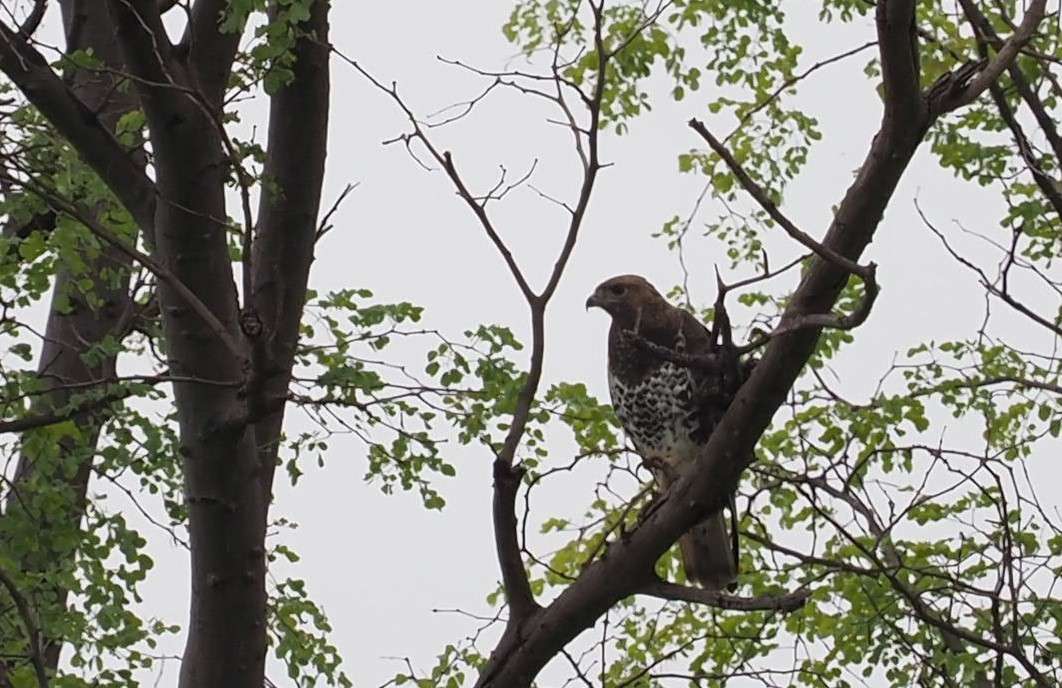 A 'mega' is a very rare bird and although this species is common in West and Central Africa, it has only been recorded in Botswana twice previously; once in 2014 in Chobe National Park and once in 2015 in Kasane Forest Reserve, with north-west Angola usually the southernmost part of the distribution range (Buij et al., 2016).
My partner, Louise Monsey, and I had been staying at Santawani with our son Finn, who simply cannot resist the bouncing motion of a Land Rover to send him to sleep. That day, playing was far more appealing than his afternoon nap, so we decided to take Finn for a short drive to work its magic.
We had been enjoying participating in a bit of friendly competition amongst fellow birders and friends, to 'atlas' as many birds as we could see and hear in the area since we arrived. This is part of the much larger Southern African Bird Atlas Project (SABAP2) which uses citizen science to map the distribution of birds across several southern African countries.
Finn is far more interested in birds than mammals and we had already enjoyed an extended sighting of a pair of Burchell's sandgrouse Pterocles burchelli with their youngster. There has been plentiful rain and the area is full of seasonal pans and pools. We decided to drive along a pan system and Finn was enjoying watching the various species of storks as we looked and listened for birds.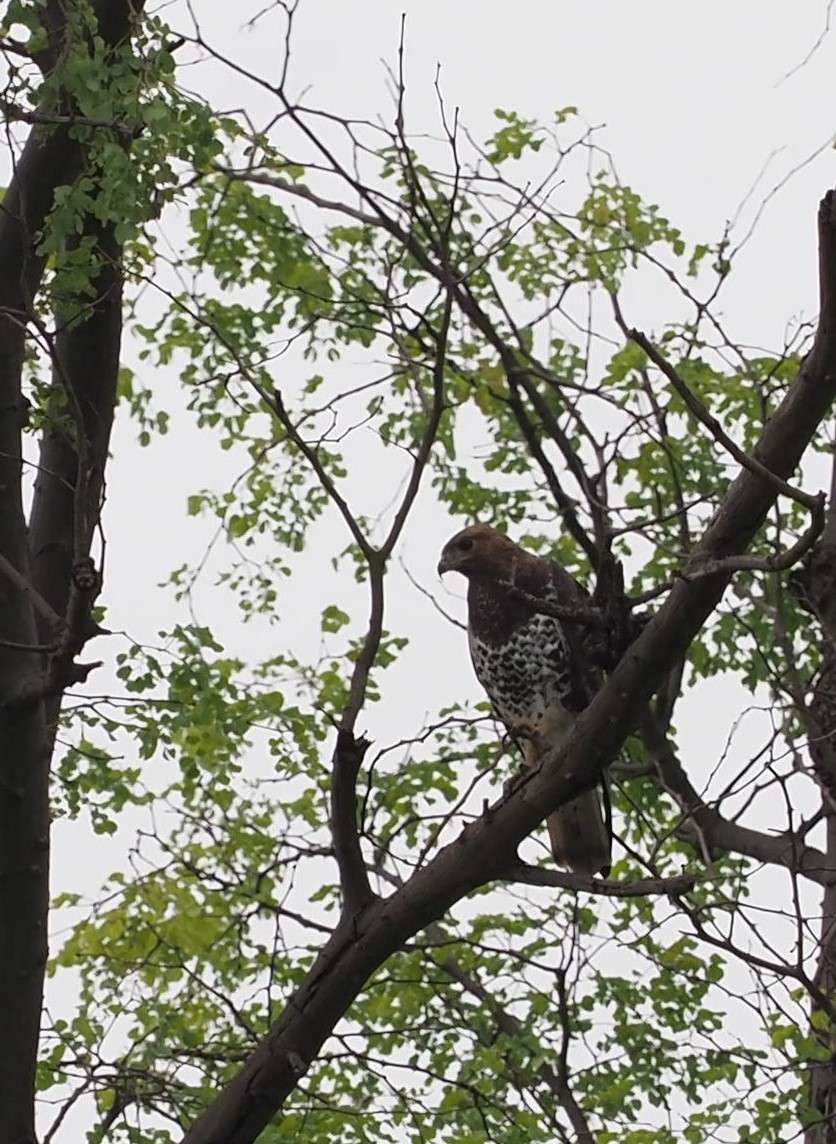 I suggested driving around another pan but as Finn was still rather fractious, Louise suggested we cruise a bit along a road we do not usually drive. As we drove, we noticed a raptor flush from some dead knobthorn trees, as it was being mobbed by southern carmine bee-eaters Merops nubicoides.
The initial 'GISS' (General Impression of Size and Shape) allowed me to immediately identify it as a buzzard, but the plumage was different to that of the common buzzard Buteo buteo, the species we most commonly encounter in this area and habitat.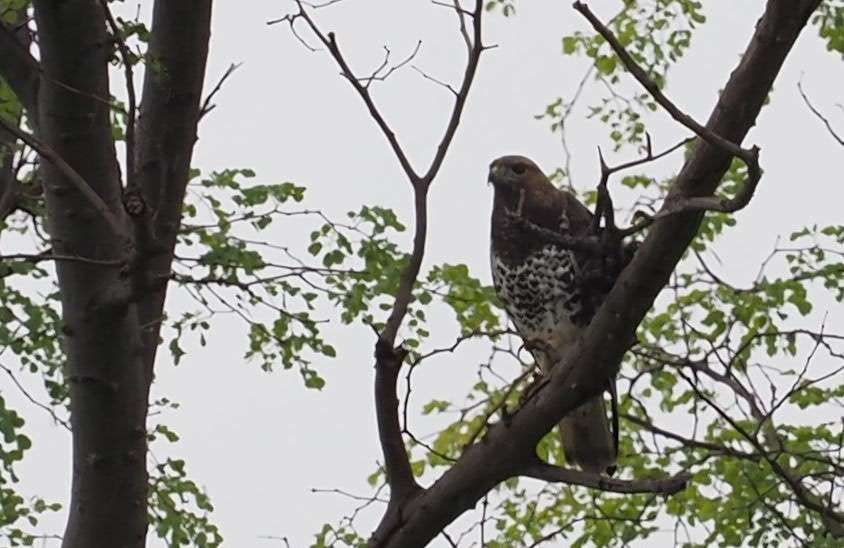 I got excited and shouted 'augur buzzard' Buteo augur, as I saw rufous tail feathers, and Louise suggested jackal buzzard Buteo rufofuscus, but as she checked the photographs on the Roberts Bird Guide app, listing features to me that she had seen (as I was driving and the bird flushed from the trees a few times), nothing seemed to quite fit. Louise looked at the immature black-chested snake eagle, as she had clearly seen a dark chest-band and heavy streaking underneath, but I knew this bird was smaller and the wing shape and posture were wrong for one of the snake eagles.
In our eagerness to get Finn to sleep, we had left camp without the camera and we knew we needed photos of this bird in order to seek expert help with identification. Because it was raining, I knew there was a high chance of the bird still being there if I returned with the camera (we were only a short distance from Santawani), so after dropping Louise and a sleeping Finn off at the tent, I went back to get identification photos.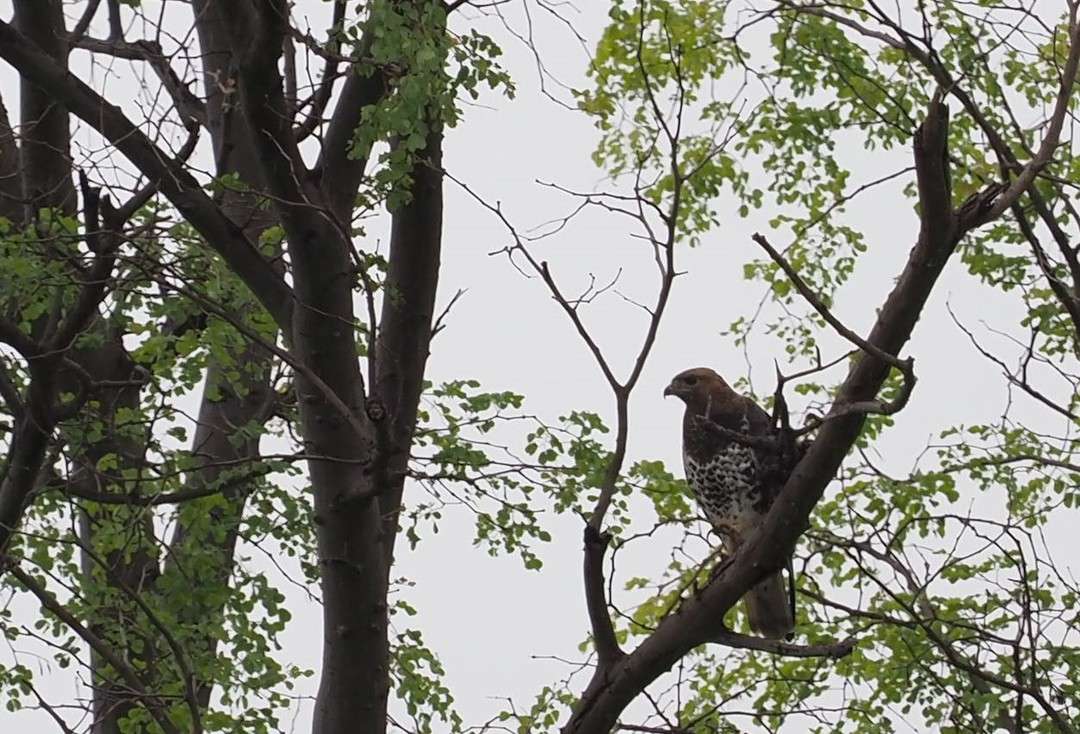 On my return, I immediately sought help from my birding fraternity via our WhatsApp group and shared my thoughts. I knew we were on to something special when massively respected expert Peter Lawson discredited my initial ID of augur buzzard, trawled his books on African birds and suggested I make contact with, and send photos to Trevor Hardaker, who runs the Southern African Rare Birds News (SARBN) reports.
What makes the Buteo species especially difficult to differentiate is that they are very similar in general appearance to one another, with intra-specific variation in plumage colours and patterns.
Daniela Mates, having also observed one of the only recorded sightings of this bird in South Africa in 2016, suggested it looked a lot like the red-necked buzzard she had seen and photographed in Stilbaai, Western Cape.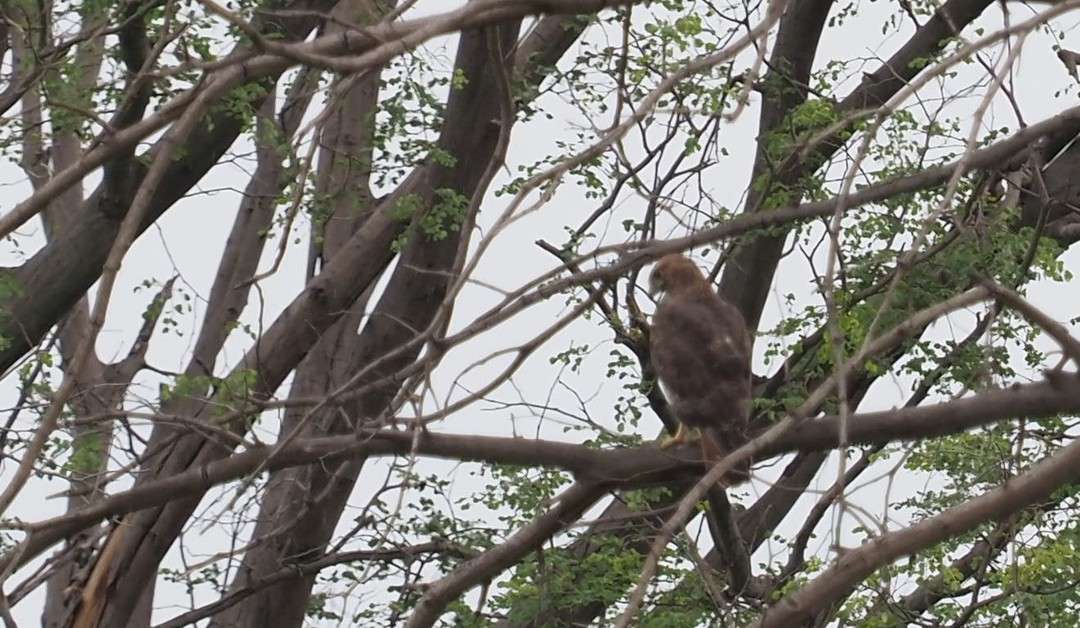 Later that same day after initial confirmation by Trevor and other experts, including good friend Duncan Mackenzie, a MEGA ALERT was sent out at 18:48 by Garret Skead of SARBN: 'RED-NECKED BUZZARD: an adult bird has been seen and photographed this afternoon in northern Botswana near Santawani…' sending the birding world into somewhat of a frenzy. It was truly a privilege to be a part of and witness how the birding community works together and the procedure followed in identifying and revealing a mega-rarity.
Fellow guides and professionals are already making their way to try and locate the bird as I write, but my sincere thanks must go to my good friends, who are people I also have such massive respect for professionally, in helping with the identification of this very special bird in Botswana, and so quickly. It is, of course, very possible and quite likely that rarities may be misidentified due to lack of familiarity.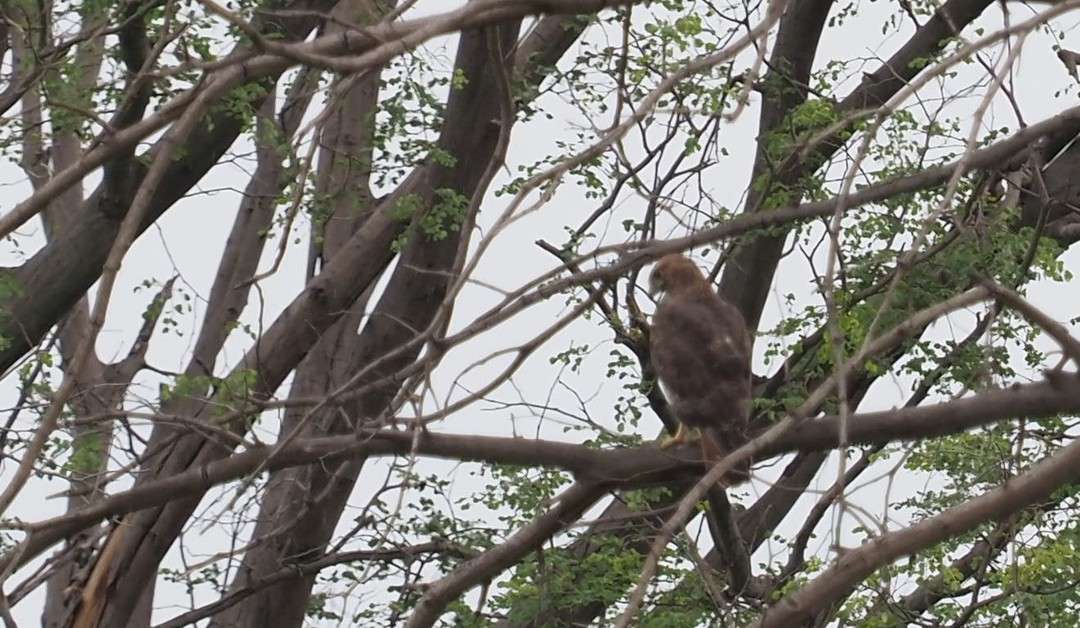 This very species was first 'discovered' in the southern African region after Etienne Marais circulated photos taken on his Caprivi trip in 2014. People then frantically started going through photos of odd buzzards taken on past trips and several historical records were unearthed; the furthest back from 2001 in the Kgalagadi, which at the time was put down to a lost forest buzzard Buteo trizonatus in the wrong habitat.
I have huge respect and appreciation for the Southern African Bird Atlas Project and Bird Lasser (created by Henk Nel), the recording platform which challenge me to continuously improve, and allow birders throughout southern Africa to contribute to the conservation of the birds we love.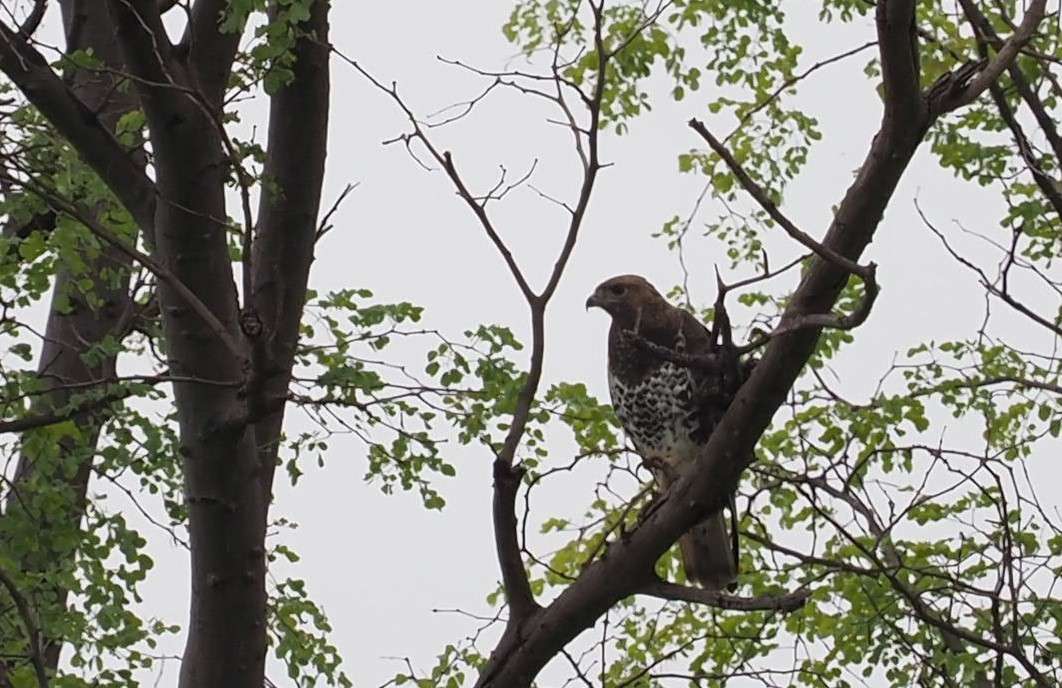 Thanks must also go to Louise, for being my partner in all ways, including birding; for her help in initially identifying defining features; and for practically forcing me to return to camp and fetch the camera and of course to my son, Finn, already showing promise as a great bird enthusiast and who just wouldn't…go…to…sleep.
References: Buij, R., Clark, W, S. & Allan, D, G. (2016) First records of Red-necked Buzzard Buteo auguralis. for southern Africa, with notes on identification of Buteo buzzards in the subregion. Bull ABC Vol 23 No 1
Written and photographed by Henry Parsons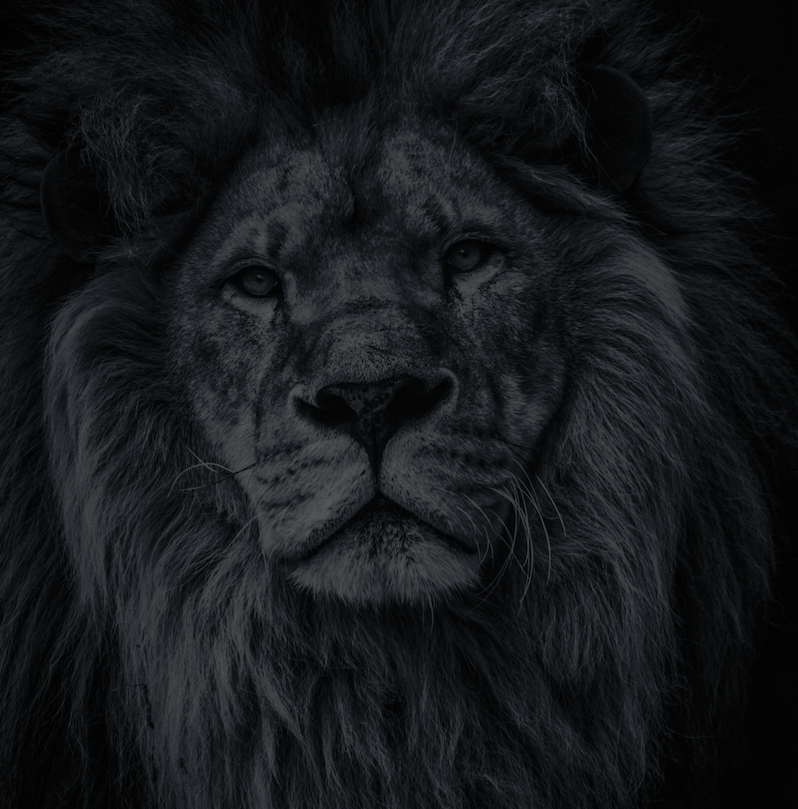 Let's plan your next journey
Ready?
When we say we're there every step of the way, we mean it, literally. From planning the perfect circuit, to private inter-camp transfers on Wilderness Air, and easing you through Customs. We're with you on the ground, at your side, 24-7, from start to finish. Ready to take the road less travelled? Contact our Travel Designers to plan an unforgettable journey.