Wild, remarkable Rwanda. A journey in the Land of a Thousand Hills is unlike anything else you'll experience on this exceptional continent. It's no surprise then that it requires a bit of special packing. Cool, fresh mornings. Tropical afternoons. The climate is mild, but whether or not you're travelling in one of the wet seasons, you'll need a raincoat.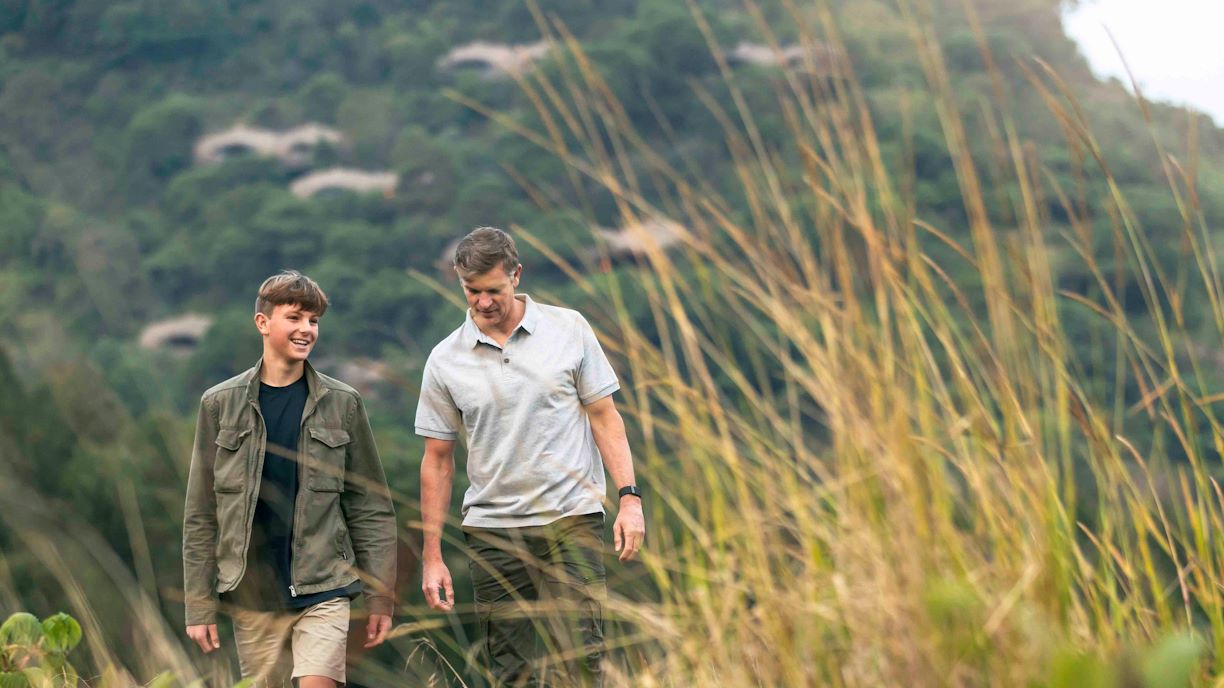 Packing for a gorilla trek
You've dreamed of the moment. Finding a group of gorillas, foraging, playing in pristine natural habitat. Watching babies wrestle and tumble, mothers reaching after them. Nothing prepares you for the privilege of spending time with these remarkable creatures. Gorilla trekking may be the pinnacle of your Rwandan trip. One precious hour is all you'll have; here's everything you need to be prepared for that moment.
On a trek to see the gorillas, you'll be hiking in the rainforest. As the name suggests, it's rainy up there so you'll want to be as waterproof as possible, especially if you're carrying a camera.
Lightweight, neutral coloured clothing: Quick dry clothing is best for trekking. High humidity coupled with uphill trekking can be sweaty business.
Rain jacket: We supply waterproof ponchos, but you may want your arms free. If you have a tried and tested raincoat that works, bring it along.
Gaiters: Not particularly fashionable but necessary. Gaiters help keep sand, grass seeds and insects away from your ankles and socks.
Waterproof trousers: It's best to wear lightweight trousers that can tuck into socks or fit under gaiters for protection against stinging nettle.
Safari sun hat: Rainy season or not, wherever you go in Africa a good coverage hat is essential.
Good closed shoes: You'll want shoes or boots you've walked in before. Think comfortable, non-slip, ankle support.
Camera: Keep in mind that carrying a long zoom lens will be heavy. Opt for a mid-size lens, and bring along a cloth as a fogged up lens when capturing a gorilla's portrait will not do!
Waterproof backpack: You'll want to keep your valuables like cameras and binoculars dry.
Gloves: In dense parts of the rainforest, you'll want protective gloves to push vegetation aside. (You'll also be thankful to have dry hands when its finally time to haul out your camera and start photographing gorillas).
Walking stick: Good to have on any hike, a lightweight, fold-up stick will come in handy when you need a bit of support, and to move vegetation out of the way.
Sunglasses: Tinted fashion glasses may look good in your photos, but your eyes will thank you for polarised lenses or UV protection.
Eyewear: Glasses may mist up in the humidity or rain. Plan to wear contact lenses, all the better to see the gorillas with.
Cash: After your incredible time with the gorillas, you may want to tip your guide.
Water and snacks: Wilderness will provide water and snacks to keep you going throughout your trek, but if you have any special energy-packed treats you'd like to bring along, do.
Hair ties: You won't want anything obscuring your view of the magnificent gorillas. Your hair may be frizzy, but your heart will be full.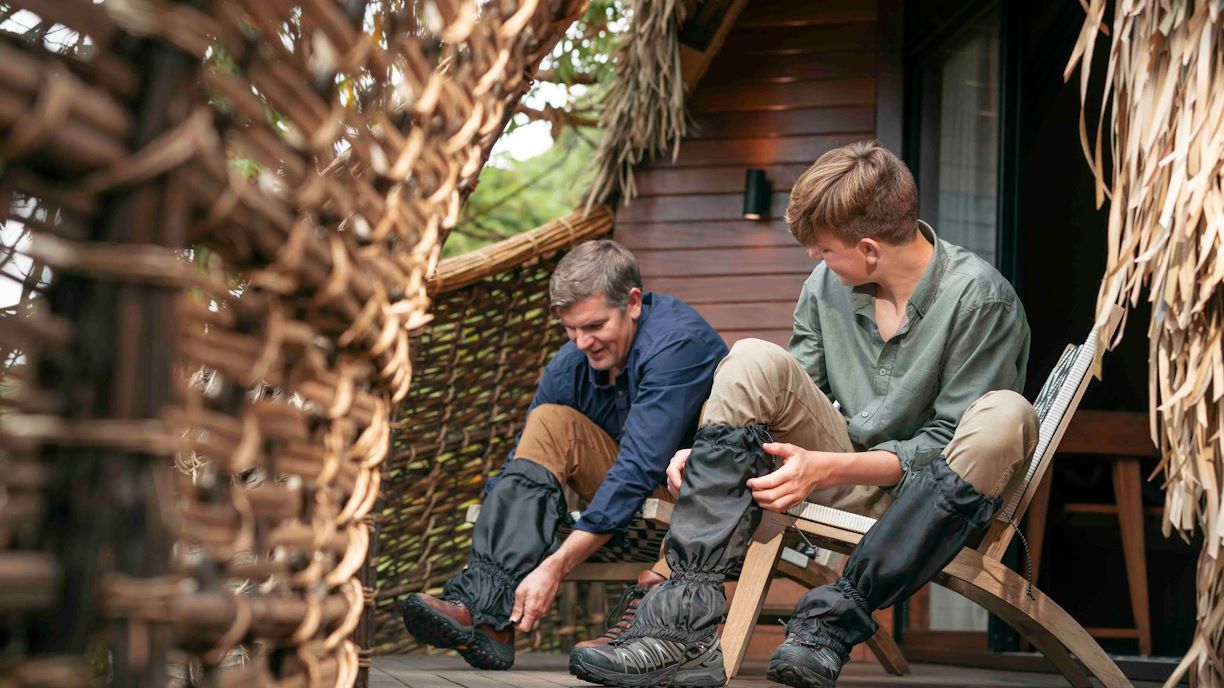 The perfect bag
You'll need a sturdy yet soft duffle bag for flights between camps, as well as a lightweight tote or backpack for all those smaller things you need while out and about gorilla trekking and other activities. Thankfully, we've thought ahead and together with our friends at Sealand, created a limited-edition collection of handmade upcycled gear to suit every kind of wild. Available in three colour ways, each bag is sturdy and weather-resistant, made from recycled nylon waste, built to be resistant to ripping and tearing, and guaranteed to last a lifetime.
Gear up with Sealand here.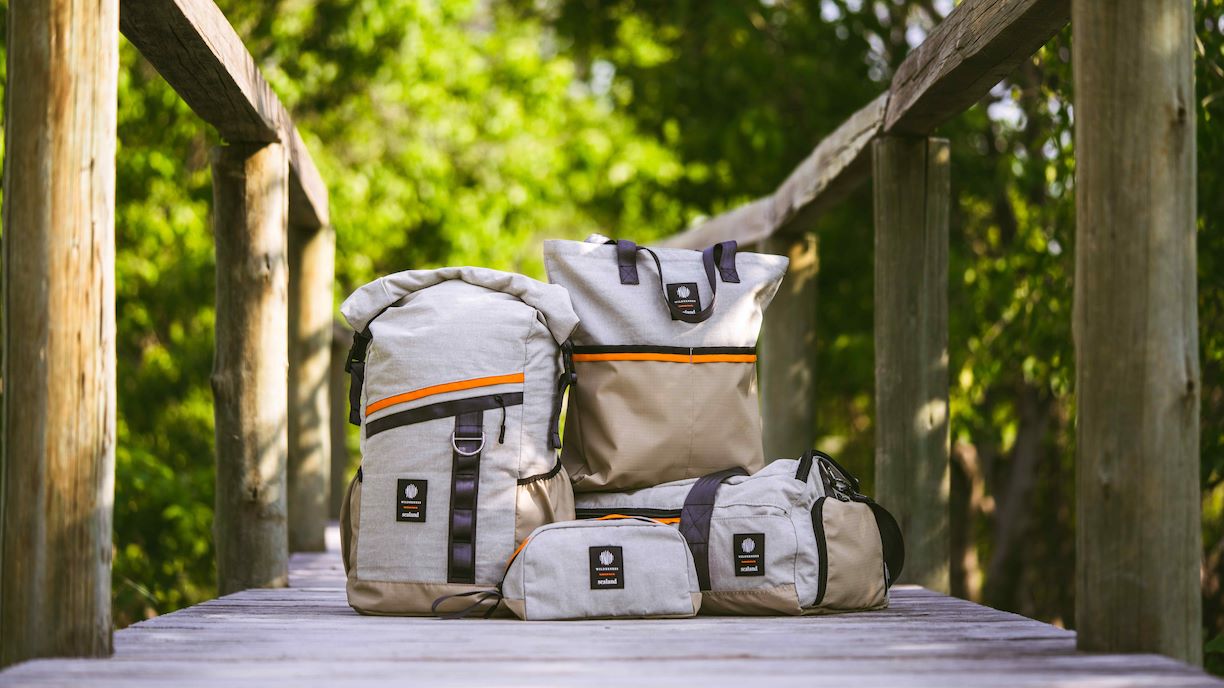 Pack for a Purpose
Wilderness Bisate and Magashi support Children in the Wilderness, an educational programme aimed at bridging the divide between communities and wildlife. Consider leaving a little room in your bag to pack some things for the children of Rwanda.
Most urgently, they need book bags, coloured pencils, HB pencils, sharpeners, and solar lantern lights but any stationery, educational tools or personal hygiene products are welcome. Hand over the supplies at Bisate or Magashi and free up a little room for safari souvenirs. Visit Pack for a Purpose here.
Good to know
Rwanda has no strict dress code, although ladies are encouraged to dress conservatively, particularly in urban areas. Wear comfortable cotton clothes during the day and layer up with jerseys and closed shoes at night.


You'll notice the streets of Rwanda's cities are litter free. Leave your packets behind,  Rwanda is a plastic-free country and hefty fines are handed out to those who carry plastic contraband.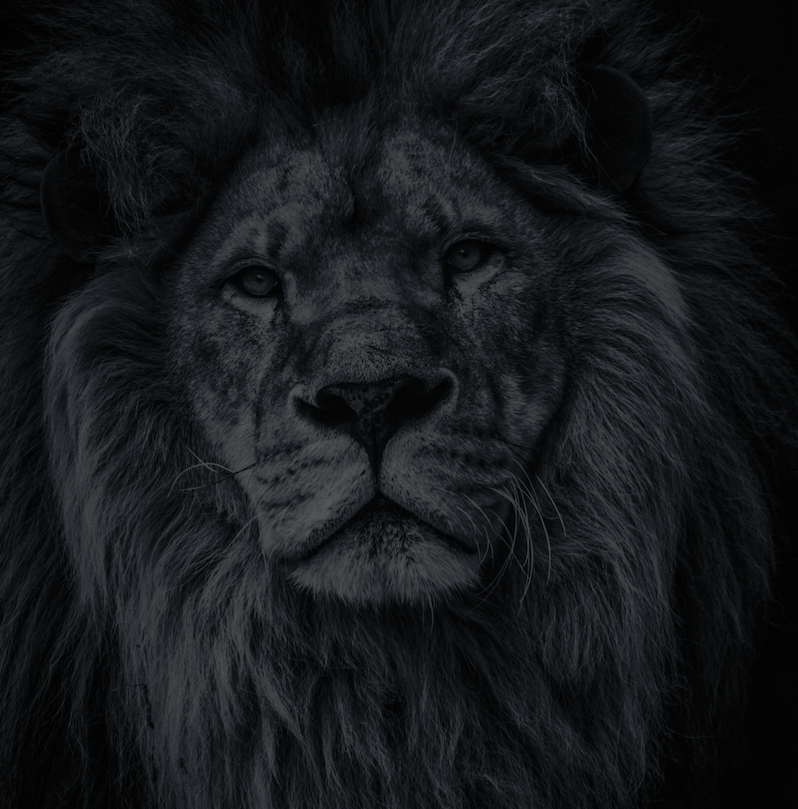 Let's plan your next journey
Ready?
When we say we're there every step of the way, we mean it, literally. From planning the perfect circuit, to private inter-camp transfers on Wilderness Air, and easing you through Customs. We're with you on the ground, at your side, 24-7, from start to finish. Ready to take the road less travelled? Contact our Travel Designers to plan an unforgettable journey.