From the outset of the company's humble safari operation in 1983, Wilderness Safaris has always sought to protect and conserve Africa's wilderness and wildlife. We have done this by creating life-changing journeys that inspire positive action. In everything we do, we strive to ensure that we protect our environment. This post shares just a few of our projects, both community and sustainability-based, that show our efforts. Whether cutting back on food waste or uplifting and empowering children and communities, here are 10 of our most impactful stories – the Why of Wilderness.
Environment is at the Heart
In absolutely everything we do, 'environment is at the heart' – the very essence of our business. By creating life-changing journeys for our guests we are able to protect more than 2.3 million hectares across seven biomes harbouring 33 IUCN Red List species.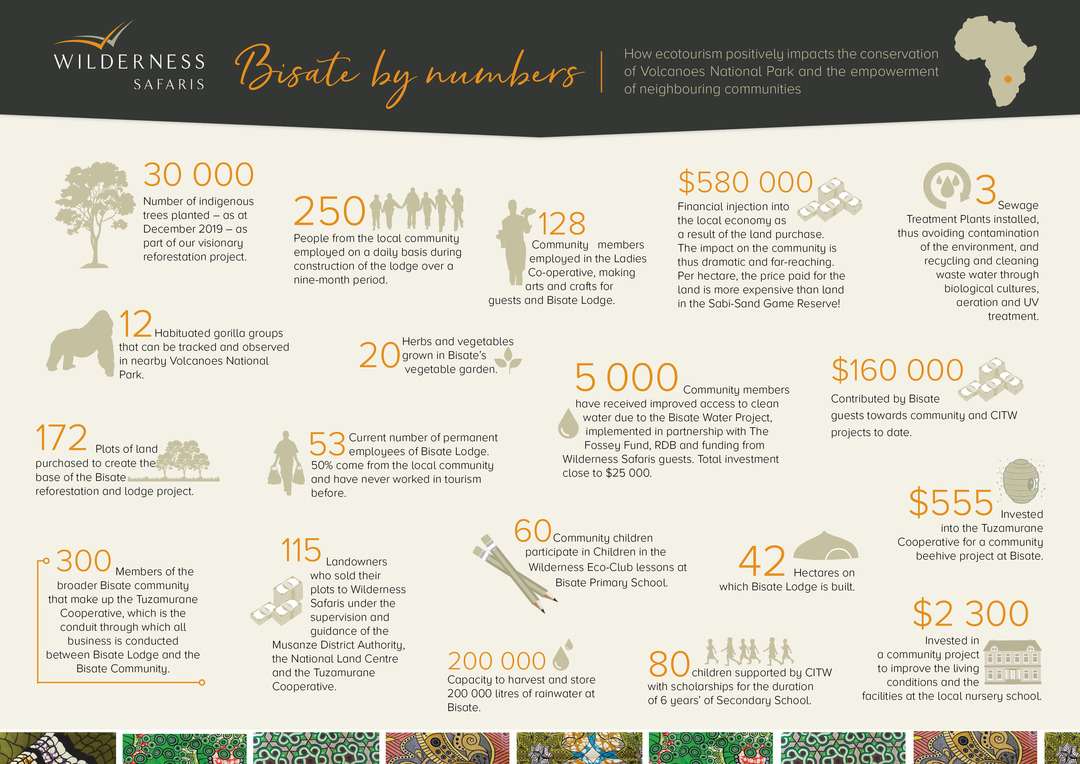 The above infographic shows a few examples of the impact our presence has had in Rwanda through the creation of Bisate Lodge. This visionary ecotourism lodge benefits not only the land and wildlife, but also the community. To date we have planted over 30 000 indigenous trees in our reforestation programme – a project that involves each and every Bisate guest.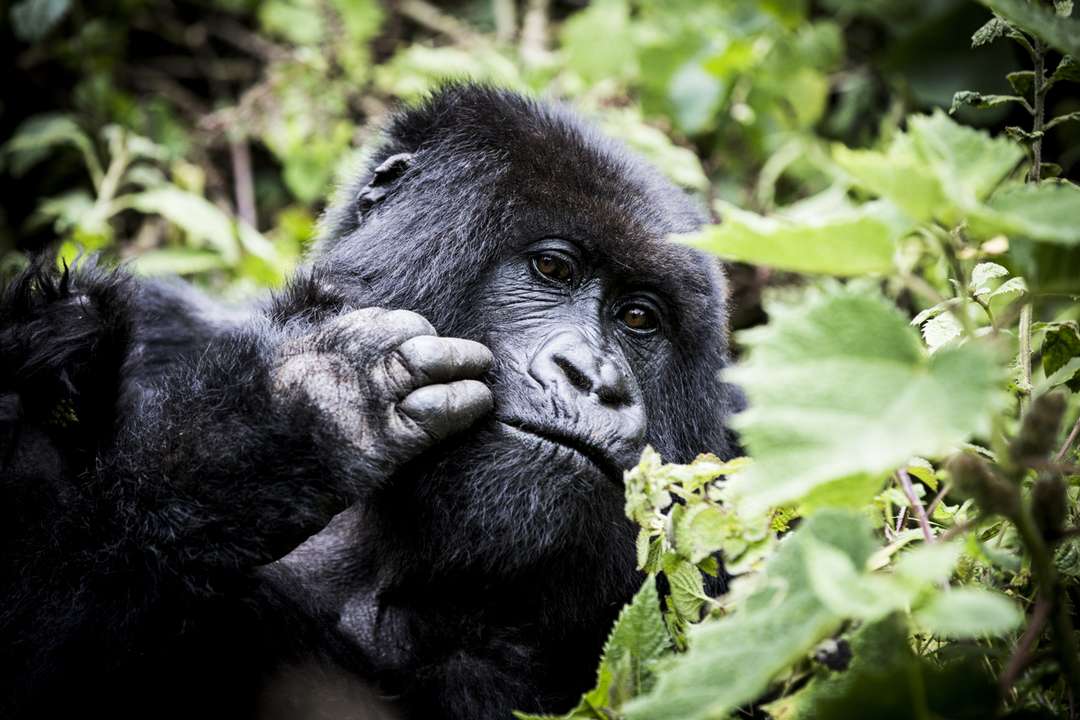 "Bisate is more than a lodge. Its vision of reforestation and rehabilitation means that each guest contributes to biodiversity conservation and local community engagement. This is a world-class example of sustainable conservation tourism making a dramatic, positive and far-reaching impact on the unique fauna and flora of a precious, increasingly rare, habitat. "
All of our 40 camps across the 7 countries where we operate have a strong conservation and community purpose – environment is always at the heart of what we do.
War on Plastic
In 2012 we committed to reducing the use of bottled water by rolling out reusable water bottles across all areas of our operation. Our reusable bottles, used by our guests in camp, are filled with water that has been filtered through a reverse osmosis filtration system. As a result we have seen a significant reduction in bottled water use throughout our Wilderness camps.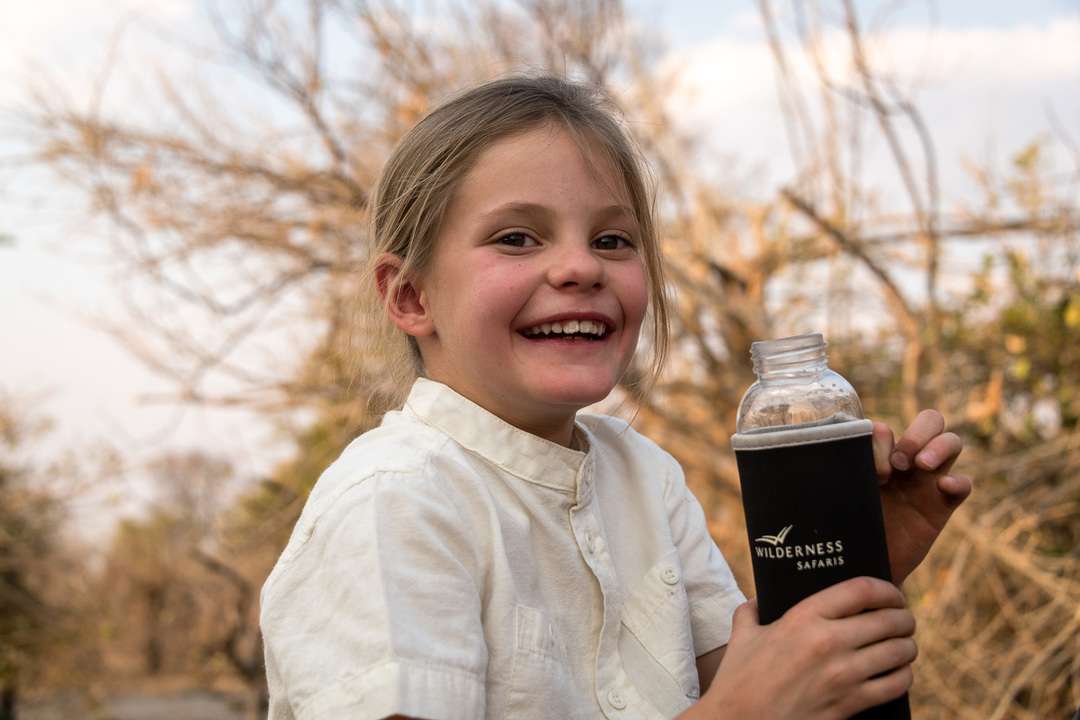 The introduction of Wilderness reusable bottles has greatly reduced our reliance on bottled water – the result has been a 77% reduction in bottled water usage from 2012 to 2017
Our War on Plastics campaign is an ongoing initiative to reduce and eliminate our use of plastics wherever possible. We are especially proud of our reduction in cling wrap usage – a reduction of 3 000 km of plastic that is now replaced by buzzy wraps, made with bees wax. These material covers are hygienic and keep food fresh. Many of our buzzy wraps are also made by local villagers in the communities we support – a full-circle community and waste-prevention project.
Packaging is also carefully considered and our suppliers are all encouraged to replace plastic with cardboard and paper. Other examples include metal straws that have replaced plastic straws. We also use glass containers for storage, when refilling items like ground coffee, butter and jam. Nothing is overlooked in our quest to reduce plastic!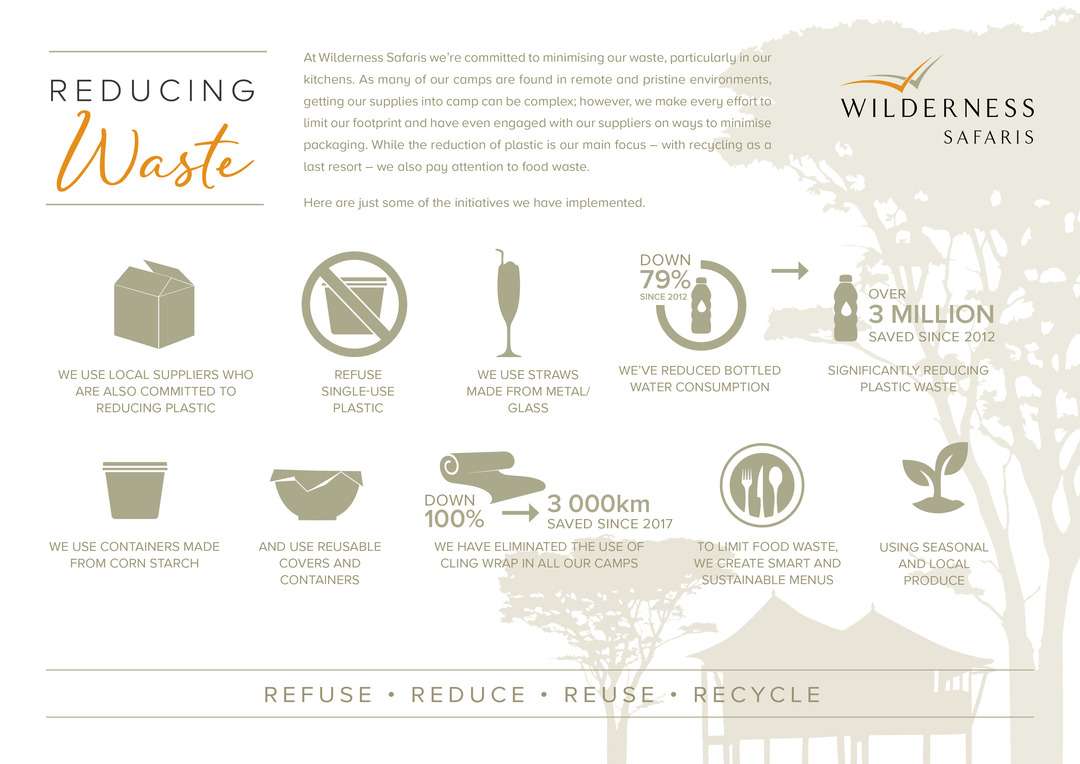 War on Waste
Tackling the war on waste is a big challenge for us, but one that we are more than happy to take on. When it comes to meals, we strive to be mindful and create seasonal menus based on local fresh and indigenous produce for our ingredients. By doing this we have managed to reduce our 'foodprint'.
One of the new concepts we are introducing in our kitchens is called the 'upcycling shift' – whereby all cuttings and excess fruits and vegetables are used to make preserves, reductions and dehydrated snacks. Our aim is to use all ingredients, from 'root to stem'. In Rwanda and Namibia, anything that we are unable to use is turned into compost for our camp herb and vegetable gardens.
Our camps also make use of pits where waste can degrade, which once filled, are covered with soil. This local disposal also reduces the need for additional trucks to remove waste. In some areas such as Rwanda, Botswana and Namibia, we have alternative arrangements with pig farmers who make use of the organic waste.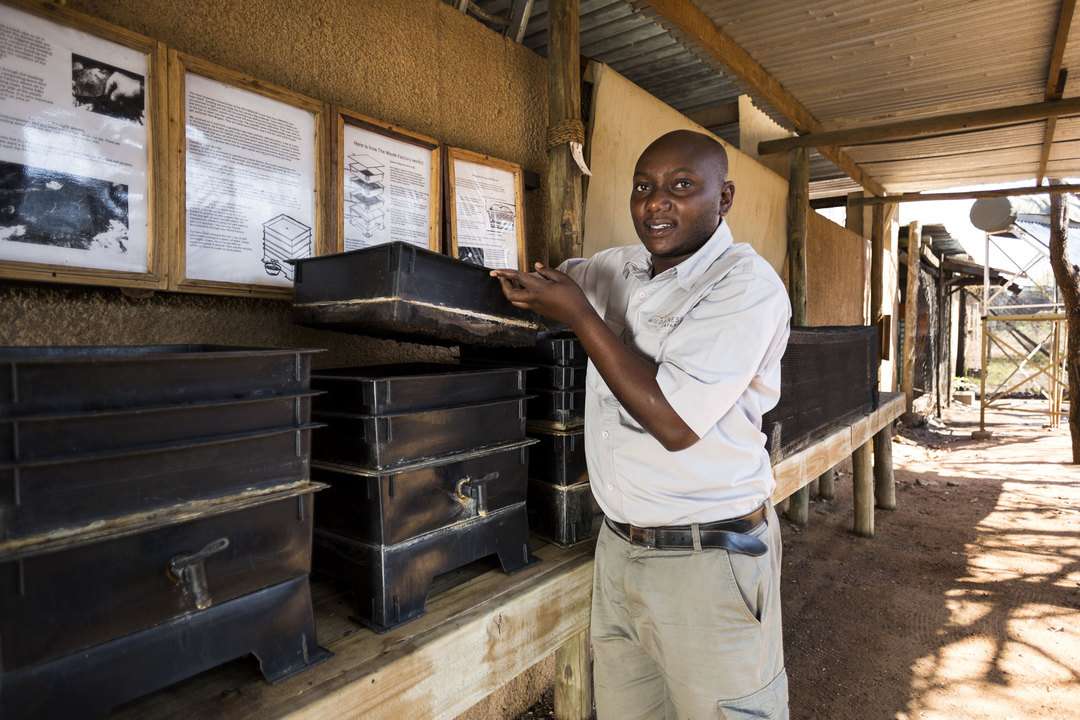 At Toka Leya in Zambia, organic waste is broken down at the on-site worm farm. Guests visiting the camp can enjoy a 'back of house' tour which includes seeing the worm farm where compost is made to nourish the saplings that are planted as part of the camp's reforestation project. Waste water from the camp is also cleaned and then used to irrigate the newly-planted trees and nursery seedlings.
Powered by Nature
We are very proud of our 100% solar-run camps that are helping reduce our dependence on fossil fuels. Our camps are situated in remote areas where we are required to produce our own electricity. Historically, generators accounted for 50% of our carbon emissions. With this in mind, we made a commitment to reduce our carbon footprint – ensuring that we reduce the volume of diesel and other fossil fuels that we use. Today 17 of our 45 Wilderness Safaris camps are 100% solar . The remainder of our camps all use a variety of hybrid solar and other power systems to mitigate fossil fuel usage. As a result we save nearly 2 500 tons of carbon a year – carbon that would otherwise have been burnt and contributed to global warming.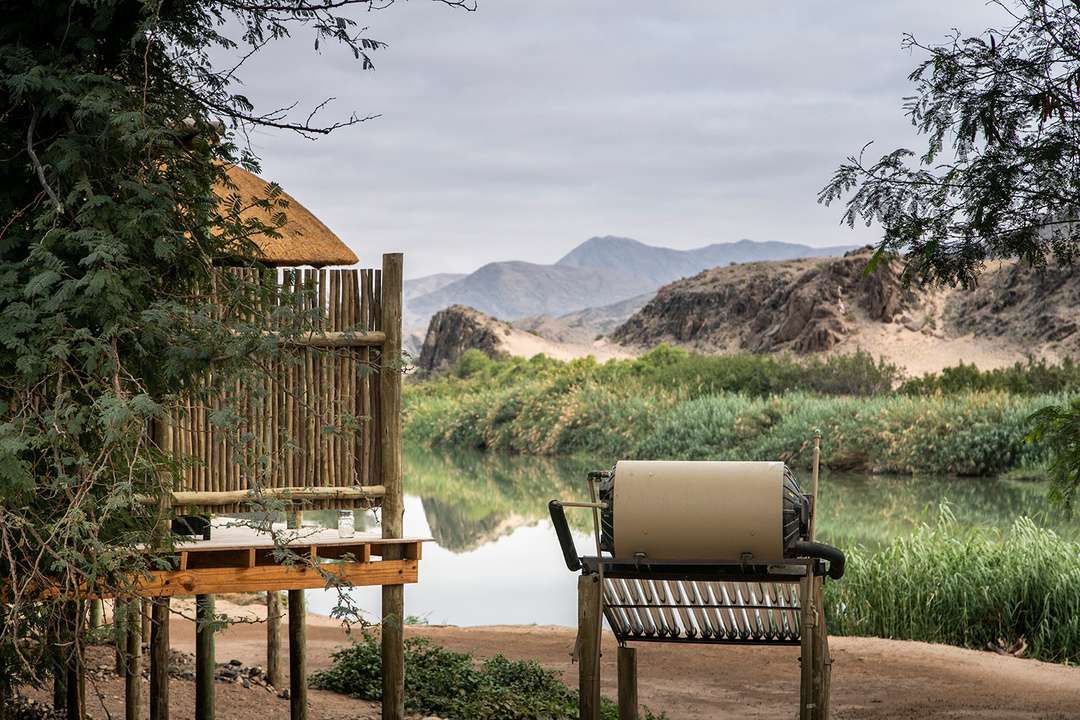 In addition to this, we have 845 solar geysers providing hot water to our guests and staff, greatly reducing our power demand.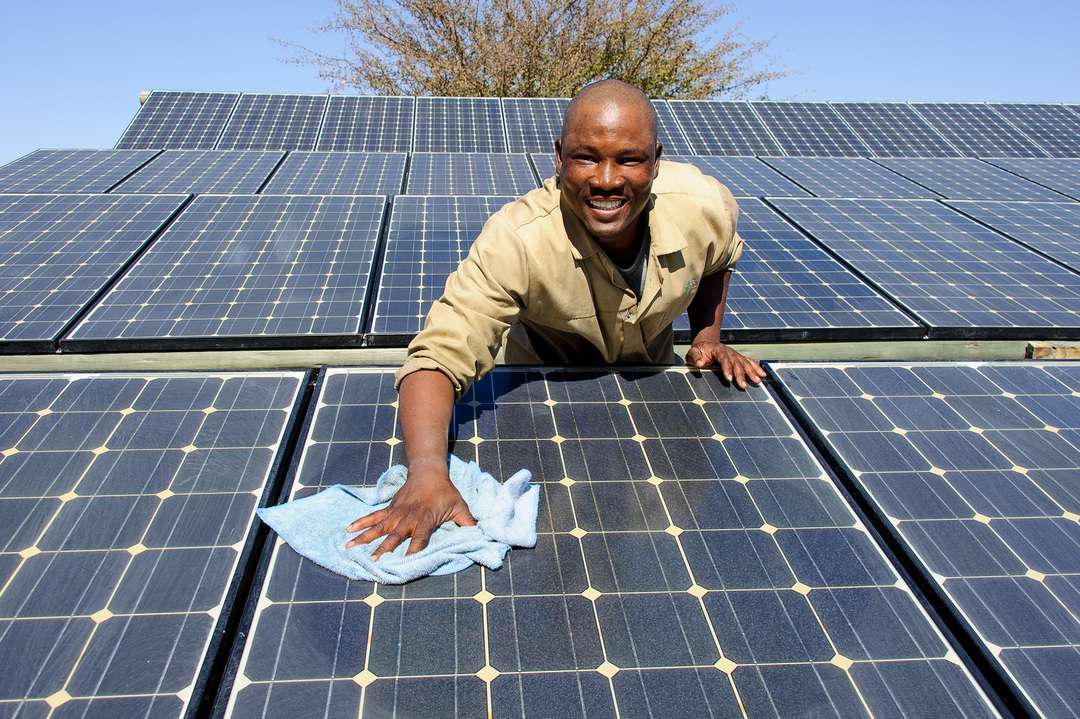 By operating sustainable safari camps, we contribute to the conservation of wilderness areas. The carbon that is sequestered helps ensure that the capacity of the planet to reabsorb it is not reduced, and that the photosynthetic processes that occur in these wilderness areas are not interrupted.
Building with a Light Footprint
In order to host our guests, and thus ensure the sustainable protection of the wilderness areas that we operate in, we have built a selection of safari camps in these concessions across southern, and more recently, East Africa. It is of paramount importance to us that our camps have as little impact on the environment as possible, not only during the building process, but also on their day-to-day operations.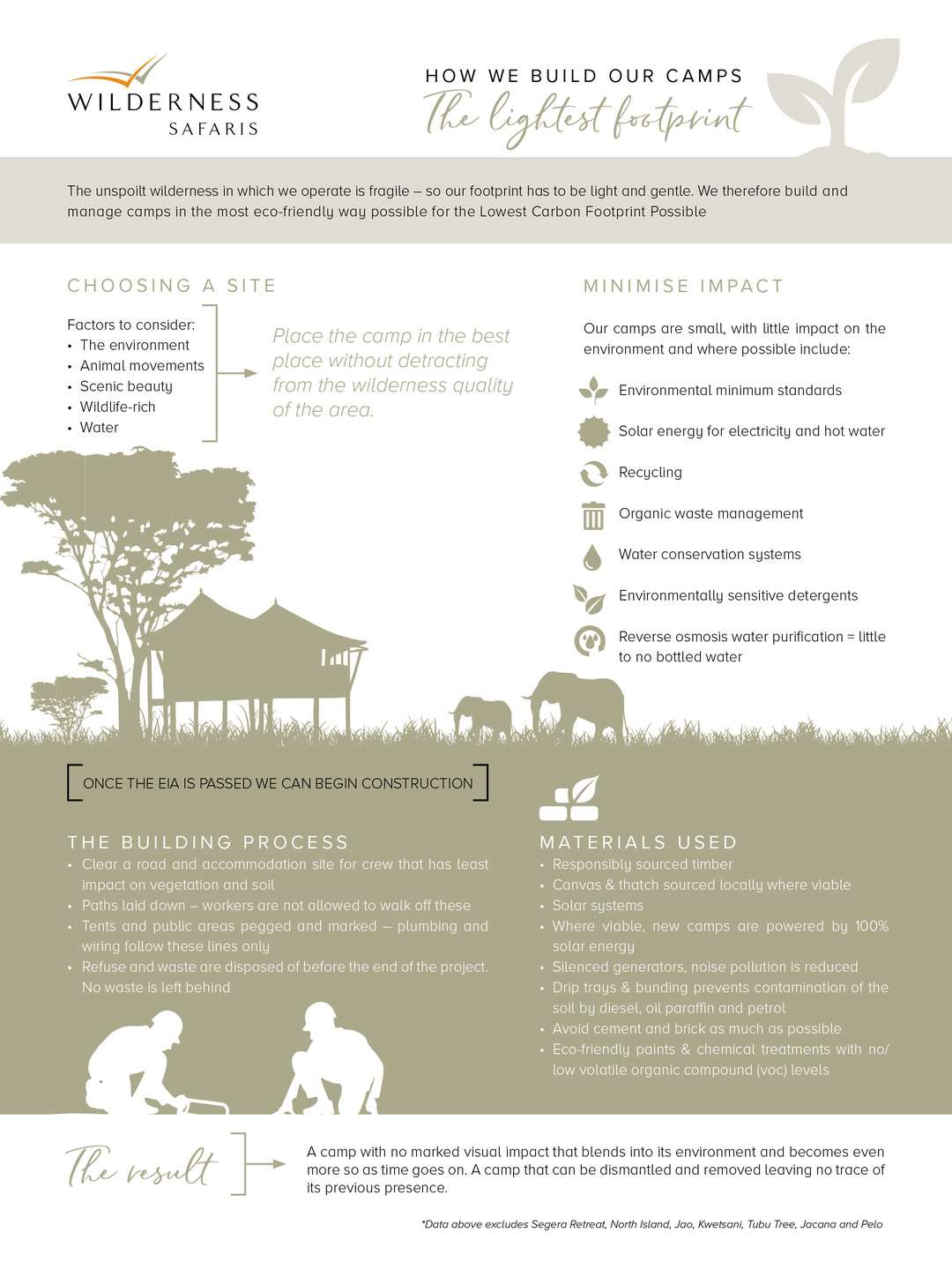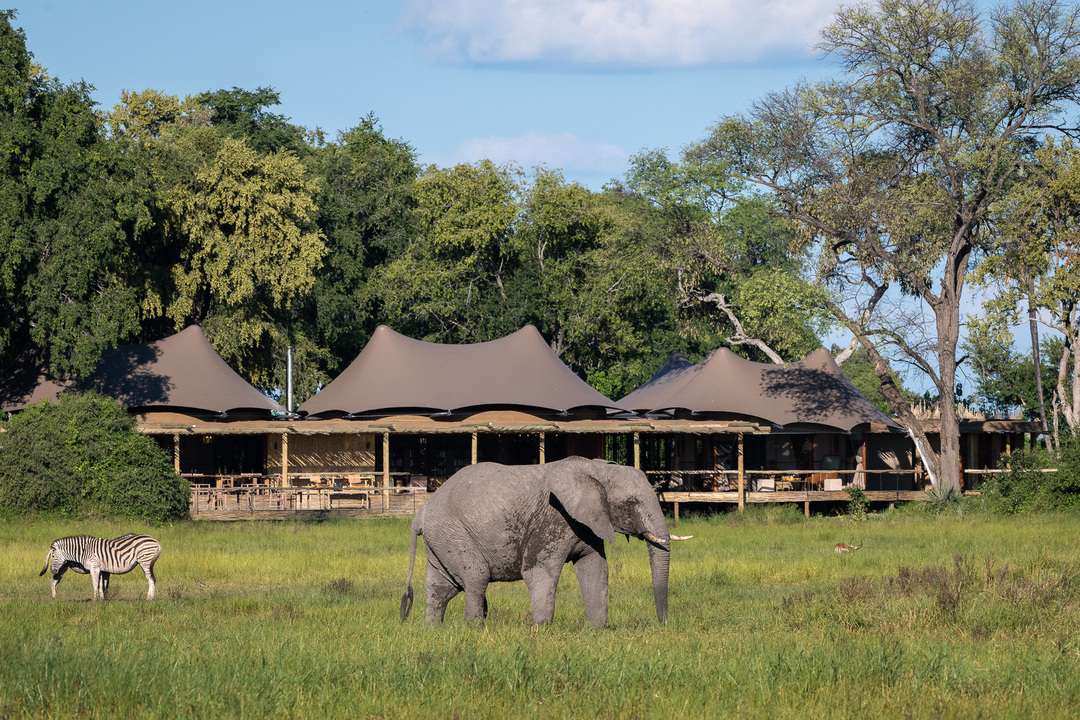 Our ideal result is a camp that blends into the natural features of the site and becomes one with its surroundings as time goes on. Our goal is that if at some stage we have to move the camp, we can restore the site to its original natural state, leaving no sign of our presence.
In 2018 we reopened the fourth generation of our flagship camps, Mombo and Little Mombo. As with every build, we hold ourselves to a very high standard to ensure that our camps are constructed in the most eco-friendly way possible. The video below shows the Mombo build taking place. To read more about the camp build, click here.
Water Conservation
Water conservation is one of our biggest focus areas, even in areas which appear to have an abundance of water. It is therefore essential that all our camps have a set standard of requirements that are adhered to. Examples of this are:
1.) Water efficient shower heads, taps and toilets
2.) Rain harvesting where practicable or viable
3.) The use of appropriate eco-detergents which are made using natural ingredients that do not pollute water sources or the environment
4.) Water meters to take daily recordings, reported to a central database monthly
5.) Water reticulation maps – to ensure that faults and leaks can be traced quickly
6.) Low pressure systems set up in areas that are not connected to municipal water
7.) The recirculation and use of 'waste' water from reverse osmosis filters
8.) Biannual water tests in all lab certified camps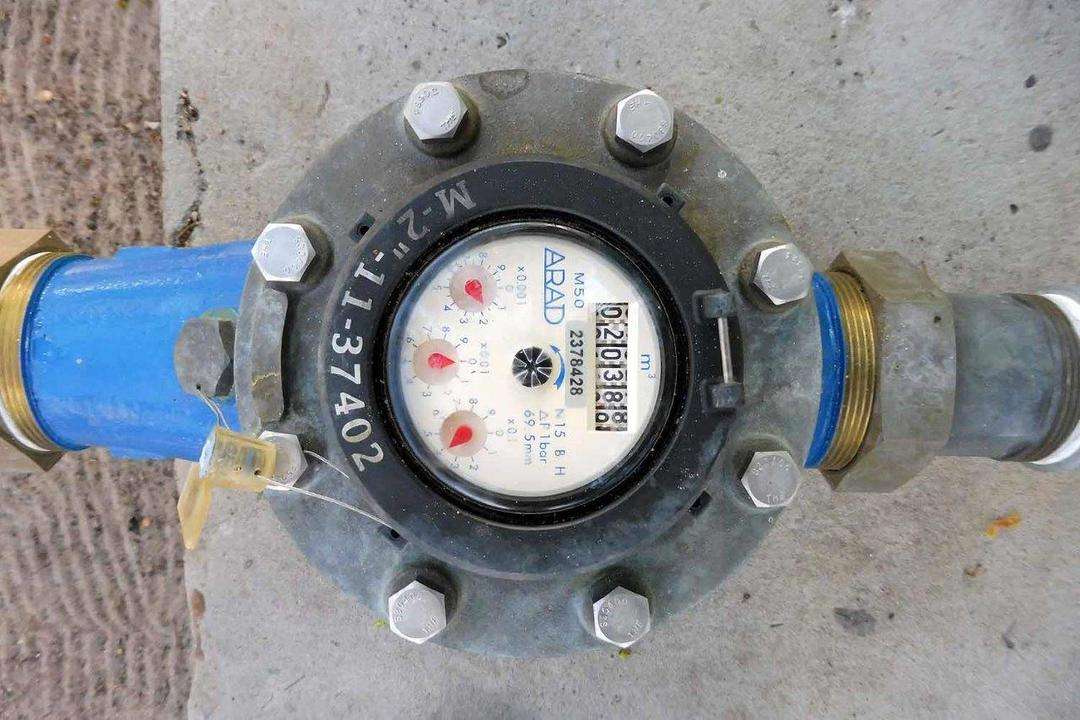 Waste water management requires careful management. As many of our camps are located in areas with high water tables or alongside rivers, 30% use above-ground sewage treatment plants (STPs). These systems ensure there is no contamination of ground or surface water.
Changing Lives with Children in the Wilderness
You have only to read the wonderful stories shared daily on our Children in the Wilderness Facebook page and website, to realise just how powerful this programme is. Children in the Wilderness (CITW) is a life-changing non-profit organisation that aims to facilitate sustainable conservation through leadership development and education of children in Africa. The impact that this programme has had, and continues to have, is truly inspiring. This week we received this letter from Reflex Mbomboro, a scholar supported by CITW. His kind note is a reminder of just how significant CITW is in changing people's lives.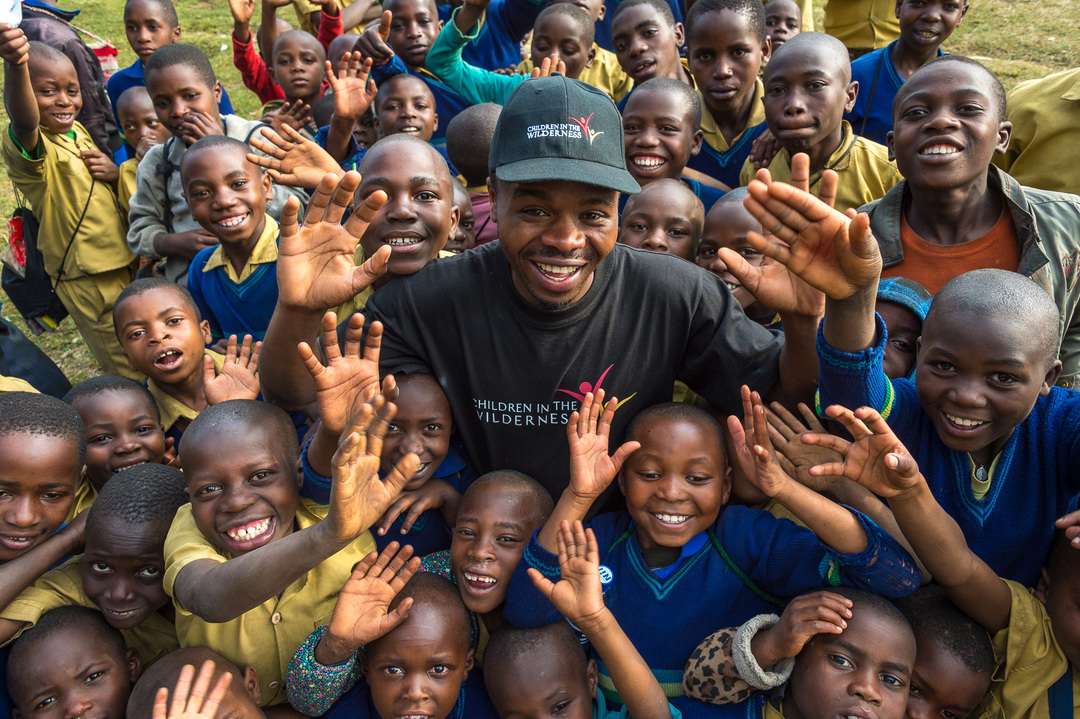 Children in the Wilderness is a life skills educational programme that focuses on the next generation of decision-makers; inspiring them to care for their natural heritage and to become custodians of these areas in the future
Another moving story that we have recently shared comes from a guest who visited the Jabulani Primary School, a school supported by CITW, located 20 km outside Victoria Falls. The visit inspired Christina Henriques to make a contribution to Jabulani Primary. She noticed that many of the young learners had torn uniforms and, wanting to help, has since donated 46 sets of uniforms. The pictures below show the students proudly wearing their uniforms. Read the full article here.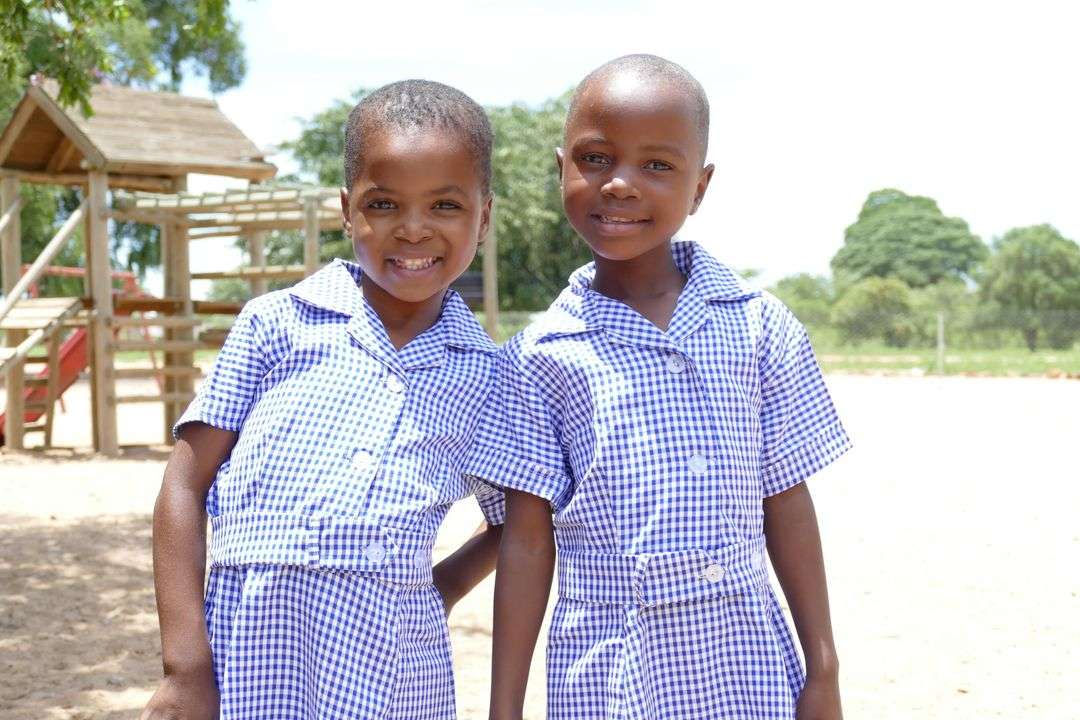 "In the end, we will conserve only what we love, we will love only what we understand, we will understand only what we are taught. "
Community Partnerships – the Power of Working Together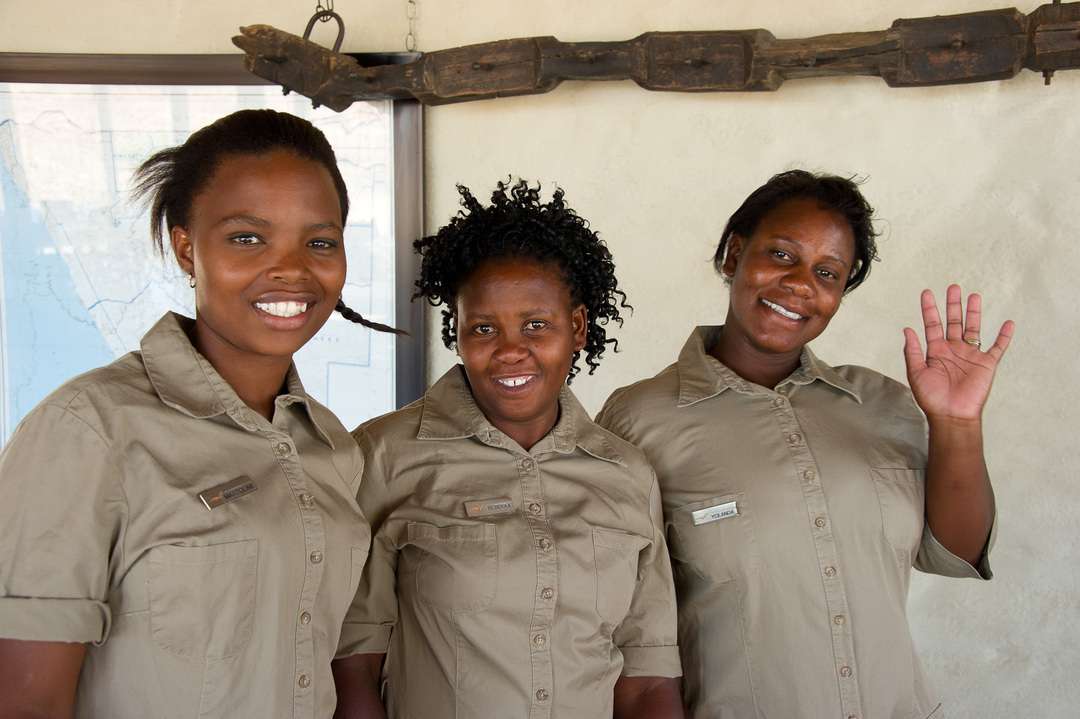 One of the community partnerships that we find most inspiring is our partnership with the Torra Conservancy in Damaraland, Namibia. This partnership began in 1996 when we entered into a lease agreement with them, and opened Damaraland Camp, the first joint-venture partnership between a community and the private sector in Namibia. The success of this model is proof that when ecotourism and local communities join forces, the result is a tangible benefit for people, a change in attitudes and an increase in wildlife numbers.
Watch More:

The ripple effect is obvious here: the success of the joint venture and resulting empowerment led to the creation of a thriving community conservancy – the first self-sustaining community conservancy in Namibia – and the replication of the model across Namibia and elsewhere on the continent
Adult Empowerment Projects
While Children in the Wilderness creates incredible opportunities for young learners, it also goes well beyond this by empowering adults through skills and business training. Sue Goatley, Community Development Liaison for CITW Zambezi, realised that school fees in the areas supported by CITW in Zimbabwe were often not being paid, and as a result many children had to drop out. Seeing this happen, Sue and her team set out to create community businesses. These are now thriving income-generating projects, and have enabled adults to pay for school fees to provide education for their children who might not otherwise have had the opportunity.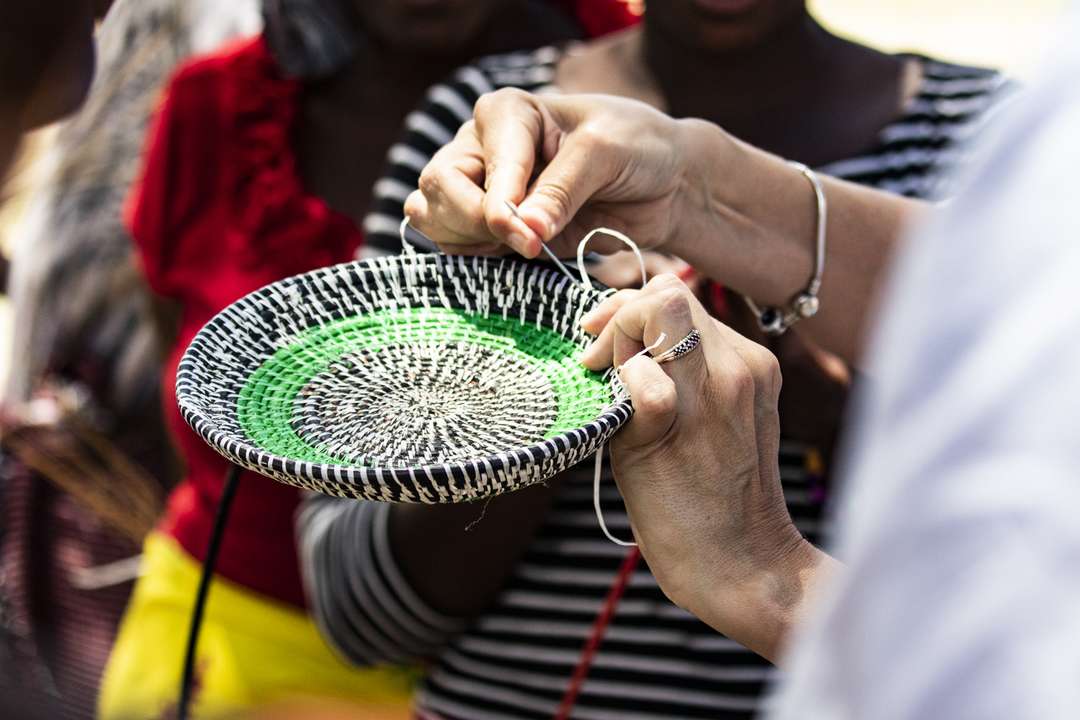 Some of the inspiring projects include basket-weaving, run by a women's group at Tsholotsho; they use plastic bags, chip packets and other litter to create these colourful creations.
The Nganyana men's income-generating group makes bricks and beads from recycled glass that is sourced from our Wilderness Safaris camps in Hwange National Park. The group utilises everything from wine, beer and spirit bottles to mayonnaise jars and tomato sauce bottles. The glass is then crushed into fine powder and used as a substitute for river sand. Their business is booming and is supported by local community members who buy the bricks and use them for construction within homesteads.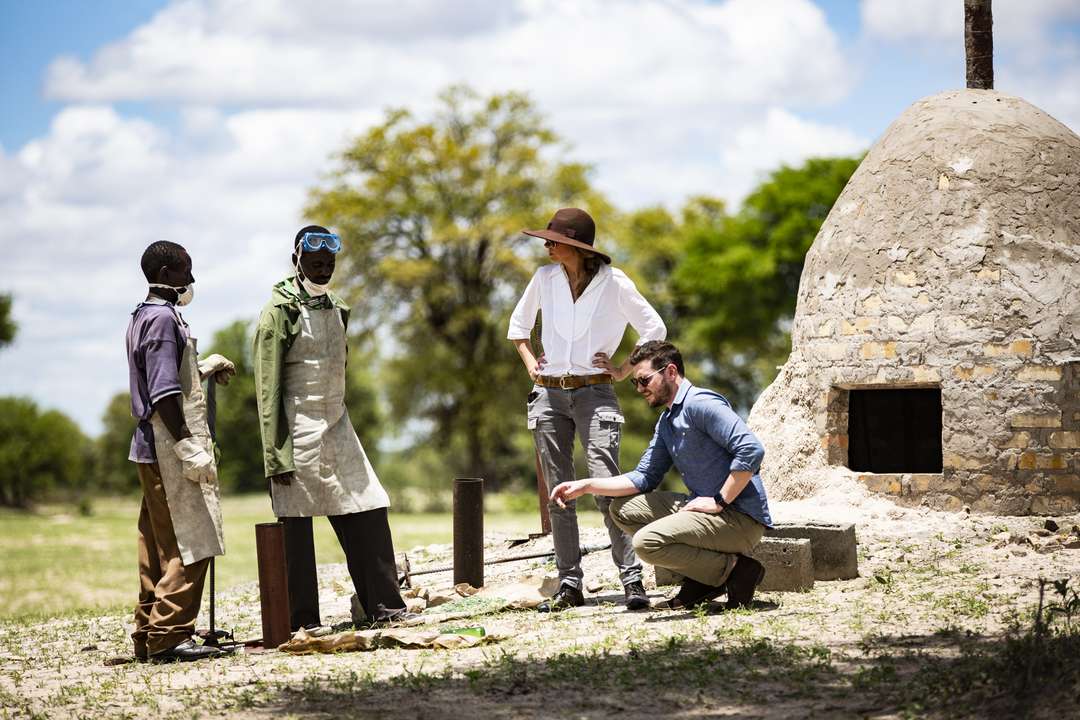 The brickmaking project is highly beneficial, as it provides employment for those involved, and products that are needed by members of the community. It is also an environmentally friendly project as it greatly reduces the amount of glass waste that would otherwise end up in landfill.
Another inspiring initiative is the women's papermaking project in the Jabulani community near Victoria Falls. The project began a few months ago to provide training in papermaking, and Sue and her team attended the certification ceremony recently, thoroughly enjoying the demonstration on how the ladies make paper. Beautiful products such as bookmarks, notebooks, origami boxes and bespoke A4 paper are just some of items being created from paper waste – read the full story here.
Our Journeys Change Lives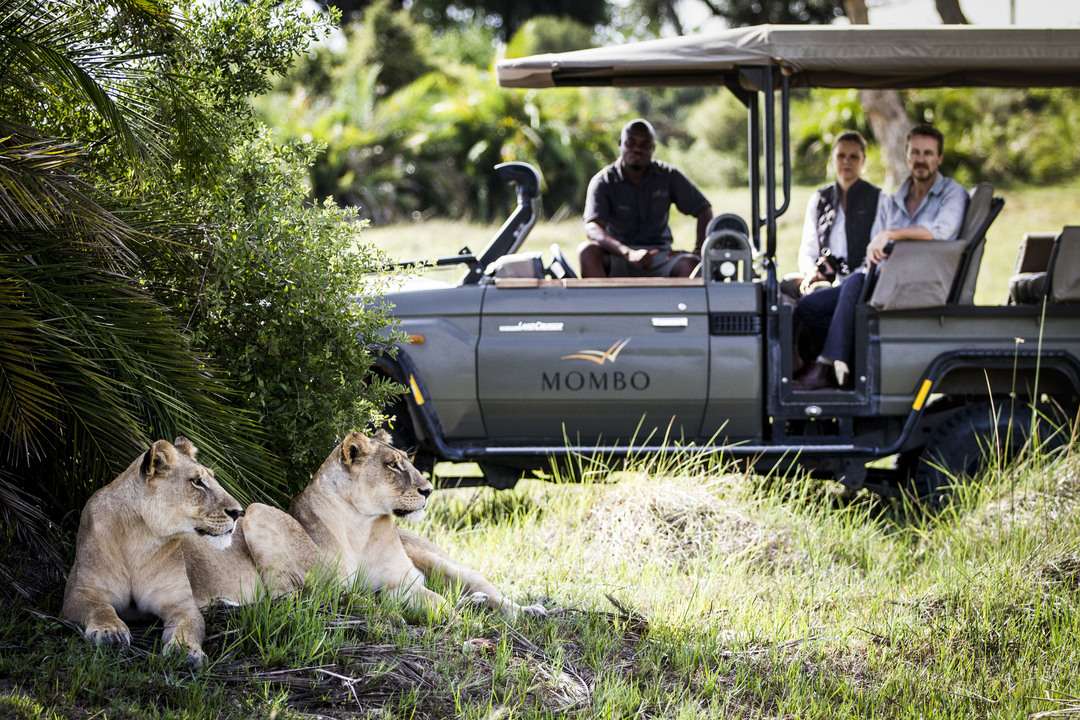 Our tag line, 'Our Journeys Change Lives', is exactly what our safaris do… guests who travel to our camps can attest to how their journey inspired them – whether it was through seeing new landscapes, meeting our wonderful staff, being exposed to new cultures or viewing the unique ecosystems in the areas where our camps are based – all of these, and not forgetting the incredible wildlife, make for a life-changing experience, one that stays with you long after you've left.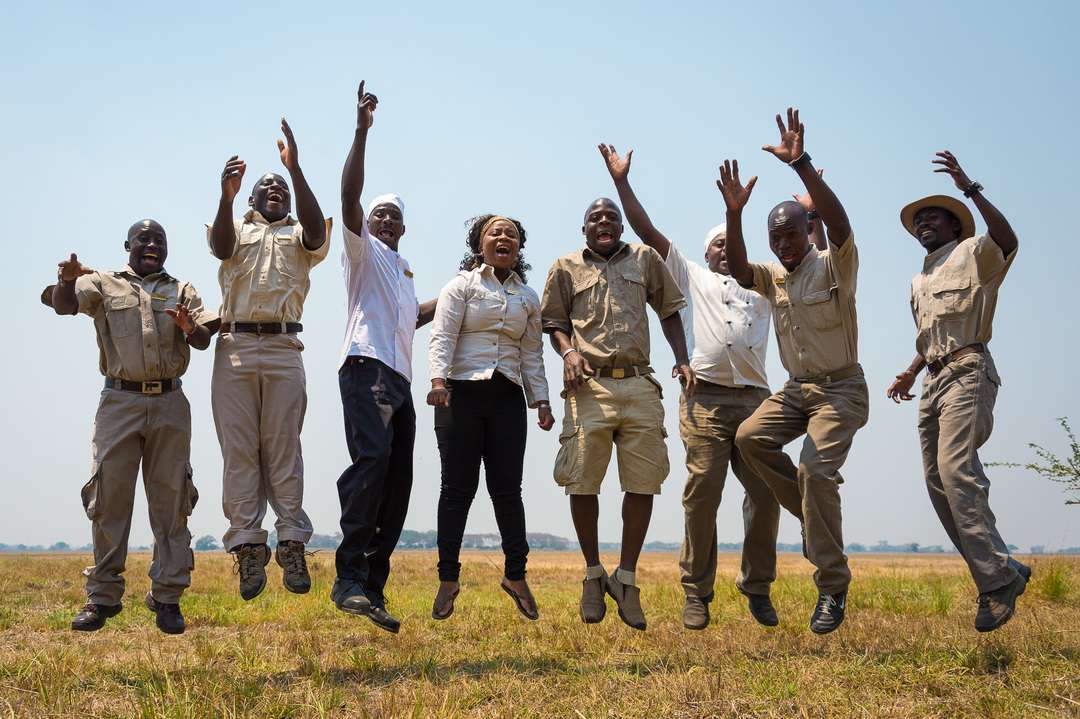 But it is not only the lives of our guests who are left changed, but also those of our staff.  The majority of our camp staff come from remote, rural communities, where for many a job with Wilderness Safaris represents their first-ever formal employment. Further to this, each staff member directly supports additional family members as a result of their employment. 
"I have come a long way to become what I am today – an empowered young woman – and it's thanks to Wilderness Safaris that I have had this life-changing opportunity. "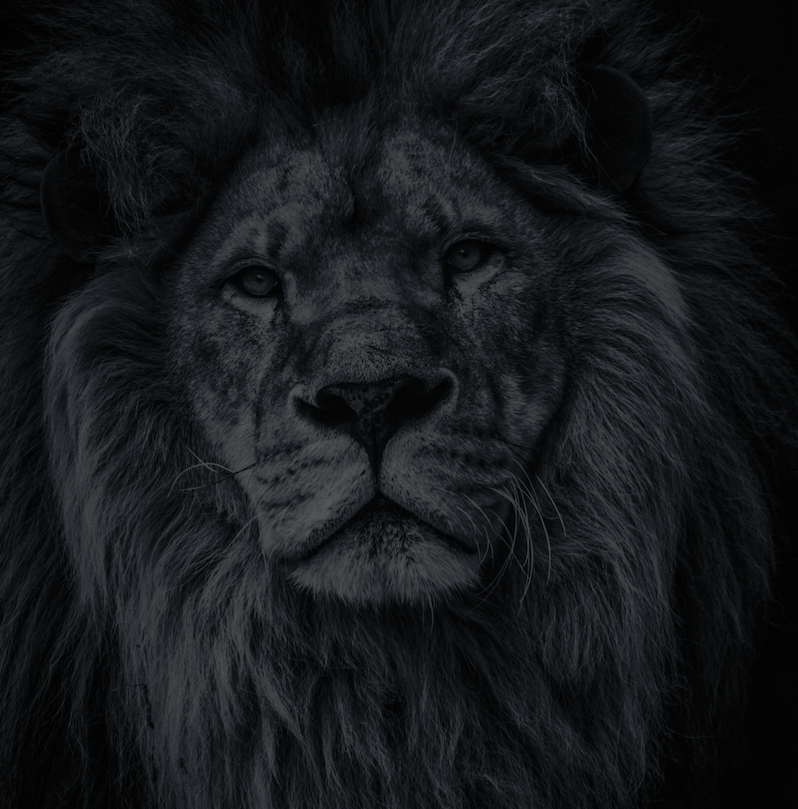 Let's plan your next journey
Ready?
When we say we're there every step of the way, we mean it, literally. From planning the perfect circuit, to private inter-camp transfers on Wilderness Air, and easing you through Customs. We're with you on the ground, at your side, 24-7, from start to finish. Ready to take the road less travelled? Contact our Travel Designers to plan an unforgettable journey.