Industry, Innovation and Infrastructure
In order to maintain our high environmental standards both during the construction phase and for the complete camp, a close synergy between contractors, designers and environmental staff was formed, adopting strict mitigating measures and standards to ensure minimal impacts and sustainable operations in this unique environment.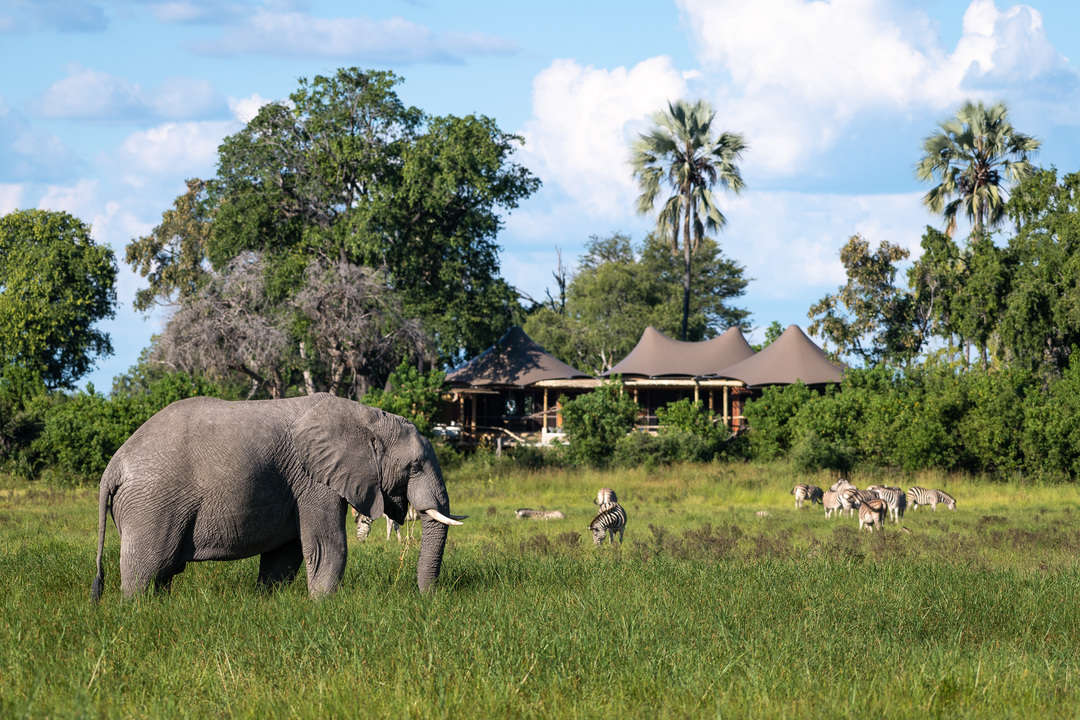 Mombo was first built in 1990, with its first upgrade to becoming a really upmarket camp in 1999, plus the addition at that point of Little Mombo. The camp is located at the northern end of Chief's Island in the Moremi Game Reserve and has become widely renowned for the incredible wildlife populations and sightings. These were augmented in the early 2000s with the introduction of both white and black rhino, with the latter population being boosted by further introductions in 2014 and 2015. The camp is Wilderness' flagship, and arguably one of the most famous of its kind in Africa. The quality of the camp offering is demonstrated by the many awards it has earned over the years, most notably No. 1 on the Travel + Leisure 2013 World's Best Awards list of Top 100 Hotels.
With the expiry of the Mombo concession in April 2014, the camp had been due for renovation. Once it became clear the lease would be renewed, the Board approved the upgrade of the camp. The brief for the architectural and design teams, Nick Plewman Architects and Associates, and Caline Williams-Wynn from Artichoke, was to maintain the rich history and character of the camp, while remodelling it to the highest industry standards and minimising any negative impact on the environment.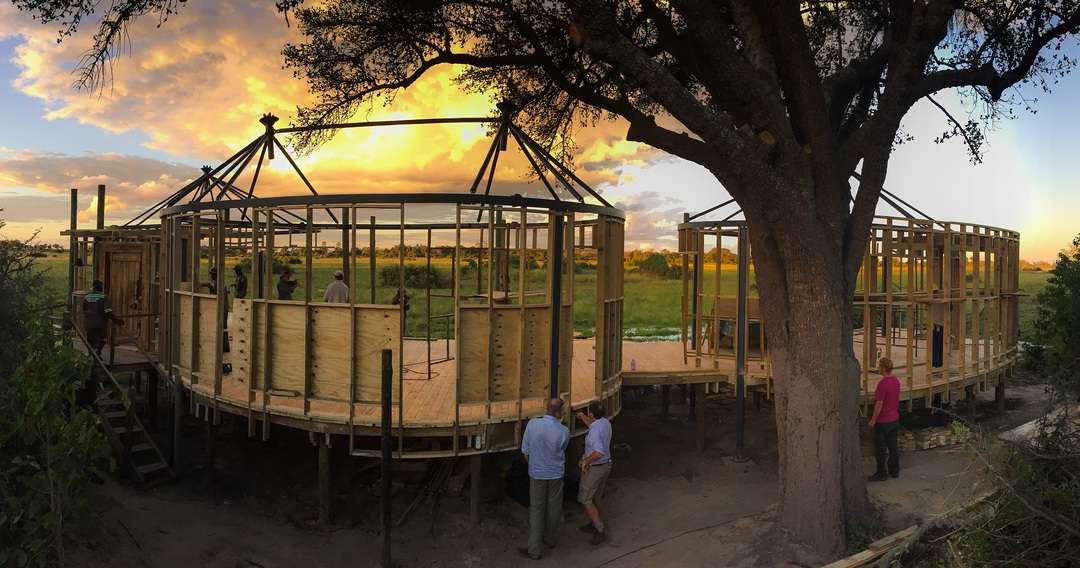 Construction of the camp was undertaken by the experienced Botswana contracting firm Lodge Builders Botswana, under the direction of Wilderness' project manager Andrew Johnson, operating on behalf of the Wilderness Botswana operational team. The process commenced in April 2017 and was completed late in January 2018. While construction was underway, guests were accommodated in the temporary Mombo Trails Camp.
The refurbishment of the camp was focused on upgrading guest rooms and communal areas as well as front-of-house service areas. A number of essential Environmental Management Systems (EMS) were upgraded.
Materials used
A full list of the materials used in the process is beyond the scope of this post. Nonetheless, the most prominent materials used in the rebuild are outlined below:
Canvas: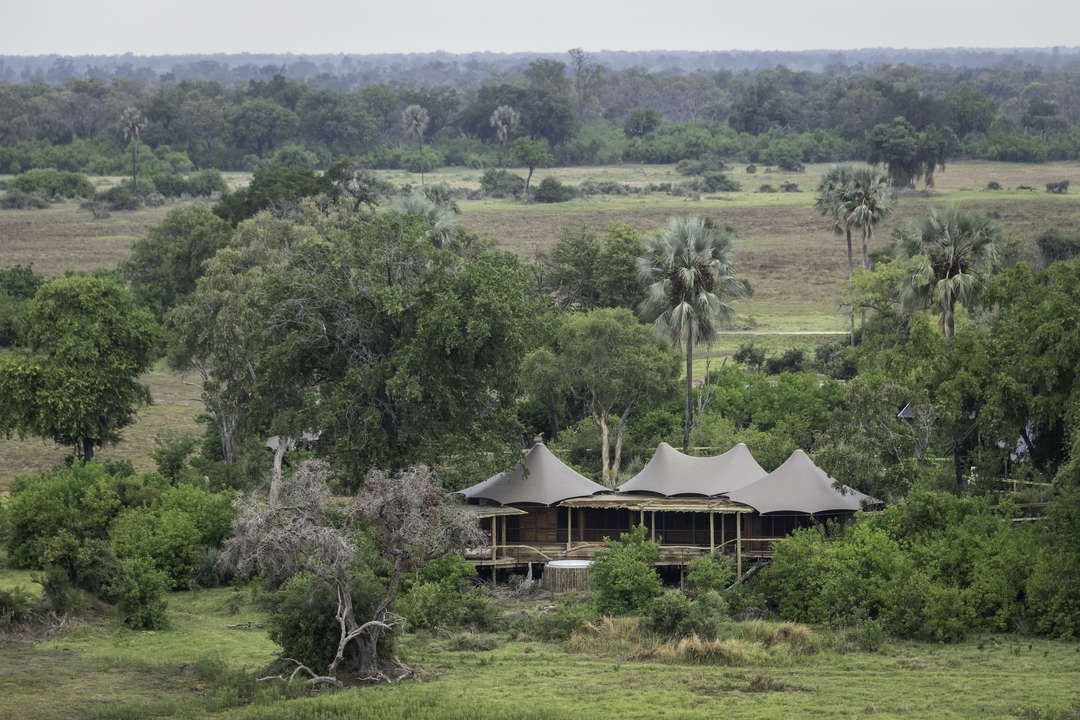 Roofing
Approximately 3 450 m2 of Serge Ferrari canvas was used for roofing. This originates in Switzerland as there were no local alternatives which would provide the same level of quality, longevity, safety and sustainability certification. The material used is 100% recyclable, phthalate free, Green Guard certified and fire-rated.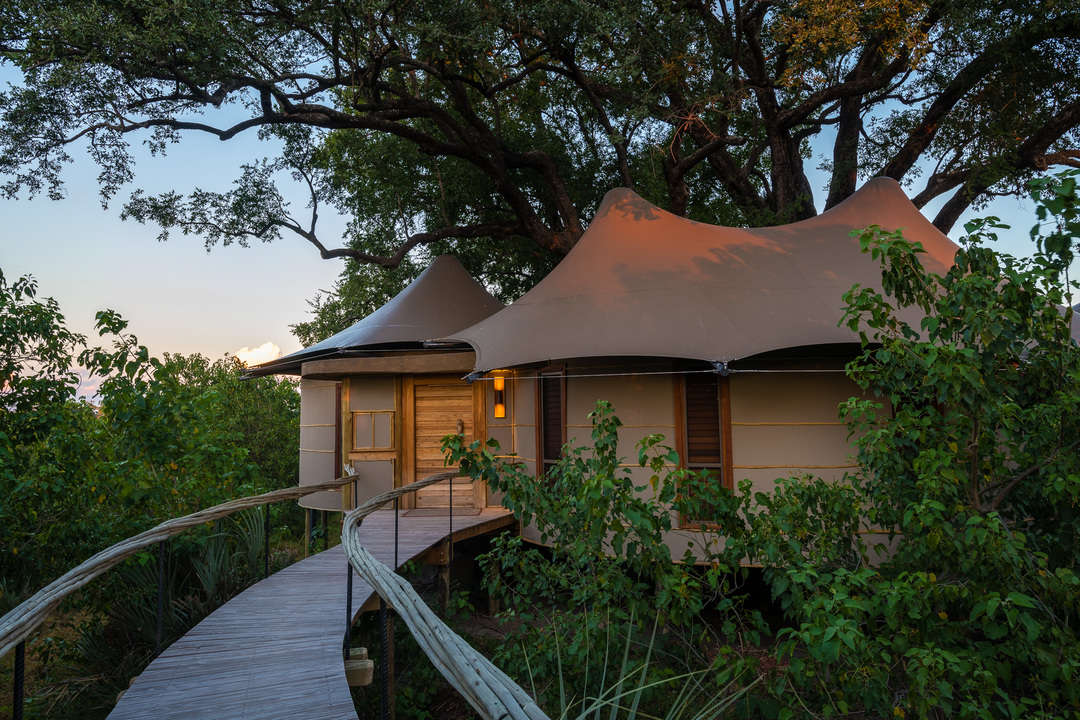 Exterior walls
Approximately 3 612 m² of nylon ripstop canvas was used for exterior walls. This was clad over wooden boards and insulation. The material was manufactured in South Africa and designed to deal with harsh African conditions.
Timber
A substantial amount of timber was used, primarily for structural support, decking, walkways and floors.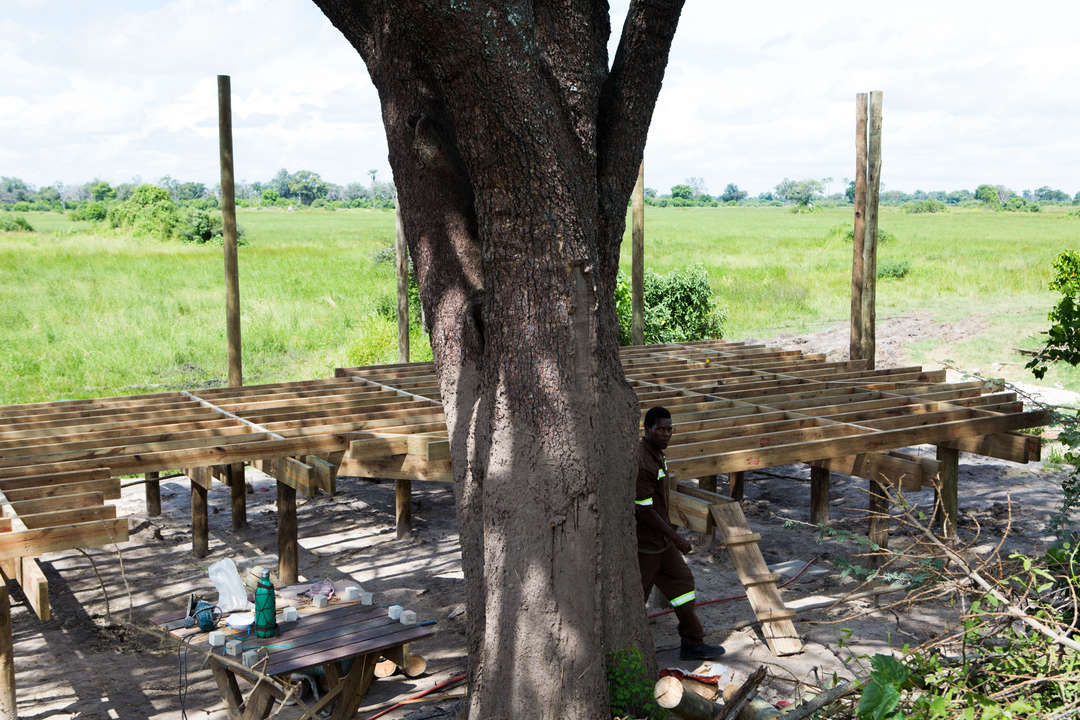 Decking
Approximately 80.3 m³of Rhino Wood was used for external decking and the main area. This is sourced from sustainably-managed pine plantations in South Africa. Rhino Wood is FSC certified and produced through a treatment process using organic compounds applied through thermal heat treatment and pressure impregnation. It requires little maintenance or restoration, negating the use of treatment oils and chemicals.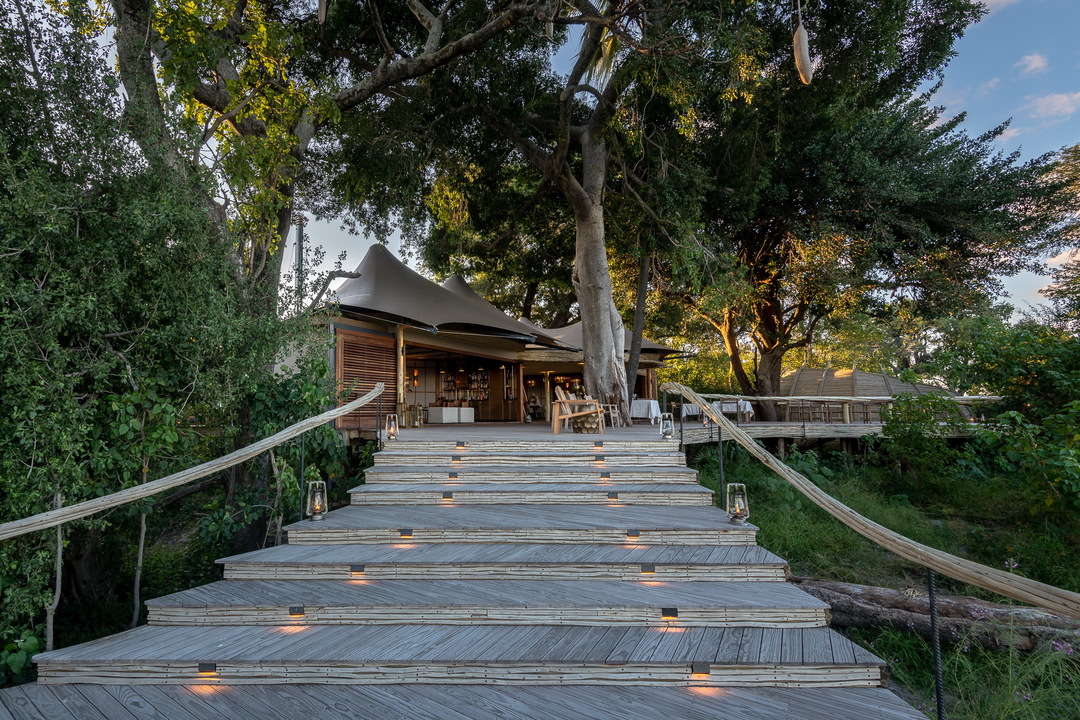 Internal flooring
English oak was used for internal flooring in guest rooms. The timber originates in Croatia and has been listed by the IUCN as a timber of least concern as the resources are vast and well managed. The timber is FSC and PEFC certified. Approximately 39.9 m³ was used.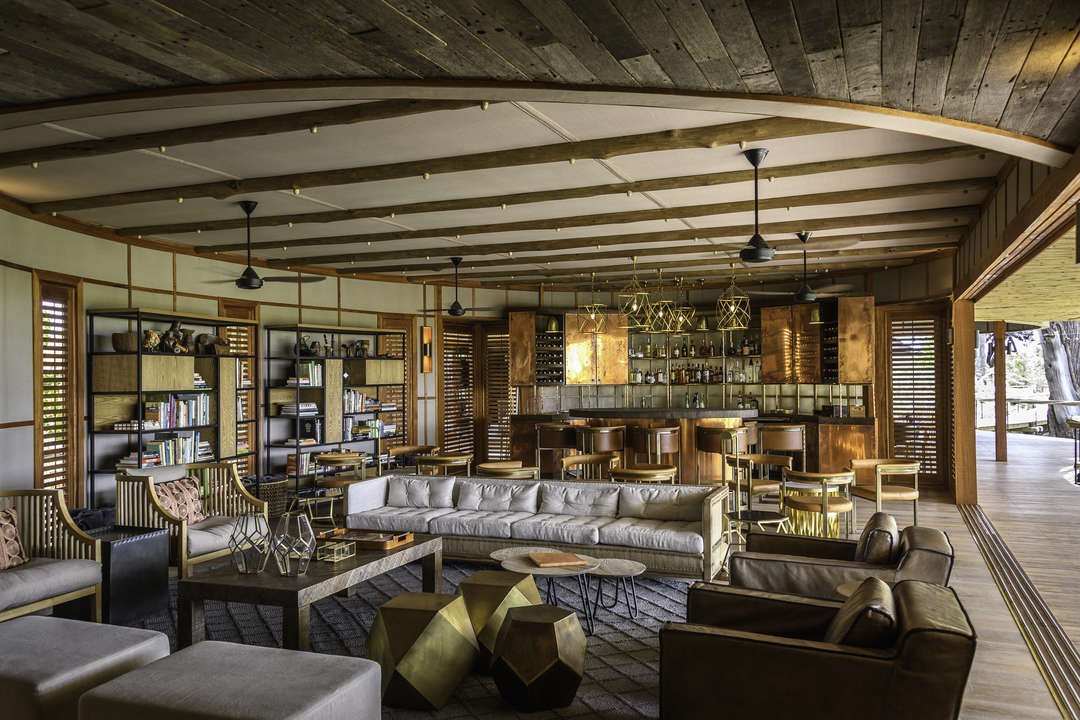 Doors, windows and other finishes
Iroko hardwood from the west coast of Africa has been used for various finishes such as doors and window frames. This is a hard-wearing timber which requires little maintenance or chemical treatment and fares well in exterior conditions. The timber is listed as a low risk by the IUCN, and is FSC and PEFC certified. Approximately 89 m³ was used.
Reduce – Reuse – Recycle
To maintain the original character of Mombo and minimise waste disposal, a number of structural items were re-purposed and reused: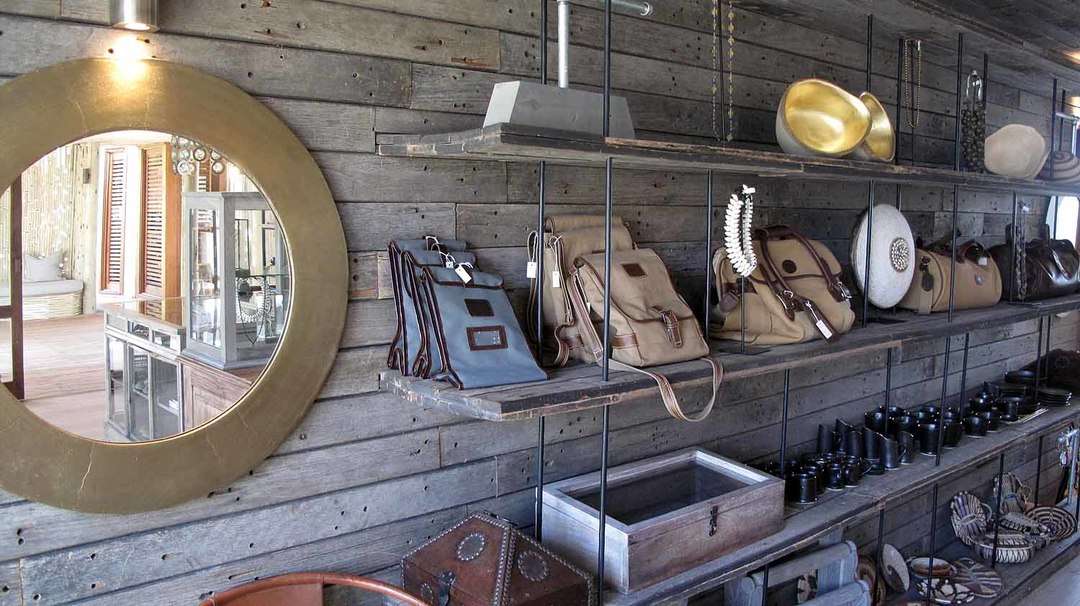 • Structural gum poles used for the 'Rhino Boma';
• Old walkway decking re-purposed as ceiling boards and cladding;
• Old Mombo bar cladding reused as cladding, as well as the barbeque and table pedestals;
• Original Flintstone doors from the guest rooms have been reused;
• Various furnishings have been reused at other camps in the Okavango Delta.
Responsible Consumption and Production
In order to avoid unnecessary waste, and reduce the logistics of transporting goods in and out of the Okavango, a large amount of structures and materials were re-used in the reconstruction process.
In addition, the Mombo Trails tents will be used in the construction of the new Magashi Camp in Akagera National Park, Rwanda and the inverters, photovoltaic arrays and sewage treatment plant will be re-deployed at various camps.
EMS upgrades
A number of essential systems were upgraded and improved to minimise environmental impact while maintaining a high level of service and not impacting on guest experience: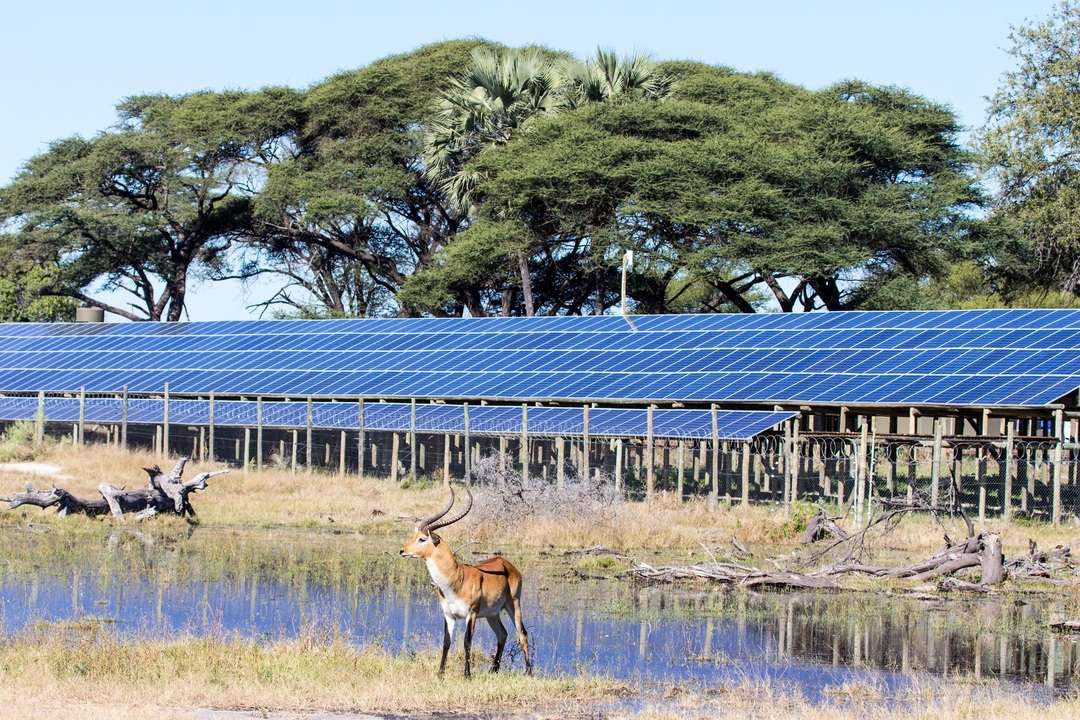 Solar plant
Mombo has been 100% solar powered by a 110 kW system installed in 2012. This existing solar array was allocated to power front-of-house areas, while an additional 51 kW system was installed to serve back-of-house.
Sewage Treatment Plant (STP)
The existing plant was replaced by a container 'Scarab' style STP with a 25 000 litre/day flow rate. This uses anaerobic and aerobic processes to break down the effluent, following which the discharge water is sterilised, removing any remaining bacteria.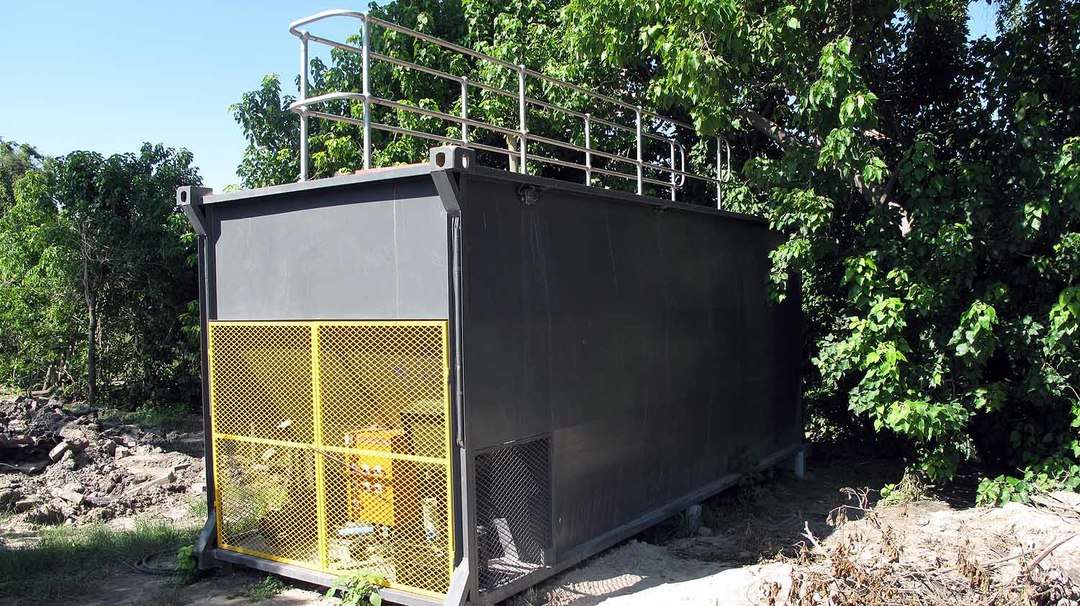 Sewage Treatment Plant
Water storage and filtration
The water storage, filtration system and distribution ring has been upgraded and simplified which will allow for better water treatment and management. Extra water meters have been installed and water reticulation maps updated and improved.
Clean Water and Sanitation
Clean water and sanitation are closely linked. It was crucial for Wilderness to effectively manage our waste water and ensure it returns into the environment without any contamination occurring. In order to provide our guests and staff with clean drinking water, several measures were taken to ensure this is done without producing any negative by-products which can be associated with water purification.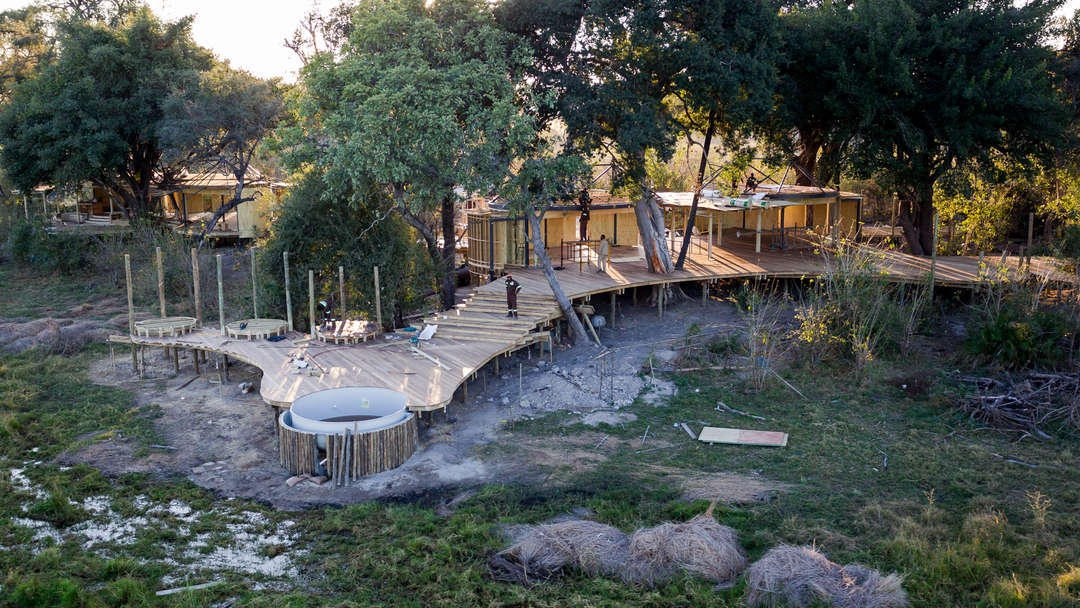 Smart architecture and natural cooling
A key challenge was to ensure that the climate of the area did not impact on guests' comfort, without relying on inefficient energy solutions, such as air conditioners. The gym is the only location in camp where an air conditioner has been used. (An energy efficient inverter has been used in this instance.) All other guest areas are cooled by natural airflow and smart architecture, including suspended wooden floors and double layered roofing. Glass wool insulation has been used in walls and ceilings. The insulation material used is endorsed by the Green Building Council.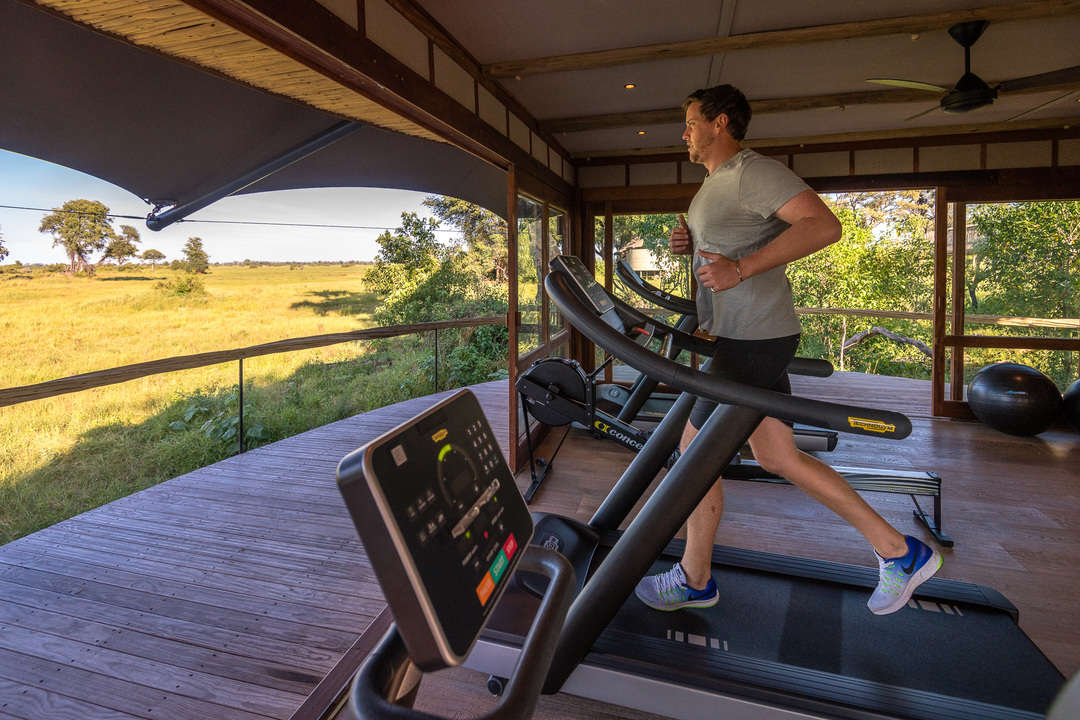 Climate Action
The first step before investing in solar power is to reduce energy demand. As Mombo is 100% solar powered, great efforts were made to reduce demand while delivering a premier guest experience.
Construction logistics and associated carbon footprint
A record of building material logistics was kept during construction. Approximately 3 250 tonnes of assorted materials were transported from Maun to site. Each truck used approximately 300 litres of diesel on a return trip, suggesting a total of 195 000 litres of fuel used for transport. The associated carbon footprint is 512 tonnes CO2e. As this operational impact could not be avoided, environmental impacts were reduced by employing a 'no empty truck' policy. All trucks delivering goods to site transported waste and other materials back to Maun.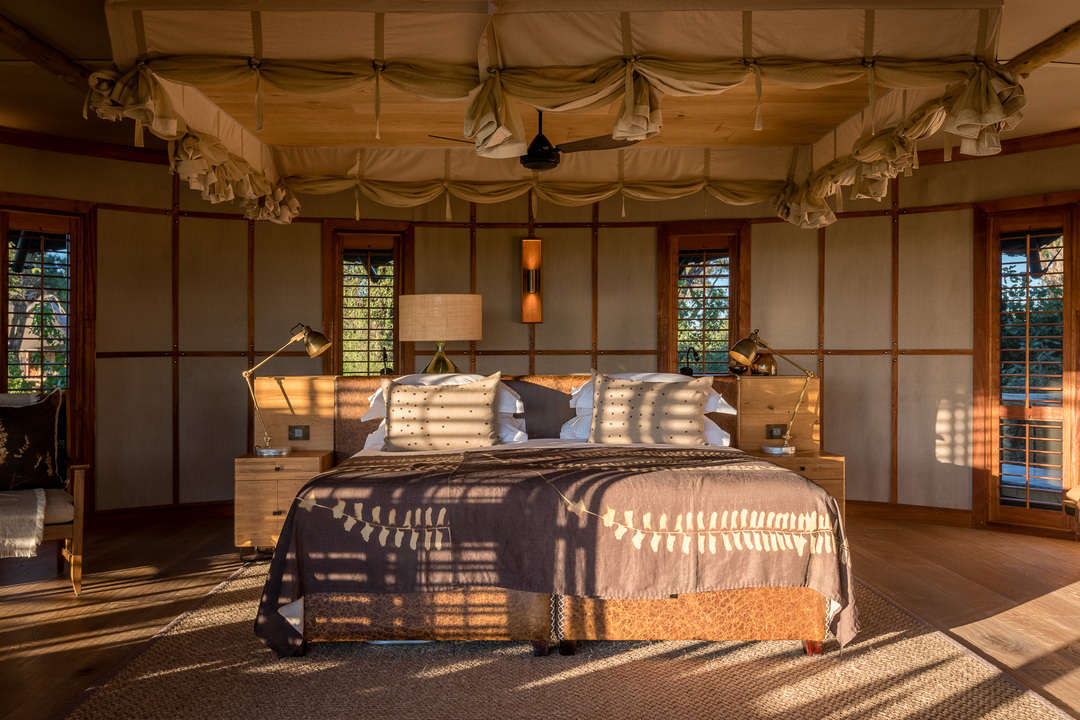 Environmental management
All contractors were required to adhere to and adopt the Group's Environmental Minimum Standards. Contract worker accommodation and temporary structures for 180 personnel were assessed by our Regional Environmental Officer to ensure that environmental impacts were mitigated as a far as possible. The construction company was required to rehabilitate the site of the decommissioned Mombo Trails Camp, as well as the temporary roads, accommodation areas and storage areas which were created.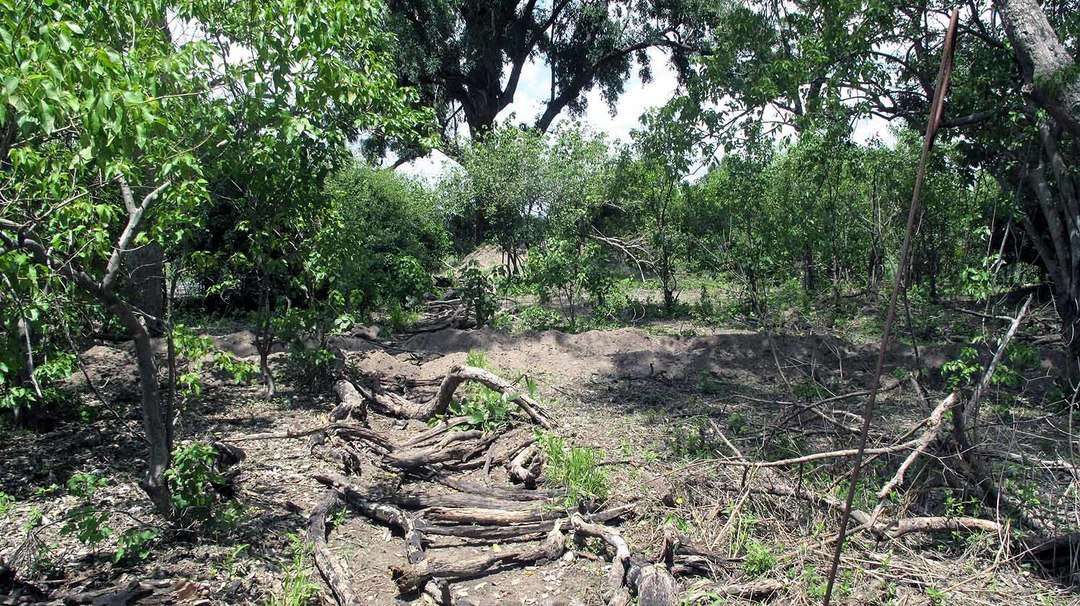 Rehabilitating the Mombo Trails site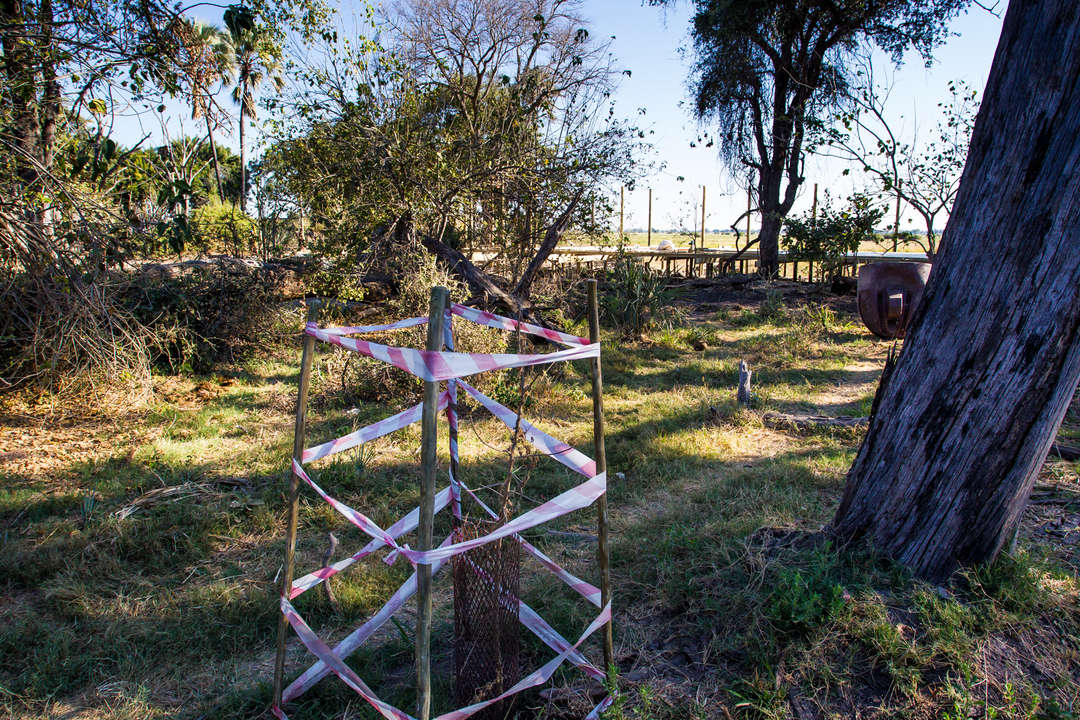 An arborist was contracted to ensure that existing trees were not damaged during the construction process. The foundations of the structures had multiple 'bury and attach' points, meaning that foundations were built around tree roots.
Life on Land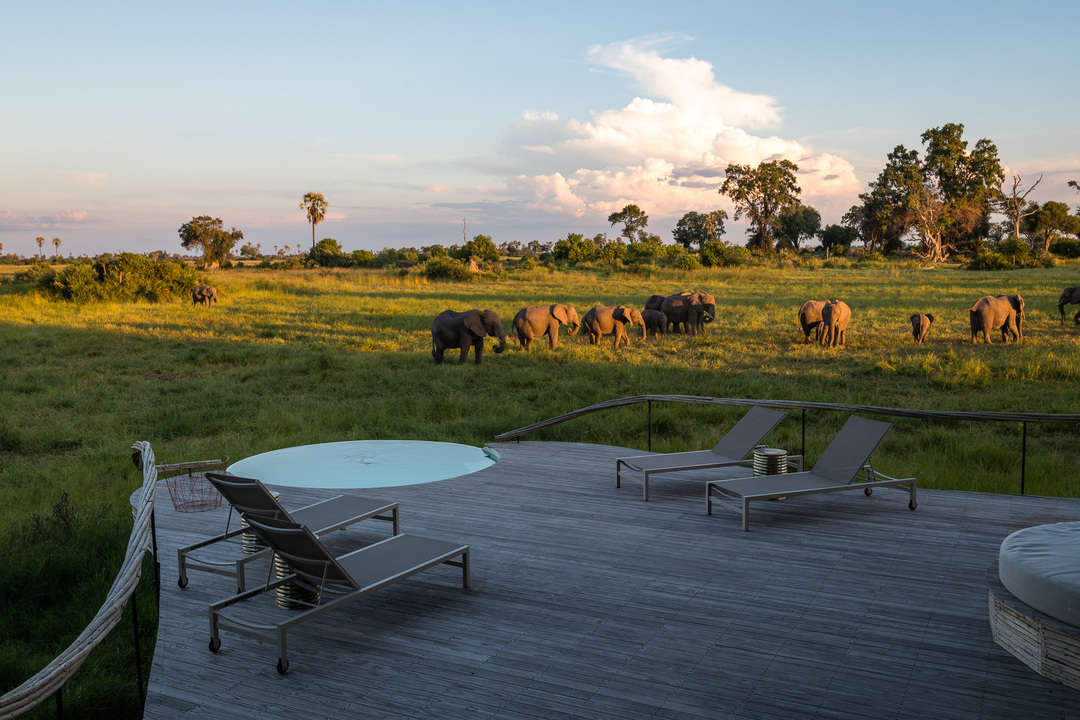 With the focus of mitigating our negative impacts on the environment, it is crucial that we avoided modification of the natural environment and placed our structures around established flora as well as game paths.
The total cost of this project amounted to BWP 110 million.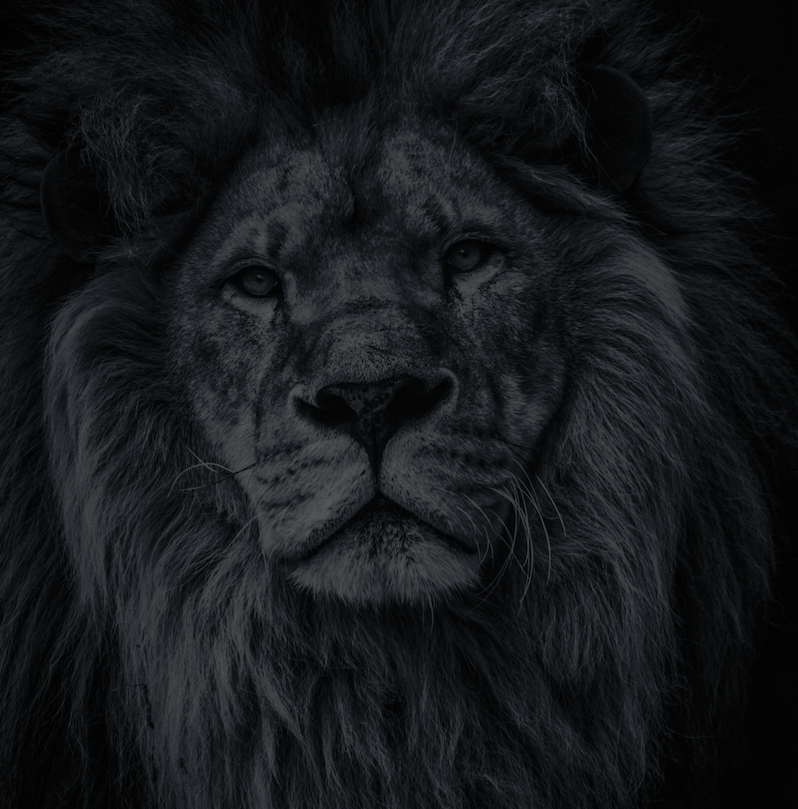 Let's plan your next journey
Ready?
When we say we're there every step of the way, we mean it, literally. From planning the perfect circuit, to private inter-camp transfers on Wilderness Air, and easing you through Customs. We're with you on the ground, at your side, 24-7, from start to finish. Ready to take the road less travelled? Contact our Travel Designers to plan an unforgettable journey.