If you've ever considered the best romantic spots to take your partner, you don't have to wonder much longer… we've compiled 10 of Wilderness Safaris most romantic experiences from our camps and lodges across Botswana, Namibia, Zambia, Zimbabwe and Rwanda. Each of these areas is remote, wild, scenic and adventure-filled – ideal destinations to enjoy quality time with your most loved one in Africa's finest wilderness areas.
Here are our top choices...
Rwanda
Magashi Camp - Scenic Savannah and Wetland Wilderness Wonders
Magashi Camp is a safari-lover's dream. Six intimate tents lie dotted in lush vegetation and boast uninterrupted views of Akagera National Park's scenic Lake Rwanyakazinga.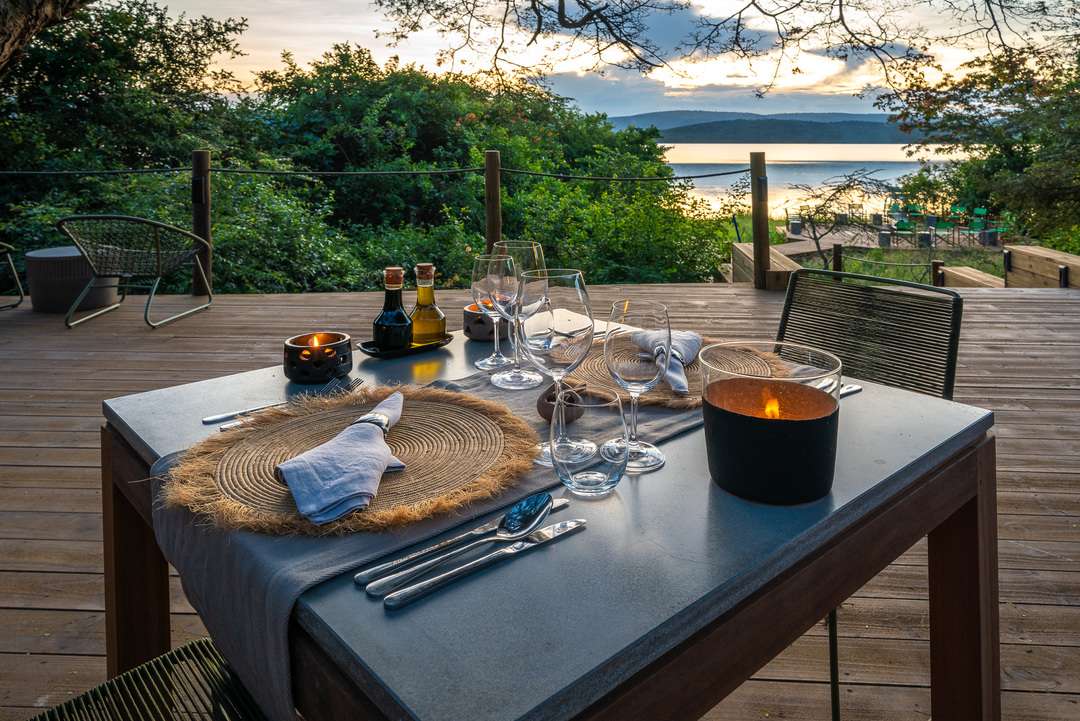 Indulge in the romance of the wilderness, surrounded by magnificent views of the lake over a candle-lit dinner
As the sun rises across this East African savannah you will view rare species such as sitatunga. The park is home to a healthy population of lion, which after a 20-year absence were reintroduced in 2015. Otherwise elusive leopard may be seen on your afternoon game drive, before you soak in the African sunset with a G&T. Magashi is located in an exclusive-use area within the park.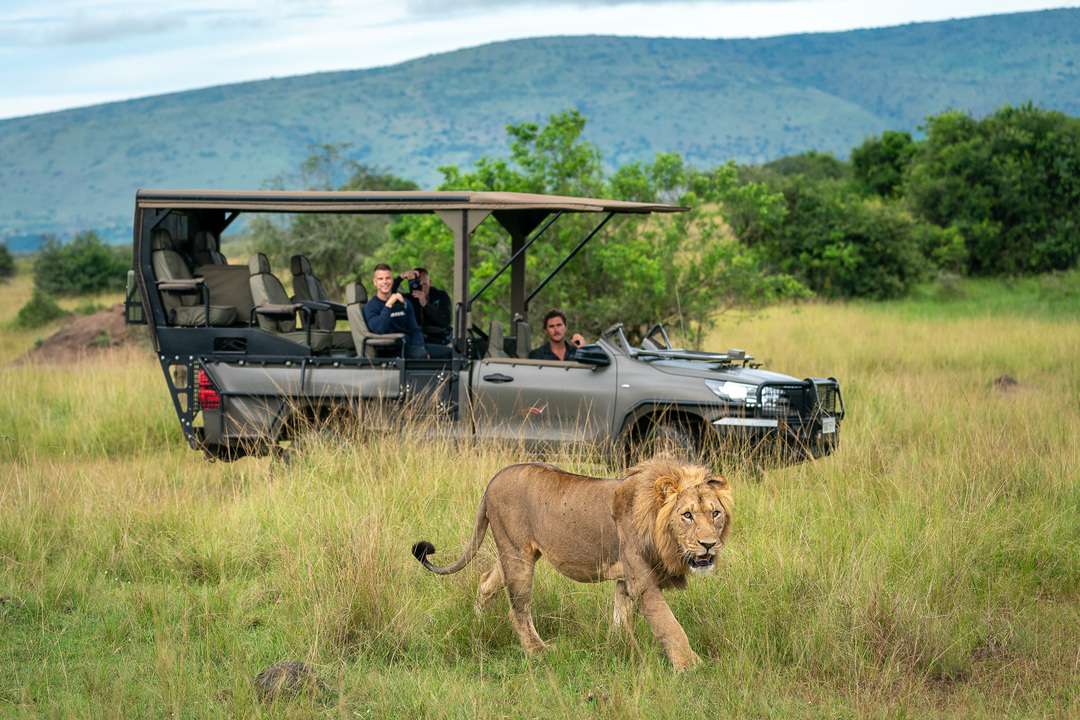 Fall in love with the bush as you drive through the wonder of this savannah. A sensorial overload, with sights, sounds and smells that will always remind you of a love of Africa that has to be experienced to truly understand.
Magashi – Discover More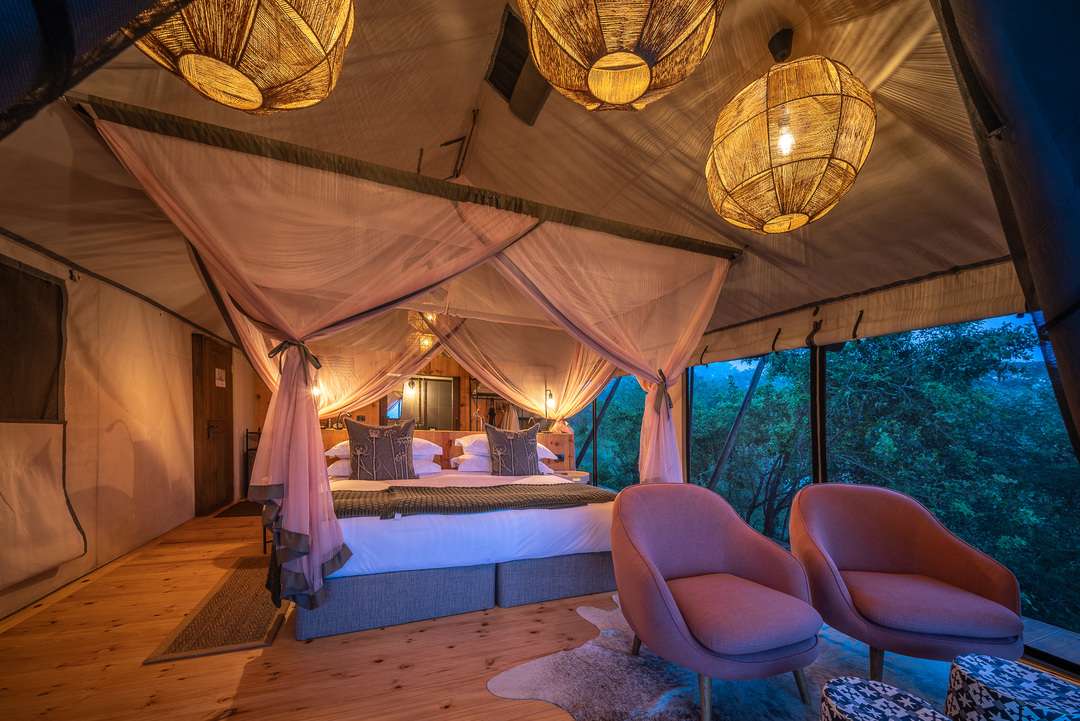 Bisate – An Innovative and Visionary Lodge
There are few places on earth that match the experience that is offered at Bisate Lodge, close to Rwanda's Volcanoes National Park. While many people stay at Bisate to experience a life-changing gorilla trek, the lodge itself is reason enough to visit.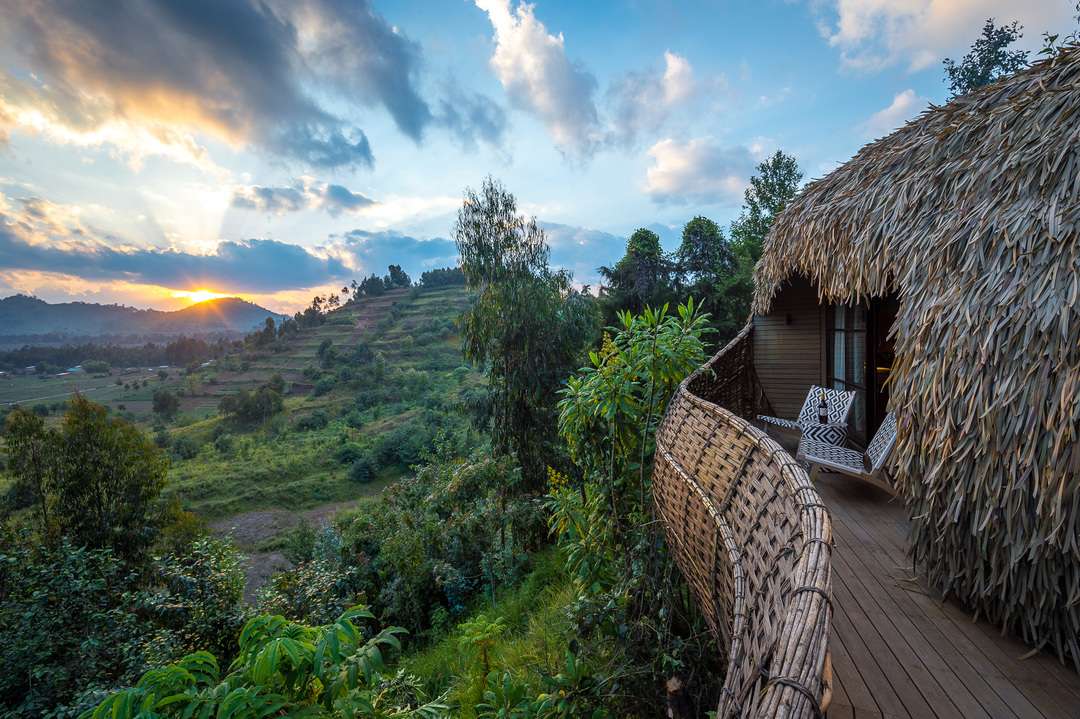 Six opulent forest villas maximise the dramatic views of the peaks of the Bisoke and Karisimbi volcanoes rearing up through Afro-alpine forests
Bisate is steeped in Rwandan culture and every part of your experience brings you closer to the vibrant people, the delicious food and the unique wildlife of the country. Take part in a gorilla trek as well as a golden monkey trek– both experiences are profoundly moving. A community visit at Bisate is another highlight. Along with a guide, meet locals and view the wonderful work being done by the community.
Leave your mark… Bisate's pioneering reforestation project invites all guests to plant a tree in honour of their stay. Get your hands dirty by planting a sapling and directly contribute to the restoration of the area's habitat.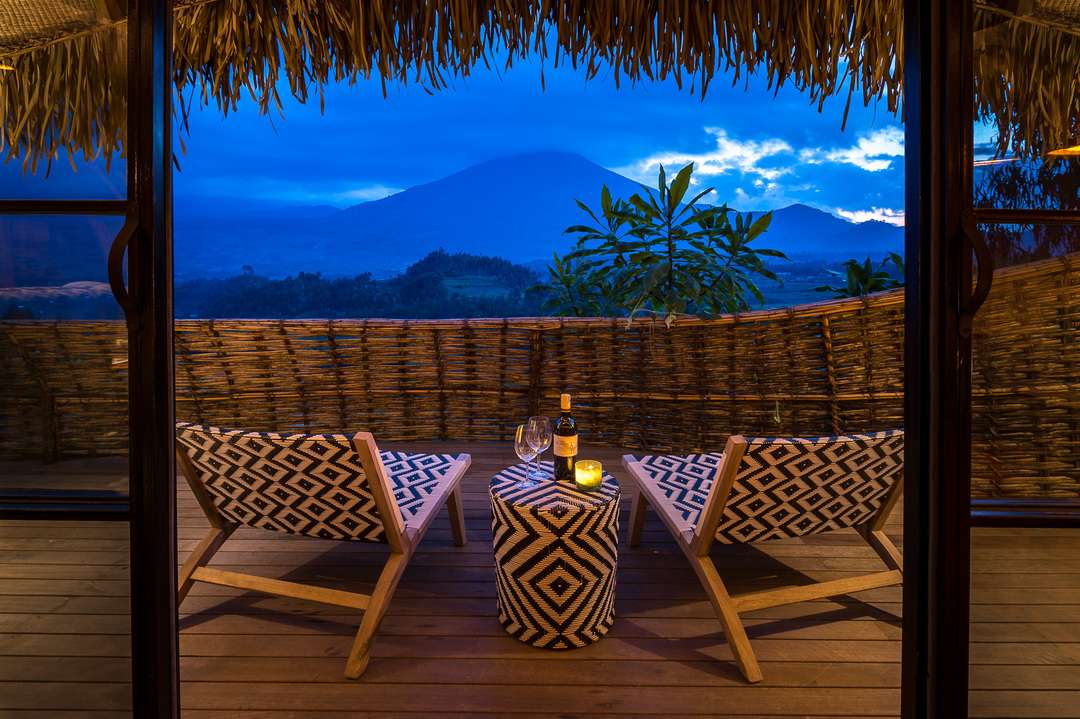 After a day of trekking, your forest villa is a welcome retreat. Kick back and take in the dramatic views from your balcony or get comfortable around the in-room fireplace.
Bisate Lodge – Discover More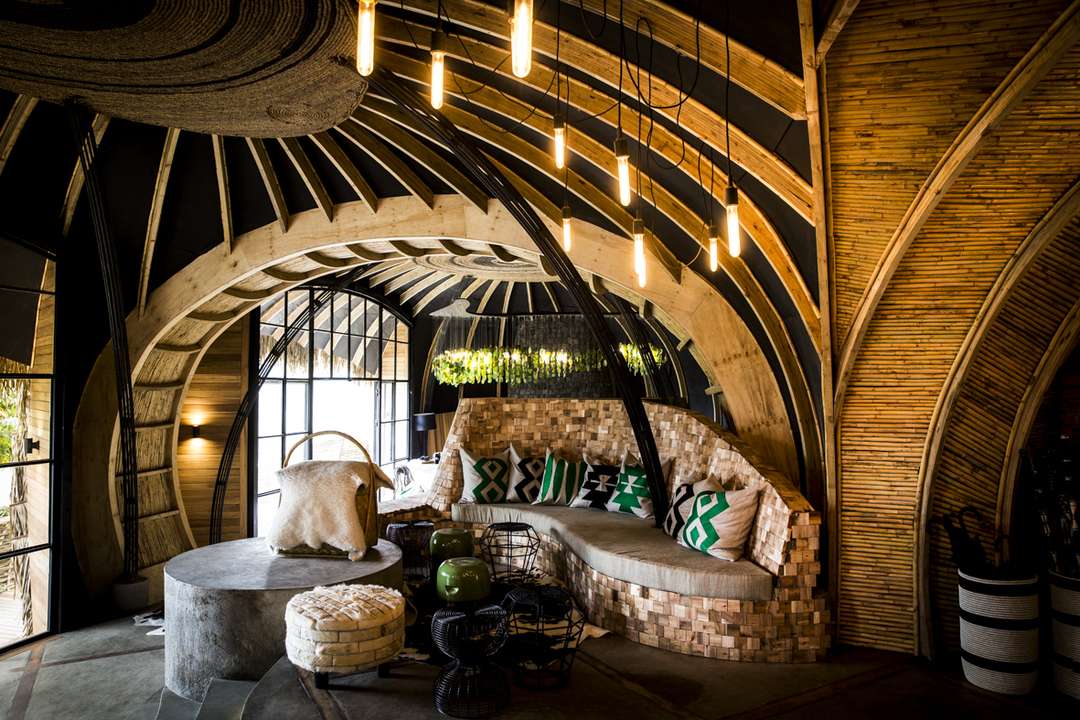 Botswana
Little DumaTau - Safari Splendour Meets Untamed Abundance
Little DumaTau is set to open mid-2021 along with the new DumaTau Camp, in arguably the best game-viewing area in the Linyanti.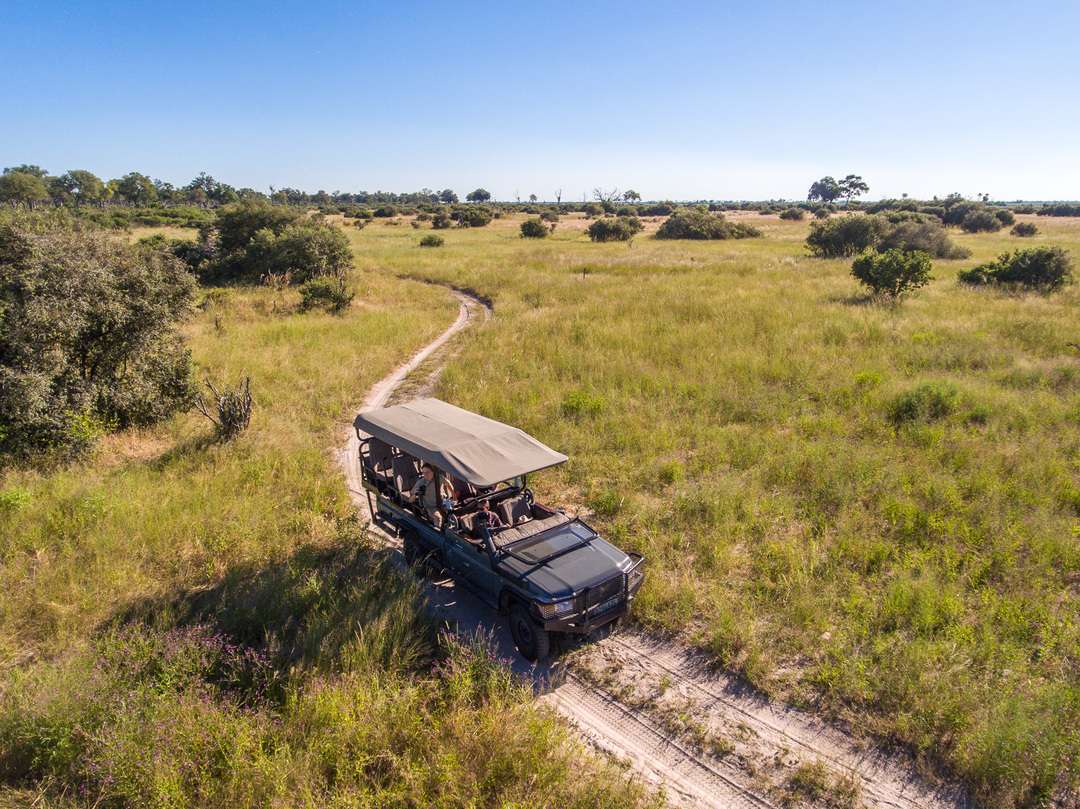 Off-the-beaten-track exploration is the theme for both camps
With just four spacious and tastefully designed rooms, Little DumaTau delivers exclusivity like none other. This is perfect for couples travelling together. The spa and wellness space looks over Osprey Lagoon, where you can enjoy sunset boat cruises. The Linyanti Reserve offers a diversity of bird and wildlife sightings including wild dog and elephants crossing the many channels.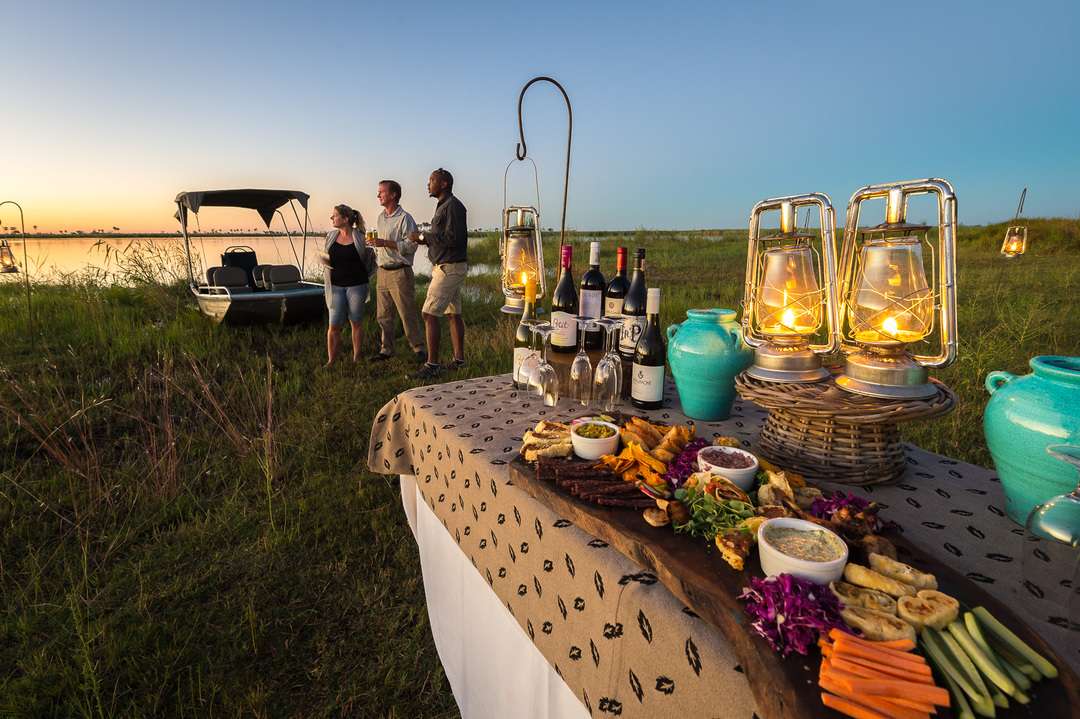 A romantic picnic with a loved one on the banks of the river, surrounded by the magic that is Africa, will have an everlasting impact on your life
Little DumaTau – Discover More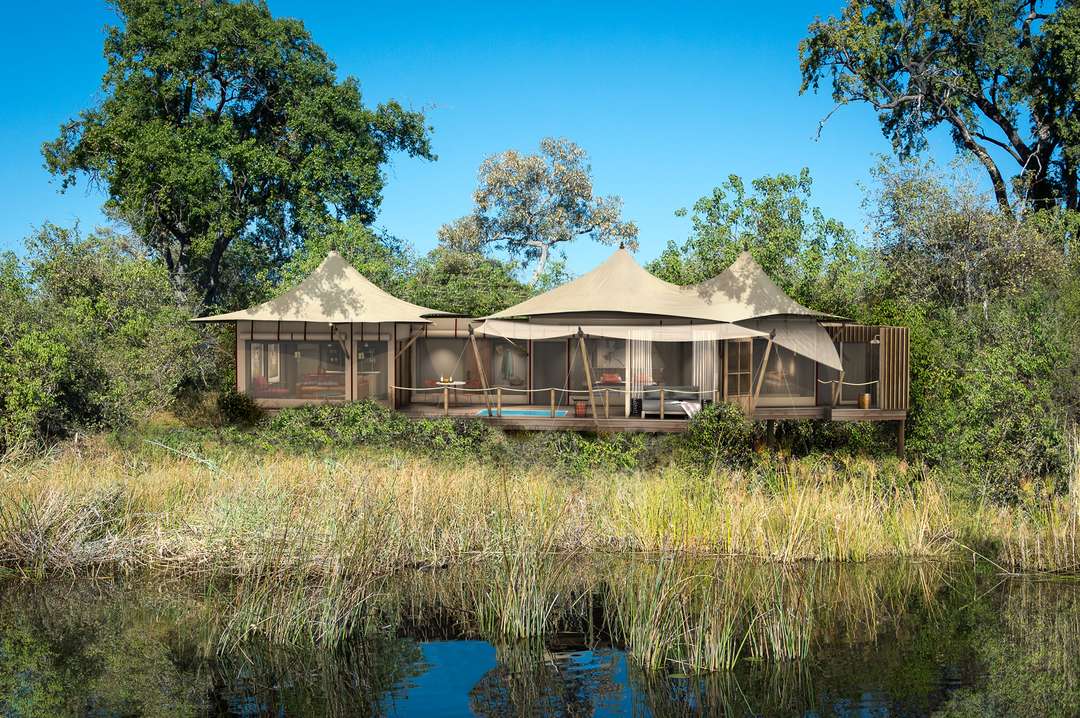 Little Mombo – Elegant, Intimate, Sophisticated
Both Mombo and Little Mombo guests have extraordinary views of an Okavango Delta floodplain that hosts an astonishing variety of wildlife. The abundance of life found here has accorded the area its name, 'Place of Plenty.' With just four tents, Little Mombo is ideal for couples and small groups.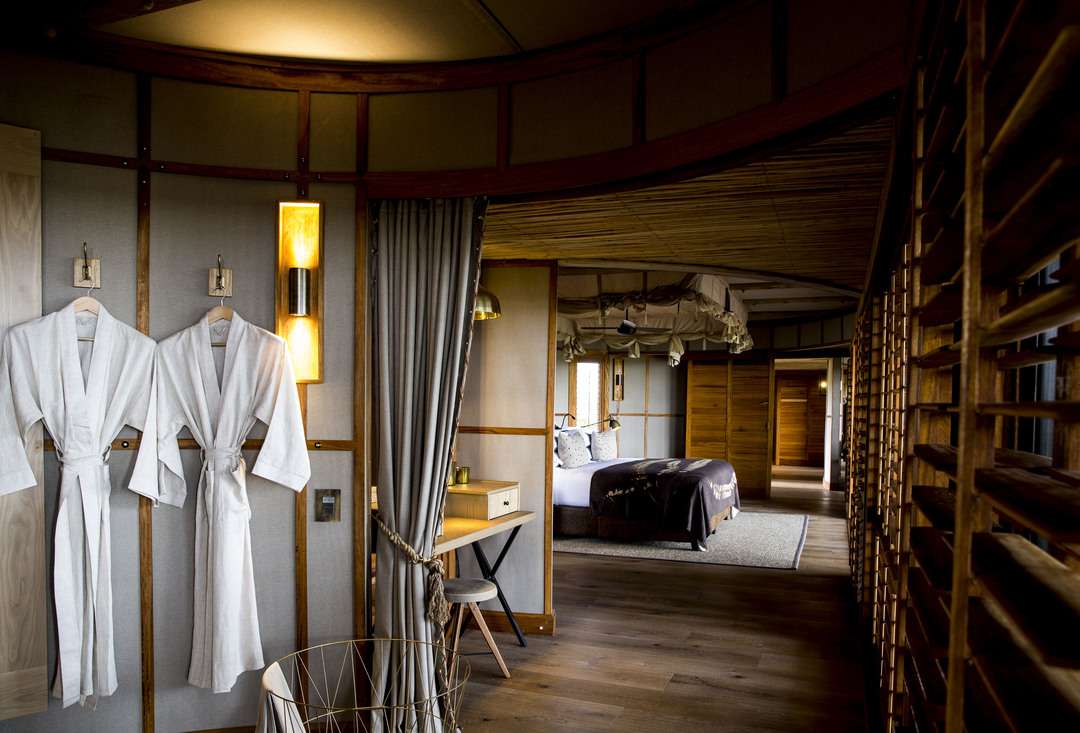 Enjoy twice-daily game drives, delicious bush brunches, private dining, and, if you feel like working up a sweat, make use of the gym, or enjoy quality time unwinding with a treatment at the spa. At night, slink into a bubble-filled bath, or cool off in your private plunge pool.
Little Mombo – Discover More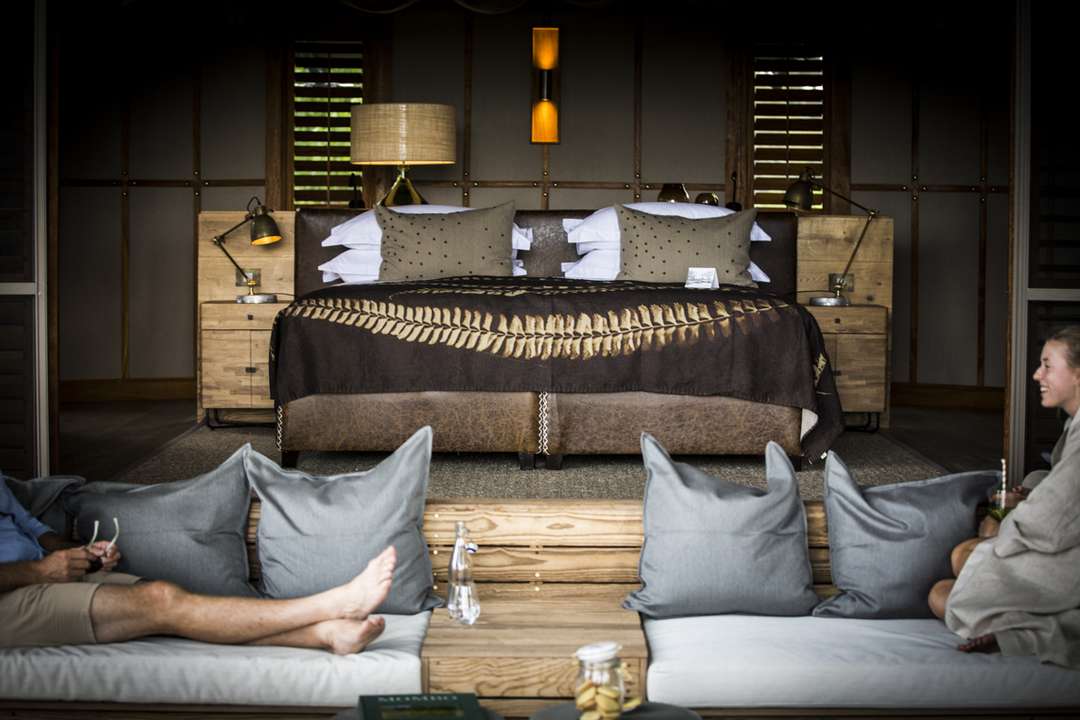 Little Tubu – An Okavango Hideaway
Little Tubu has three traditional-style tents shaded by a riverine tree canopy, from where all look out over a seasonal riverbed. Elevated walkways link the tents to the main dining, bar and pool areas that are designed to blend seamlessly into the surrounding environment and maximise the views of the Okavango. The style of the camp and the setting create an authentic sense of remote wilderness, and truly being on safari – in comfort and style, unquestionably in a wild place, among prolific wildlife. Activities include game drives on Hunda Island, the largest dry land environment in this area – home to diverse habitats and a varied game-viewing experience.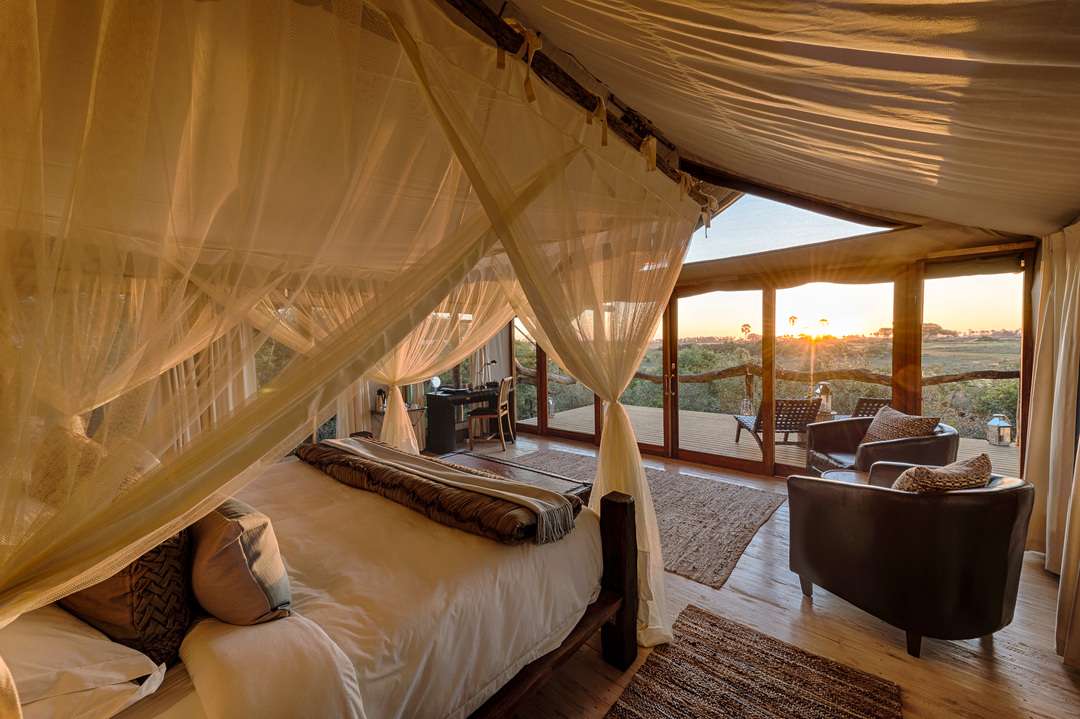 During winter (May to late September) and depending on water levels, boating, fishing and mokoro trips are offered. For a romantic night out, stay at the camp's Star Bed – a way to thoroughly immerse yourself in all the sights, sounds and scents of the wilderness. A night you won't easily forget!
Little Tubu – Discover More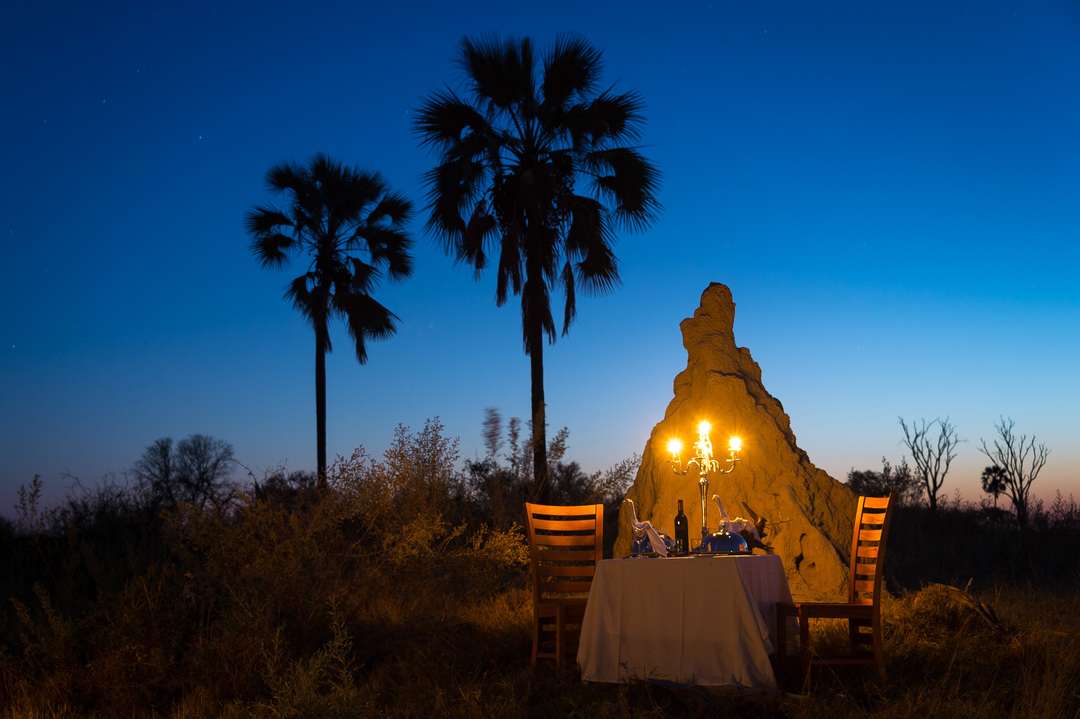 Namibia
Little Kulala – Luxurious Desert Retreat and Closest Gateway to Sossusvlei's Dunes
Having recently undergone a complete refurbishment, Little Kulala enjoys the closest private access to Namibia's legendary Sossusvlei and its iconic dunes.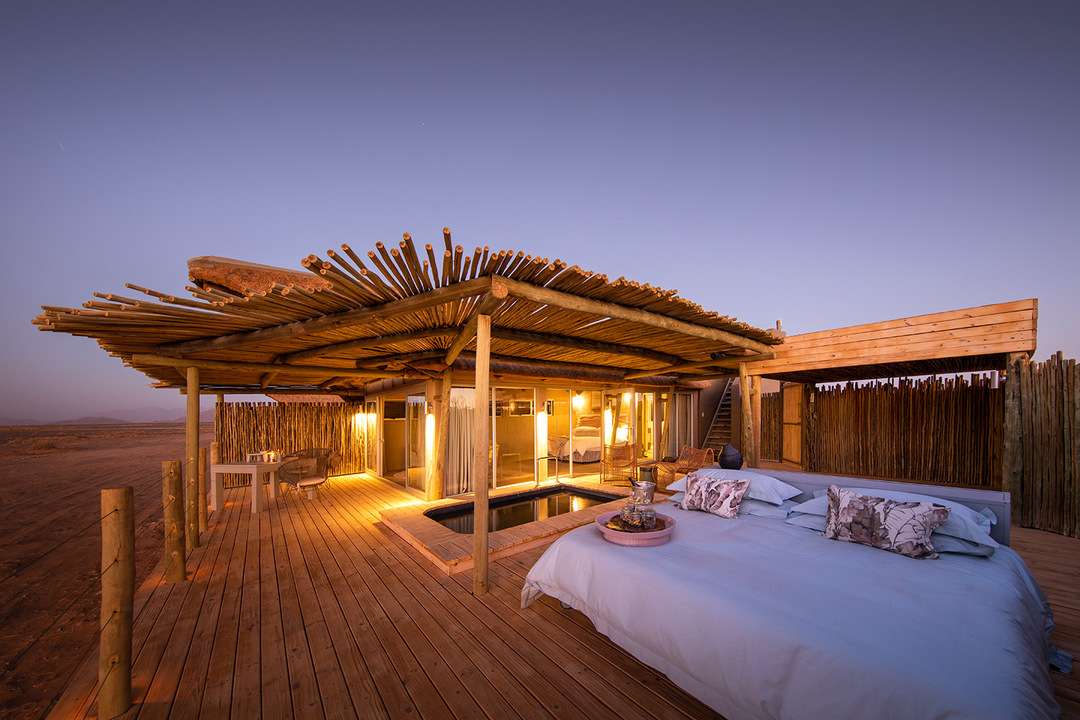 Your villa's private pool, shaded sala and secluded rooftop area lend themselves to romantic evenings spent stargazing and al fresco dining, not to mention rolling out the bed to sleep under the Milky Way, and waking up at dawn to a gently lit desert-scape. The brand-new spa offers a range of pampering treatments, ideal for relaxing after a day spent exploring the glorious Namib Sand Sea surrounds.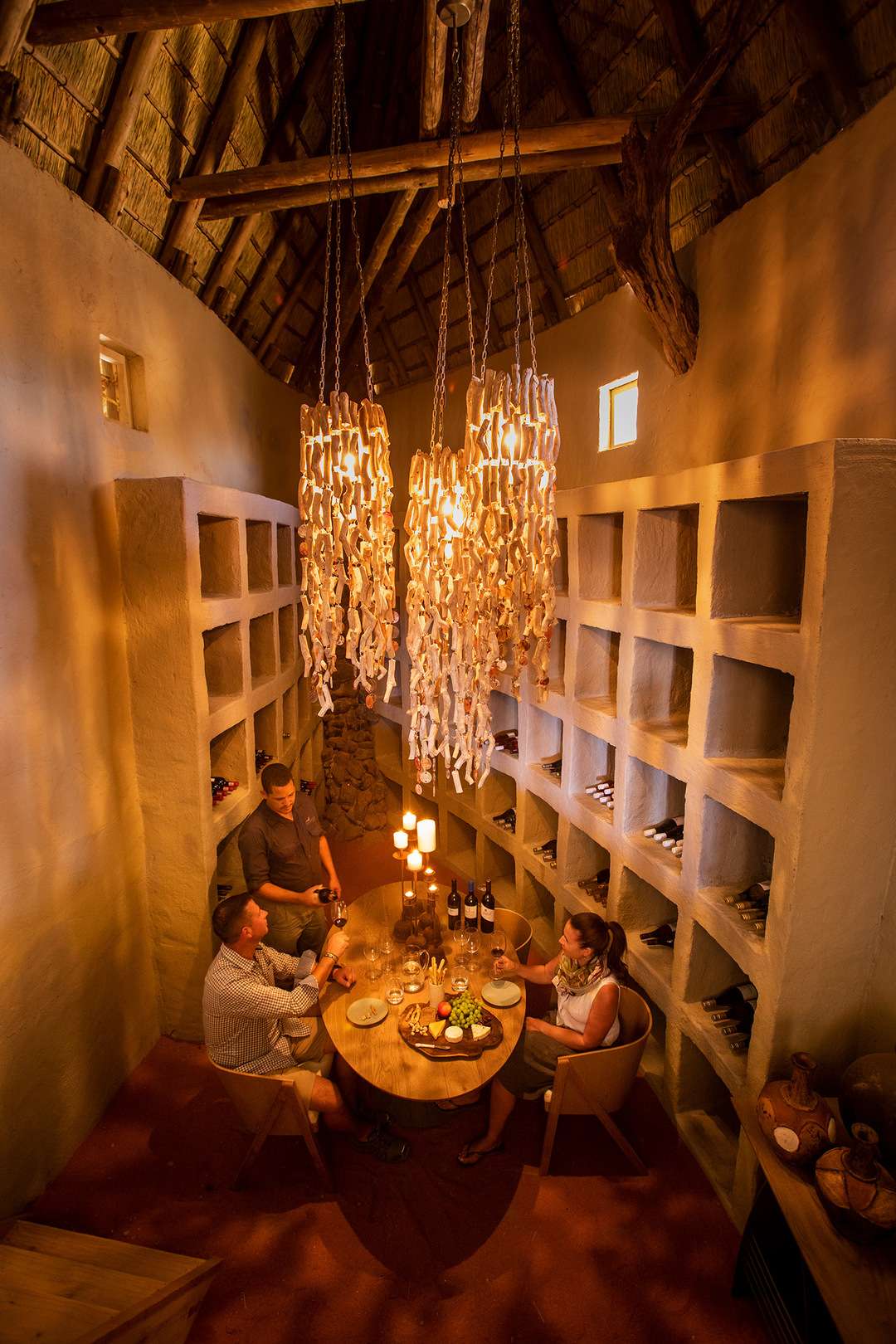 Take in a food-and-wine pairing in the well-stocked underground cellar for a fresh perspective on desert cool
Little Kulala – Discover More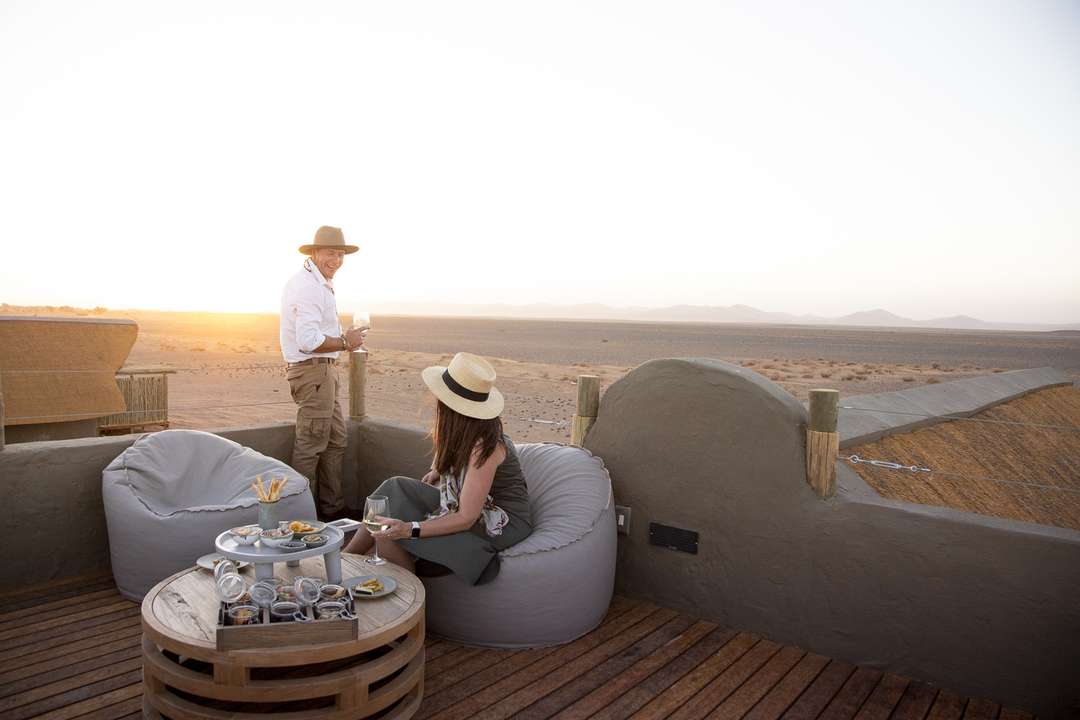 Hoanib Skeleton Coast Camp – Rugged, Iconic, Startlingly Life-filled
The fluid rooflines of award-winning Hoanib Skeleton Coast Camp are a softly-spoken tribute to its almost inexpressibly beautiful desert surrounds.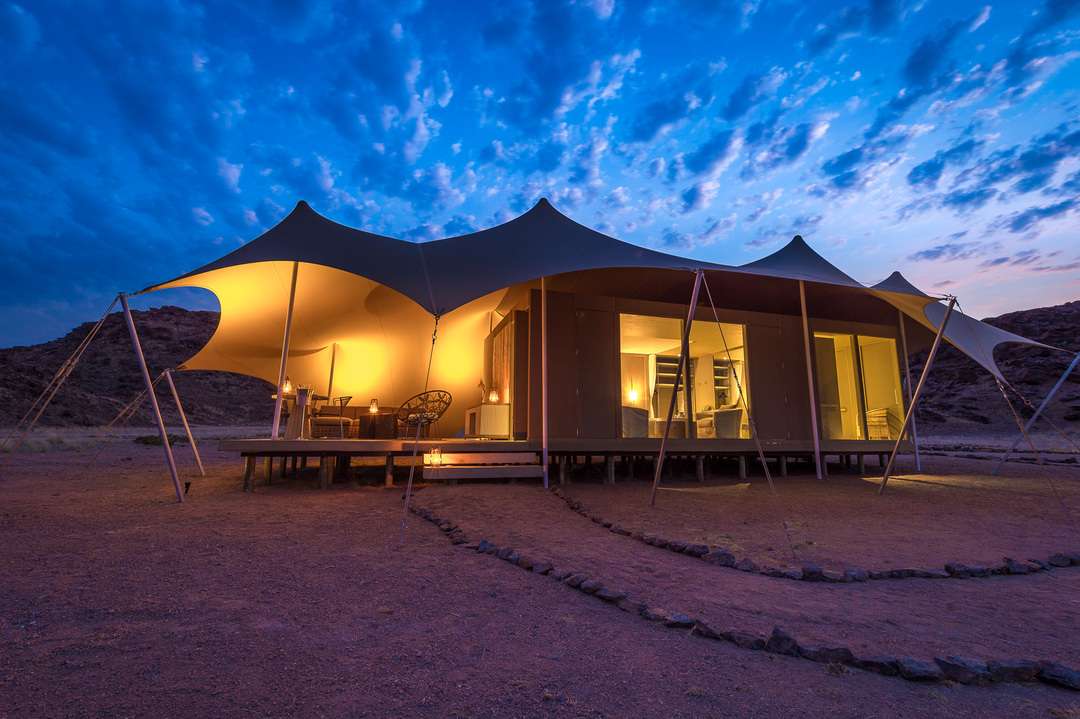 Guests seeking a romantic interlude cannot get further 'away from it all' than here, in Namibia's world-famous Skeleton Coast National Park. Generously appointed tented suites offer every little luxury a couple desires, accompanied by discreet service, mindful cuisine and a thoughtfully curated wine list. And for those seeking added seclusion, the honeymoon suite is the perfect spot – tucked out of sight of the rest of the camp and isolated from everything except the one you love.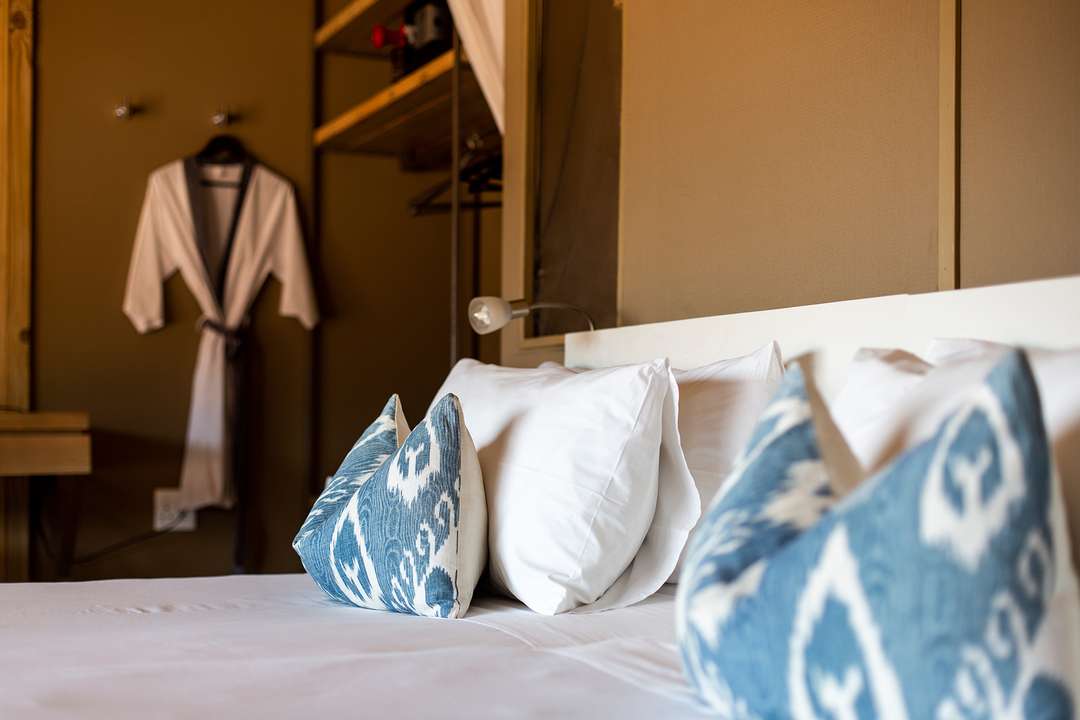 Nature drives in the ephemeral, dry Hoanib River bed serve up rewarding sightings, including desert-adapted megafauna – from the area's ponderous elephant and giraffe to even the occasional lion.
Hoanib Skeleton Coast Camp – Discover More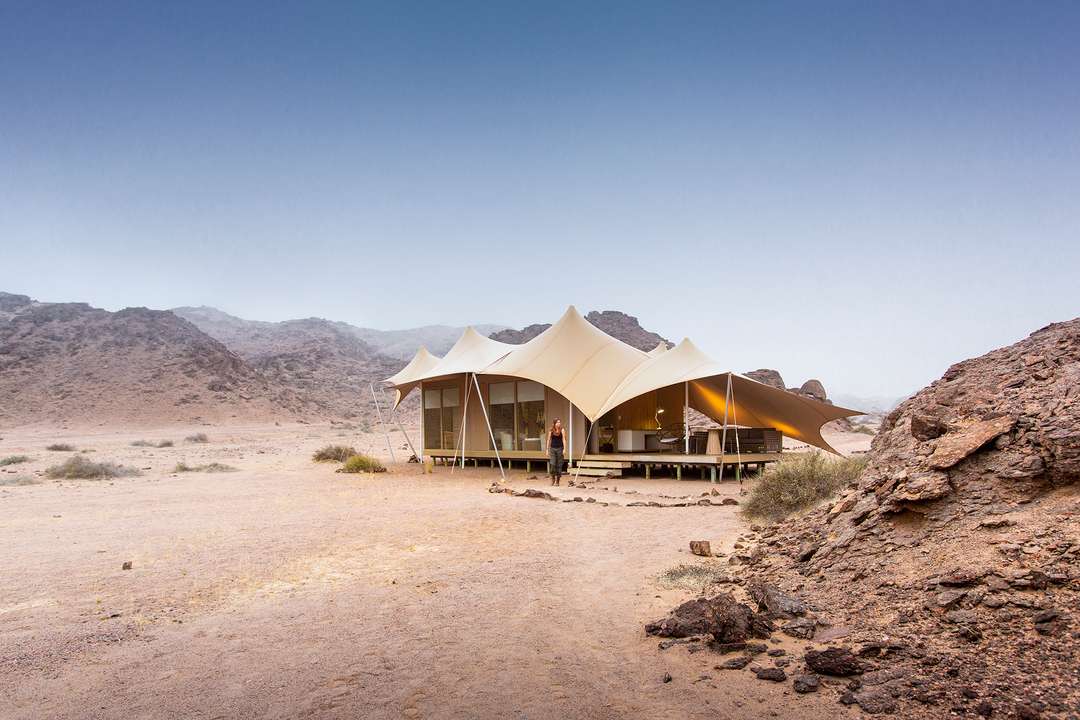 Zambia
Shumba Camp – Where the Wild Things Are
Elegant Shumba, named after the prides of lion seen in the area, is found on a wooded island in the centre of the Kafue's million-hectare Busanga Plains. Home to hundreds of red lechwe, puku and other plains game and their predators, the wild and remote floodplains seemingly go on forever. Standing sentry over these endless plains are six luxury tented units raised on wooden platforms. Each spacious unit is a tranquil space from which to observe the wilderness – either from your bed, the various seating areas or even the indoor or outdoor showers.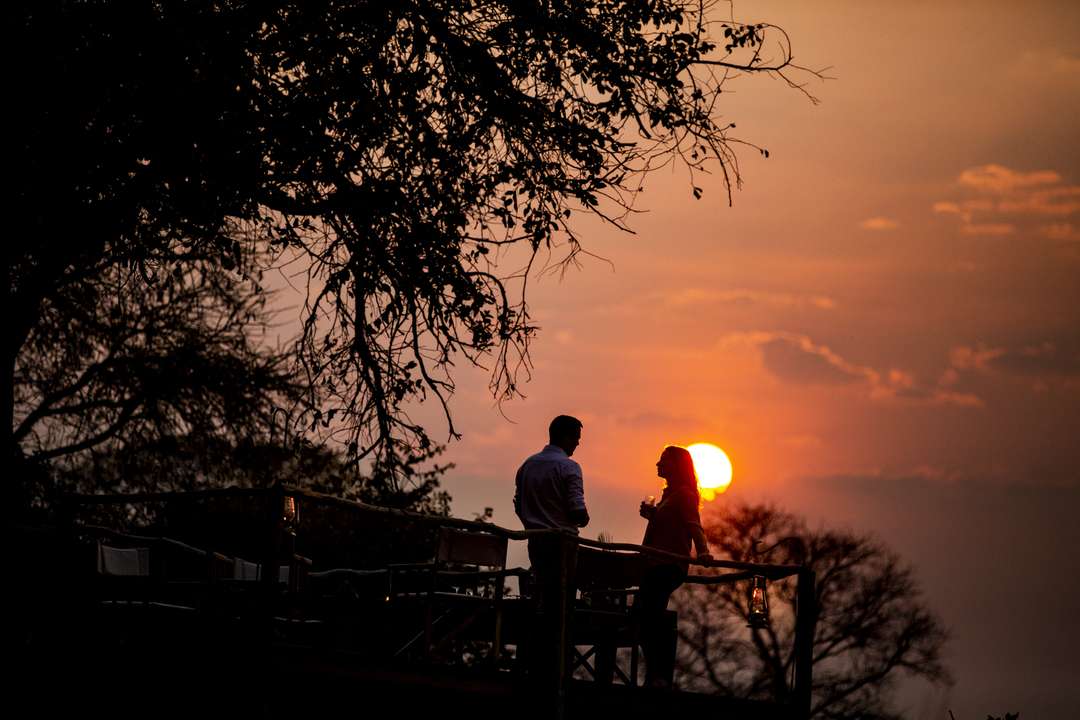 The private deck of each suite is perfectly concealed from the view of any other guests – immersing you in your own piece of Africa
Game drives in the area bring you up close to a plethora of wildlife, from prolific herds of buffalo and elephant, to the myriad carnivores that lurk nearby. From August to October, hot air balloon rides offer a bird's-eye view over the remote plains. This thrilling adventure ends with a champagne breakfast, surrounded by 360-degree views of pristine grassland, dotted with large herds of puku and lechwe.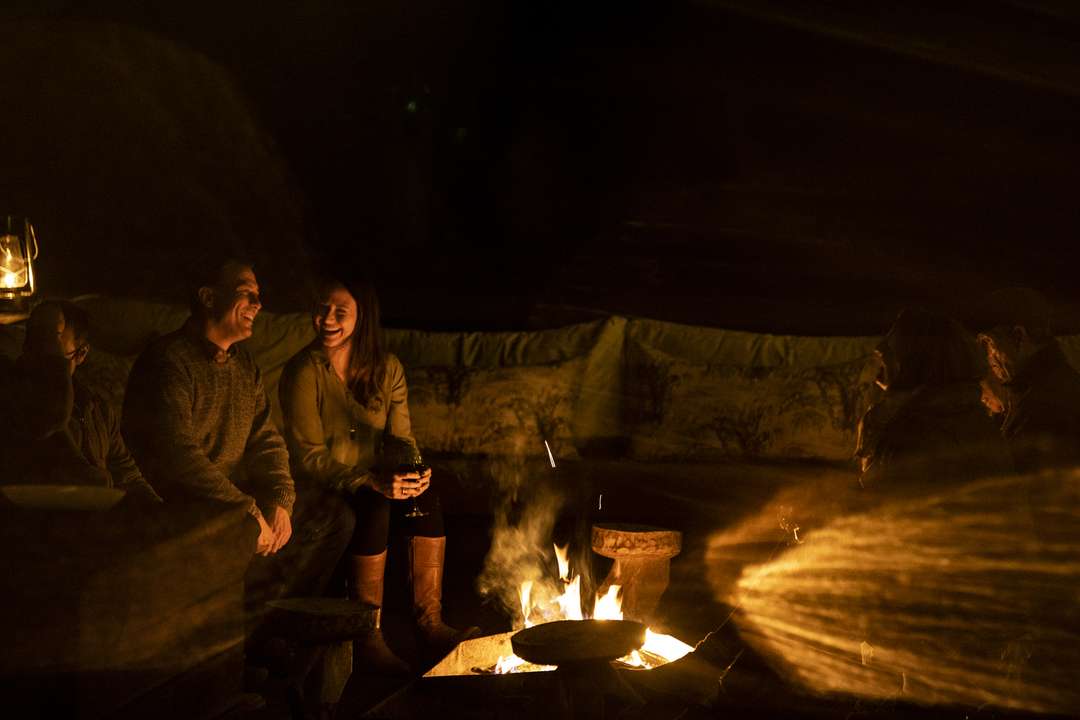 Enjoy Zambian hospitality in the main area, where sumptuous dining, cooling off in the pool and shaded relaxation are the order of the day, while convivial fireside tales and stargazing are a nightly ritual
Shumba Camp – Discover More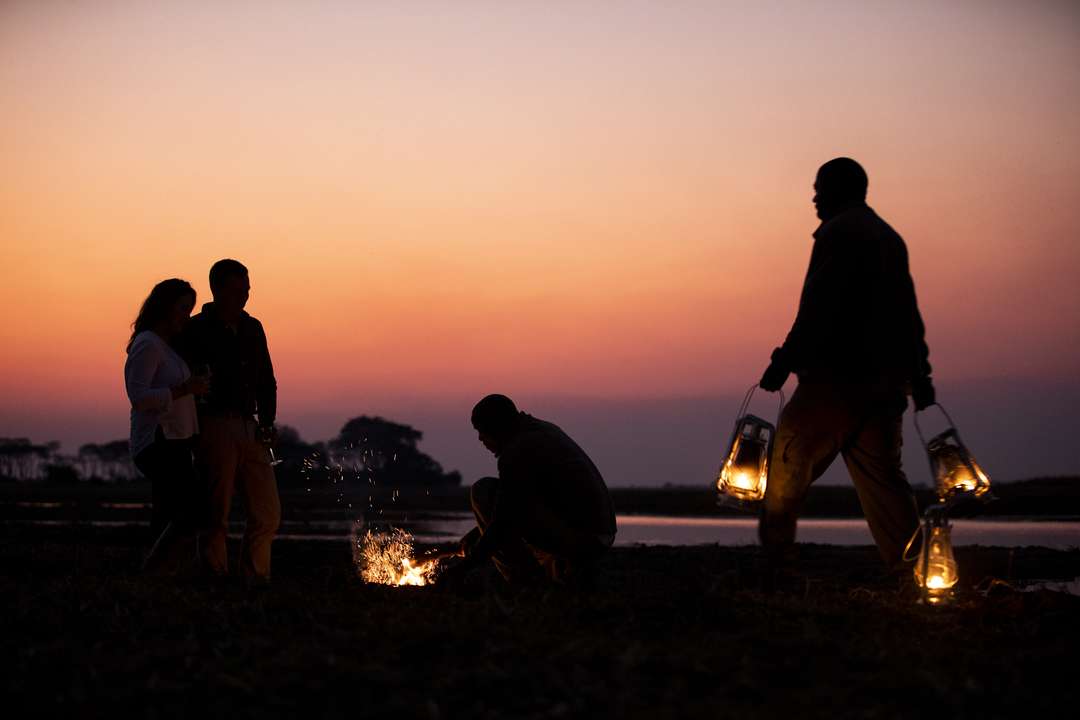 Zimbabwe
Ruckomechi – Symphony of the Wild
In the heart of a large private concession at the Zambezi Valley's Mana Pools National Park, Ruckomechi looks out from the banks of the mighty Zambezi River. Ruckomechi's location means that our guests not only enjoy daily game drives but can explore the river by boat – either on a magical sunrise or sunset river cruise. The camp also offers canoe rides on the legendary river, as well as catch-and-release fishing.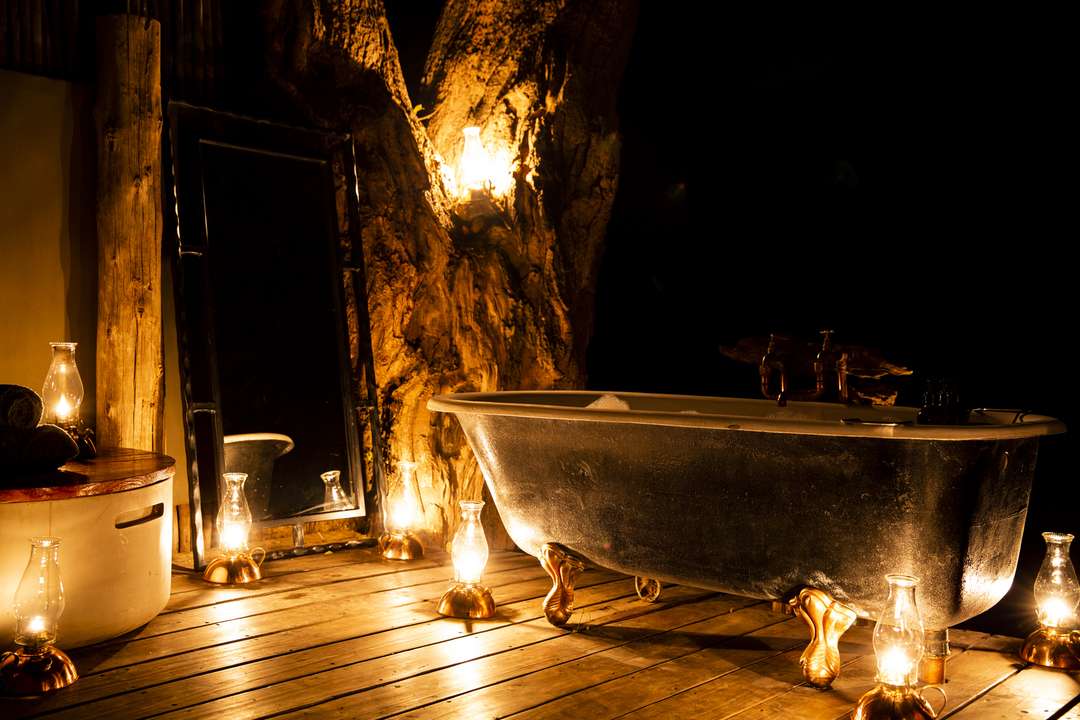 Charge up your romance in the camp's 'bath with a view' – an outdoor bathtub set in a secluded, scenic spot with expansive views of the river and mountains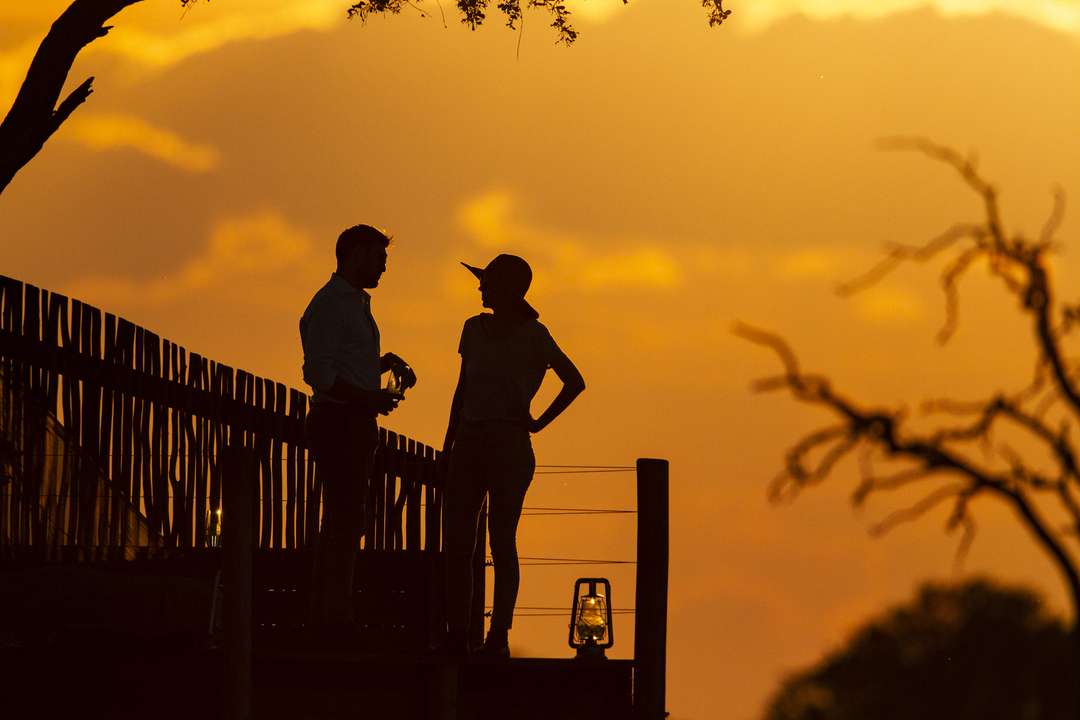 A Million Star Experience
Ruckomechi's Star Bed is an outdoor sleeping platform situated about 400 metres from the camp. Fall asleep under a blanket of stars while the sounds of the African night sooth you to sleep. Guests can request dinner or breakfast– a delightful indulgence to enjoy at this romantic and secluded spot.
Ruckomechi Camp – Discover More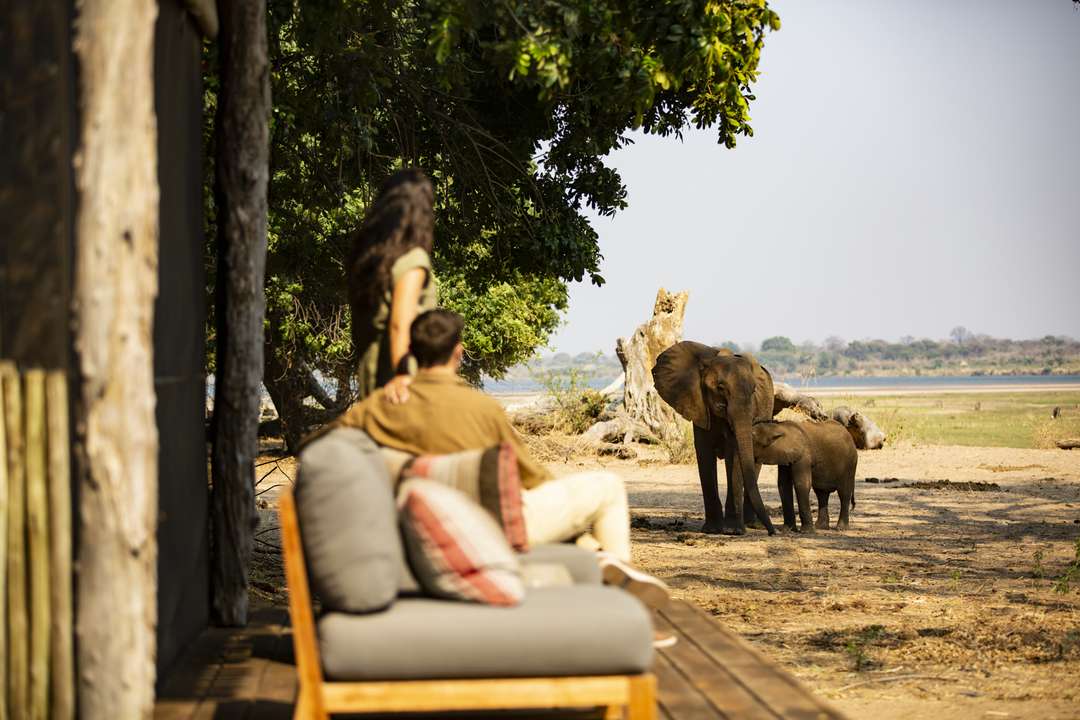 Linkwasha – Luxury, location, location, location...
Linkwasha's clean, contemporary appearance is neatly juxtaposed against the rugged wilderness of Hwange's most productive concession. Design elements pay homage to the area's Ndebele culture, and mealtimes offer an appetising profusion of culinary imagination. A seclusion-seeking pair might take in the wildlife parade without moving from the privacy of their roomy suite, watching the herds head over to the waterhole in camp.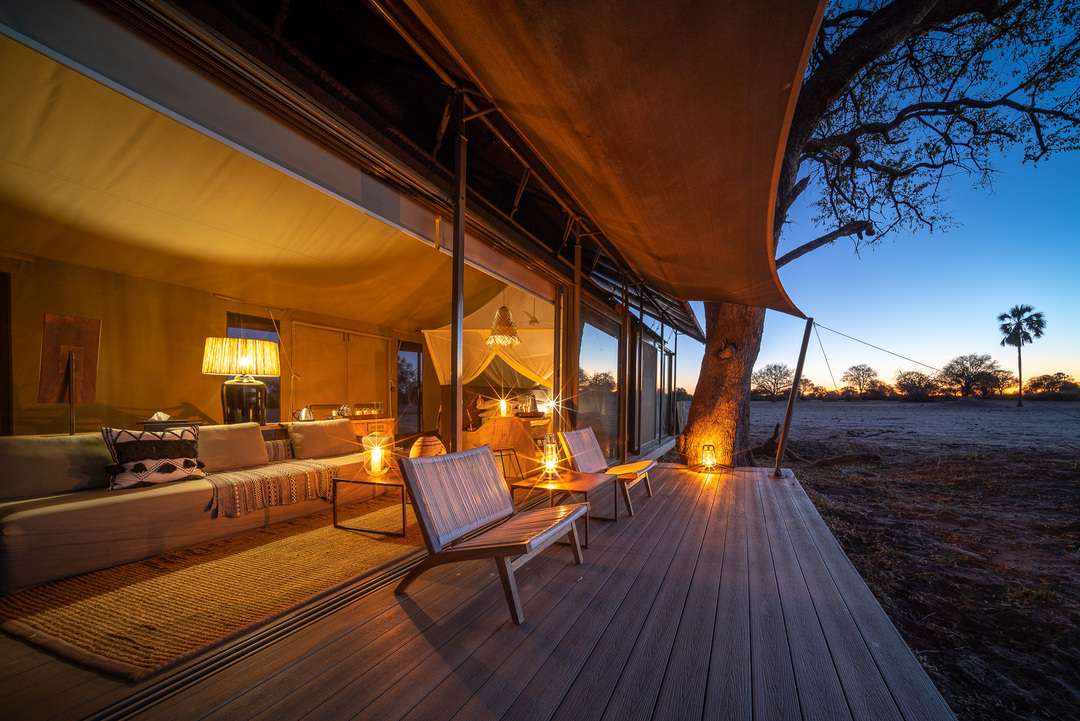 Closer to the action, from the sunken hide an afternoon siesta becomes a photographer's dream, capturing thirsty elephant matriarchs and their playful calves taking their share of the much-appreciated fresh water.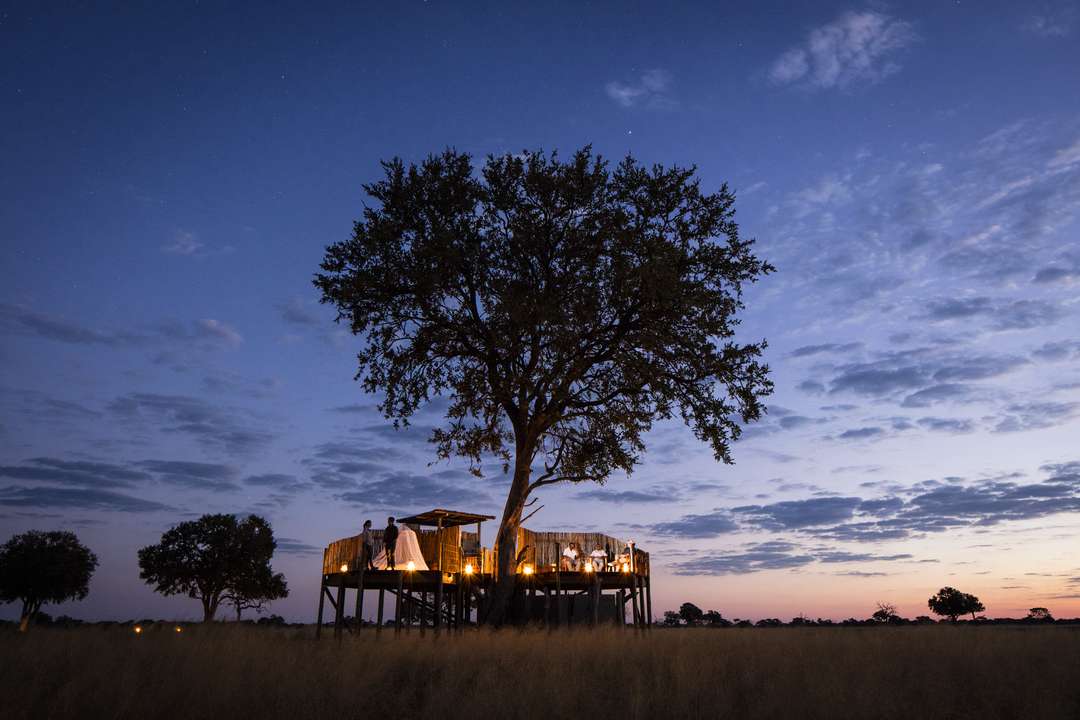 For a truly romantic and remote experience, spend a night at the Star Bed at Scott's Pan. This treetop sleep-out overlooks a productive waterhole, with the only other human nearby being your guide keeping you safe – from a respectful distance.
The legendary Ngamo Plains are just one of the stops on a game drive that may well produce more than 100 bird species, antelope specials including roan, sable and wildebeest, and of course, Hwange's majestic big cats, from lion to cheetah and leopard.
Linkwasha – Discover More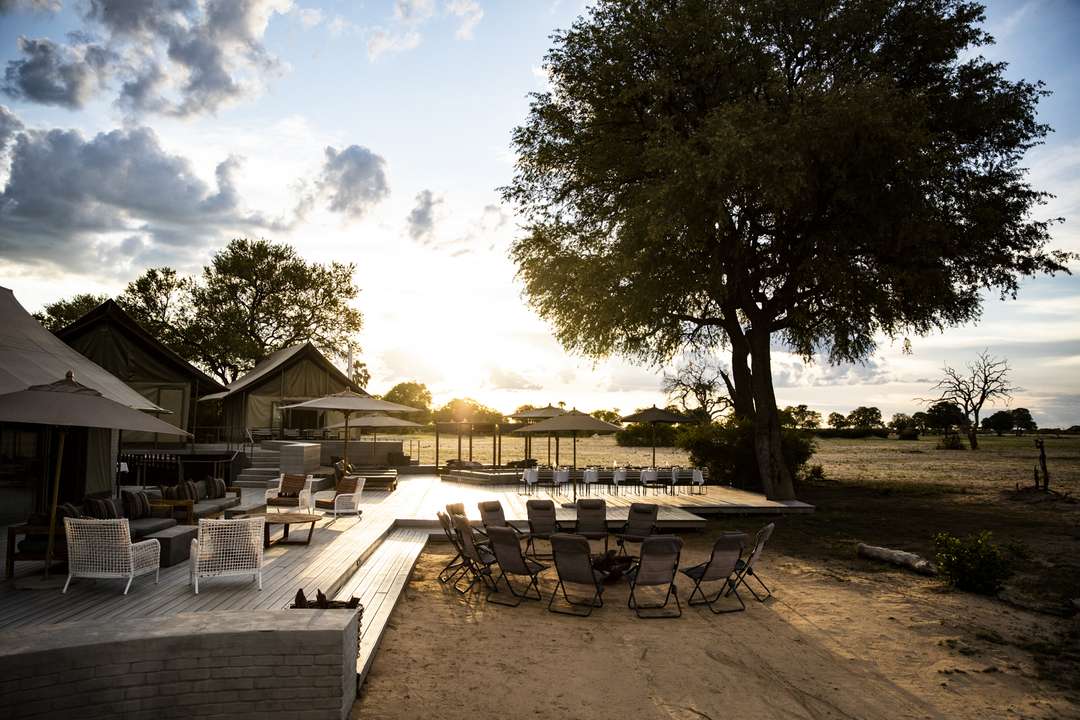 "You have to understand that there is a romance to Africa! You can see a sunset and believe you have witnessed the hand of God. You watch the slow lope of a lioness and forget to breathe. You marvel at the tripod of a giraffe bent to water. In Africa, there are iridescent blues on the wings of birds that you do not see anywhere else in nature. In Africa, in the midday heat, you can see blisters in the atmosphere. When you are in Africa, you feel primordial, rocked in the cradle of the world. "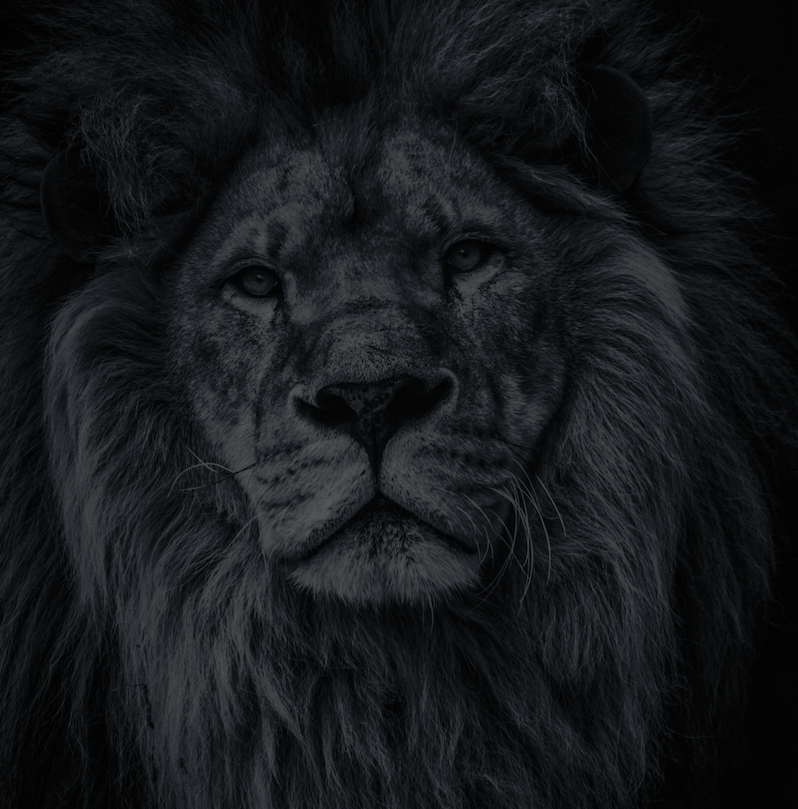 Let's plan your next journey
Ready?
When we say we're there every step of the way, we mean it, literally. From planning the perfect circuit, to private inter-camp transfers on Wilderness Air, and easing you through Customs. We're with you on the ground, at your side, 24-7, from start to finish. Ready to take the road less travelled? Contact our Travel Designers to plan an unforgettable journey.