Track desert-adapted black rhino on foot
One cannot simply spend just one night at Desert Rhino Camp (DRC) for one simple reason. You would miss out on the opportunity to go rhino tracking and while the camp itself is a beautiful respite from the harsh desert, you would miss out on the point of the Wilderness Safaris' operation here.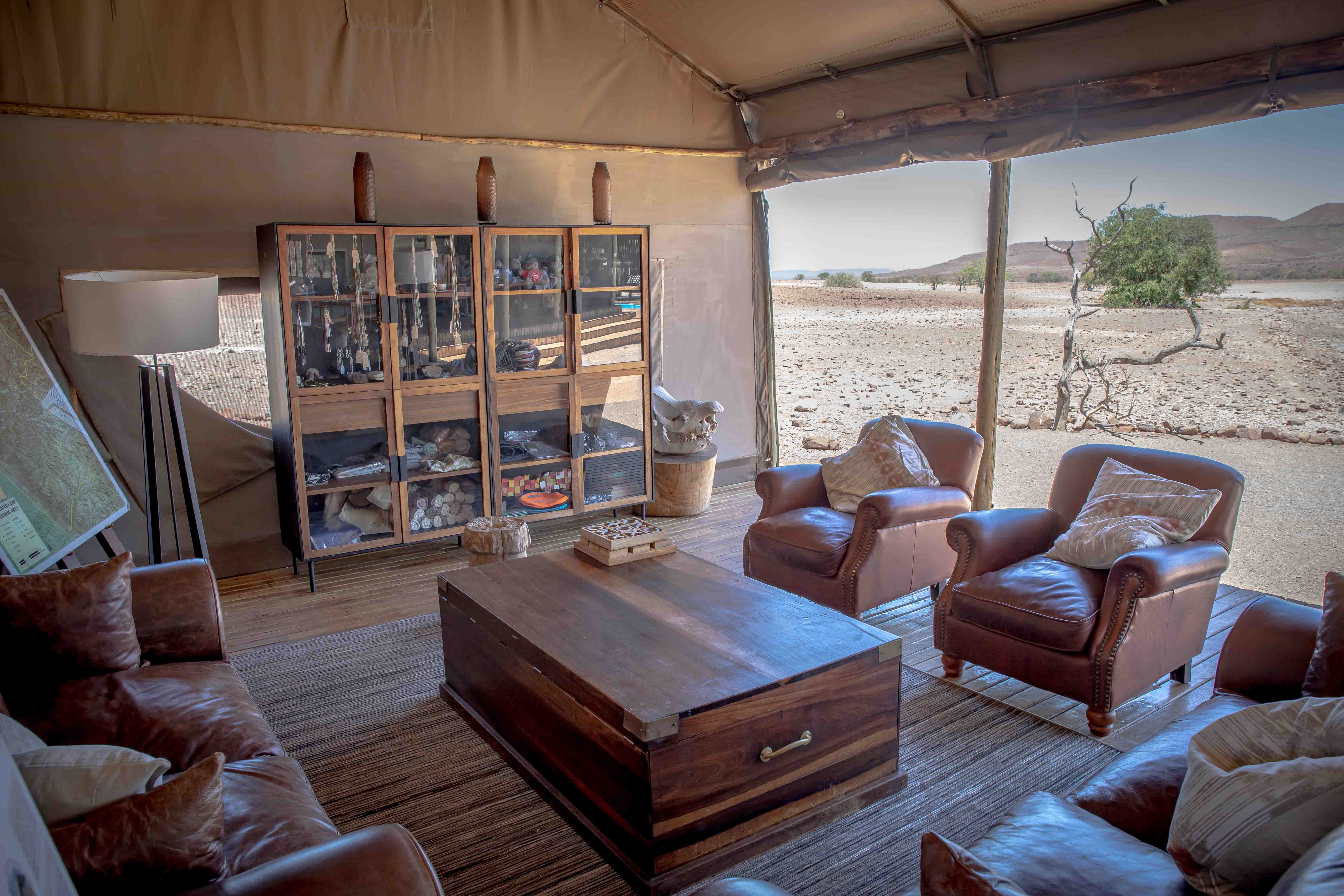 Desert-adapted black rhino are Critically Endangered and highly sought after from an experience point of view. The night before our excursion, Albertus, one of the four trackers employed by Save the Rhino Trust (SRT) gives us a brief on what to expect:
Learn about Wilderness' partnership with Save the Rhino Trust Namibia
We're to wear dark clothing that doesn't reflect light, no perfumes, walk in single file, no loud noises and we must disable GPS location settings on phones and cameras. There's also a limit to how long we can stay with the rhinos once found, according to how close or far we are from them.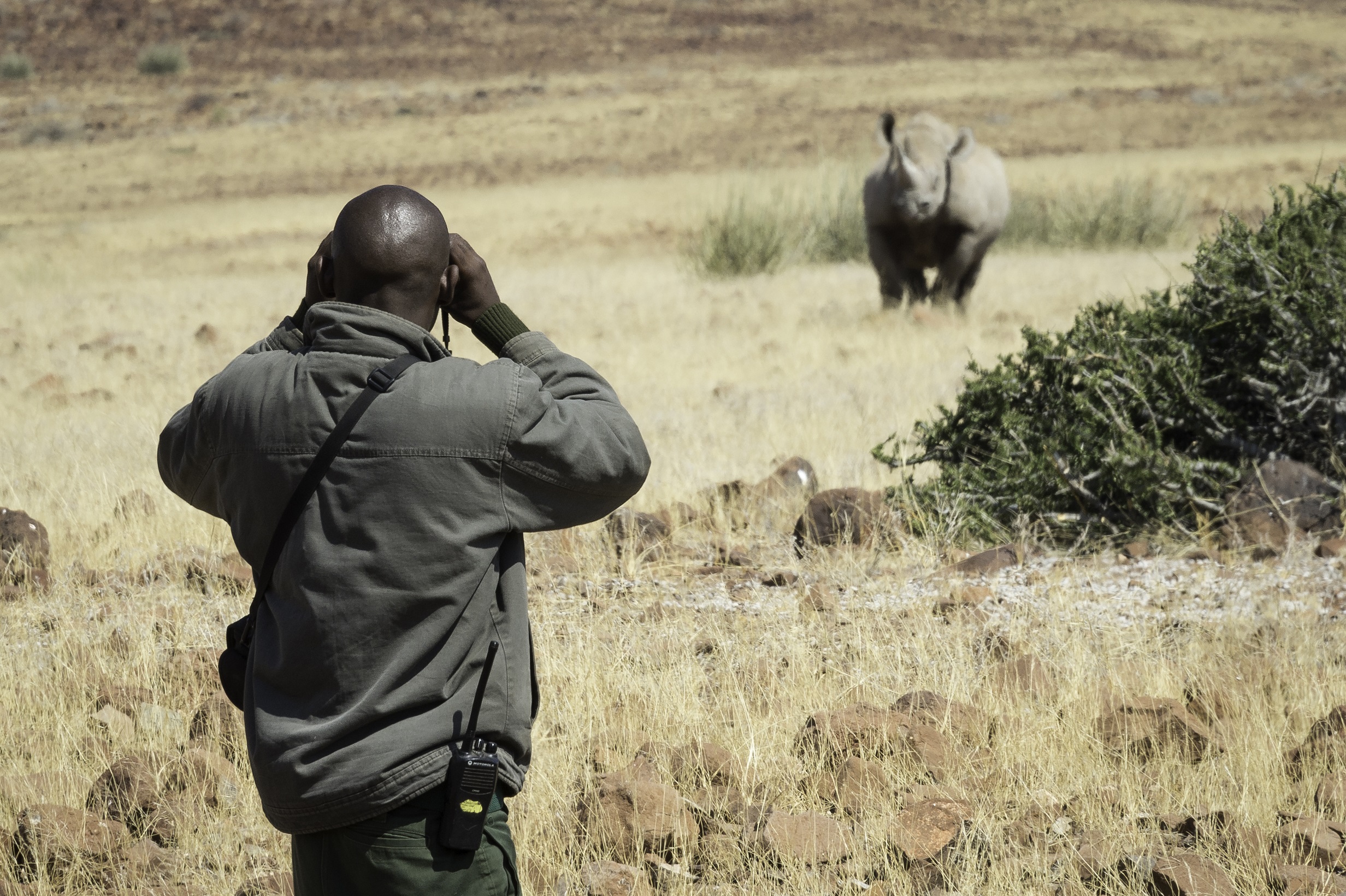 We're up at 5 am next morning and out by 6 am. After two hours of magical driving across the Welwitschia strewn desert as the sun rises, word comes from the trackers ahead of us that they have spotted fresh spoor . With haste we join them and soon we're out of the vehicle and following them on foot. Due to the wind blowing our scent away from the rhinos we are privileged to spend 30 minutes with them.
After an exciting morning walking with the trackers who successfully found the rhinos for us, we feel honoured to enjoy a welcome lunch break with these dedicated men.
Wilderness partnered with SRT in 2003 to open DRC, with a portion of the tourism revenue going back to SRT to help with operating costs. The camp creates a unique opportunity for tourists to join the trackers to search for the rhinos on foot, and is an excellent example of responsible tourism and seeing exactly what your contribution is funding. Nearly all the rhinos in this area are de-horned for their protection, and the team tries to find each rhino each month at least once.
Denzel, Albertus and Ismael impress upon us that the rhino belong to all of us in Namibia. They would like to encourage Namibians to become more involved and appeal for funding to provide more vehicles, equipment and feet on the ground. They urge us to report suspicious behaviour or SMS any information anonymously to 55555. The eyes in the local communities are extremely important in reporting unusual activities, and have led to many important arrests in the past few years.
Learn more about them here: www.savetherhinotrust.org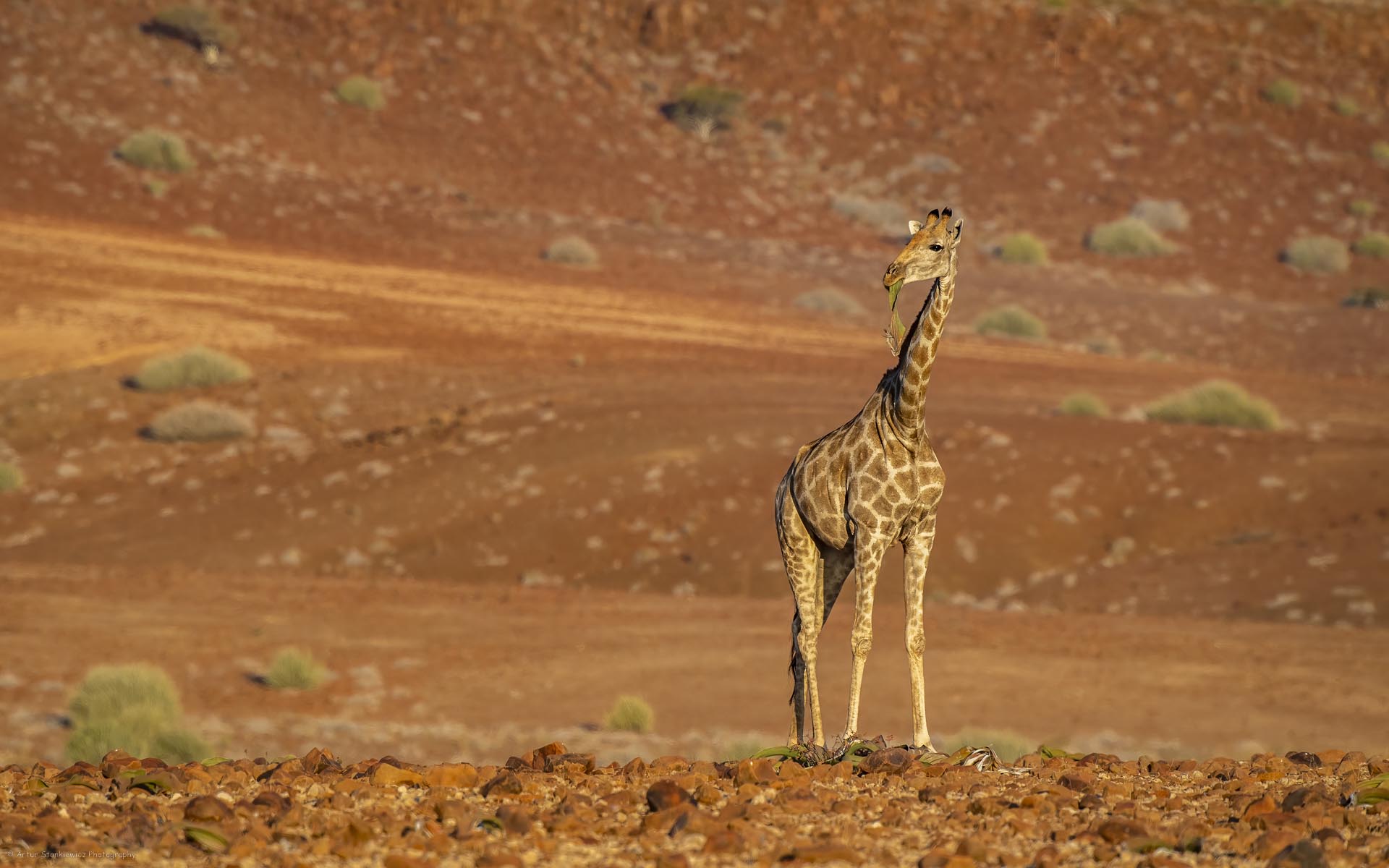 Explore the landscape and exotic flora
The Welwitschia is one of the most amazing plants on earth. The landscape is liberally scattered with them around DRC, and along the gravel plains where you search for the desert rhinos. The largest specimens of this plant in the Namib Desert have been estimated at 1500 to 2000 years old! The leaves are browsed by rhino, elephant, oryx and zebra which spit the fibrous parts out. Almost exclusively found in the Namib Desert, there is also a colony of these plants near Khorixas, as well as some very large specimens in southern Angola.
The ground is hard and rocky so take something soft to kneel on because you'll want to get down low for photographs. You might want a bean bag or tripod too for sunrise/sunset shots of these plants. I found a wide angle lens useful for capturing the plants in the context of their vast landscape. A macro lens is also good for close-ups of everything from the leaves, to the little red bugs that call the welwitschia plants home.
Meet the staff and enjoy their singing!
The staff of Desert Rhino Camp really seem to enjoy their work and make an excellent team. Nicole and Winnie sing while decorating the tables and are keen to share their knowledge of the area with guests. Together they make interesting cocktail combinations while manager Marichan is warm and welcoming, bringing her happy four month old baby to meet us one evening.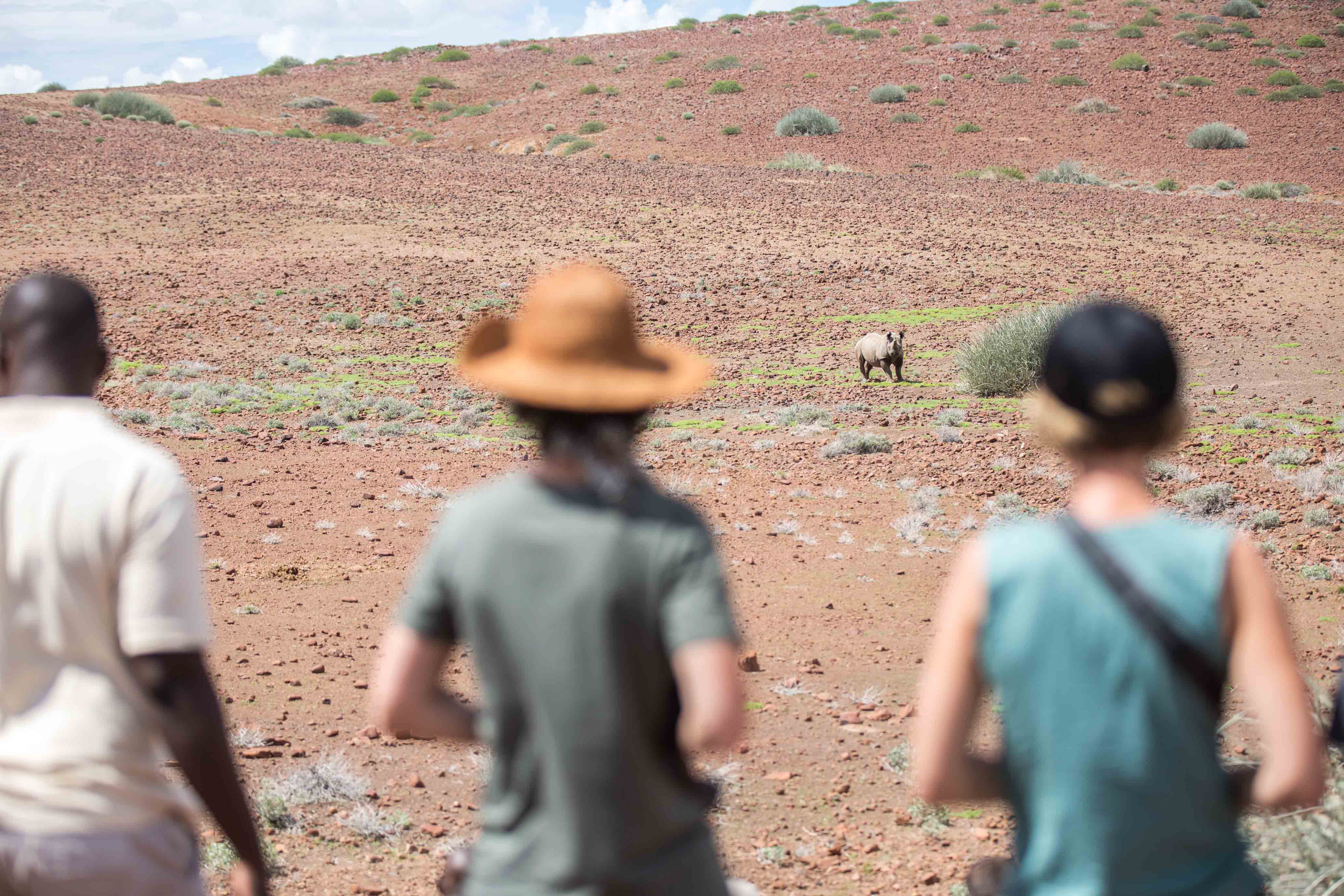 After dinner the pace steps up with the entire staff complement singing with great gusto, one delightful song after another, each member of the team getting a chance to be a soloist.
The next morning when we depart, the team gives us a final send off with a second moving rendition of their Desert Rhino song.
Soak up the remoteness (hyena/stars/cocktails/silence)
Sample the delicious daily cocktails concocted by the camp staff. You won't find two the same in any camp, as the staff invent them themselves. We tried Coffee Margaritas, and Dancing White Ladies, both of which can be recommended! But to know the ingredients you will have to visit the camp yourself to find out.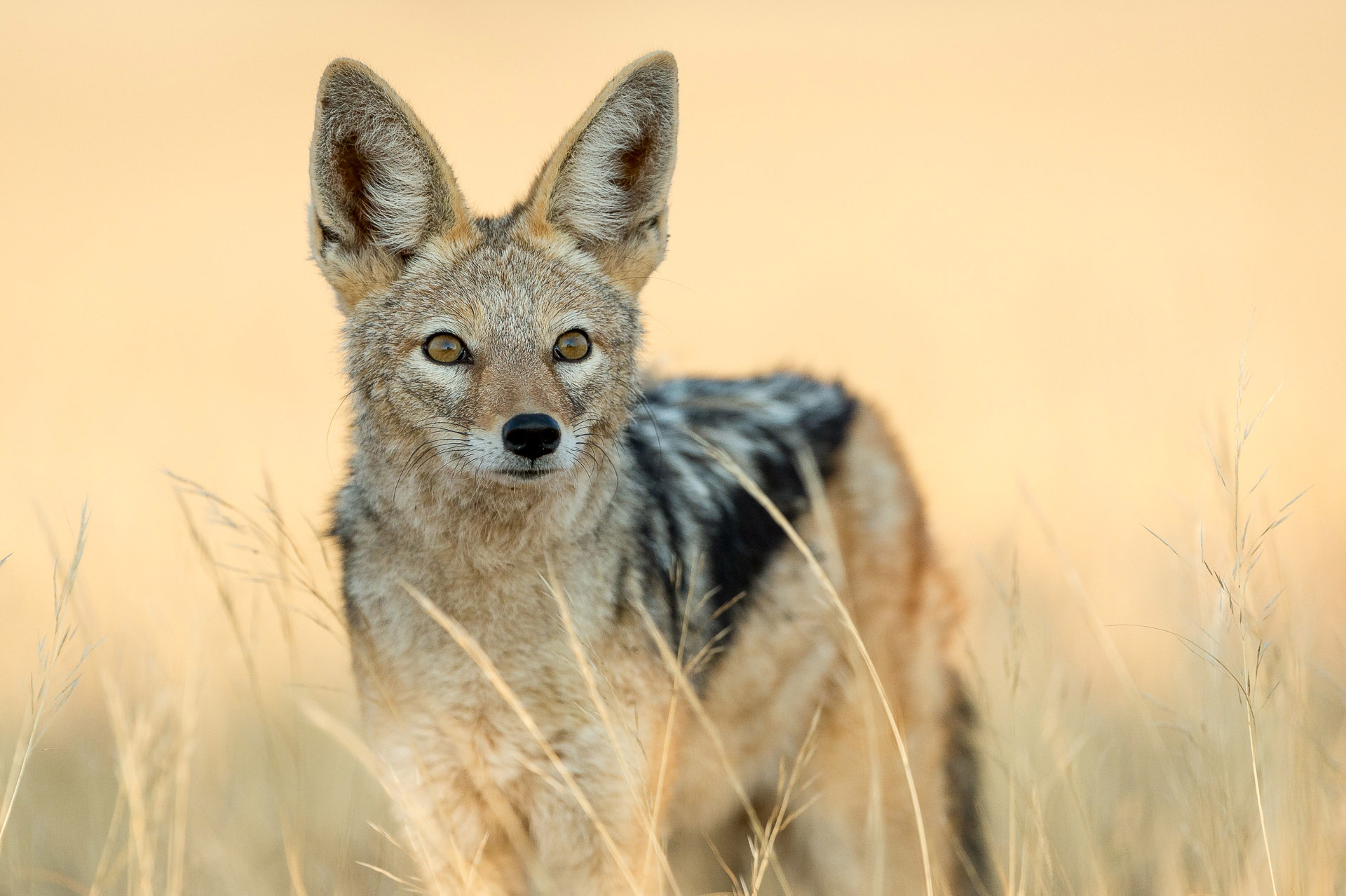 It's always in the silence of a place that you will feel the remoteness of your location and DRC is no exception. At night pause for a minute to gaze up at a scene so spectacular that it'll take your breath away.
Billions of stars light up the skies and you'll be able to wish upon a shooting star or two. The desert is one of the few places where the air is unpolluted enough to have this vast vista, so take a moment to appreciate your place in the universe!
Watch out for 'Friendly Frikkie', the resident hyaena. He's not threatening but after dark is his time. Of course there might be a desert lion or two around as well. The resident pride has been known to walk past the camp at night.
Make time to sit and gaze out over the desert at breakfast. We are continually 'doing' things when on a trip, but you'll only really soak up the atmosphere when you take time to just 'be'.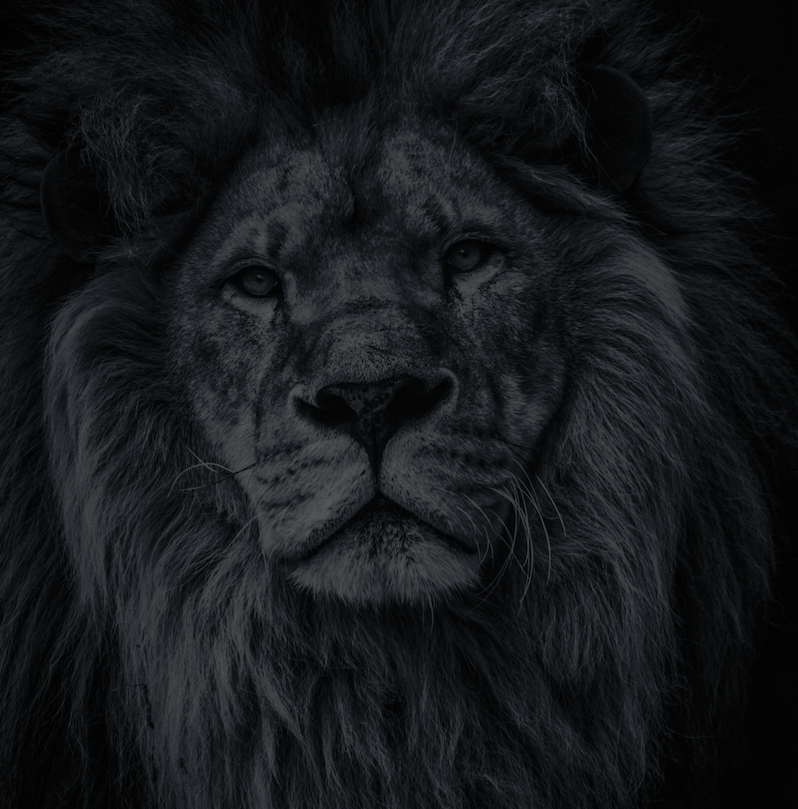 Let's plan your next journey
Ready?
When we say we're there every step of the way, we mean it, literally. From planning the perfect circuit, to private inter-camp transfers on Wilderness Air, and easing you through Customs. We're with you on the ground, at your side, 24-7, from start to finish. Ready to take the road less travelled? Contact our Travel Designers to plan an unforgettable journey.