Since its inception in 1997, Wilderness Safaris DumaTau has been a guest favourite, and rightly so. And that is why we are thrilled to be able to share the new DumaTau Camp, with additional features to highlight the remarkable Linyanti Wildlife Reserve, while still holding true to its roots as a conservation corridor and a safari sanctuary for guests.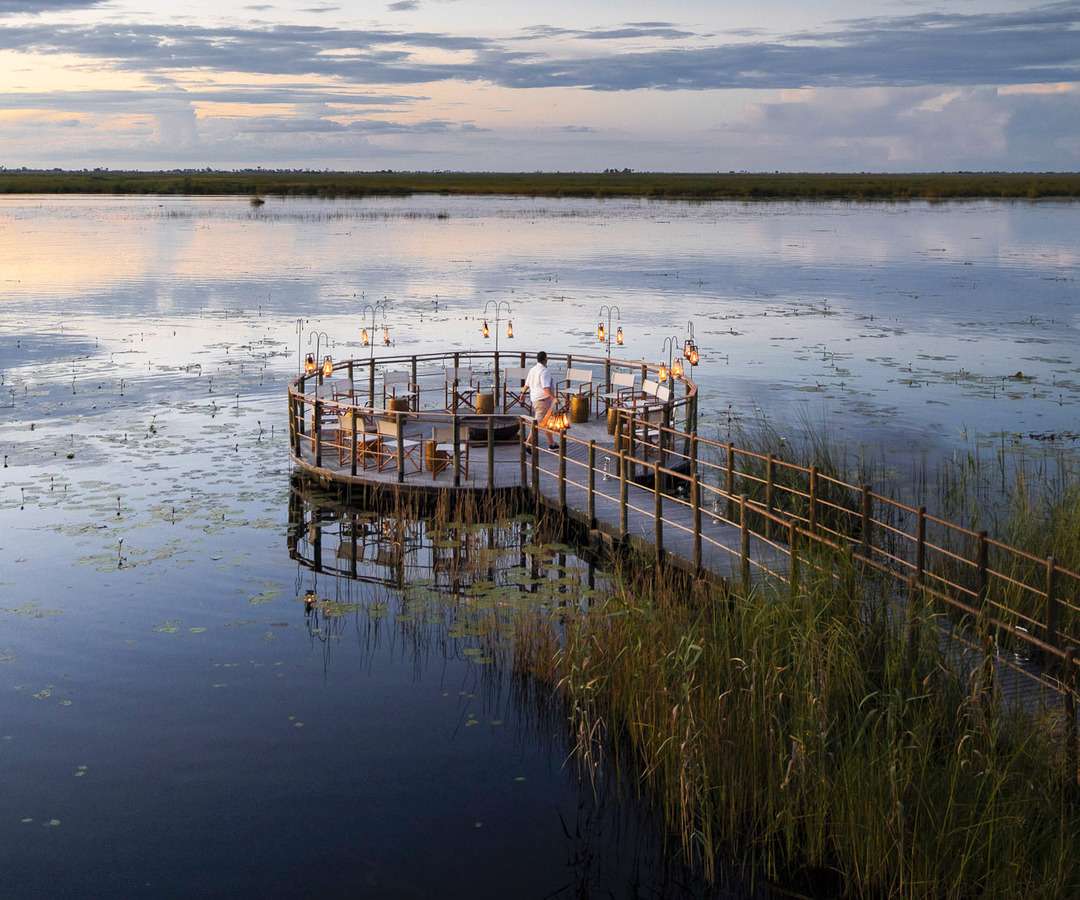 But we didn't stop there, we have also added on a new camp in the area – Little DumaTau; with all the luxury of DumaTau but just four tented suites, it's the perfect site for small groups, in an idyllically intimate setting.
What Makes DumaTau Special?
DumaTau is situated between two elephant 'corridors'. The Linyanti Wildlife Reserve has one of the world's largest elephant meta-herds, and with the many other species passing through seasonally, requires sensitive conservation initiatives that contribute to the sustainability of wildlife, as well as the area itself.
"The Linyanti Wildlife Reserve is a must-see spectacle, filled with varied habitats, diverse wildlife and wonderful scenery "
It is in the Linyanti that the Great Rift Valley is most evident in Botswana. The river system that runs between Namibia and Botswana (known as the Kwando, the Linyanti or the Chobe, depending on location) is affected by its fault lines, where the Linyanti Fault causes a dramatic change in the direction of the water flow. Here the Kwando turns east at an angle of almost 90° and becomes the Linyanti River. This shift is clearly visible from the air and the contrast between the wetlands associated with the Linyanti and Kwando, and the dense riverine and dry mopane woodland to the south is very apparent.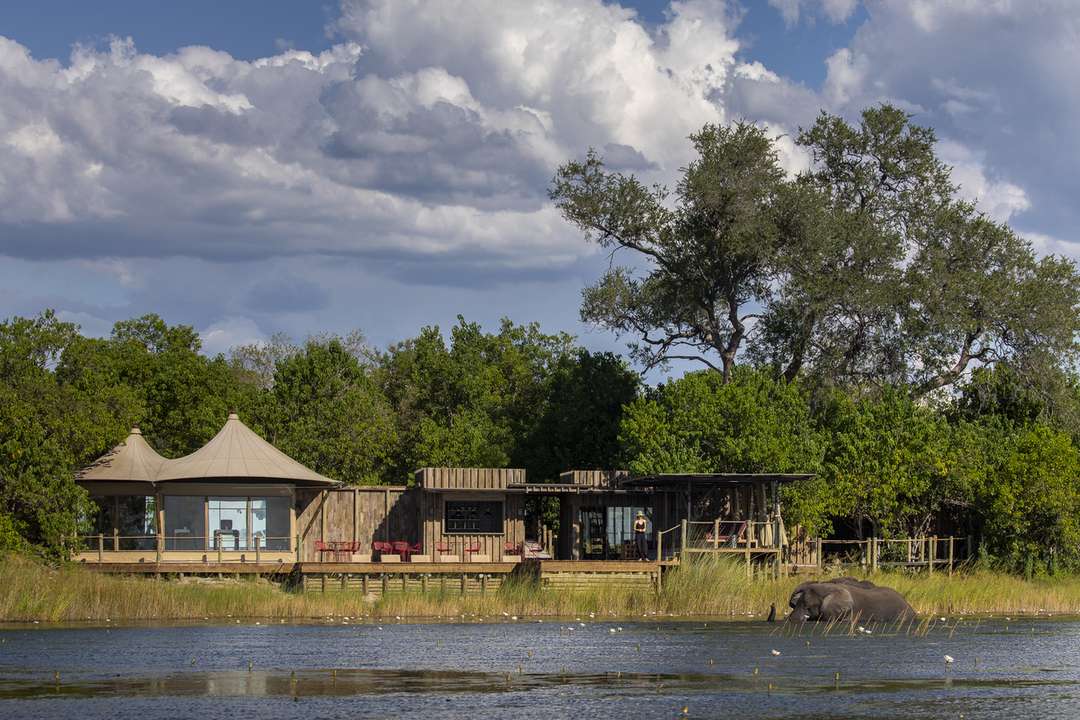 There are three main features of the Linyanti Wildlife Reserve: the Linyanti River, the woodlands of the interior and the well-known Savuti Channel, famous as a sporadic and unusual watercourse. The many varied habitats within these areas – marshes, waterways, riverine forests, dry woodlands and grasslands – and the prolific and diverse wildlife and spectacular scenery together form a wonderful contrast to the Okavango.
Little DumaTau, For the Family
Neighbouring DumaTau is Little DumaTau, a completely new and intimate camp designed with family in mind. Little DumaTau shares the centrally situated Osprey Retreat with the main camp, giving you access to the gym, pool and deli areas, but has its own smaller main area, allowing you to enjoy the seclusion of a private experience. It is a haven of sophisticated elegance. With just four supremely spacious guest suites, each with its own lounge, private plunge pool, and bathroom with indoor and outdoor showers, this intimate camp promises an exceptional Linyanti safari experience.
DumaTau, Designed With Purpose
Sustainability and celebrating its sense of purpose is key to the DumaTau story – the simple yet characterful and nostalgic timber cladding effect on the main area buildings has been achieved through repurposing wooden decking from the old DumaTau Camp. In keeping with our ethos of avoiding waste, even the pallets used to transport items to the new camp have been pressed into service as cladding.
The décor and artwork in the main areas and suites highlight the Linyanti as well as the fauna and flora found in the area. The library is full of amazing learnings… from simply opening a drawer to take a look at a pressing of a water lily – the pink of which can be seen throughout the camp and rooms – to investigating the difference between a male and female elephant footprint, each drawer holds a new wonder and new exploration.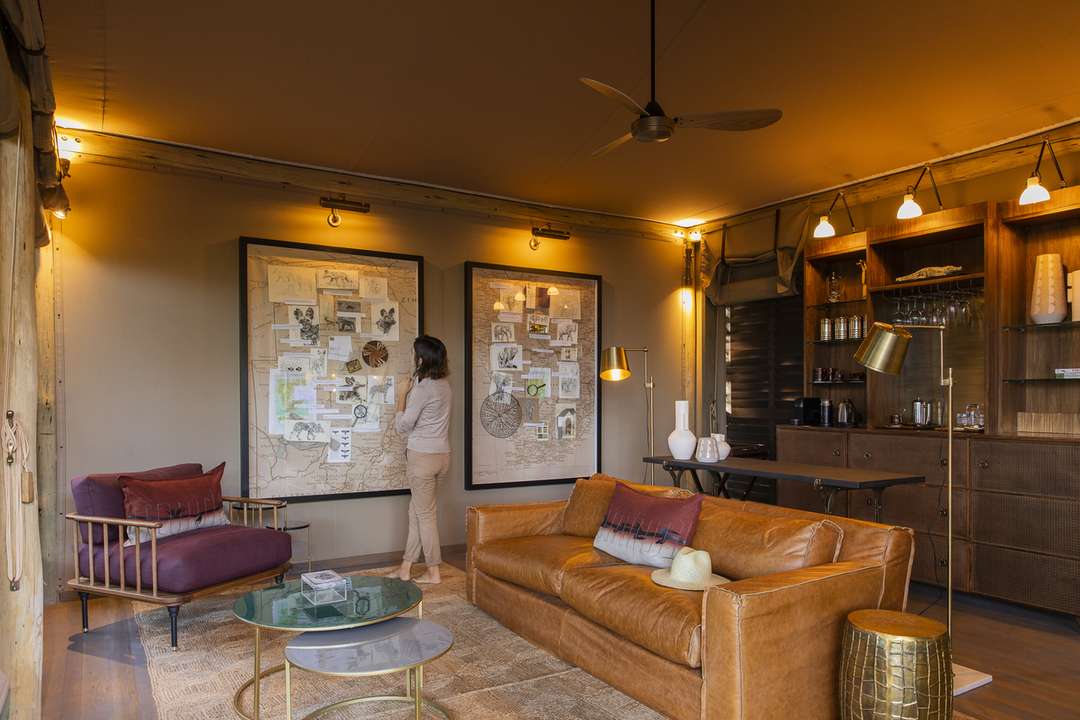 And if you simply want to sit back and relax, take a seat at our hand-crafted bar. The tiles surrounding the bar are all hand-painted and tell stories about the Linyanti Wildlife Reserve – best enjoyed with a chilled gin and tonic in hand.
DumaTau Impact: Conservation of a Critical Conservation Corridor
The Linyanti Wildlife Reserve is part of the Kavango-Zambezi Transfrontier Conservation Area (KAZA-TFCA), which covers 500 000 km2. The Linyanti is a crucial component and important corridor in the biodiversity conservation of the KAZA-TFCA that allows for the uninhibited movement of wildlife between five African countries.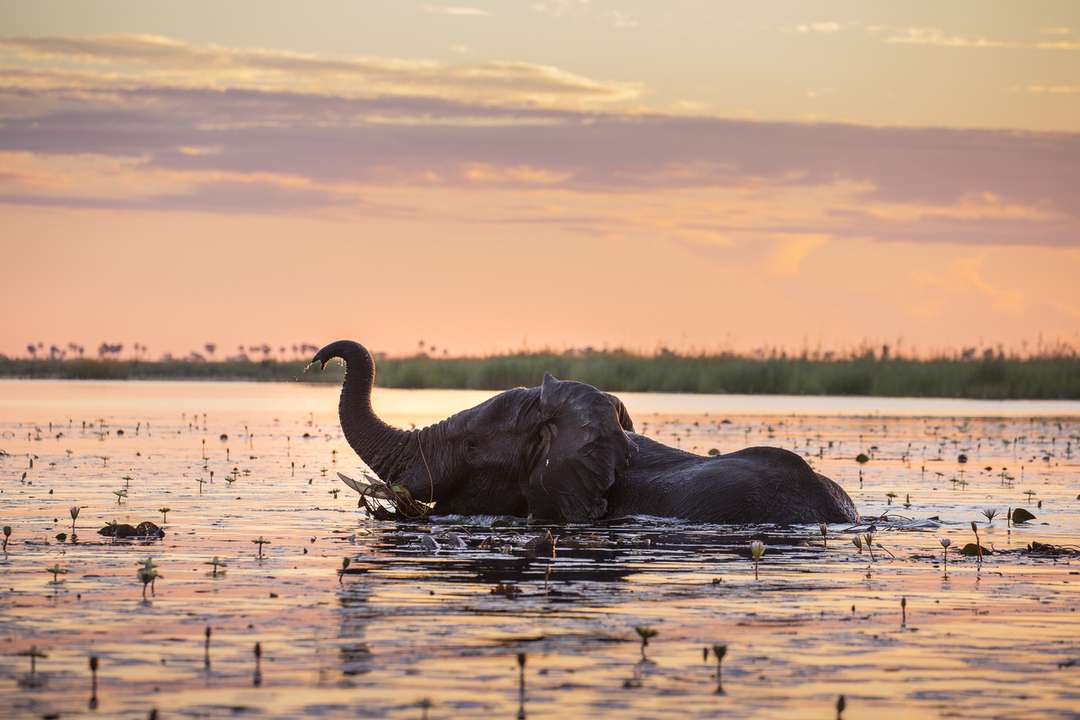 Protecting large, connected, natural tracts of wilderness such as the Linyanti Wildlife Reserve is vital to maintain ecosystem balance – especially for species such as African elephant and wild dog that traverse large home ranges, as well as for habitat connoisseurs such as roan and sable antelope. These species all need extensive undisturbed areas to support viable, self-sustaining populations.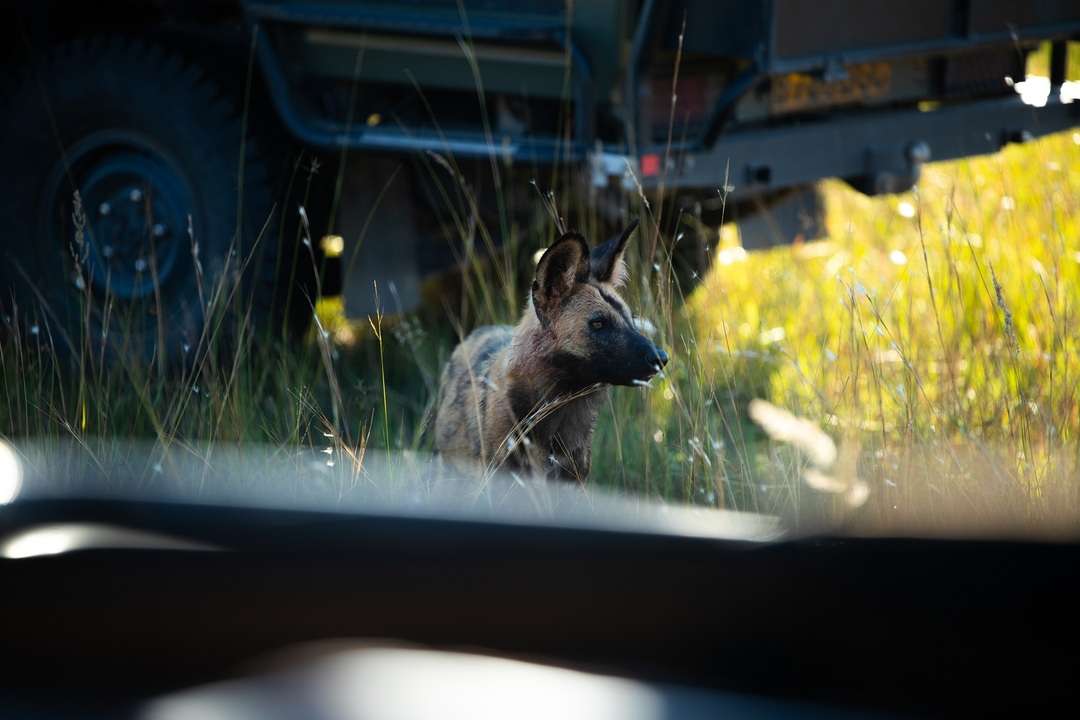 The Linyanti is a stronghold for African wild dog – amongst Africa's most endangered large carnivores – as well as for African elephant. Many raptor species, like vultures and large eagles, flourish here, owing to the Linyanti's healthy ecosystem functioning. Pure wilderness is an intricate food web where many species play a role and all need to be conserved, not just the most iconic. Read more here.
DumaTau Wellness, at the Osprey Retreat
Guests strolling to the Osprey Retreat will discover not only a pergola with daybeds, a Safari Boutique (showcasing locally sourced curios and produce – don't miss the jams made fresh in our kitchen) and deli space with a delicious and mindful menu of treats and snacks, but a welcoming "cool deck" with in-pool loungers.
"Simply spending time at DumaTau can be very relaxing thanks to the slower pace, the outstanding natural beauty of the Linyanti and the opportunity to fall into step with the rhythms of nature "
The retreat is also the ideal space for self-led wellness, where you can make use of state-of-the-art gym equipment or practice your yoga poses on your private pool deck overlooking the lagoon. Don't forget to round off all this with a signature spa treatment from one of our in-camp massage therapists.
Discover serenity here.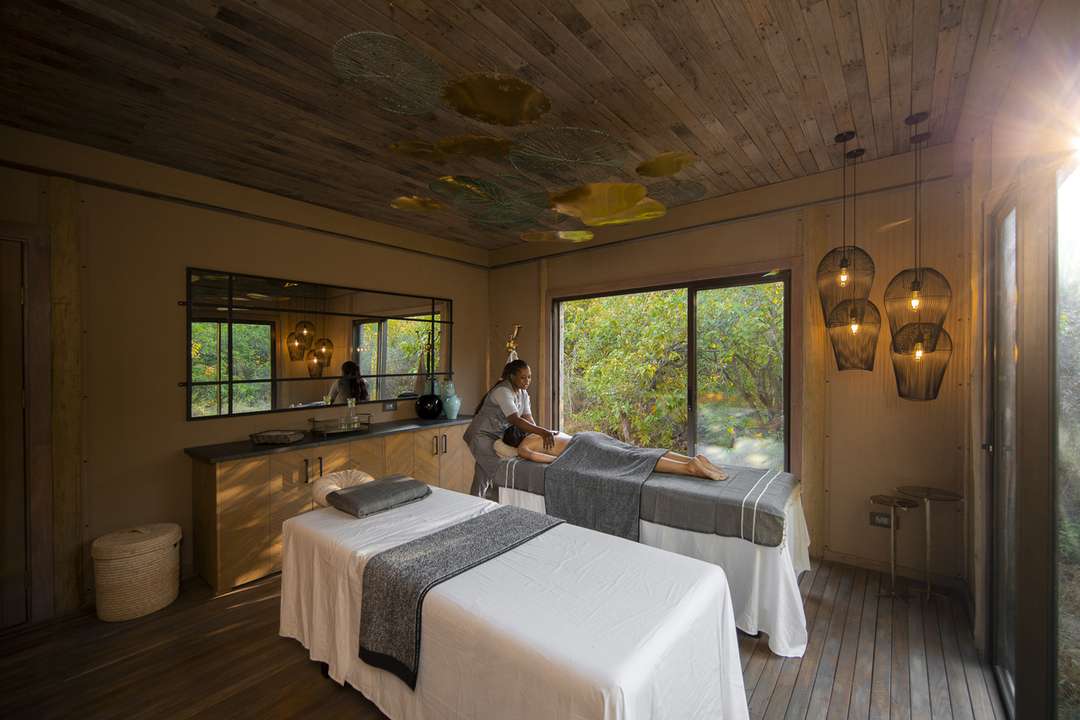 DumaTau Sustainability
Now in its third iteration, DumaTau has greatly enhanced its operations to ensure continued efforts in minimising any negative impact on the environment. This includes the installation of Wilderness Safaris' largest 100% solar powered system to date, with an output of 175 kW made up of 480 x 400W solar panels using Tesla lithium-ion technology.
Without compromising guest comfort, a large focus has been placed on power efficiency. All water is heated via solar geysers, with smart architecture utilising natural airflow to cool the rooms. This is supplemented by spot cooling in all rooms and guest areas using inverter units. To ensure that water usage remains as efficient as possible, a new low-pressure filtration system, as well as a Natura filtration system for all drinking water, have been installed. This is in addition to water-efficient shower heads, tap aerators and efficient cisterns used throughout the camp.
Partnership with Ecoexist
Our "foodprint" is a measure of the environmental impact we have to sustain our diet, and the effect thereof on total global greenhouse emissions. This is evaluated by the amount of land required and the amount of carbon dioxide produced during production, transportation and waste management. Wilderness Safaris endeavours to use food that is locally grown in a sustainable manner, minimising our foodprint substantially. Locally farmed and produced products are sourced wherever possible. We use mostly local items on camp menus, with all our products coming from southern Africa.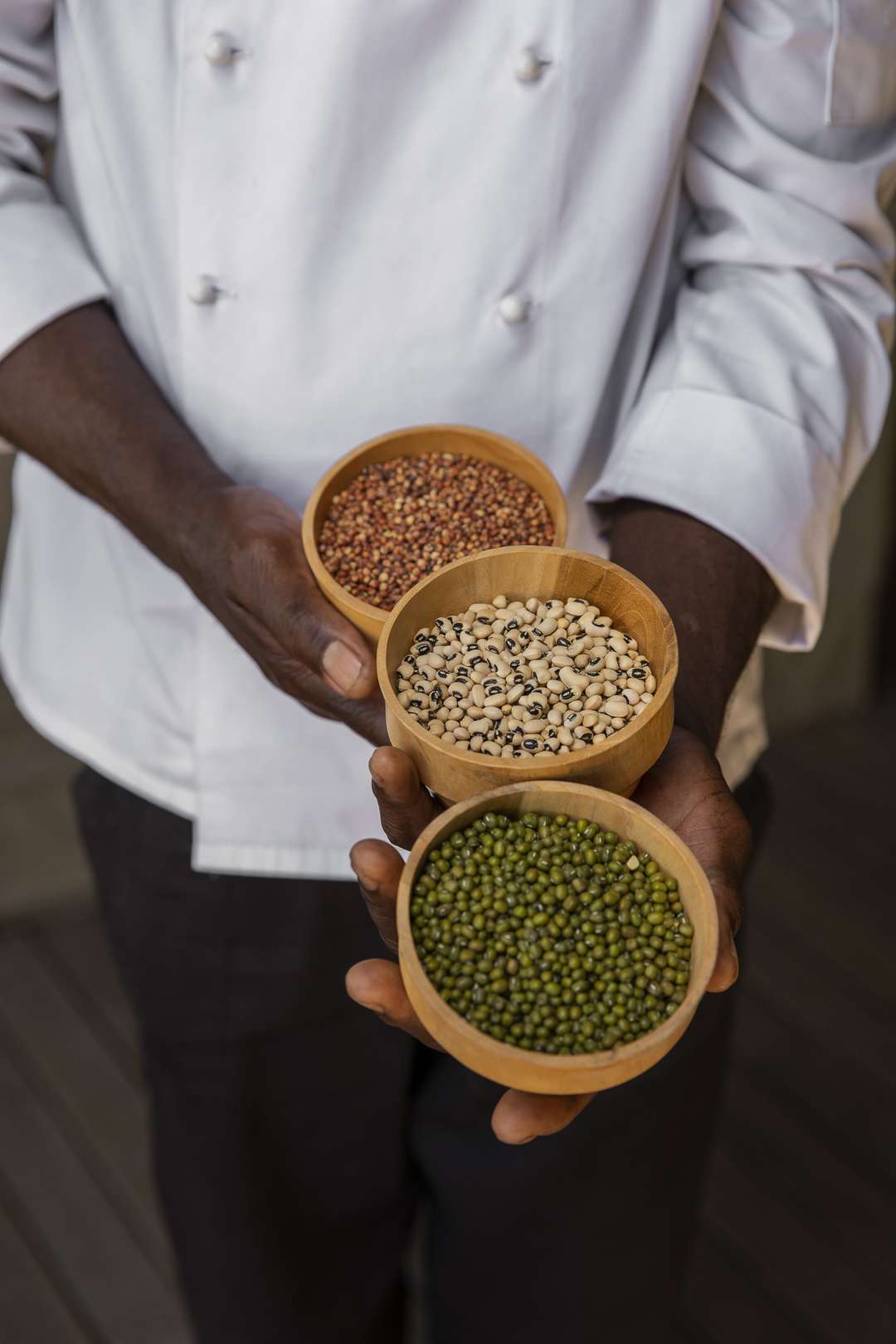 In order to meet this goal and aid in the conservation of elephants, Wilderness Safaris has partnered with the Ecoexist Trust – a small not-for-profit NGO that supports the lives and livelihoods of local farmers who share space with elephants. Ecoexist takes a holistic approach to find practical, affordable, and lasting ways for people and elephants to coexist, ultimately, providing a model for conservation.
Ecoexist assists local farmers by improving agricultural techniques, including short cycle crops and conservation agriculture. Good land use planning is coupled with more effective methods of protecting fields from elephants, and encouraging farmers to practice more sustainable, climate-smart or no-till agriculture to increase food security.
By assisting farmers under the Ecoexist umbrella in providing a market for their produce, we are also indirectly aiding in the conservation of Botswana's elephants.
Book your life-changing journey to DumaTau Now!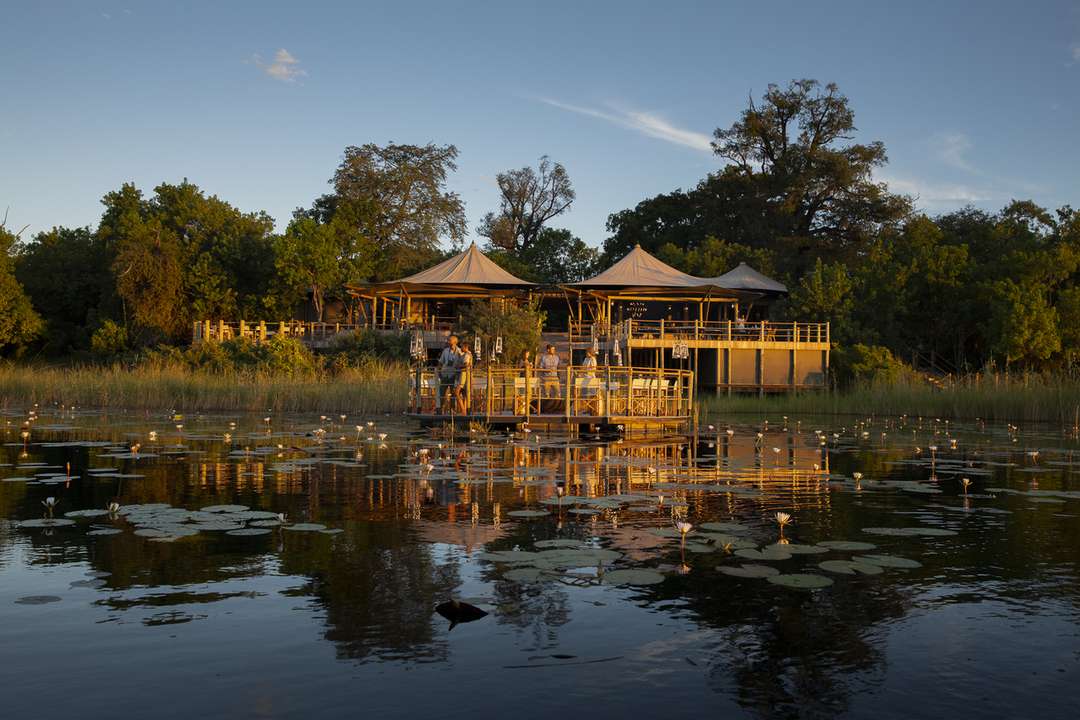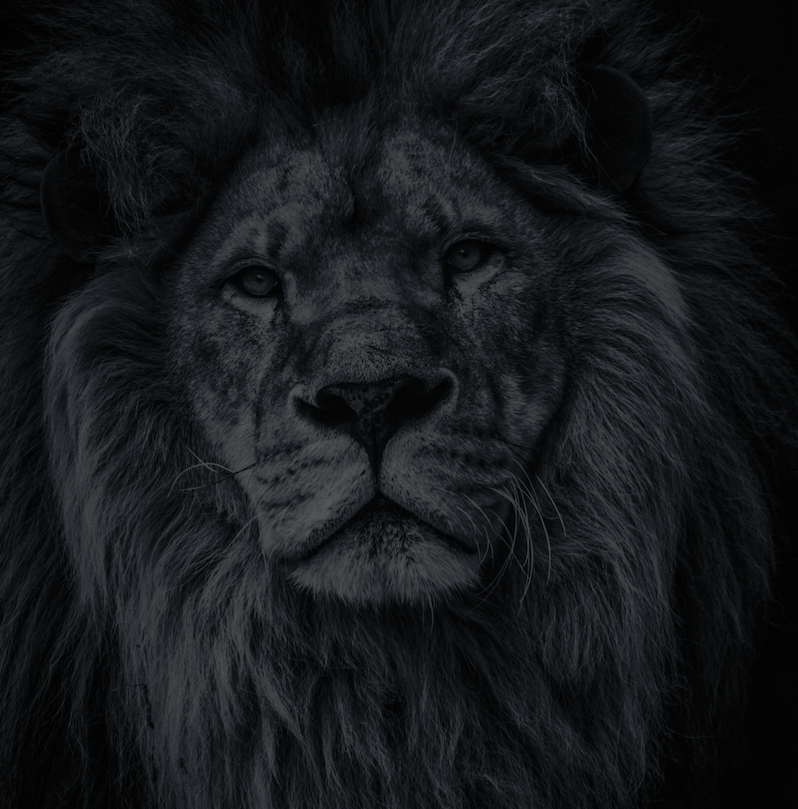 Let's plan your next journey
Ready?
When we say we're there every step of the way, we mean it, literally. From planning the perfect circuit, to private inter-camp transfers on Wilderness Air, and easing you through Customs. We're with you on the ground, at your side, 24-7, from start to finish. Ready to take the road less travelled? Contact our Travel Designers to plan an unforgettable journey.