Shipwrecks and whale skeletons are not your average safari attractions. But then there's nothing average about Wilderness Safaris' Hoanib Skeleton Coast Camp, a fly-in destination in northern Namibia that's otherworldly and unforgettable.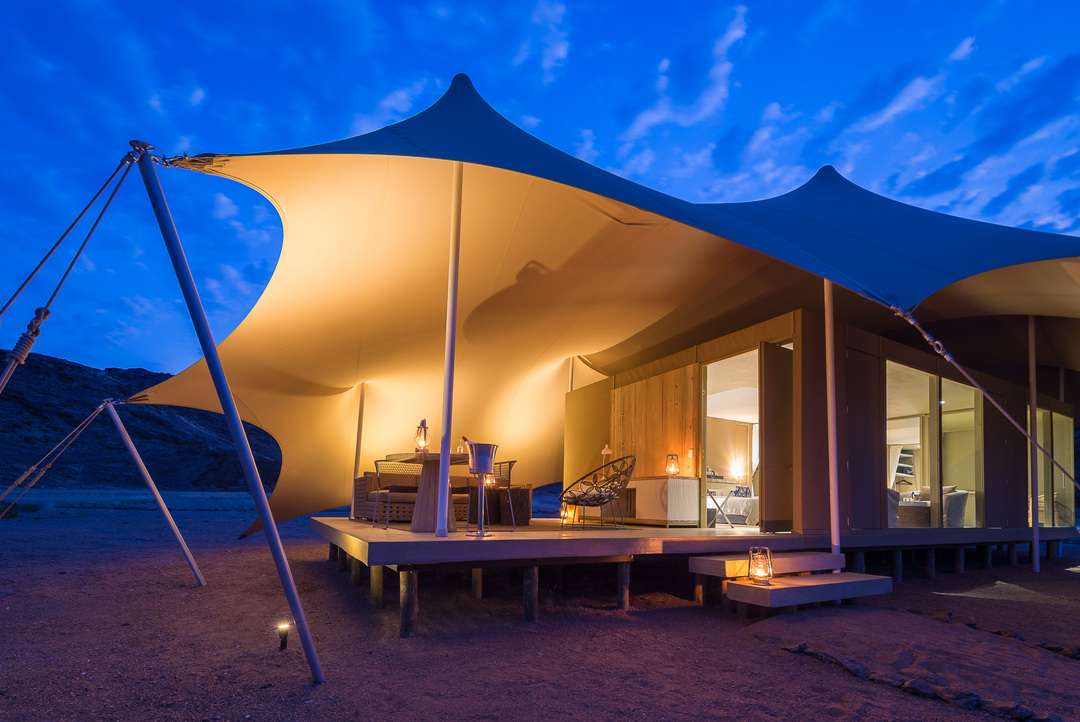 Set amidst rust-coloured crags in the Namib Desert's famed Kaokoveld , the camp's pale olive luxury tents peak like whitecaps on an ocean of sand. The landscape may seem empty at first, but soon reveals itself to be full of life, home to desert-adapted elephant and lion, giraffe, leopard, cheetah, hyaena, black rhino, black-backed jackal, oryx, a host of various birds, and many other creatures. Hoanib prides itself on its on-site research centre, where monitoring, tracking, and other studies of elephant, lion, and brown hyaena are ongoing – a source of enrichment for guests.
Morning and afternoon game drives explore the nearly always dry Hoanib riverbed, in the search for desert-adapted wildlife. Nature walks among the dunes introduce guests to some of the area's smaller denizens, and to plants such as the ancient welwitschia, as well as to remnants of the Strandloper – beachcomber – way of life from centuries ago. Local birding yields many rewards, including raptor species and the occasional flamingo.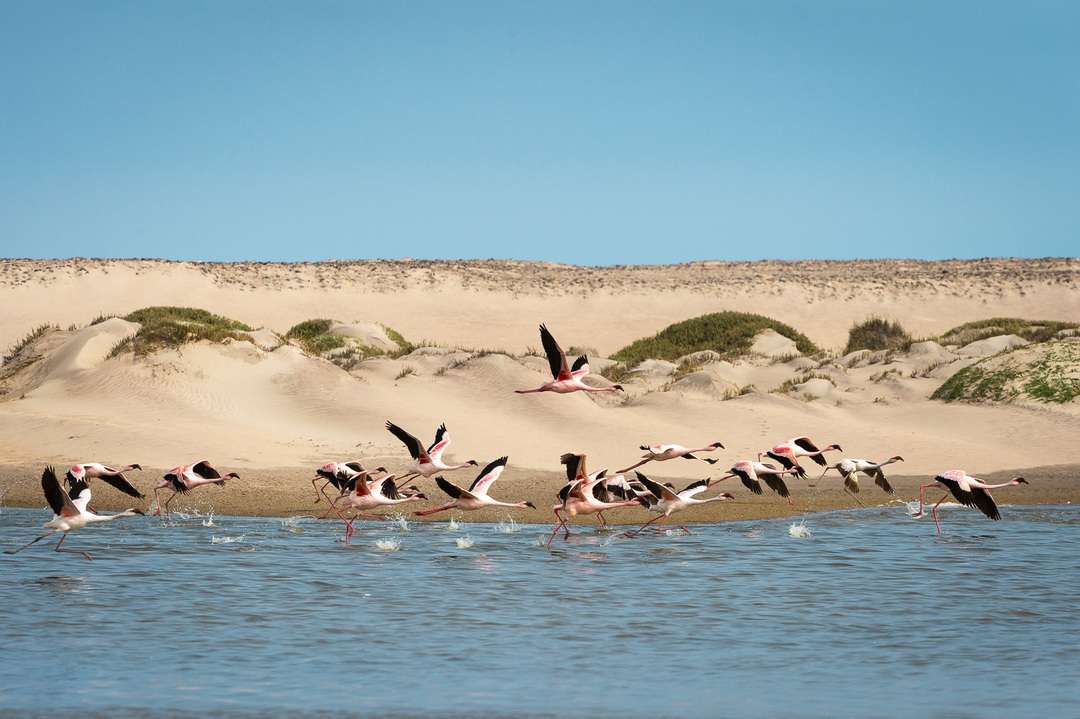 The highlight of a stay at Hoanib, though, is the four-hour 4X4 drive to the coast, across the wild Hoanib River floodplain and rolling dunes to the frigid Atlantic, where the cold Benguela current collides with the warmer desert and generates the region's famed fog. Passing through the Skeleton Coast National Park, stopping at an often wildlife-rich oasis en route, you reach the windswept shore. There awaits a fascinating and quaint museum celebrating the area's fauna, flora and wrecks, as well as Cape fur seal colonies and bleached bones on an endlessly crashing shoreline – an eerily enchanting panorama.. Yours to explore before, weather permitting, a short flight takes you back to camp – offering a nearly infinite view of a landscape like no other.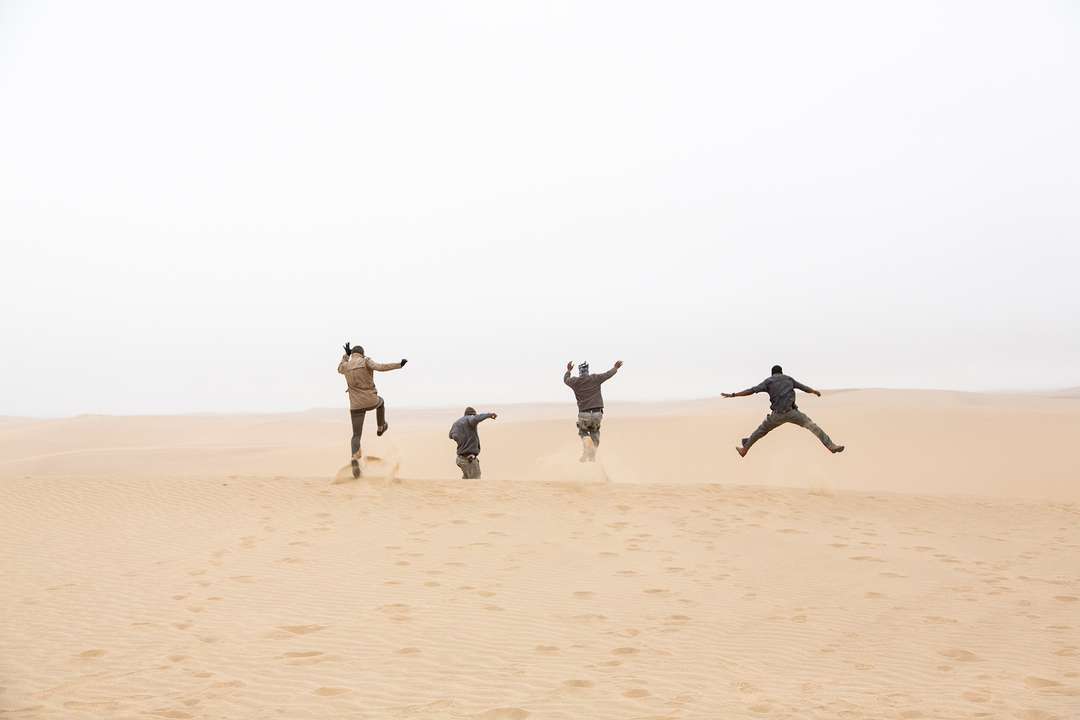 Wilderness Safaris' Munya Maposa, Hoanib Skeleton Coast General Manager; Clement Lawrence, Sales and Marketing Manager, Wilderness Safaris Namibia and former Hoanib Skeleton Coast Manager and Guide; and Max Bezuidenhout, Hoanib Skeleton Coast Head Guide, share their appreciation of this exceptional place: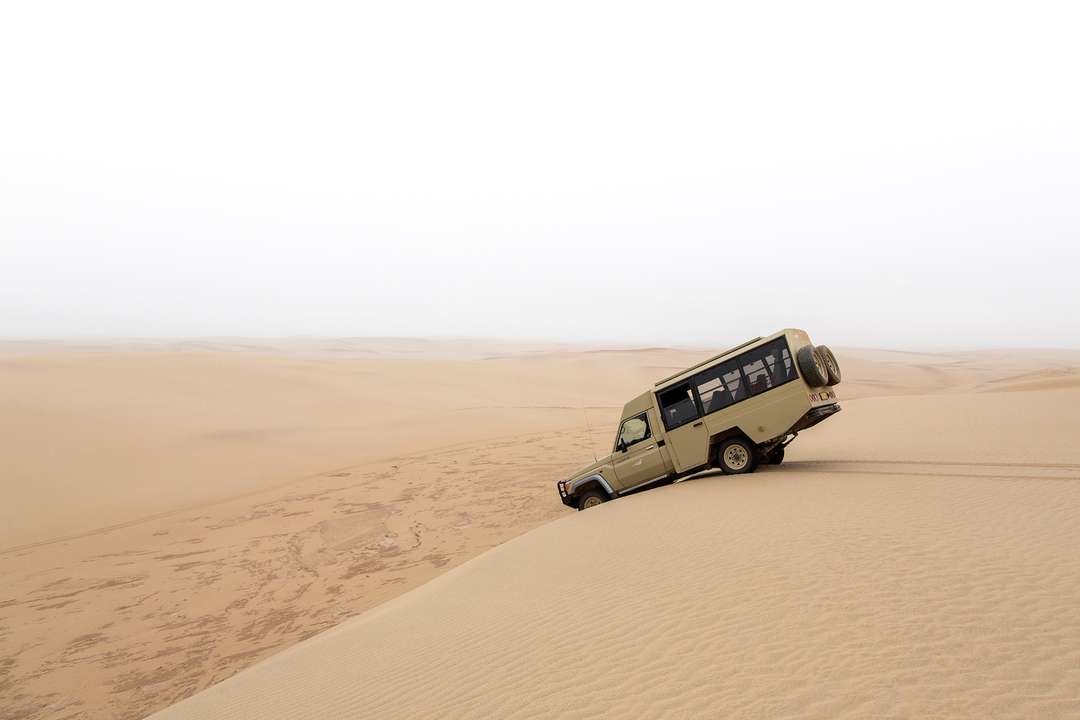 What makes Hoanib Skeleton Coast special? What are the activities/services offered at Hoanib, and what are the highlights of a stay there, the aspects that guests really seem to love?
(Clement) The camp is located in a rugged outlands bordering the Skeleton Coast National Park near the banks of the Hoanib River. Its location holds many secrets, including unexpected wildlife wandering along the riverbed. The best experience is the drive from the camp to the coast. It offers incredible changes of scenery, starting off with an almost eerie, foggy morning drive through the larger ana trees, spotting the odd giraffe or desert elephant. As the weather clears, you find yourself on the floodplains, where thick salt bushes prevail; there you might spot more rarely seen wildlife, like caracal or honey badger, if luck is on your side. A tea stop on a dune looking over the sand sea is the perfect break before you make it to the coast itself. Only once there can you understand the coast's harshness; its rocky beaches and gusty winds feel like a different planet from where you started off that morning. Guests are spoilt with an amazing lunch and cold glass of wine on the beach, absorbing the welcome sunlight as the day warms up. To finish off the day we take guests on a short scenic flight back to camp, giving them a bird's-eye view of what they've just experienced.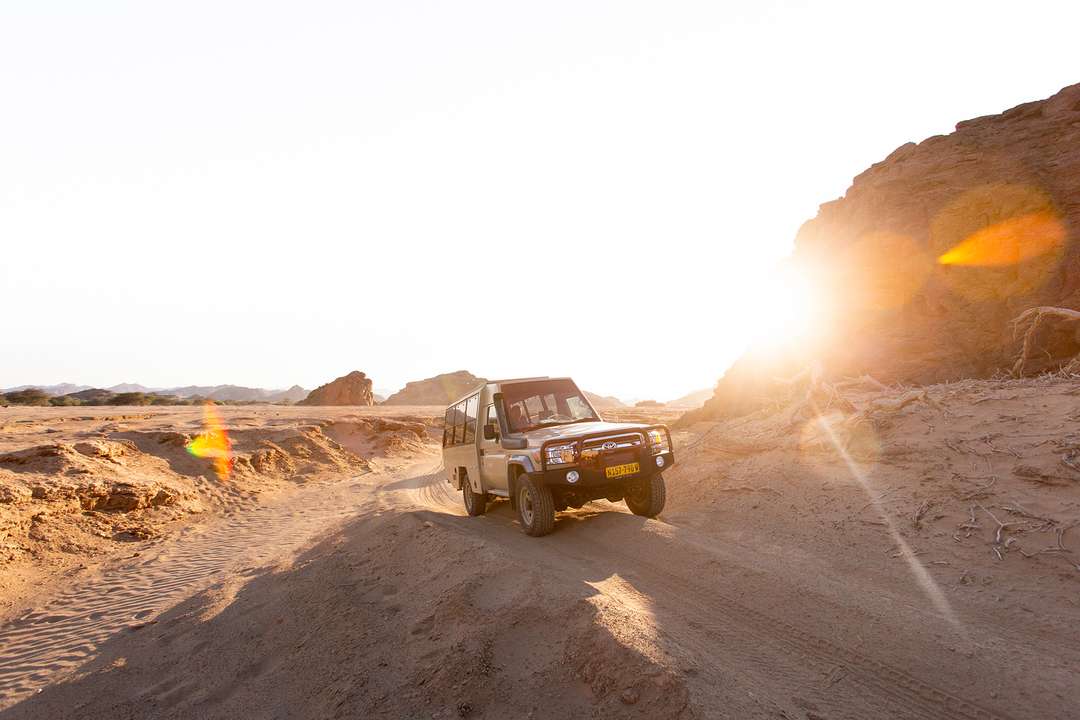 (Munya) Hoanib is special because of the scenery that surrounds it. The mountains, the red sand dunes, the space. The Hoanib River area is rich in wildlife, which generally surprises guests who don't expect to see so much within a desert – the elephant herds, desert lions, giraffe, hyaenas, foxes, and oryx, among others.
Hoanib Skeleton Coast Lodge offers a coastal excursion that sets it apart from many other places. This involves a drive over the dunes to the Skeleton Coast, with a stop at an oasis en route, then a drive along the beach to see seal colonies and other sights, followed by a picnic lunch at the seaside, enjoying the ocean breeze. The trip ends with a scenic flight back to the camp, wowing guests with views of the dunes and the topography below, from a different perspective. For me what stands out from the trip is that one moment you are driving in the desert, and the next moment you are at the coast, where the desert meets the ocean! The excursion also is interesting historically: there's a brief stop at a small museum exhibiting whale skeletons – one of the reasons it's named the Skeleton Coast.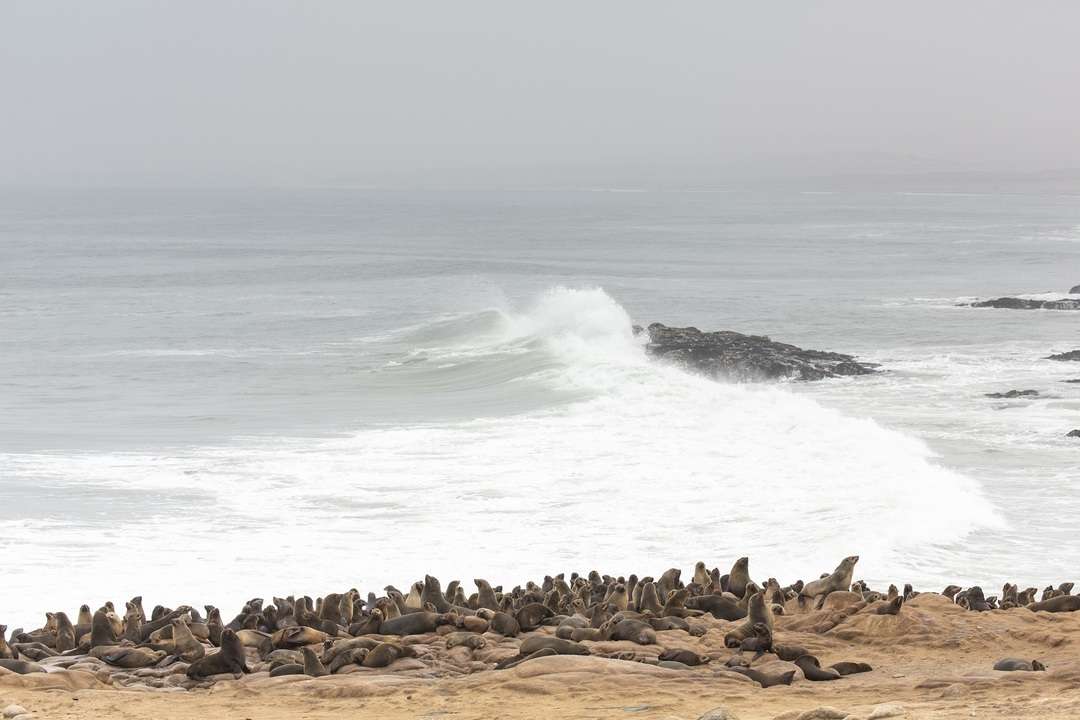 (Max) Hoanib is a unique place, a beautiful, isolated landscape. What also makes Hoanib special is the wildlife – desert lions, elephants, hyaenas, Cape foxes, and other species move in and out of camp. The sand dunes on the way to the coast are gorgeous, hiding away two big oases in the middle of nowhere – hot spots for the desert animals and water birds like flamingoes. At the coast there's the Cape fur seals, black-backed jackals, and hyaenas. Aside from the drive to the coast, we offer guided walks, game drives, rhino tracking if time allows, star gazing, amongst other activities.
What do YOU most love about Hoanib?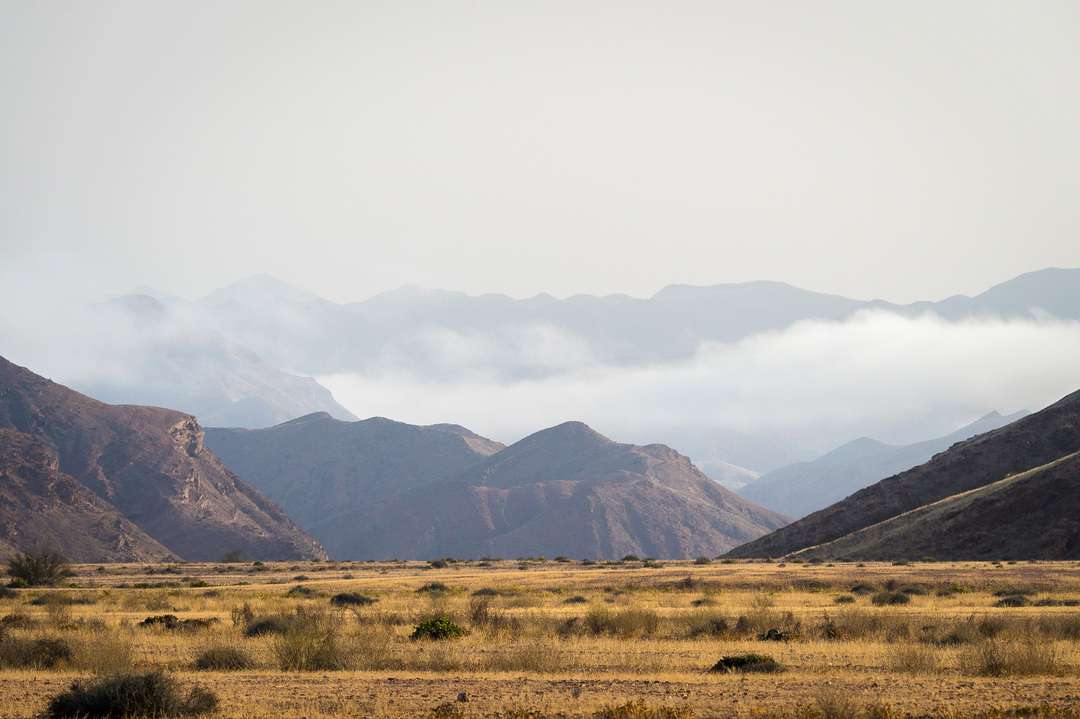 (Clement) I am in love with the weather there. Without the wind, there would be no desert. If you understand how the desert is formed, you would know that the desert breeze carries cool air. On the warmest days you can look over to the west and see the thin fog belt, a sign that the temperature is likely to cool down. Whilst sitting around the fire after dinner, you can feel the fog droplets forming and see the camp lights becoming brighter, lighting up the moisture.
(Munya) The weather – mornings and nights are very cool because of our proximity to the ocean. You almost forget that you are in a desert. I also love how well constructed the lodge is.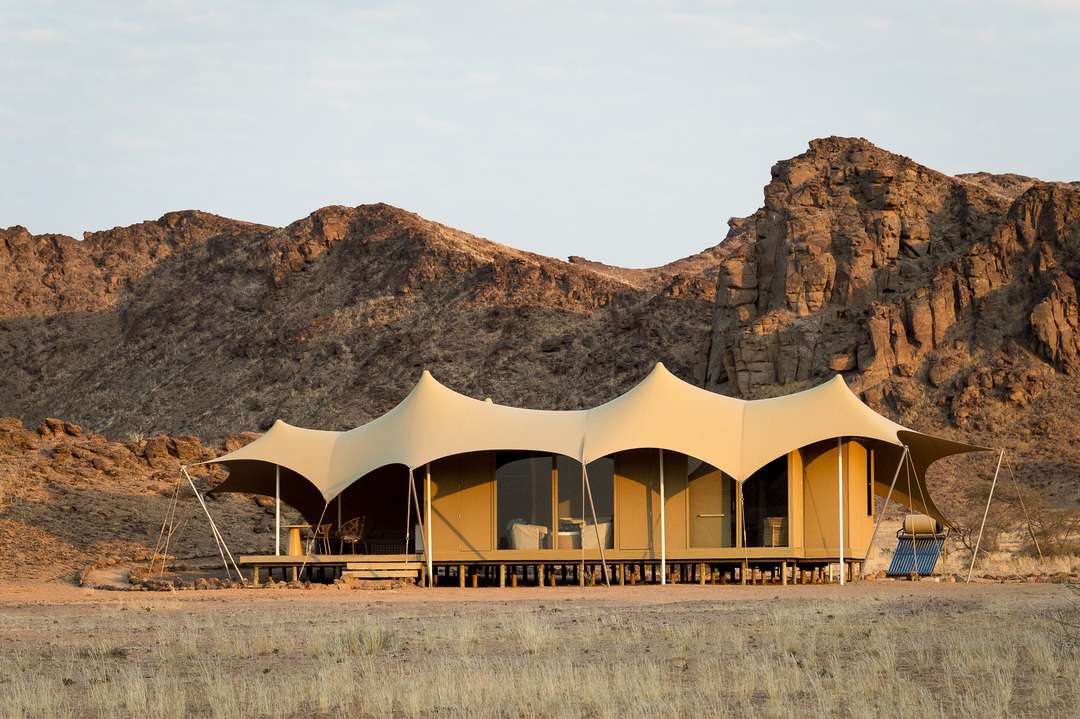 What does the name 'Hoanib' mean?
(Munya) Hoanib means the 'place of elephants'. It's a Damara word and has a click at the beginning. It names the ephemeral river that periodically flows through the area. When the river isn't running, desert elephants forage up and down the riverbed, hence the name.
(Clement) I once heard from an old Himba that Hoanib means 'for all of us' because in the old days the Hoanib was the one place where water was consistent and the people of the land all shared it together. He did not have Google, though. I think we should go with Munya on this one.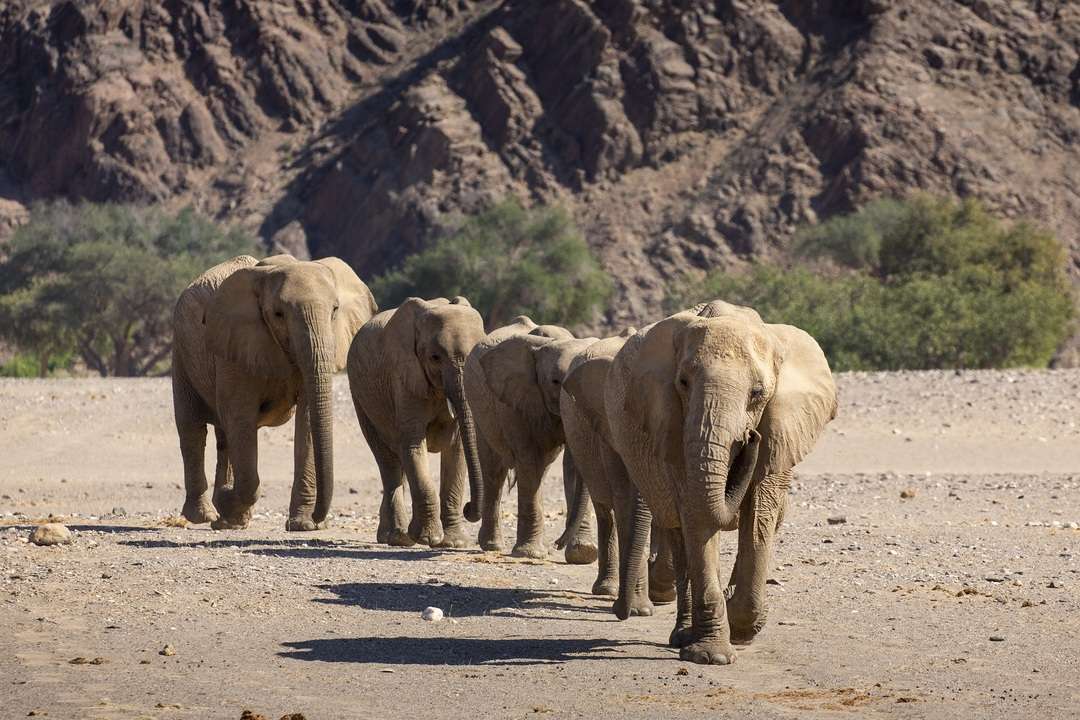 Please talk about the wildlife at/around the camp…what are the most 'desired', 'wow' sightings/experiences?
(Max) Day and night we have wildlife drinking from the waterhole in front of camp. Game drives happen in the morning and afternoon, but often there's quite a bit of action in camp. For instance, one evening after supper service when I was walking guests staying in Tents 3 and 4 to their rooms... We had just left the guests in Tent 4 and were on our way to Tent 3. There we found a big elephant bull eating from the tree in front of the room. What saved us was that about six metres away, I heard his stomach rumbling. I told the guests to freeze. The elephant must have heard me speaking, and moved off through the bush. Elephant eyes do not reflect in the darkness, so it's difficult to spot them.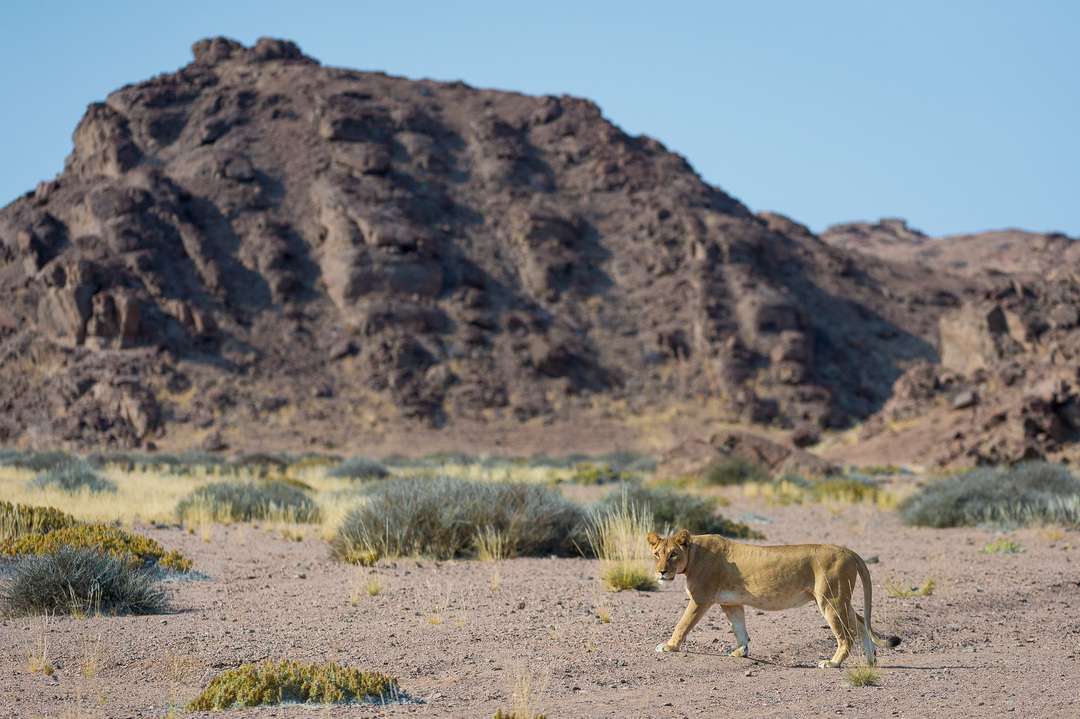 Another close encounter was with lion. A new male lion called Munya had entered the Hoanib riverbed, and he was not accustomed to vehicles. I was on an afternoon game drive with a family of four, tracking two female lions who'd been frequenting the area. We were circling a salvadora bush when suddenly a huge male, this 'new' lion, charged us. He stopped within a metre of the vehicle, leaving a cloud of dust, and us speechless, and then departed.
(Munya) Elephants are the most common animals around the camp; giraffe, oryx, ostrich, and springbok are also widely present. Other less common sightings include zebra, leopard, and cheetah. Desert lions are on the resurgence as well, with two or three prides frequenting camp.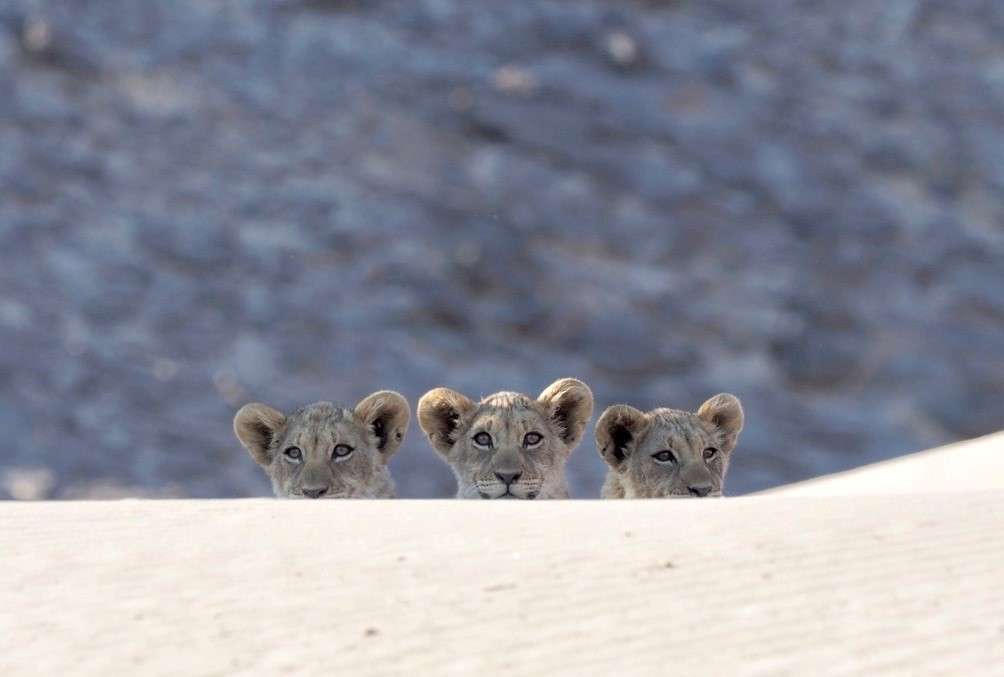 One day we were jump starting a vehicle in front of my room. I was being assisted by the camp chef (Steven) and a guide (Moses). Moses brought another vehicle but forgot the jumper cables. So he went back and left Steven and me there. Whilst I was concentrating under the hood, Steven said, 'Let's get in the car, there are lions here!' As I turned around I saw two lionesses and three cubs approaching. We both got in the car, and waited for them to pass by. Unfortunately, I did not have a camera on me, nor did Steven. The lions strolled past and the cubs playfully tagged along.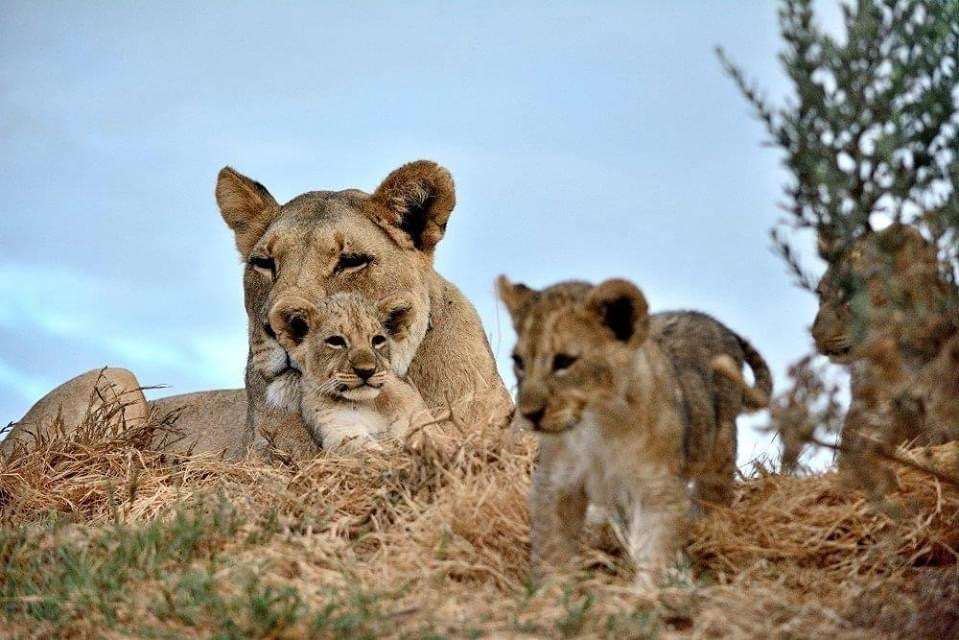 Another time, during lockdown after dark, Moses heard jackals calling, and grabbed his camera because he thought the jackals had seen lions. He followed the sound to outside my room, and I heard him call my name. I quickly went outside. Moses pointed to the mountain behind my room. There we saw a leopard on the mountain – our first time ever seeing one in the area.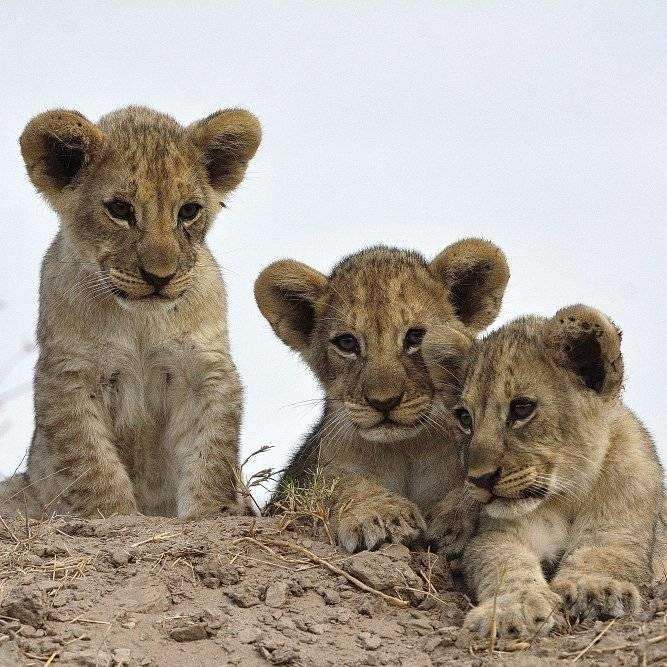 (Clement) One memorable wildlife encounter for me was at our farewell gathering for Beauranzia, our food and beverage manager at the time. I cooked a wonderful potjie, if I say so myself, which we enjoyed around a fire. We sat quietly after the meal because we all ate too much. It was full moon and the perfect goodbye, as Dr Philip ('Flip') Stander told us incredible stories about his lion research in the desert. It was only when one of the guides got up to put his plate in the kitchen that we noticed the lioness walking past with her three cubs. Surprisingly, we all stayed somewhat calm and moved into the kitchen, but she was not a happy lady. Or so we thought. The lioness walked away from us to where her cubs had scrambled, a manager's accommodation. She lay down on a slope where she could still see us.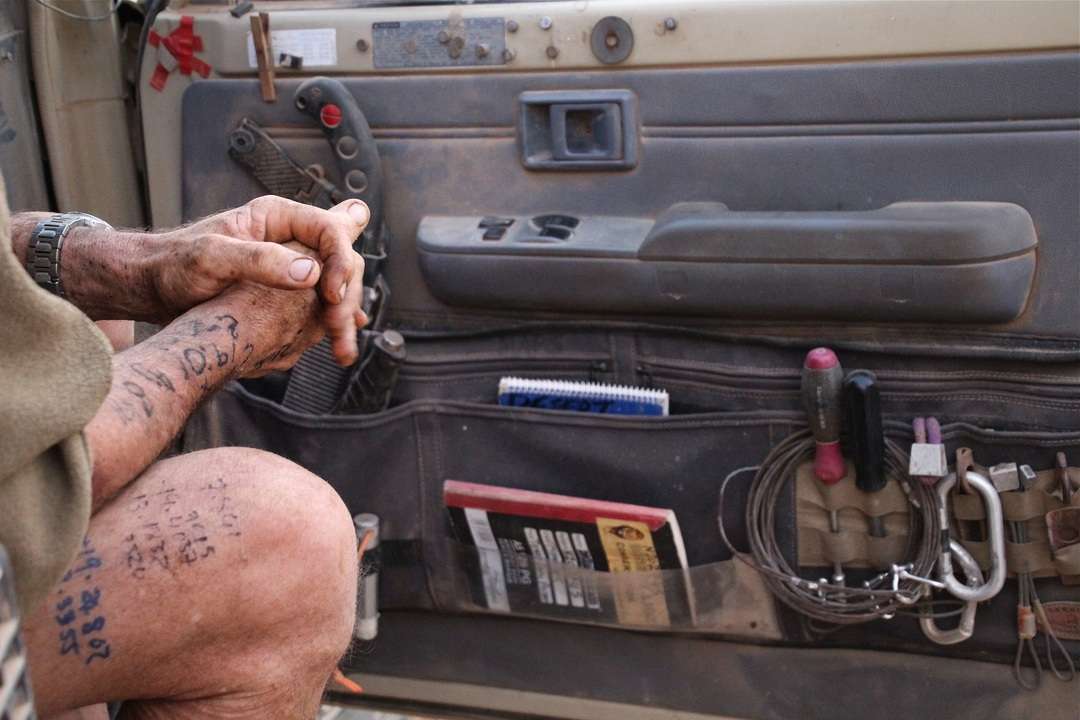 Dr Flip disappeared to his car to track where the second lioness from the pride was; it turned out that while we'd been eating, she'd quietly slipped past us and was now drinking at the waterhole. The cubs could not help themselves – smelling the fire (and my potjie) they walked straight towards it, sniffing everything along the way, ignoring their mother's calls and gathering around the fire place. The ten of us hiding in the kitchen shoved our heads through the shade net of the door to get a better view of the cubs; it was too funny. Even more hilarious was that the moon was shining right on our faces, yet we pretended to be inconspicuous. Eventually the lioness wandered past and the cubs followed, with Dr Flip in the rear. You can see that the man knows lions better than people. We called it a night after that.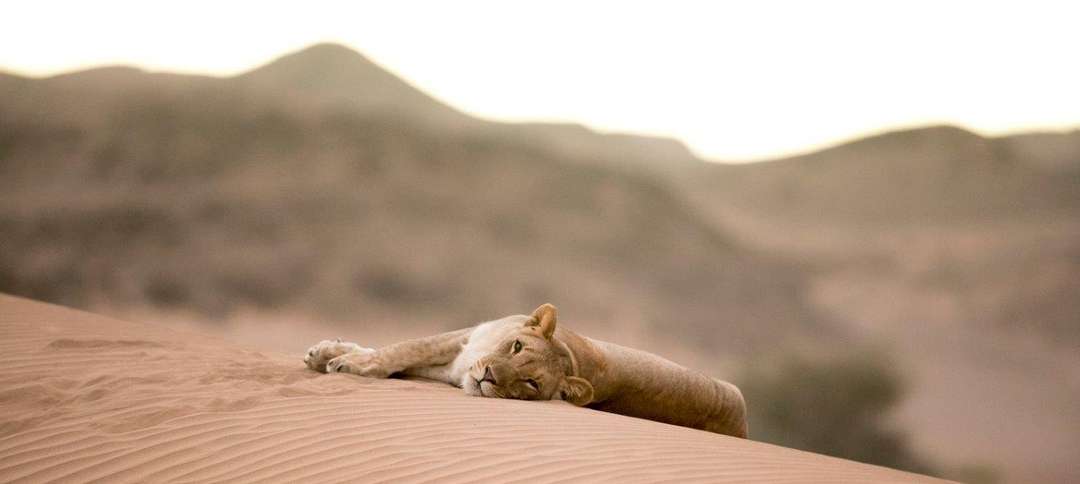 Another time in camp it was 2 am, and Charlie, our resident elephant, had wandered over to a spot right next to my room, where he decided to pull on the water pipe coming from the tanks above. He broke it off easily, having an urge for a splash of water and knowing exactly where to find it. Charlie was not going to put the pipe back after he was finished, so I had to get out of bed and sneak quietly out of my room, around the back and up a massive hill to close the tanks – otherwise guests would have no water the next day. After closing the tap, I could see Charlie looking directly at me, but he couldn't reach me because of the steep slope. It was then I found myself talking calmly to this elephant, begging him to please go and drink at the waterhole in front of camp, reminding him that we had built it for him. He had an aggressive stance but never made any noise.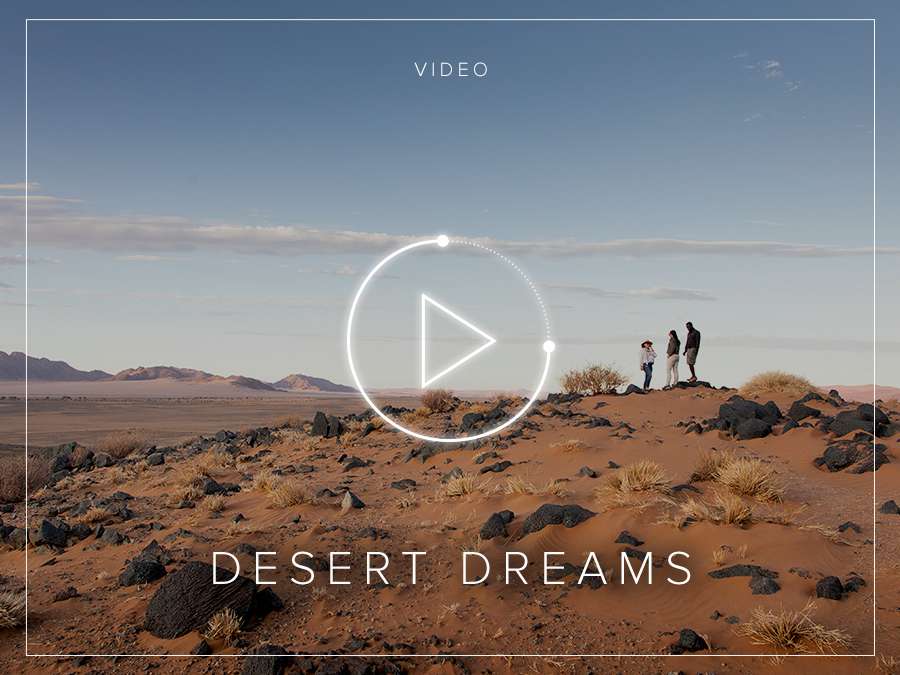 I suppose he was actually listening, or just hoped I would slip and roll down the slope. Eventually, Charlie shook his head and walked off. I thanked him but got no response. I walked down the slope, checking that he was gone before reconnecting the broken pipe. It was such a wet and muddy situation that by the time I got back to my room I was wide awake. This was where I declared that karma owes me one, big time; she always delivers in the desert. Shout out to Charlie for being such a good sport – I miss him terribly.
What are some of the key bird species that guests can expect to see?
(Clement) Endemics that can be found along the Hoanib River include Ruppell's korhaan, and on the gravel plains we have the Benguela long-billed lark. In our warmer months the olive Madagascar bee-eater moves into the area. Along the Hoanib mouth, which holds a bit of water, we also have the odd flamingo visiting for a while before heading to the large Etosha Pan.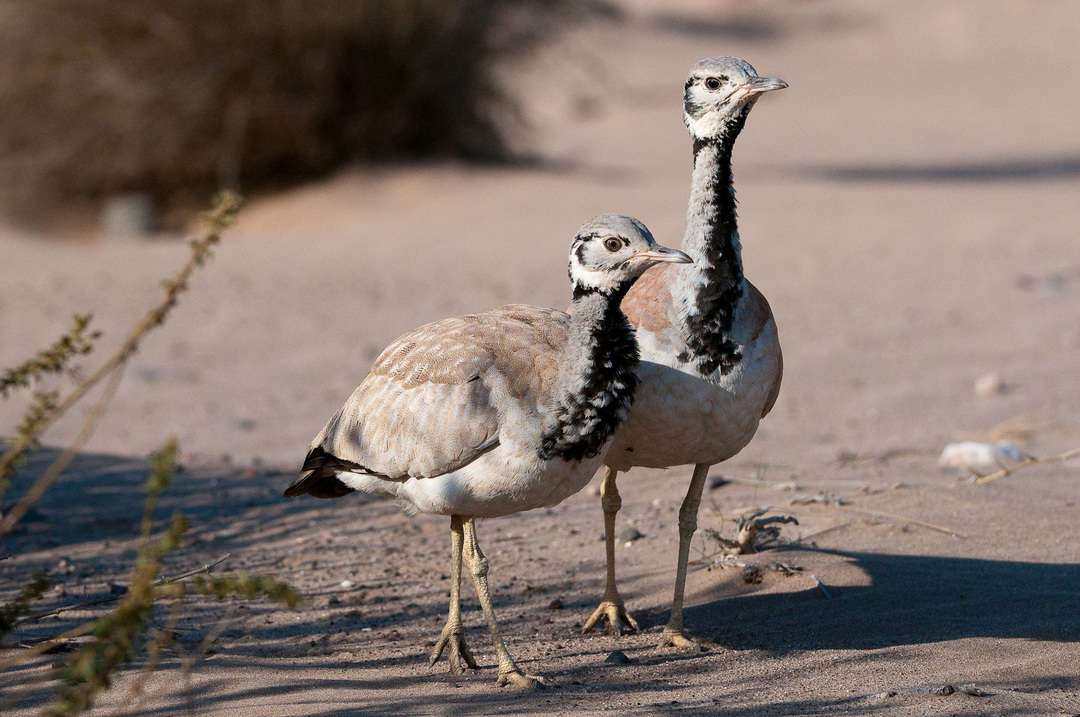 (Munya) Hornbills, black harriers, peregrine falcons, francolins, and guinea fowl.
(Max) Ruppell's korhaan, hornbills, pale-winged starlings, Cape turtle dove, grey go-away-bird, masked weaver, swallow-tailed bee-eaters, and so on.
How does the Hoanib experience compare to/differ from that of other WS camps in Namibia? Would you recommend that guests visit Hoanib plus other WS camps?
(Munya) Hoanib offers not only the desert experience but also the coastal experience. Temperatures aren't as brutal there as in other parts of the desert because of its proximity to the ocean. Most of all, the wildlife there is wonderfully unexpected and diverse; other camps in Namibia do not have as much variety.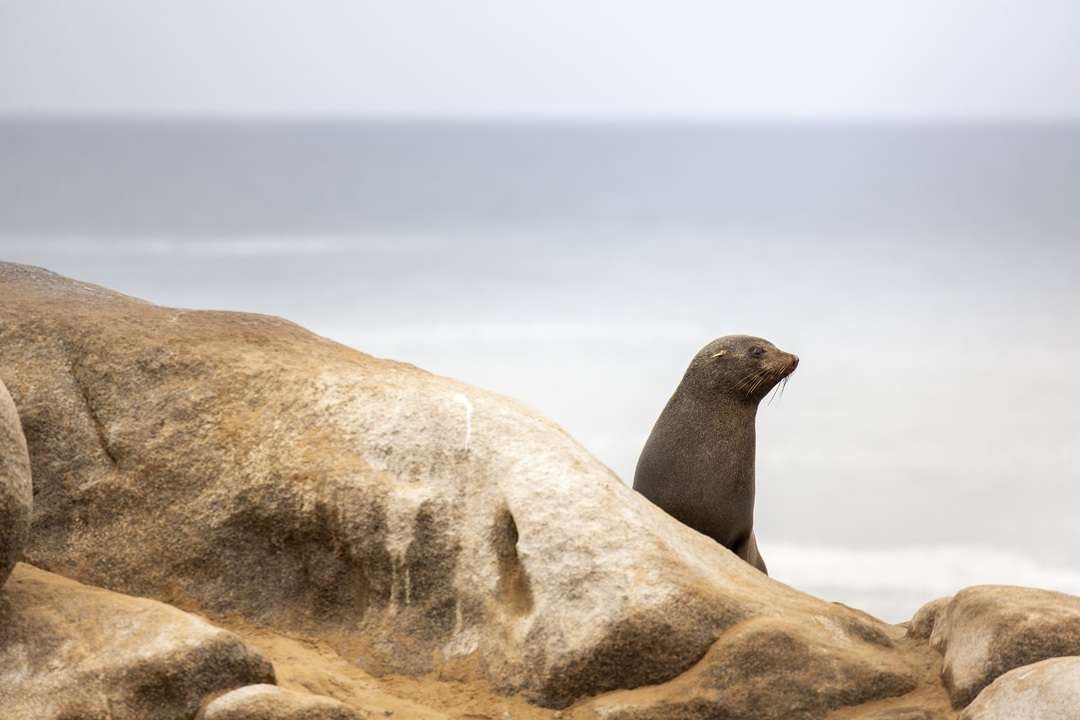 (Clement) Hoanib's location along the Skeleton Coast National Park tells its own story of how geology has allowed for the most interesting ecosystem to evolve and what adaptation each species uses to survive, fauna and flora alike. It offers perspective on what vast landscapes are all about, and gives chills down your spine when you notice how inhospitable it can be.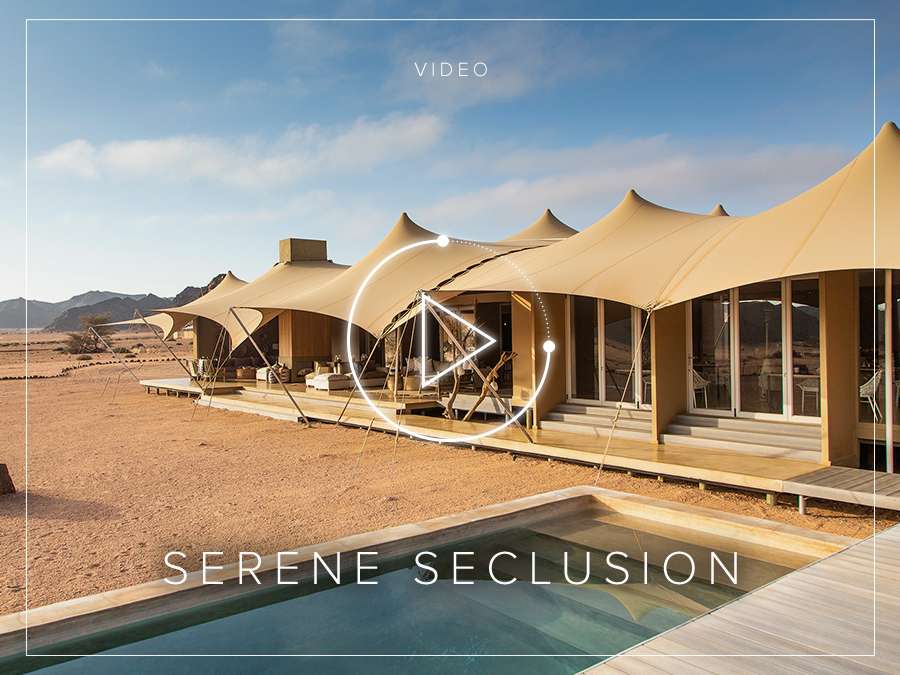 What's your favourite time of day in/around camp and why?
(Clement) Hands down, it has to be late afternoon. When the coastal breeze reaches inland the temperature noticeably drops and the light becomes so soft it's almost tangible. Photography is off the charts at this time; you cannot believe what you are able to capture, even with only landscape through your lens. If a lone desert elephant happens to walk against the light with the dust blowing up behind him, it is just mesmerising.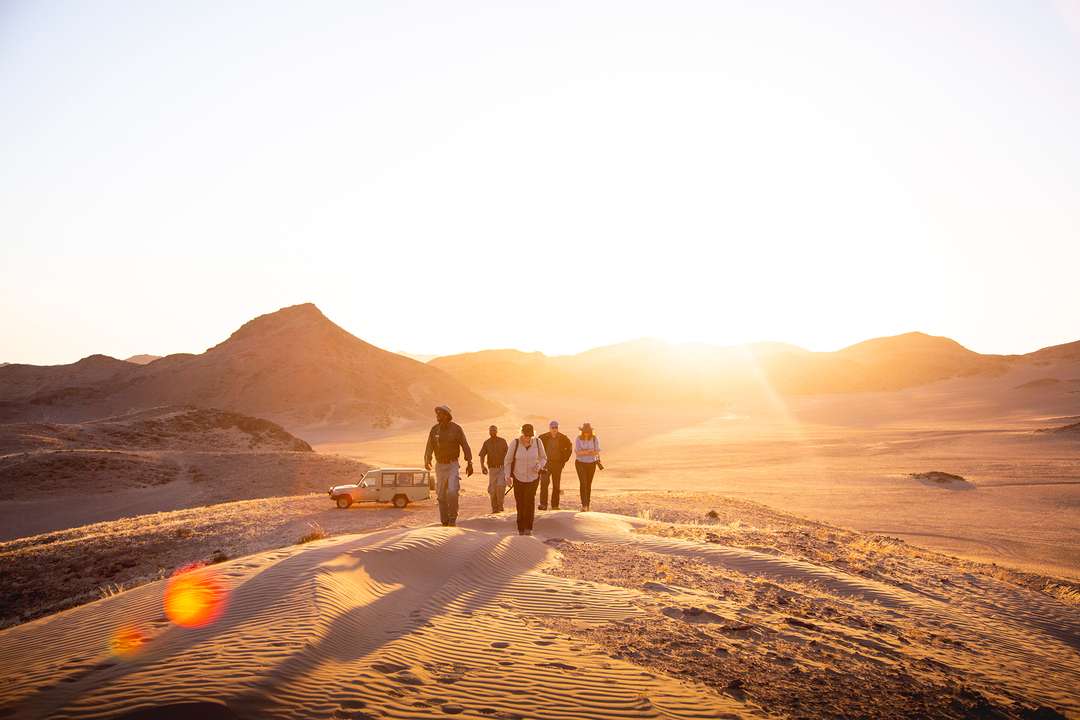 (Munya) Evenings or more specifically sundown, because this is the time elephants often converge at the waterhole. The temperatures are cool, a westerly breeze comes through, the setting sun gives off orange and reddish hues through the mountains. It is a magical, peaceful time of the day.
(Max) I love foggy mornings, they're refreshing.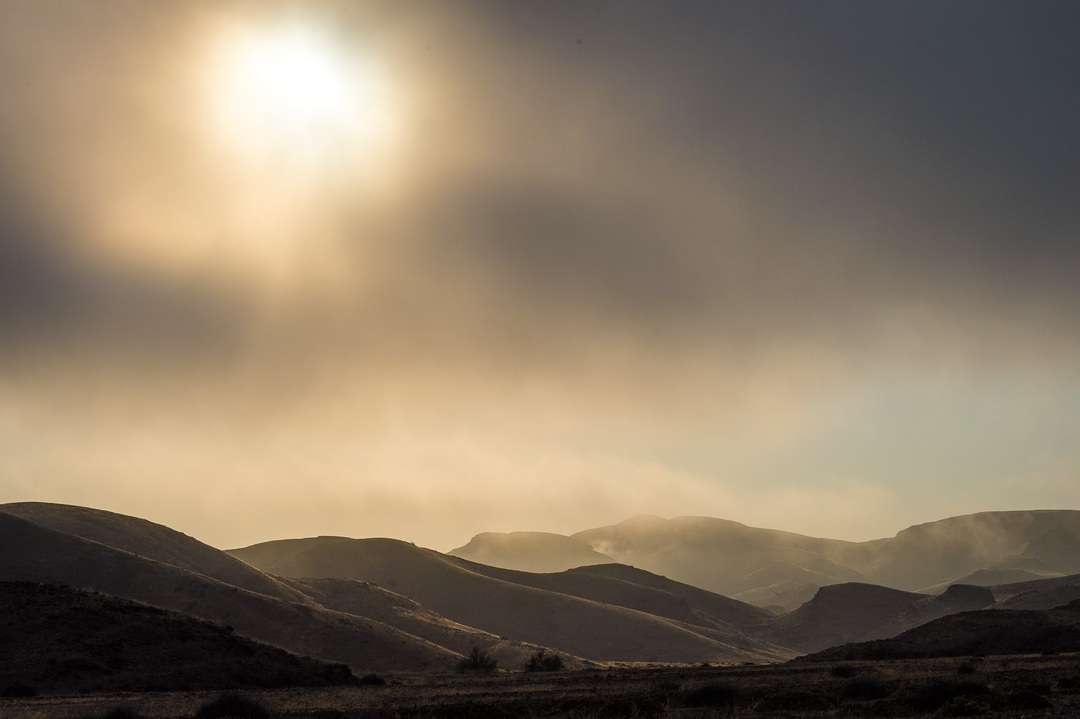 And your favourite season there?
(Munya) For me it's winter, when wildlife converges in the riverbed. Elephants often are seen digging there trying to get groundwater. Giraffes come closer to the camp and can be seen browsing nearby treetops. It is extremely cold at night; waking up is tough, because sleep is so good. Early mornings are spectacular because fog sits low in the camp. The sun battles to shine through; when it does, condensation droplets are a common sight at the foot of the tents.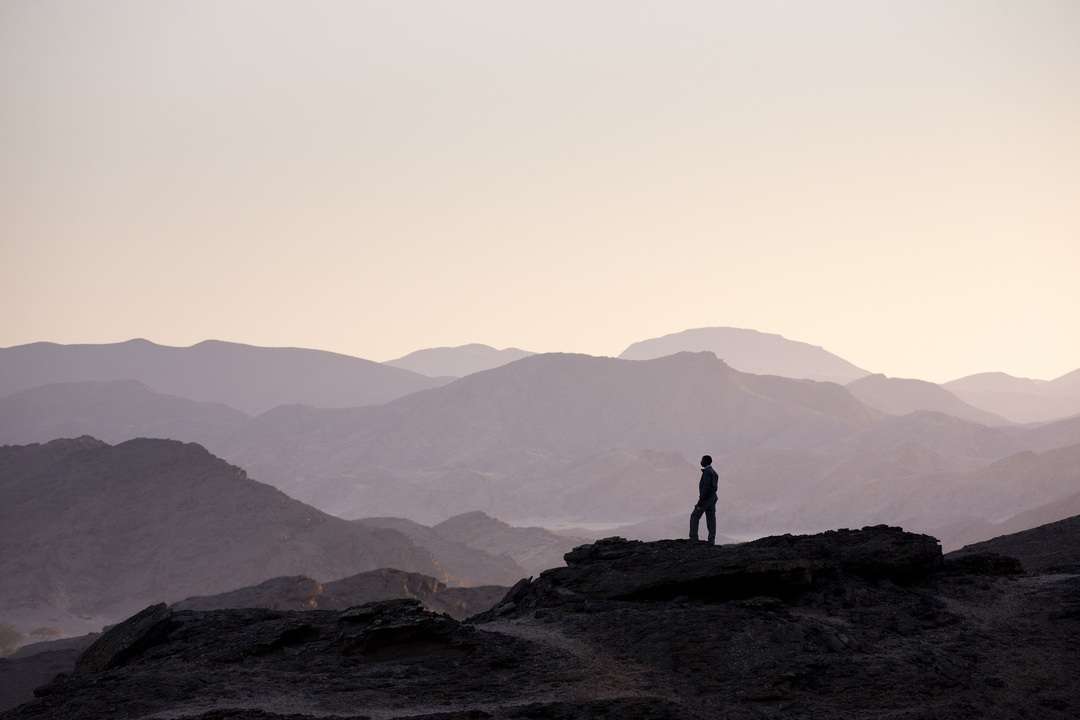 (Clement) Winter, just after the rains. It is when we witness the extremes of the desert. How strong the wind can be, how much fog can roll in from the coast, and how important this is to the ecosystem. As you follow the meandering dry riverbed early in the morning the visibility is limited. The only thing you might see, for instance, is the bold elephant track in the soft sand, which the guide has pointed out. How far did he walk last night and where is he going, you wonder. It's still foggy, and later in the dunes you see one elephant feeding on a bush; you can make out only the silhouette. Gradually all the pieces come together and it finally makes sense how the desert works.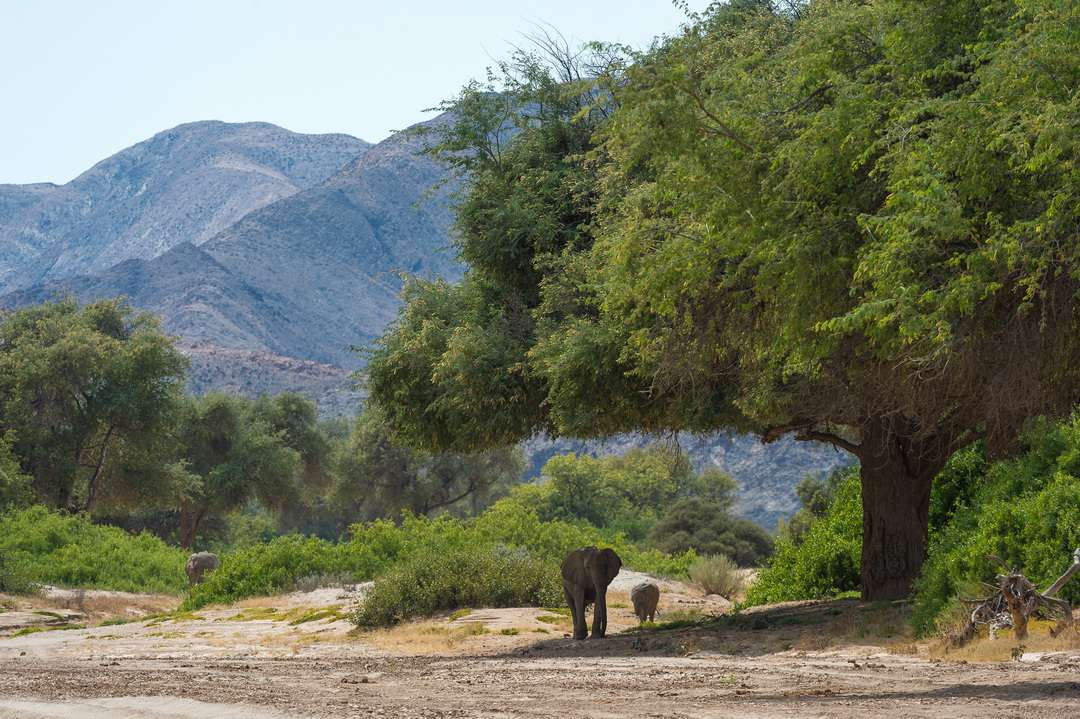 (Max) I like the winter. Almost every day is foggy and fresh, and you can see how trees, plants, and animals get their water from the fog. In summer it is very dry, and HOT – though if it rains then it's great to see how fast everything turns green and comes to life.
What kind of community and conservation work is WS doing/supporting in the area? That Hoanib is involved in?
(Clement) Hoanib Skeleton Coast is in a joint venture with three conservancies as part of our agreement as concession holders in the Palmwag Concession. We as a camp support the Conservancy Outpost in the Mudorib River, which monitors movements in and out of the concession itself. We have strong ties with local communities; most of our staff are from these areas. We embrace local culture as part of our brand which reflects both ways, to communities and guests alike.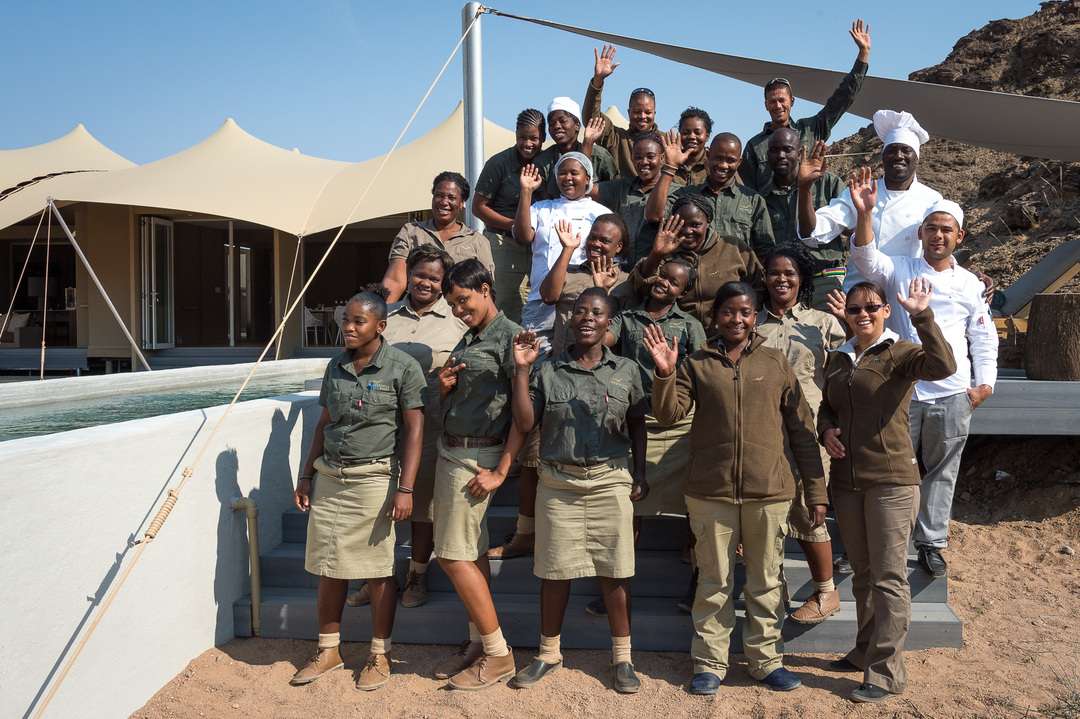 The camp has its own research centre where guests have an opportunity to meet local researchers and learn more specifics about the ecosystem. Emsie Verwey, busy with brown hyena research, is our base researcher and facilitates researchers in camp. This helps researchers study in remote locations as well as providing input on which areas or species are critical to the ecosystem here.
(Munya) During the COVID-19 pandemic, Wilderness Safaris has been involved in the issuing of food parcels in the Sesfontien area. Assisting communities affected by COVID-19, Children in the Wilderness (CITW) has been active in community development projects and in mentoring youth.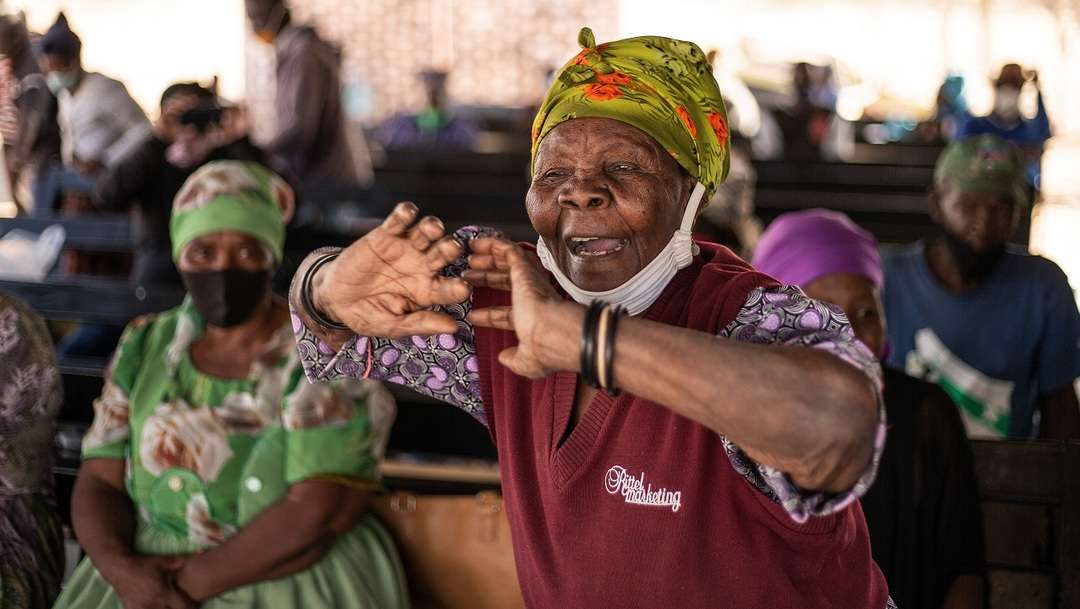 At Hoanib conservation is not just a 'catch phrase' used lightly. Camp staff work to preserve the pristine nature of the desert through environmental conservation efforts, including driving on designated roads (avoiding off-road driving). The guides at Hoanib embody conservation, and work in conjunction with the research centres based at the camp, the Desert Lion Conservation Project and the brown hyaena project, observing and reporting strange animal behaviour as well as sightings. This data allows researchers to know if an animal is in distress, and provides vital territorial mapping information. It also helps mitigate human-wildlife conflict. Recently, Wilderness Safaris installed the (LoRa) Long Range system in camp, an effort spearheaded by Smart Parks. The technology uses long-range communication to track not only animals but also vehicles. It is a cost-effective tool, operated by solar power and gives us real-time data on the location of animals that have tracking collars.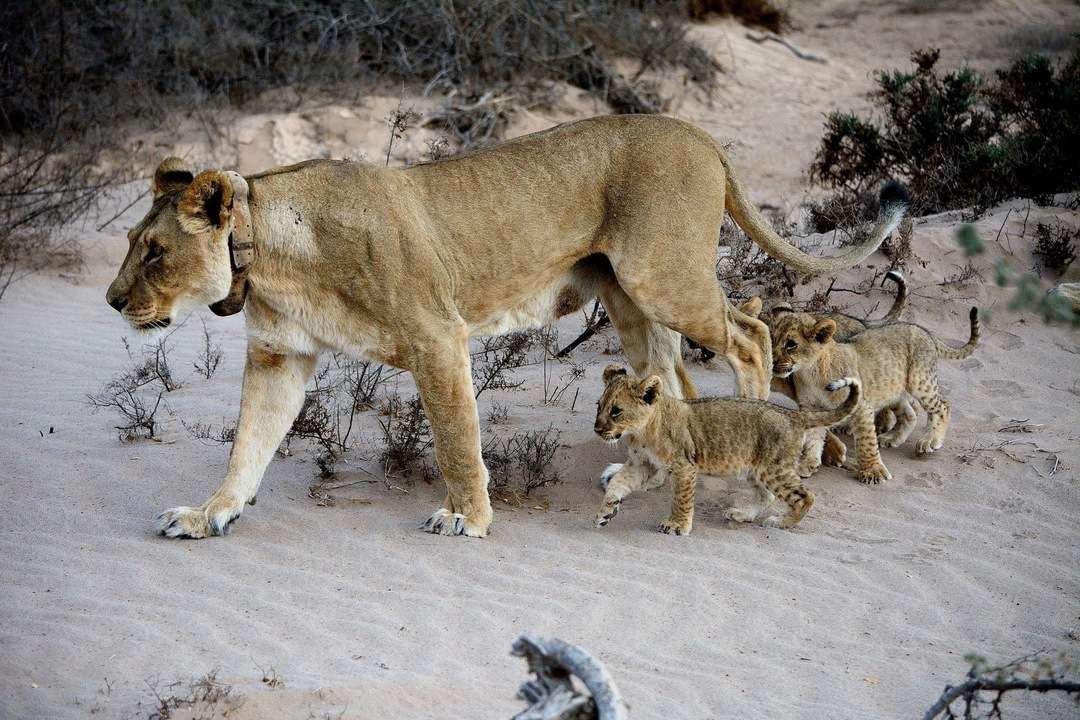 (Max) Around Hoanib, Wilderness Safaris has worked with the Himba, Herero, and Damara communities in many aspects, looking after the animals and the environment. We avoid off-road driving and we don't cut down trees. A lot of research is done at Hoanib, on desert lions for instance, with a project to collar them to curb human-wildlife conflict between the lions and the local people. We've also worked with various NGOs to help them build kraals to protect their domestic animals. Brown hyaenas are also collared and monitored; we teach guests about their importance in the ecosystem.
Tell us about the Olympus photography experience at camp, please.
(Clement) Wilderness Safaris and Olympus have joined forces, using their high-end services and combined passion for wildlife photography to ensure the ongoing conservation of Africa's remote wilderness areas as well as the empowerment of local people through conservation education.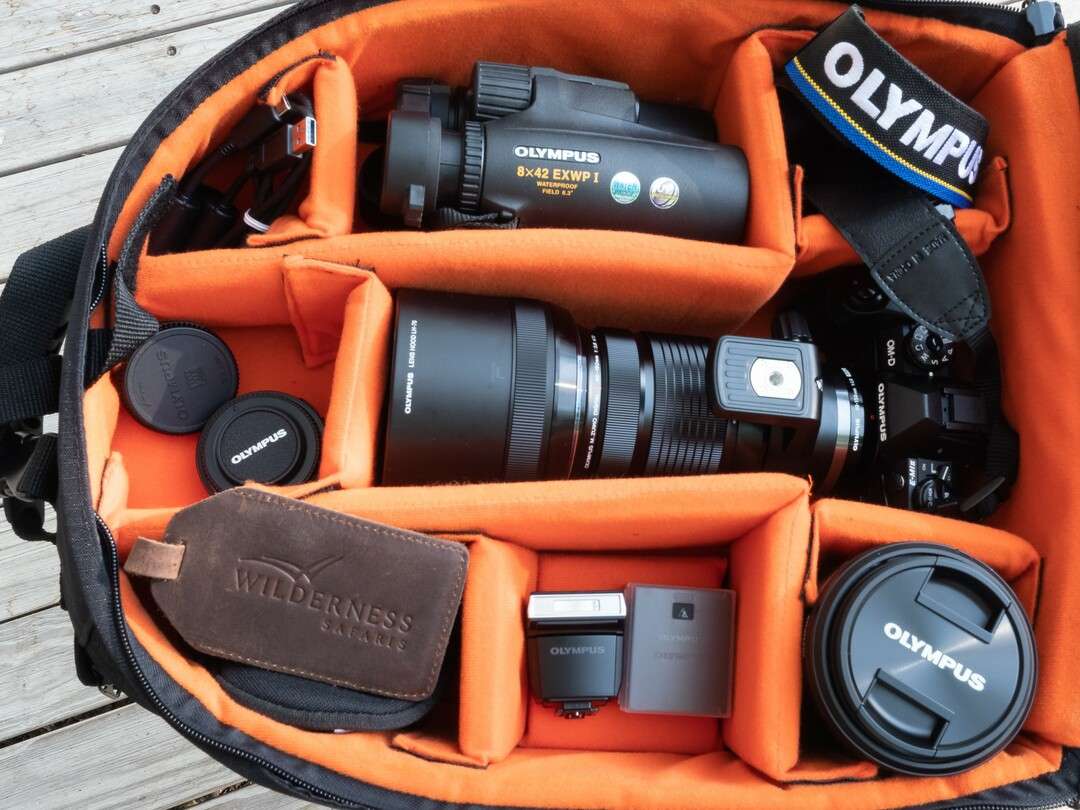 We have two fully equipped camera kits in camp, and guests can use these to capture some fantastic images, taking them home on a complimentary memory card.
Most guests have their own equipment, but the Olympus Camera Experience is really awesome, enhancing guests' photographic opportunities during their stay.
(Munya) I received my Olympus training in 2020 whilst I was working in Damaraland. It was an eye-opening experience. The Olympus cameras that we have come with different lenses, enabling the photographer to take various types of photos ranging from landscape, wildlife, and even close-up photographs that reflect culture. At Hoanib the guides have shared their experiences on the internal 'We Are Wilderness' Facebook group. Some, like Moses, entered the recent Wilderness Safaris photography competition.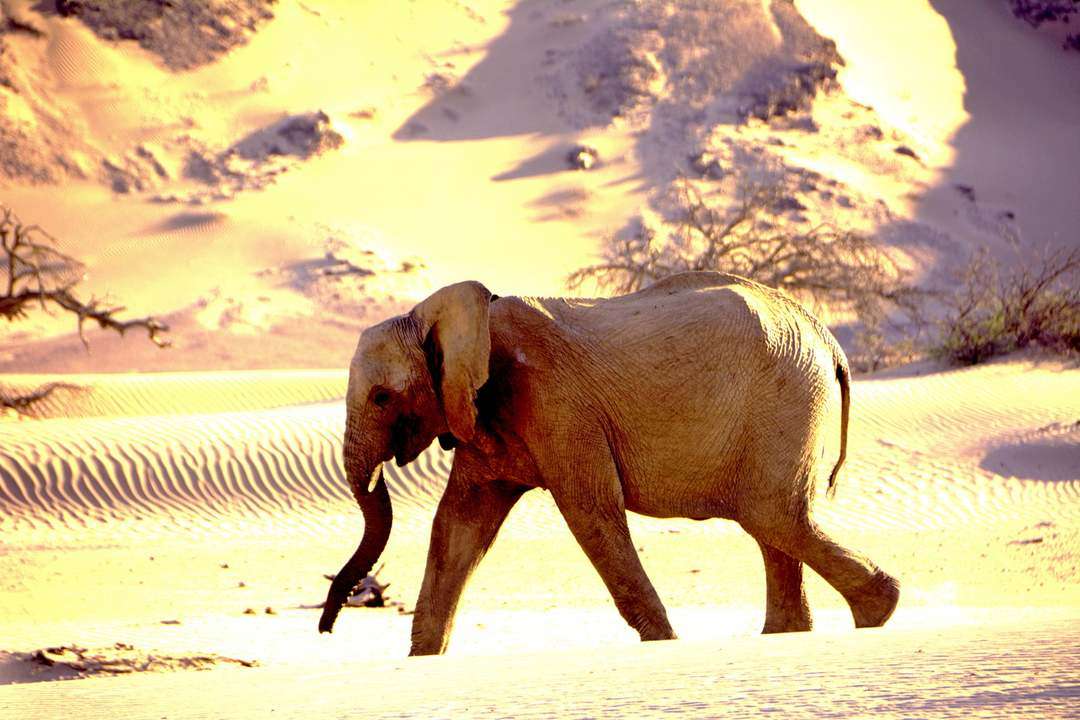 (Max) They are very nice cameras, they take good photos. A lot of guests like the cameras they use while here and are buying Olympus now. A portion of the sale revenue actually goes to CITW, so all for a good cause .
What items are essential for guests to bring while on safari at Hoanib?
(Munya) Sunscreen, a pullover, sun hat, sunglasses, and closed-toe shoes.
(Clement) The Skeleton Coast can be tricky compared to the rest of Namibia, which stays sunny all day, every day. Here temperatures fluctuate according to the prevailing westerly wind off the Atlantic Ocean. So guests should definitely bring a warm jacket; early mornings can be foggy and chilly. It eventually warms up, so you will need sunblock and a hat by lunchtime. When you're sipping your sundowner in the evening you'll again need your jacket, as the prevailing wind cools the desert all over again. If you come in winter, bring along a scarf and a beanie as well.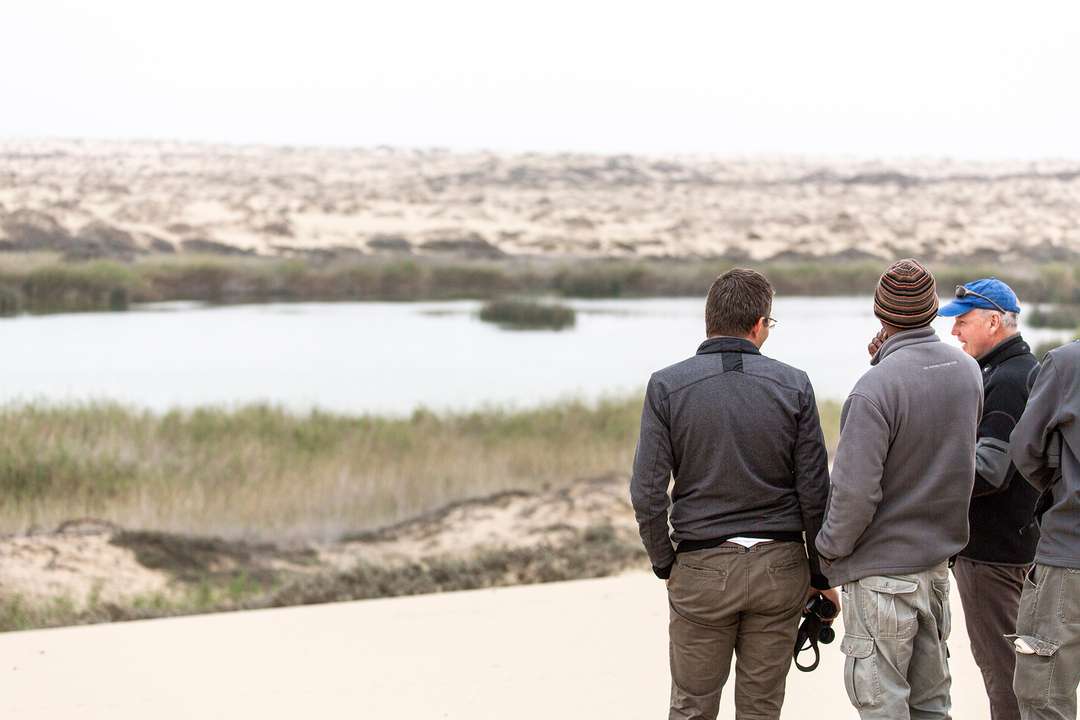 (Max) Guests need to bring sunscreen, sun hats, binoculars, cameras, clothes that blend in with the landscape, and memory cards because there's a lot to photograph.
What are your favourite areas to visit around/in camp and why? Which spots are guests' favourites? Which places are best for sundowners?
(Max) The favourite areas to visit in and around camp are the Hoanib River, the backbone of the desert and where the wildlife will be. Guests also love to sit in front of their rooms watching animals at the waterhole, and we have hills or mountains around camp that we walk or drive up for sundowners.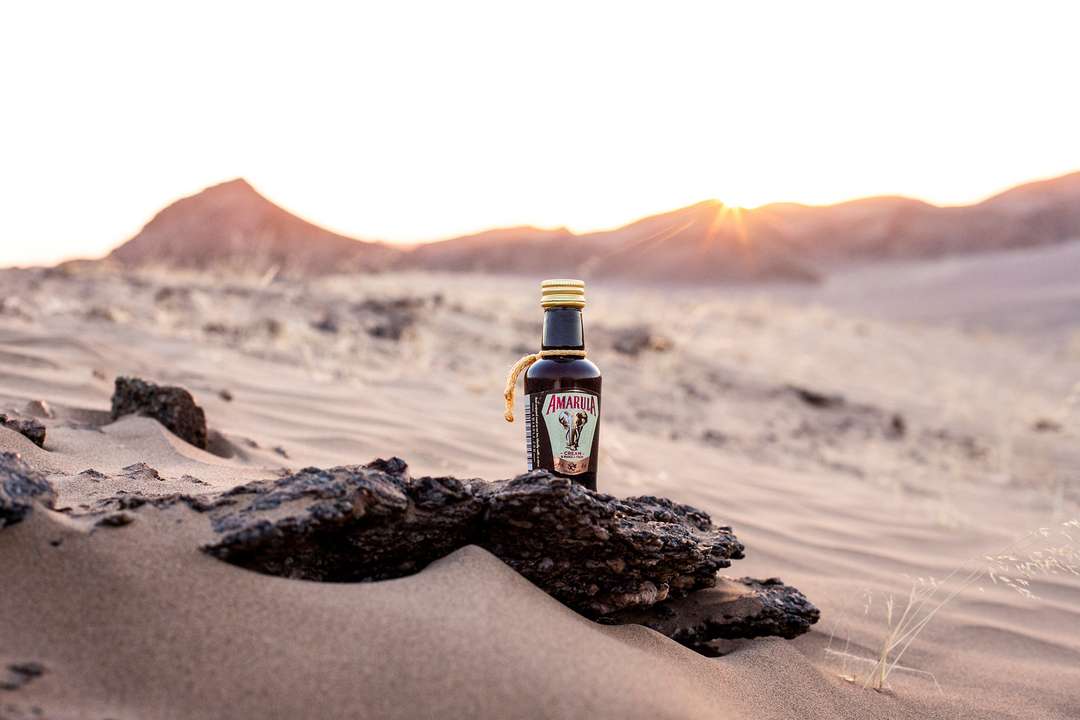 (Munya) Rallies is my favorite sundowner spot because it is on a hill, with a 360-degree view from up there. Other hills do not block the sun as it sets. It is also secluded. Once whilst having a staff sundowner with the managers, two lionesses strolled past us.
(Clement) Everyone loves the pool – it's always refreshing and the best way to cool down while enjoying a beverage. The view is fantastic, overlooking the waterhole. I also love it around the fire late at night when everyone is asleep and all the lights are off. The stars are so beautiful, and if you are lucky you can feel the fog rolling in.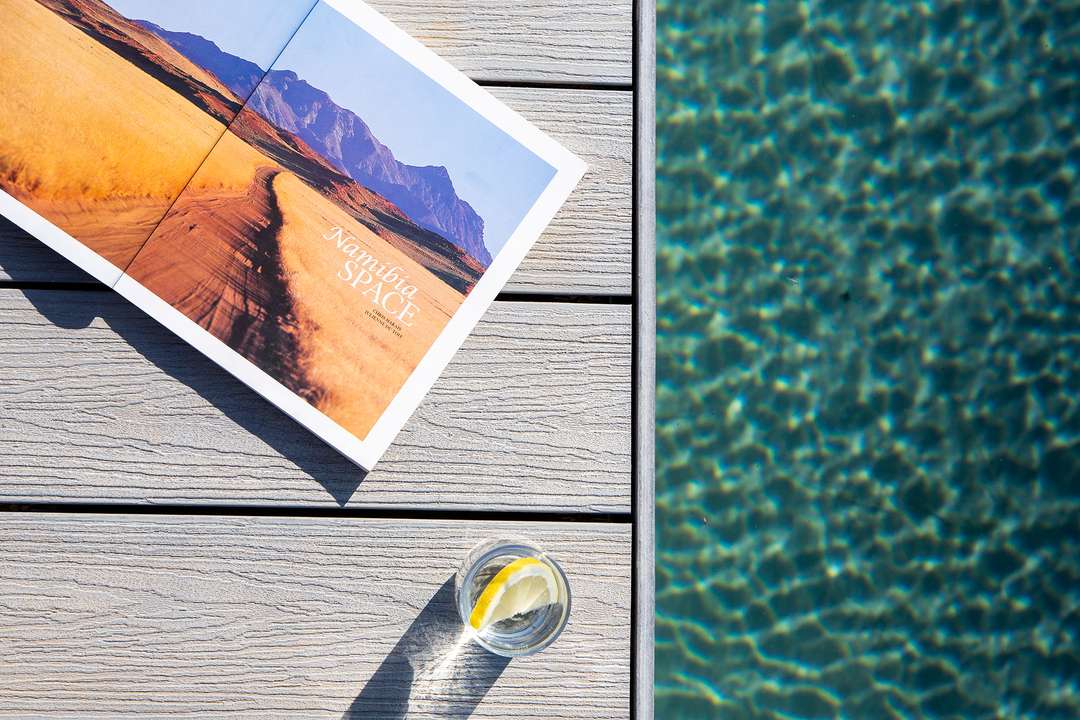 Please talk about the décor/design at Hoanib, in the rooms as well as the common areas.
(Munya) Totally solar-powered, Hoanib has a modern design, it's not the typical safari-style template. Its interior is decorated in subtle shades reflecting the environment – in beiges, browns, greys, olive greens, and blues, mostly. Both the rooms and the main areas are contemporary, with light wood tones, straight lines, and flat finishes. The rooms are characterised by large glass screens as well. They are spacious, with a large glass anterior, yet also cosy.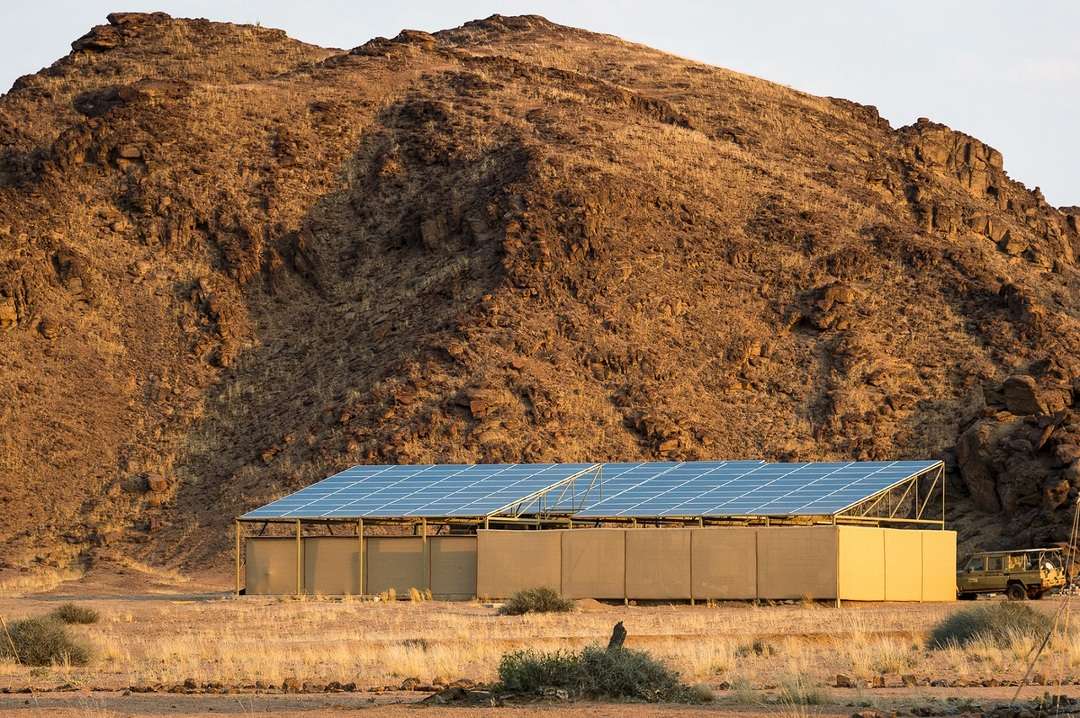 (Clement) The colours blend in well with the desert, with soft blue accents. The camp's simple layout gives a feeling of space – as the desert does. Local woven baskets adorn the walls, and each room has a fantastic black and white photo of wildlife along the river taken by Graham Springer.
(Max) The camp is beautifully designed, its colours blending in with the landscape. The rooms are spacious and welcoming.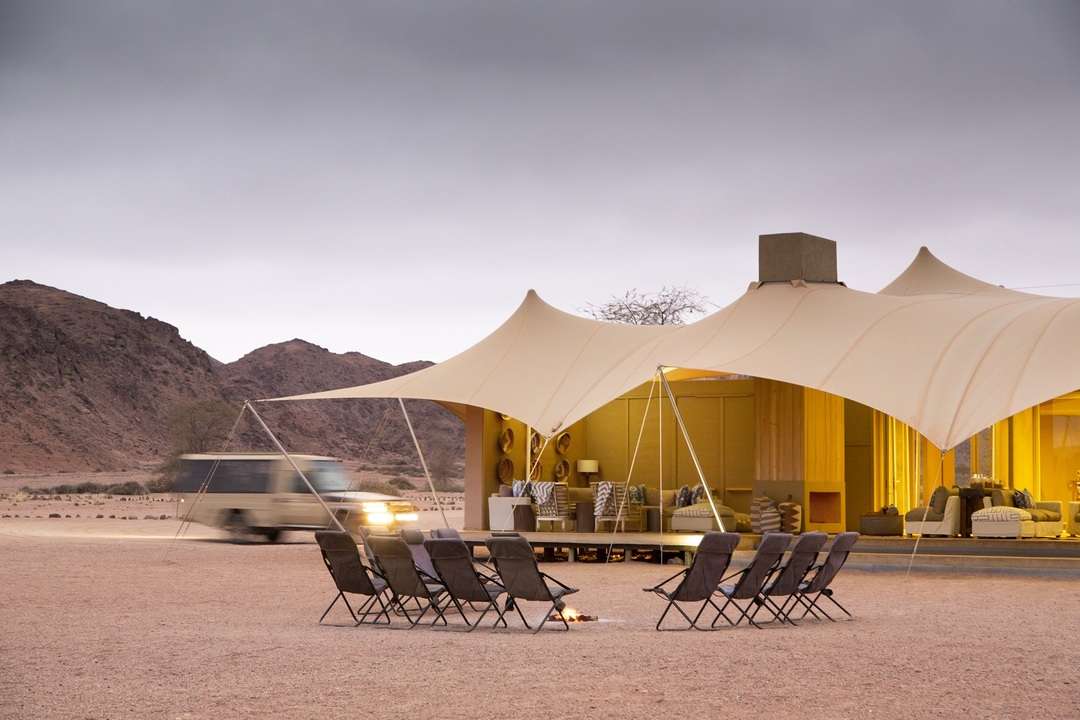 What is the dining experience at Hoanib, and some highlights on the menu? Please share the various dining options, in camp and in the bush.
(Munya) Prior to the COVID-19 pandemic, Hoanib offered the communal dining experience. There are other dining experiences available: meals in the restaurant or open air in front of the lodge facing the waterhole. The menu varies according to the season but always has nutritious vegetarian and meat options and salads. Some sample dishes from our summer menu include: honeybush poached pear and biltong salad; millet and gem risotto with tender stems and brie cheese; Namibian lamb loin served with pea and mint cauliflower mash and green beans; pan-fried kingklip with pineapple salsa, lime aioli, and coconut potato crisps; deconstructed lemon meringue pie; granadilla with meringue and mint.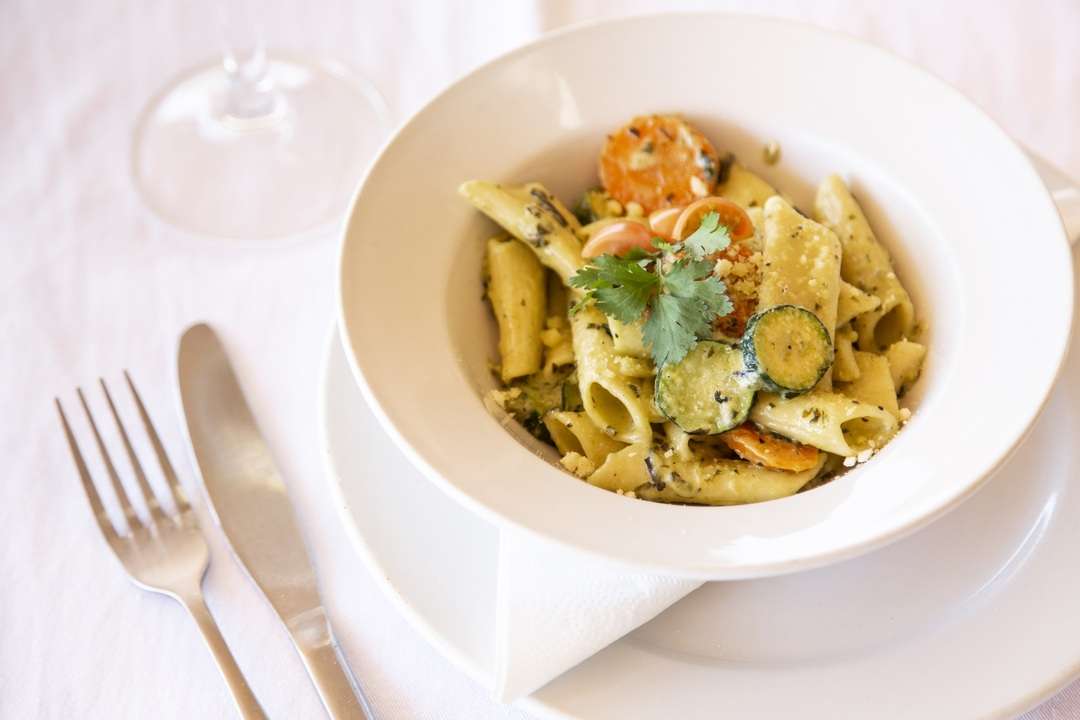 (Clement) Dining under the stars is brilliant, we seize the opportunity whenever we can. Our menu is seasonal, so we adapt and incorporate new foods all the time. We focus on light, fresh, and healthy meals but also offer traditional braais for our guests. My favourite food offering is the bread rolls filled with cheese and basil pesto and cooked on hot coals.
(Max) I love the outside dining experience near the fire pit and under the stars, sometimes watching lion and elephant walking past.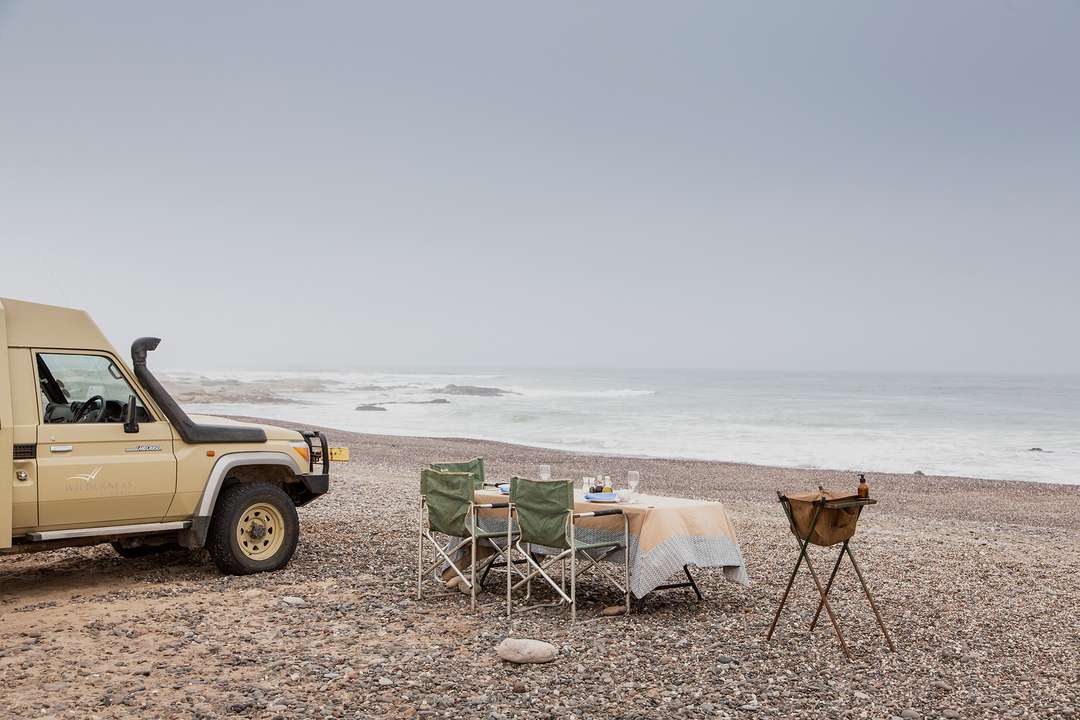 What makes you most proud of the camp, and working there?
(Clement) What we have been able to contribute to the 'family' of Hoanib has been my greatest pride. We formed a strong team as a whole and achieved many things together, small and big. Our support of the many NGOs and governmental operations came naturally, our contributions came unconditionally – because we believe in the people we work with.
(Munya) Its location and the beautiful design of the facilities. It is one of the few camps that is close to the ocean.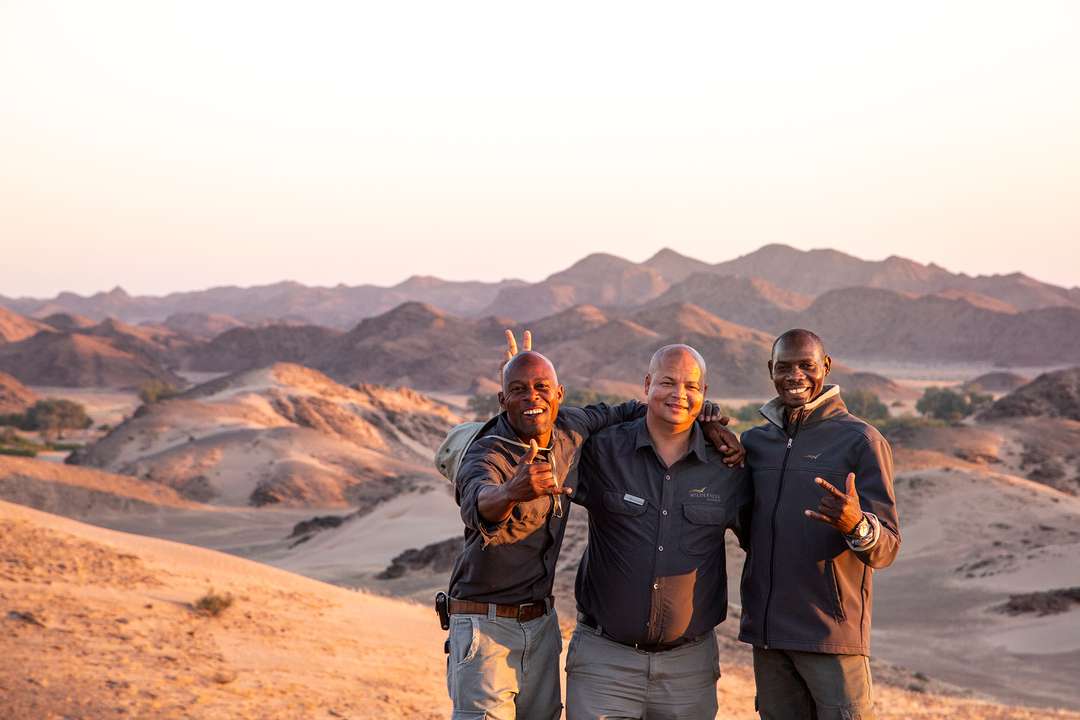 (Max) It's a beautiful camp to work at – the peace, the wildlife, and for me most of all, the landscape.
Who comprises the staff at Hoanib? Please tell us a bit about their backgrounds, training, service, relationships with guests etc.
(Munya) Most staff are from the Sesfontein area or the Anabeb Conservancy, which stretches as far as the Palmwag area. These are mixed tribes: Damara and some Himba. Most are locals who were trained by Wilderness Safaris Training Department. Guests are always curious to know where the staff are from, how long they have been working with the company, and information regarding their families.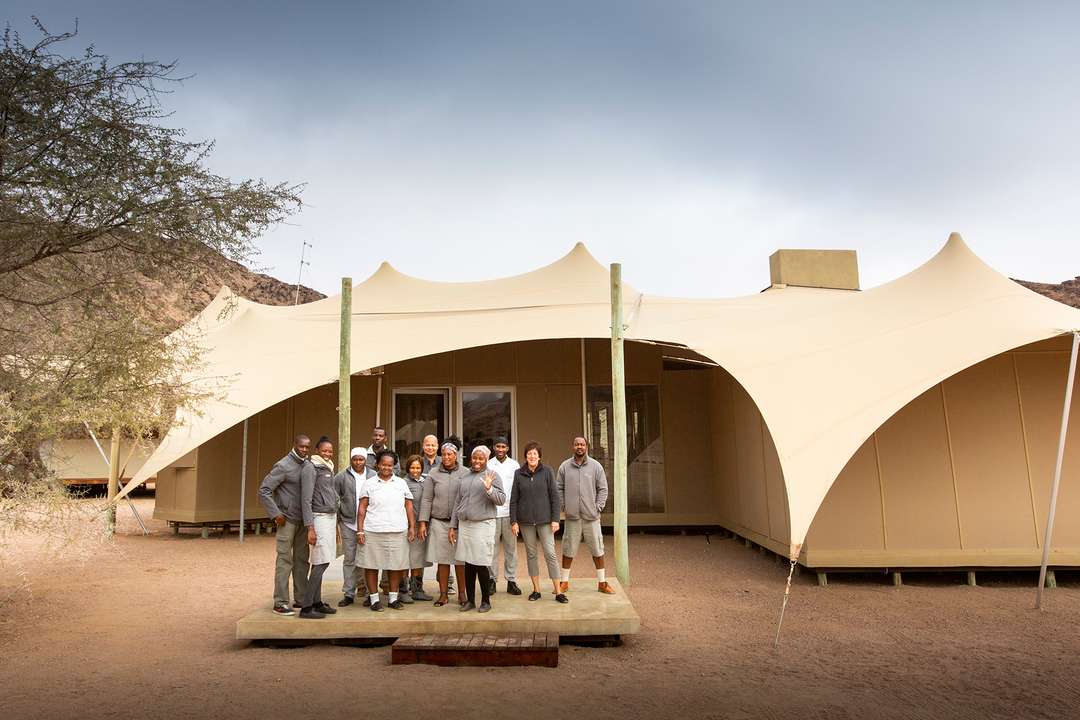 (Clement) Most of our staff come from the local villages in the conservancies. Wilderness Safaris gives us continuous training throughout our time in camp; this varies from standards to service in all departments. Staff learn so much from this training; some even grow into other positions as they develop their skill set. We have maintenance guys who become drivers and eventually guides, for instance.
At Hoanib we tried to start off with a clean slate and employ people with the least experience to give them the opportunity to grow, which has been so beneficial for all of us. We were able to implement strong principles about guests and the services we provide to them. It was an incredible journey; to see change and growth in people is so amazing. Hoanib staff are the best humans, if you ask me. Guests spend optimal time with staff, learning so much about their backgrounds and about how much they have grown in their time with Wilderness Safaris, at Hoanib.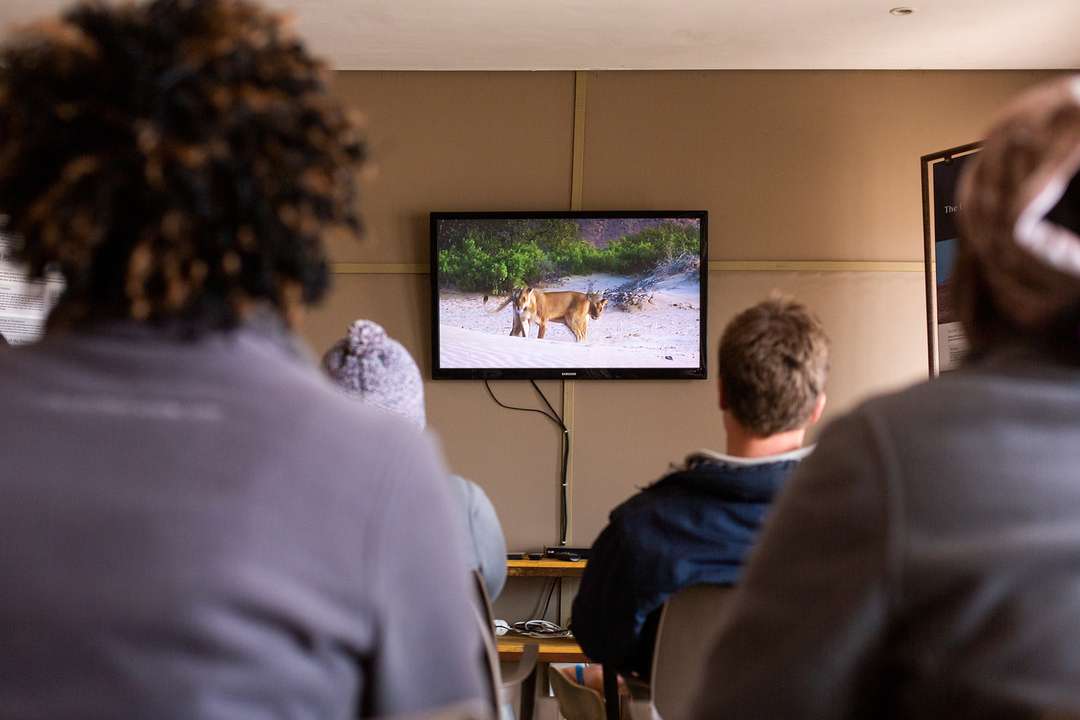 (Max) Management here is very understanding and make us laugh. There's a good atmosphere in camp – happy staff and happy guests.
What feelings/impressions would you most like guests to take away with them?
(Max) Our guests must enjoy their holiday, learn a lot yet relax their brains, and take away a lot of memories.
(Munya) Guests are often happy that the camp gives employment preference to locals, because this enables them to support their families and in turn develop their communities. Most often guests want to know how they can assist community projects around the camp, through monetary donations or other means. I'm glad that they can leave knowing they can help the local people.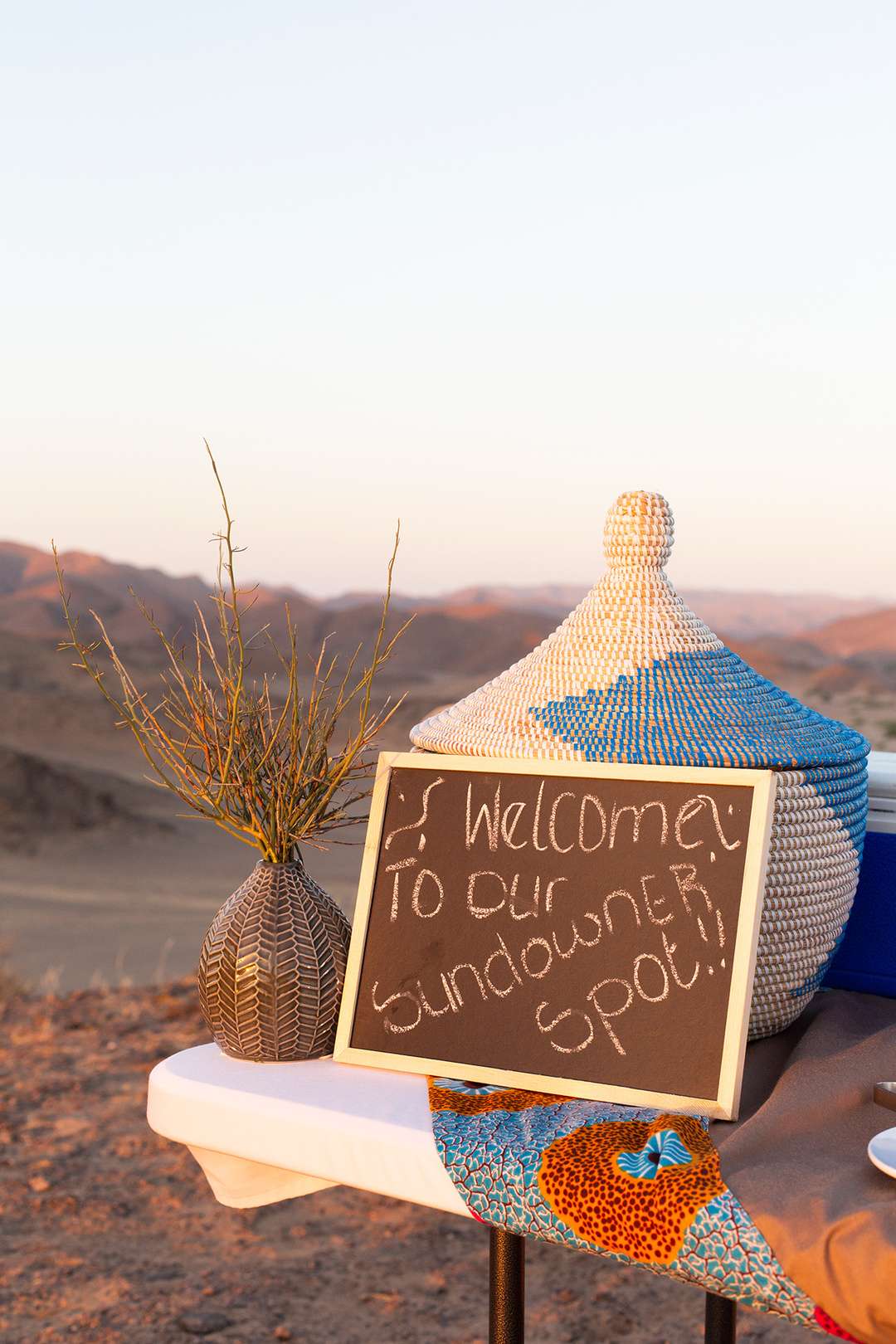 (Clement) Anyone who visits Hoanib will leave with a feeling hard to describe back home. It is hard to convey the magic of being out in the wilderness with no interference or impact other than your immediate surroundings. It gives a feeling which only the soul understands. I've often found myself genuflecting to the privilege the desert holds, which will stay with me for as long as I am alive. There are so many, many experiences that have humbled me throughout the time I have spent in the desert, at and around Hoanib. It is a remarkable place, and an honour to be part of it.
Written by Melissa Siebert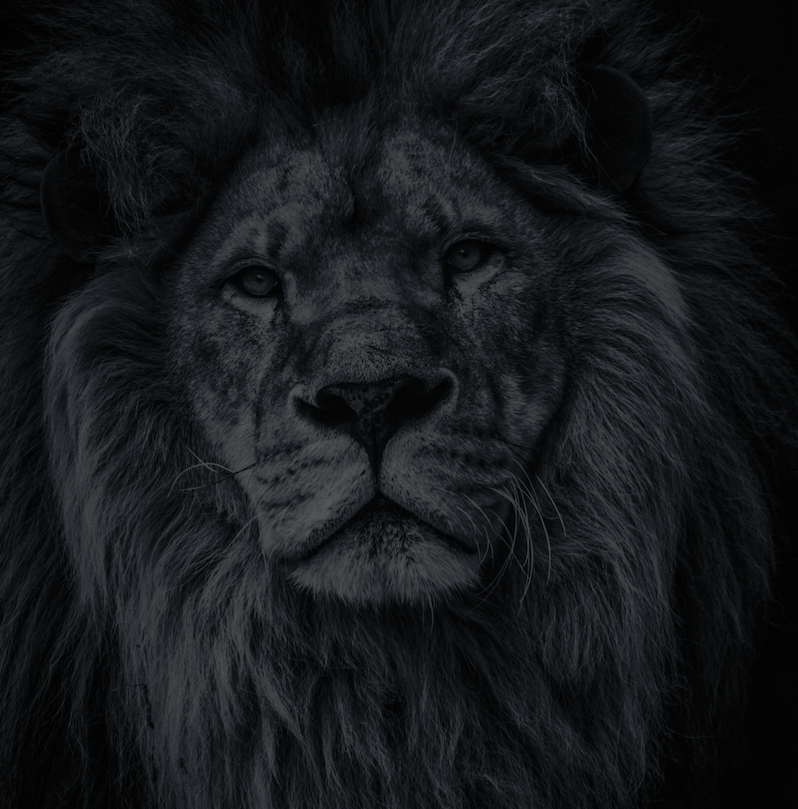 Let's plan your next journey
Ready?
When we say we're there every step of the way, we mean it, literally. From planning the perfect circuit, to private inter-camp transfers on Wilderness Air, and easing you through Customs. We're with you on the ground, at your side, 24-7, from start to finish. Ready to take the road less travelled? Contact our Travel Designers to plan an unforgettable journey.