One of the pioneer camps of Mana Pools National Park, northern Zimbabwe's magical World Heritage Site along the legendary Zambezi River, Ruckomechi has been thrilling guests for more than two decades. Not just human guests. If you venture out to this remote, seasonal camp, as so many have repeatedly over the years, you'll be sharing it with a wildlife menagerie: lots of elephants, big cats, hyaenas, buffalos, hippos, crocs, African wild dogs, and whatever meeker game that might be on the menu.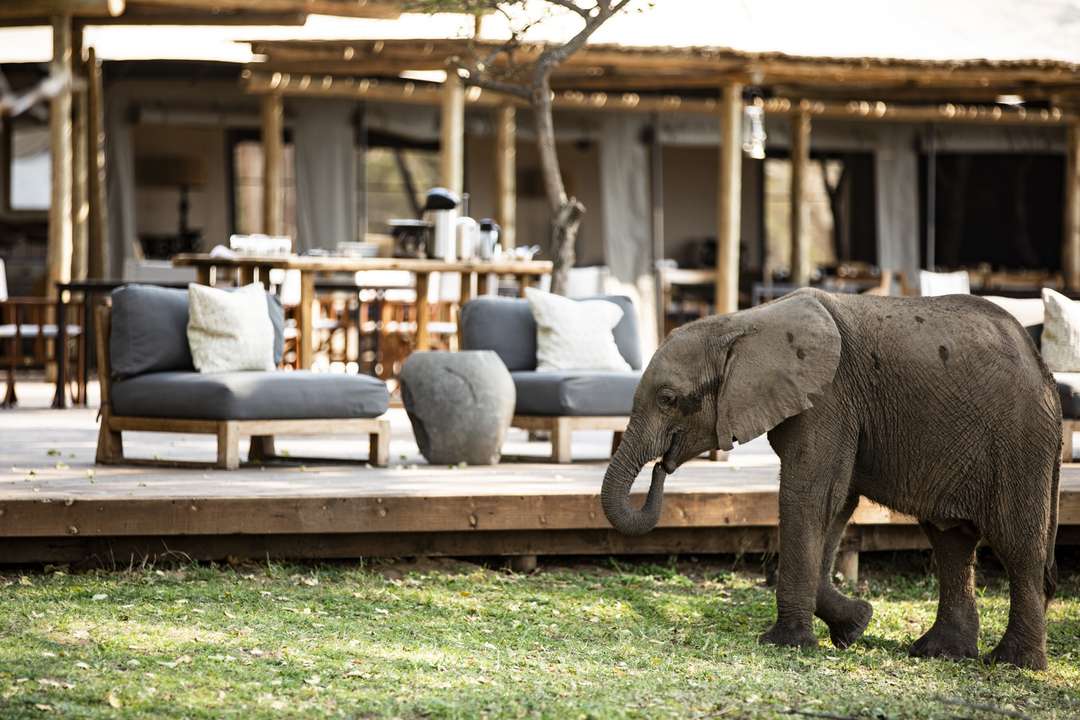 Ruckomechi – and its smaller, more intimate sister, Little Ruckomechi next door – suit the adventurous. As staff describe, the camp is a Grand Central Station of wildlife coming and going; they feel at home there. As you will…
Ruckomechi is the place to find your love of nature and love for life, writes Ruckomechi Camp Manager Eddie Mudzimu in his poem 'Our Ruckomechi', a paean to the camp and surrounding wilderness. The private Ruckomechi Concession is set at the southern tip of the Rift Valley, with distant views of the escarpment and front-row views of the Zambezi.
Explore The Magic of Mana Pools 

'Ruckomechi is a little paradise on Earth, where the souls of nature lovers connect', says Ruckomechi Senior Guide Nyenge Kazingizi. 'Guests get to be in the midst of wildlife. The concentration of animals around camp, especially elephants, is what guests really enjoy. Elephants roaming around their tents at mid-day as they pick acacia pods, or swimming across to the island to feed. As one guest said, "Just sharing the space with these gentle giants is so amazing"'.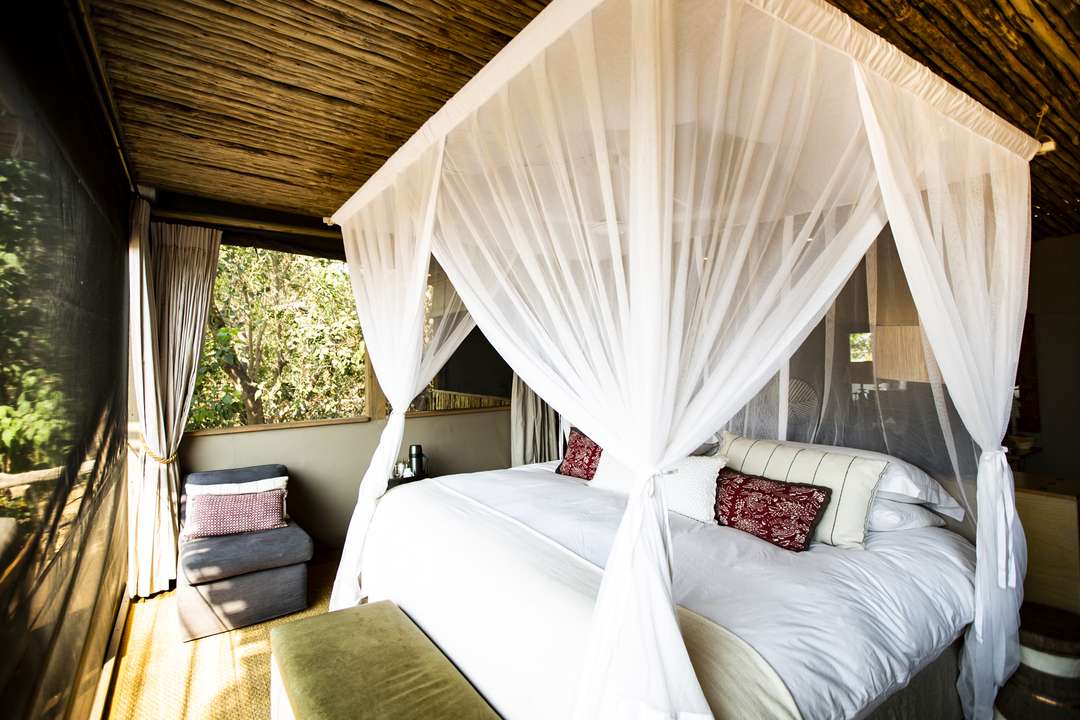 Tendai Mdluli, Wilderness Zimbabwe Field Operations and Trade Relationship Manager, echoes Nyenge. 'I love the exclusive use of the concession with such an abundance of wildlife and activities', he says. 'One area with a high number of leopards. Seeing elephants swimming into Zambia and also standing on their hind legs to access the nutritious pods and leaves of the ana trees (Faidherbia albida). The fact that you can choose to be on the river, where you stand chances of getting close to elephants swimming as you drift past them in your boat…'.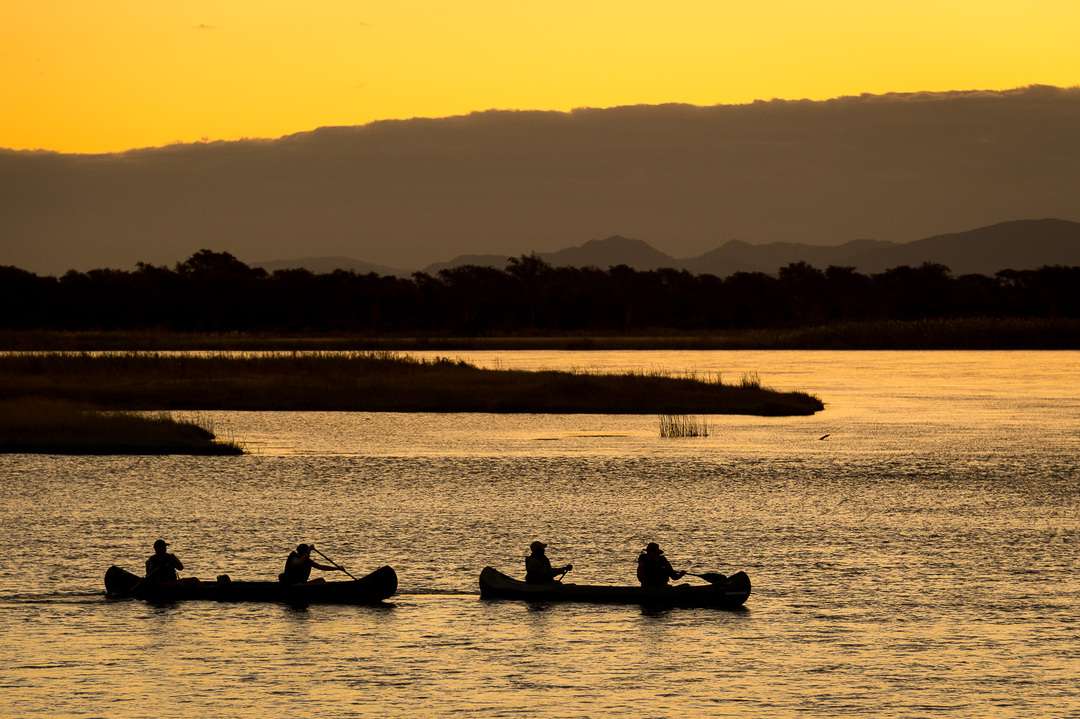 As Eddie writes, Ruckomechi is 'both magical and mythical'. As is its name, a combination of two Shona words, 'rukova' (river or stream) and 'komechi' (mug or cup). Eddie has the story:
'Legend has it that long before this area was turned into a Heritage Site, there were locals staying here. One day the Chief's servant went to the river (now the Ruckomechi River) and found a copper mug filled with gold, and ran back to tell the Chief. From that day, the river became knowns as "the river of the mug", or "rukova rwekomechi'. Rukova rwekomechi was a bit of a tongue-twister to the white settlers and hunters who came later. Since they could not pronounce the Shona name properly, they simply called the river "Ruckomechi" and the name stuck'.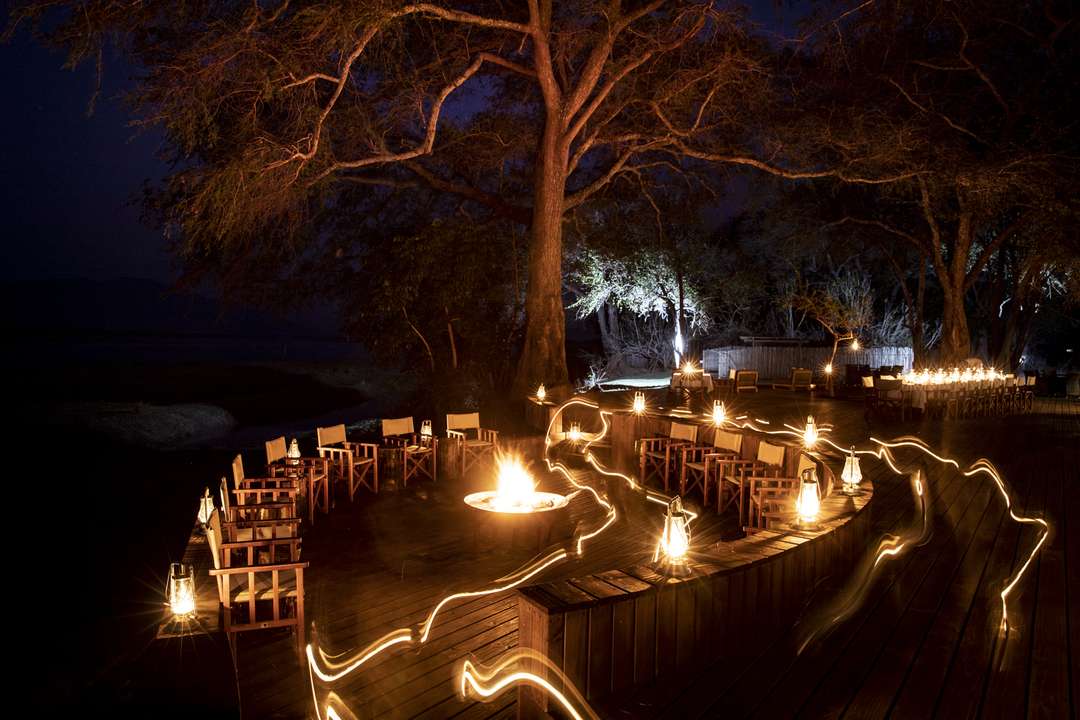 Although they don't have to go far for a wildlife encounter, Ruckomechi's guests have plenty of options for game viewing, as well as other activities. On offer are day and night game drives; guided walks; boating; canoeing and kayaking; catch-and-release tiger fishing; and spending a special night in the 'treehouse' or star bed near an active waterhole.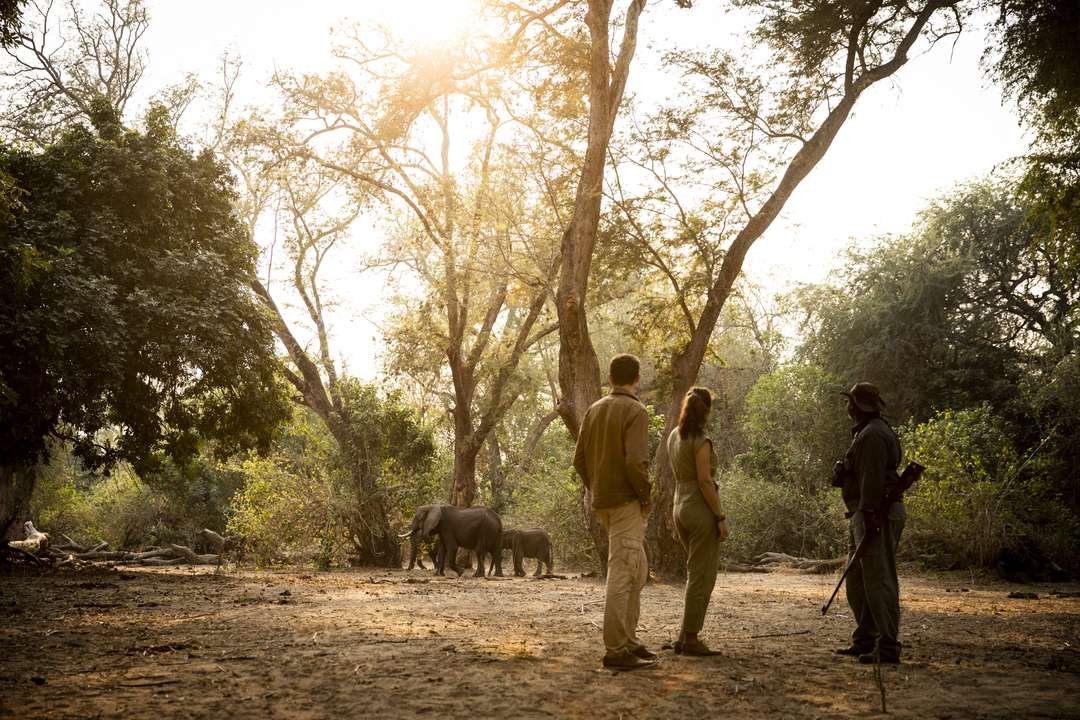 Staying in camp, seeing what arrives, is always surprising. Guide Nyenge suspects the animals' claim to camp is territorial: 'I believe they refuse to surrender their rights to this site'.
'There's no shortage of game around the camps', Eddie confirms. 'Elephants literally hang out here or use pathways in and around camp to get to the river. Early in the year we have herds of impala with newborn babies close to camp, and usually in front of camp we have waterbuck and hippo. All this commotion and movement draw predators right to our doorstep.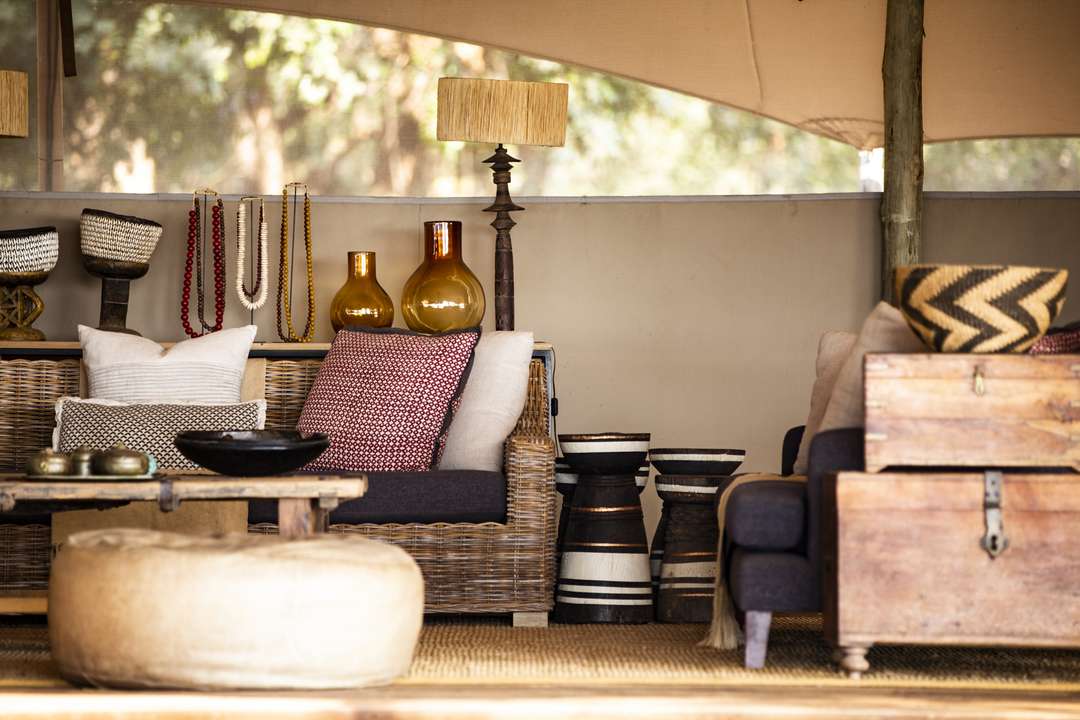 'I remember one evening at Ruckomechi, we heard a male lion calling very close to camp', he continues. 'We were all scared and alert, very aware that there were lions around. What we did not realise was that the lions were already in camp, and at that point were walking along the path to the main area where we were about to serve dinner.
'They proved to be a mating couple, and the male was so high on testosterone that he began to charge the game vehicles driving into camp. The two lions took their romance to a place in between the main area and the kitchen. At any sight of vehicles or humans, the male would mock charge, bellowing. The sound of that bellowing sent shivers down our spines. I saw some guests crawling under the dinner tables . It was an event I'll never forget – there's never a dull moment at Ruckomechi!'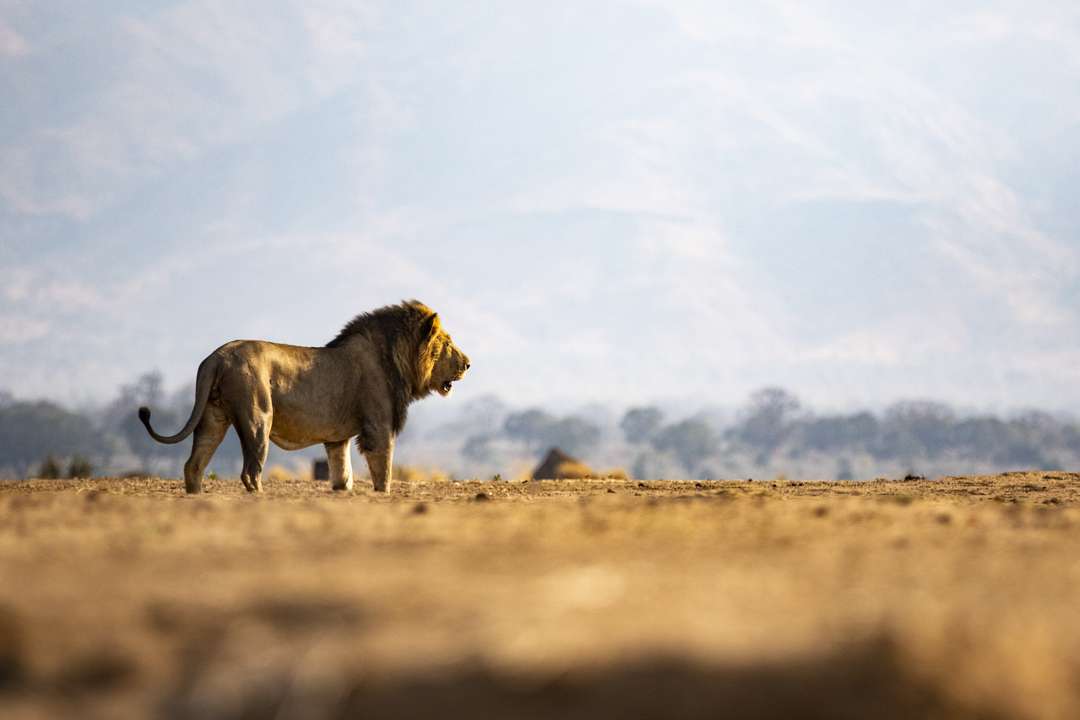 Out of camp, the wildlife experience can be equally exciting. Nyenge recalls a special encounter with wild dogs.
'I was on a game drive one afternoon, and we were fortunate to see a pack of wild dogs', he says. 'We decided to get out of the vehicle and find a better photographic position for the guests, as we were behind a large mopane log. After a short while the alpha female got up and came to sleep right in front of us, less than 15 metres away. I was wondering what was going on, and then another dog came. The pack surrounded us, including six puppies. I realised that they were checking us out for the puppies' safety. The puppies started playing and we enjoyed watching them. Without our realising it, the adult dogs departed for their sunset hunt – and we became babysitters! The adults came back after about 45 minutes to reclaim their children'.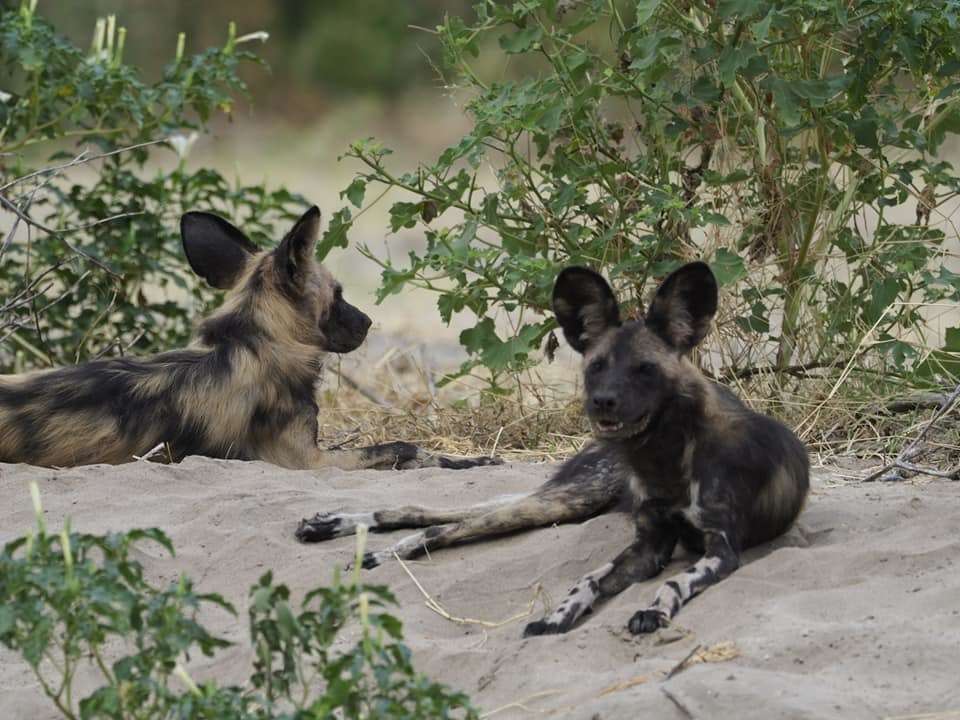 Birding is a pleasure at Ruckomechi, especially witnessing the migratory carmine bee-eaters nesting on the riverbanks. Iconic African fish-eagles and other water birds abound.
There's much more to rave about – the camp's deeply African décor, full of traditional art and saturated in earthy tones; a rich variety of dining options, communal and private, in camp and in the bush; Olympus camera sets and Nyenge's expertise to elevate guests' photography; and warm, first-class hospitality, Wilderness Safaris' trademark.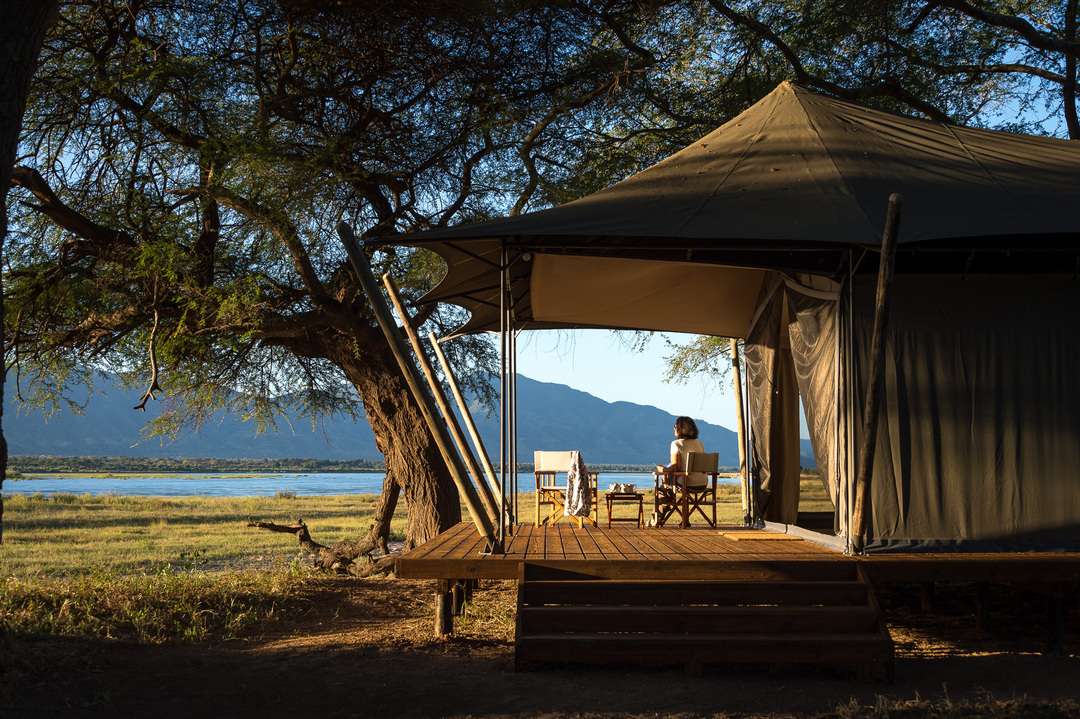 'The diversity of activities, the wildlife, the scenery – Ruckomechi ticks all the boxes', Tendai says. 'A perfect place when you're on the river, especially, on an evening cruise to enjoy a moment of silence and take in what's happening around you'.
It's all addictive, as Eddie and his colleagues will tell you.
'I want our guests to leave with the memory that they have been to Africa and fulfilled a lifelong dream', he says. 'Africa is a bug, and that bug is what I want our guests to take back. When that bug bites, you just want to return'.
 Our Ruckomechi
A poem by Eddie Mudzimu,  Ruckomechi Camp Manager
There is a place that I dream of and yearn for; 
There is a name I hear calling in a subtle voice; 
There is a river whose waters alone can quench my thirst; 
There is a place that draws me physically and emotionally; 
That place, that name, that river is Ruckomechi – 
The land of my people.
This is our Ruckomechi:
Ruckomechi, the life-sustaining river;
Ruckomechi, the beautiful and serene camp;
Ruckomechi, the people and their rich history;
Ruckomechi, the concession teeming with wildlife, big and small,
The flying, the crawling, the walking –
Ruckomechi, the jewel of Mana Pools.
Ruckomechi speaks;
Ruckomechi calls;
Ruckomechi bites;
Ruckomechi is both magical and mythical;
Ruckomechi always has a surprise up her sleeve.
You can never get enough of Ruckomechi.
Truly, the Gods of the Valley loved Ruckomechi –
The Kahila Mountains to the north,
The Great Escarpment to the south,
Nyakasanga River to the west,
Ruckomechi River to the east –
Ruckomechi found favour in the eyes of the Gods.
Ruckomechi is not just a camp;
Ruckomechi is not just the life thriving here in abundance;
Ruckomechi means more than the flora and fauna;
Ruckomechi is not just spellbinding sunsets and sunrises;
Ruckomechi is not just the calming flow of the Zambezi as she cascades quietly to the oceans and yonder;
Ruckomechi is the place to find your love of nature and love for life.
I will go to Ruckomechi for Ruckomechi will always be calling;
I will heed her call.
I will live in Ruckomechi for Ruckomechi lives in me.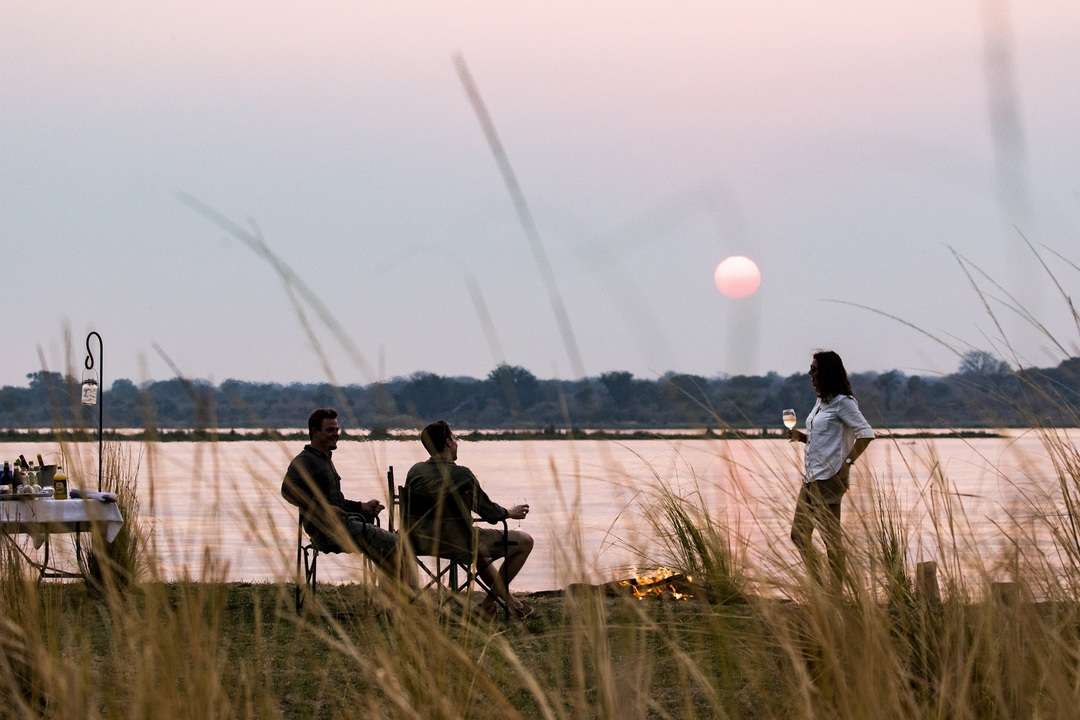 Written by Melissa Siebert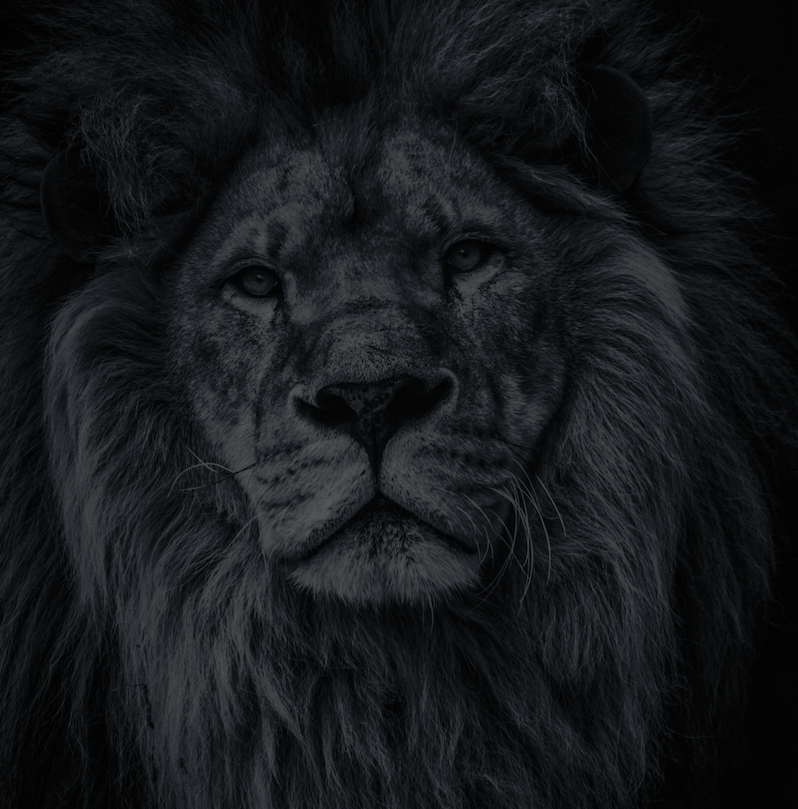 Let's plan your next journey
Ready?
When we say we're there every step of the way, we mean it, literally. From planning the perfect circuit, to private inter-camp transfers on Wilderness Air, and easing you through Customs. We're with you on the ground, at your side, 24-7, from start to finish. Ready to take the road less travelled? Contact our Travel Designers to plan an unforgettable journey.