For a seamless safari experience, service and convenience are at the heart of Wilderness Safaris' life-changing journeys. Flying into the African bush is an integral part of the safari experience, and while waiting for the next leg of a trip, or a connecting flight to a camp may be mundane, the Wilderness lounges provide a comfortable spot to while away the wait. With every detail carefully thought out, we have dedicated personnel on hand to ensure that all our guests' needs and comfort are met.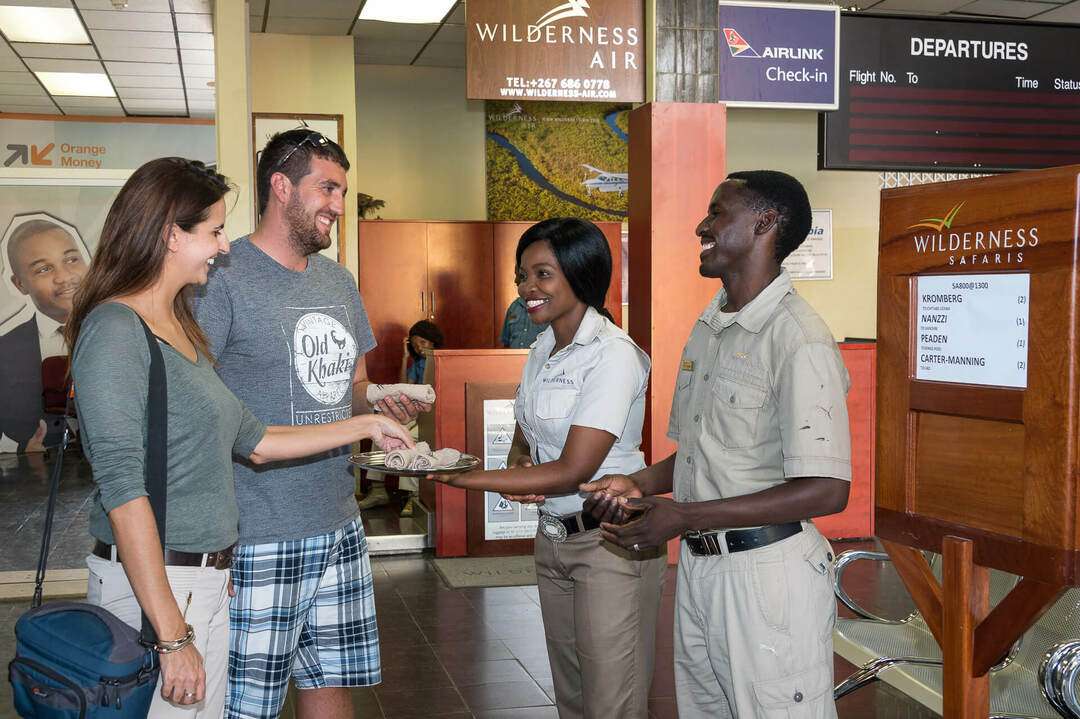 Photographed before COVID and mask wearing regulations
From the moment the guests arrive at the airport, whether on an international flight, a connecting flight from a camp or from a transfer, the Wilderness team is on hand to ensure the transition is smooth. Our exclusive airport lounges provide Wilderness guests with a peaceful environment in which they can relax, freshen up, connect, recharge, and prepare for the next stage of their journey.
Welcome to Windhoek
The recently refurbed Hosea Kutako International Airport in Windhoek, Namibia, has also seen an upgrade of the Wilderness Safaris lounge. Located in the International Arrivals hall, the lounge is spacious and comfortable. With Wi-Fi, guests can connect with the world while waiting to connect with the wilderness. There's filtered drinking water, a variety of teas and a bean-to-cup coffee machine, as well as lots of reading material to pass the time. And, the airport team will meet and greet the guests off of their flight, and assist them with onward arrangements . The team will also help with checking itineraries or printing documents like PCR tests. There are storage facilities to lock away excess luggage, and extra bags, should the guests need to repack into a smaller soft-sided one.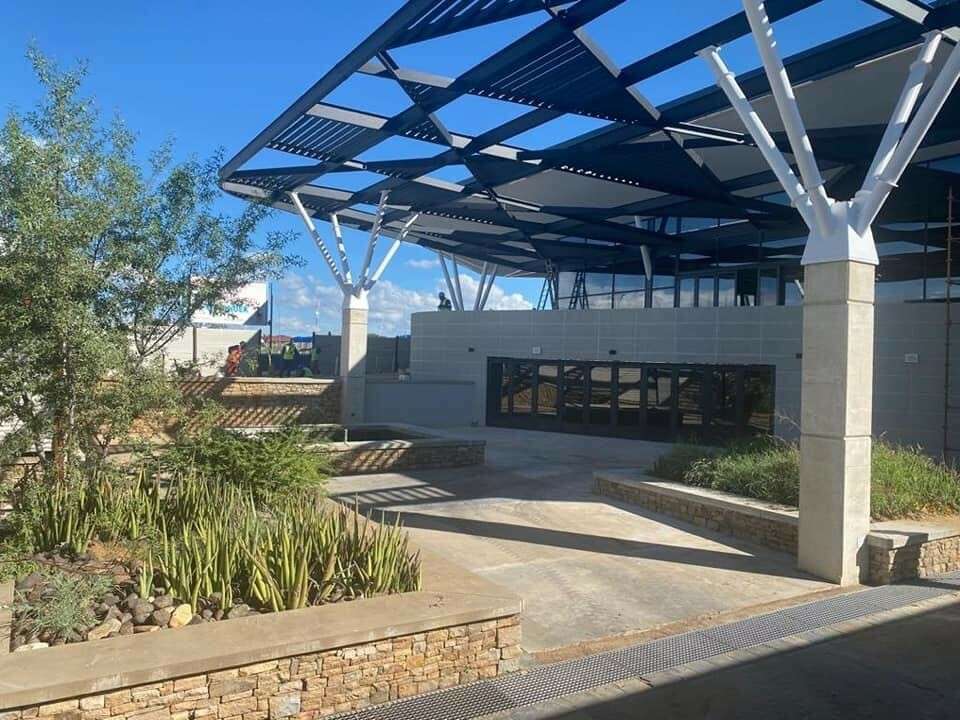 Meeting us in Maun
The Wilderness lounge at Maun International Airport, the main gateway to the Okavango Delta, is based at the Wilderness Air offices, in the building adjacent to the airport. Here, guests have full access to the lounge facilities whilst waiting for their flights, looked after by our dedicated Wilderness Air staff. The lounge offers seating and dining facilities in its fully air-conditioned space. Wi-Fi, TV showing informative and educational videos, and a variety of beverages, both alcoholic and non-alcoholic, are available. Meals are available on request, and there are also luggage storage facilities.
Convenience in Kasane
At Kasane International Airport, the lounge is based in the Domestic Terminal Building. Like Maun, guests awaiting their flights or transfers have full access to the lounge, where they can connect in comfort to the outside world, with Wilderness' complimentary Wi-Fi, before continuing on the next leg of their journey. Comfortable seating and air conditioning, along with a variety of drinks, ensure our guests' needs are taken care of by the friendly and helpful staff on the ground. There are also storage and charging facilities available.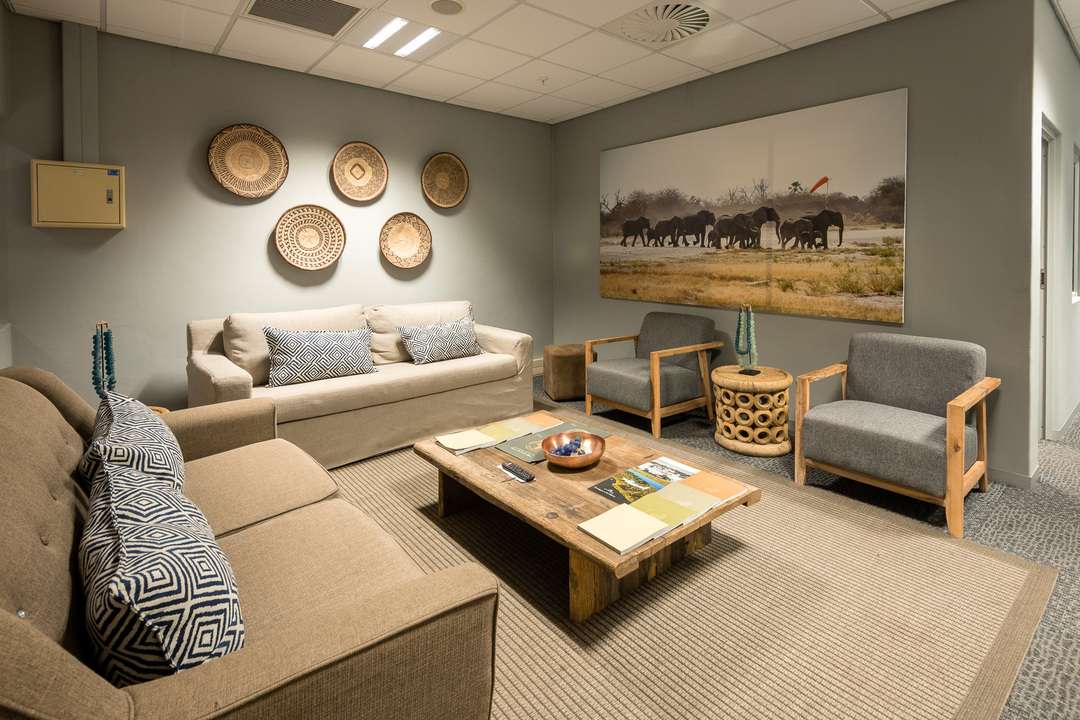 Visiting Victoria Falls
The Wilderness lounge at Victoria Falls International Airport is conveniently located in the international terminal building, between the Arrivals and the Departures halls. Designed as a place of comfort for Wilderness Safaris guests waiting to connect to their camps or other areas with Wilderness Air, the lounge provides an air-conditioned indoor area with relaxing chairs and sofas, tablets and Wi-Fi. Guests also have exclusive access to a thoughtfully crafted indigenous garden in the atrium, where they can sit by the attractive water feature and soak up the sun while waiting for their flights. With complimentary tea and coffee on offer, guests can also charge their cameras and other equipment, while catching up on emails and connecting with friends and family back home.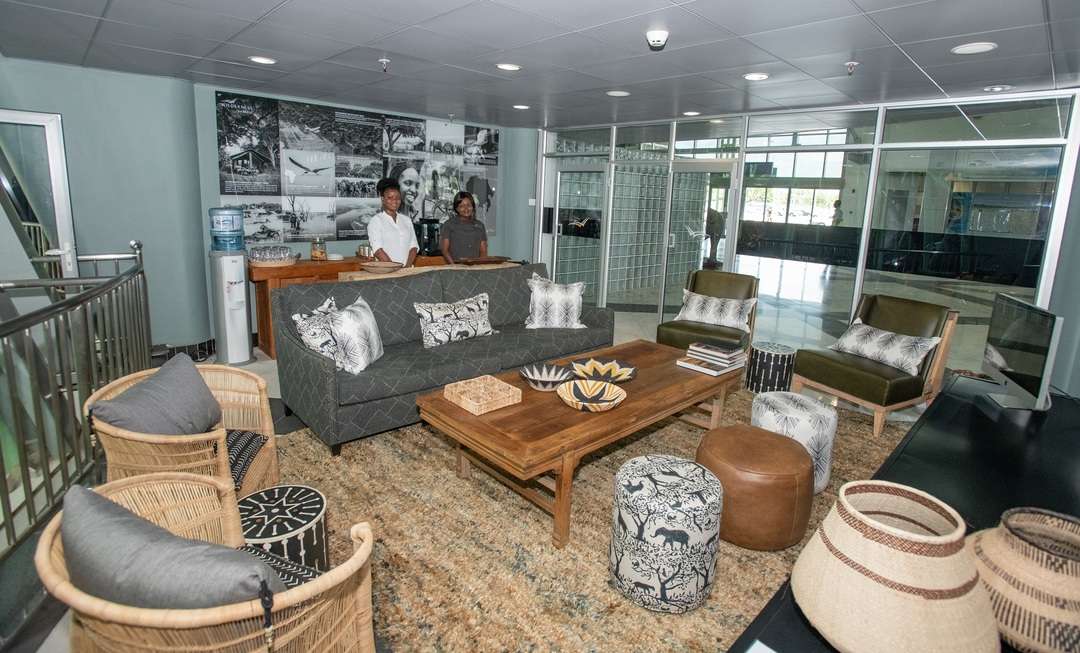 As the world opens up, and a new era of travel emerges, Wilderness Safaris and our partner, Wilderness Air, have bolstered existing hygiene and cleanliness measures in all our offices, camps, aircrafts, vehicles, and the airport lounges, to be in line with the World Health Organisation guidelines on COVID-19. We are continuing to refine our health and safety procedures in accordance with best practice.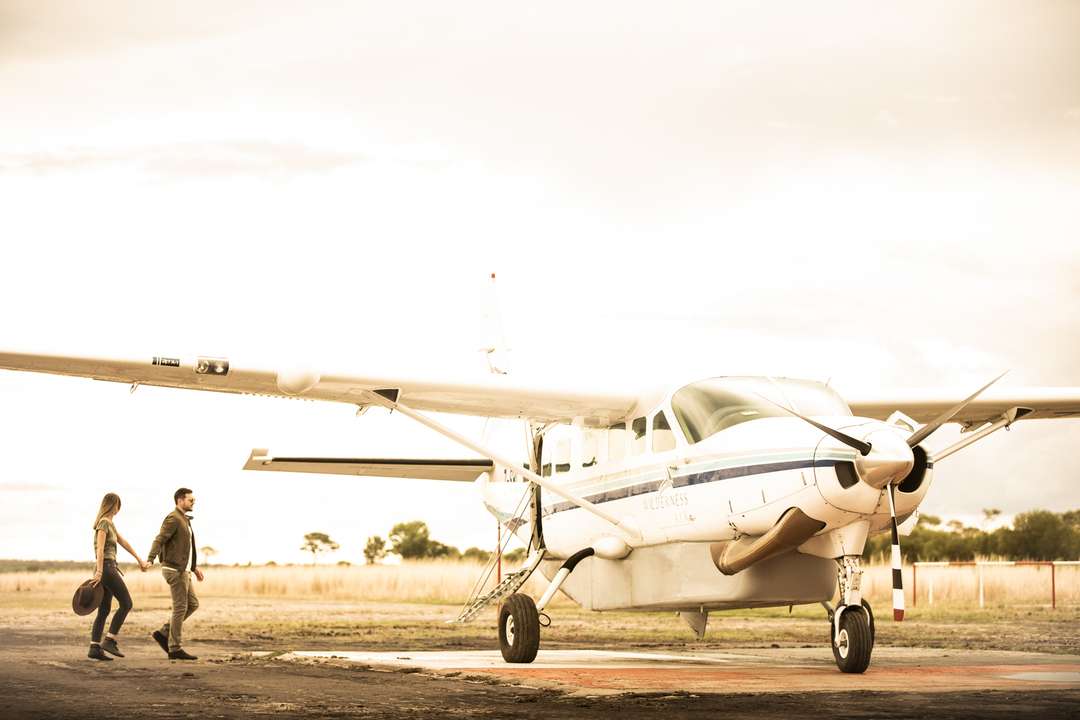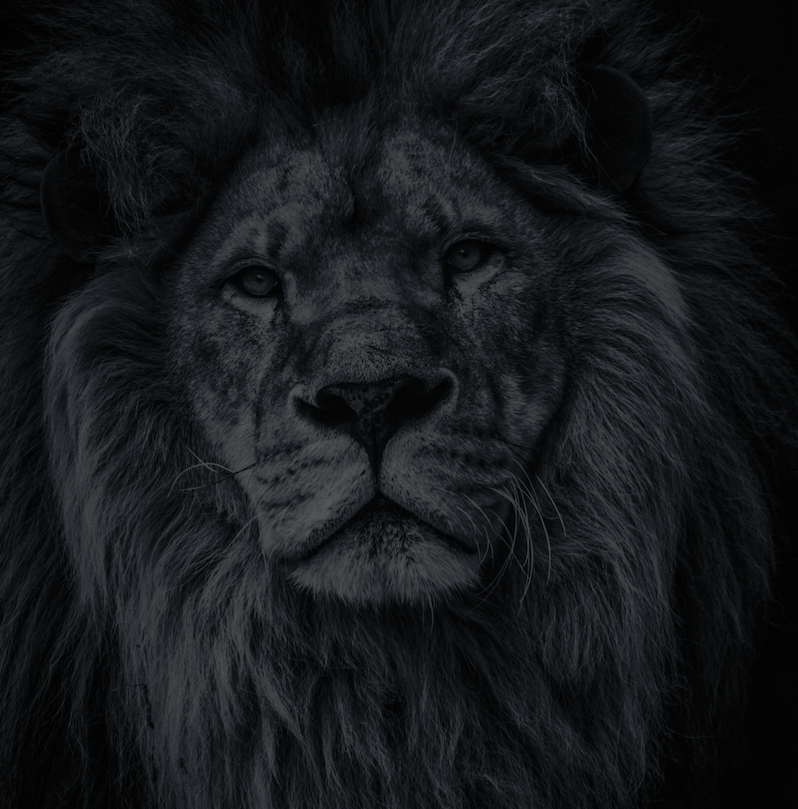 Let's plan your next journey
Ready?
When we say we're there every step of the way, we mean it, literally. From planning the perfect circuit, to private inter-camp transfers on Wilderness Air, and easing you through Customs. We're with you on the ground, at your side, 24-7, from start to finish. Ready to take the road less travelled? Contact our Travel Designers to plan an unforgettable journey.