Wilderness Air Pilot Sam O'Donovan Shares the Thrills of Flying Africa 
Our aviation partner, Wilderness Air (WA), celebrated its 30th anniversary this year, growing from flying just one light aircraft out of Maun, Botswana, to now operating a fleet of 29 aircraft in four countries. Safety, seamless service, and an outstanding team of pilots are WA's hallmarks.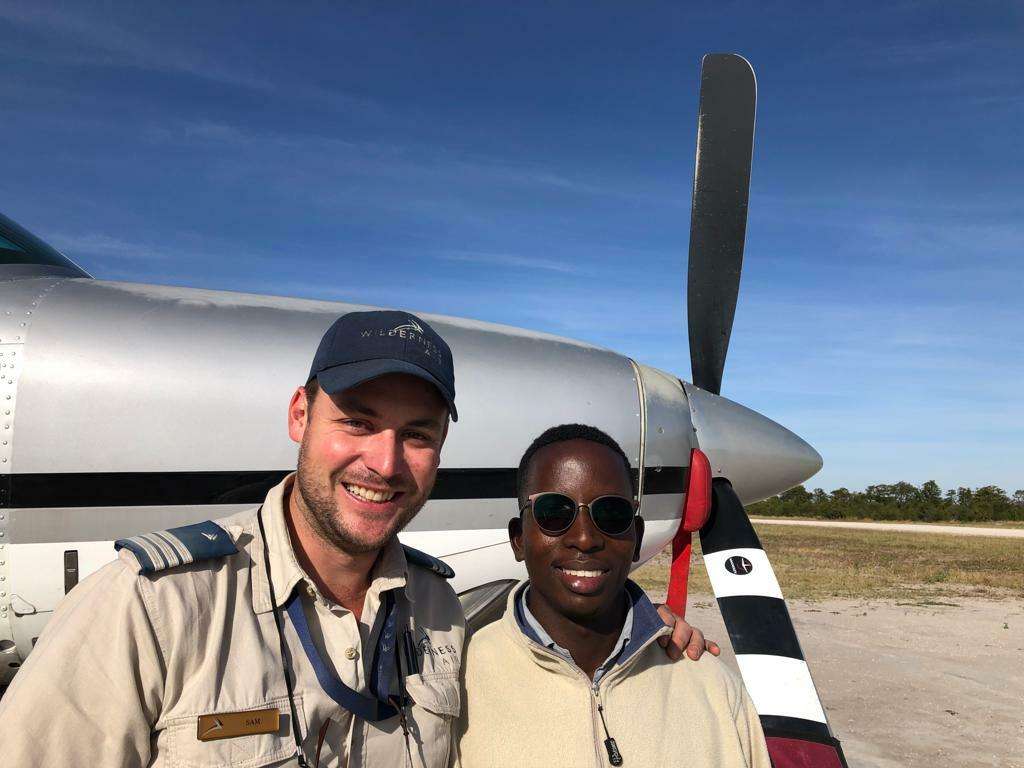 In June I was lucky enough to fly with WA pilot Sam O'Donovan – wangling my way into the Cessna Grand Caravan's co-pilot's seat – en route from Maun to Botswana's Linyanti Wildlife Reserve. We chatted a bit in the cockpit, he pointing out landmarks along the way and telling me to look for elephant gathering at the pans far below.
I learned that he's from Christchurch, New Zealand, worked as a flight instructor in New Zealand and Australia, and has been flying for Wilderness for nearly seven years. But safety concerns and the roar of the engine ruled out too much talk. So I caught up with Sam soon afterwards – to find out more about life as a WA pilot…
How and when did you start flying, and what made you want to fly?
I was 14 when I had my first instructional flight. I remember doing max rate turns (high-speed turns) over my house at the time and thinking that was pretty cool. I have no family history in aviation except for a distant relative who was a WW2 fighter pilot – he was shot down over Europe.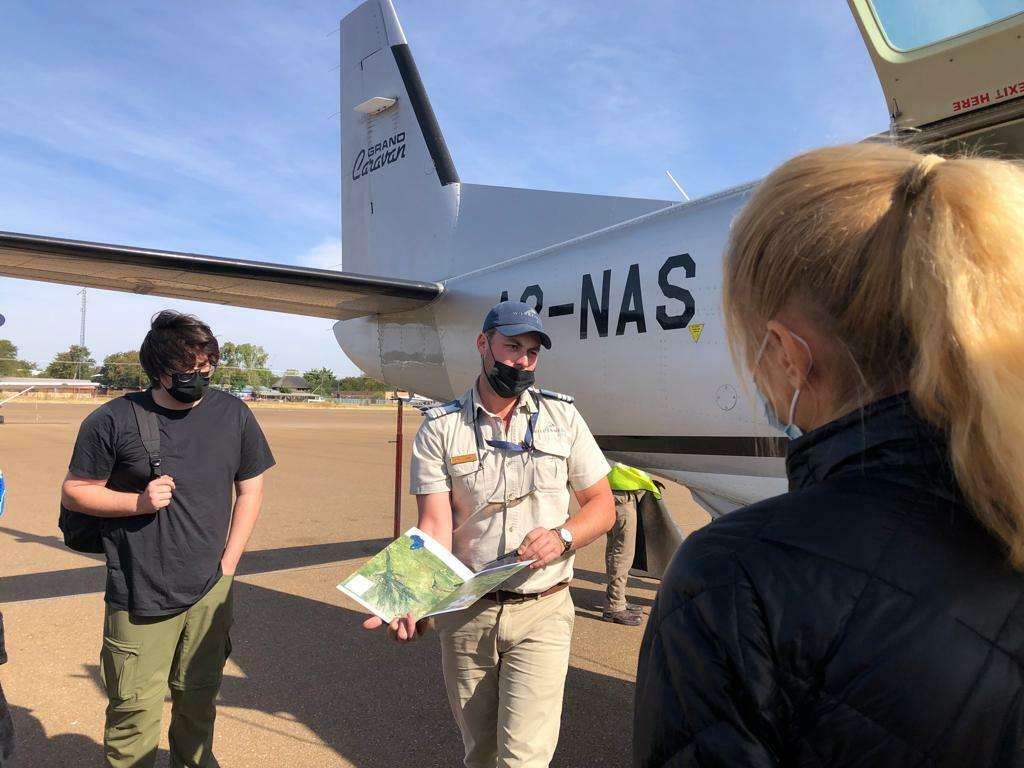 I always wanted to be a pilot from a young age. My earliest memories are with my dad watching planes land at the airport. I did most of my flight training on the south island out of Christchurch International, a busy airport with lots of traffic. The flight school was called the International Aviation Academy of New Zealand and was part of the Canterbury Aero Club, a flying club that has been around since 1928.
What have been the highlights of flying for Wilderness Air, and working for Wilderness?
Far too many to tell. Without a doubt, the wildlife that we see. It's awesome hearing elephants and lions at night whilst you sleep in camp. Or having animals close to the runway when landing and taking off. I have had wild dogs and lions often appear on the runway, which is always a kick. I once had a leopard make a kill and drag the carcass under my room, only to find out the following morning that I was sleeping above her. She was still there when I went back to have a look. I've been lucky enough to fill several memory cards on my camera since I first started at Wilderness Air. Flying over the Victoria Falls is a great experience too – that never gets old. I have been fortunate enough to do some work in Namibia and Zimbabwe as well, and the scenery there is second to none.
Have you had any close calls in the air?
Plenty – with marabou storks and other large birds. They'll make a great mess if you ever hit one of them. Animals running out on the runway at the last moment can also require you to think quickly. The Okavango Delta can be a very busy bit of airspace, as well as around Maun, but if you're paying attention and keeping yourself situationally aware then you'll be fine. Always look outside.
What are some of the challenges of flying over Botswana (the Linyanti and Okavango)?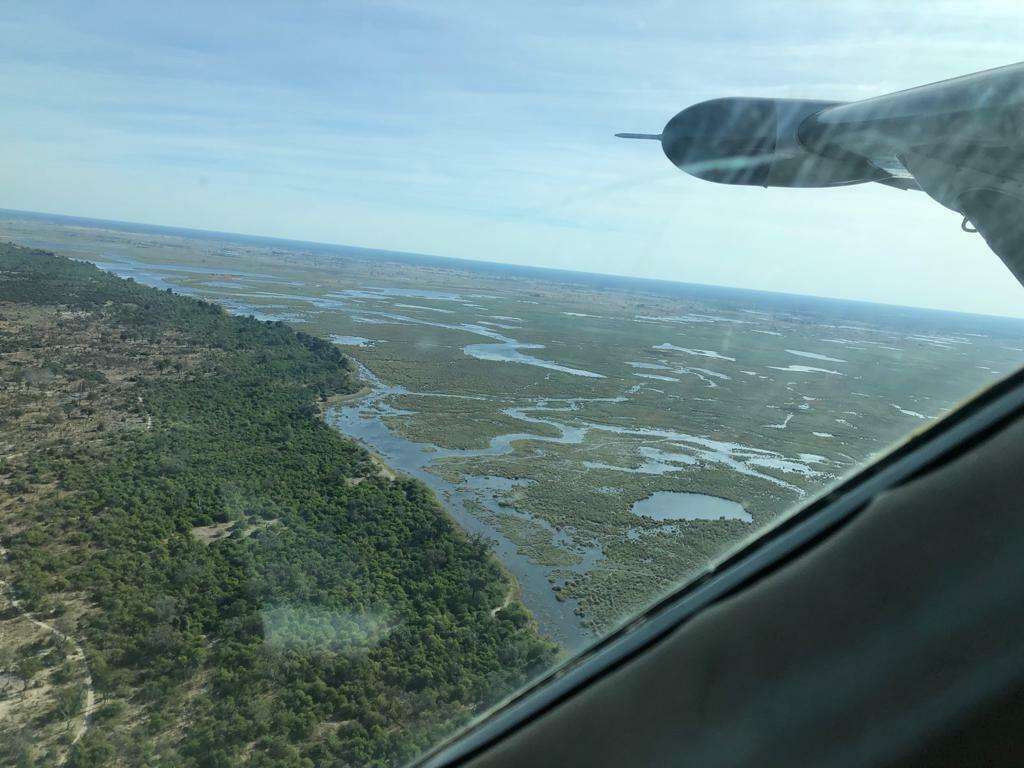 The heat would have to be one of the biggest challenges. The aircraft loses performance when it is hot due to the lack of air molecules flowing through the engine or over the wings. Take-offs can be longer and slower as a result. The wet season is also challenging as we fly around huge thunderstorms. They cause violent updrafts and downdrafts. Heavy rain can soak a runway as well, leaving it very slippery. I've seen four-tonne aircraft slip and slide if you're not careful. Animals are also a constant threat to our operation, but Wilderness is the only company in the Delta that has guides on the ground with radios to let us know of potential runway incursions as they happen. It helps us mitigate those hazards safely. The Grand Caravan is the perfect aircraft for flying in Botswana. We have also modified ours to take increased weight, with bigger bush tyres to help with the runways.
What are some of the special aspects of flying over them?
Flying over the Okavango is something special. From someone that's seeing the Delta for the first time, to someone like myself who sees it every day, there's always something to look at, take an interest in. It's always amazing to see the water flow through the Delta during the inflow – my favourite time of the year to fly, seeing palm trees, animals enjoying the water, and riverways being formed over the dry landscape. Spotting fish eagles in the trees or crocodiles warming themselves on the sandbanks are cool things to look out for. You honestly never know what you're going to see over the Delta or Linyanti; I hate to admit it, but I probably spend more time looking down and out the window than at my instruments. The Linyanti is very different to the Okavango, but equally as impressive. Flying low over the Linyanti in the dry season, particularly in October, is amazing. Along the Savuti Channel or Linyanti swamp systems you'll see literally thousands upon thousands of elephants.
Do you always fly using GPS? I guess you can't in a storm, right, as in the rainy season? What happens then in terms of navigation?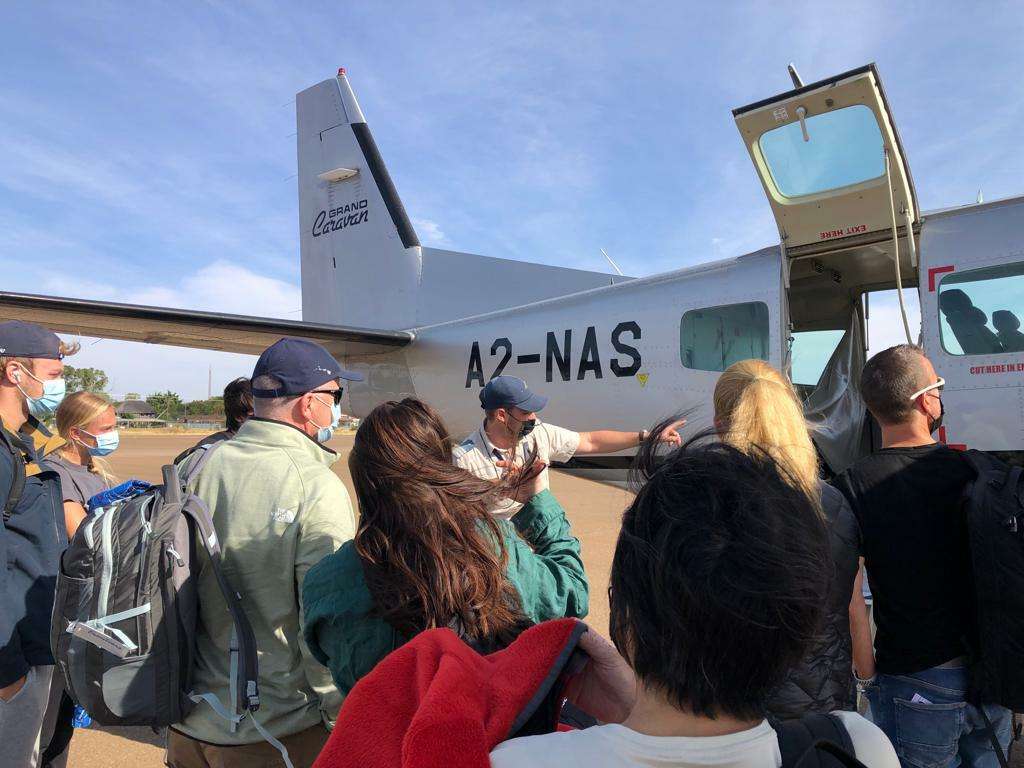 Our primary source of navigation is GPS. We use other instrument aids as backups, such as VORs (VHF Omnidirectional Radio Range systems, which guide planes via radio signals) – but at the end of the day we are a VFR (Visual Flight Rules) operation, therefore we need to fly by sight. We train all our new pilots in the Delta to fly using rivers and other features, in the event that GPS fails. That said, our GPS will still function fairly well in wet conditions. We also utilise a rain radar which helps detect storms and the strength of rainfall inside them. If the radar picks up a dark purple colour, it's best to give that storm a wide berth.
What landmarks do you use, when not relying on GPS?
In regards to waterways that are key features to navigate from, working left to right across the Delta we have the Kiri, Boro, Santantadibe, and Gomoti rivers. They are all seasonal and flow differently each year depending on annual inundation levels. The Khwai/Xakanaka floodplain normally always has some water. That water then flows into the Khwai River, an area with lodges and plenty of game.
The Savuti Channel, where Wilderness Savuti is located, is a river that flows from the Linyanti swamps through the channel and tries to push as far up into the Savuti Marsh/Mababe Depression as it can. This river system is quite mysterious, and can stop for years at a time and restart without notice. It currently has water in it.
The Chobe River is further downstream of the Linyanti Marsh. This river floods every year and has a close relationship to the Zambezi, which it flows into. We use the Chobe River to navigate with when flying up to Kasane.
The Linyanti and Okavango Delta are linked together by a spillway system known as the Selinda Spillway, which flows from the Delta side first.
The Okavango Delta eventually drains into the Thamalakane River in Maun, which sits along a faultline before flowing to the Boteti towards the Makgadikgadi Salt Pans or Lake Ngami. It's important to note that the water that flows through the Delta will never reach the ocean, whereas the Linyanti river systems' water has a better chance, flowing past Lake Liambezi, through the Chobe River, then outwards via the Zambezi, over the Victoria Falls, towards Lake Kariba, on to Lake Cahora Bassa in Mozambique and eventually into the Indian Ocean.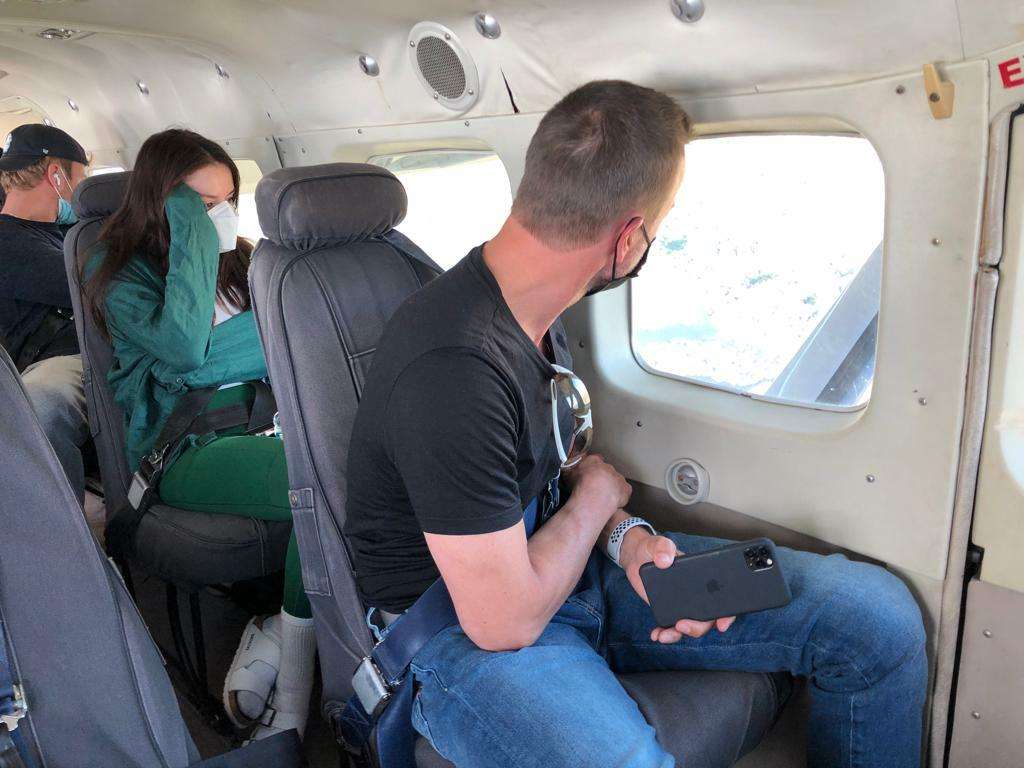 Please describe how the different seasons affect flying over Botswana.
Summer Season (December to April): Large thunderstorms, very green, and good visibility. Animals are fewer as the water is now abundant. Runways can be quite wet, and we generally have to fly low below cloud, or in certain cases quite far off course around storms to get to the destination. We often divert to other airstrips and wait for the storms to pass, usually quickly. It's amazing flying past columns of rain all around the aircraft. It's my favourite time of the year to fly – and if you ask any Wilderness pilot, I'm sure they'll say the same.
Dry (Winter) Season (May to November): Nice and cold in the winter, good performance from aircraft, and lots of animals, so you need to be vigilant around runways. As it starts to warm up, there won't be any rain for about four months or so. It becomes incredibly hot and hazy. It's a great time to visit Botswana but a tougher time to fly; it can get a little rough due to thermal activity. As it gets hotter it gets more challenging to fly the aircraft in terms of performance, but the lack of thunderstorms makes it a quicker journey from A to B.
What are the routes you currently fly, and in what aircraft?
I fly the Cessna 208 Grand Caravan as Check Pilot and Training Captain. The aircraft has 14 seats, including two pilots' seats. It is powered by a Canadian Pratt & Whitney Turbo Prop Engine. All of our regions – Botswana, Namibia, Zambia, and Zimbabwe – utlilise the aircraft the same way. Whilst I am based in Botswana, I have been fortunate enough to fly in Namibia and Zimbabwe, two incredibly beautiful places to fly.
We don't fly scheduled routes. We will know only the night before what the route is for the following day. We fly where the guests want to fly, which makes the flying more enjoyable as you never know what to expect.
What does your assistant do to help, in the air and on the ground?
My assistant is called a 'loadmaster'. His name is Gase Moikomiso. He's from northern Botswana, a village called Beetsha. He helps with loading bags and cargo, as well as assisting during the hot turnarounds, where the aircraft doesn't shut down at some of the bush stops. He's fully trained in all the ground courses that a pilot and other aviation staff must complete in order to operate for an airline. Courses like dangerous goods, aviation security, and so on. He's a great guy – I always enjoy my flying and camp overnights with him.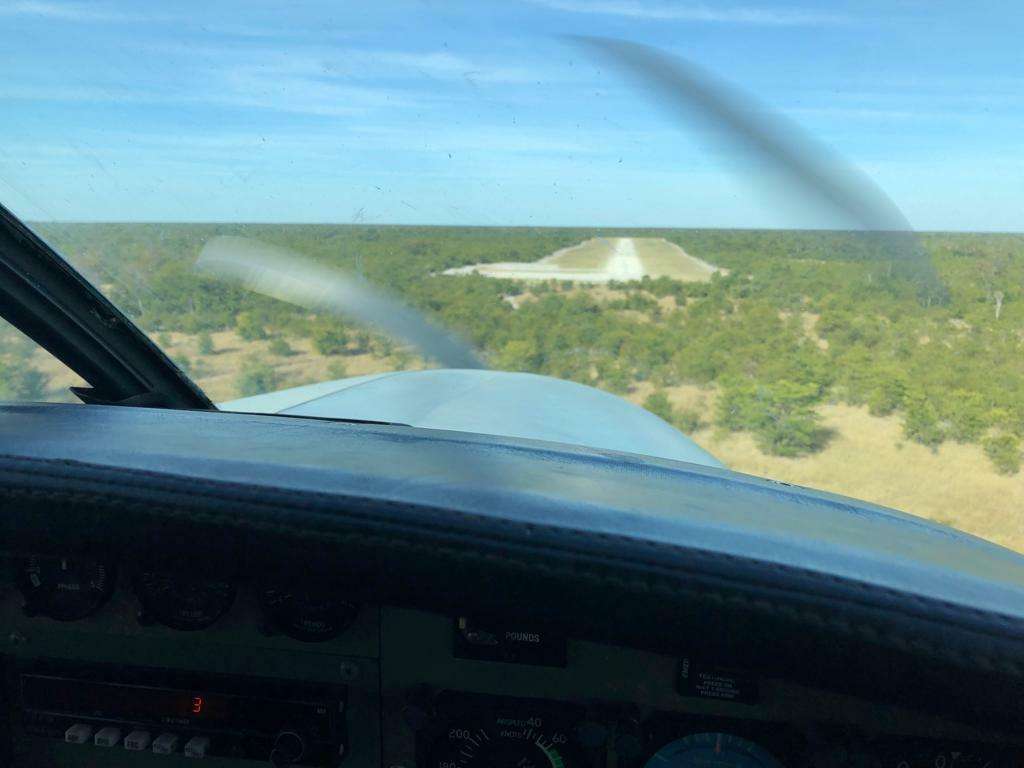 What is it about Botswana, the Linyanti and Delta that you think guests/travellers love? That you love? What does seeing them from the air add to the experience?
Botswana is a unique place. It's not somewhere like Cancun or Ibiza where you fall out of a budget airline and make your way for a drink by the pool bar. You don't just wind up here by chance. Most people have planned this trip for years. It's a real bucket-list place to visit. Botswana's Okavango Delta and Linyanti offer landscapes and animals that you won't find anywhere else on Earth, and people want to experience that. To watch a wild elephant stroll past your game vehicle in silence, or hippos blasting out of the water in the swamps. To hear the crunching of bones on a lion kill, or fish eagles crying. All really exhilarating. I still love all those things, and I'll take my camera to the bush every overnight – because you never know what you'll see there.
I think a view from the air is the best view possible. Many photos of these destinations are taken from above, they're what attract people to these places as they plan their trip. Not everyone gets to fly on safari – so this is definitely an added touch for Wilderness guests. It also saves a lot of time: a 40-minute flight opposed to a 10-hour overland trip via 4X4.
I really enjoy the guest side to my flying. I try to excite guests as much as possible about their visit. I'll give them a great safety brief, including what to expect along the way, as the flight kick-starts their holiday. I'll tell them to say good-bye to civilisation and then off we go. It's always amazing to look back in the flight and see every face glued to the windows looking down at the ecosystem below. Some guests with no flying experience are more than welcome to ride in the front, and you'll find a lot of them think it's awesome. We chat about the flight, the aircraft, what we are seeing inside as well as down below. I enjoy showing people my 'office' and getting them interested in the aircraft.
It's hard to tell what guests love the most about visiting the Okavango and Linyanti. Everyone is different. For example, I once stayed at Savuti and I had dinner with two guests from Hong Kong. They had actually won a prize to come to Botswana, so they were pretty lucky. I asked them what they would most love to see, and thought they would answer lions, leopards, rhinos or maybe some rare, exotic bird. They both said they most wanted to see stars. They had both grown up in Hong Kong, and stars were something that they never knew. Botswana is probably one the best places in the world to view the night sky, so I'm sure they got their wish.
Photographs by Melissa Siebert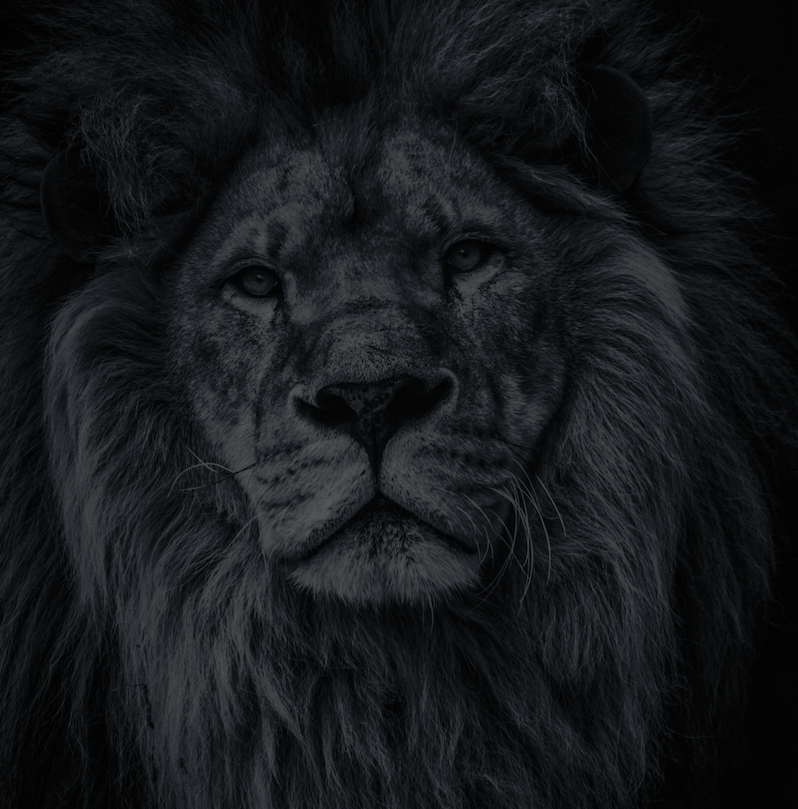 Let's plan your next journey
Ready?
When we say we're there every step of the way, we mean it, literally. From planning the perfect circuit, to private inter-camp transfers on Wilderness Air, and easing you through Customs. We're with you on the ground, at your side, 24-7, from start to finish. Ready to take the road less travelled? Contact our Travel Designers to plan an unforgettable journey.