Visiting a Wilderness camp is a life-changing experience and one that you won't want to forget. Having a camera on hand to capture your wilderness moments is always a good idea, and having the right guide to show you how to use your camera to its best abilities is an added bonus.
In 2018 Wilderness joined forces with Olympus in an exciting partnership to enhance our wildlife photography experience in camps. Olympus Photo Hubs, set up at selected camps across Botswana, Rwanda, Namibia, Zimbabwe and Zambia, allow our guests to enjoy capturing images while our Wilderness photographic guides assist with sharing tips on how best to capture those powerful wilderness moments.
Linkwasha Manager Joe Hanly, our overall 2018 Wilderness Moments Photographic Competition Staff Category winner, shares a selection of his top wildlife images using the Olympus OM-D E-M1 Mark II.
Can you choose a favourite?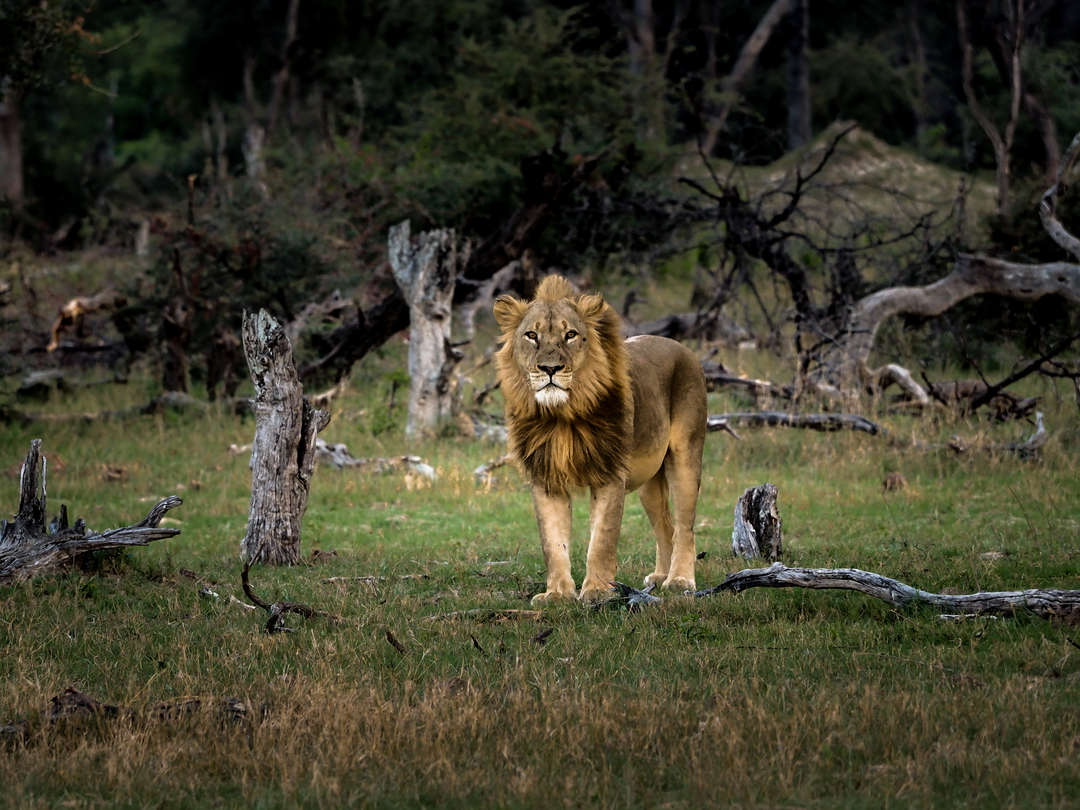 My first ever photo shoot using Olympus gear, and we had the Ngamo Boys to "model" for us. In nature, moments are fleeting and as a photographer it helps to know your kit well so you can concentrate on watching your subject and capturing those significant moments. (1/250s, f4.0 ISO 640, 150mm)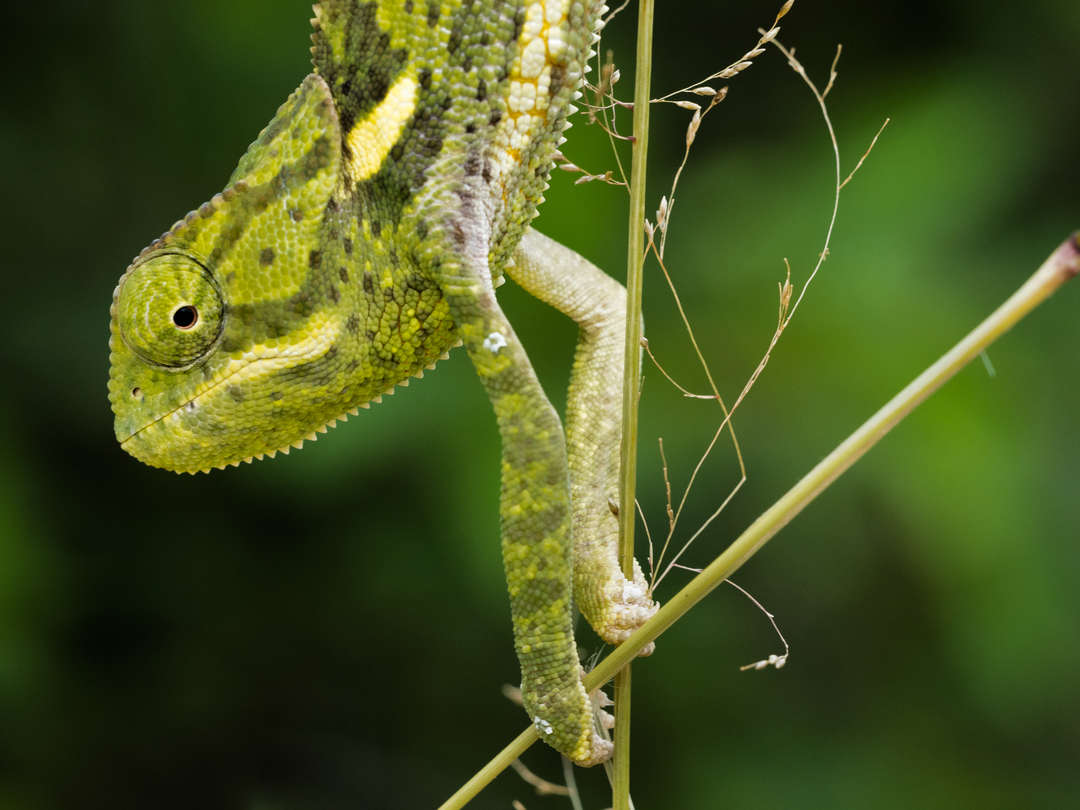 The wet season in the bush has so much variety, big and small. Having your camera nearby is mandatory for life in the bush. Here, a chameleon shuffles down a grass stalk (1/250s, f8.0 ISO 640, 150mm).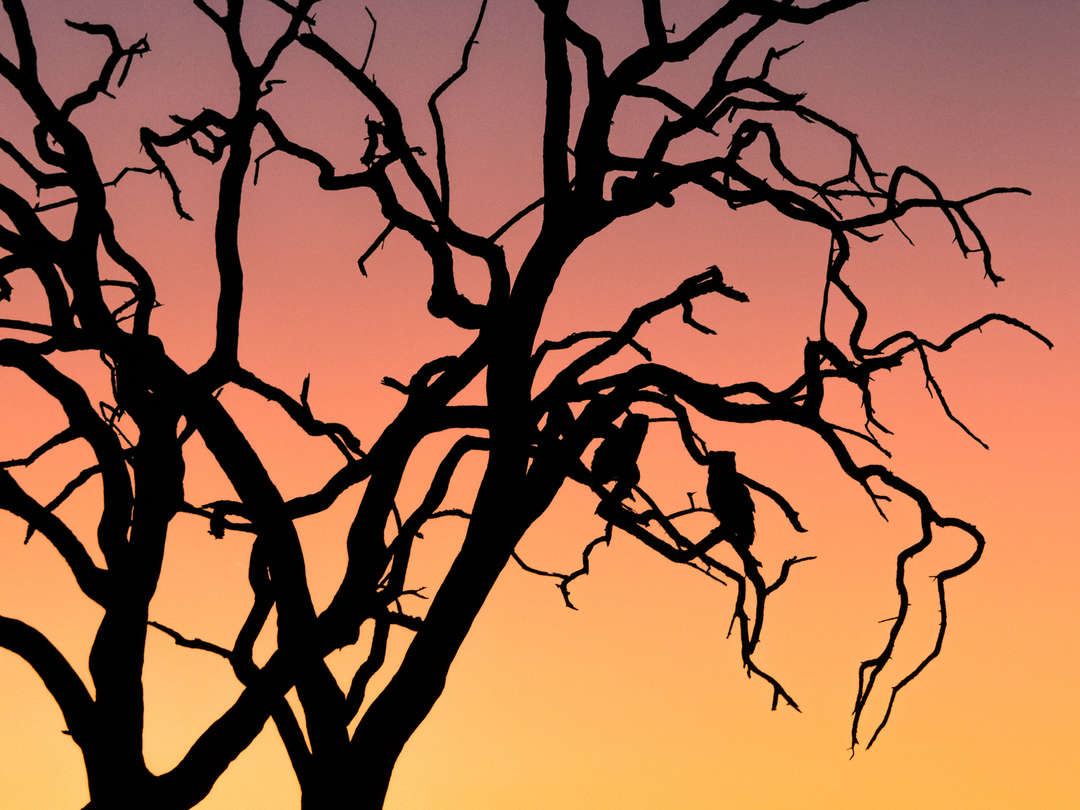 A blazing sunset and a pair of Verreaux's eagle-owls perch in the branches of a leadwood tree at Linkwasha. The image stabilisation on the Olympus camera meant that I could use a slower shutter speed in the fading light, without having to worry about picking up any camera shake, even with a long lens! (1/30s, f5.0, ISO 800, 150mm)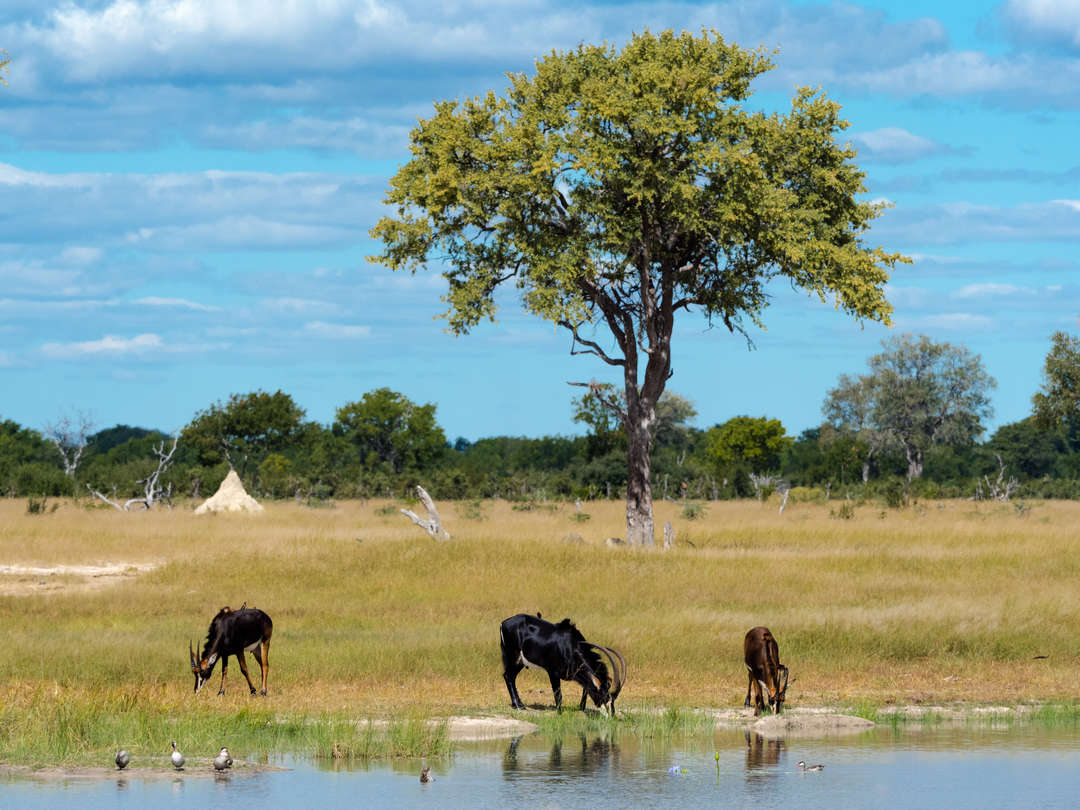 Sable drinking at Scott's Pan are pretty common throughout the year, and in the dry season we are fortunate to witness large herds of both sable and roan antelope at our waterholes (1/6400s, f4.5, ISO 800, 150mm)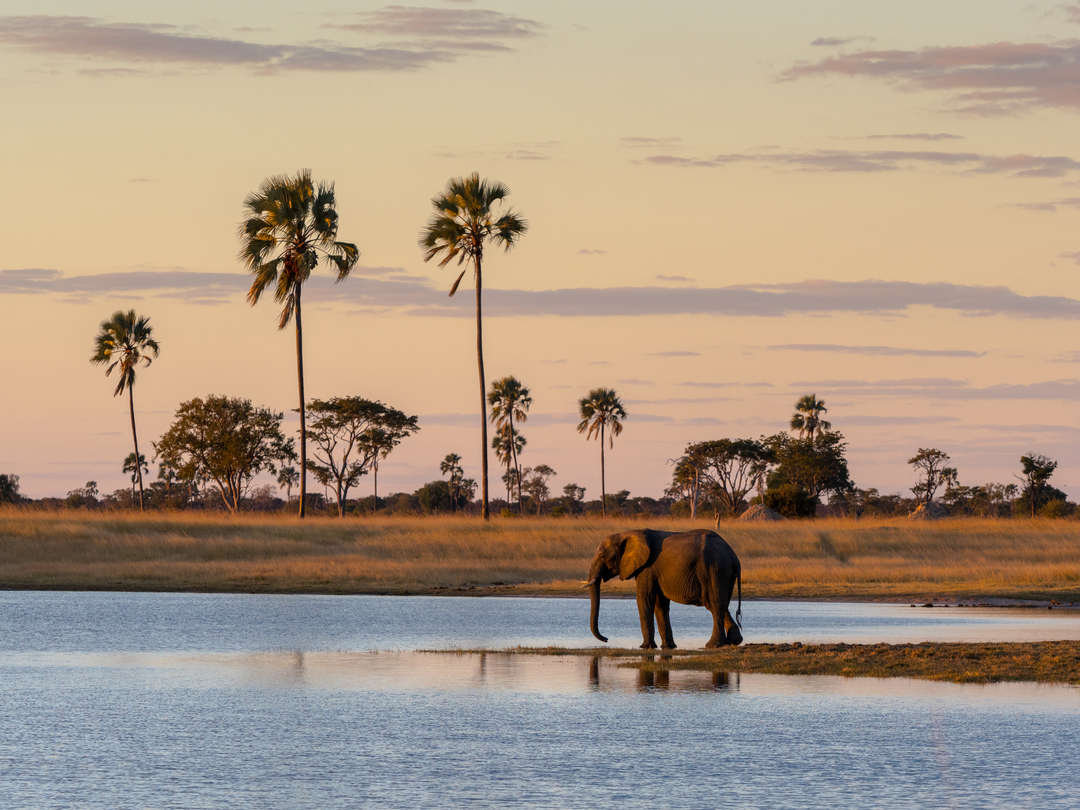 A sunset at Backpans is not to be missed when at Linkwasha, whether it's for the elephants that come there to drink, or just the beauty of the wide open landscape, dotted with iconic palm trees (1/250s, f5.6, ISO 500, 110mm)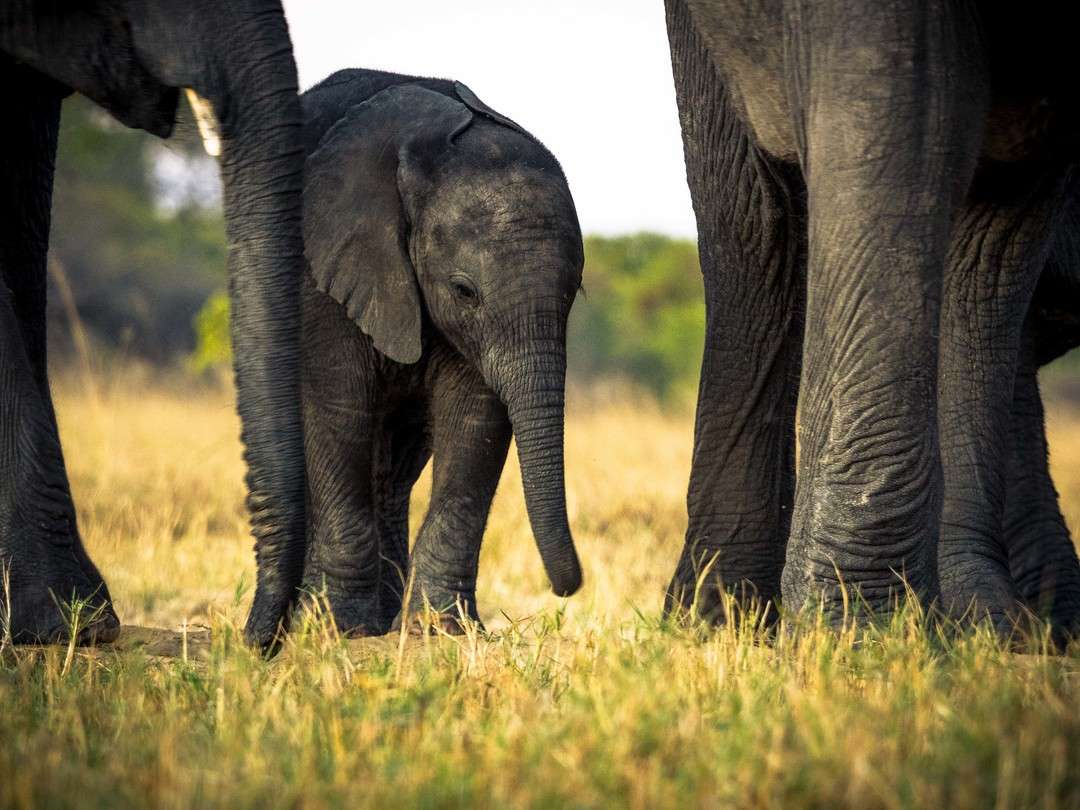 The Linkwasha sunken hide allows you intimate access into the behaviour of the animals that come and drink here; like this elephant calf weaving between the legs of the older members of the herd as they arrive for an evening drink (1/60s, f3.5, ISO 800, 140mm)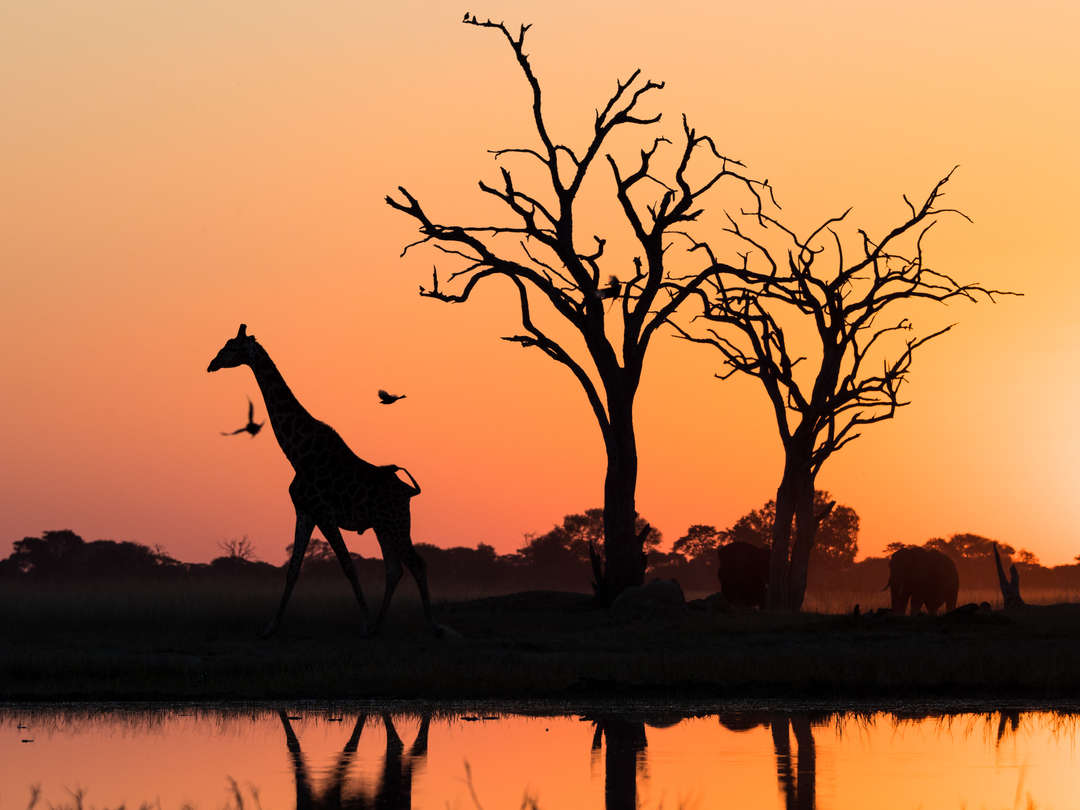 A giraffe strides in front of the Linkwasha main area at sunset. Setting your exposure for the sky and shooting from a lower angle will ensure you get a good silhouette, especially if the background is clear. (1/400s. f5.6, ISO 250, 150mm).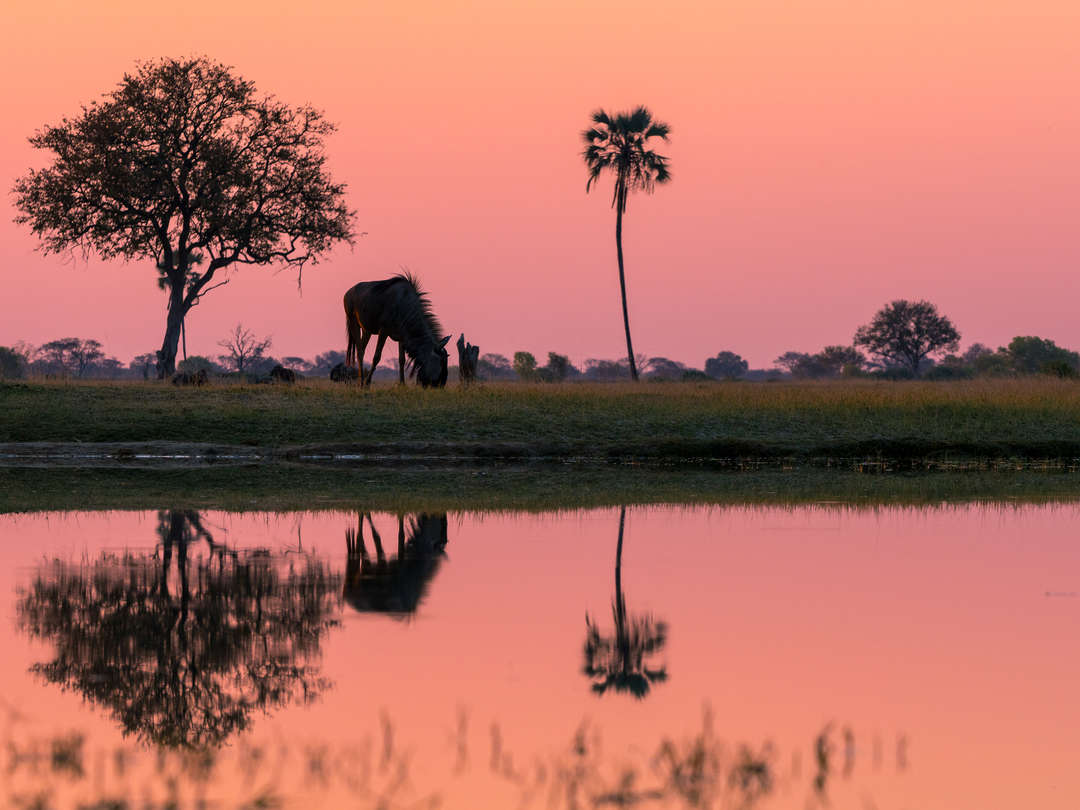 After the sun sets at the sunken hide at Linkwasha, the still water provides wonderful reflections to inspire even more creative images, like this wildebeest grazing peacefully (1/400s, f5.0, ISO 400, 106mm).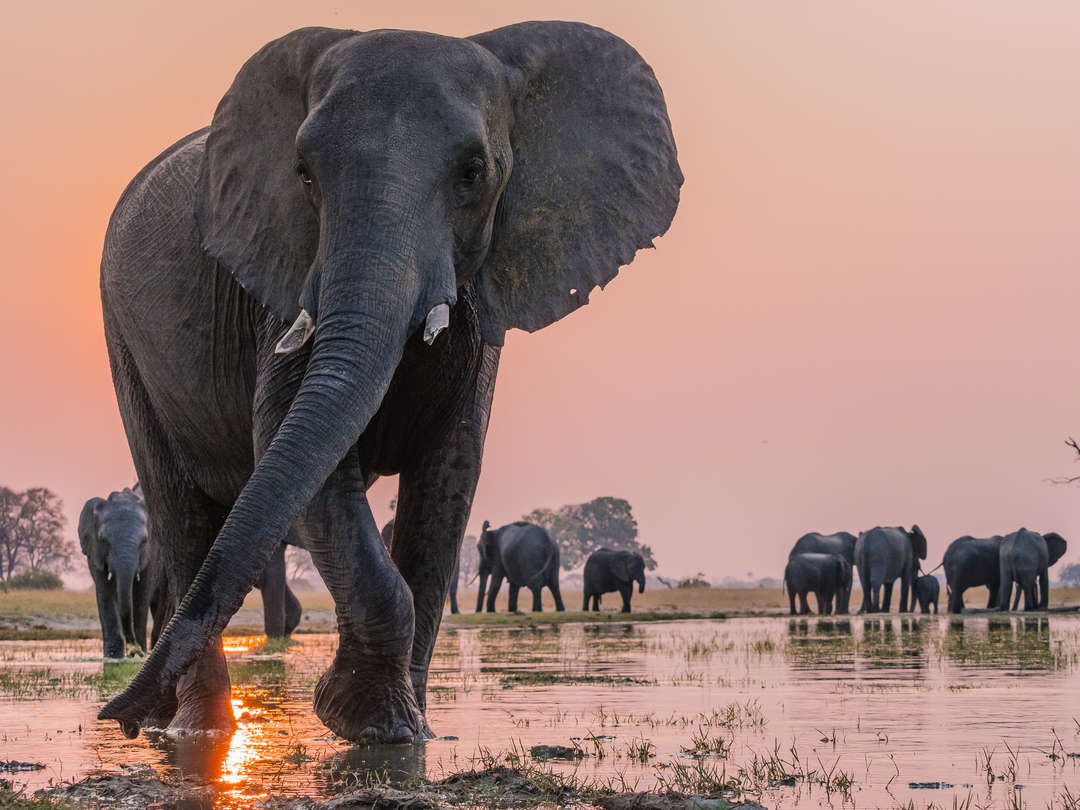 From the Linkwasha sunken hide, peering up into the eyes of Africa's largest mammal, you really get a true sense of their magnitude (1/640s, f5.0, ISO 800, 40mm).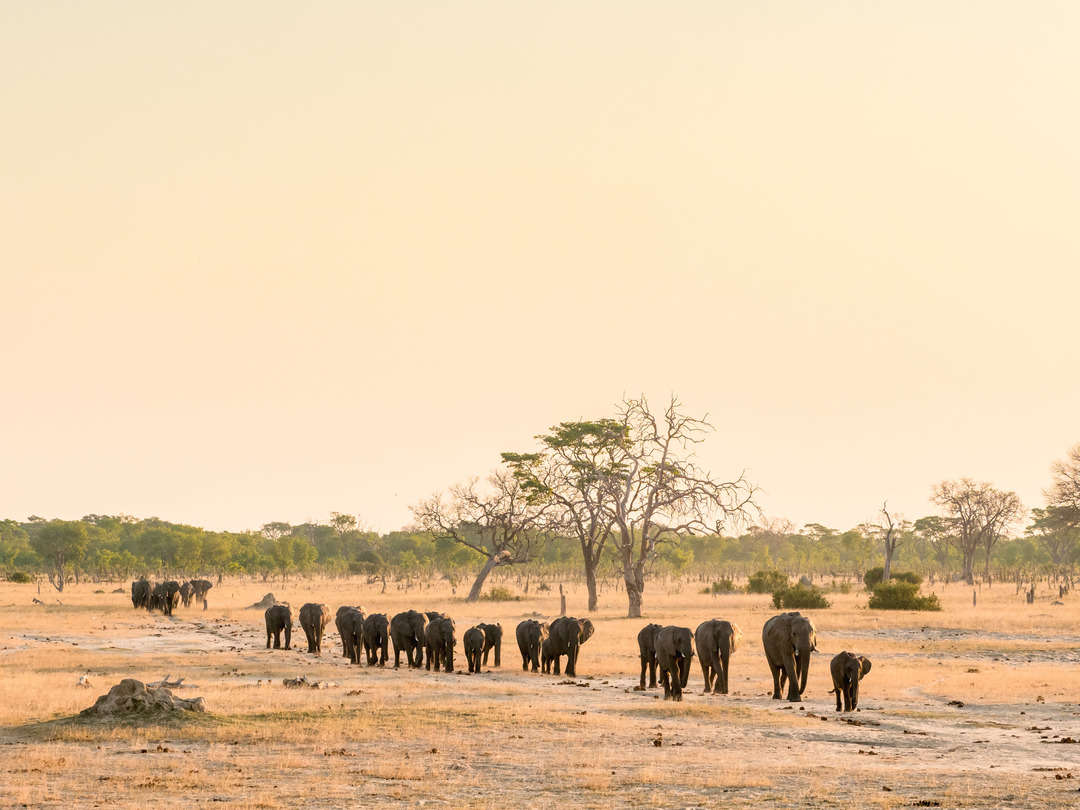 In the unrelenting heat, herds of elephant stream to Scott's Pan to drink: quintessential Hwange (1/800s, f5.6, ISO 400, 62mm).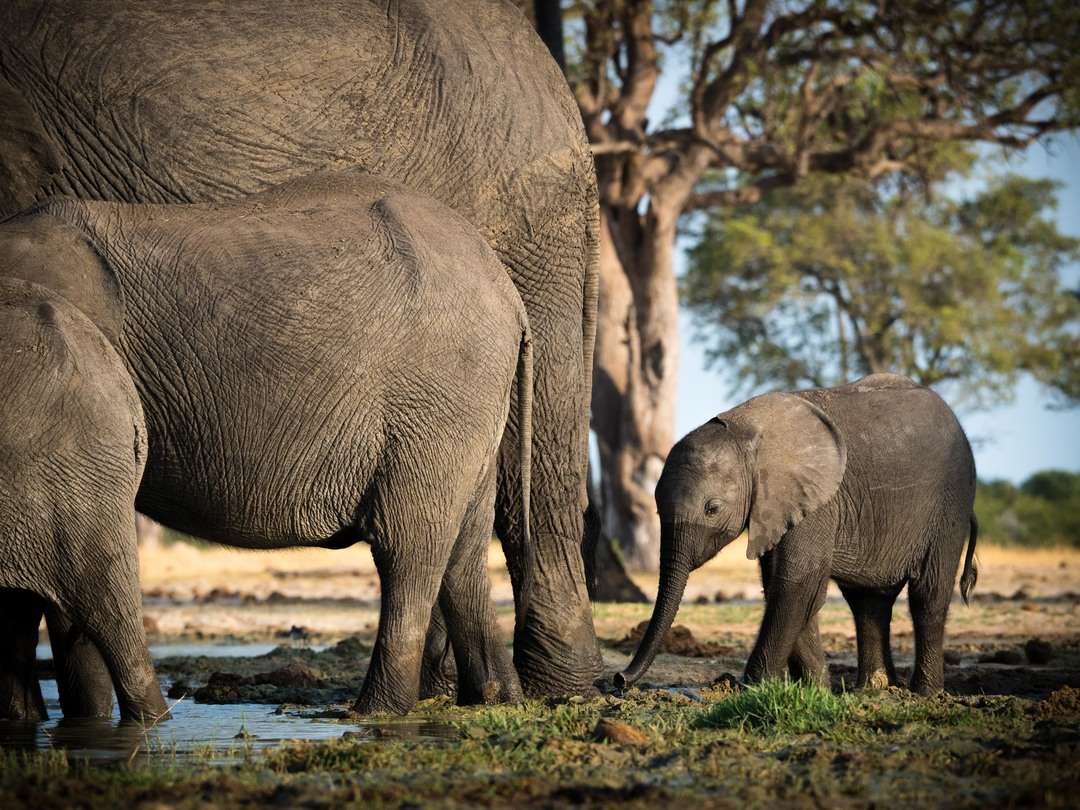 The waterholes in the dry season are home to herds of elephant, all taking their turn to drink. There is lots of commotion around the waterholes, but the young elephant calves are always protected by the rest of their herd (1/1250s, f5.0, ISO 400, 150mm)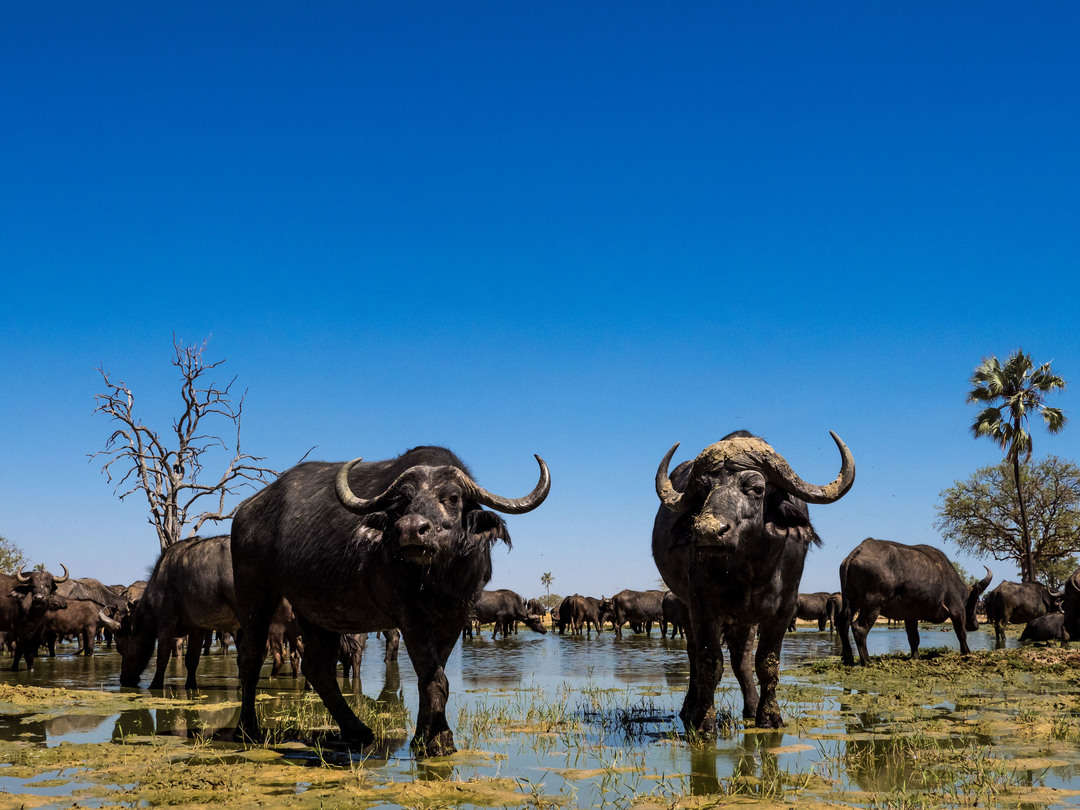 A herd of buffalo drink from the waterhole in front of camp in the early morning at Linkwasha. From the sunken hide, you can capture this unique perspective by getting close to your subject and shooting with a wide-angle lens (1/3200s, f6.3, ISO 400, 18mm).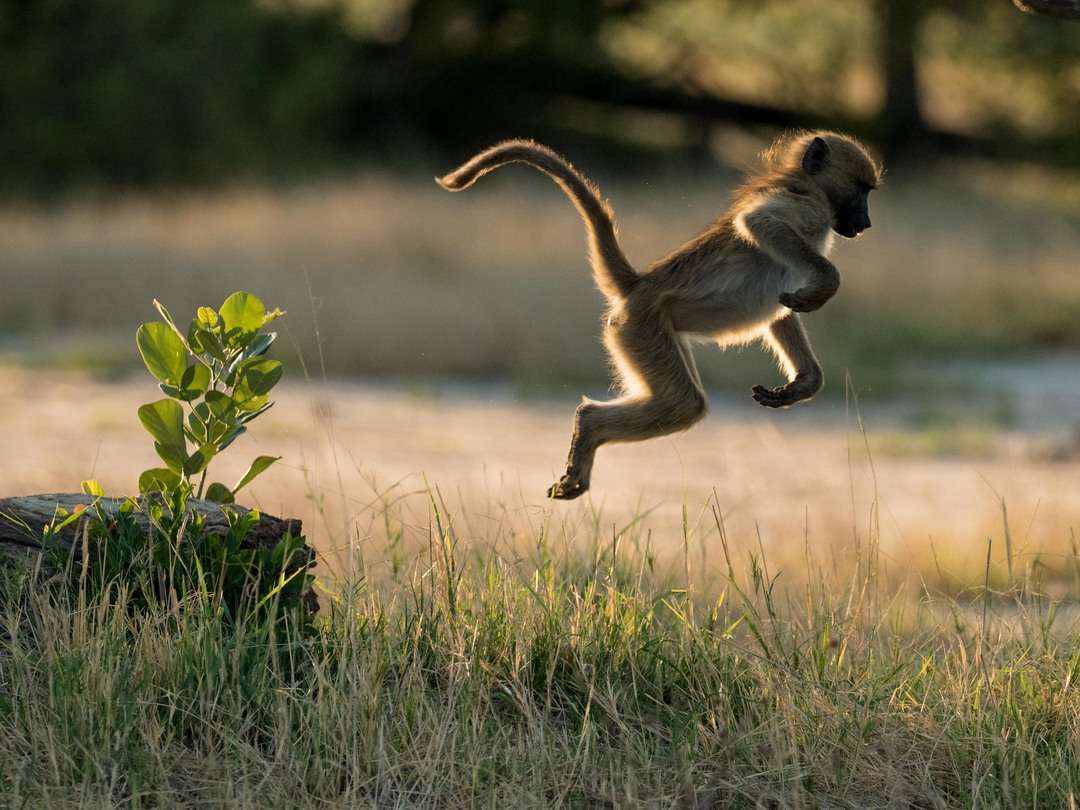 With their boundless energy, baboons are a constant source of entertainment, and lots of fun to photograph (1/2000s, f4.5, ISO 1250, 300mm).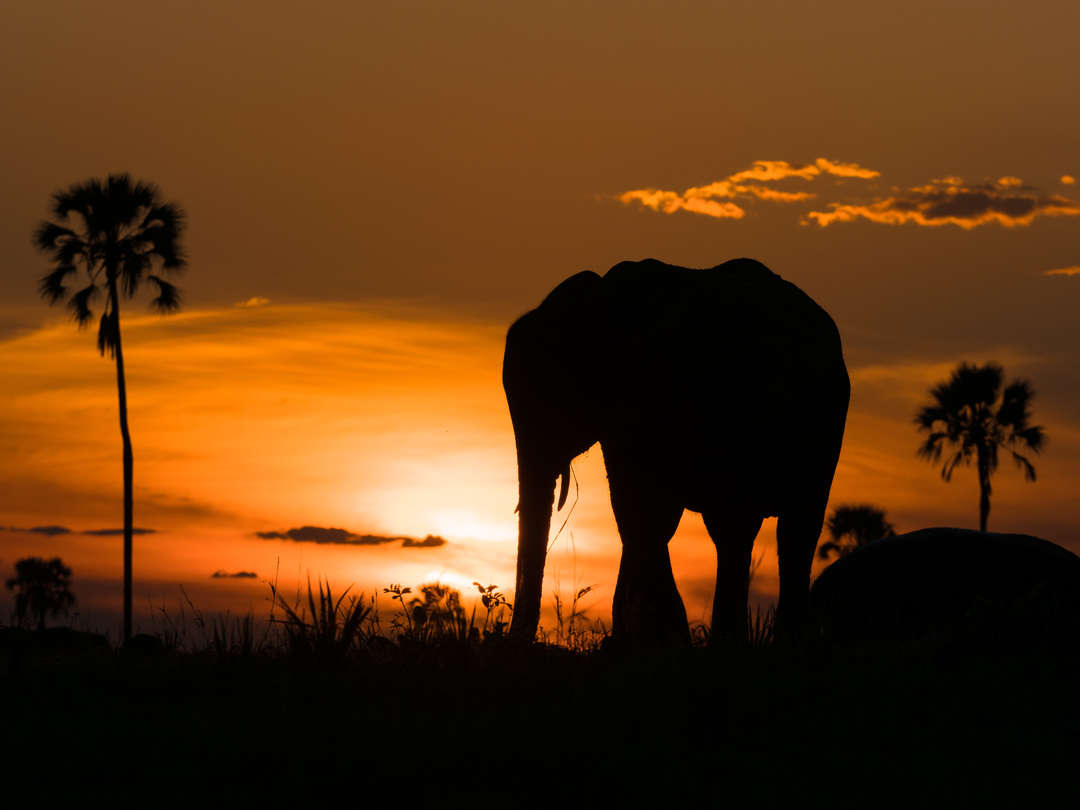 Against the setting sun, the unmistakable shape of an elephant grazing at Backpans (1/2000s, f6.3, ISO 200, 142mm).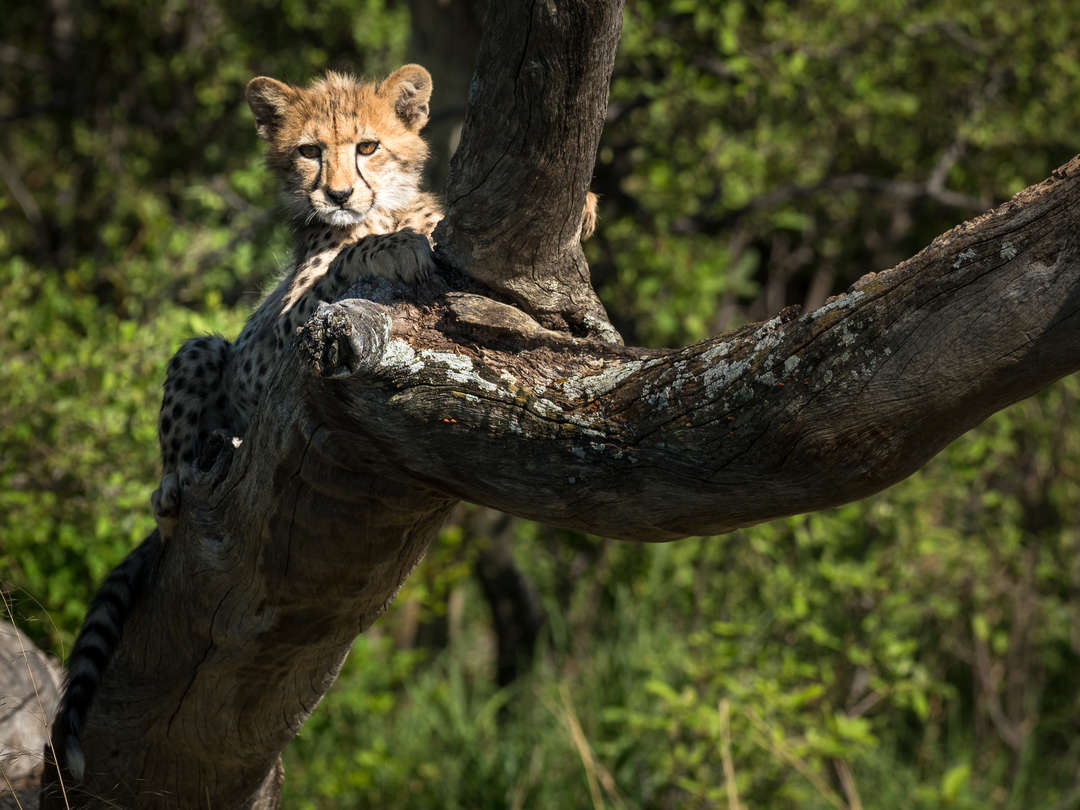 After a meal with its mother and three siblings, this cheetah cub climbed up a fallen tree to rest. Though their population is dwindling, cheetah are often seen in the vast open areas around Linkwasha (1/640s, f5.6, ISO 400, 300mmm).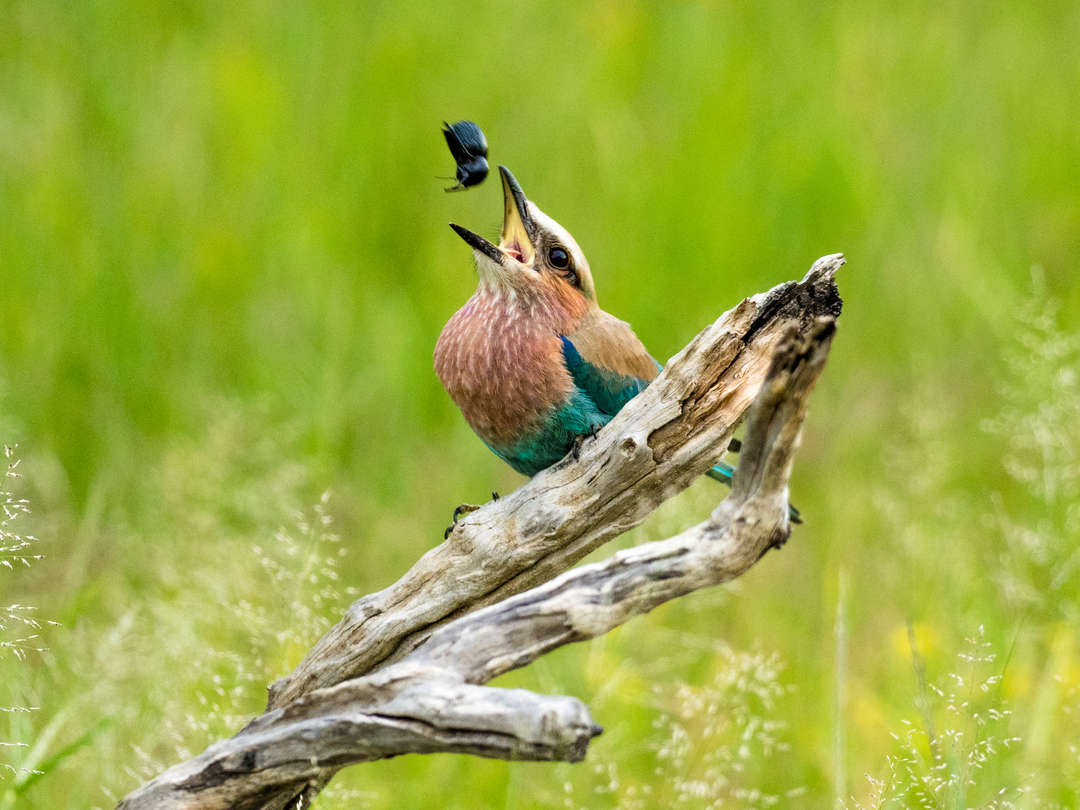 A lilac-breasted roller prepares to swallow its catch. Moments like these can easily be captured with the Olympus, using its seriously fast frame rate, or Pro Capture mode in which images are buffered even before the shutter is engaged (1/250s, f4.0, ISO 800, 300mm).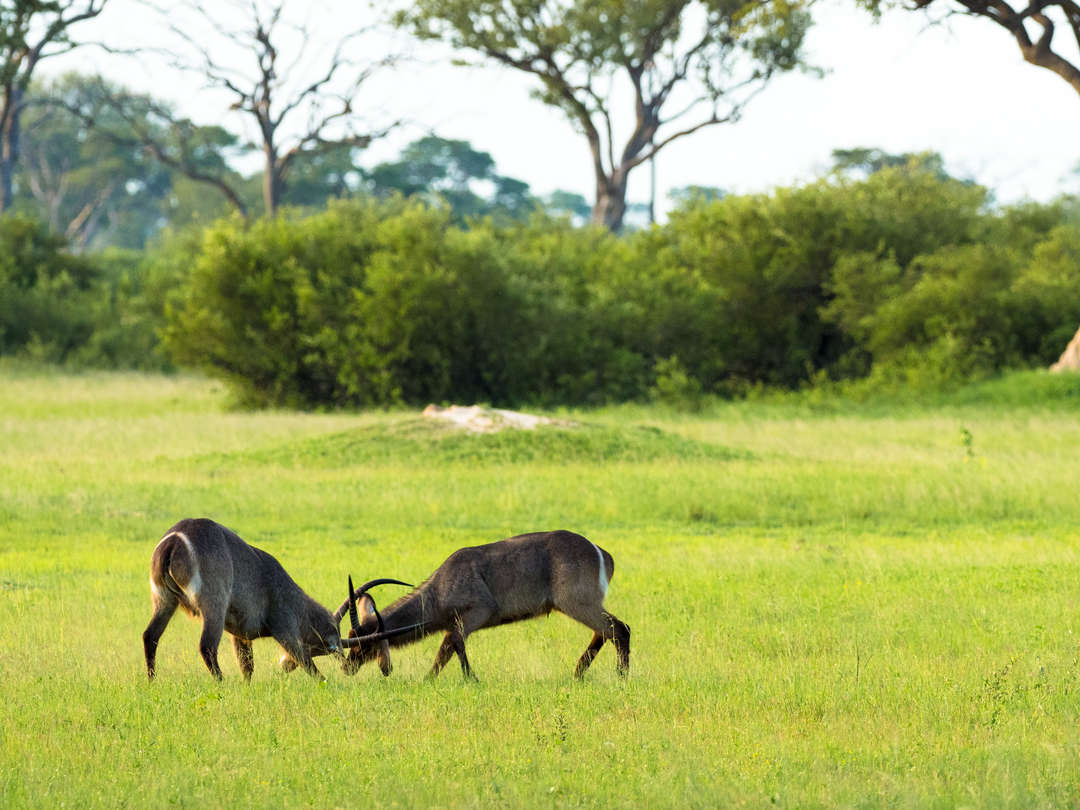 Two young male waterbuck spar with each other just before rutting season begins at Linkwasha (1/640s, f4.5, ISO 800).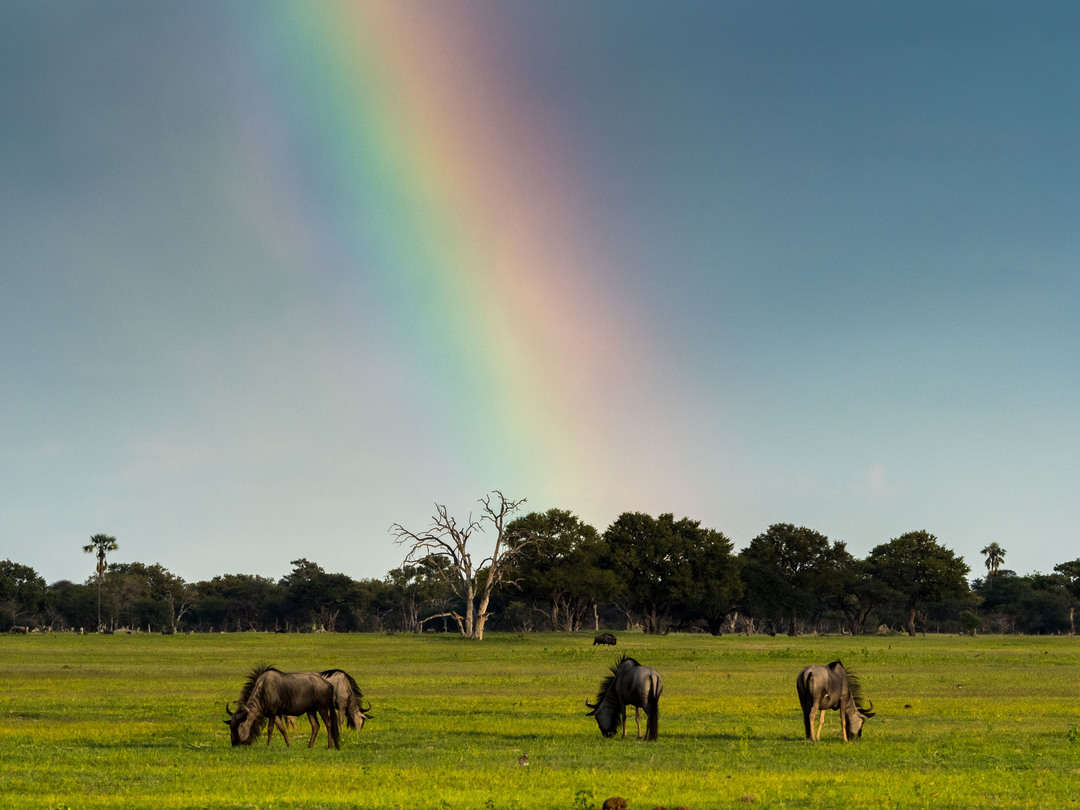 The rainy season in Hwange is full of life and vibrant colour. The Ngamo Plains transform from a dust bowl to a lush pasture, home to large herds of wildebeest, zebra, eland and impala (1/1000s, f8.0, ISO 800, 150mm)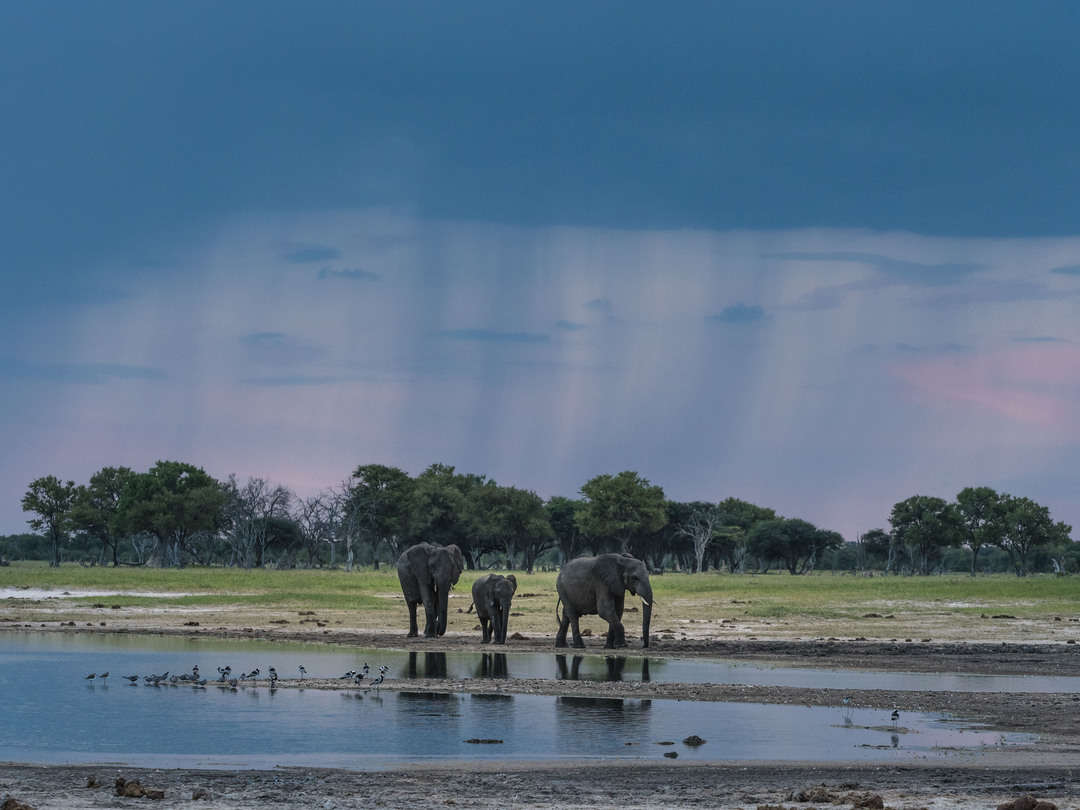 It's a magical time in the bush when the rain finally comes, transforming months of struggle into renewed health, energy and life (1/125s, f5.0, ISO 800, 82mm).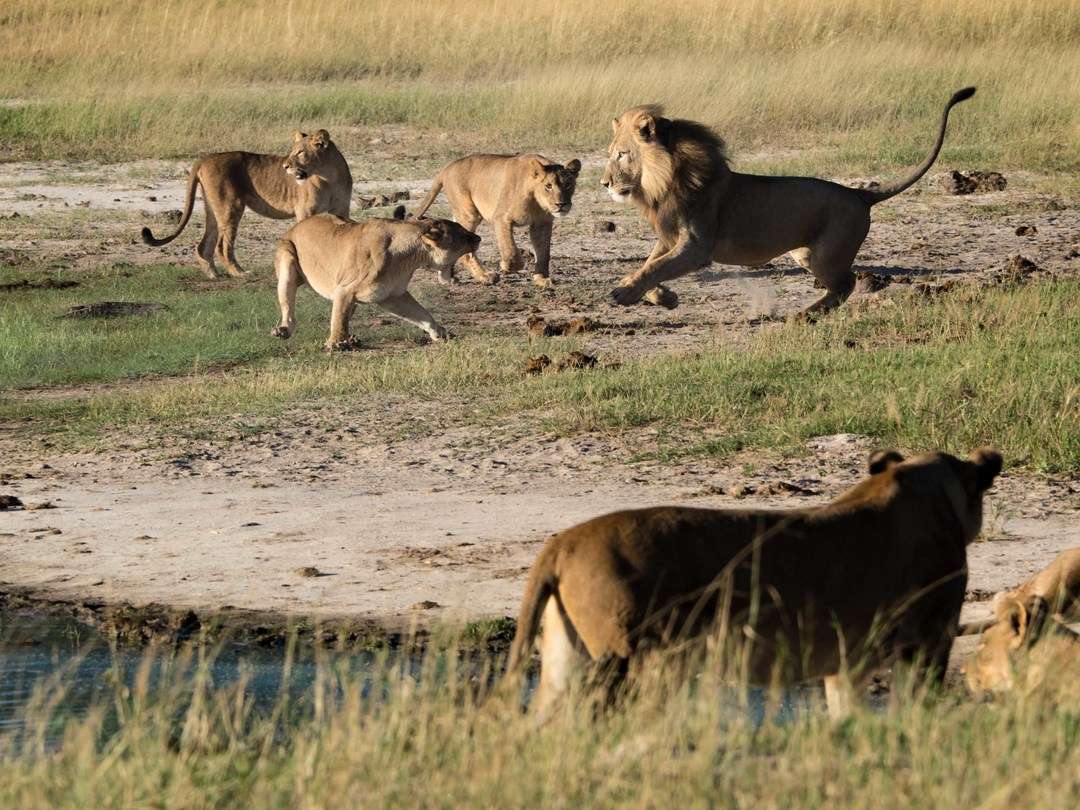 A lioness at Scott's Pan lets this male know what she thinks about his advances, while the rest of the pride keeps their distance (1/640s, f9.0, ISO 400, 210mm).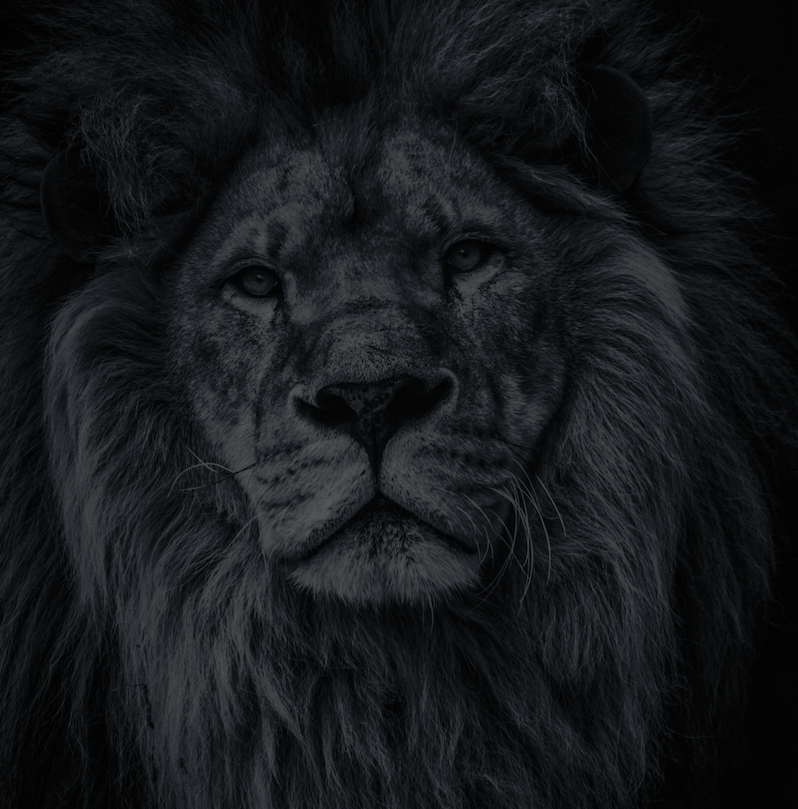 Let's plan your next journey
Ready?
When we say we're there every step of the way, we mean it, literally. From planning the perfect circuit, to private inter-camp transfers on Wilderness Air, and easing you through Customs. We're with you on the ground, at your side, 24-7, from start to finish. Ready to take the road less travelled? Contact our Travel Designers to plan an unforgettable journey.