Here at Wilderness, we believe that safari camps shouldn't just look beautiful. They should also be carefully designed to fully immerse you in nature, unlocking the sensory journey of every place you visit, visually, but also through touch, smell and sound, with warm, textural, elements and tantalising, local aromas. It's about highlighting the soul of each place, providing an authentic experience underpinned by comfort and luxury.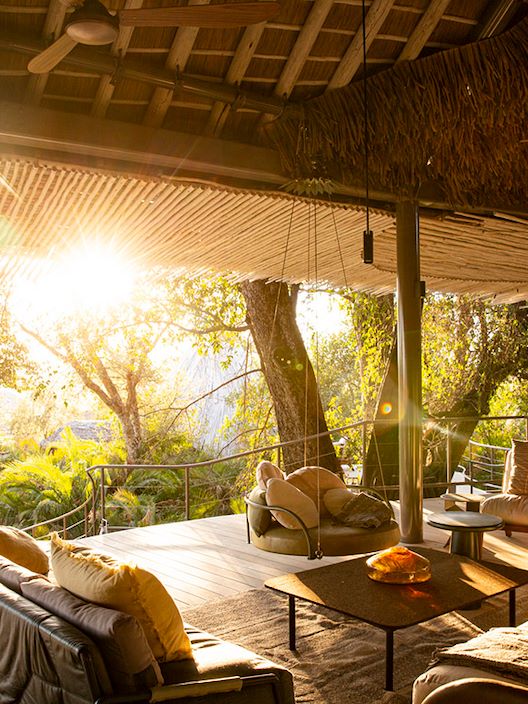 Sustainable safari camp design
Most of our camps have walkways purely from a safety perspective as the camps are often traversed by wild animals day and night, and the walkways give guests a certain amount of freedom of movement between their suites and the main area during the day.
Our most architecturally exquisite safari camps
Wilderness Bisate, Rwanda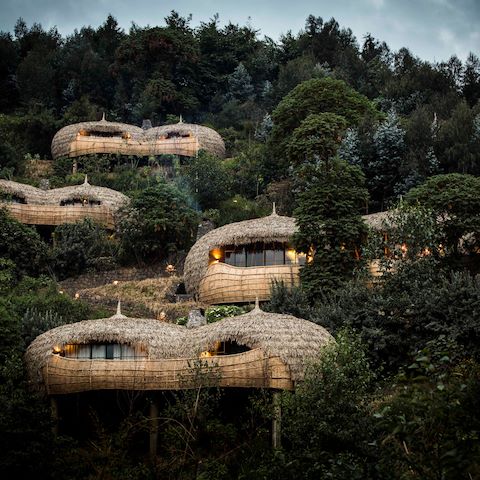 Ascend to your elegant bird's nest, perched on the mountain and nestled in restored indigenous forest at this sustainably luxurious rainforest lodge. Here six breath-taking, eco-chic Forest Villas provide a base from which to trek to meet mountain gorillas.
Find Out More
Discover some of the best game-viewing in Botswana at Mombo, located in a prime position in the Delta, where the main Okavango River splits into its primary channels. Mombo's architecture is reminiscent of the original, pioneering safari camps with spacious wood and canvas suites that invite the outside in.
Find Out More
DumaTau is spread out along Osprey Lagoon, providing a front row seat for viewing hippos, elephants, and numerous water-based wildlife species, bathing and swimming in front of you while you sip your morning coffee.
Find Out More
Hoanib Skeleton Coast Camp
Tucked into a dry watercourse carved through the desert rock, and artfully designed to blend in with the landscape, this camp gives you a true sense of adventurous spirit. An oasis in the desert, it features eight chic tented suites which are totally solar-powered and off the grid.
Find out More
Along the northern border of Namibia lies Serra Cafema, separated from Angola only by a range of shimmering mountains and the rushing Kunene River. This is a world unto itself in an ancient, unexplored landscape. Here the sound of the flowing water, and the silence of the desert reign supreme as you rest in your wood, canvas and thatch suite.
Find out more
Located on a remote island in the heart of the Okavango, water camp Jao is surrounded by Delta channels and floodplains. The camp is a sculptural marvel, built from wood, steel and glass, as well as several natural and recycled materials.
Find out More
On the edge of Hwange National Park's productive Ngamo Plains, Linkwasha is all about space and privacy. Here nine large, tented suites, shaded by leadwood trees, overlook a waterhole, while the tiered decks of the main area lead to a sparkling pool where elephants often come to quench their thirst. The neutral tones are offset by bold Ndebele patterns, authentically African.
Find out more
Located at the confluence of two rivers in Mana Pools, Chikwenya invites guests in to explore seven elegant, tented suites, including two family units with their own private pools. Here towering shade trees provide a restful spot for birds, antelopes and of course, elephant, which are frequently been seen around camp. It's a tranquil spot that seamlessly blends in with its pristine surrounds.
Find out More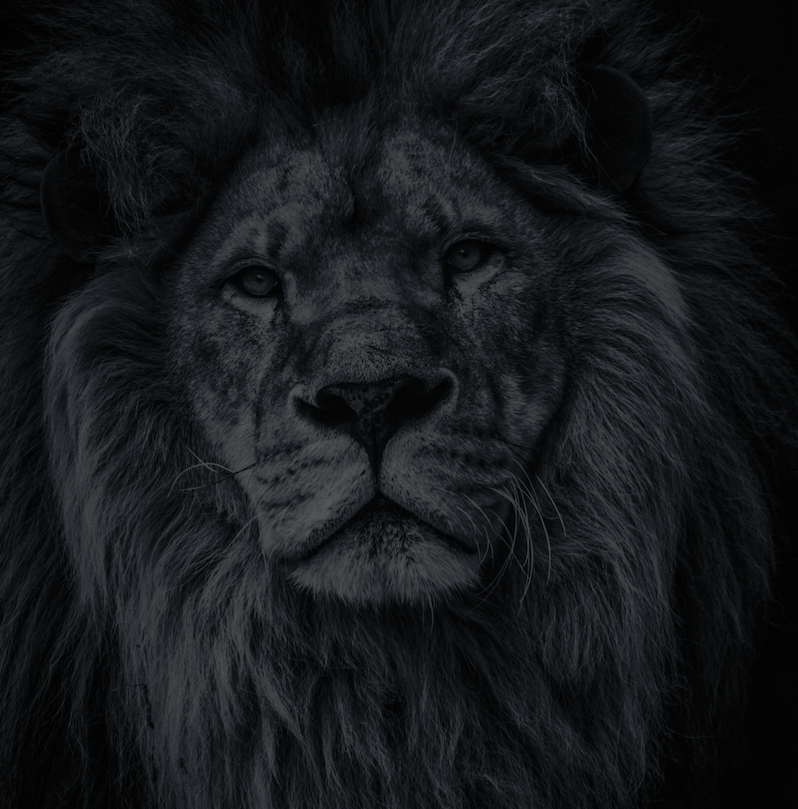 Let's plan your next journey
Ready?
When we say we're there every step of the way, we mean it, literally. From planning the perfect circuit, to private inter-camp transfers on Wilderness Air, and easing you through Customs. We're with you on the ground, at your side, 24-7, from start to finish. Ready to take the road less travelled? Contact our Travel Designers to plan an unforgettable journey.