Earlier this year Jess Aleece attended an eight-day safari in Namibia along with celebrity influencer, model and passionate conservation activist Jordan Barrett. The aim of the trip, organised by Ultimate Safaris and Wilderness, was to bring awareness to lion conservation in Namibia and to launch our proud new partnership with the Lion Recovery Fund and Lionscape Coalition.
Read Jess's diary to learn more about this memorable and purpose-filled adventure.
Day 1 - Adventure with purpose
We were lucky enough to take part in the very first Lionscape Coalition expedition. The Lionscape Coalition was launched by the Lion Recovery Fund (LRF) along with leading ecotourism operators within Africa who have joined together in order to help secure a future for lions and their landscapes. The journey ahead of us was a jam-packed 8-day itinerary staying with key ecotourism operators whilst being educated about the desert-adapted lions and community impact within Namibia. We would spend time with scientist Dr Philip Stander, who has dedicated the larger part of his life to the Desert Lion Conservation Project which he founded in 1998.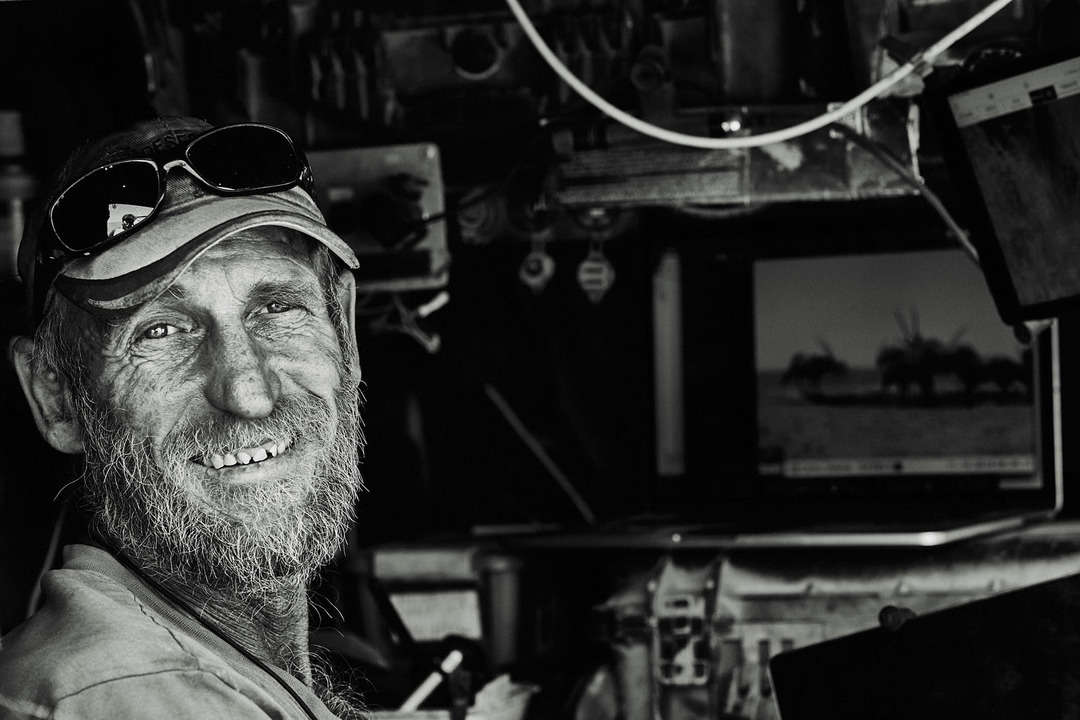 We flew into Windhoek where we met Peter Lindsey and Paul Thomson – lion experts with the Wildlife Conservation Network which manages the Lion Recovery Fund. The Lion Recovery Fund is an initiative to boost lion conservation like never before: it invests in the most effective projects aimed at recovering lions across Africa—backing several key tactics such as supporting the conservation areas that serve as lion strongholds, and promoting co-existence so that people can live alongside and benefit from lions.
Along with the LRF team, we were also joined by model and influencer Jordan Barrett, whose passion for protecting Africa's lions was the driving force behind this trip, as well as photographers Gray Sorrenti, Jarod Zagha, along with videographer Heather Sommerfield.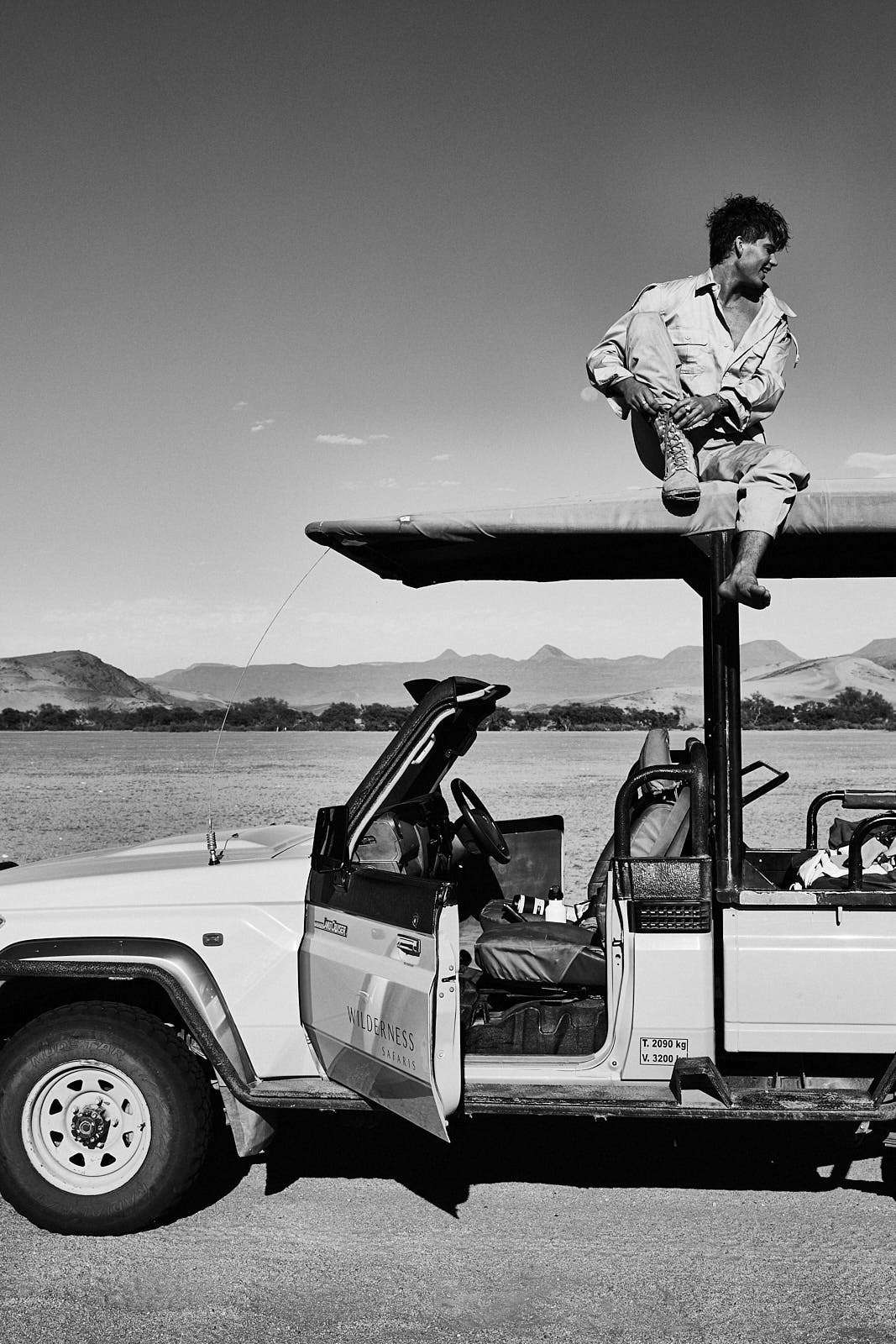 We all set off on a Wilderness Air light aircraft to Damaraland with Wilderness. One thing we all share is a dedication for conservation so it was a great privilege to combine our individual skills to create awareness of the dwindling lion populations across Africa, and the critical role ecotourism can play in bringing back lions.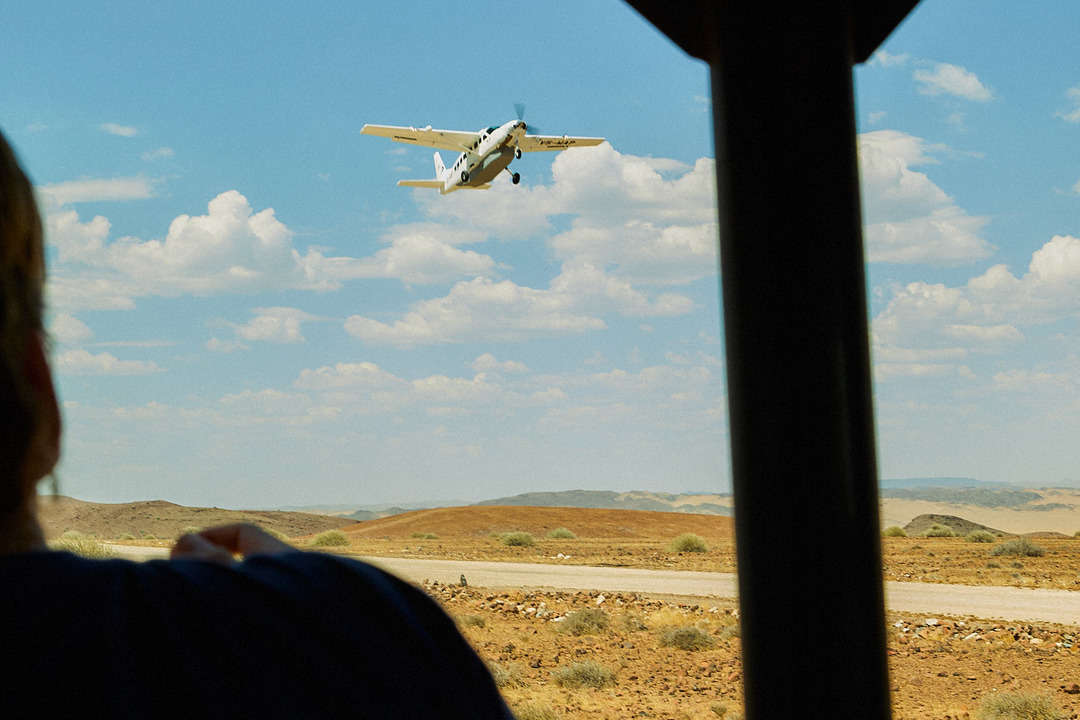 As a photographer myself, and I can imagine for most, Africa is a dream. The contrasting landscapes, diverse people, animals and wilderness are the perfect medium for raw photographs which tell a story. What is more intriguing is the imprint Africa leaves on your heart, an unexplainable feeling that somehow instills into the souls who visit. It must be why people call it "The Magic of Africa", something that I believe everyone should feel at least once in their lifetime.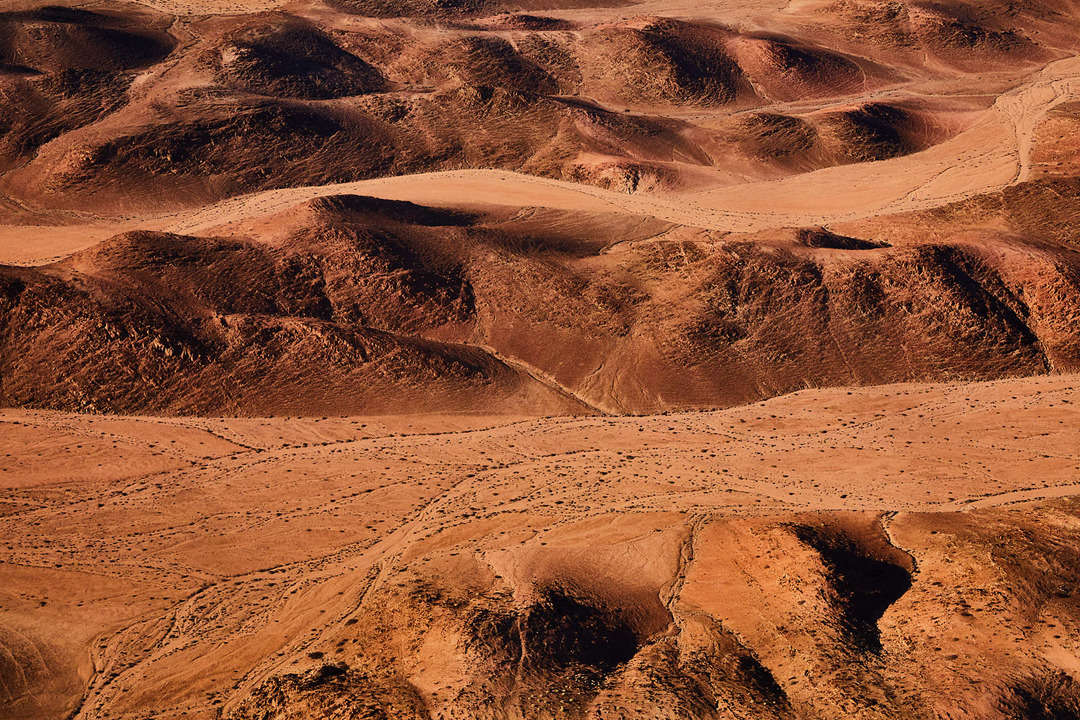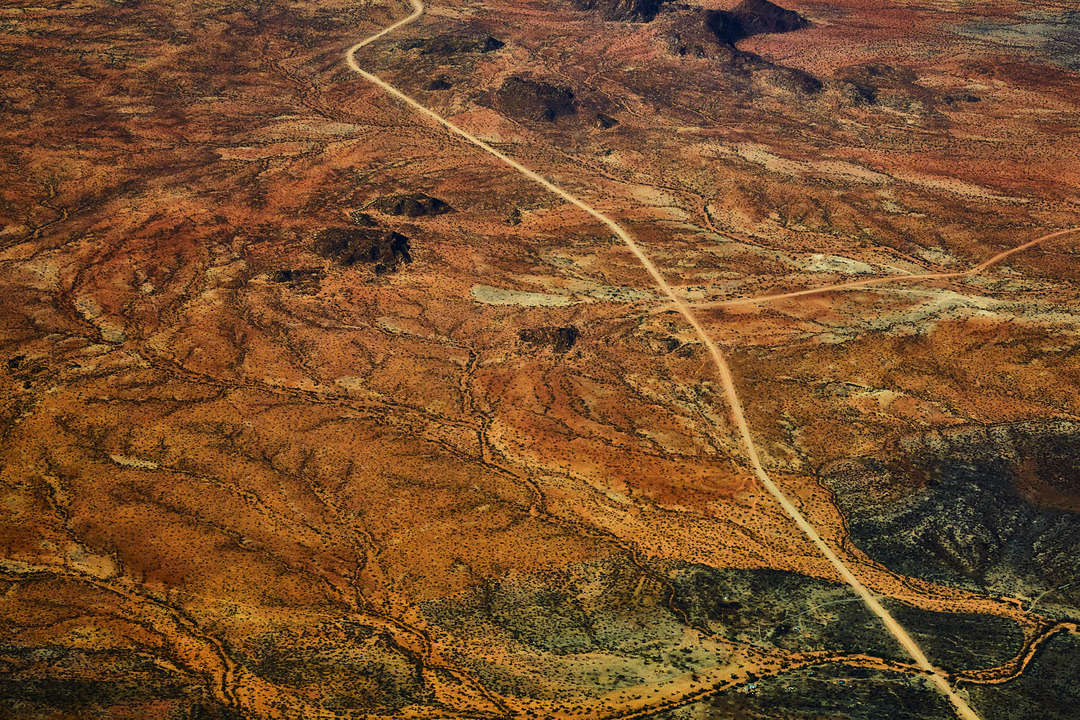 My butterflies built as we flew into Damaraland. The expansive landscape is vast and untamed. We were greeted by the staff of Damaraland Camp, set in the Huab River Valley. They sang us a welcoming tune while serving us spritzers to cool us down. The warm welcome immediately made us feel at home. Looking out from the camp at the delicate desertscape, I was overcome with gratitude and anticipation of what was to come.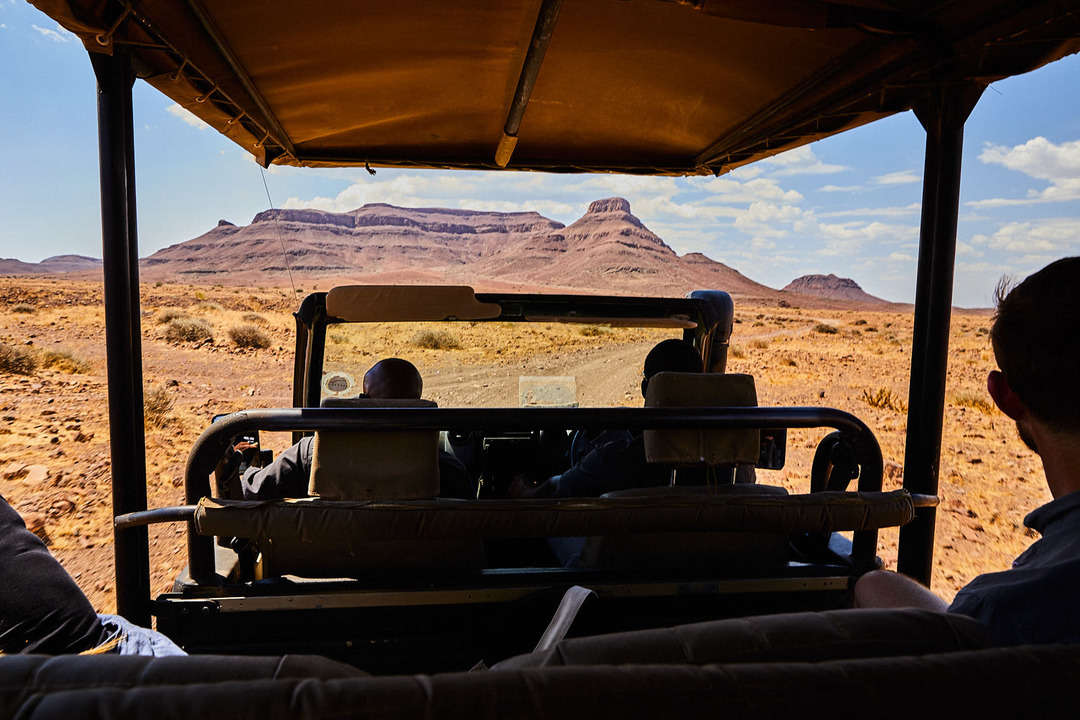 We settled into our rather large adobe-style thatched units equipped with a large en suite, and prepared for a sunset hike close to camp. Peter and Paul from the LRF were absolute legends, full of energy, knowledge and incredible passion for the project. We took in the golden rays of the setting sun bathing us and the mountains on the horizon. The desertscape looked eerily like mars.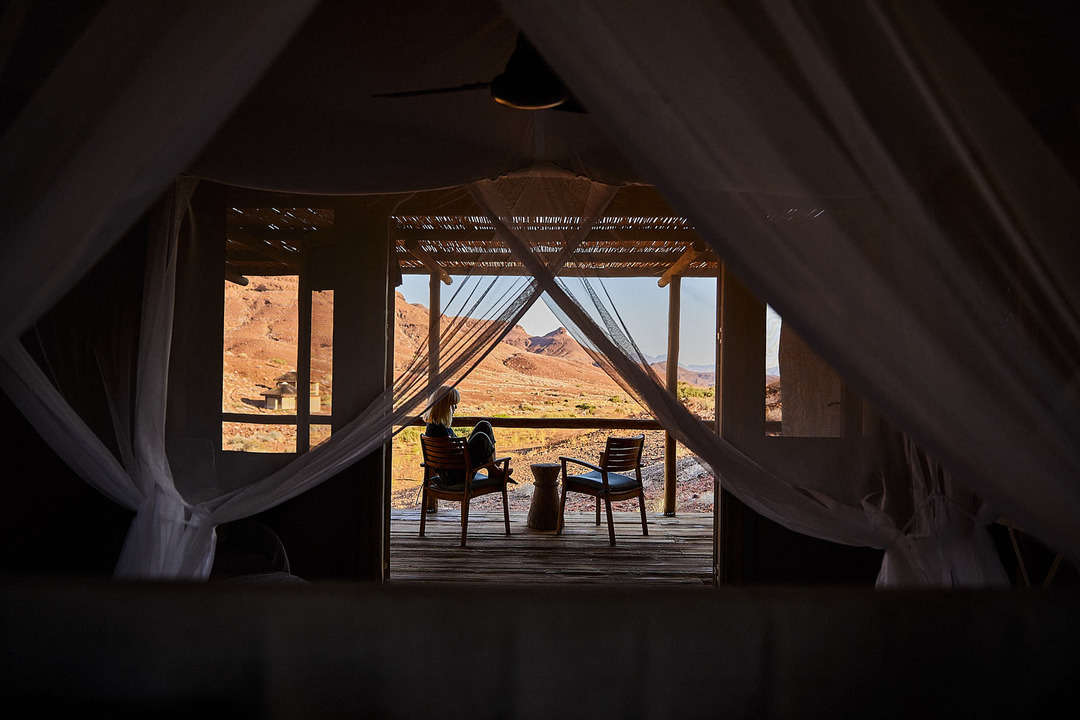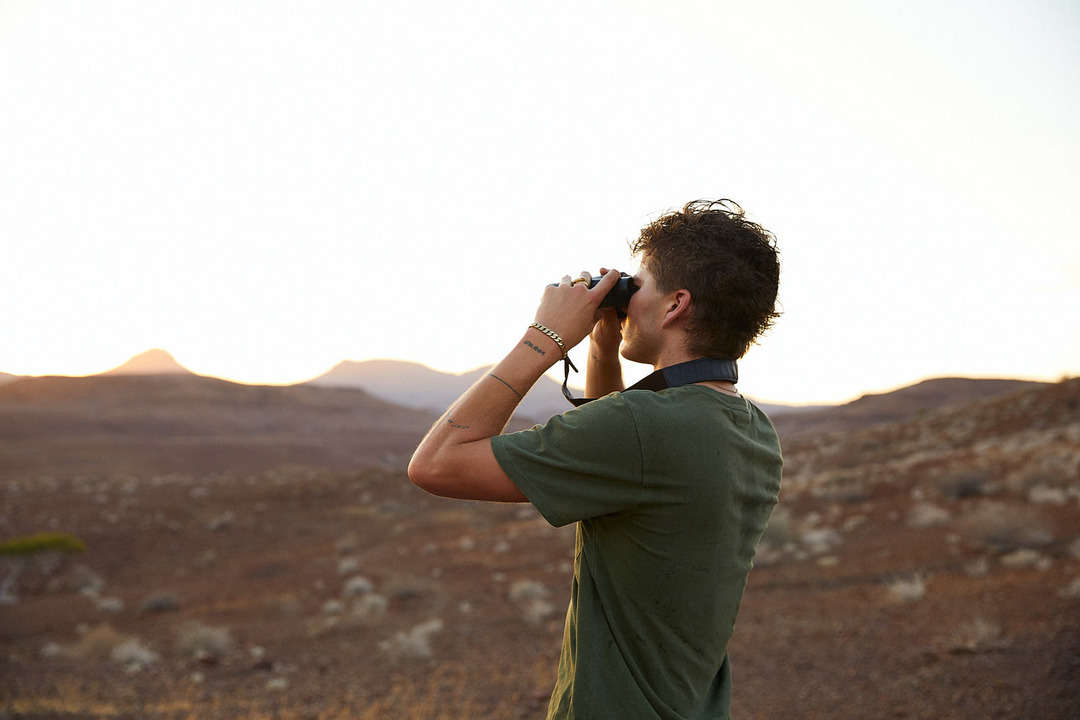 Our first dinner at Damaraland didn't disappoint. We dined in the boma, which is used to host cultural evenings at the camp. It is based on the structure of a traditional boma, also known as a kraal, an enclosure to keep livestock safe. I was so impressed by the camp's structure and how it is run with the most conscious eco-footprint, boasting biodegradable materials, hybrid power and each guest unit with its own solar panel. This ethos was also followed at Hoanib Skeleton Coast Camp which would be our final destination of the trip.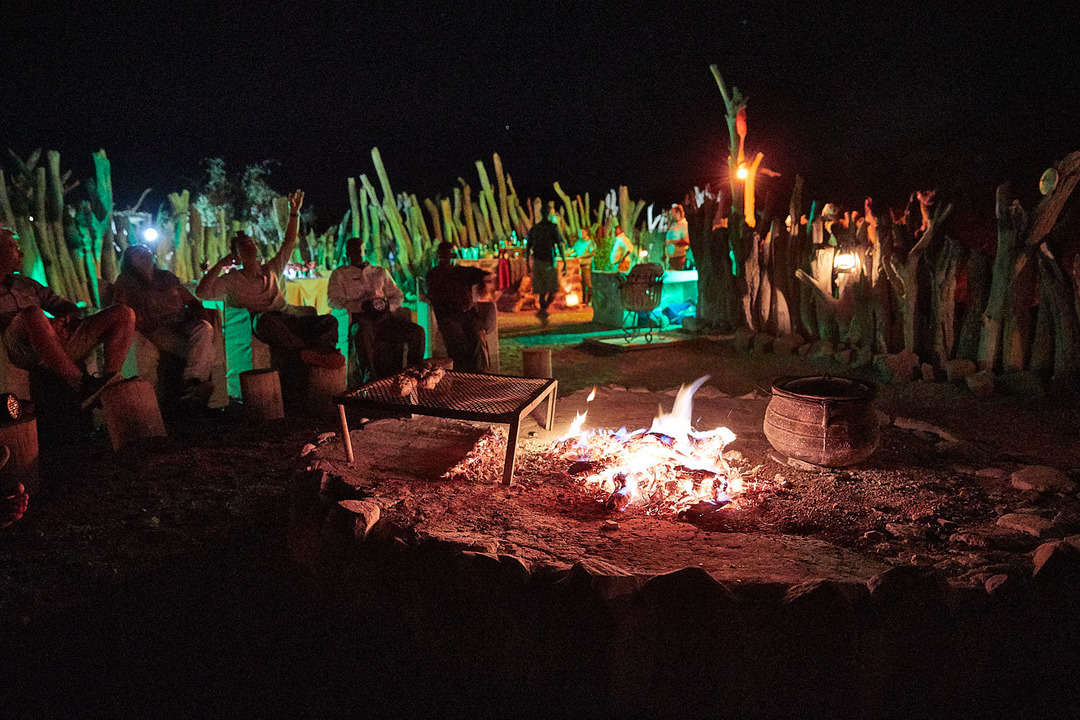 As we dined and drank smooth South African wine, we were educated on the intention of the camp and its revolutionary set up. We learned it was one of the first genuinely successful community joint ventures in Namibia between the local Damaraland community and Wilderness Safaris. This led to the creation of the Torra Conservancy, where conservation is at the forefront of its activities, championing the philosophy of the four Cs, Commerce, Culture, Community and Conservation.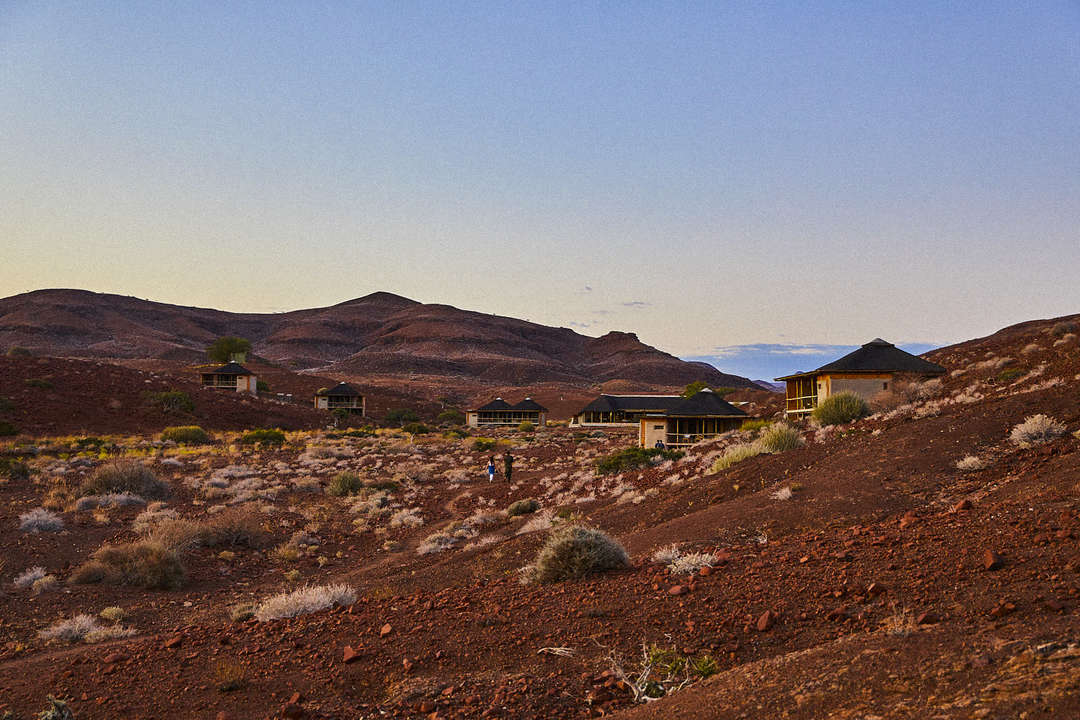 The most perfect introduction to Damaraland came to a close with seasoned guide Jermain Ketji reading us a poem that he penned earlier that day.
KETJI'S POEM
"Grant me space
I'm not born in space
Just like you I'm an earthly beast
Just like you I feed on other beasts
I'm born persecuted
Only to live to be executed
The sun rises for all of us
Every sunrise is supposed to bring hope to all of us
But my existence you make your worst fear
Your existence is readying your spear
You declared me your enemy
I will never have an army
You declared me the king of the jungle
The only crown I really wear is in your mind's jungle
I want you to discover my fears
In my heart I drown in tears
Why me ever so much
Why should I pay the highest price for you to touch
Yes you are the perpetrator
Since when are you the creator
You are in awe to hear my roar
The sight of me you are ready to tear
Listen to my roar as my cry to you
Without your try I'm for sure doomed
Roaring on I shall."
I fell asleep wondering, and longing for a world where we had enough time and connection to write poems like Ketji, and felt honoured to be in the presence of these inspiring humans as much as the wild animals.
Day 2 - The Elephant connection
We rose just before dawn, escorted by our guides Jeremiah and Emmanuel in our trusty game drive vehicles. The colours of the morning were magic, the red richness of the earth and ochre purple hues painting the mountains and skies surrounding us.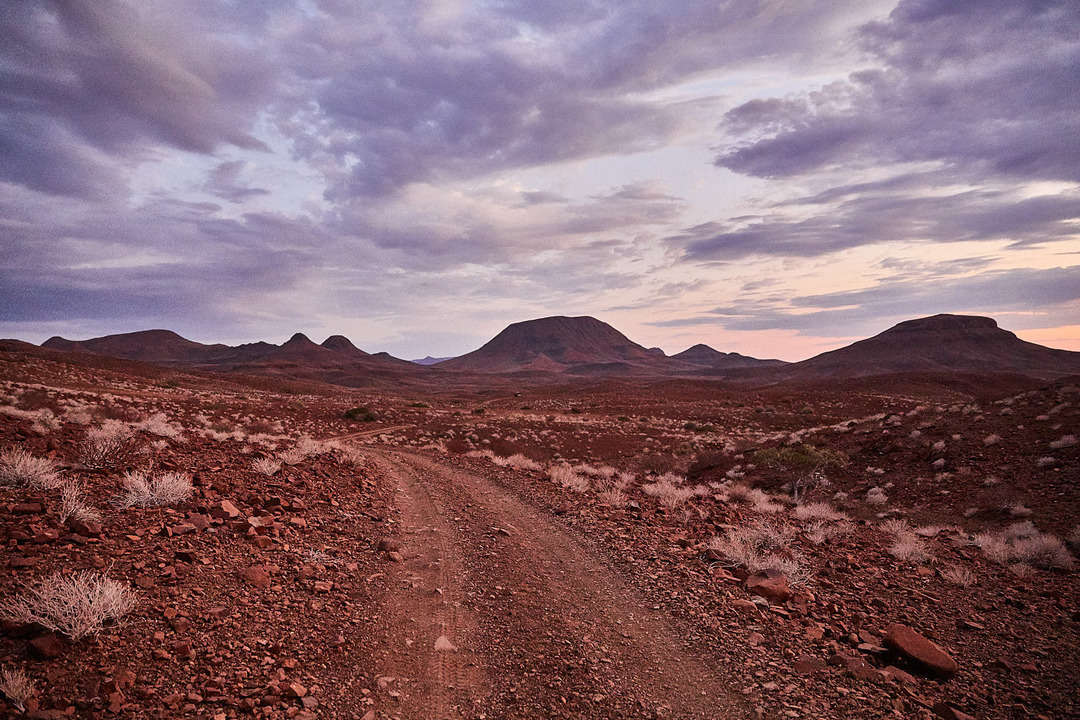 Jeremiah shared his knowledge on tracking elephants by their footprints and dung, along with a lesson on how crystals form. We documented our journey, spotting springbok, oryx, giraffe and ostrich, all adapted to the arid conditions. We then passed the local communal village – many of whom are employed by Wilderness
.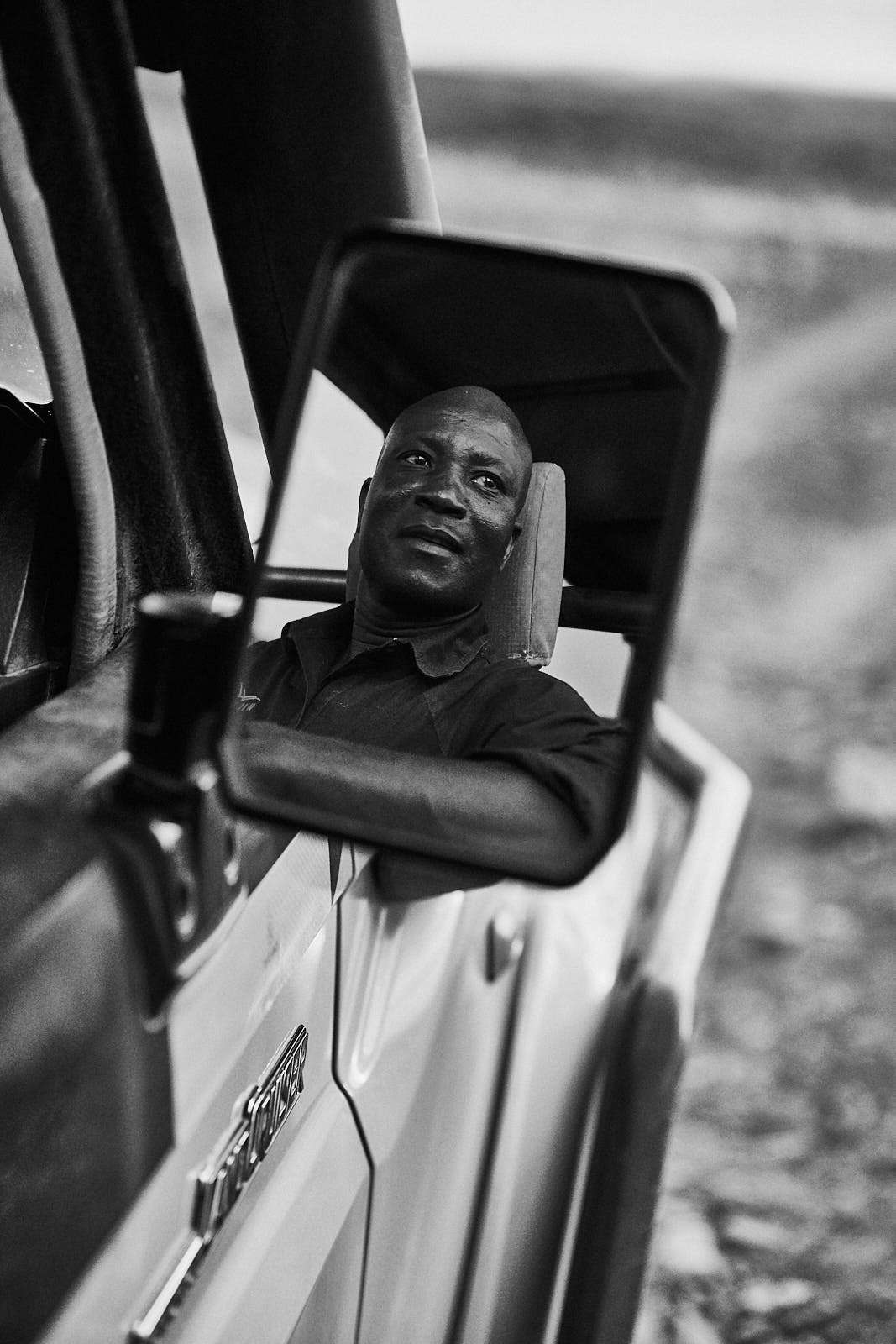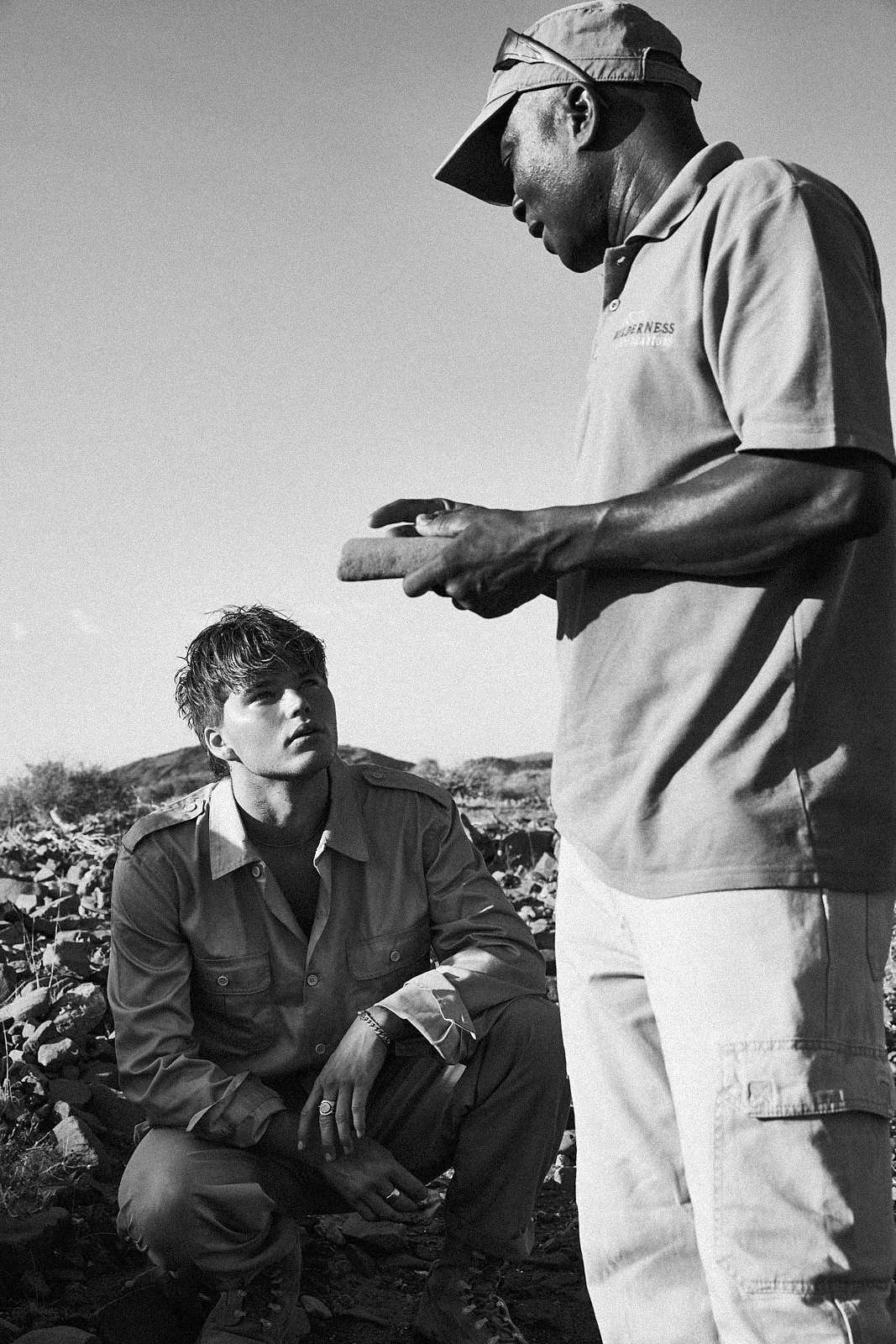 After driving a short while, we were fortunate enough to track a herd of desert dwelling elephants. Jordan was bouncing with excitement at sighting these magnificent giants.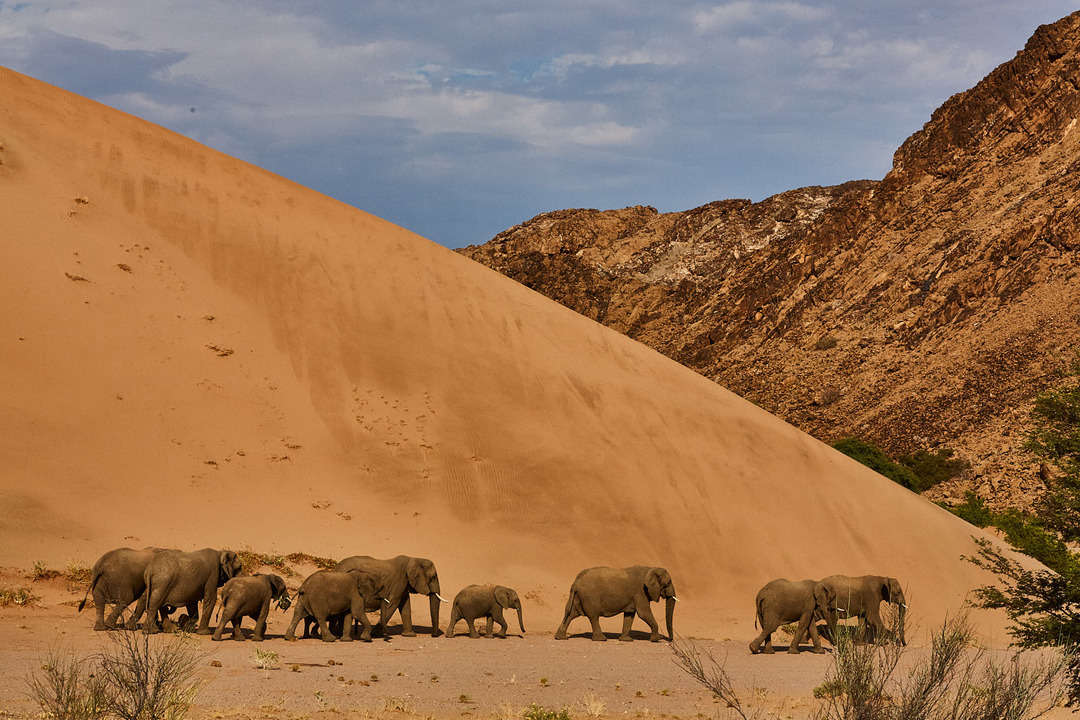 A big bull around 25 years old used his strength to shake the pods from the large ana tree known as Faidherbia albida. These pods are extremely rich in protein for elephants and many other species.
A very rare moment was witnessed as the herd moved on, a calf ran back from the herd to an elderly male bull and linked trunks to hurry the big bull along, then both turned to follow the herd. We were all blown away by the gentle intimacy of the interaction and Jeremiah explained this was a special sighting as large bulls usually keep to themselves.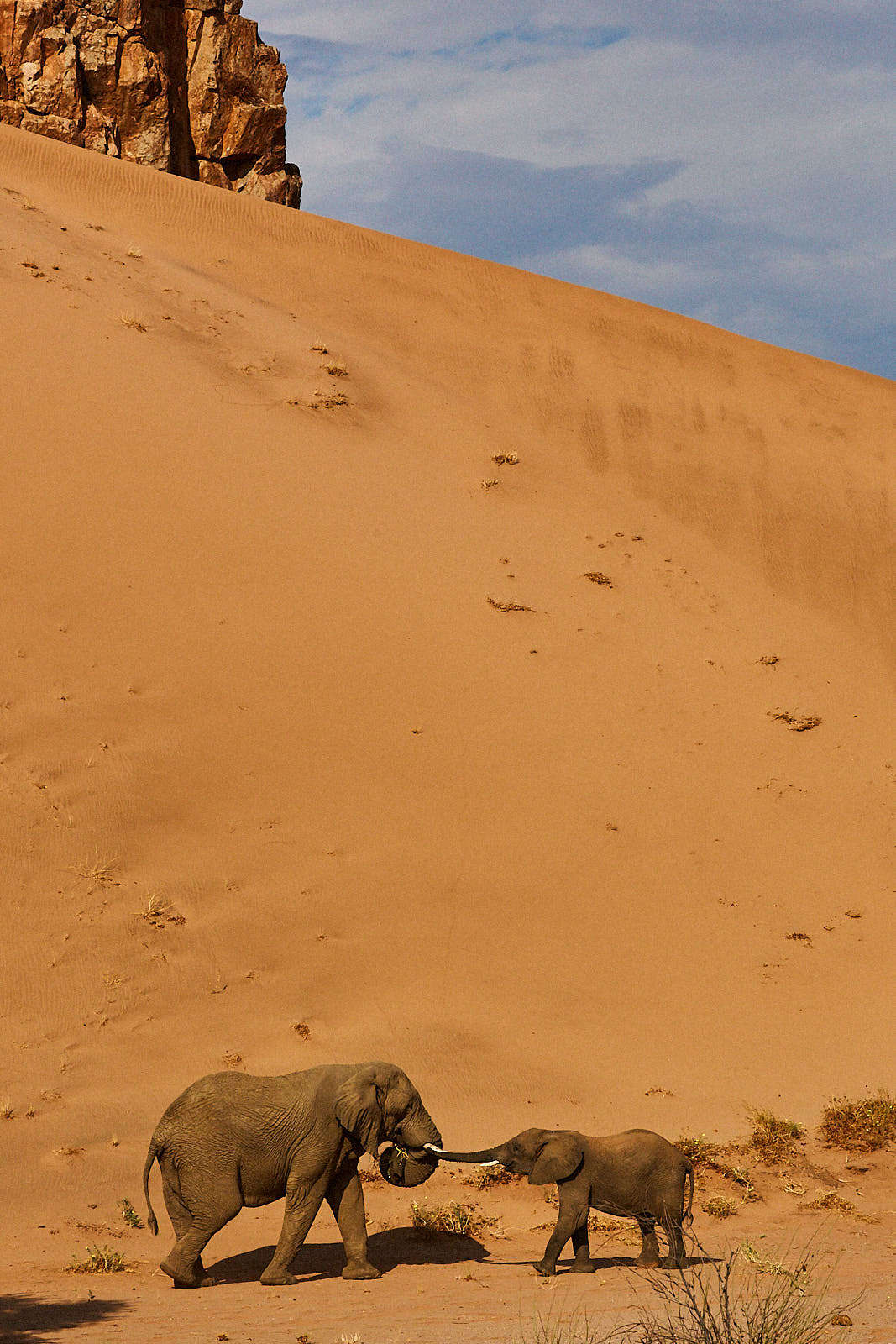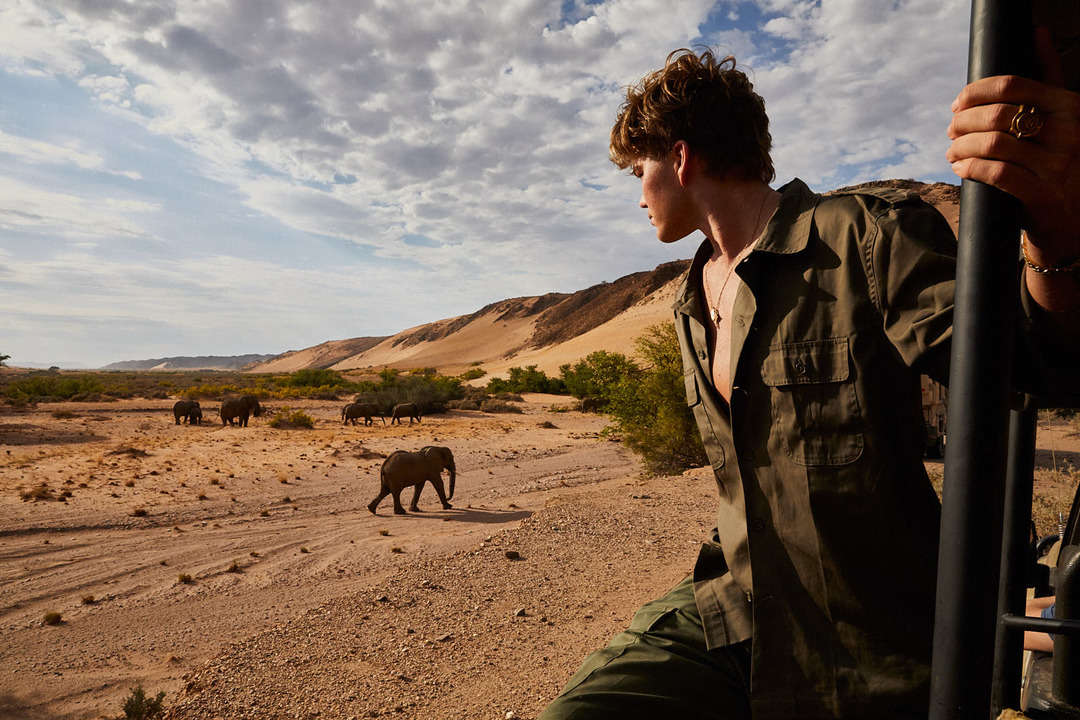 Once the elephants left, we took a closer look at their wrinkly footprints in the sand: there's a smooth area where they push off, showing which direction they're headed. It's astounding how light their footprints are for their size.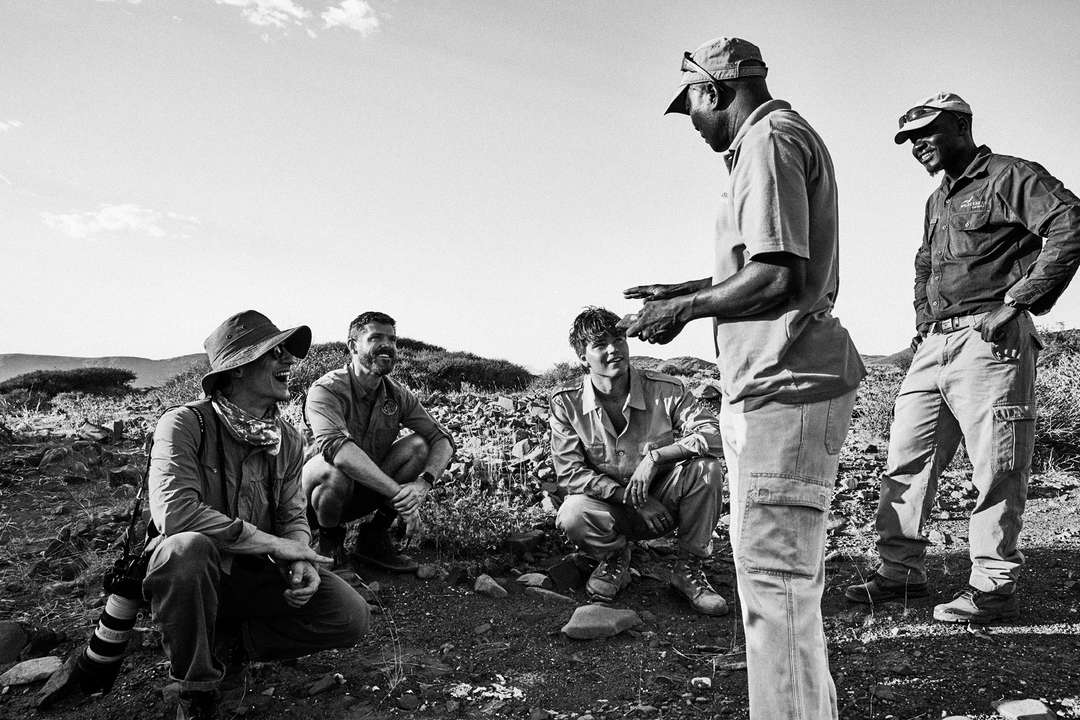 We headed back to Damaraland Camp and ate an appetising lunch. The staff never miss a beat, with each individual's dietary requirements taken care of. Patricia and the other friendly staff would recite our lunch and dinner offerings both in English and in the click language Khoisan, which was mesmerising. Patricia always had the biggest smiles for us, and warmed our hearts with her occasional dance moves and humming as we crossed paths.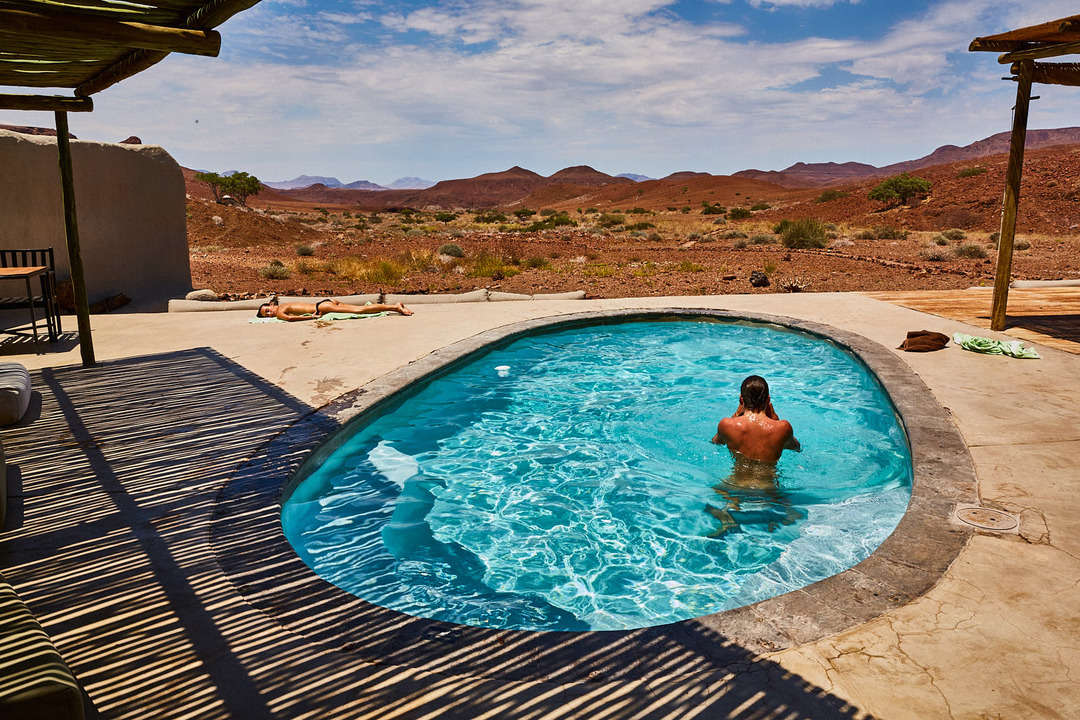 Most of the team took a moment to lie by the tranquil pool and reminisce about the beauty of what we encountered. I slipped back to my room to download more images and took the opportunity to sit out on the balcony, taking in the desertscape and my latest read, "The Elephant Whisperer" by Lawrence Anthony with Graham Spence. Pure bliss.
Feeling very spoilt for desertscapes, we were then escorted by our guide, Emanuel to a peak of the mountain range along the Dana Rama trail. The deep pigment of yellow and ruddy tones was breathtaking.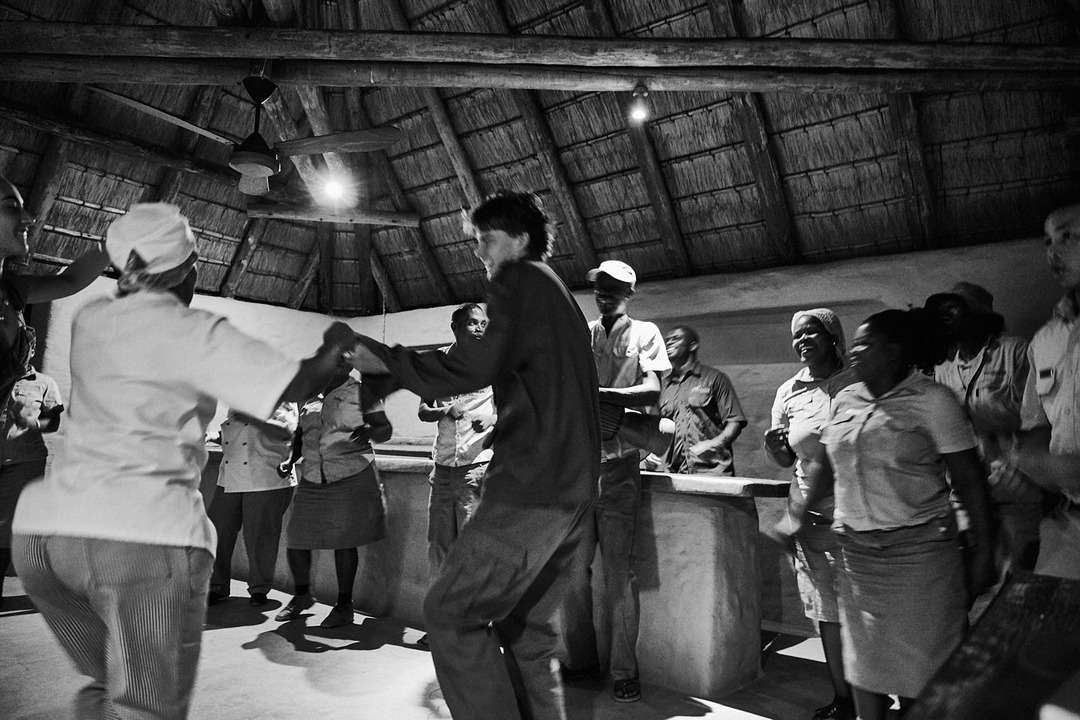 We finished with dinner back at camp, where the staff sang and danced for us with the soothing voices of people that live a completely different life to us. Africa, you are golden.
Day 3 - Africa and the past
The day three plan at Damaraland was all about paying homage to ancient Africa. We headed out to the cave paintings and picture glyphs at Twyfelfontein. These ancient carvings were etched into the rocks by the first inhabitants of the mountains – the San.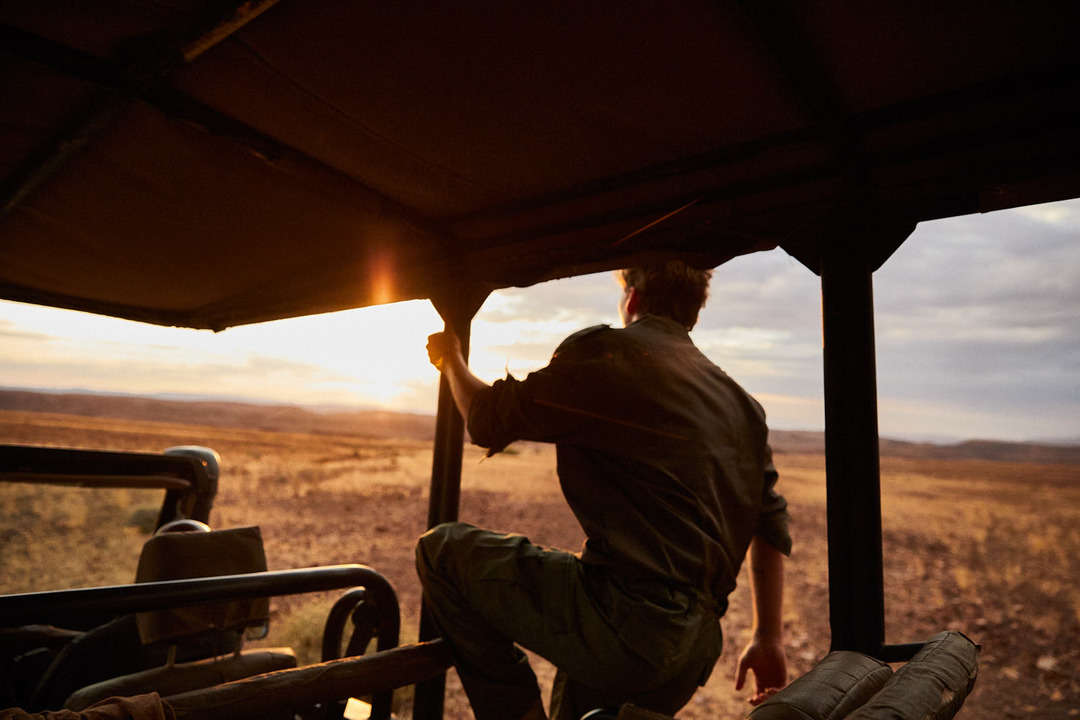 On the journey to the caves Heather, Grey and Jared scouted for an appropriate backdrop for us to document Ketji reciting the poem that he had read to us on our first evening. This was worth capturing as it came straight from the heart. Grey found the perfect spot with rocky rolling hills in the distance whilst Heather filmed Ketji, he was a true natural.
At Twyfelfontein the 2 000-6 000 year old markings were a privilege to see, etched into big sandstone boulders that engulfed us. A mixture of lions, seals, antelopes, zebras, elephants and many more figures were carved into the rocks. Of interest was the lion man figure which our guide Arthur explained was half human, half animal, a symbol of the shaman, or medicine man, spiritually transforming into an animal. They believed the super powers of this animal were strength, to protect the family and bring successful hunting.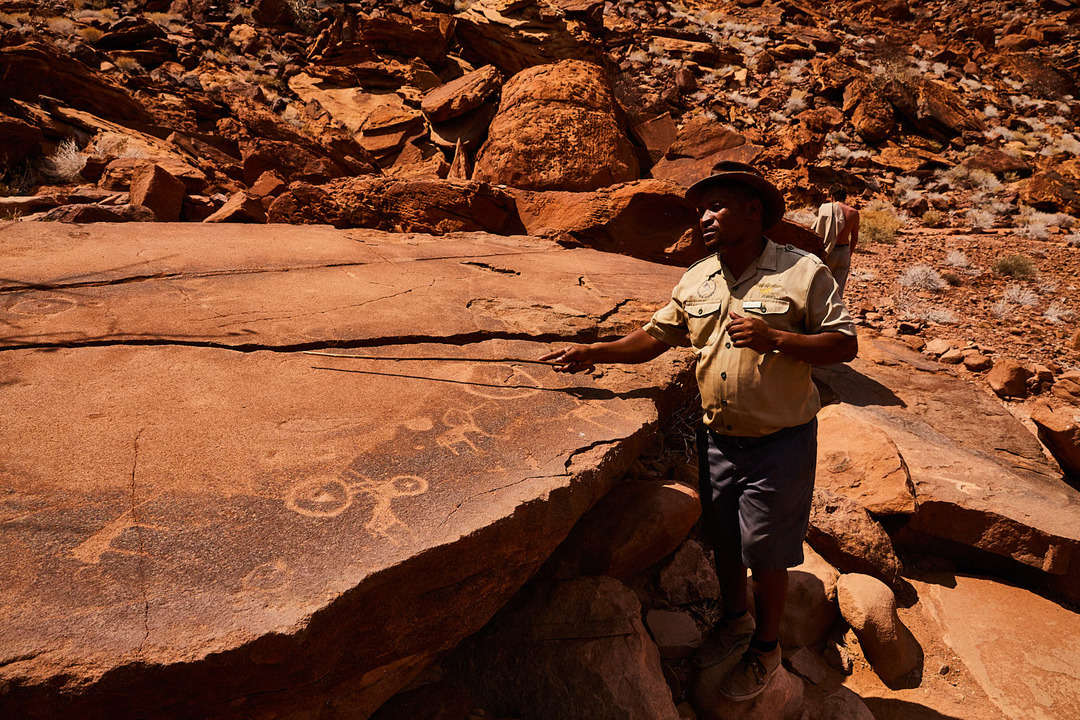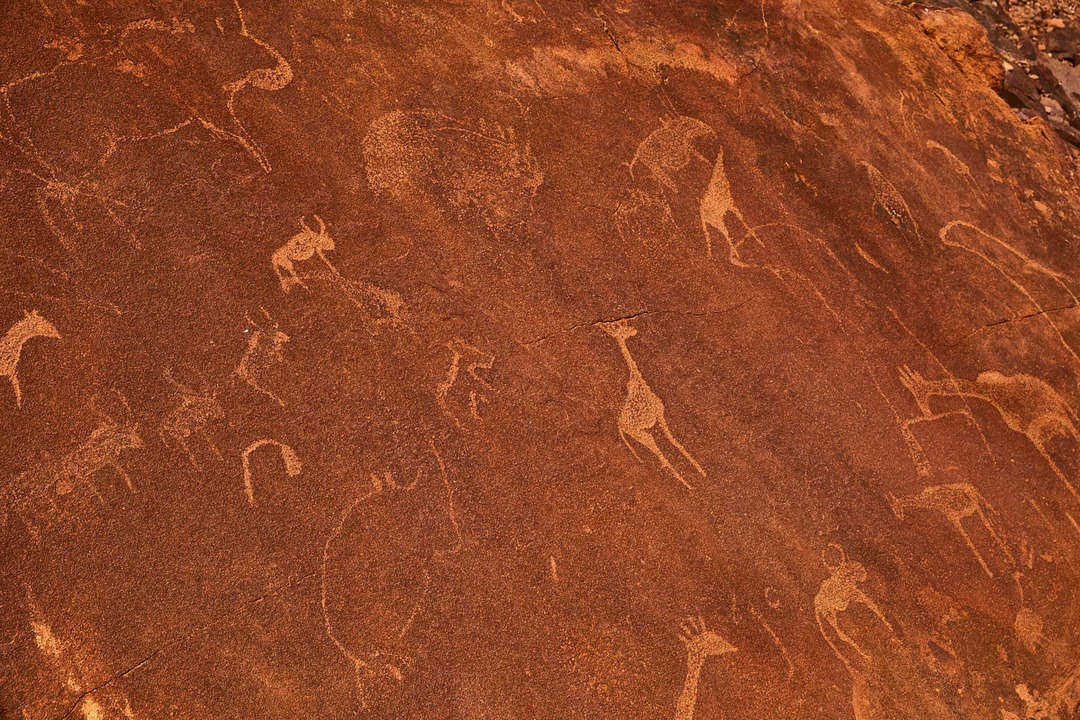 We headed back to camp for some respite whilst Paul and Peter held a special training session for the lodge guides to enhance their understanding of lion trends across the continent. Jordan was deeply engaged, listening and asking questions, while providing his perspective on the role ecotourism can play for conservation.
A new arrival was Wilderness safaris' Communications Manager, the thoughtful, passionate Tarryn Gibson, who had worked tirelessly to plan our trip. We drove to a lookout just past an intimate camp called Damaraland Adventure Camp. We climbed to the top of yet another majestic lookout and danced, sipped on gin and took in the orange hues of the setting sun as it slipped behind the last peak.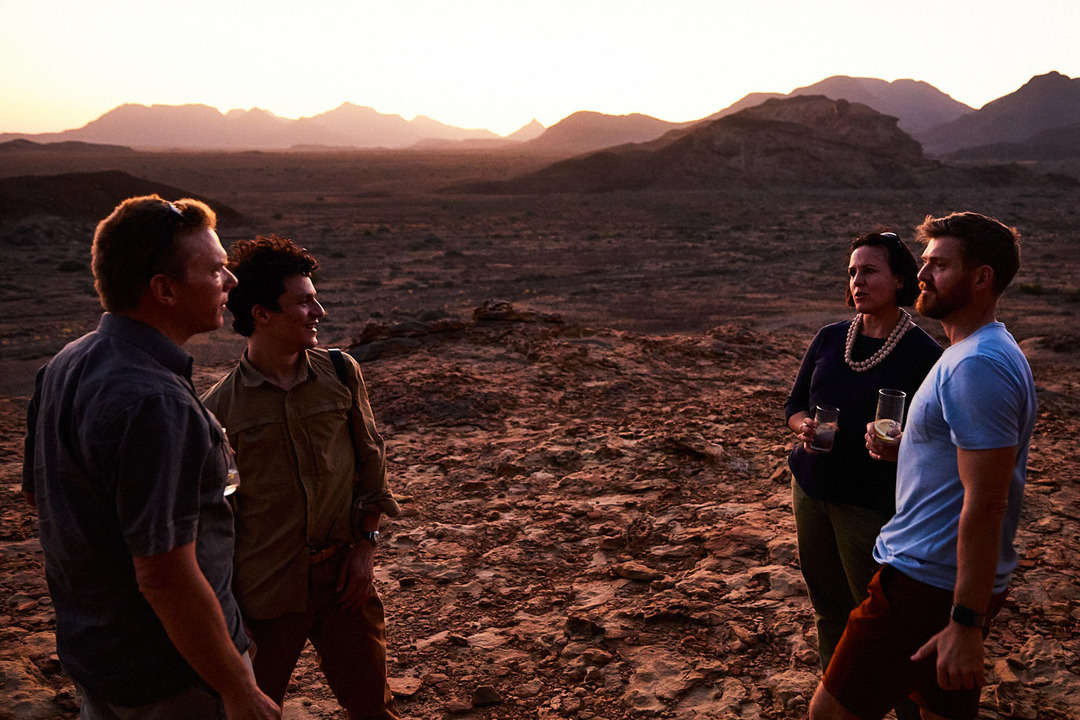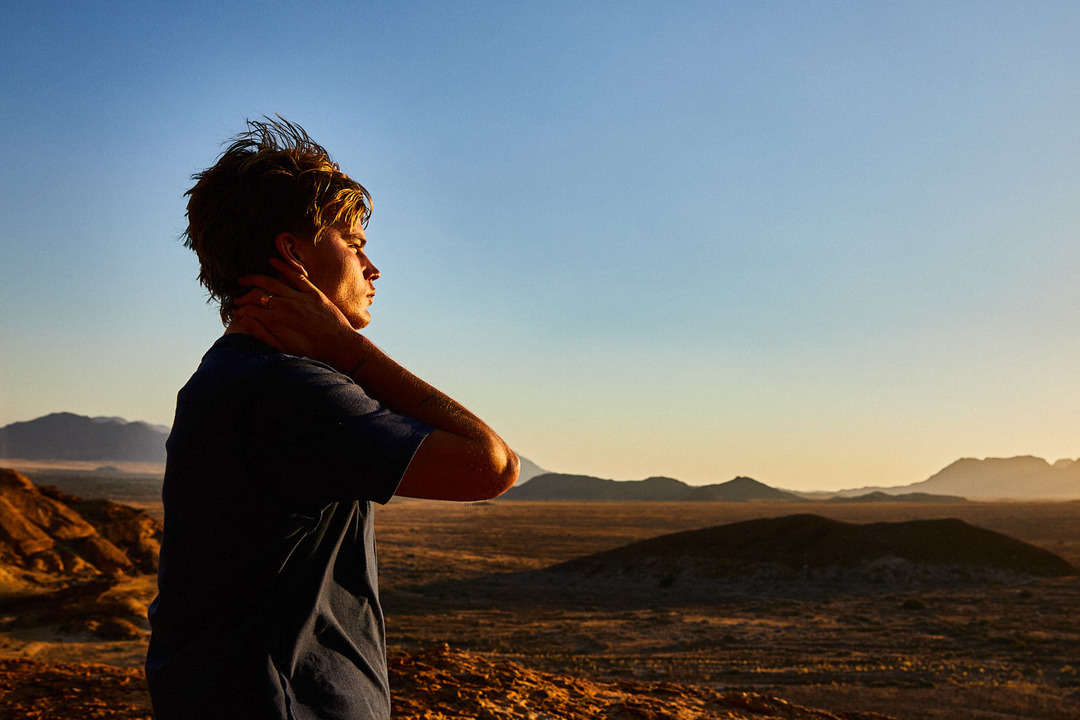 On the drive back, the Milky Way shone brightly in the dark Namibian skies. We stopped the vehicles and lay on the roof to savour this moment with a deep sense of awe, before heading back for our last dinner at Damaraland.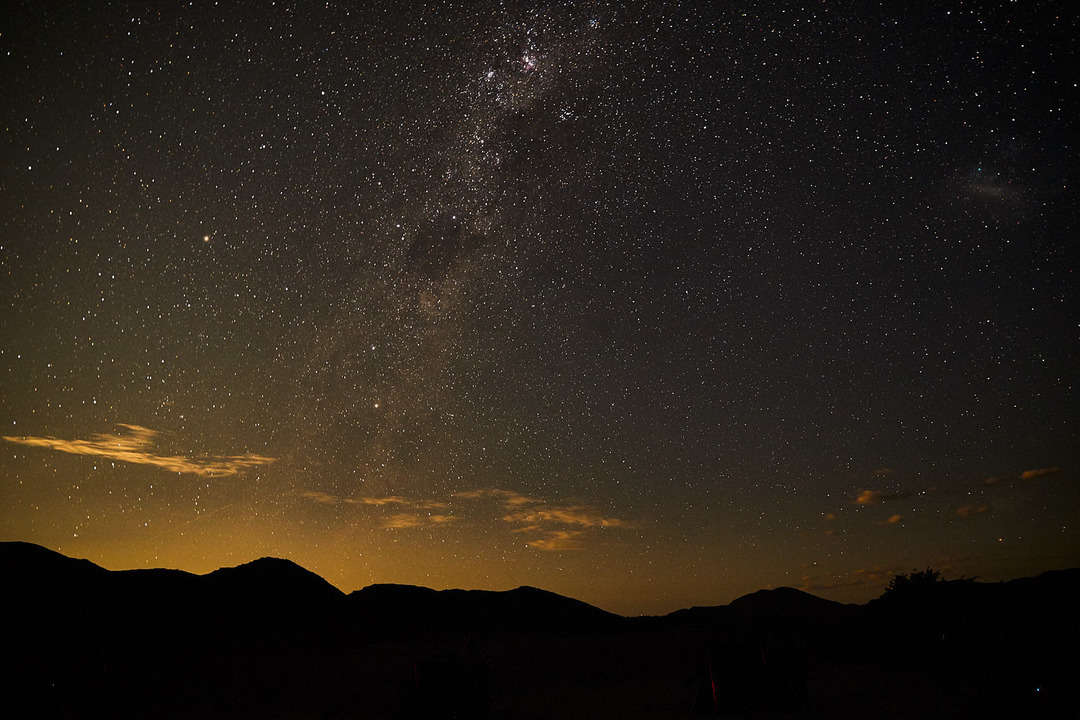 Day 4 - Dr Philip and the desert-adapted lions
Our naturalist guide Jason Nott, and journey magician Tristan Cowley, co-founder of Ultimate Safaris – one of the other founding members of the Lionscape Coalition –packed our gear into their Namibian safari vehicles, customised for Ultimate Safaris. They come fully equipped with charging banks for camera equipment and a fridge to keep all of our drinks and snacks chilled. It has a pop-top roof that can be raised when out in the wild for sightings, and large windows and spacious seats. We were given personalised water bottles for refilling, and we set out on our next adventure. We were closer now to tracking lions, meeting Dr Stander and settling into this expansive wilderness.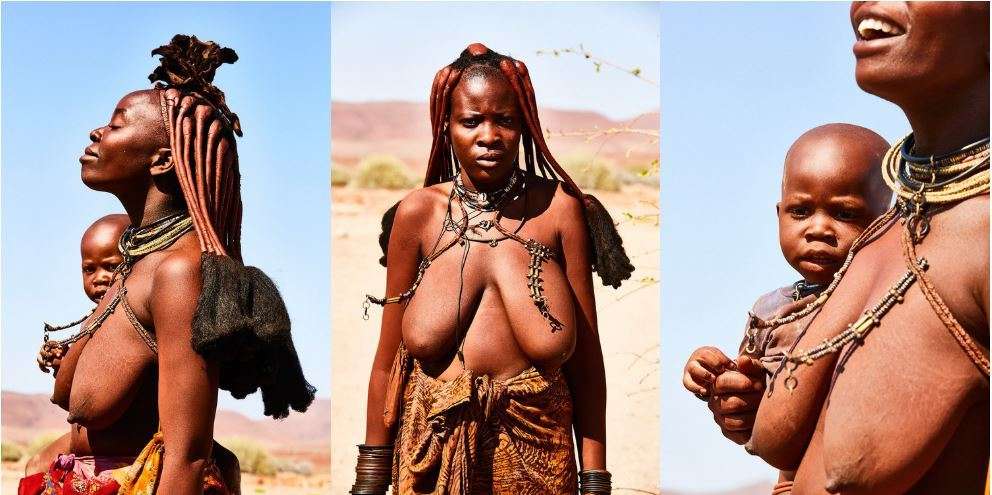 We headed north into the heart of Kaokoland, stopping at a community farm. Jason filled us in on the process of building the kraals for livestock to help the human-lion conflict issues. We connected with Cliff and the Rapid Response Team from Integrated Rural Development and Nature Conservation (IRDNC), a local conservation organisation working to minimise human-lion conflict in the Sesfontein and Anabeb areas, in partnership with Philip's Desert Lion Conservation Project. Cliff showed us one of the new signal towers, which detects approaching lions via their special GPS-enabled collars, and sets off a siren to warn the locals, who can then ward off the lions non-violently. This innovative system has helped to reduce the number of lions killed by farmers.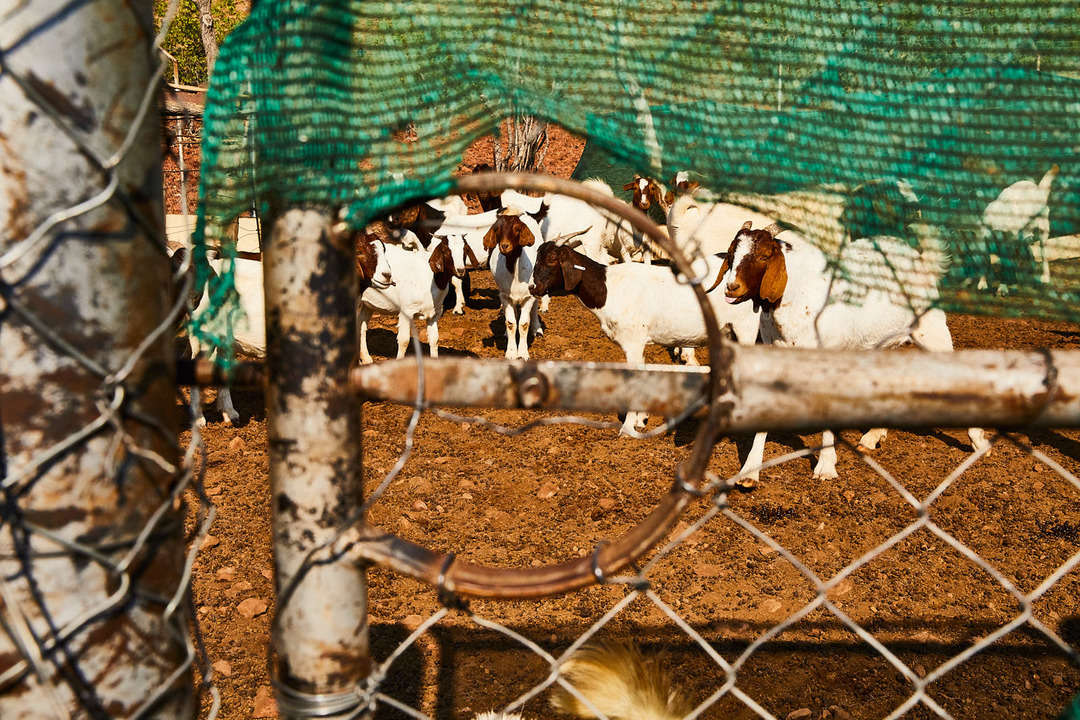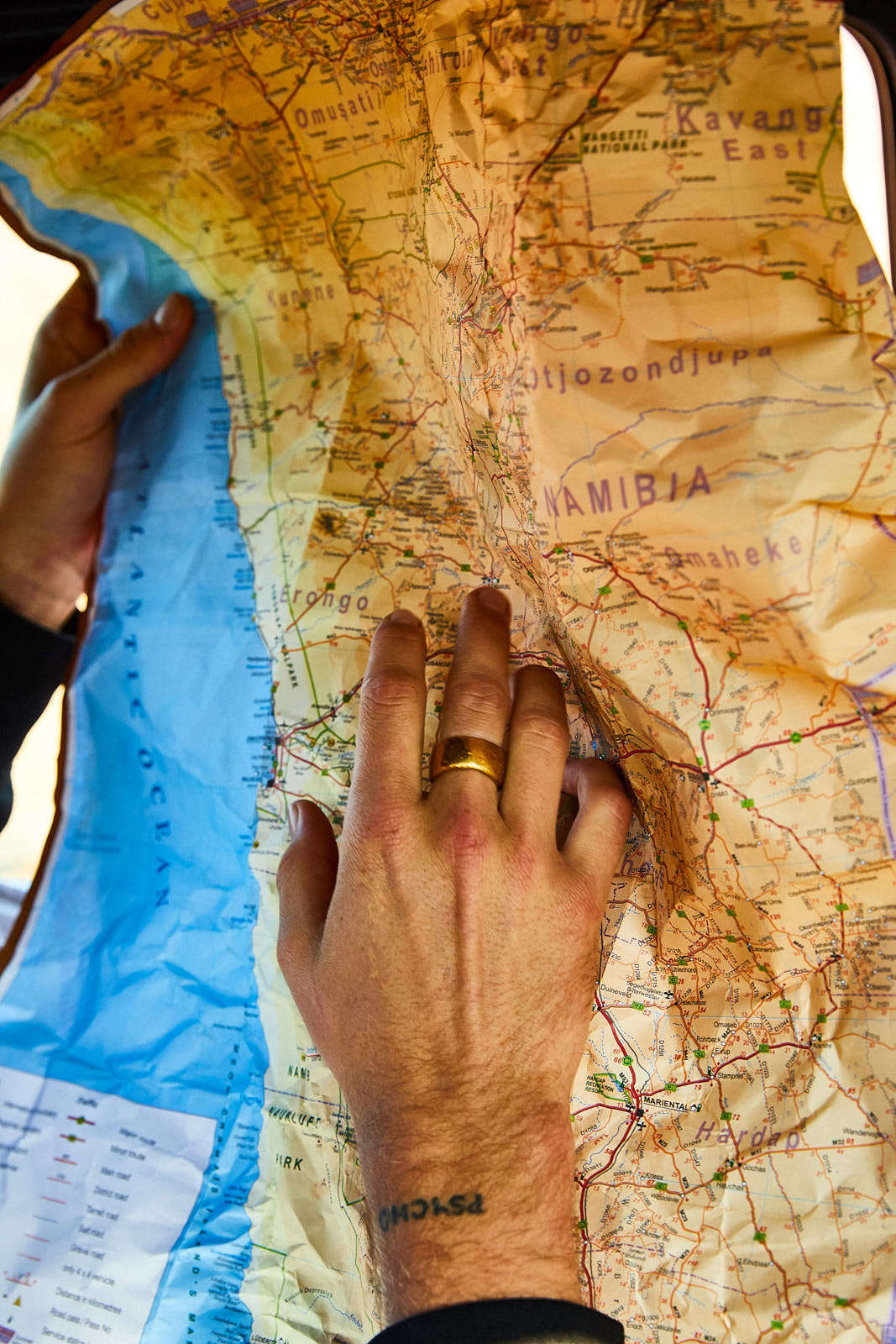 As we continued our talks about the day's adventures thus far, a big elephant bull emerged from the trees… they really are the largest and noblest land creatures on this planet. We were to see many more of these quiet giants along the way.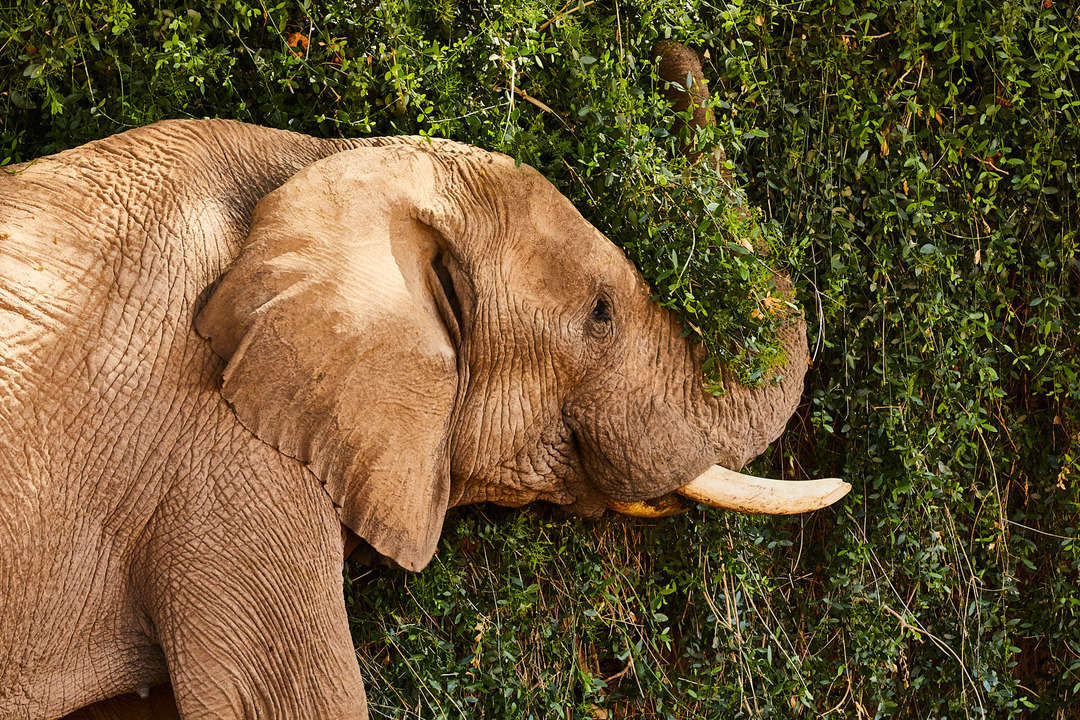 Jason's voice came through Tristan's radio. Philip had located the lions. They were close. Philip had been tracking two lionesses which had previously been up in the mountains for the past three weeks. It was too tricky for us to access those areas so we felt the stars really aligned for us with their decision to move down to the riverbed. The Namibian desert lions are unlike any other. They have adapted and evolved to cope with the harshness of the desert, though it is still a tough life for these powerful creatures.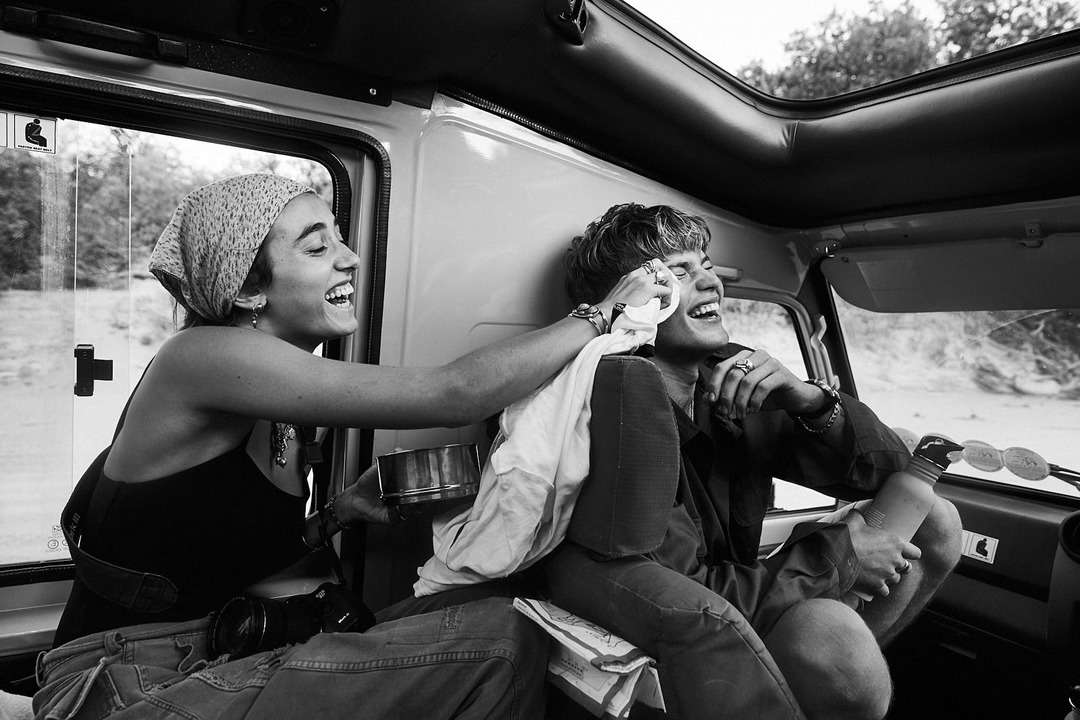 We followed Jason's vehicle and saw Philip for the first time in the distance. He was sitting far away, unobtrusively, in his modified Land Cruiser which was engulfed in dust from the desert. It's as if life lines were etched into the vehicle's shell, each line a memory for the many adventures he has lived.
Tristan drove a little further along the riverbed to get our first glimpse of these near-mythical beasts. The two lionesses were sleeping side by side and were simply majestic. We were truly captivated by their beauty in the approaching twilight.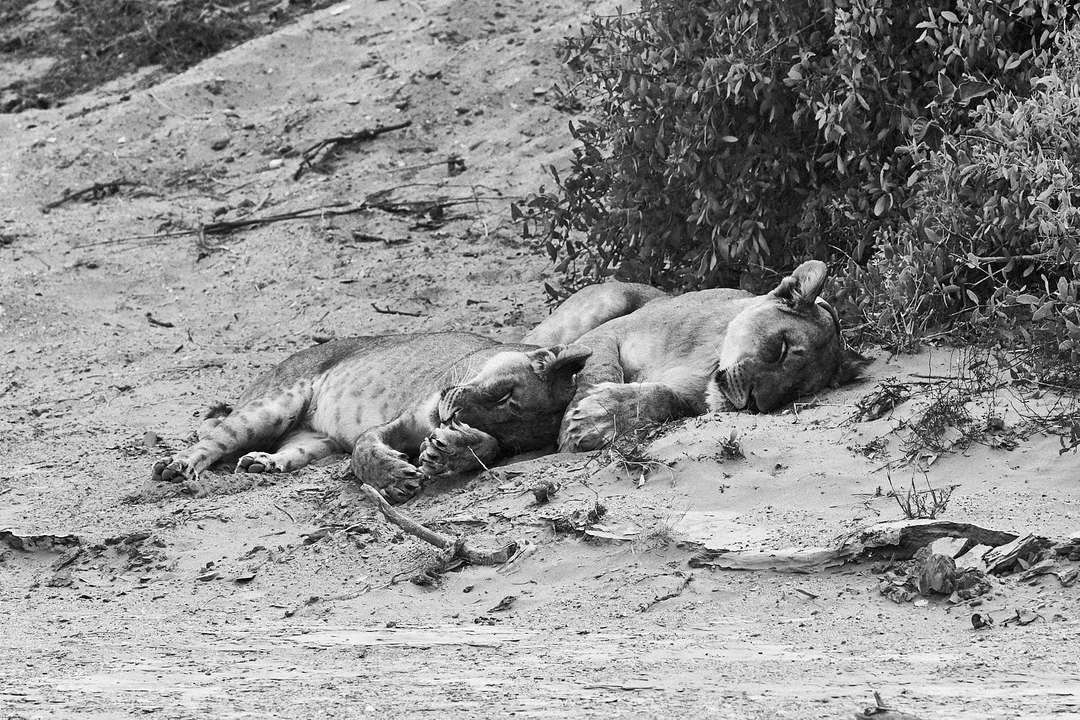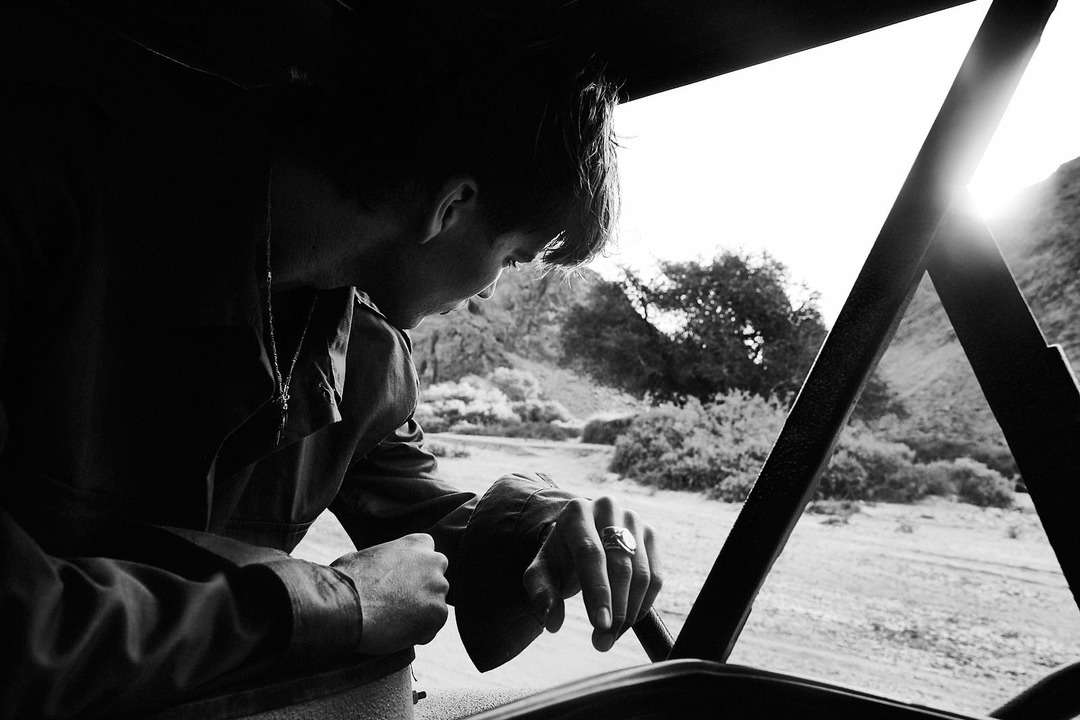 After spending several days searching for, and learning about, these rare desert-adapted lions, it was a great privilege to find them. After all, the small population of desert-adapted lions we are visiting is the only population of lion in the world that lives in a desert. There are only about 120 of these lions here, and could very well be gone completely if not for the dedicated conservation work of the Desert Lion Conservation Project and IRDNC's Rapid Response Team.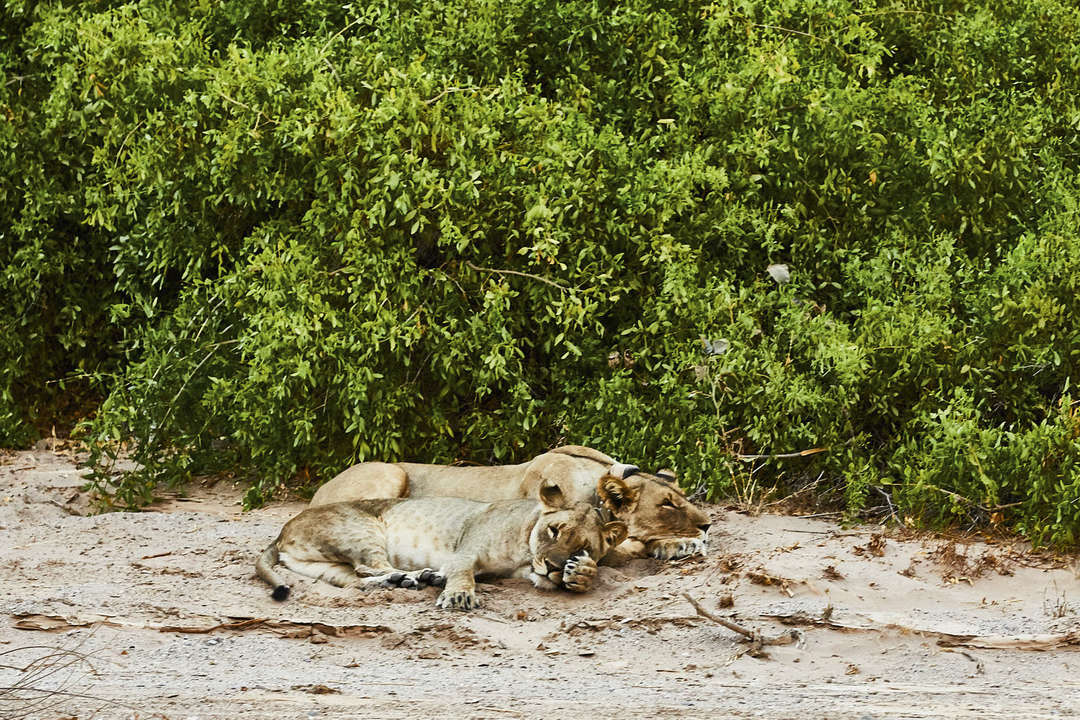 Philip joined us for quick sundowner around the campfire, he then slipped away to continue his research. We shared stories over dinner and treated ourselves to baked banana boats and chocolate for desert, it was such a lovely vibe sitting together and listening to passionate stories about Jason and his godfather Philip's encounters with the desert-adapted lions.
We called it a night and finished the day with a private outdoor shower under the stars. It was pretty special to shower and take in the magical surroundings of the rolling hills in the distance, lit by the full moon, before preparing for bed.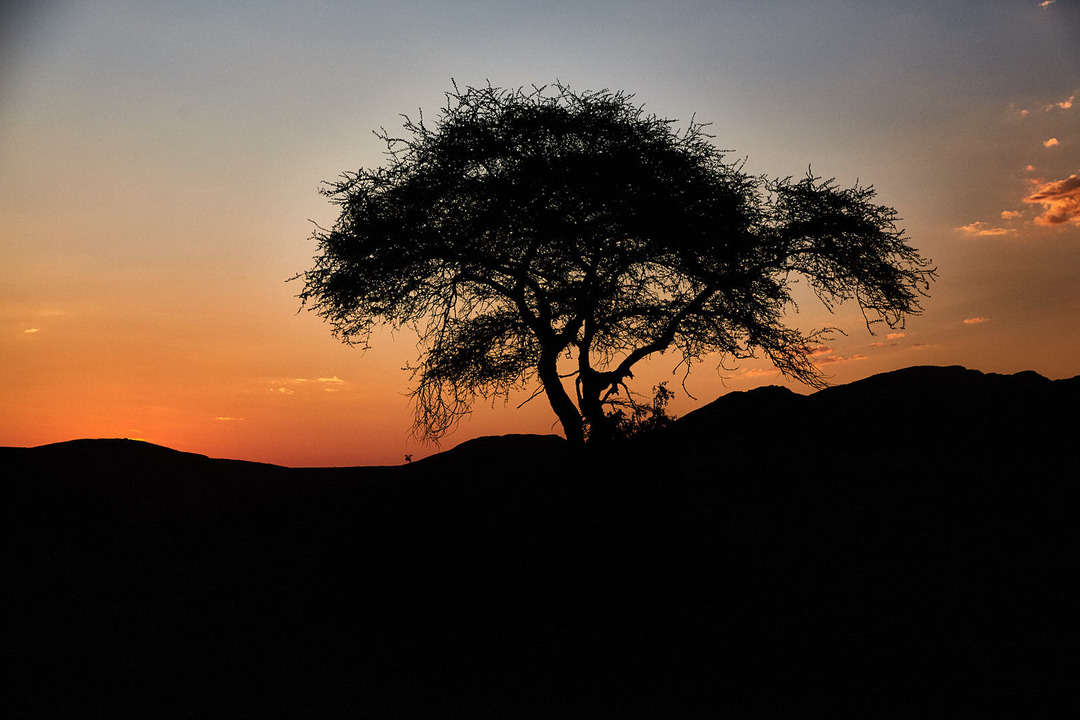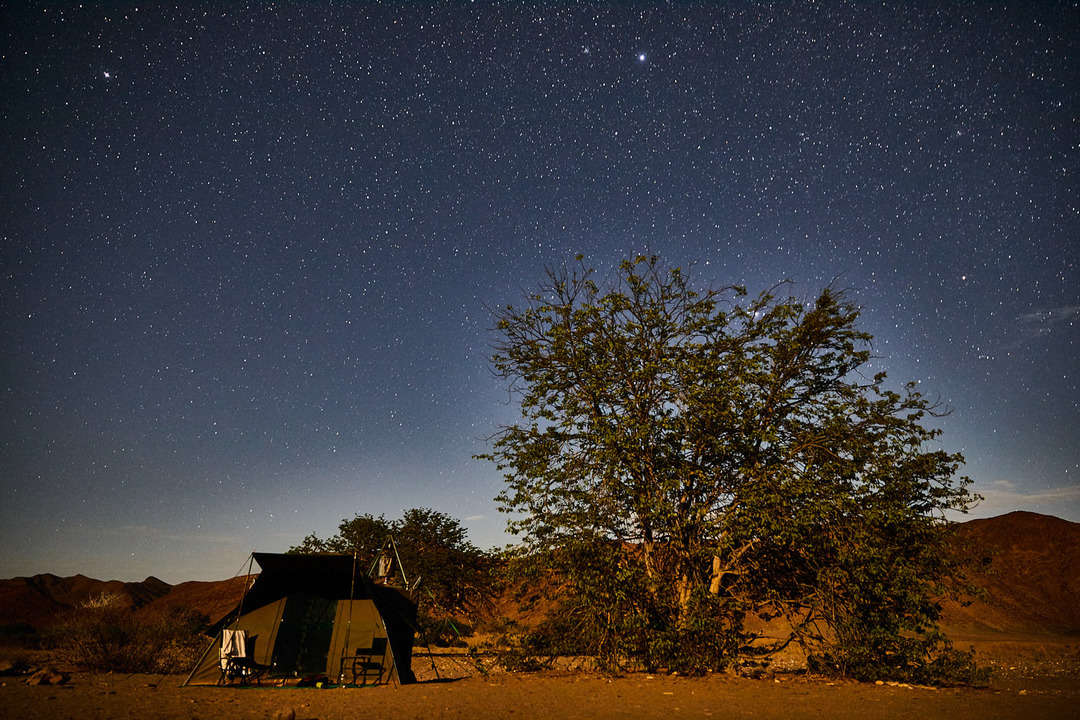 It still amazes me how the Ultimate Safaris team manages to pack our entire setup, including multiple tents, bedding, tables, a bathroom equipped with a toilet, shower and basin, food and beverage supplies for the three days, water for our showers, dining tent, chairs and tables, into one vehicle. Once packed up they are very conscious of leaving nothing behind. I woke up from the deepest sleep to the sound of a Cape fox at 3 am, and fell back to sleep feeling completely content being so close to our natural wild surroundings.
Day 5 - Research with Philip
Breakfast and straight out in pursuit of the wild again, hoping to cross paths with Philip. He had been active the whole night researching brown hyaena, as he'd been for the last three consecutive nights. He barely sleeps and works around the clock. It's quite apparent that he spends the majority of his time in the wilderness, his car being his nomadic home.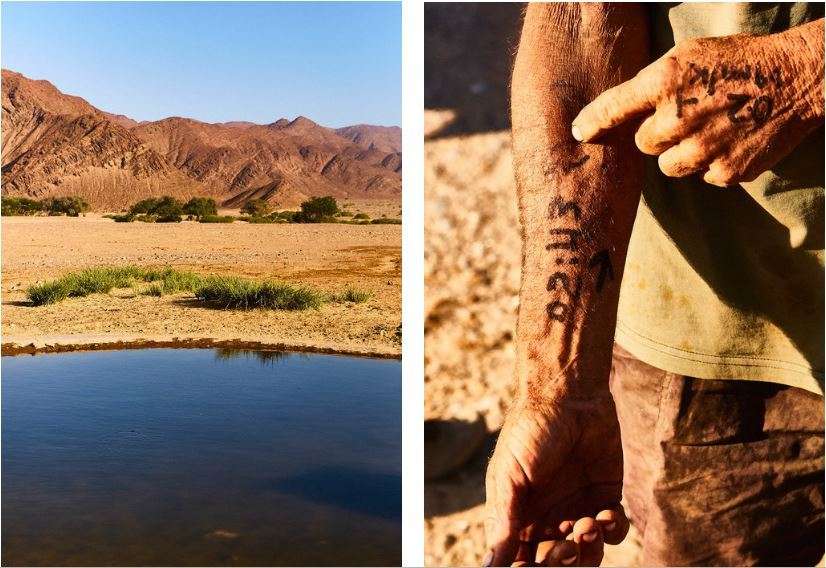 We found Philip at a waterhole and I noticed his research notes were written on his forearms and legs. He embodies the wilderness of Namibia, a true nomad in his quest for research. I was champing at the bit to take a peek into his car, where a lot of his research takes place.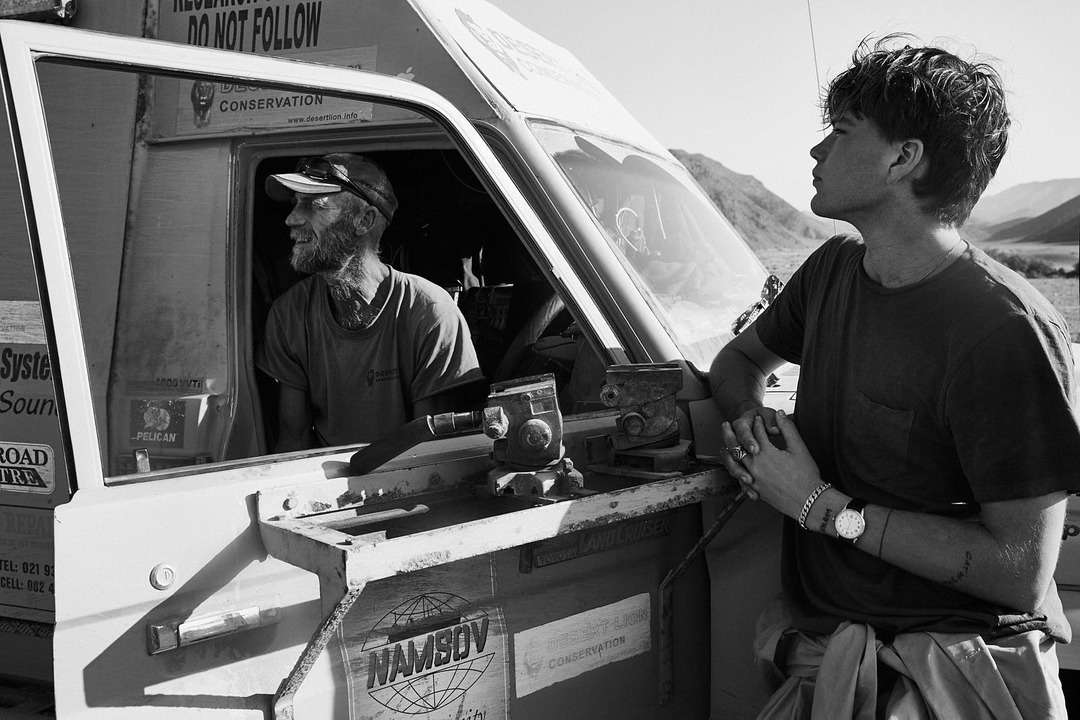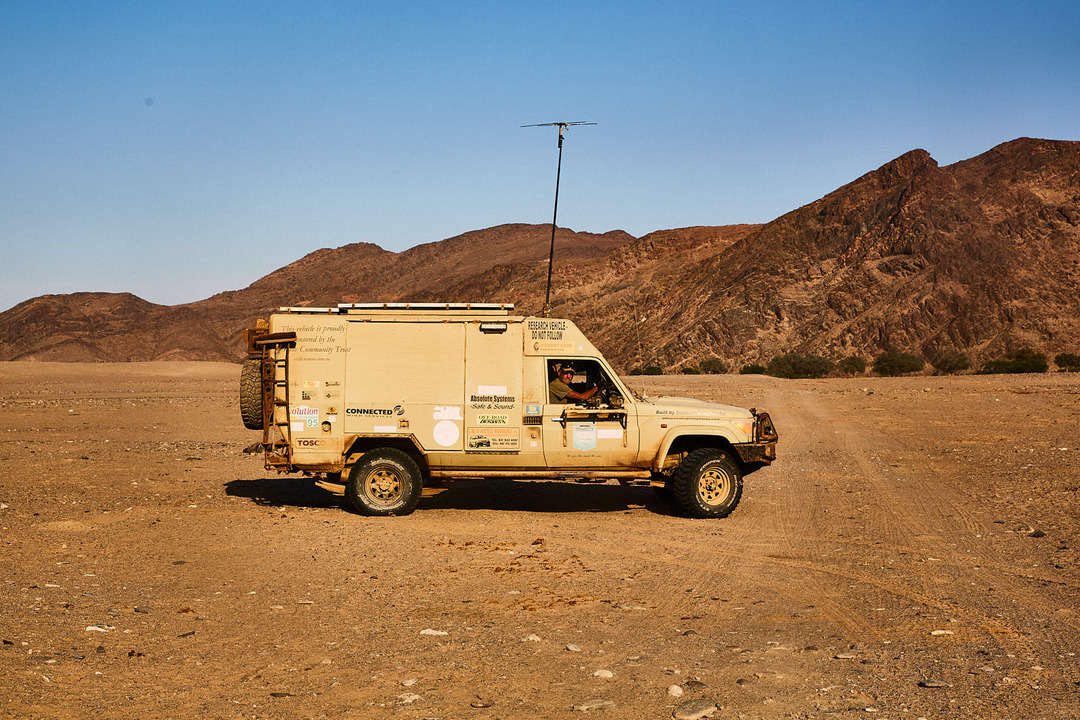 Philip mentions that the lions are close and off we go. After a few minutes of driving we spot two lionesses. The two have seen a springbok and their hunting instincts kick in, showing us their intense prowess. It was exhilarating to observe. It fascinates me how these powerful creatures are so primal, yet so playful at rest. They are so strong and elusive. The human urge to bond with these untouchable creatures is overwhelming. The lionesses' big amber eyes stared directly at us; it was adrenaline-pumping, being cautious and remaining dead still so as not to break the line of the vehicle.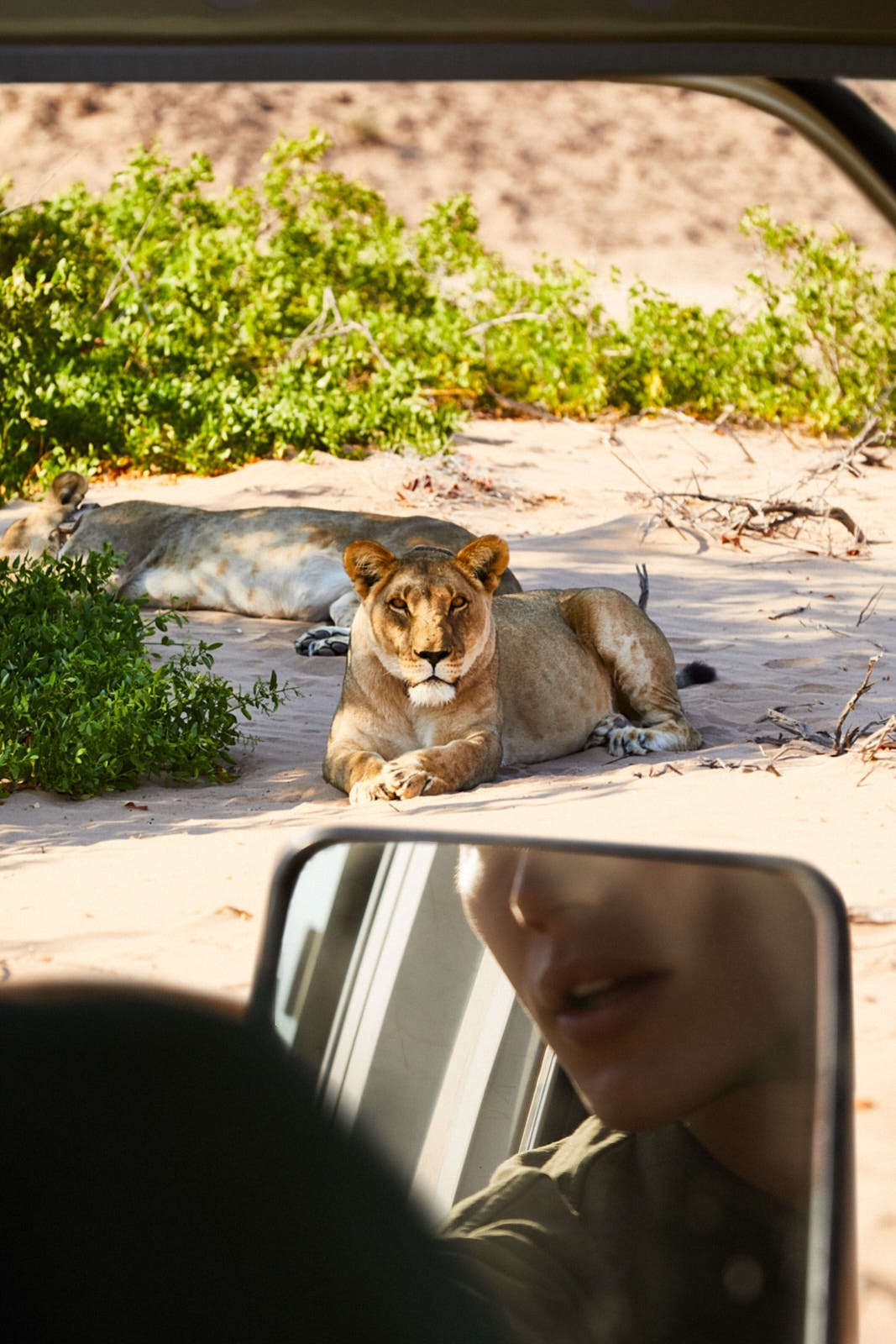 We ventured ahead of the lionesses as they were on the hunt. This time they had a desert-dwelling giraffe in their sights, a food source for these apex predators. We observed it all in absolute awe. The giraffe stood dead still facing the lions' direction, and after a while the predators ruled out the idea of hunting this time round, and the giraffe slipped away.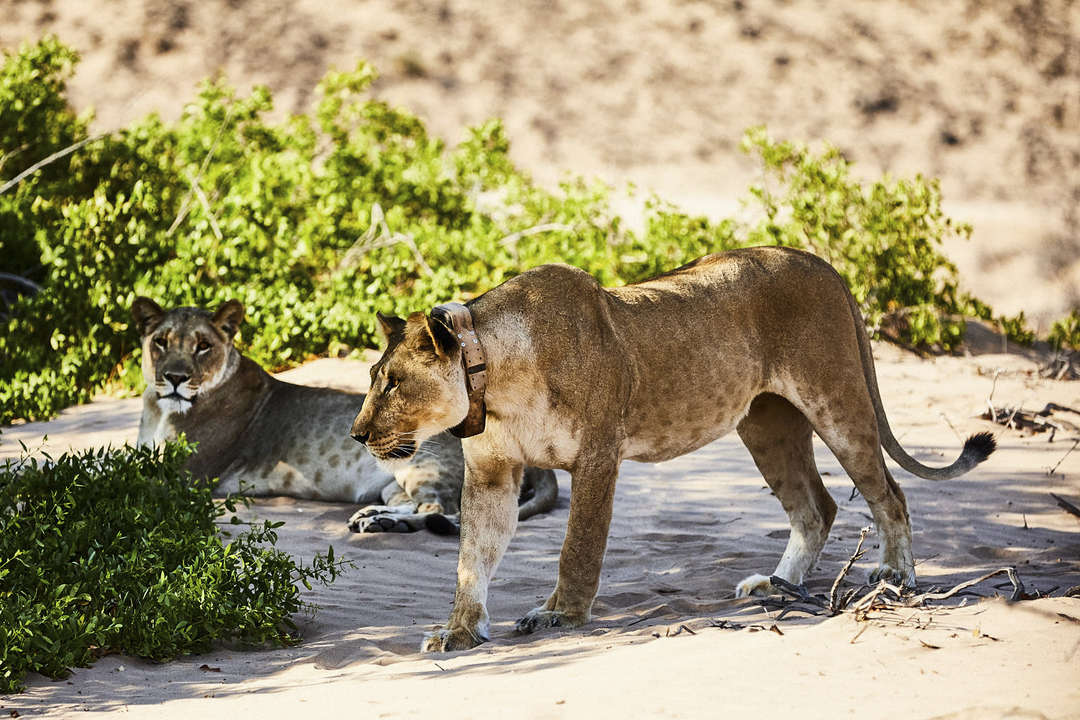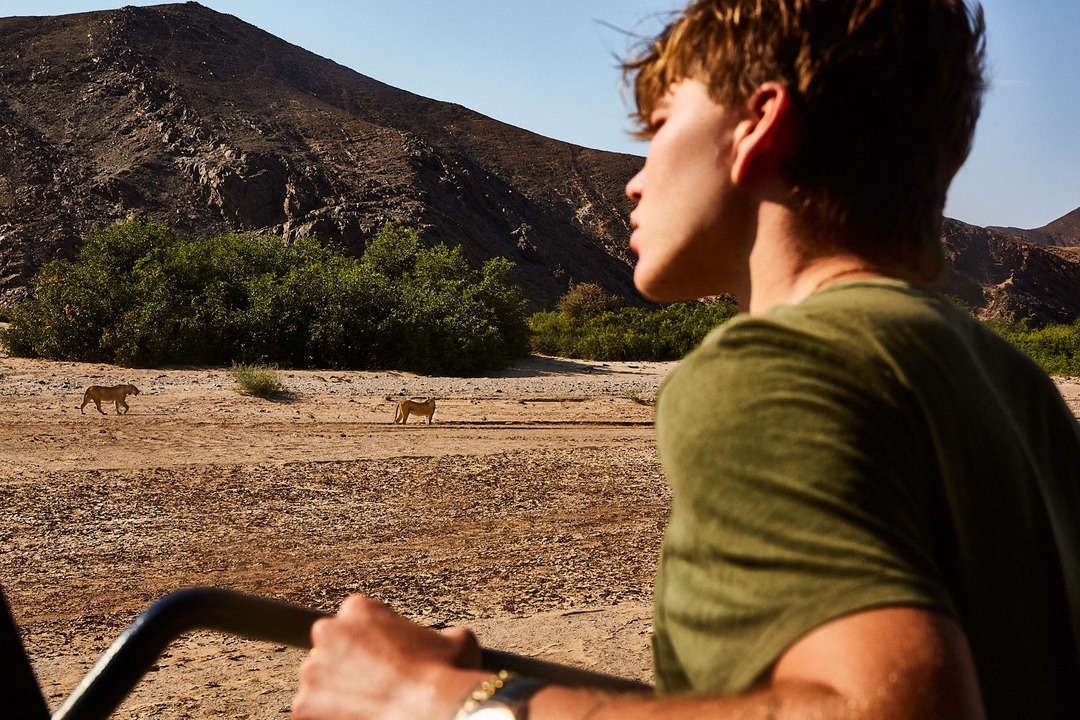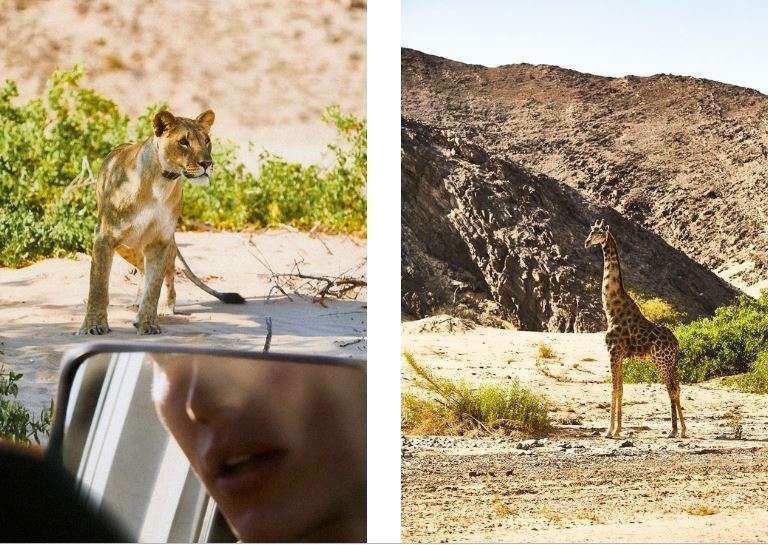 Jason said it's actually more of a challenge tracking Philip than the lions! We were lucky enough to cross paths with the researcher again, and followed him for a drive out along the endless desert plains.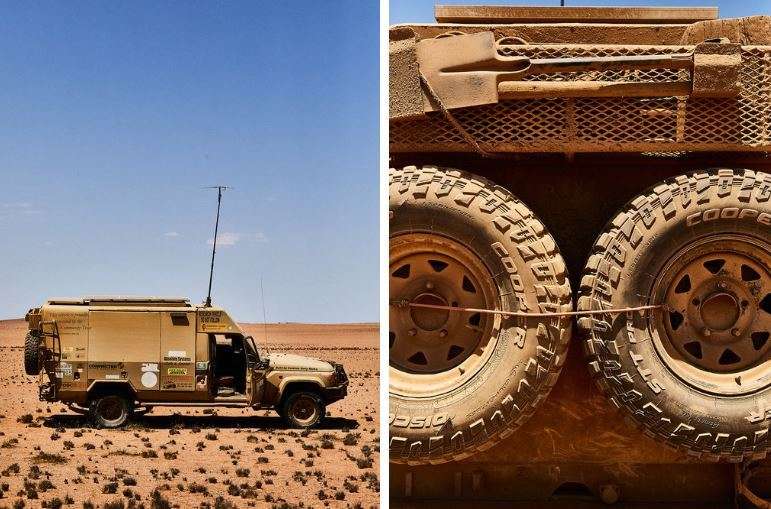 We had lunch with Philip on the plains, sheltering under the vehicle's awning in the scorching desert heat. It was a highlight for us to listen to him expand on his field research.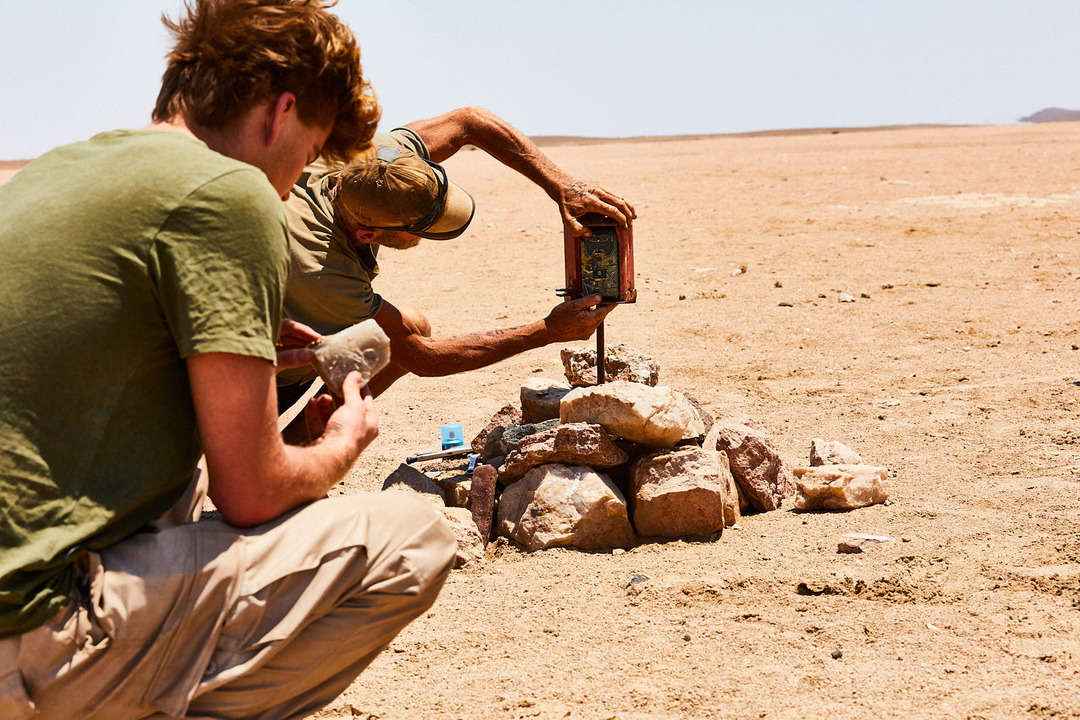 We headed back towards camp and I thought to myself, this is what could be described as the quintessential African day – prowling lionesses, proud oryx and graceful giraffe aplenty. We drove along the dry Hoanib riverbed which extends all the way to the Atlantic. It was filled with ana trees, oryx, giraffe, springbok and more elephant. Through the barren wilderness run lifelines of vegetation, and it shows the incredible and precarious way these animals and plants adapt to the formidable conditions of this desert.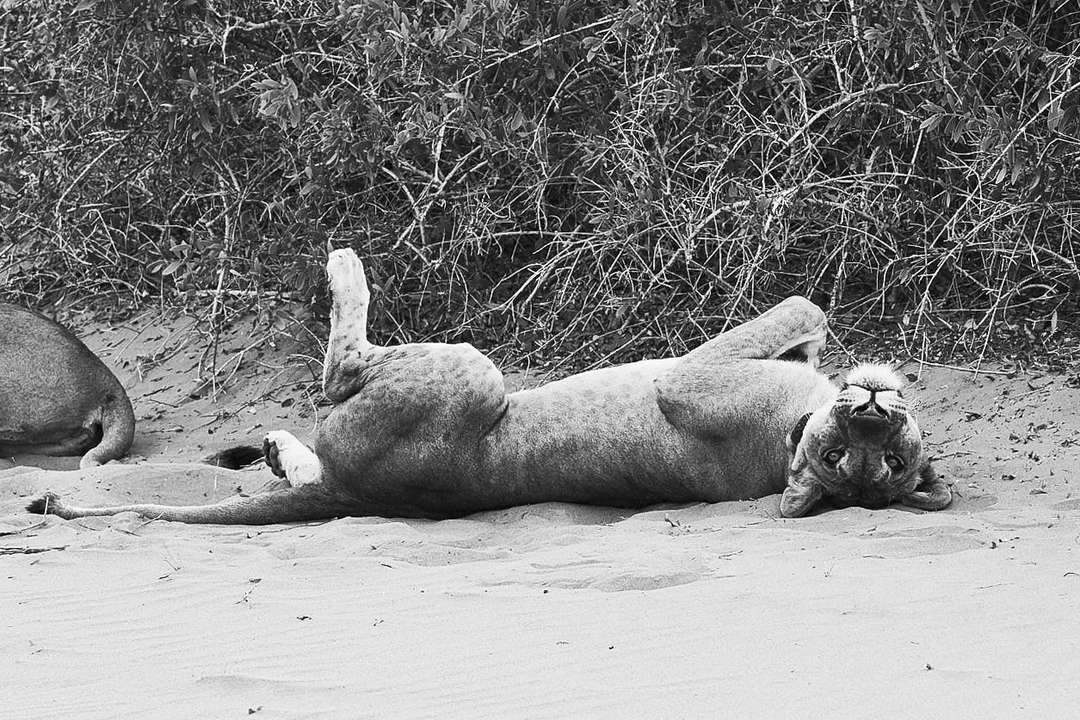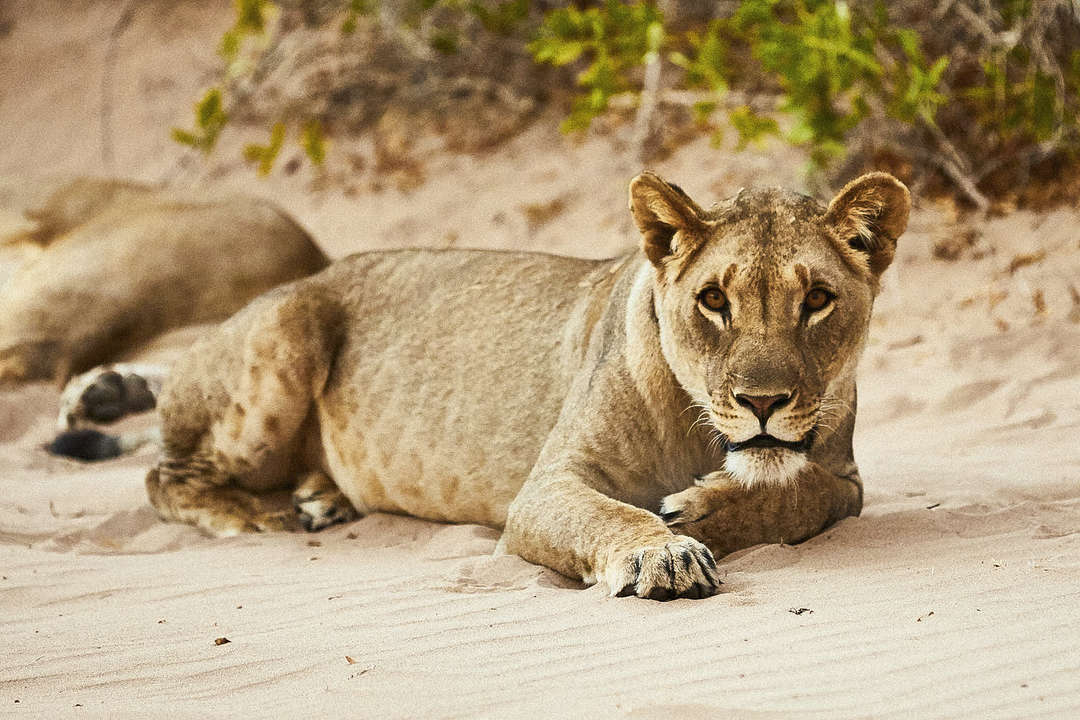 On the way back, luck was on our side. We met up with Philip again, and saw two more lionesses. We watched them relaxing and lounging, one letting out huge yawns to reveal her razor-sharp teeth, while playfully stretching out her tail and huge paws, rolling on her back and curiously watching us from her upside-down vantage. They were mesmerising to watch.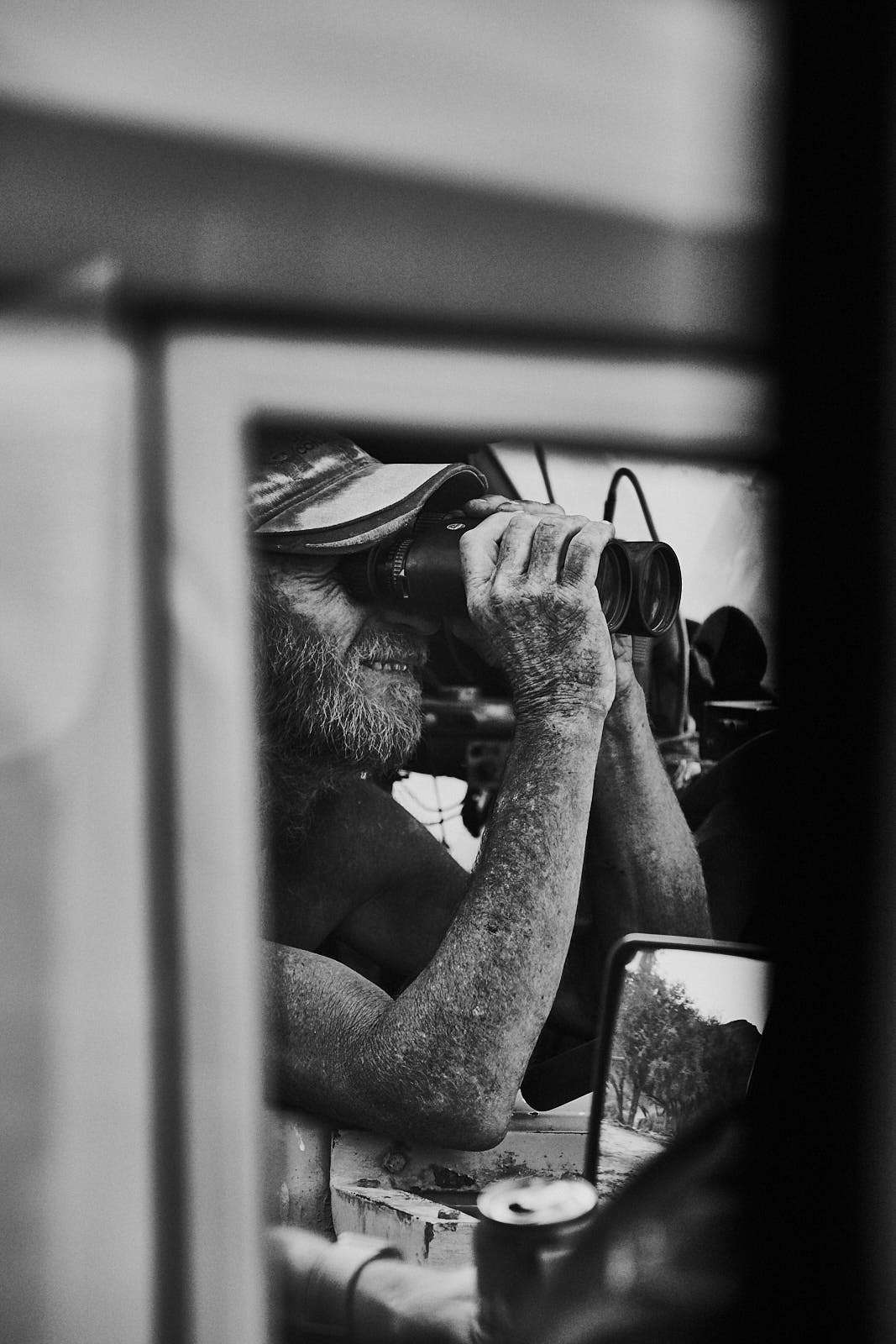 Back at camp we wined and dined whilst celebrating Paul's birthday. We were on a high, and felt spoilt to have had these lion encounters with such passionate, experienced experts. We sat around the fire listening to Rodriquez and stargazing. We also learned how to find true south from reading the Southern Cross in the sky. It was the perfect way to end our last night with Ultimate Safaris.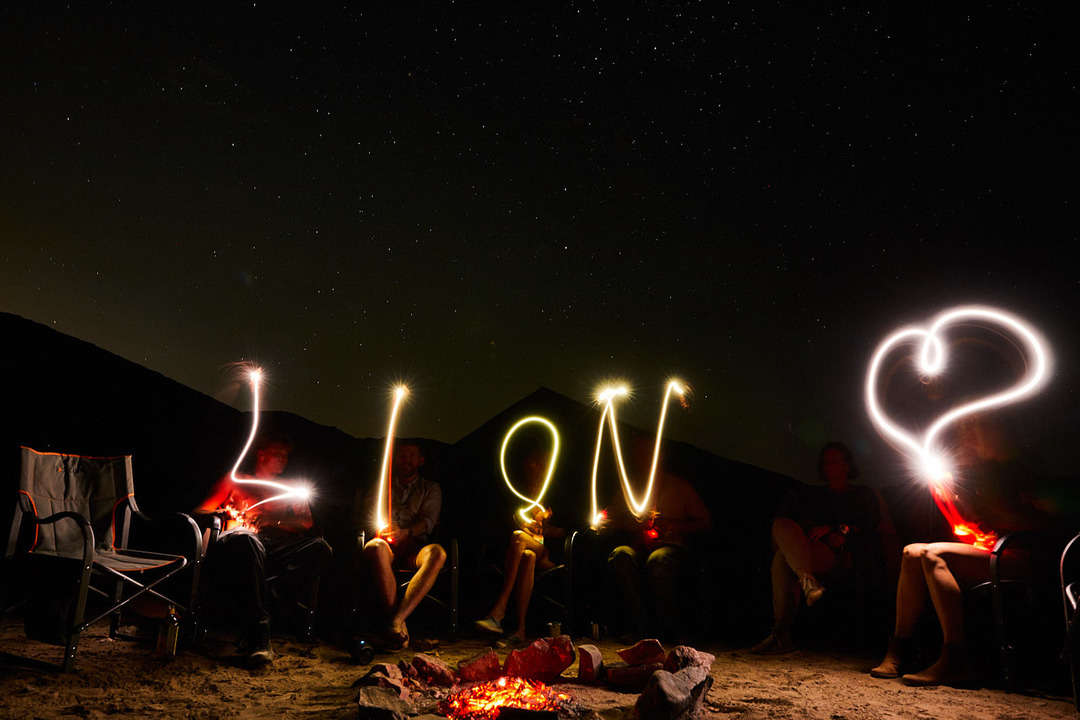 Day 6 - In safe hands
We were reunited with our humble and well-informed Wilderness Safaris guides, Jeremiah and Joas, who drove us to the last chapter of our adventure, Hoanib Skeleton Coast Camp. Along the way we saw springbok and an array of birds including swallow-tailed bee-eaters. The mopane trees, with their distinctive butterfly-shaped leaves, and large ana trees, some spanning up to two metres in diameter, lined the banks of the dry Hoanib River. We saw the bones of an elephant at the edge of the riverbed. Joas showed us where the sandy embankment above had collapsed under the weight of the elephant, causing its fall. It saddened me to think of the untimely end of this beautiful and noble creature.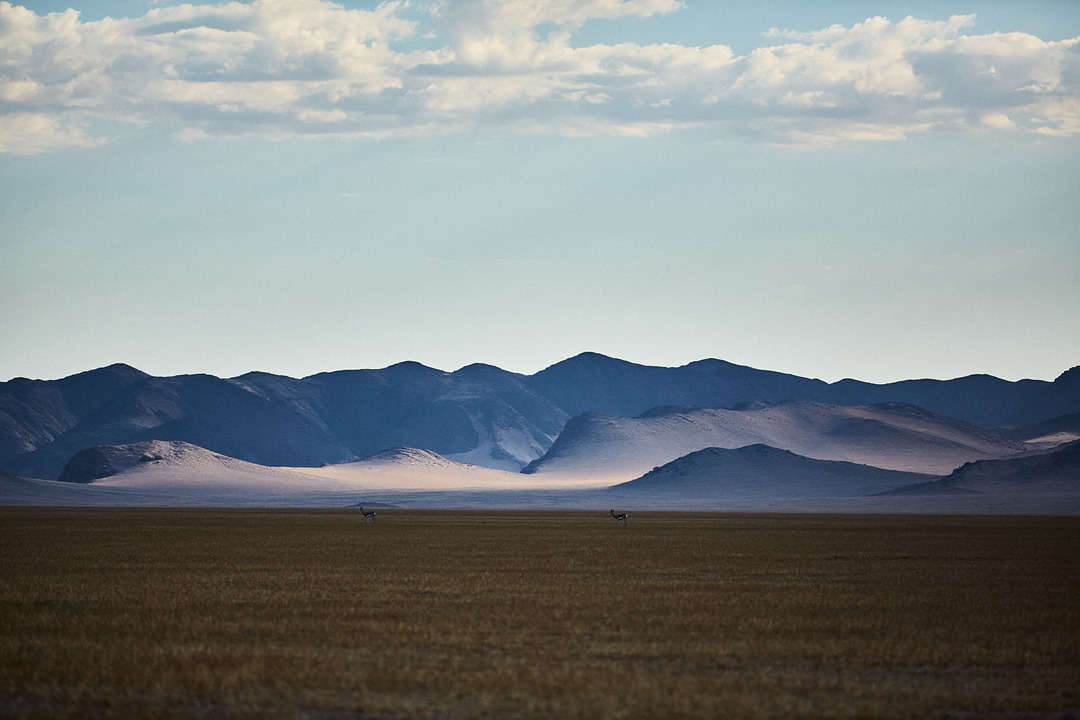 At the camp we were met by our host Rob, a kind, down to earth man. We very quickly got the impression that this tranquil, luxurious camp had been added to our itinerary to help us unwind from the jam-packed activities thus far. Our rooms featured floor-to-ceiling glass panels with views out to a waterhole in the distance, where wildlife would often visit. We had a beautiful en suite and private deck with loungers for relaxing and taking in the surrounds.
After lunch, we were lucky enough to watch the documentary Vanishing Kings I – it was mind blowing. I highly recommend watching this, and Vanishing Kings II, created by wildlife filmmakers Will and Lianne Steenkamp, who spent over two years with Dr Stander documenting a specific pride of desert lions. It is a true story about the survival of five young male lions on their epic journey to adulthood, followed in the sequel by the struggles they then face in this harsh and arid environment. Well worth the watch.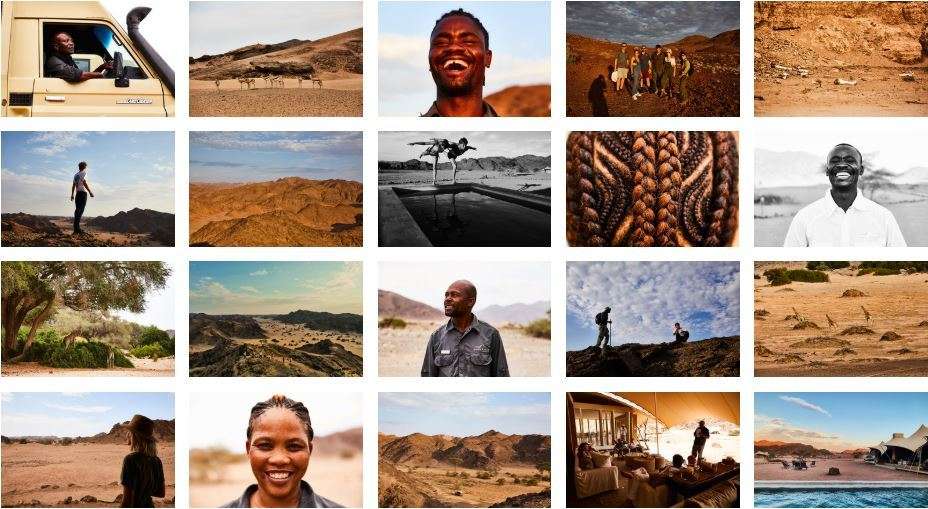 Sunset walks had become a welcome tradition, and we set out to enjoy this with Joas and Jeremiah, seeing giraffe along the way. We were about to continue when we were encouraged to climb up a nearby peak and wait from a safe distance, as we had received word that a lioness had been seen on the other side of the mountain. Once we reached the top, with binoculars we could see her, which heightened our excitement. We sipped on sundowners, knowing we were in the best of hands, and took in the magical view as twilight was darkening. The camp arranged vehicles for the night ride back to camp. Another divine day was coming to an end, dining on a delicious three-course meal under the stars while listening to Rob's stories of his experiences in Namibia.
Day 7 - The Skeleton Coast
We started out early to meet up with Emsie Verwey, who runs the research centre at the Hoanib Skeleton Coast Camp. Emsie provided insight into the Skeleton Coast Brown Hyaena Project. We were very honoured that Philip and Emsie invited us out to their home on the Skeleton Coast.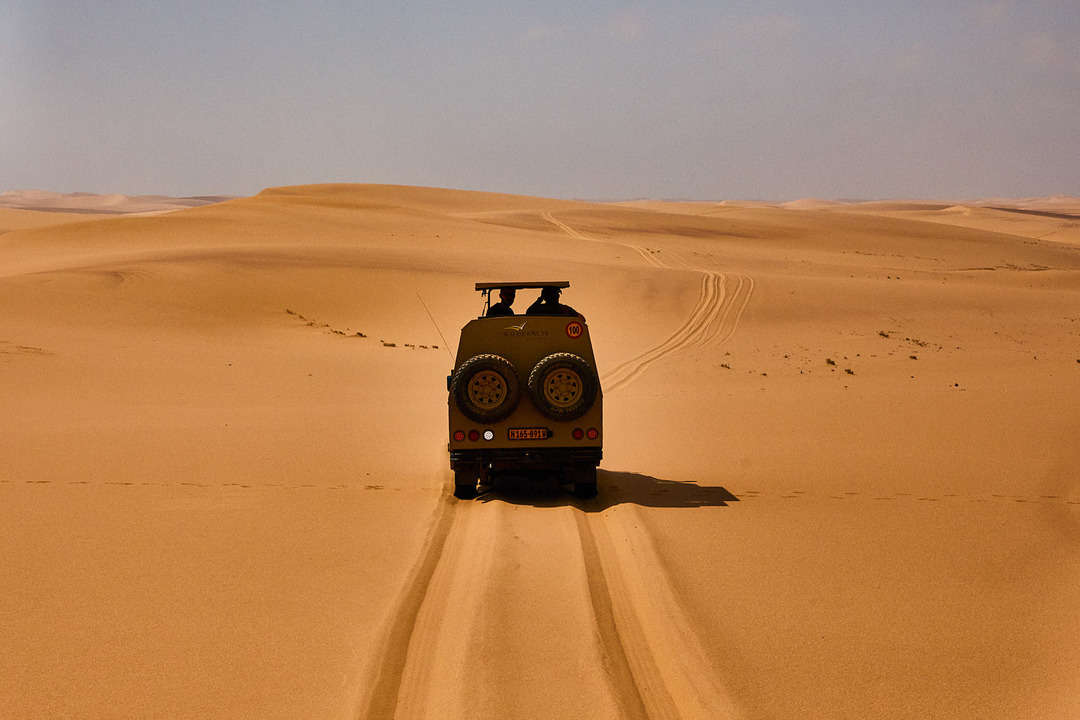 Joas and Jeremiah (the dad that everybody needs in their life, always ten steps ahead of us) drove us through the seemingly barren land, but whose colours and textures changed constantly in front of our eyes, from moonscapes to lush landscapes filled with wildflowers. The land then morphed into cracked earth, which blended into the rolling dunes.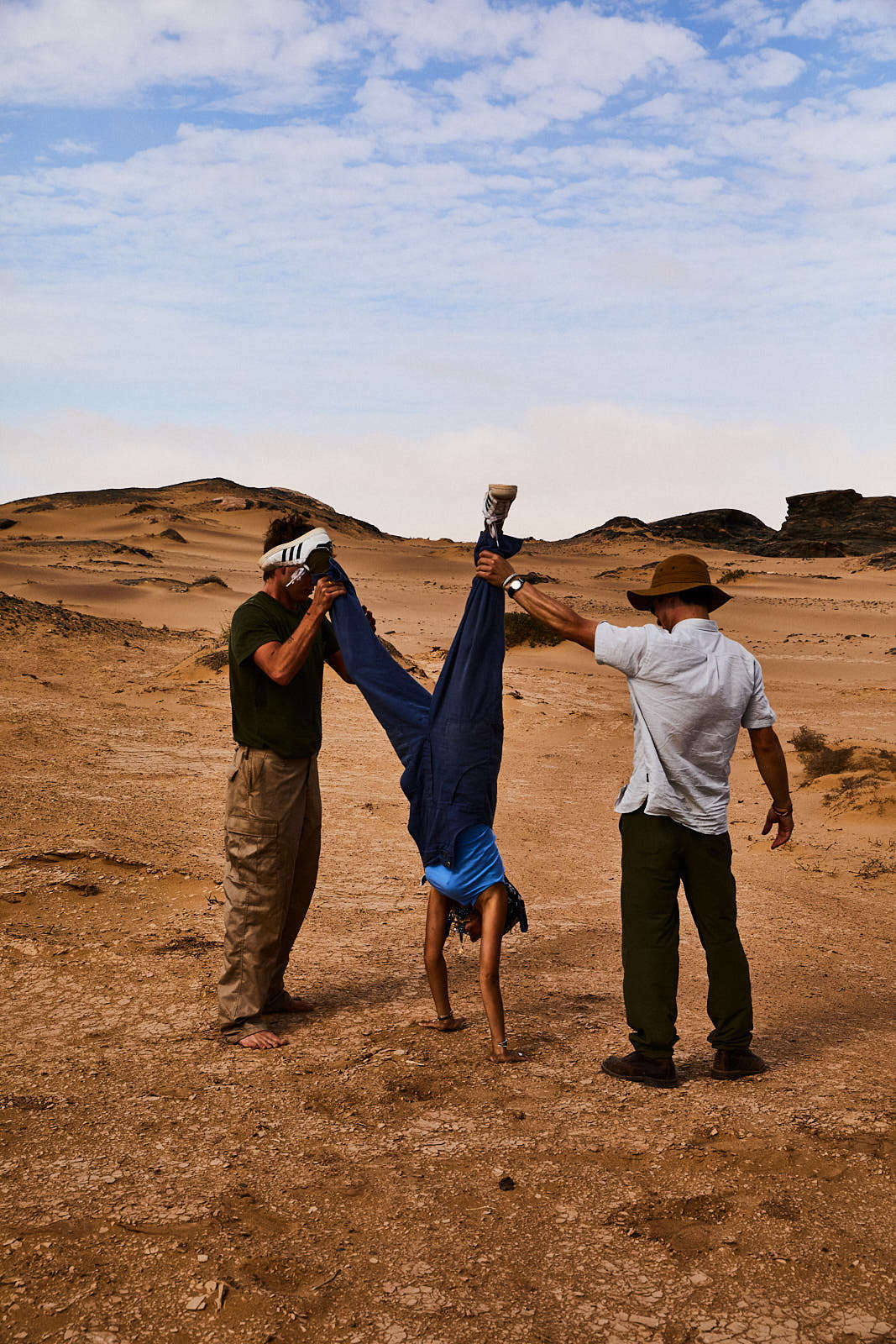 The team decided to run down the large dunes, adding to our adventure. Jordan and Grey took the opportunity to make us all laugh by stripping off, baring their butts while charging down the dunes like the free-spirited humans they are.
We continued our journey across the desert plains to the misty Atlantic Ocean, and the home of Philip and Emsie. The coastline is home to hundreds of seals, frolicking in the crashing waves – and oh, were they loud! The researchers kindly showed us through their home, which they had built over a long period of time. We listened to Philip as he informed us of the lions and their adaptive behaviour to hunting seals, as well as sharing his goals for lion migration in the future.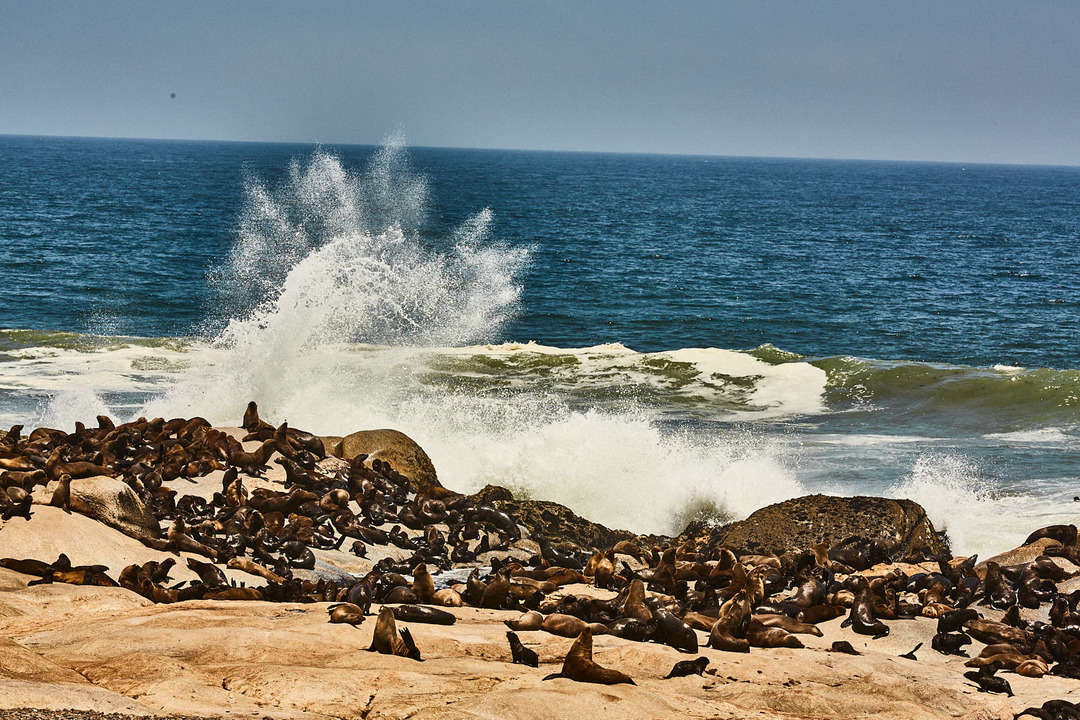 Jordan presented Philip with a Tiffany & Co. lion charm necklace as a memento of appreciation for the time and knowledge he shared with us on the trip. The charm is part of Tiffany's Save the Wild collection, and donates 100% of their profits to the Wildlife Conservation Network to support lions, elephants and rhinos. Before heading back, Grey, Jordan and Jarod took a dip in the cold salty sea while we looked at the many seal and fish bones scattered across the shoreline.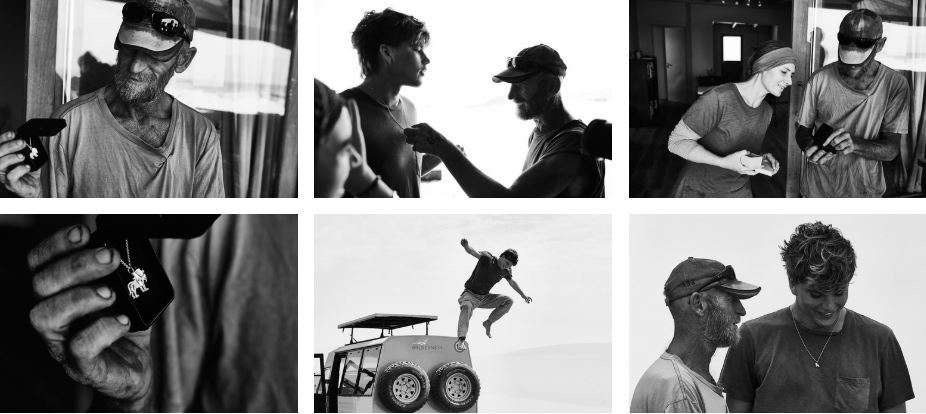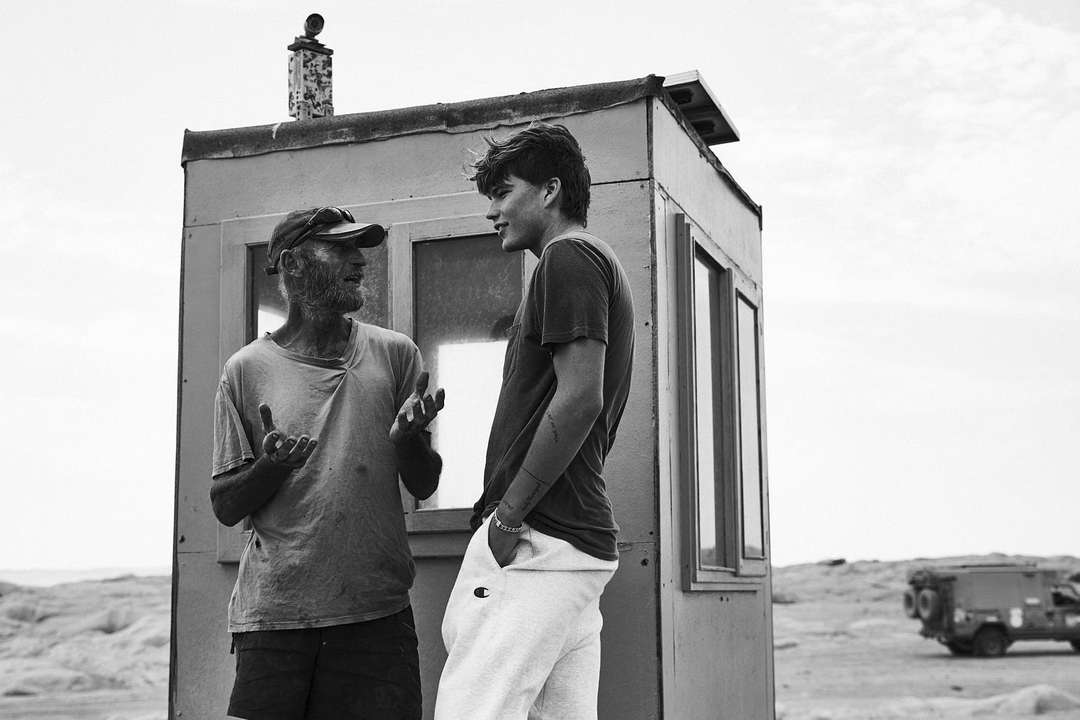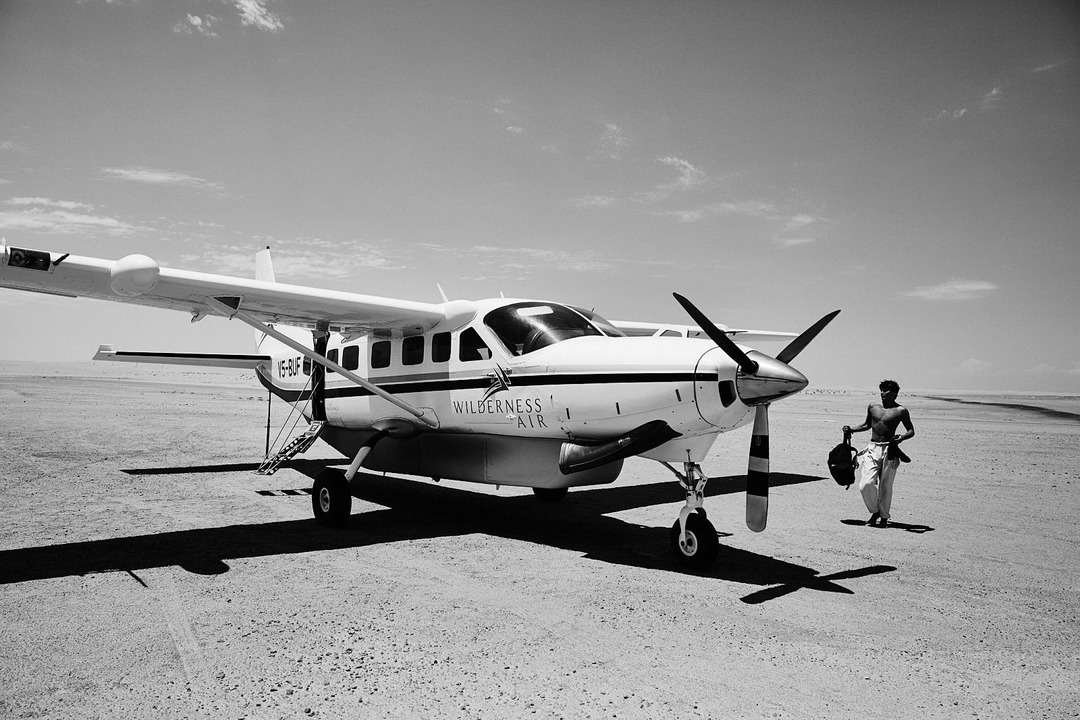 We headed back to Hoanib Skeleton Coast Camp with Wilderness Air, enjoying a bird's-eye view of the rugged coastline and dunes from above. The late afternoon was filled with chess games, sipping rose water gin, and being entertained by Jordan and Grey.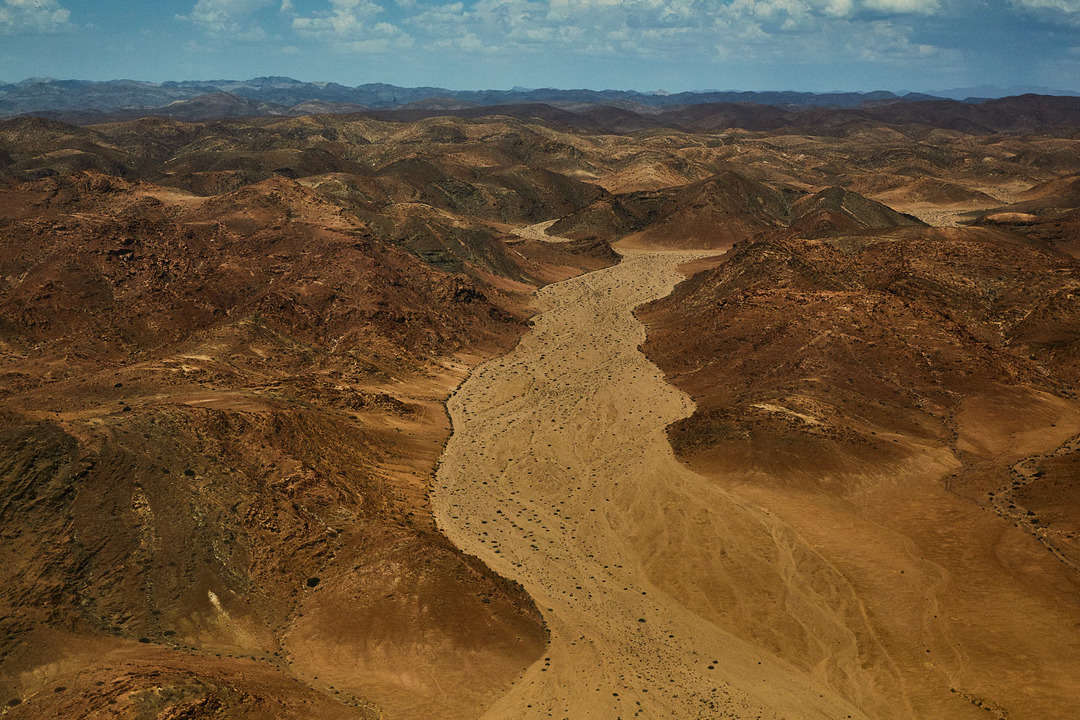 At our delicious finale dinner, we shared and savoured our many rich and varied experiences, and appreciated the quietly spoken group of passionate humans who made our journey possible. Taking in the starry Namibian skies and sitting around the campfire reminded us that the whispers of the Namibian desert are there for all to hear.
Day 8 - Homebound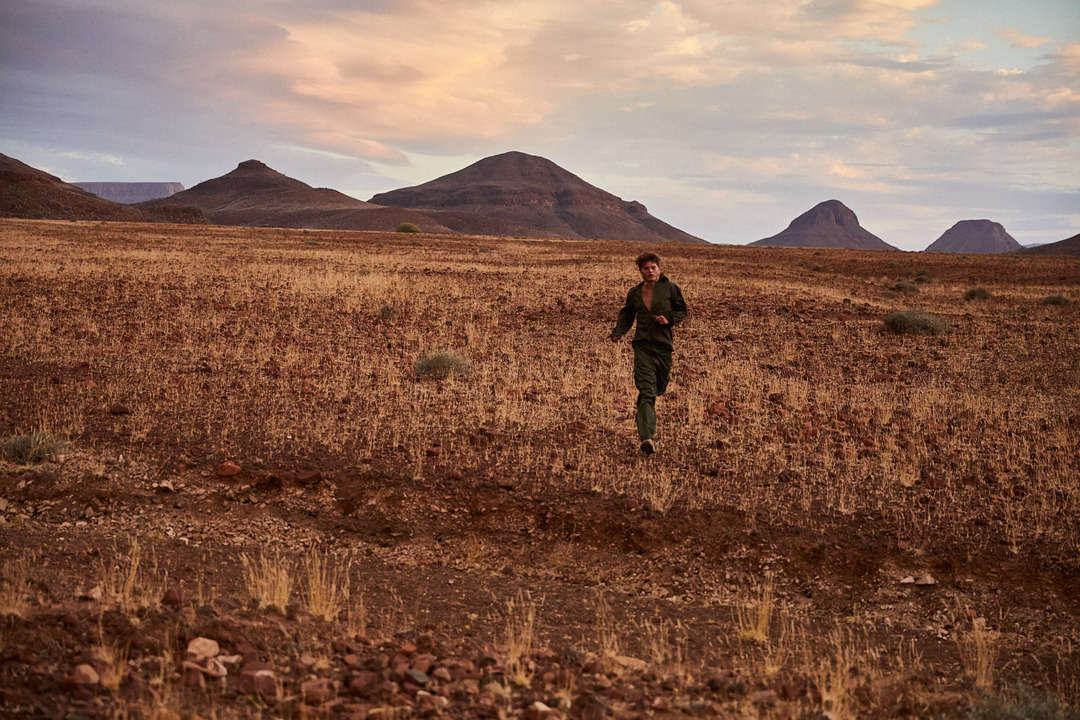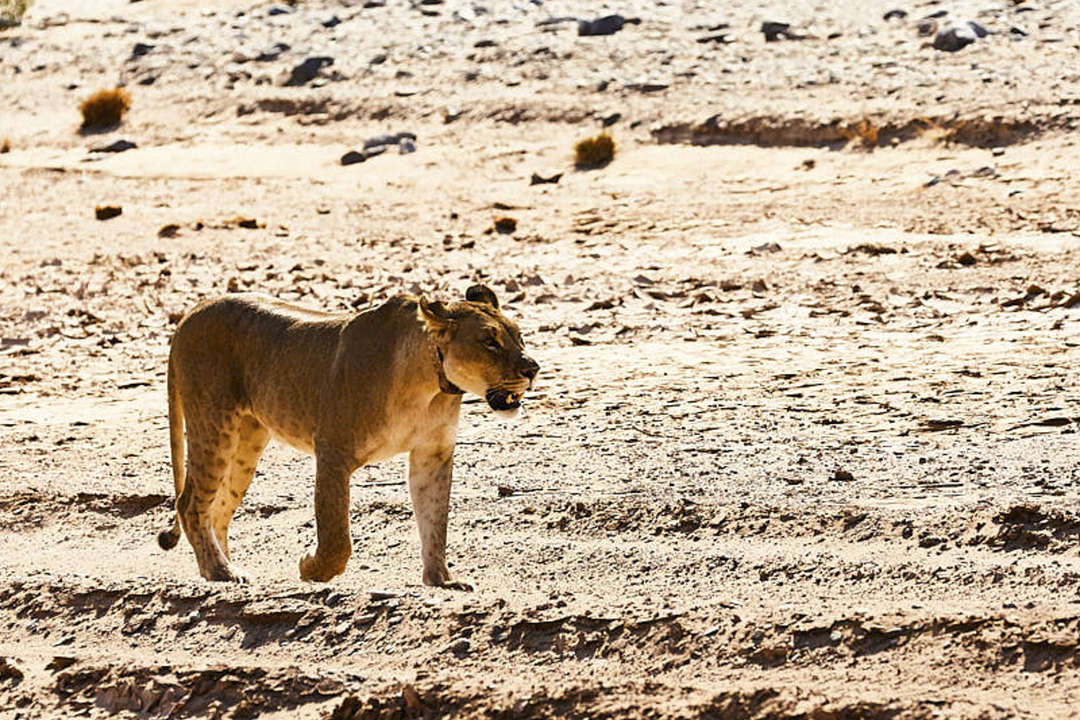 I woke up early to take in the last Namibian sunrise of this journey. The lions came to the waterhole that morning, the perfect way to end our stay. As I prepared for my journey back to Australia, I reflected on the Lionscape Coalition and its unbridled commitment to creating a harmonious relationship between the wild, and humanity. I arrived at the conclusion that when it comes to conservation, the people count just as much as the environment. I left enriched and enlightened, with the deepest respect for everyone I encountered on this Lionscape Coalition adventure, and their unwavering pursuit of lion and landscape conservation.
Humble Heroes.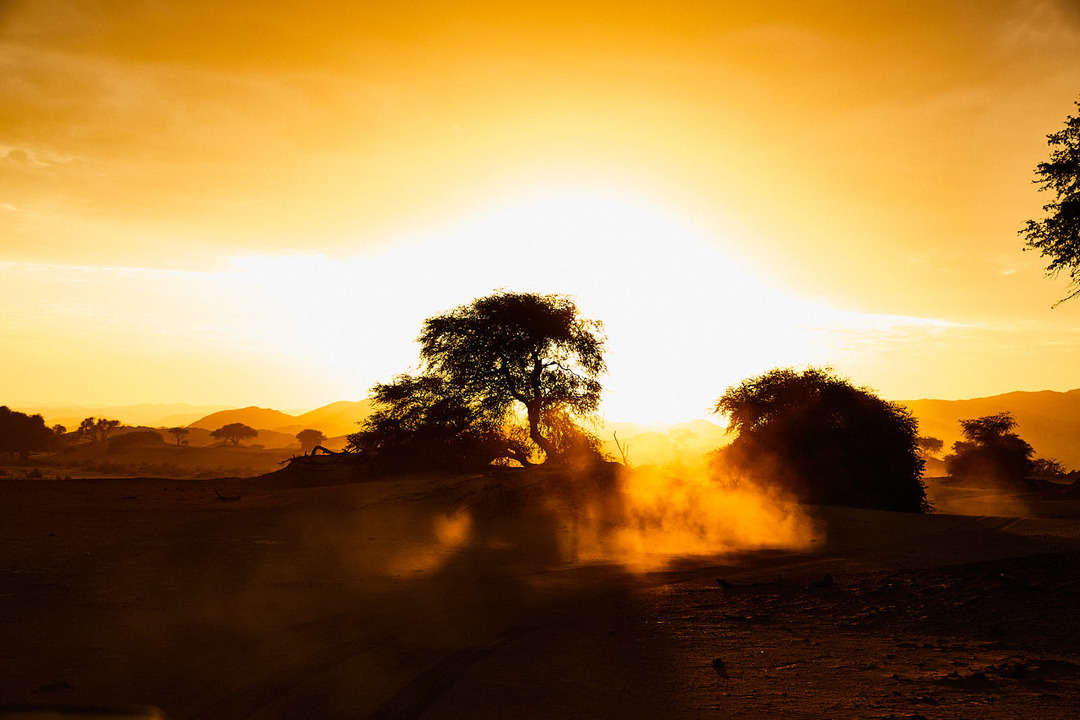 Photographed and written by Jessica Aleece.
Original post featured on Jessica's blog: https://www.jessicaaleece.com/blog/adventurewithpurpose
"What is more intriguing is the imprint Africa leaves on your heart, an unexplainable feeling that somehow instills into the souls who visit. It must be why people call it "The Magic of Africa", something that I believe everyone should feel at least once in their lifetime. "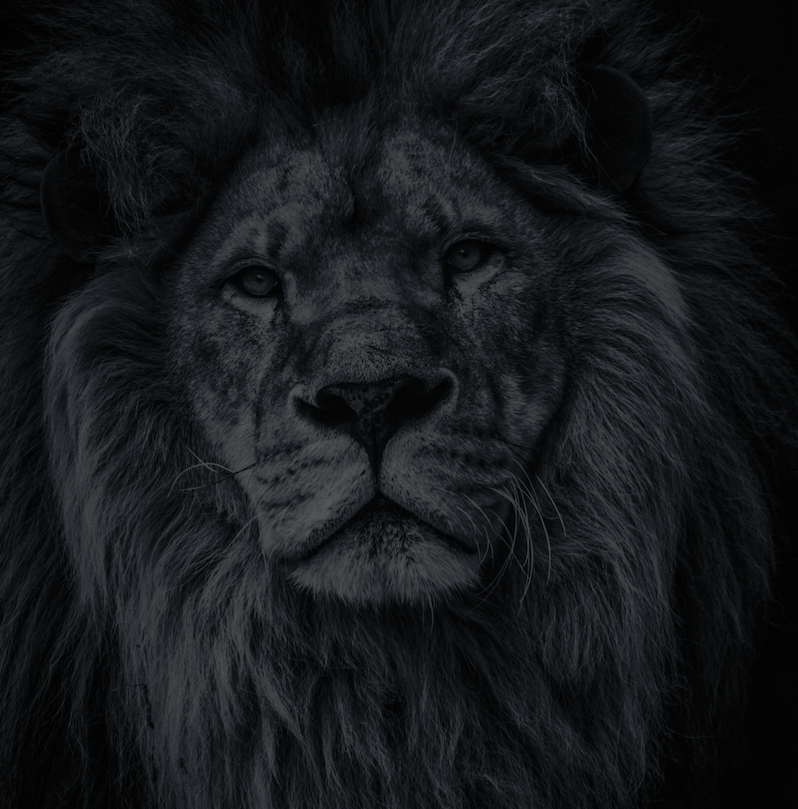 Let's plan your next journey
Ready?
When we say we're there every step of the way, we mean it, literally. From planning the perfect circuit, to private inter-camp transfers on Wilderness Air, and easing you through Customs. We're with you on the ground, at your side, 24-7, from start to finish. Ready to take the road less travelled? Contact our Travel Designers to plan an unforgettable journey.