Itinerary
Botswana: up-close and untamed
Journey with us on an adventure to some of Botswana's wildest regions, where wildlife has right of way and close encounters are guaranteed. These three camps in Botswana deliver outstanding game viewing and safari sightings you'll never forget.
---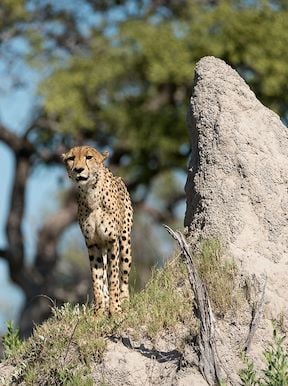 Vumbura Plains
The ultimate Okavango Delta luxury safari, offering both land and water experiences.
Visit Vumbura Plains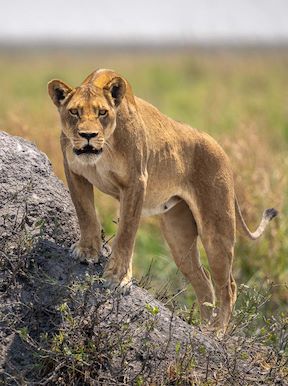 Mokete
Here predators meet prey in a beautifully brutal dance of life and death on the eternal plains.
Visit Mokete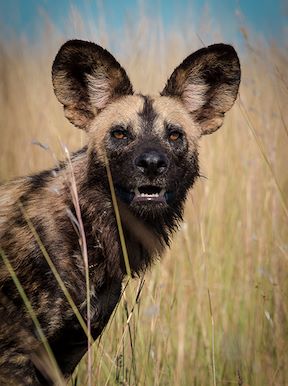 DumaTau
Home to Africa's highest density of elephants, experience exceptional encounters with these majestic animals.
Visit DumaTau
Itinerary
A heart-thumping safari across three exceptional wilderness areas in Botswana's Okavango Delta, wild Mababe and ultra-productive Linyanti, where encounters with wildlife are up-close and unforgettable.
View full itinerary here
Wilderness Vumbura Plains
3 nights
Wilderness Mokete
3 nights
Wilderness DumaTau
3 nights
01 Wilderness Vumbura
Contemporary. Luxurious. Exceptional, year-round game-viewing. Your introduction to Botswana begins in the savannah plains, along one of the main channels that feeds the iconic Okavango Delta. The grasslands that surround Wilderness Vumbura Plains teem with dry- and wetland specialist wildlife: impala, sable, red lechwe, buffalo, elephant. Predators follow. Leopards, lions, and packs of wild dog thrive on the diversity of prey. In the capable hands of our knowledgeable guides, get front-row seats to the action. On morning and afternoon game drives, mokoro expeditions through the channels and guided walks, encounters are thrilling, up-close, unforgettable.
Vumbura Plains' 14 spacious suites face the view, designed to maximise immersion into the magical Okavango Delta. Inside, the stories and people of this land come to life through artwork and custom-designed pieces.
02 Wilderness Mokete
Exclusive encounters. Up-close action. When it comes to mega-herds, there's no place like Mababe. On your helicopter ride in, fly over vast herds, zebra and buffalo by the thousand, a rare and wondrous spectacle. Within Mababe, a unique distal lake is the only water source for hundreds of miles to the east, north and south, attracting mega-herds of zebra and buffalo, smaller herds of other plains game and a plethora of predators. Watch them stalk, hunt, chase; up-close and with no one else in sight. In the vast 50,000ha expanse of the wild Mababe area, Wilderness Mokete stands alone.
As unique as the wildlife in this region, Mokete safaris are unconventional. With exclusive use of the land, time is dictated not by the clock, but by nature. There's no reason to leave a sighting. Lions may hunt in the morning or the afternoon, or under cover of darkness; no matter the hour, if exciting predator-prey interaction begins to unfold, stay for the action.
In camp, close encounters continue. Spend an afternoon in the sunken hide, toe-level with the herds of elephants that come to slake their thirst at the waterhole. Smell their earthy, musty scent, hear their trunks slurp water, feel their great, rolling rumbles as they communicate with one another; it doesn't get closer than that.
Venture where few have gone before. A limited-edition camp open for two-and-a-half years only, pioneering Wilderness Mokete puts only canvas between guests and nature in nine tented suites accommodating 18 people. An immersive, once-in a lifetime experience.
03 Wilderness DumaTau
Fertile, and pristine, the wild Linyanti attracts an extraordinary diversity of wildlife. In this vast conservation area on the northernmost fringe of Botswana, Africa's largest elephant population thrives. When it comes to land- and water-based game viewing, Wilderness DumaTau is unmatched.
On a boat or barge excursion, cruise the Savuti Channel; encounter pods of hippos and crocodiles sunning themselves on the banks. Watch as they disappear in a flash, never knowing where they might pop up.  On night drives, encounter creatures of the nocturnal kind: bushbabies staring wide-eyed from the trees, hyenas skulking in the grass, leopards out on territory patrol.
In the dry season, step out on a guided walk. Examine the finer details of the African bushveld up-close; a lone porcupine quill, an interesting flower, a bone, a track, a feather.
Taking full advantage of the exceptional riverfront views, DumaTau's luxurious guest suites are raised off the ground. An extended deck and private plunge pool provide the perfect vantage point to watch wildlife from the privacy of your suite.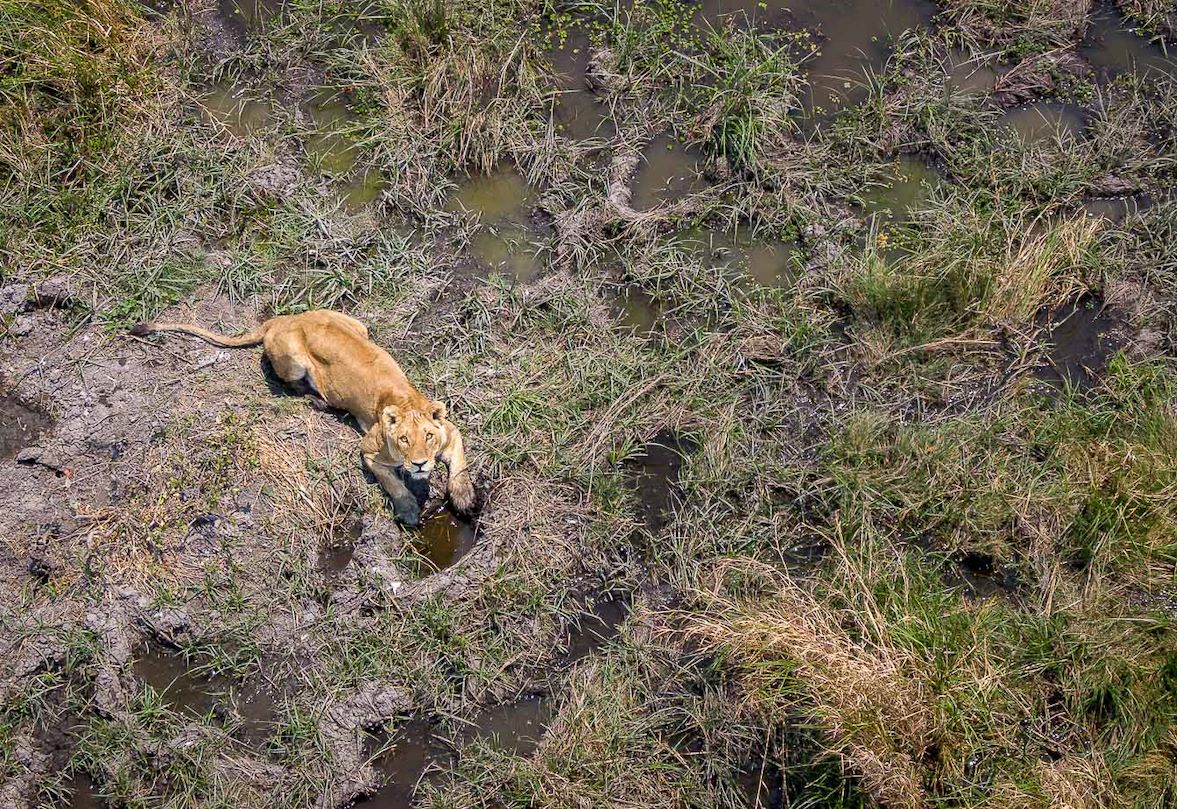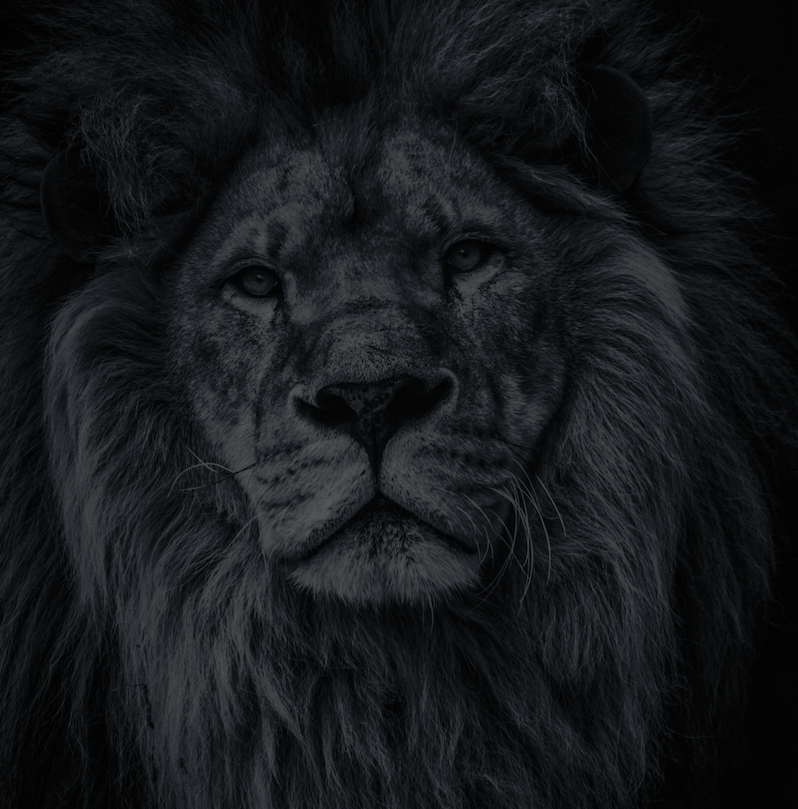 Let's plan your next journey
Ready?
When we say we're there every step of the way, we mean it, literally. From planning the perfect circuit, to private inter-camp transfers on Wilderness Air, and easing you through Customs. We're with you on the ground, at your side, 24-7, from start to finish. Ready to take the road less travelled? Contact our Travel Designers to plan an unforgettable journey.