A safari generally promises adventure. After months of lockdown, especially, what greater gift could you give your kids and yourselves? Exploring wide-open spaces and untouched wildernesses that take your breath away, rich with endlessly absorbing wildlife and people ready to share their fascinating cultures. Breaking out of the familiar, leaving electronic gadgetry and social media addictions behind. Connecting with nature, and each other, in some of the most beautiful landscapes on Earth. Seeing the world through your children's eyes, as they discover, learn, wonder.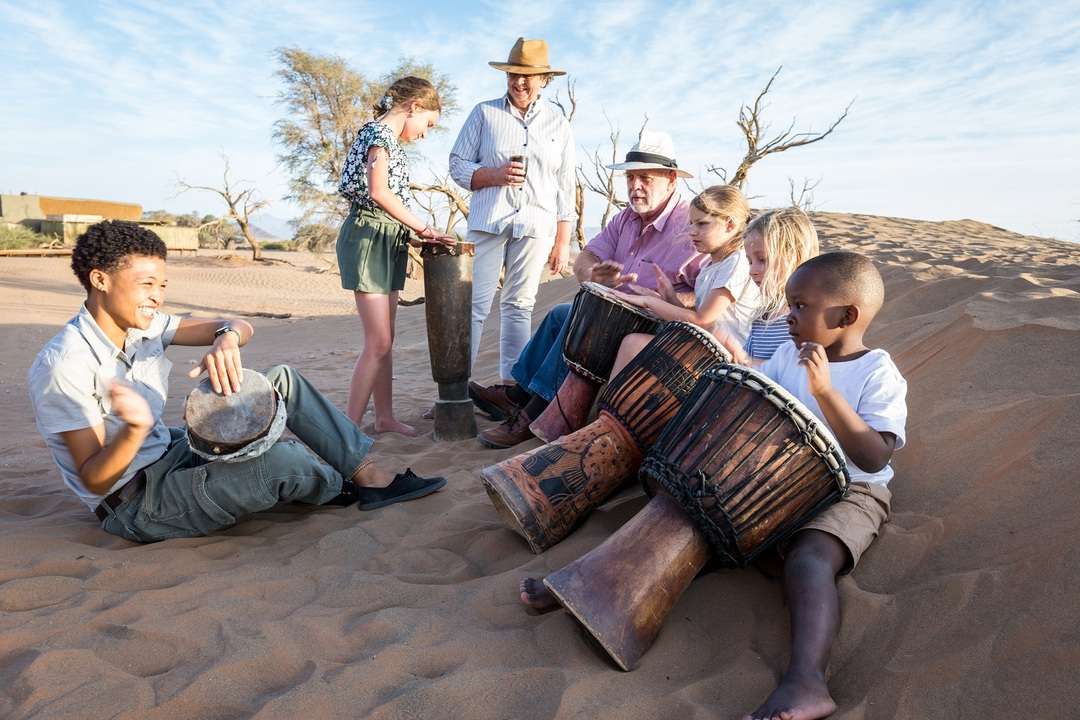 Namibia is a fabulous family safari destination. Its stark yet 'living' deserts, intriguing desert-adapted wildlife, strange flora, and traditional tribes gratify on many levels. It's malaria-free. It's unique, sure to leave indelible memories with all of you.
We've compiled a special family-focused itinerary taking in three of our Namibian camps: Little Kulala; Damaraland; and Hoanib Skeleton Coast. Each offers something different, yet all offer the following: family suites; private vehicles for families; child minders for younger children to give parents a break; child-friendly menus; libraries and fun activities for young explorers.
Your unforgettable journey starts here…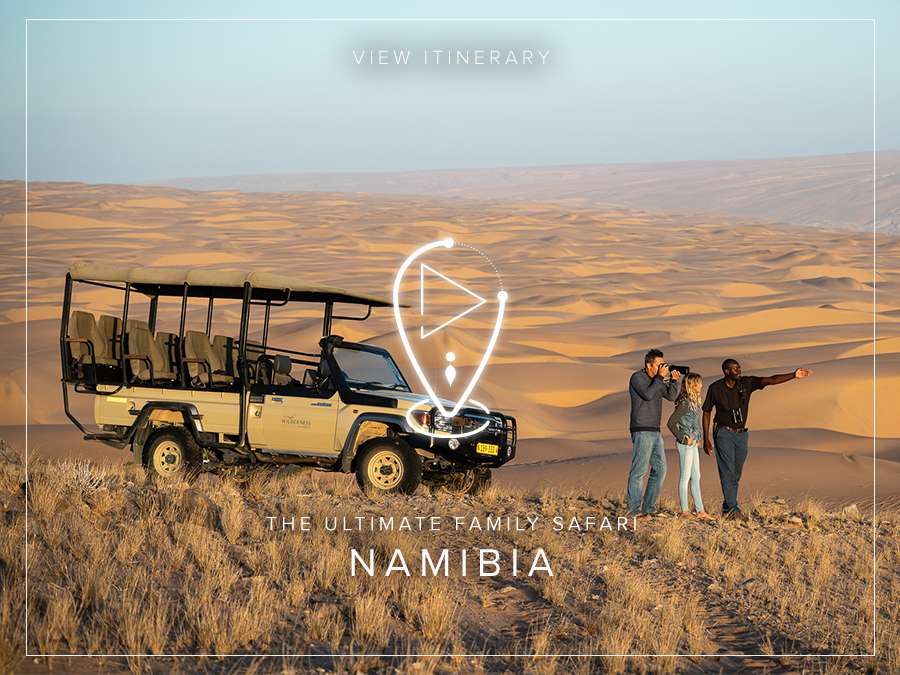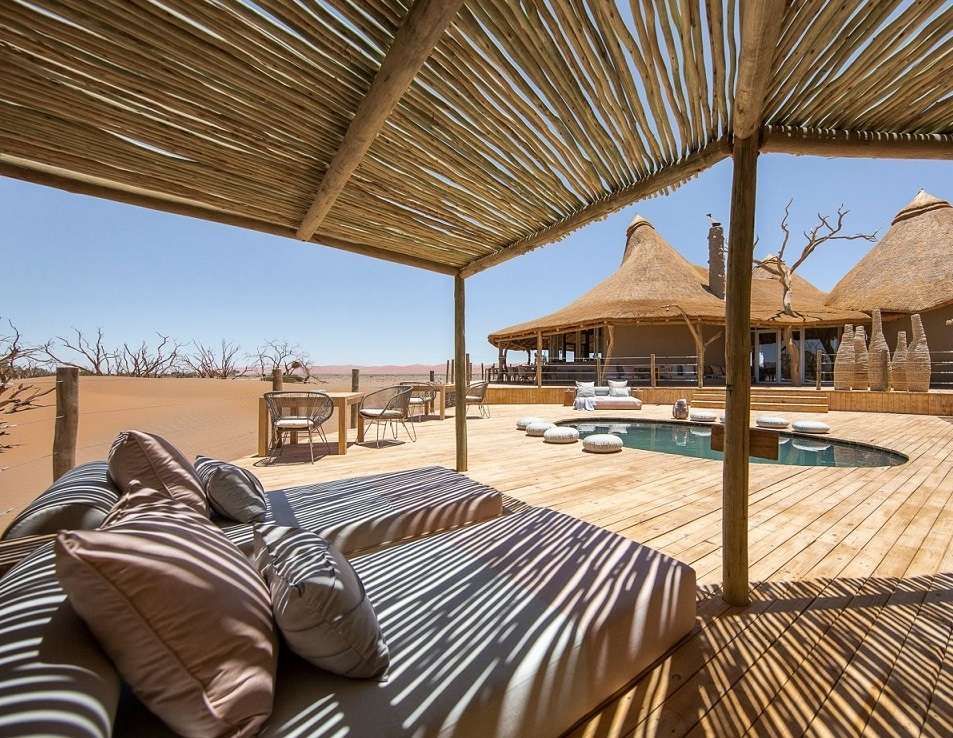 Little Kulala (3 nights)
Wilderness Safaris' newly refurbished camp in Namibia's 27 000-hectare Kulala Wilderness Reserve entices with its adventures. Yet along with all the activity it offers a vast amount of space, arresting landscapes, and peace. The ultimate pristine wilderness. You can't get much closer to the renowned dunes of Sossusvlei and the haunting panoramas of Dead Vlei, accessible through an exclusive-use gate.
There's something for everyone, and then some. Climb Sossusvlei's 300-metre high red dunes, including 'Big Daddy'. Float over the Namib, the world's oldest desert, in a hot-air balloon (age seven and up). On foot, explore 'the Living Desert', encountering some of the smaller creatures, perhaps a sidewinder snake slithering across the sands; a Namaqua chameleon with a tongue as long as its body; an iconic barking gecko; an endemic dune lark hunting insects. At night, track scorpions with a guide using UV light to make them glow. On nature drives, look for local wildlife, such as ostriches; bat-eared foxes; black-backed jackals; springbok; gemsbok; porcupines; the occasional brown hyaena. Explore Sesriem Canyon or the riverbed trails, learning more about the area's geology dating back five million years. Thrill to guided, eco-sensitive quad bike and e-bike excursions on designated trails. Learn about the constellations in the southern sky from your suite's roof deck, seeing more stars than you could ever imagine and sleeping under them.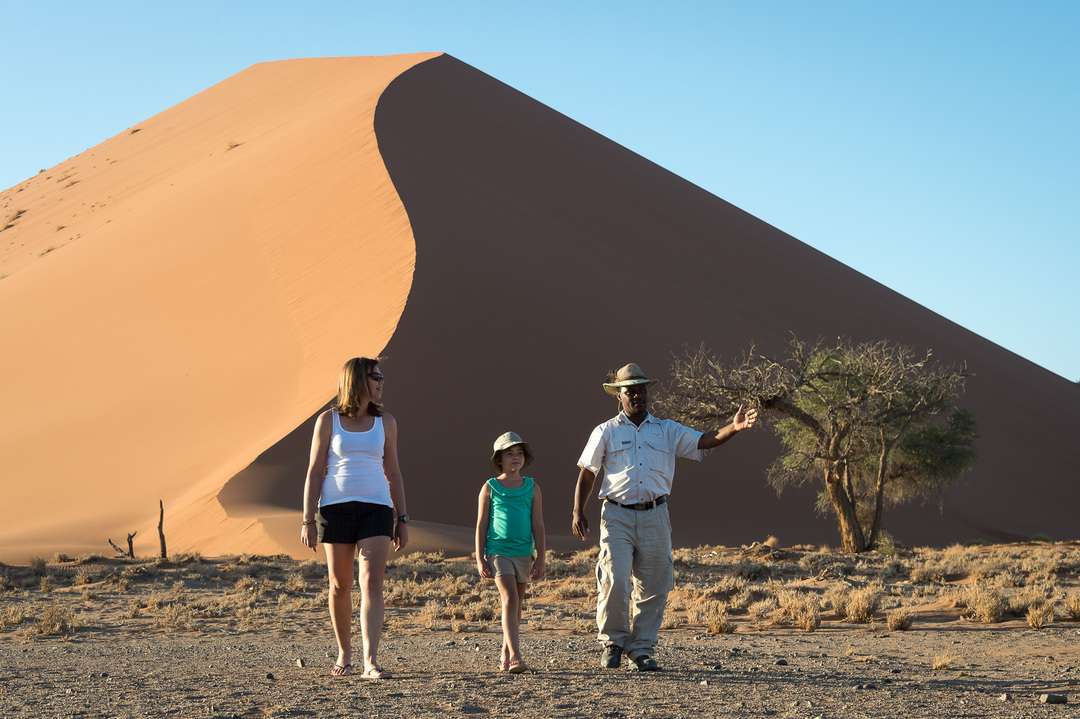 During down time, parents can head to the spa for a soothing massage while kids help the chef make pizzas, enhance their knowledge in the library, or, if older, get schooled in photography on one of the in-camp Olympus camera units. At some point, or repeatedly, everyone should take a moment to just be in the desert's silence.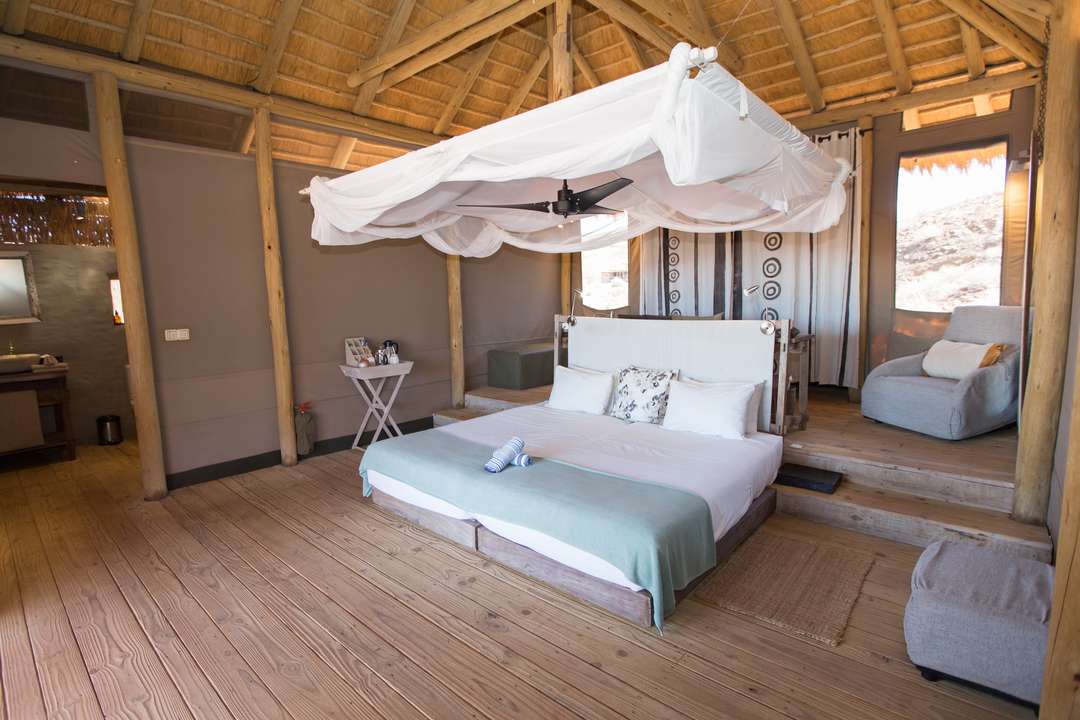 Damaraland (3 nights)
Ancient mountains upon mountains, changing from rust to purple as the sun sets…endless vistas across the stark plains of the Huab River Valley… startling sightings of desert elephants, black rhinos, lions, and other arid-adapted wildlife.
Damaraland Camp – simply beautiful, relaxed, and open to the desert – has been a model for community-based conservation initiatives since 1996. In the early 1900s a group of refugees fleeing the German-Herero conflict settled on a reserve in South Africa; in 1973 they were sent back to their 'fatherland', which became known as Damaraland. Human wildlife conflict was inevitable as they battled to survive on the harsh land. But today, the Torra community thrives, largely through its partnership with us, and wildlife populations are growing.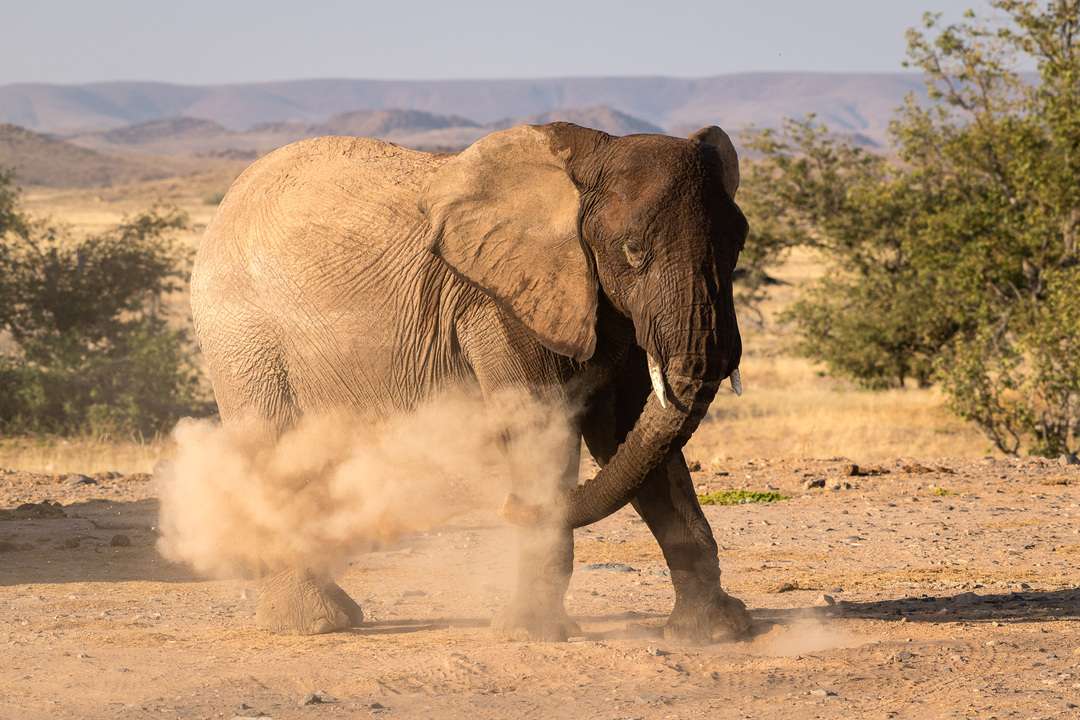 So there's a firsthand 'teaching moment' for the whole family: visits to farms on the Torra Conservancy to learn about the farmers' way of life, how their conflict with local wildlife has changed to protecting them. An inspiring lesson in conservation tourism.
Other activities in and around camp include nature walks and drives, searching for the smaller desert dwellers as well as the larger; guided scorpion night walks with UV spotlighting; excursions to Tywfelfontein for the astounding San rock art; tours of the Damara Living Museum; photography sessions with a guide and the in-camp Olympus camera unit; a pool to cool off and play in; a special breakfast stop in the wilds; a fireside boma evening of cultural cuisine, song, and dance (certain evenings only); incomparable stargazing.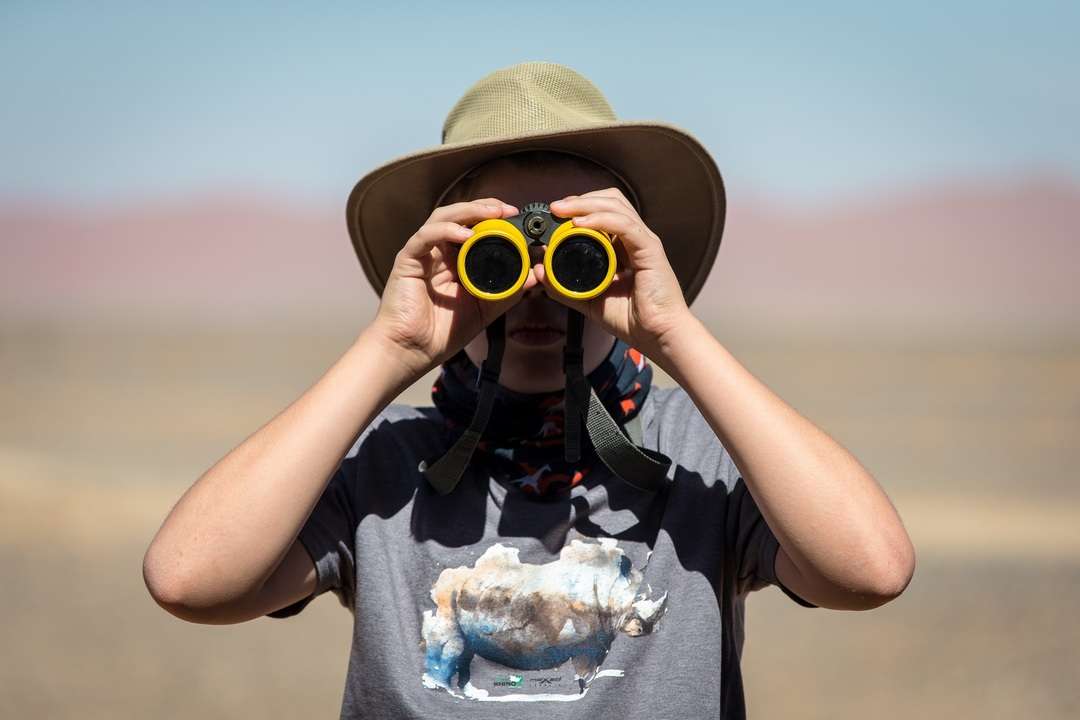 (* For a limited time – 2021 only – and available exclusively from Damaraland Camp, guests will be able to take part in the once-in-a-lifetime rhino tracking experience usually offered from Desert Rhino Camp.)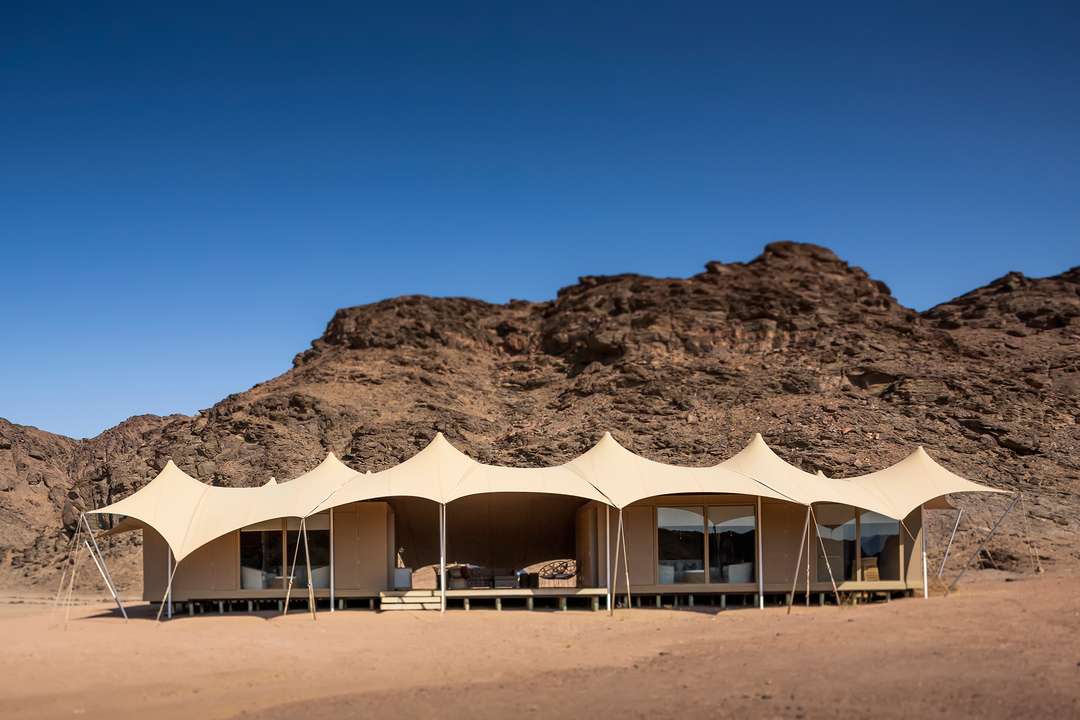 Hoanib Skeleton Coast (3 nights)
Spectacular Hoanib Skeleton Coast Camp never fails to impress, particularly its excursion to the wild Skeleton Coast. From camp – with tented suites themselves like whitecaps on the sand – drive by 4X4 over the ancient Namib Desert dunes to the sea and fly back, or fly both ways. Marvel at how the ochre dunes drop off to the cold Atlantic, how the endless beach is littered with shipwrecks and whalebones, the 'skeletons' of the coast's name. Run down the roaring dunes; smile at the entertaining Cape fur seals barking loudly or sunning themselves on the rocks; enjoy lunch on the beach, as your guide explains how the Atlantic's icy Benguela current, hitting the warmer sands, creates fog and moisture enough to sustain desert life. En route visit an oasis, a hotspot for wildlife, and a quaint museum revealing some of the area's secrets.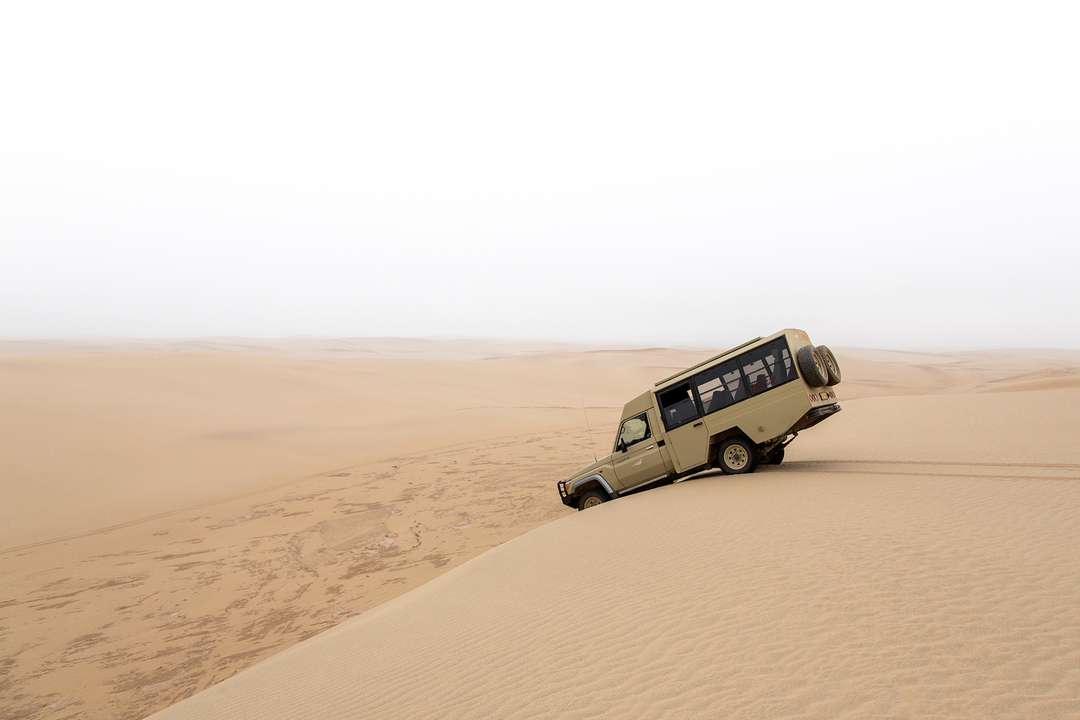 Hoanib's setting – the rust-coloured crags of the famed Kaokoveld – almost looks like Mars. The landscape may seem empty at first, but soon reveals itself to be full, home to desert-adapted elephants and lions, giraffes, hyaena, black-backed jackal, oryxes, springboks, a host of various birds, and many other creatures. Morning and afternoon game drives explore the nearly always dry Hoanib riverbed. Nature walks among the dunes introduce guests to some of the area's smaller denizens, and to plants such as the ancient welwitschia, as well as to remnants of the Strandloper – beachcomber – way of life from centuries ago. Local birding yields many rewards, including raptor species and the occasional flamingo.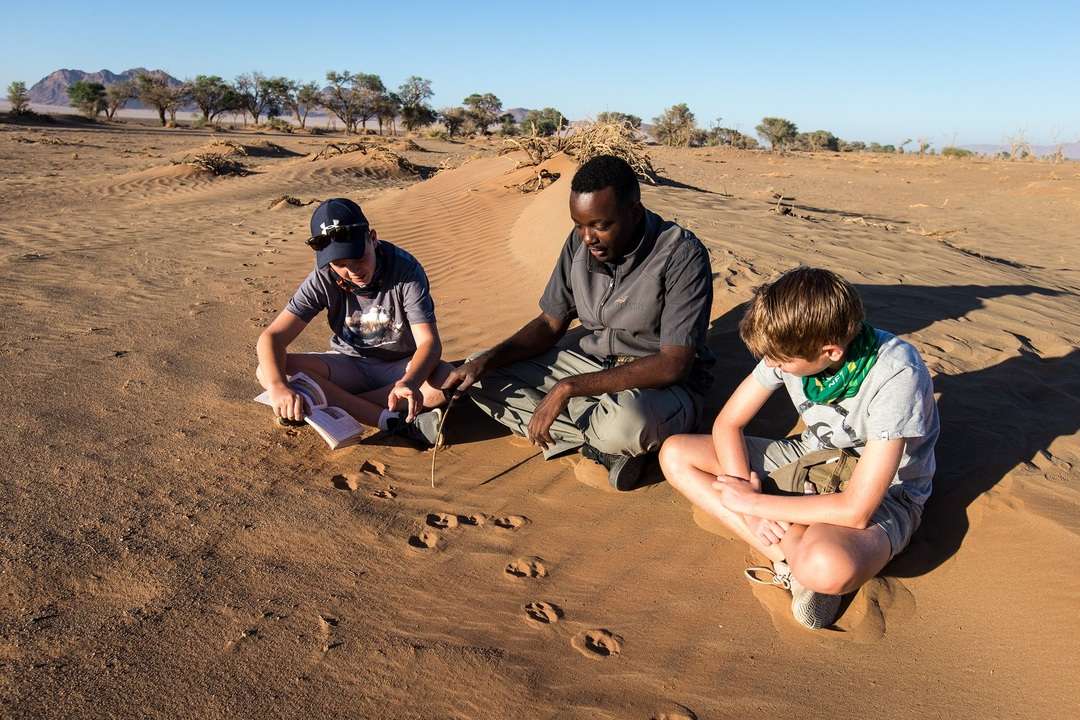 Closer to camp, a waterhole yields multiple sightings and an on-site research centre offers fascinating insights into the camp's conservation impact projects, monitoring desert-adapted elephants, lions, giraffes, and brown hyenas.
A pool provides a spot to refresh and relax, and an Olympus photo hub affords the chance to sharpen one's photographic skills.
All told, an out-of-this-world experience for all the family.
Written by Melissa Siebert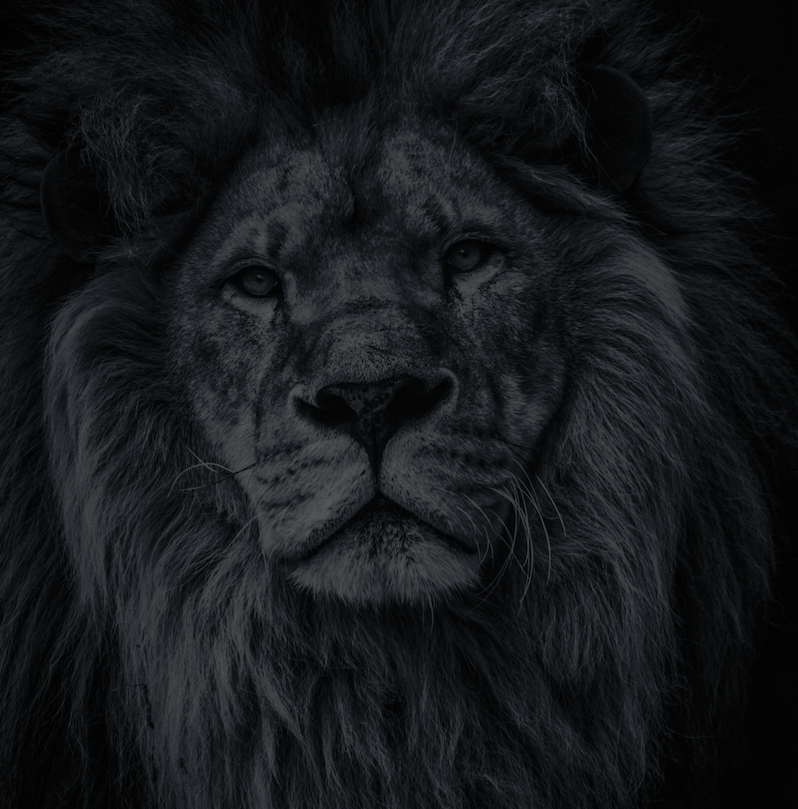 Let's plan your next journey
Ready?
When we say we're there every step of the way, we mean it, literally. From planning the perfect circuit, to private inter-camp transfers on Wilderness Air, and easing you through Customs. We're with you on the ground, at your side, 24-7, from start to finish. Ready to take the road less travelled? Contact our Travel Designers to plan an unforgettable journey.