The hippopotamus is a massive, semi-aquatic mammal achieving a mass of up to 2 000 kg. They are typically a slate brown to muddy brown colour, with purplish hues often visible. Hippos are usually found in large social groups called rafts or pods, in which there is one male, and many females and their young. Dominant males are very territorial, but will occasionally accept other males, as long as they are submissive and show no interest in the females.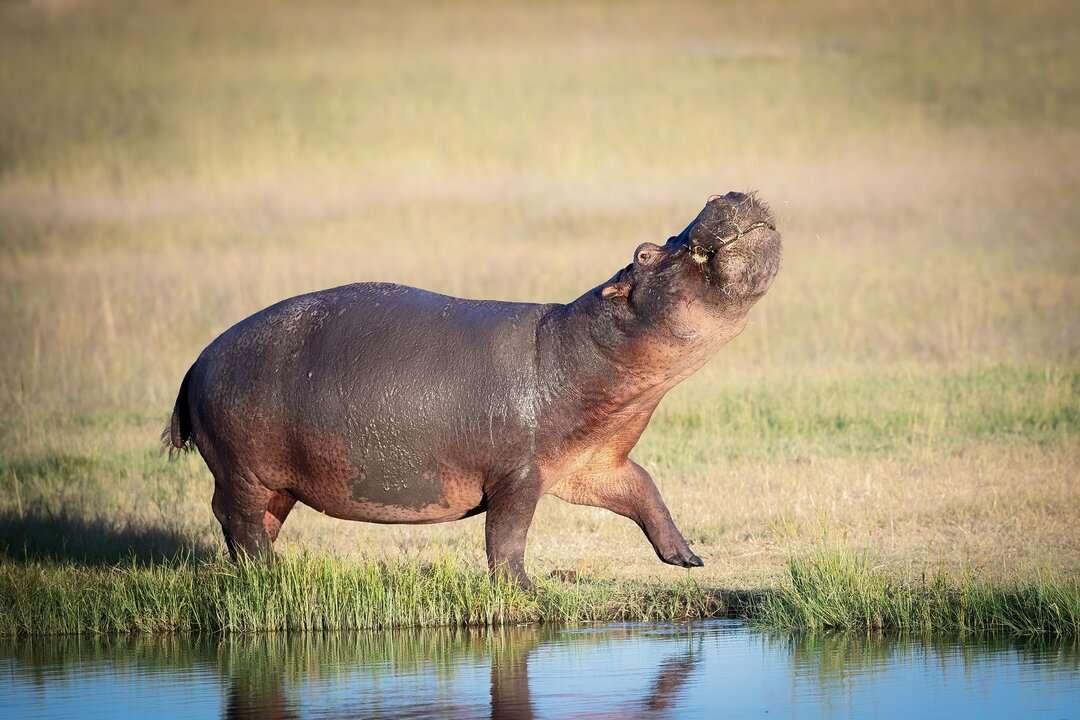 A hippo's teeth are shown as a wide yawn to warn potential competitors, and are used for self-defence from each other and other threats. Its teeth are a hippo's most valuable weapon and can bite a medium-sized crocodile in half.
They sleep in or alongside the water during the day and at night forage for grass close to the water. They are strong and fast "swimmers", and will attack when wounded or agitated.
"Hippos lived in the Nile River, the source of life, so they, too, were associated with life. They often submerge in water for several minutes, surface to breathe, then sink again; this behaviour of disappearing and reappearing was associated with regeneration and rebirth. "
The two essential requirements for hippos to thrive is water deep enough to submerge in, and a good supply of grassland nearby. Which makes the following Wilderness camps the best places to see these enigmatic creatures.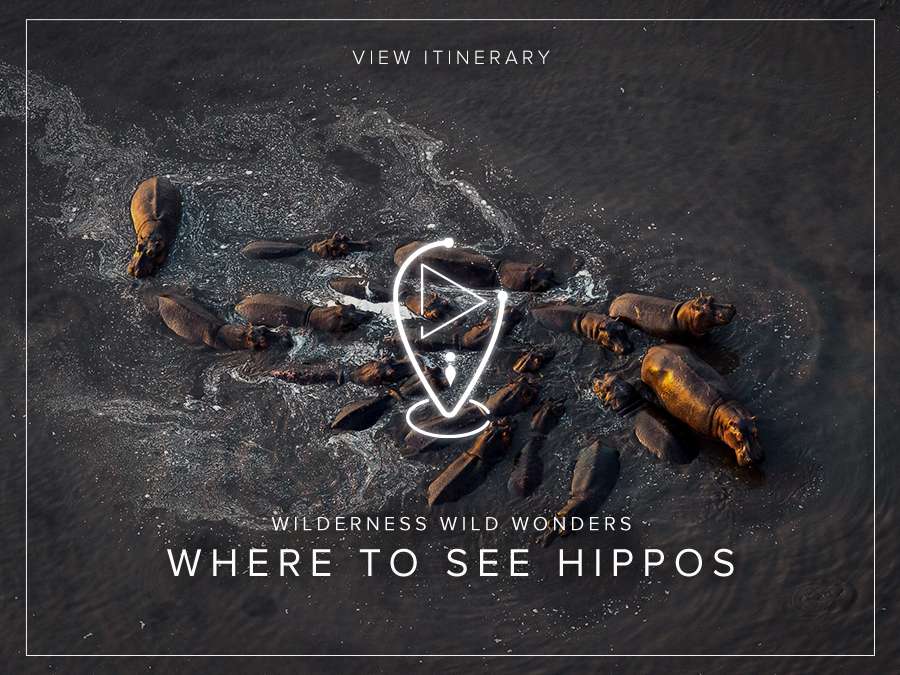 Shumba – Kafue National Park, Zambia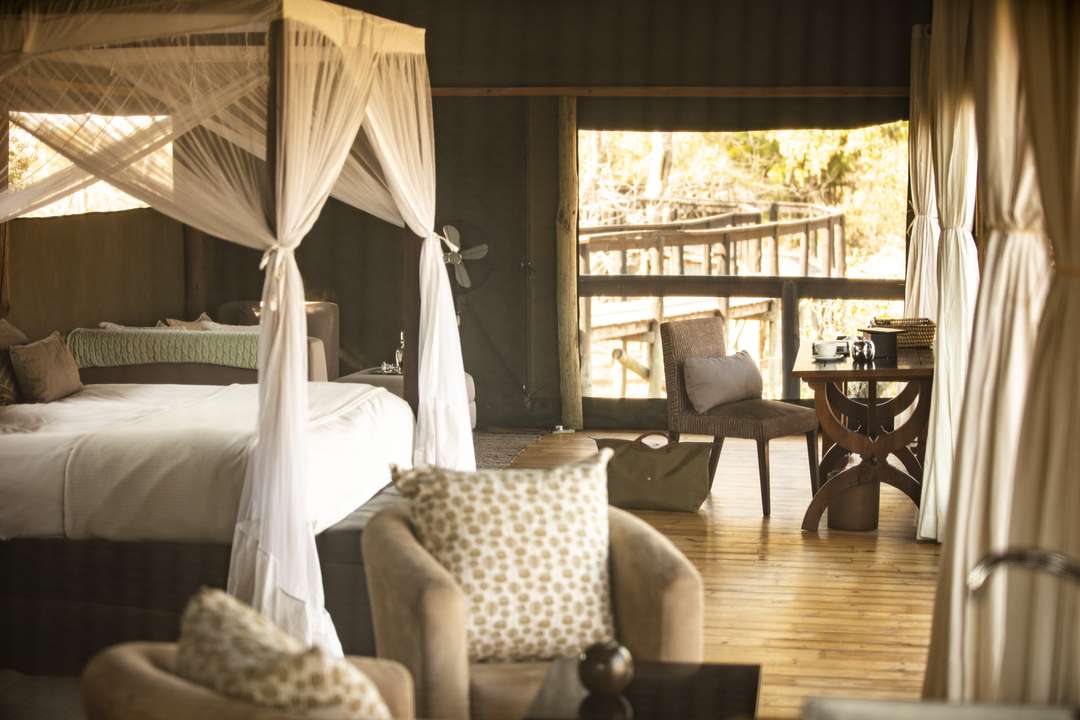 Place: Elegant Shumba, named after the prides of lion seen in the area, is found on a wooded island in the centre of the park's Busanga Plains. The vast mosaic of grassy seasonal floodplains extending to the horizon, and mist rising at sunrise, epitomises the wild Busanga Plains. Its diversity can be discovered on game drives, as well as boating early in the season or hot air ballooning later on. Home to hundreds of hippos, red lechwe, puku and other plains game and their predators, the remote floodplains seemingly go on forever.
Accommodation: Standing sentry over these endless plains with breath taking views are six stylish tents, raised on wooden platforms, on a verdant tree island. Shumba's six elegant tents offer a tranquil space from which to observe the wilderness – spacious living with a cushion-strewn veranda for outdoor contemplations. Enjoy Zambian hospitality in the main area, where sumptuous dining, cooling off in the pool and shaded relaxation are the order of the day, while convivial fireside tales and stargazing are a nightly ritual.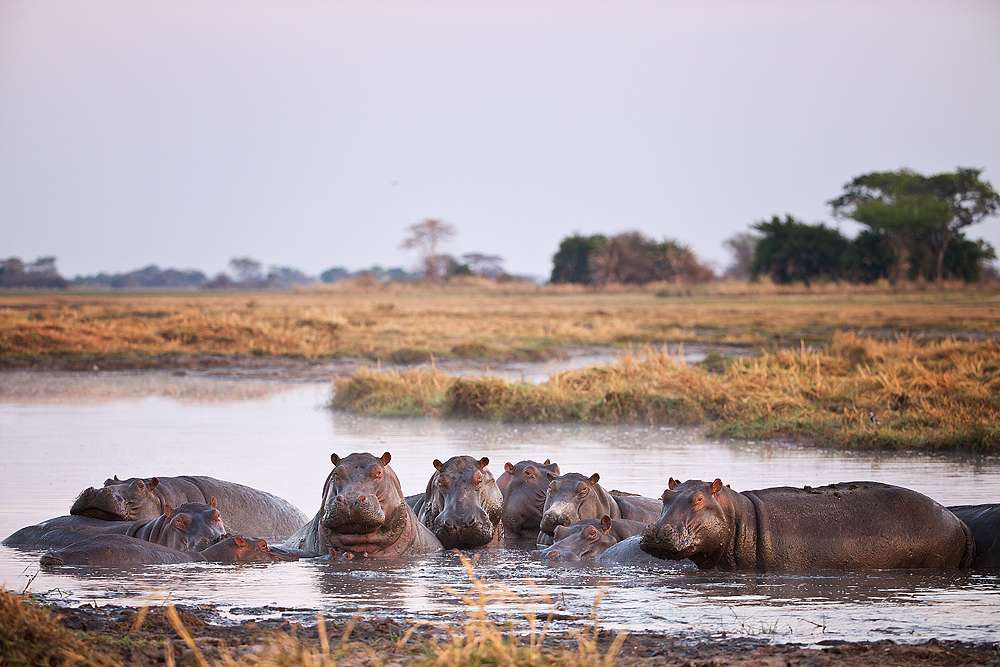 The hippopotamus is strictly vegetarian. They require a large amount of energy and therefore need a food source that is in rich supply. Its diet consists mainly of terrestrial grasses and they may eat up to 68 kg of grass a night. At dusk, Hippos leave the water and can walk as far as 8 km inland to graze on short grass, which is their main form of sustenance.
Toka Leya – Mosi-oa-Tunya National Park, Zambia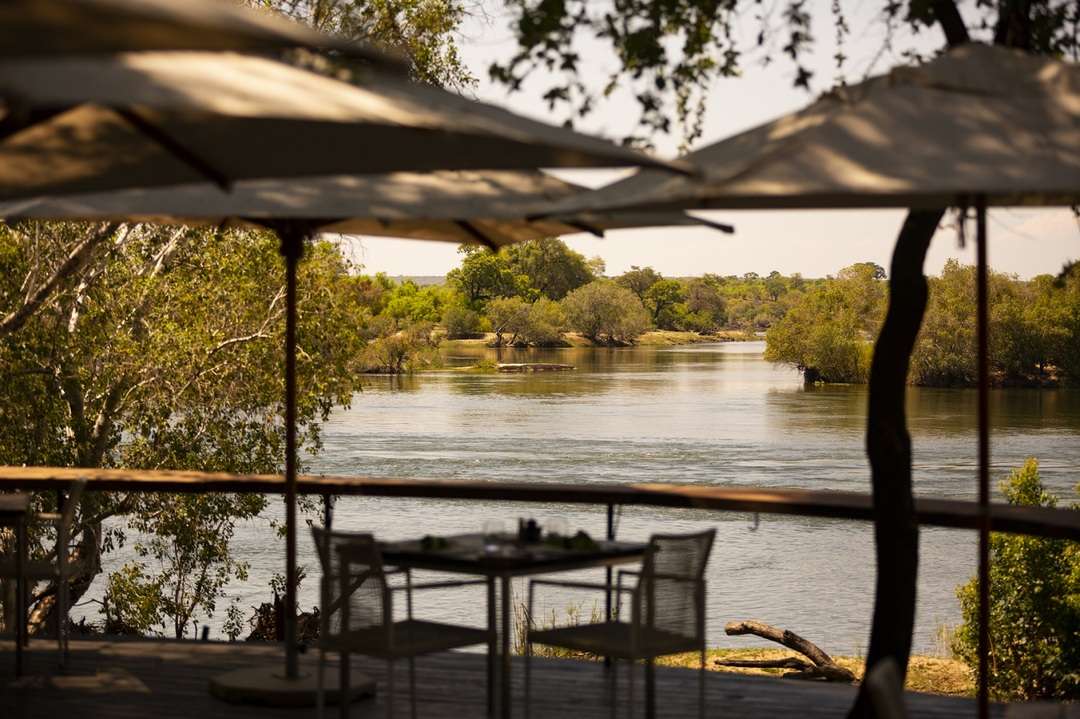 Place: Overlooking the mighty Zambezi River and some of its islands, Toka Leya is the ideal combination of relaxation and adventure. Game drives and river cruises can be followed by a therapeutic treatment at our spa; tours of the Victoria Falls, a nearby rural village and Livingstone town add cultural and historical diversity. Fishing, rhino tracking and plenty of adrenaline-filled activities add excitement to the experience.
Accommodation: Toka Leya is ideal for the beginning or end of an African safari. Morning explorations of the river, the surrounding Mosi-oa-Tunya National Park or nearby Victoria Falls can be followed by a tranquil afternoon at our spa, or on the panoramic deck of the gym practicing inspired yoga. The camp's twelve spacious, en-suite safari-style tents (including three family rooms) with expansive decks serve up dramatic views and glimpses of wildlife. Limiting our footprint on this pristine area, elevated wooden walkways weave between the guest tents and the main area where the dining, bar and lounge areas are complemented by an infinity pool, a sundeck for sumptuous meals and a convivial fire pit for night-time gatherings.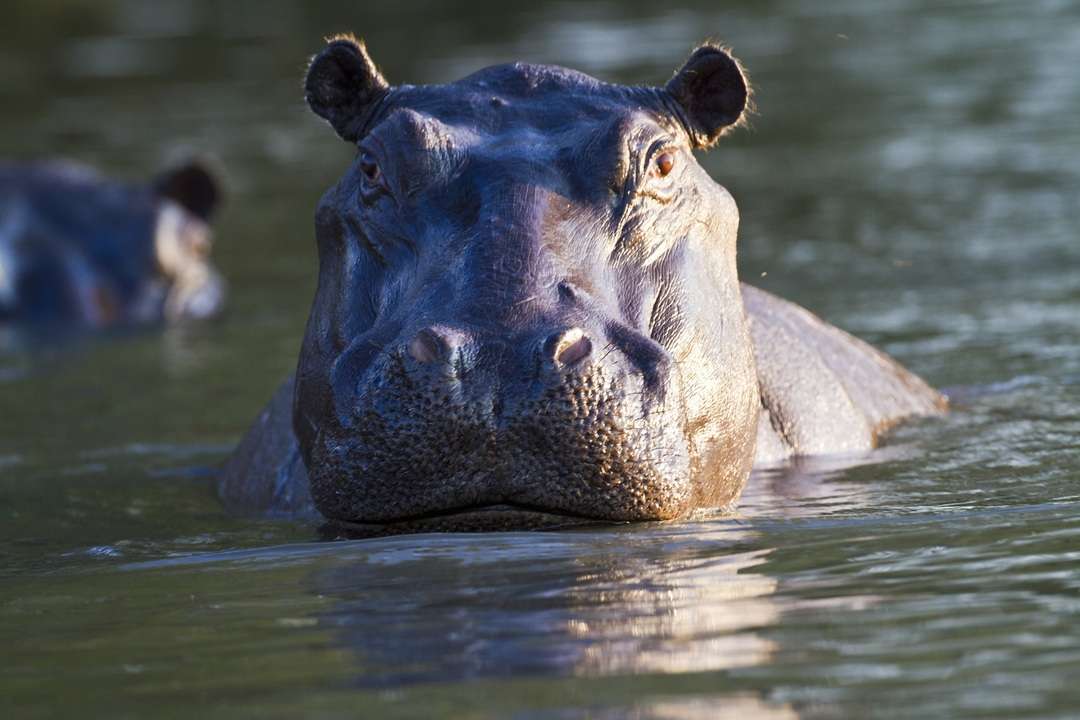 Hippos do not have sweat glands, but their pores do secrete an oily red substance that acts as a moisturiser, sunblock and protection from germs. This also makes them look like they are sweating blood.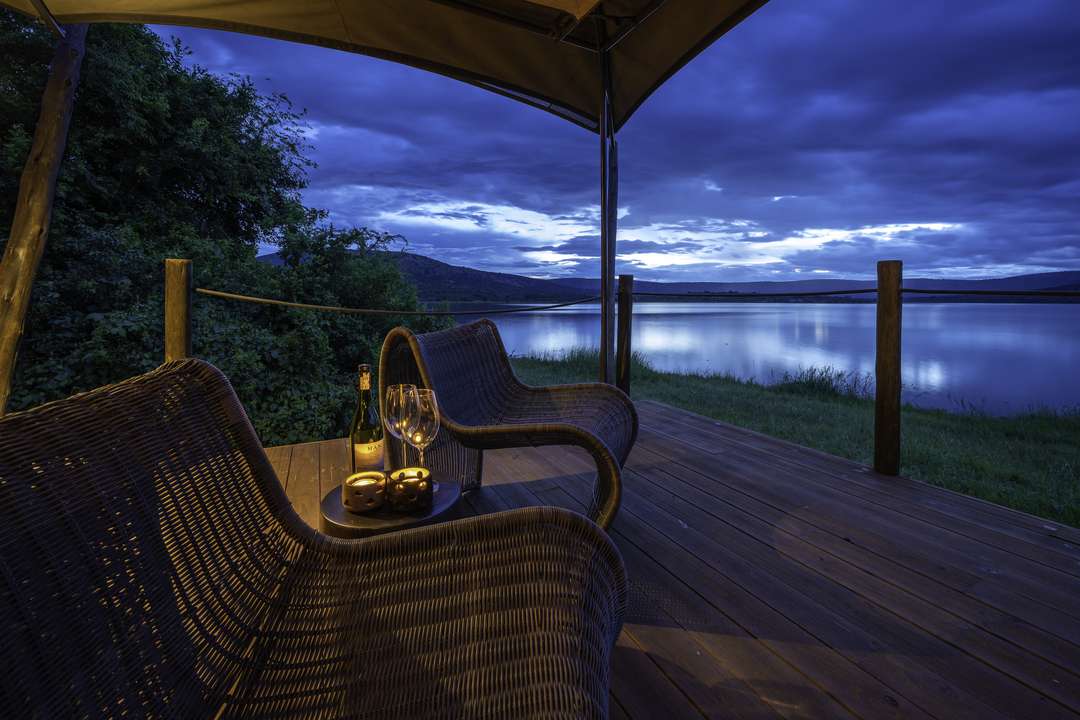 Place: Perched on Magashi Peninsula, Magashi Camp looks out over scenic Lake Rwanyakazinga, towards the Mutumba Mountains in the west. Magashi's home is 6 000 exclusive-use hectares (14 826 acres) of Akagera National Park, like Rwanda itself, a miraculous story of survival and regeneration. Located in the country's north-east, Akagera was devastated by the 1994 genocide and its aftermath, with a rise in poaching and returnees settling with their cattle on park land. Over the last ten years, the park has been significantly rehabilitated and today offers one of the most thrilling safari experiences in Africa.
Accommodation: The camp's intimate, relaxed atmosphere is most welcome after a stay in the bustling capital, Kigali, or after a thrilling gorilla trek in Volcanoes National Park. Earthy tones with hints of pink prevail, as does genuine Rwandan hospitality. Six spacious and airy tented guest accommodations offer uninterrupted views over Lake Rwanyakazinga. The main area comprises a luxurious lounge and dining area, bar and pool, as well as an expansive viewing deck with convivial fire pit. Magashi's warm and welcoming staff love sharing their traditional Kugisha supper with guests, accompanied by cattle-herding songs and stories.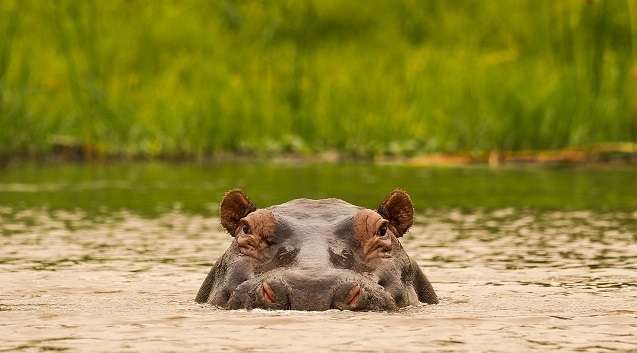 The magnificent hippopotamus (ancient Greek for river horse) is most commonly (and frustratingly) spotted with its enormous, bulky body submerged beneath the water and only its nostrils peeking out.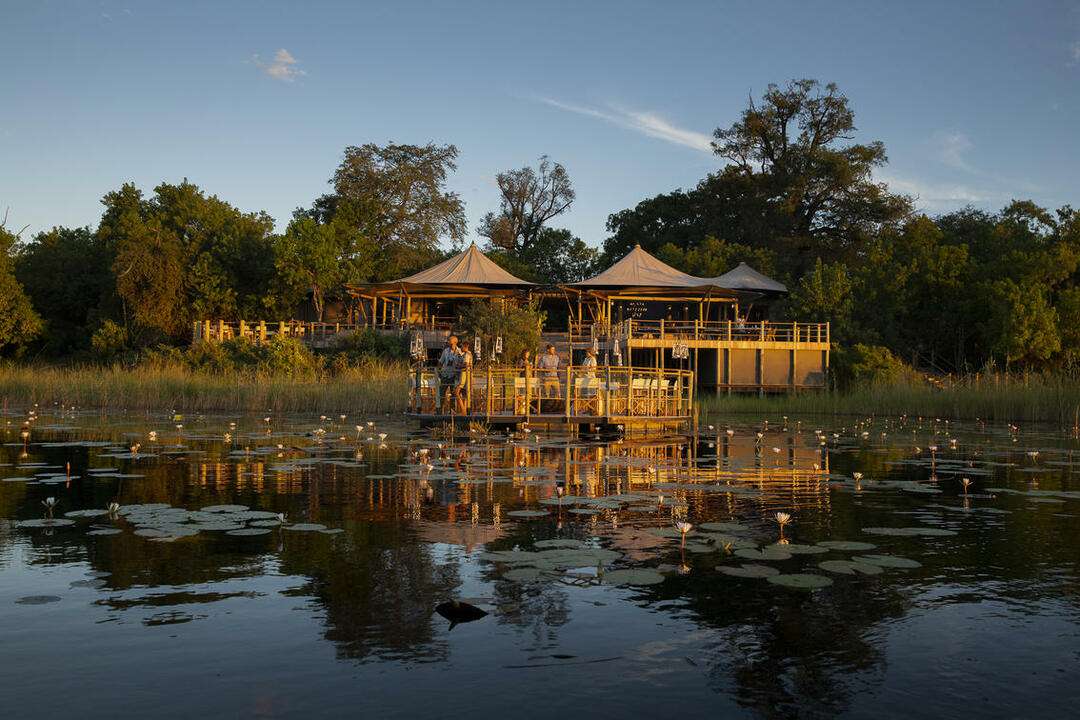 Place: Nestled deep within the Linyanti Wildlife Reserve, on the northernmost fringe of Botswana, lies DumaTau. With unique access to both the Linyanti River and Savuti Channel, the reserve's diverse, pristine 95 000 acres (38 445 hectares) offers truly exclusive excursions and close-up wildlife encounters. DumaTau's extensive lagoon frontage ensures that each ultra-spacious 142 m2 guest suite has uninterrupted views over Osprey Lagoon, and the movements of the mega-herds of elephant that the Linyanti is so famous for.
Accommodation: All seven twin tented suites and one family unit, with private plunge pools, sit on elevated wooden decks mere steps from the wildlife corridors, so game often wanders peacefully through the camp. An inviting indoor lounge, and spacious bathroom with indoor and outdoor showers, feature interiors of hand-crafted mosaic tiles, acacia wood, and local textiles, which reflect the heart of the Linyanti. The main dining and lounge areas boast unimpeded wide-angle vistas that overlook the wildlife-rich lagoon, while the centrally located Osprey Retreat wellness centre and gym – shared with Little DumaTau – includes an inviting shaded deck, a lap pool, spa, a drinks and snack counter, and Safari Boutique. DumaTau runs on 100% solar energy.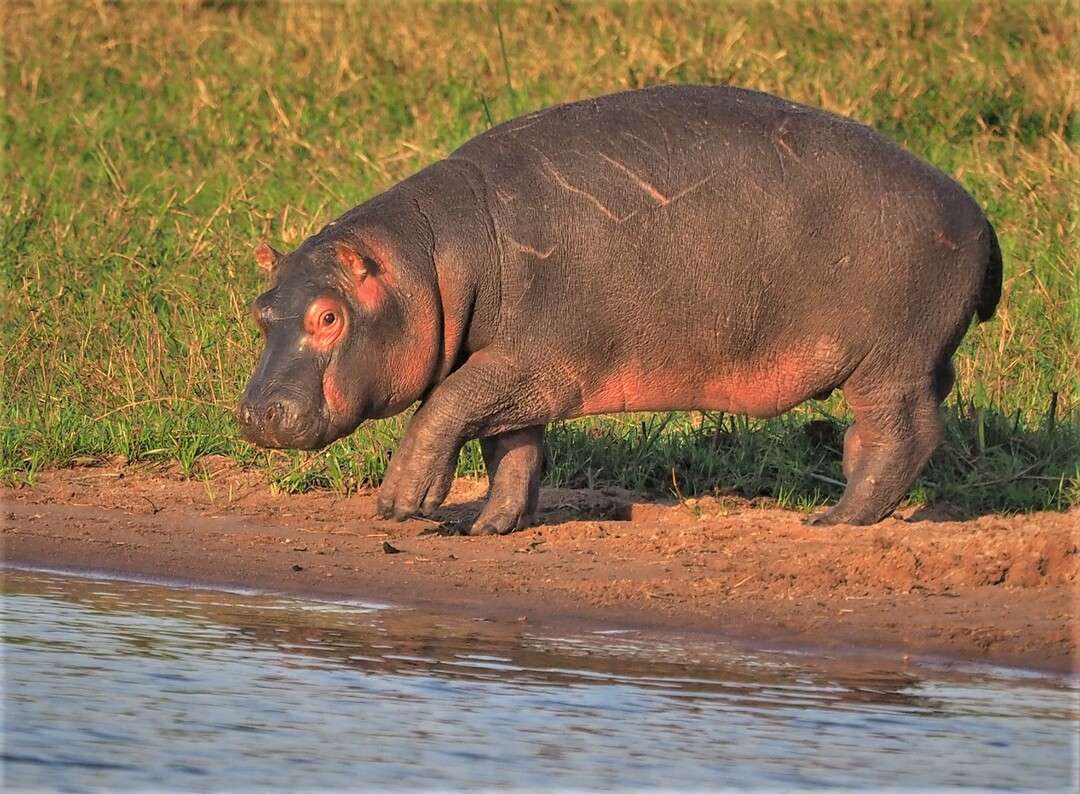 Despite spending the majority of their time in water, hippos cannot swim… they can't even float, as their bodies are too dense! They move around by pushing off from the bottom of the river, or simply walking along the riverbed. In a gallop they can reach a speed of 8 km/h.
Jao – The Jao Reserve, Botswana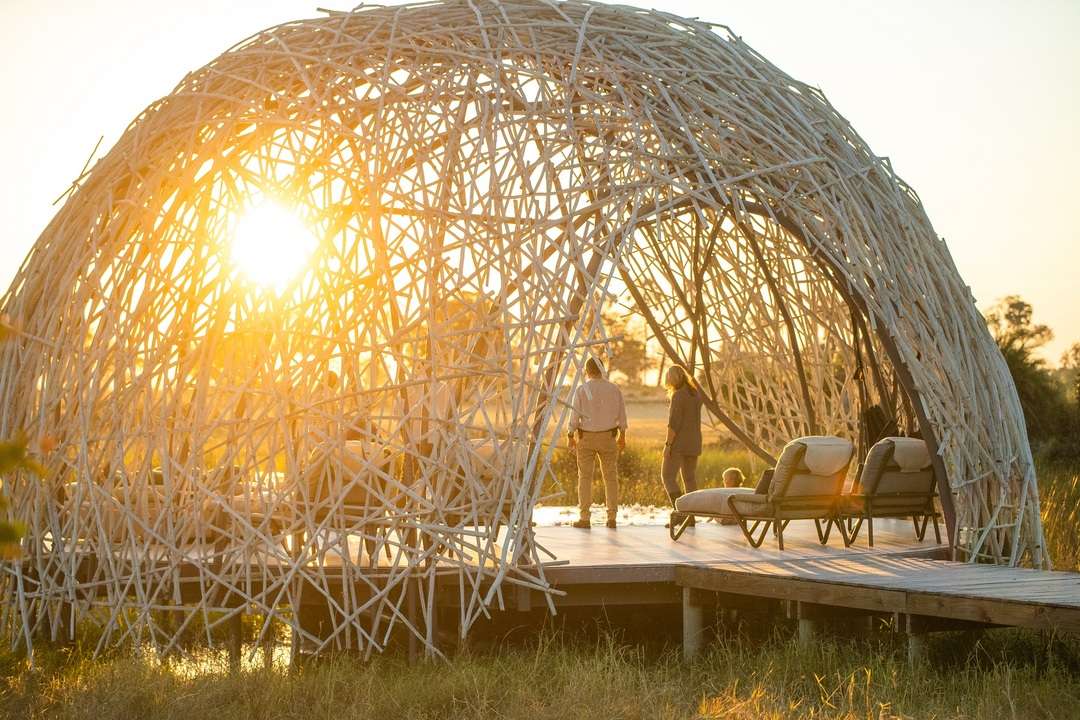 Place: In the heart of the Okavango, spectacular Jao is set amongst islands fringed with riverine forests and vast floodplains with prolific wildlife. The camp (rebuilt in 2019) offers a fresh and contemporary design, in the same picturesque location. The sense of adventure that Jao has always prized continues in the ever-evolving sculptural and architectural language, adding an element of surprise and delight. The game viewing at Jao is superb. Huge herds of red lechwe can be seen, followed by their primary predator – prides of lion.
Accommodation: Jao has five luxurious suites and two ultra-luxe villas, each individually handcrafted and with an open-plan design, vintage-style fittings and a sala for afternoon siestas. A romantic Star Bed is a seasonal option when water levels permit. An elaborate two-storey main area also includes a plunge pool, library, gym and boma for dining under the stars, complemented by an excellent wine cellar. The spa has a wide range of massage therapies.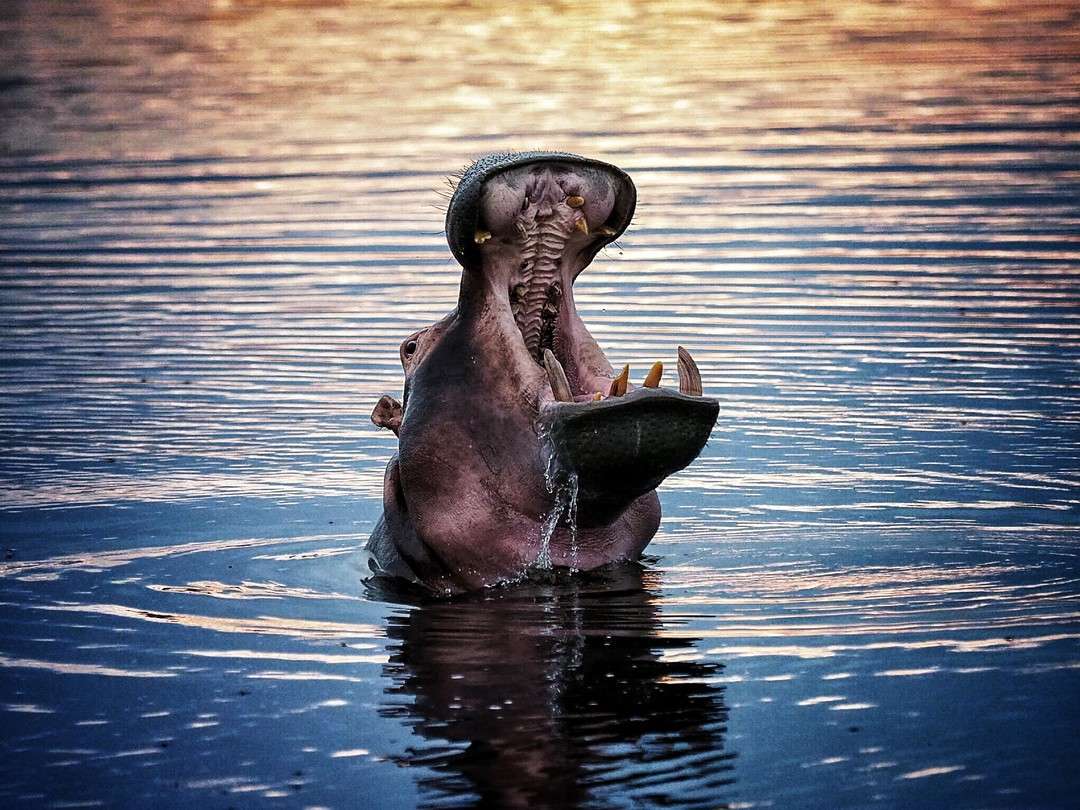 A hippo's open mouth is not a yawn but rather a sign to warn off others from their territory. You will only see a hippo 'yawning' while in the water because they are only territorial when submerged. You will also hear them 'honking' and 'grunting', which is another way of marking their territory.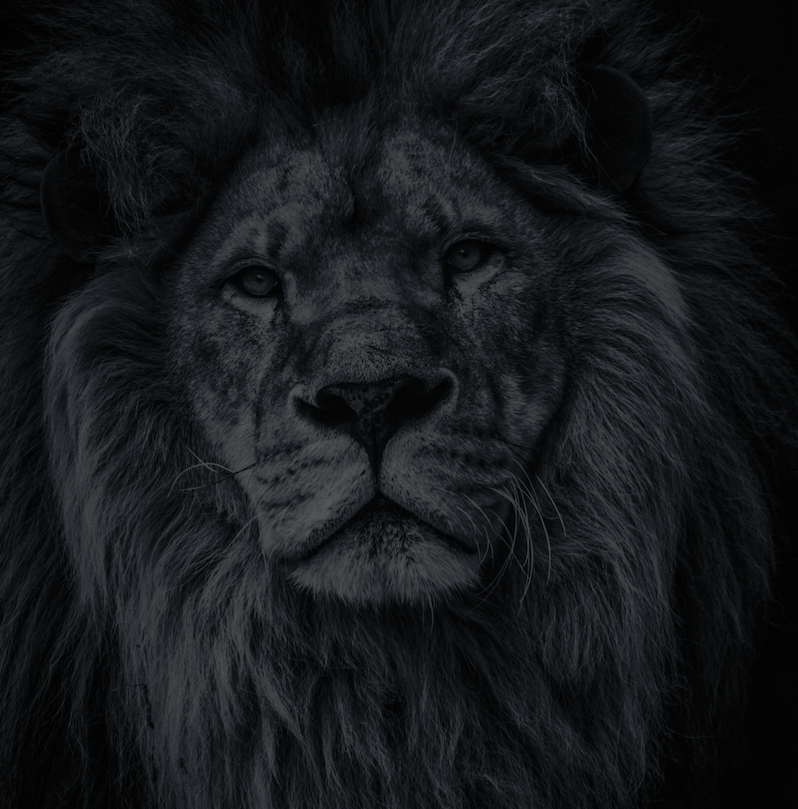 Let's plan your next journey
Ready?
When we say we're there every step of the way, we mean it, literally. From planning the perfect circuit, to private inter-camp transfers on Wilderness Air, and easing you through Customs. We're with you on the ground, at your side, 24-7, from start to finish. Ready to take the road less travelled? Contact our Travel Designers to plan an unforgettable journey.