Dominating the wild north-west of Zambia's Kafue National Park are the vast Busanga floodplains, a sweeping, seasonally inundated grassland boasting some of the most pristine and diverse habitat in Africa.
Wildlife is found here in astonishing abundance, but this area offers a lot more than that. This remote area was both therapeutic and meditative, challenging all my senses while taking me on a personal journey of greater mindfulness. There is a definite connection between time in the wilderness and mindfulness. Dare I say much of the world today perhaps suffers from 'nature deficit disorder'?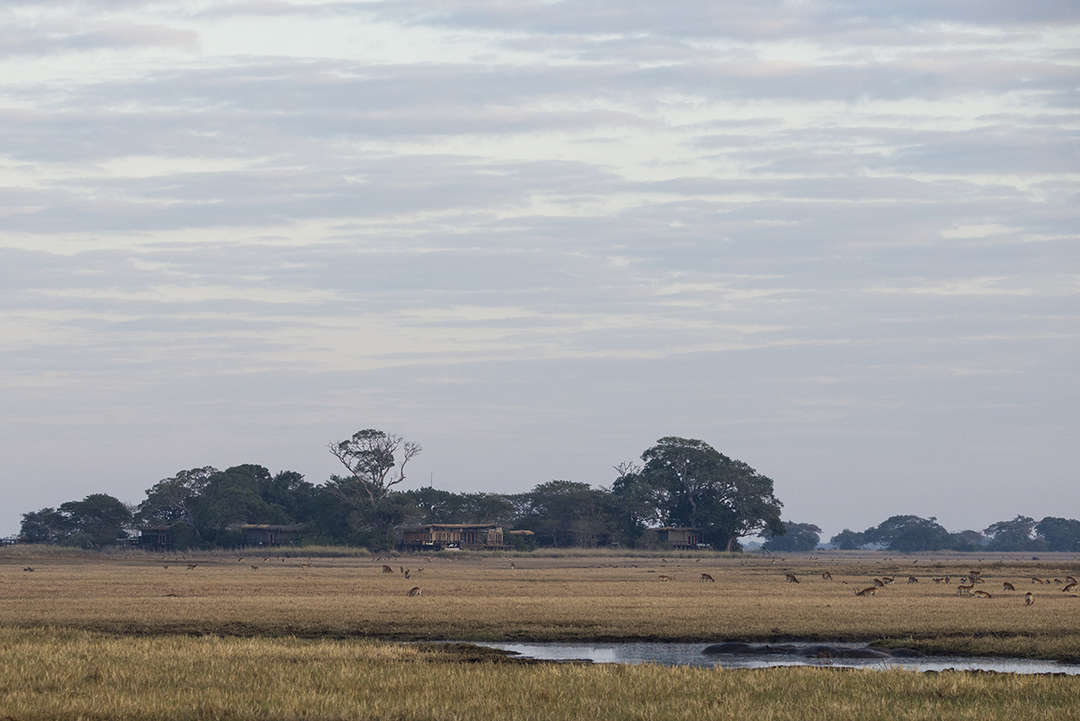 On the Busanga Plains, both Shumba and Busanga Bush Camp could not be better located to experience the best this area has to offer. Both are found in the epicentre of Busanga's diversity – a sensory overload!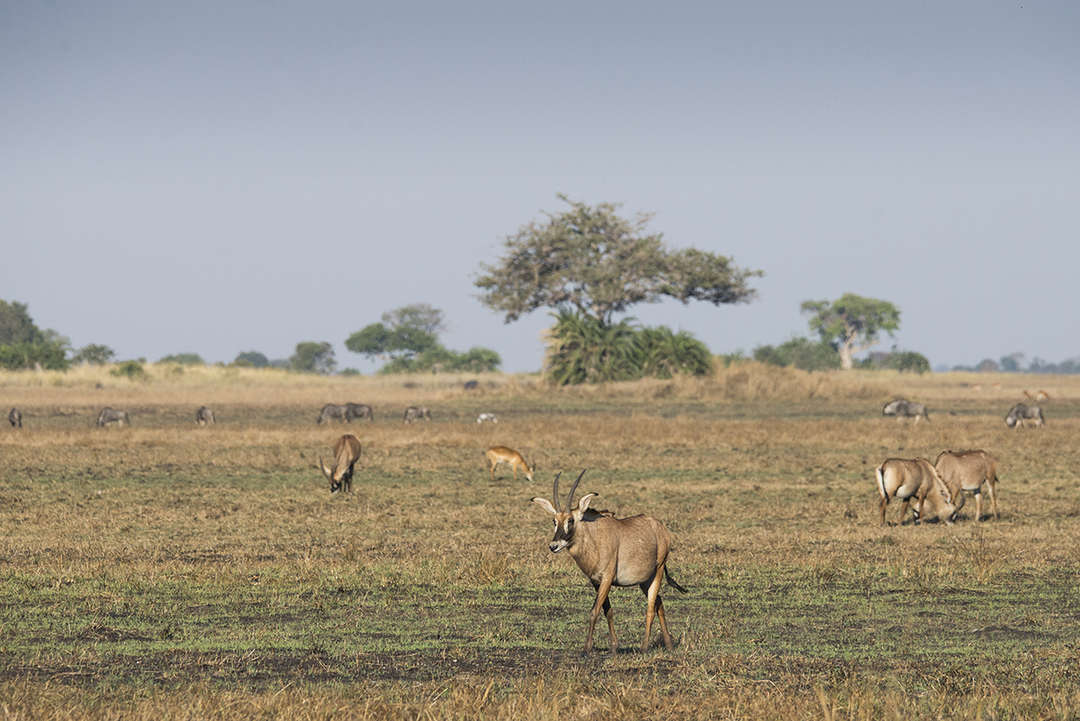 Visitors to the Busanga Plains will certainly leave with memories and photos of large red lechwe and puku herds silhouetted in the early morning mists and orange haze of the spectacular Kafue dawns and sunsets. This is, however, just a small taste of the varied wildlife diversity that can be encountered here. No less than 24 ungulate species occur here – from the diminutive blue duiker all the way up to eland and buffalo.
In the north-west lie the Busanga Swamps, a papyrus-dominated wetland that has a sitatunga population and offers a chance to view this specialist antelope for the more patient and intrepid visitor. The most aquatic of all antelope and related to bushbuck and kudu, any sighting of sitatunga is prized due to their secretive and often nocturnal habits.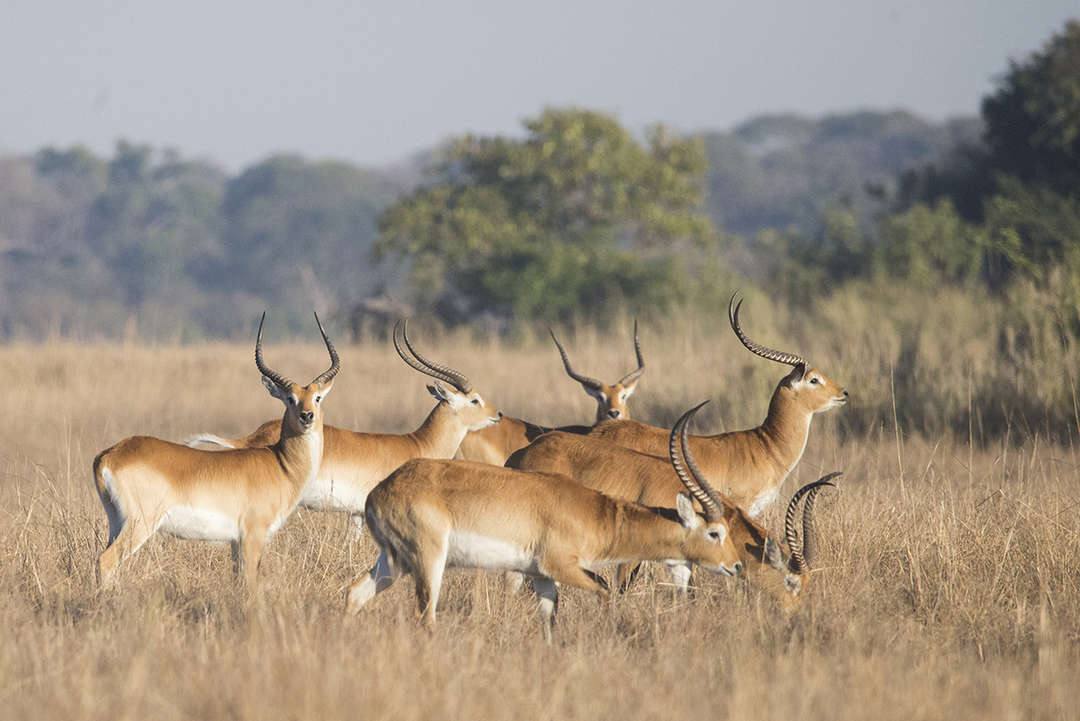 Red lechwe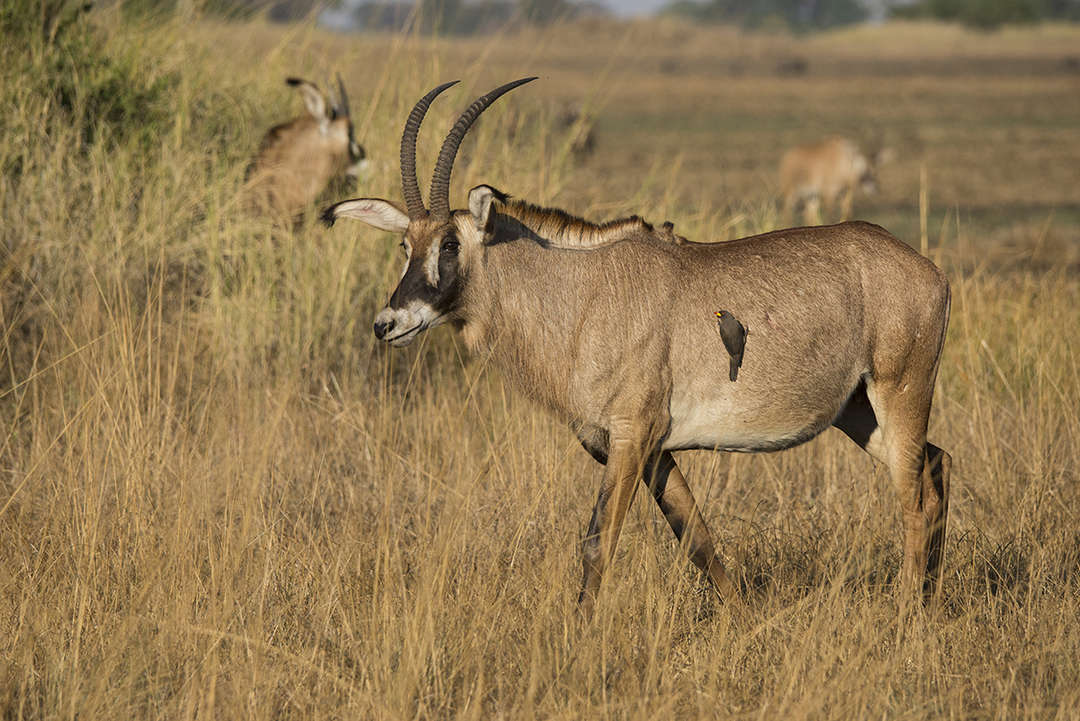 Roan antelope
The swamps give way to the vast seasonally-inundated grassland of the Busanga Plains further south, the favoured haunt of similarly water-loving red lechwe, southern reedbuck and puku, which are joined in the dry season by good numbers of roan antelope. Typically there are also resident and territorial bushbuck to be found on the various picturesque tree islands dotted throughout the plains. Blue wildebeest are also frequently observed along the treeline bordering the plains, together with species such as greater kudu and impala.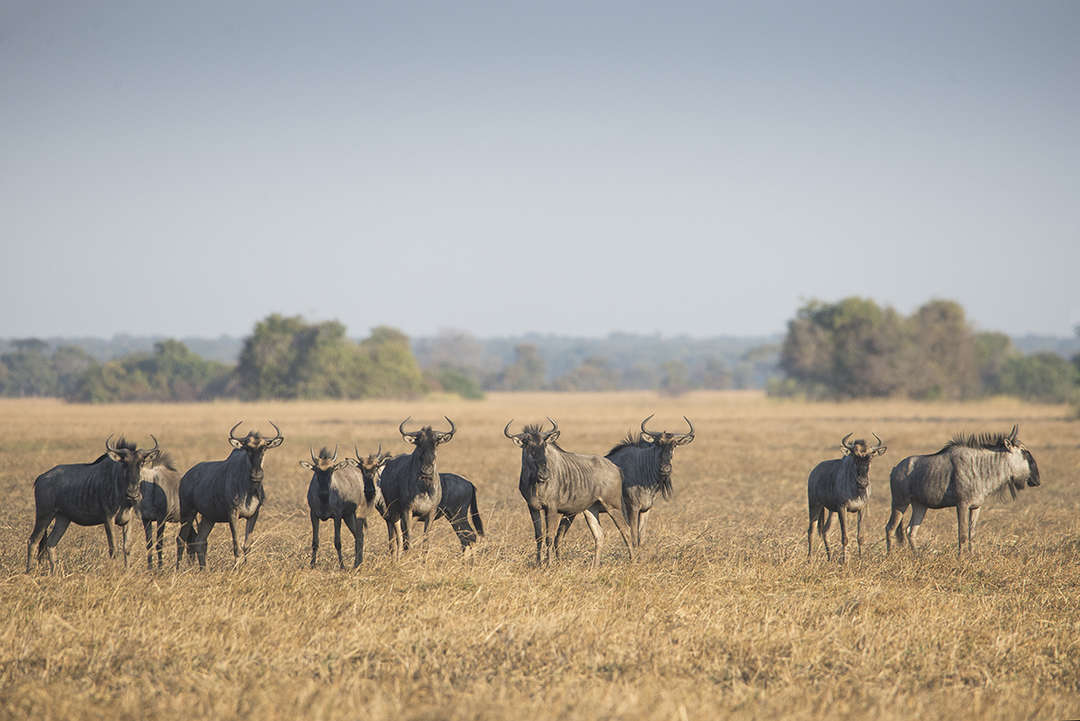 Blue wildebeest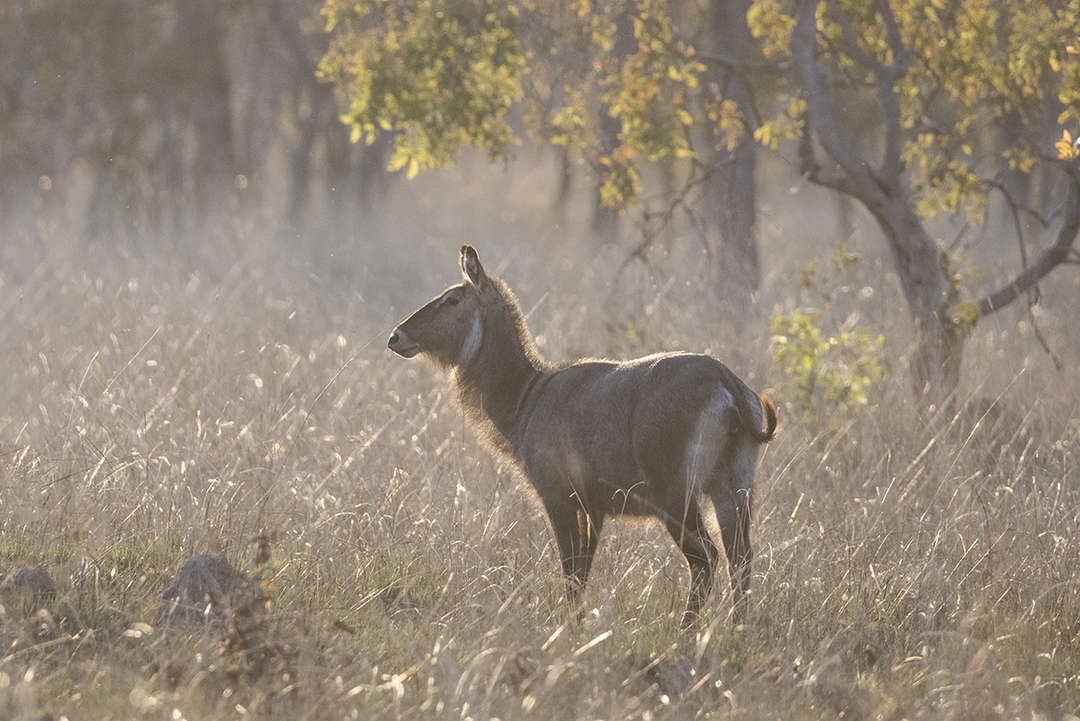 Defassa waterbuck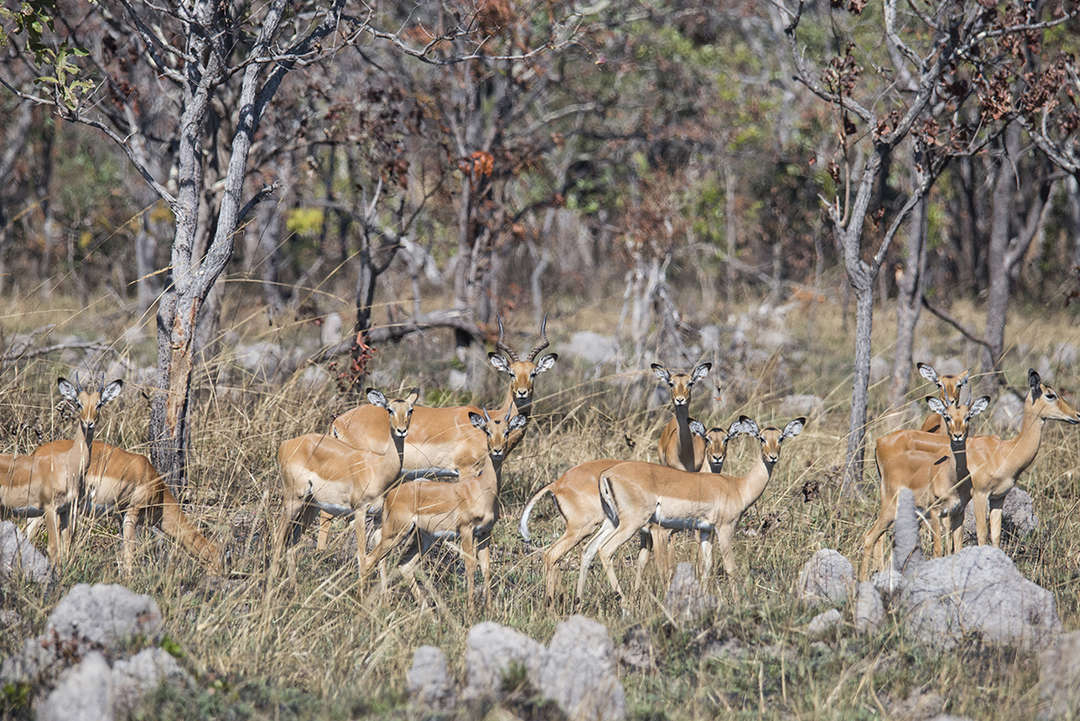 Impala
This treeline fringe and further south in the Park, where Brachystegia (miombo) woodland and dambos (small, grassy floodplains in central Africa) can be found, are ideal for more reclusive species such as Lichtenstein's hartebeest, Defassa waterbuck and oribi. At the driest time of year even the majestic sable antelope leaves the surrounding woodlands to seek water on the plains, further adding to the area's diversity. Troops of yellow baboons are also often seen foraging in termitaria-dominated grasslands along the treeline as are family groups of common warthog. Busanga's long grass is also favoured habitat of side-striped jackal, and after dark we had the fortune of seeing porcupine and African wild cat.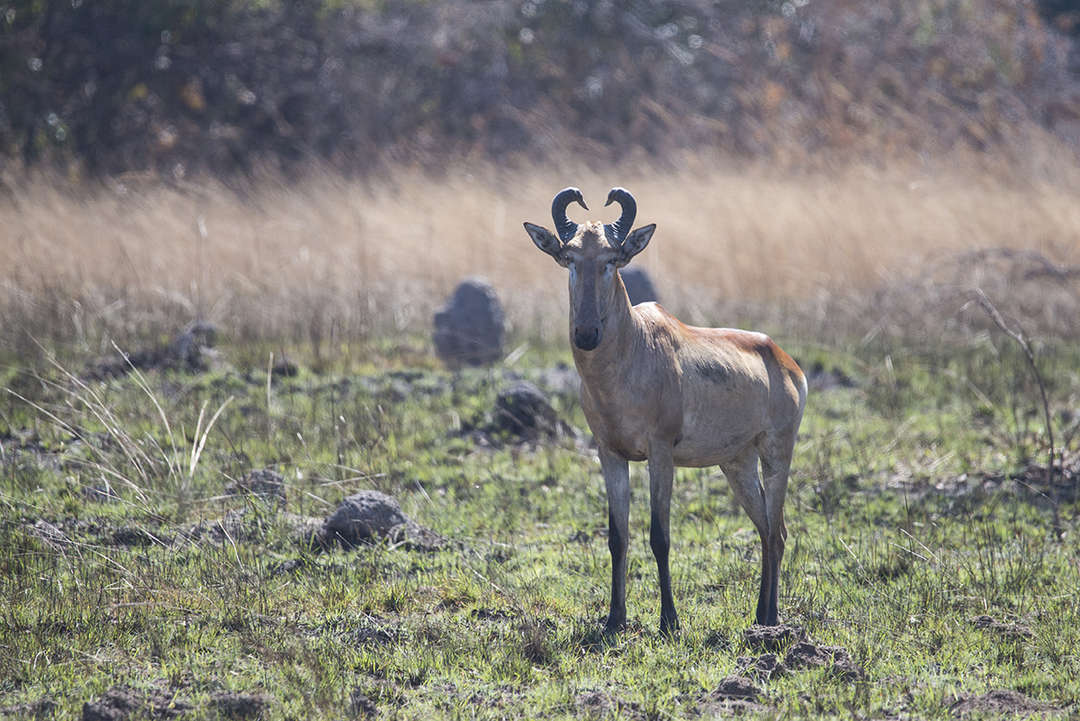 Lichtenstein's hartebeest
While the Busanga is also known for its incredible lion encounters it is heartening to know that Wilderness Safaris has partnered with the Lion Recovery Fund and other major tourism entities, forming the Lionscape Coalition to collaborate on lion population awareness, recovery and protection in key landscapes just like Kafue.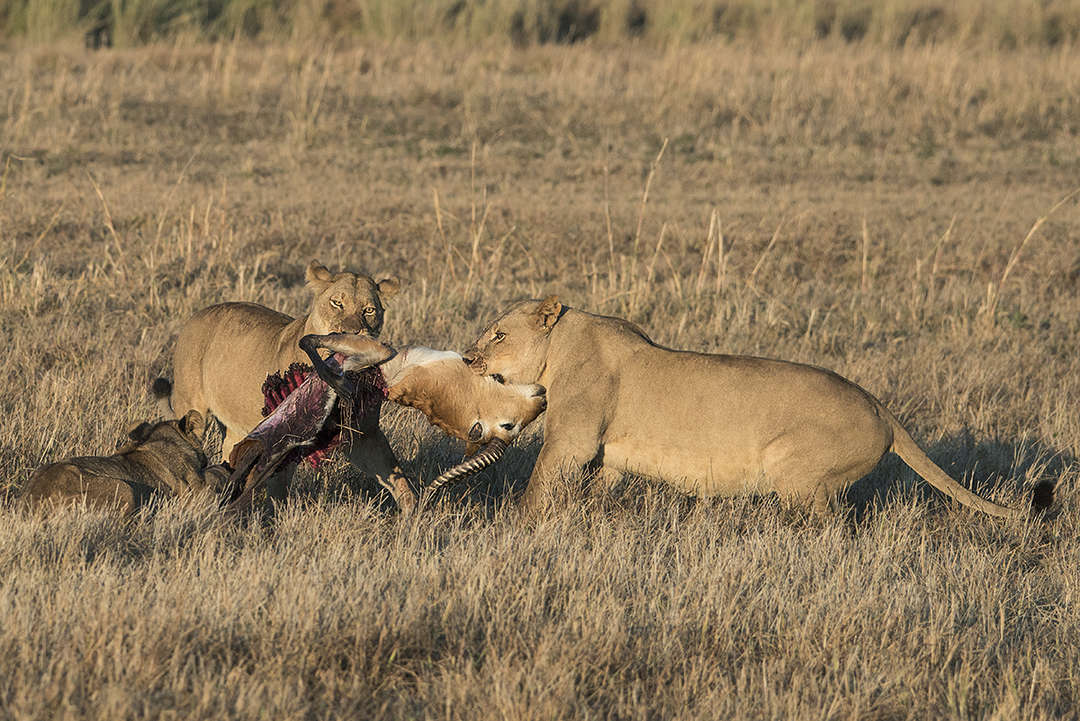 Wilderness Safaris has been present on the Busanga Plains since 2006. In the 13 years that have passed, the resurgence of the area is noticeable, with significant growth in populations of various species. For instance, back in 2008 and 2011, we did not see a lot of elephant. On this trip, in June 2019, we saw large elephant herds around Kapinga Island. This is a tangible result of the fruits of frontier ecotourism. The same can be said for Cape buffalo, with a large herd in excess of 400 animals often seen on the plains today.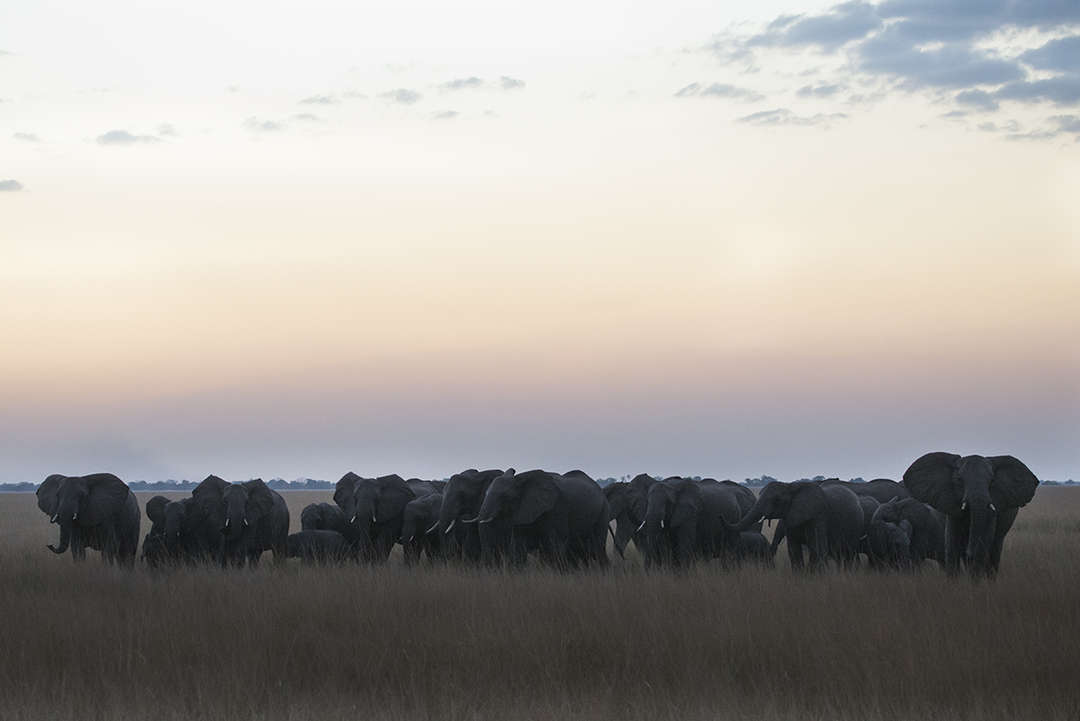 The Busanga Plains ticks all the boxes as a true wilderness destination. Well off the beaten track, it offers amazing experiences that will leave an indelible imprint on all who visit.
Photographed and written by Martin Benadie
"This remote area was both therapeutic and meditative, challenging all my senses while taking me on a personal journey of greater mindfulness. "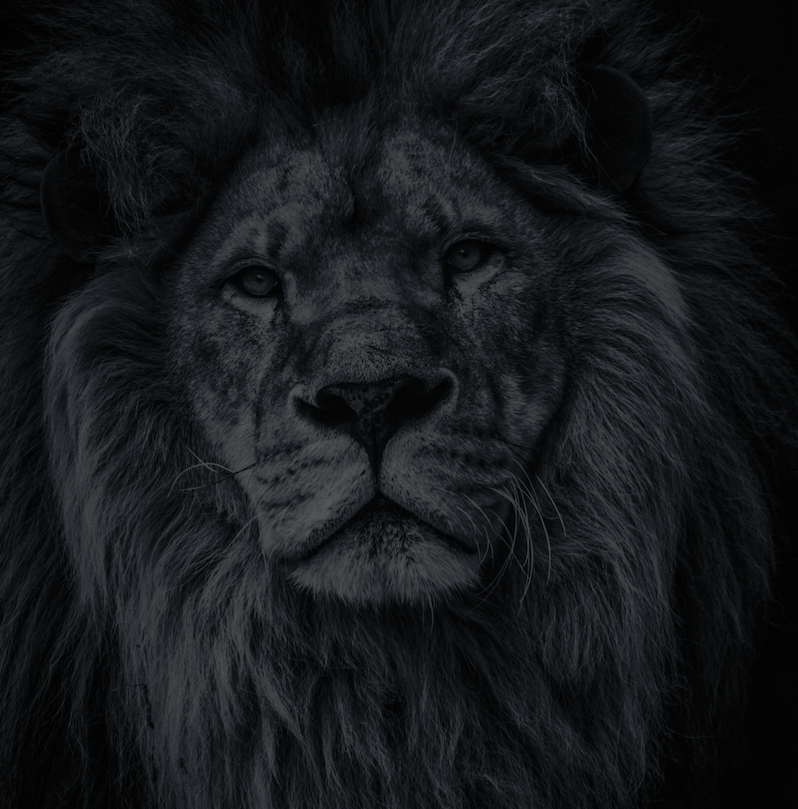 Let's plan your next journey
Ready?
When we say we're there every step of the way, we mean it, literally. From planning the perfect circuit, to private inter-camp transfers on Wilderness Air, and easing you through Customs. We're with you on the ground, at your side, 24-7, from start to finish. Ready to take the road less travelled? Contact our Travel Designers to plan an unforgettable journey.