We are thrilled to be able to welcome guests to our Namibian camps as the national government has reopened a handful of border posts, including the main tourist point of entry through Hosea Kutako International airport. All visitors will be required to follow precautions – as detailed in this document – prior to and upon arrival.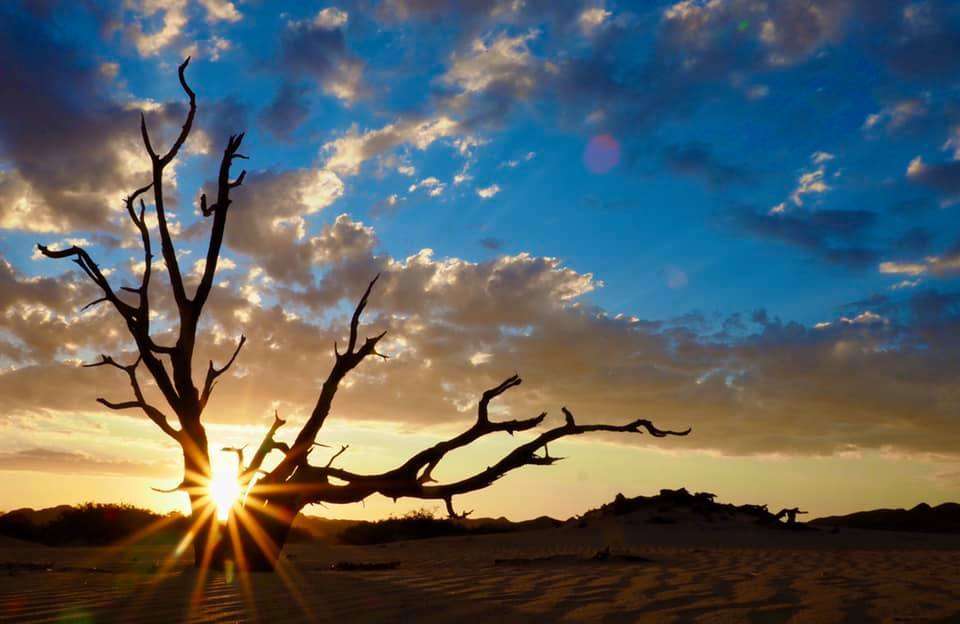 With this great news Wilderness Safaris is happy to announce that we will be hosting guests at the brand-new Little Kulala, Hoanib Skeleton Coast Camp, Damaraland Camp and the cultural wonderland of Doro Nawas.
While everyone has adjusted to the "new normal" now prevalent across the world, there is arguably no better place to observe social distancing than in the isolation offered by the wide-open spaces of the Namib Desert. This amazing country on the south-west coast of southern Africa has a population of just 2.6 million within its surface area of 824 290 square kilometres, meaning there is an average of three people per square kilometre, making it an ideal destination for social distancing.
Namibia is celebrated for its vast open landscapes – an abundance of space in which to inhale deeply and bask in an infinite supply of sun-bright blue skies and star-filled nights. Its immensity of space – it is the fifth largest country in Africa – is accentuated by the fact that it is the driest country south of the Sahara; there are many places where its lunar-like surface seems to deny the existence of life. But life there is, and in many diverse forms: approximately 4 000 species of plants, 650 bird species and 80 large mammal species.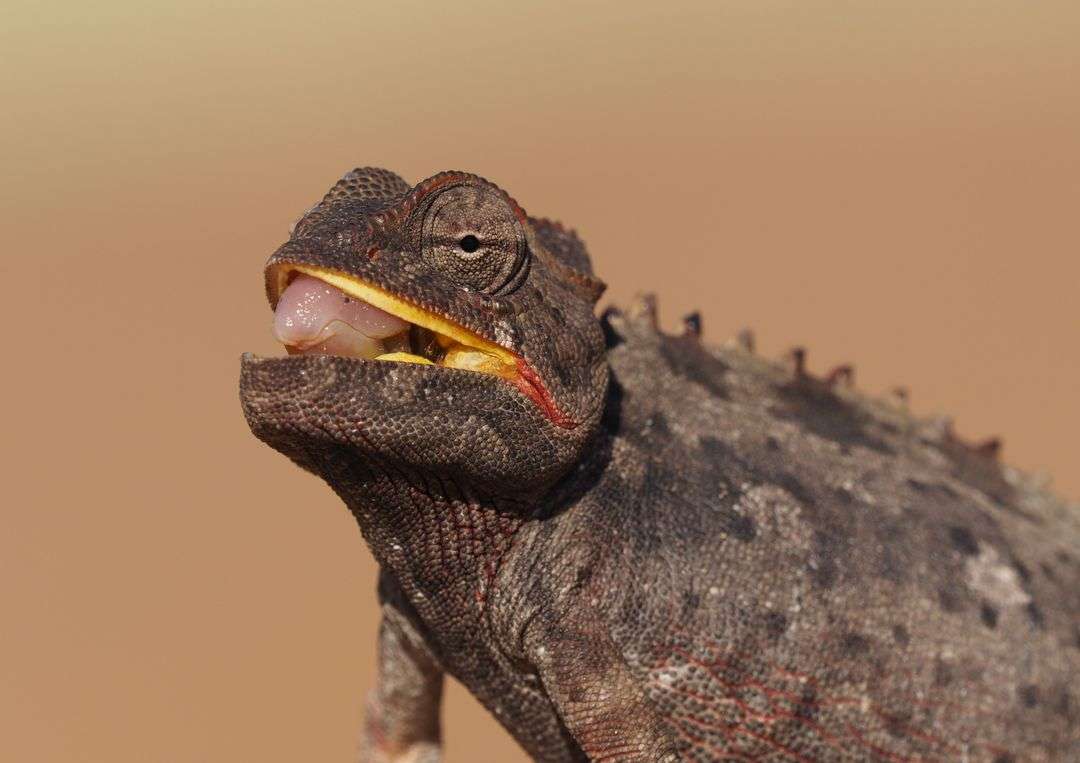 Reptile species total 240 and, as is fitting for such a dry, hot place, sun-loving lizard species number 125, making this the richest lizard fauna in Africa
Sossusvlei, Namib Sand Sea
World-famous Sossusvlei is the name of an enormous clay pan flanked by the famous sand dunes that flush red in the early morning sun, as well as the name of the area in general. Close to the Sossusvlei pan is Dead Vlei, another pan where water once flowed. All that remains now are the skeletons of ancient camelthorn trees that reach up out of the cracked earth.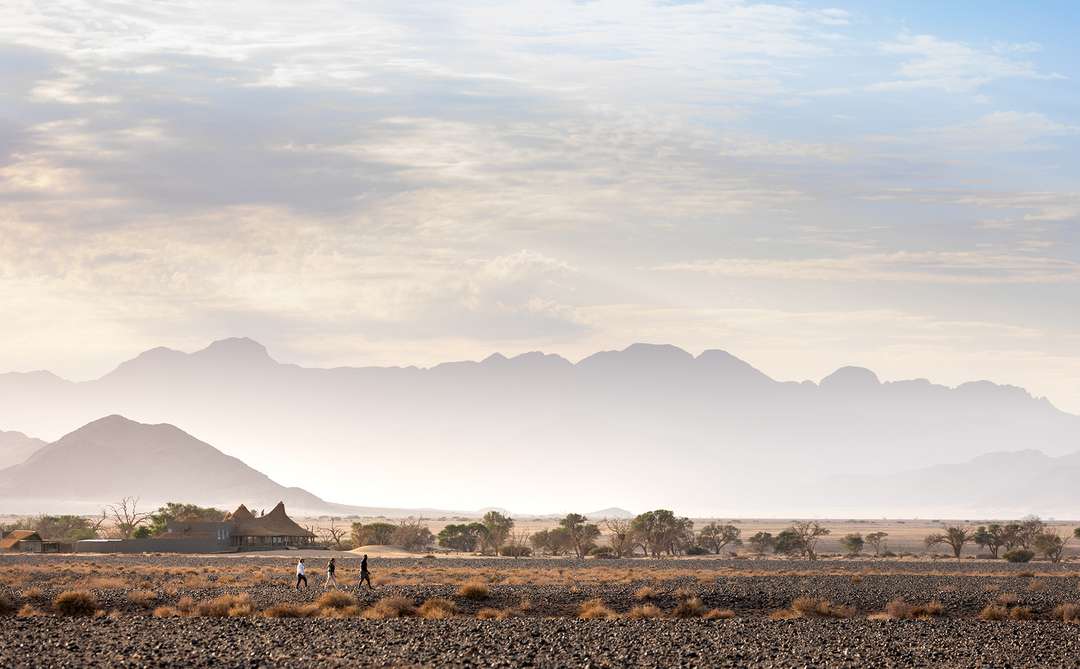 Little Kulala, Living Desert
A welcome oasis situated on the dry Auab riverbed in the Kulala Wilderness Reserve, Little Kulala celebrates the splendour and solitude of the Namib Desert. Excursions to Sossusvlei (via a gate exclusive to Wilderness Safaris vehicles), nature drives, guided nature trails, eco-sensitive guided quad bike excursions and guided electric fat bike excursions explore this fascinating landscape. A balloon safari (at extra cost) offers an awe-inspiring experience soaring above the desert.
Inspired by Dead Vlei, the design of the climate-controlled, thatched accommodations, each feature a private plunge pool, and merge seamlessly into the timeless desert setting. The private deck is also perfect for romantic, private dining settings, stargazing and sleep-outs.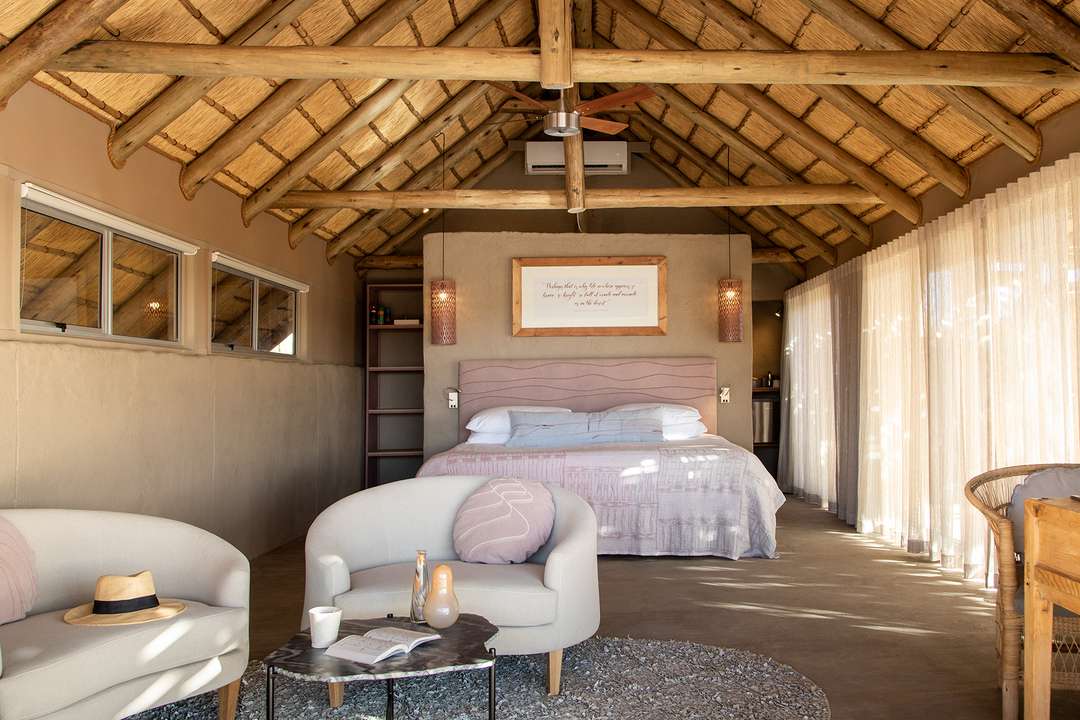 Desert-adapted wildlife to be seen on the Kulala Wilderness Reserve includes ostrich, springbok, gemsbok, spotted hyaena and the occasional brown hyaena. Smaller creatures such as bat-eared fox, black-backed jackal, porcupine, Cape fox and aardwolf can also be seen. One bird, the aptly named dune lark, has its entire global distribution limited to the area. A surprisingly diverse array of insects, reptiles and rodents make their home around Little Kulala.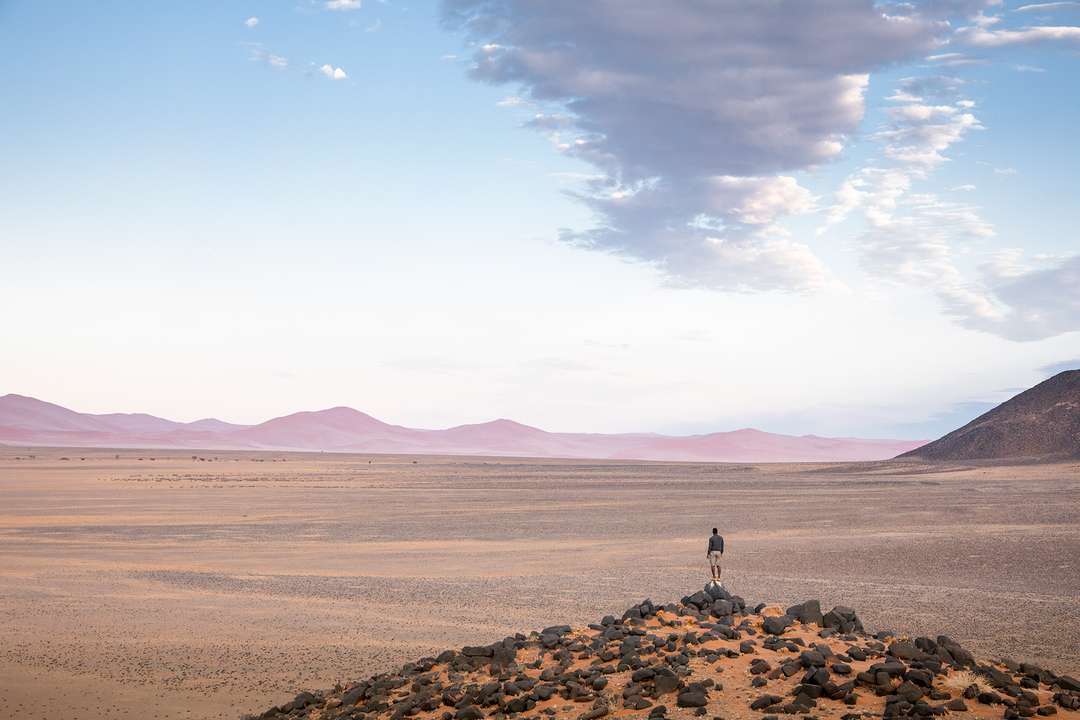 Walking trails focus on becoming immersed in this remote area and its scenic beauty, as well as the fascinating, and surprisingly diverse, array of insects, reptiles and rodents which make this dry and harsh region their home. The Tsauchab River Trail invites a stroll along a fascinating dry riverbed.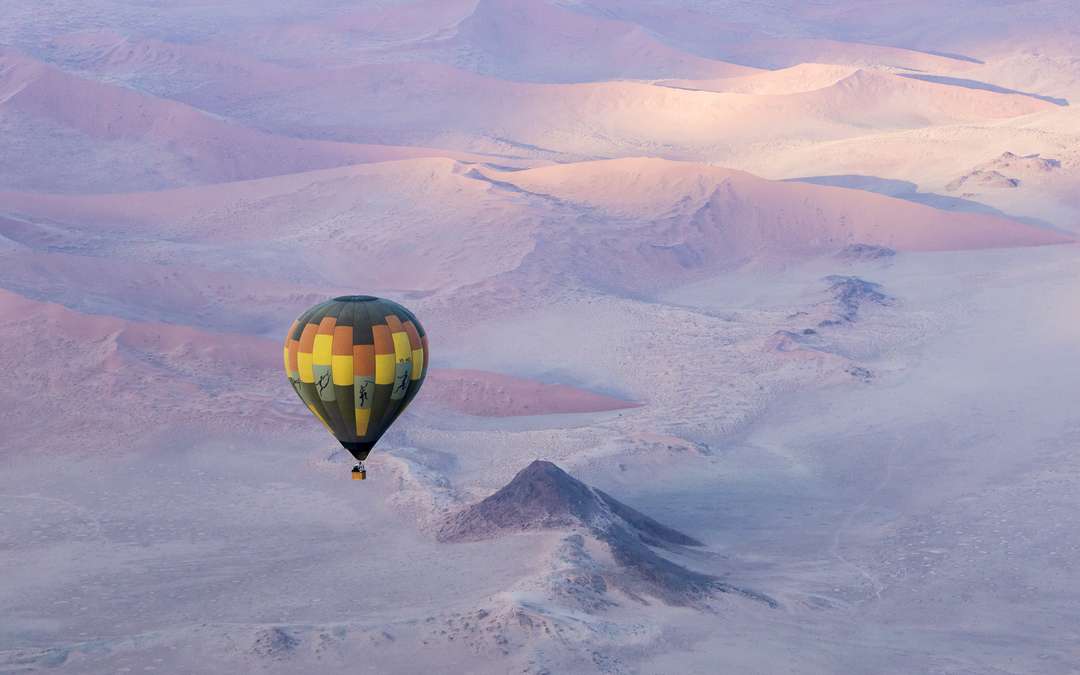 Not to be missed while at Little Kulala is the balloon safari over the Kulala Wilderness Reserve. This offers a truly unique experience of soaring above the magnificent sand dunes and desert, with a champagne breakfast being served at your landing site.
Read more about this remarkable camp here.
Grounded in the Magnificent Damaraland
Damaraland is characterised by flat-topped mountains, wind sculpted sandstone cliffs, broad valleys and dry river beds that carve their way through deep gorges of ancient geological features indicating a wetter past. Today, the rivers – mainly the Huab, Ugab and Koigab – flow only sporadically; their riverbeds are ribbon-like oases that push through the most desolate of terrains, the underground water and tree lined courses allowing even large species like desert-adapted elephant and giraffe to roam the seemingly inhospitable region. Away from the river lines are the vast open plains that in good rainfall years are covered by annual grasses, attracting herds of specialist arid-adapted antelope such as oryx and springbok.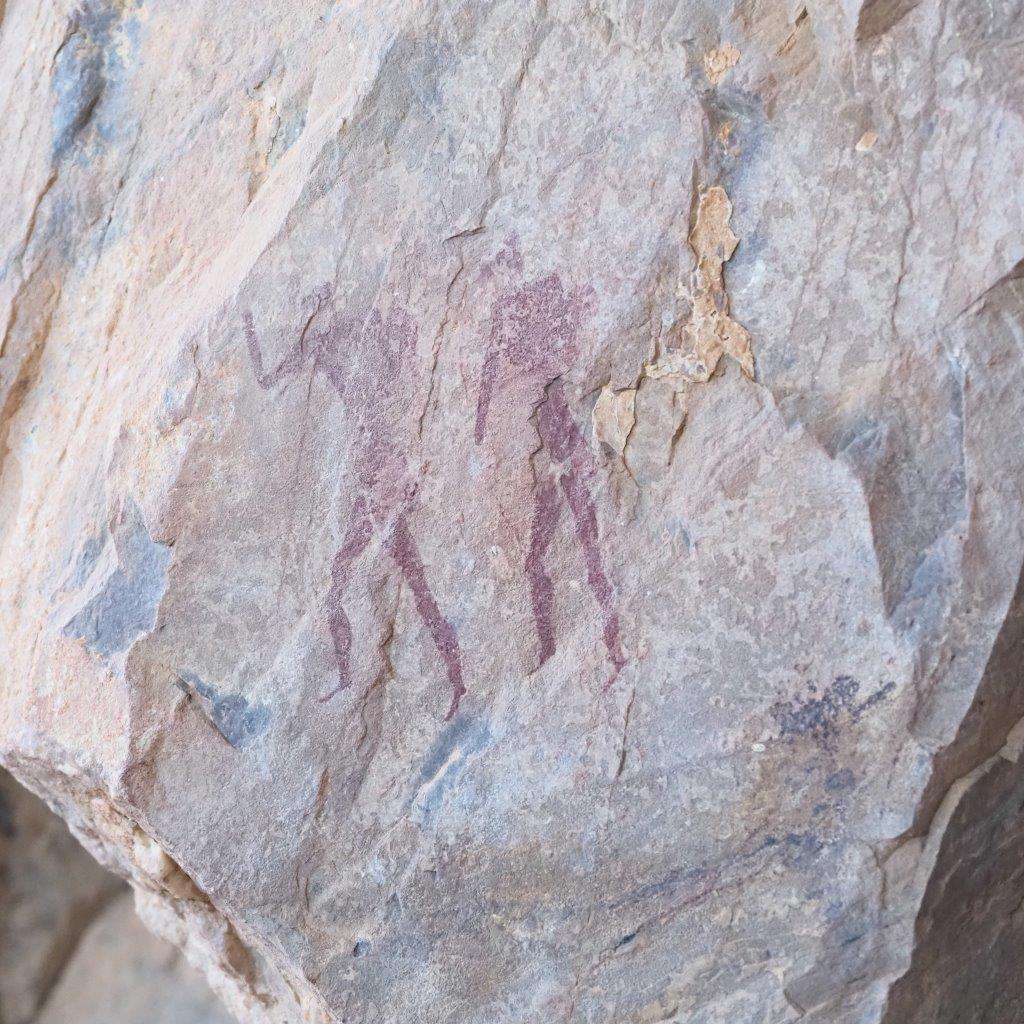 Marvel at the Magnificent Mountains at Damaraland Camp
Damaraland Camp is situated in the Huab River Valley in one of the best wilderness areas in Namibia, offering endless vistas across stark plains, ancient valleys and a stunning ochre-purple mountain backdrop. Activities include nature drives and walks while further afield, ancient rock art and geological wonders dot the area.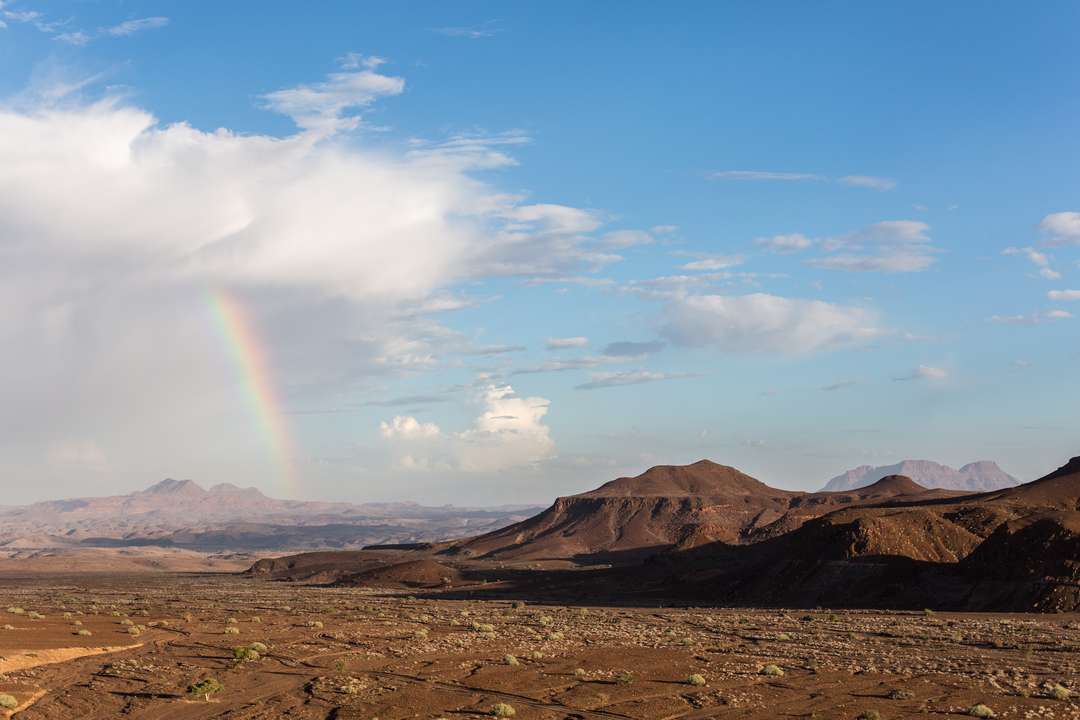 Large adobe-style thatched rooms (including a family unit) are raised off the ground, each with a walk-in dressing area and a large deck on which to sit and contemplate the desert. The spacious public living area comprises a dining area and swimming pool. An open campfire and outdoor boma are enjoyed during calm evenings and stargazing is superb, thanks to the crystal-clear night skies.
Damaraland Camp is the result of an award-winning partnership between Wilderness Safaris and the local Torra Conservancy; visits to the nearby farmstead allow guests to see this relationship in action.
Discover more about Damaraland Camp here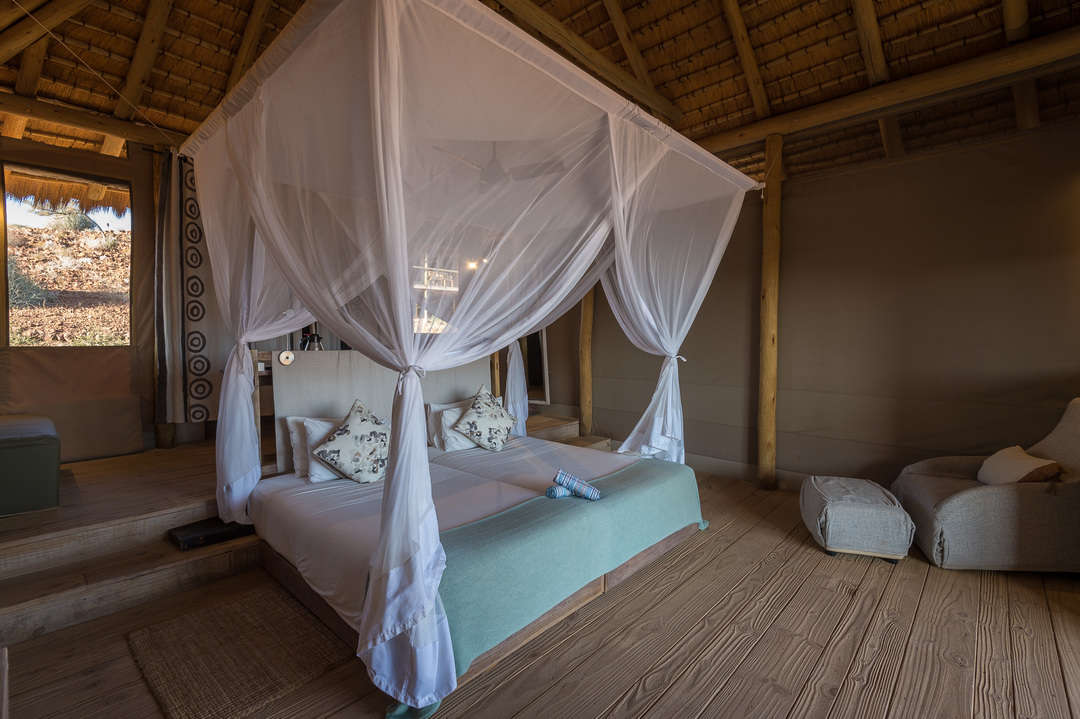 Life-Filled Skeleton Coast
The name Skeleton Coast conjures up romantic images of desolate beauty, and the proudly remote Hoanib Skeleton Coast Camp in the Kaokoveld does not disappoint. The dry bed of the Hoanib River supports a thin green ribbon of vegetation and the wild beaches of the Atlantic coast are within reach, with their noisy seal colonies and eerily quiet shipwreck remnants.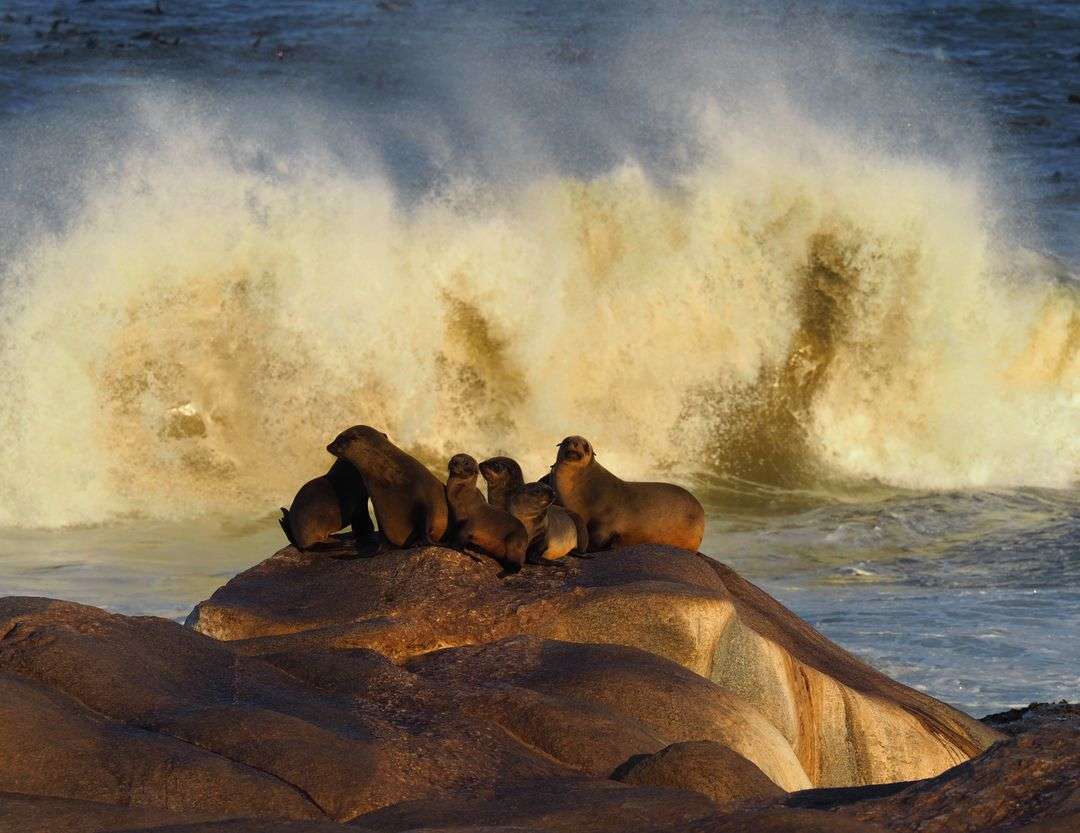 Hoanib Skeleton Coast Camp
In a broad, dry valley that looks toward the seldom-flowing Hoanib River lies Hoanib Skeleton Coast Camp, its flowing rooftops and award-winning eco-friendly design seemingly a permanent part of the ancient landscape. Eight large en-suite tents (including one family unit) and the main area provide shady viewpoints, while nature drives into the surrounding area reveal a wealth of desert-adapted wildlife.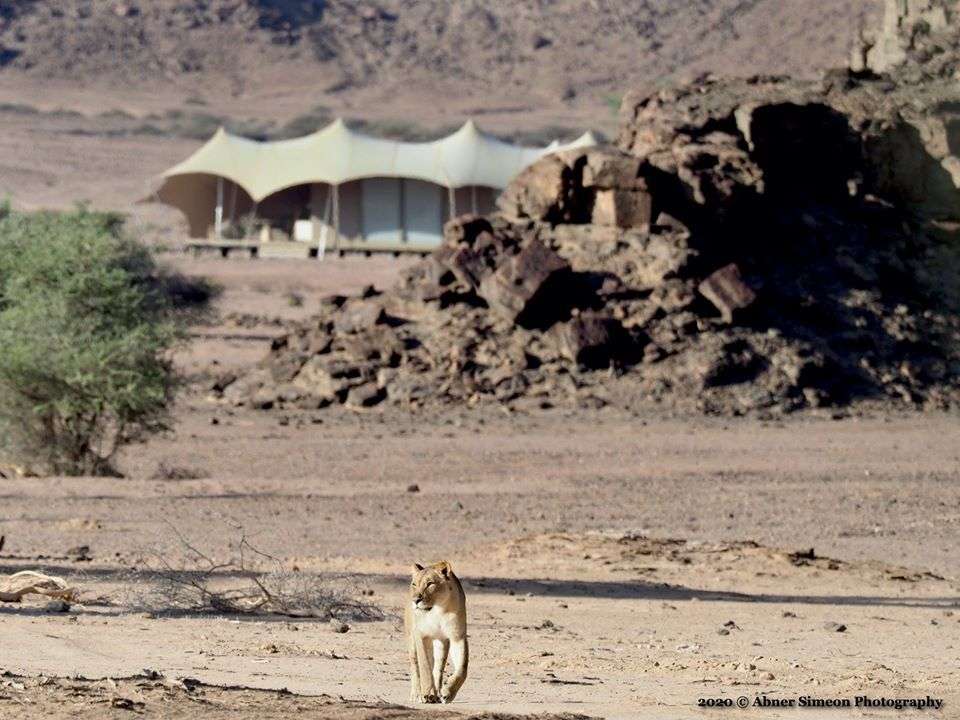 In this land of rugged mountains, gravel plains and rolling dunefields, regular encounters with a surprising array of large, charismatic desert-adapted wildlife abound, from elephant, lion and giraffe to oryx, springbok and even brown hyaena. The camp's position allows access to the legendary Skeleton Coast, with its stark shores and seal colonies, along with views of secret oases, magnificent dunes and unexpected yet thriving life.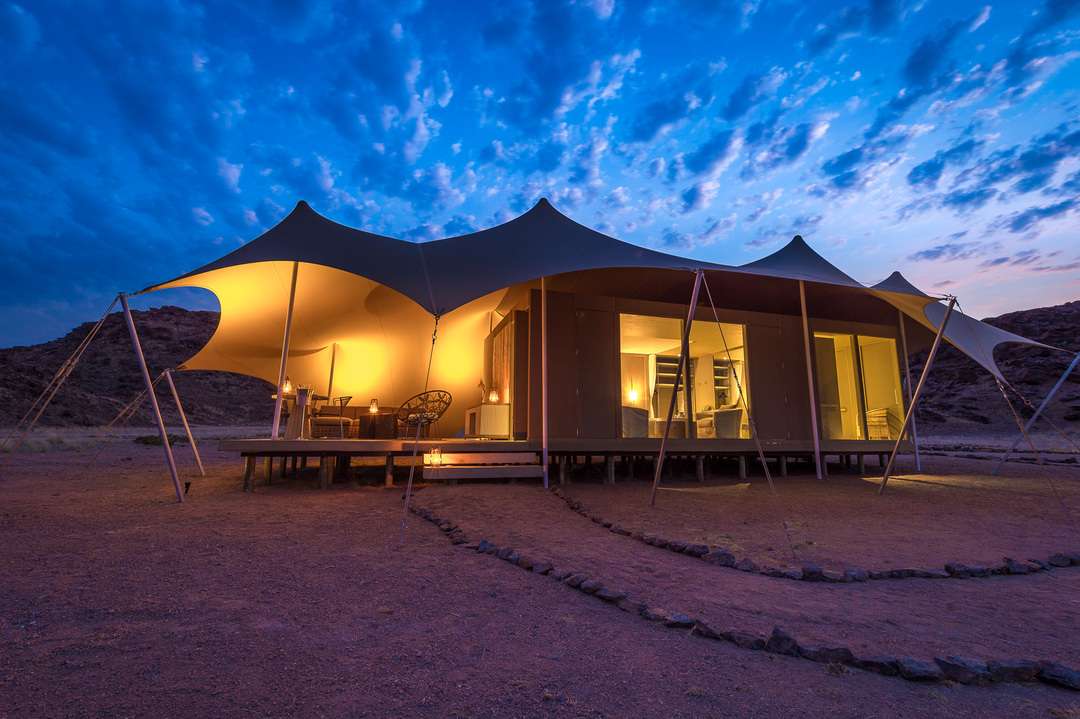 Explore the amazing Hoanib Skeleton Coast Camp here.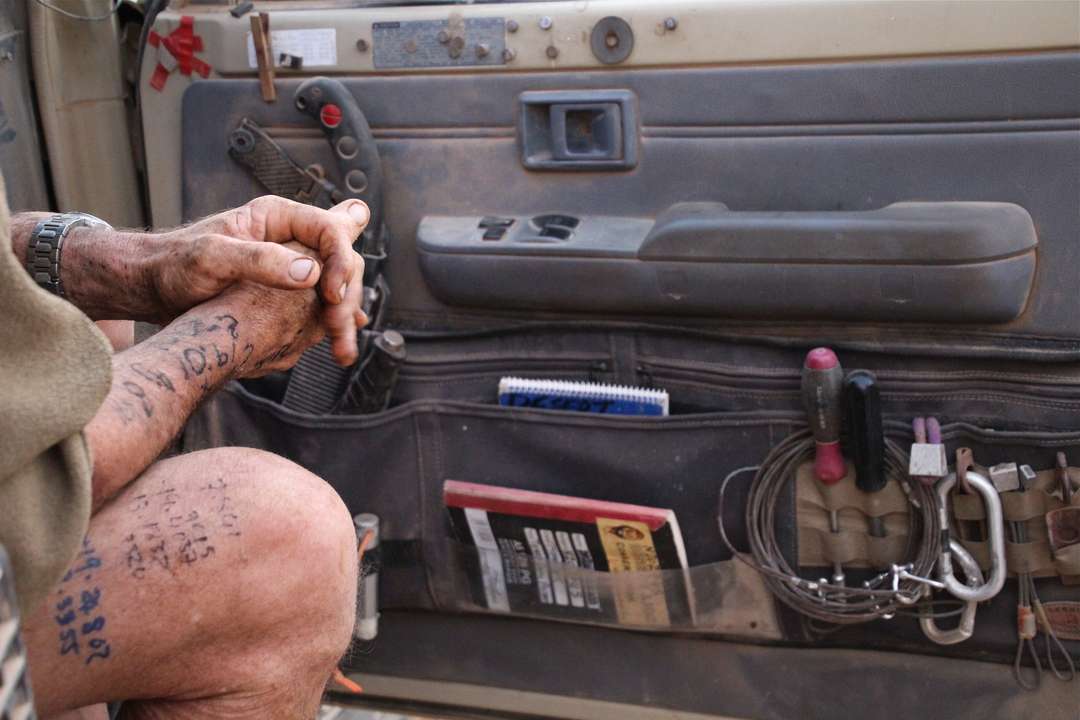 Flip photo comp entry "Desert Lion Researcher" by Sarah Gold; Dr. Philip "Flip" Stander, the world's preeminent expert on critically endangered desert-adapted lions, lives in his specially outfitted vehicle for weeks at a time, following lion prides with radio telemetry. Sometimes, lacking paper, he writes their location coordinates on his own body.
The camp hosts researchers committed to conserving desert-adapted lion, brown hyaena and elephant. Wilderness Safaris is thrilled to be supporting Emsie Verwey and the Skeleton Coast Brown Hyaena Project as she begins the first official density survey for brown hyaenas in Namibia's Skeleton Coast National Park, in collaboration with the Ministry of Environment and Tourism. Wilderness Safaris' Sustainability Fund has sponsored the funds required to purchase camera traps, memory cards and batteries, in order for this vital conservation survey to begin in one of the world's harshest – and most beautiful – wilderness environments.
The River that Flows Through the Desert – Kunene
The Kaokoveld is a particularly unforgiving environment, with endless vistas across stark plains, ancient valleys and rugged peaks ending at the desolate shores of the Skeleton Coast. The ephemeral rivers that bisect the north-west meander towards the sea, when they flow at all, with the permanent Kunene River being a remarkable exception.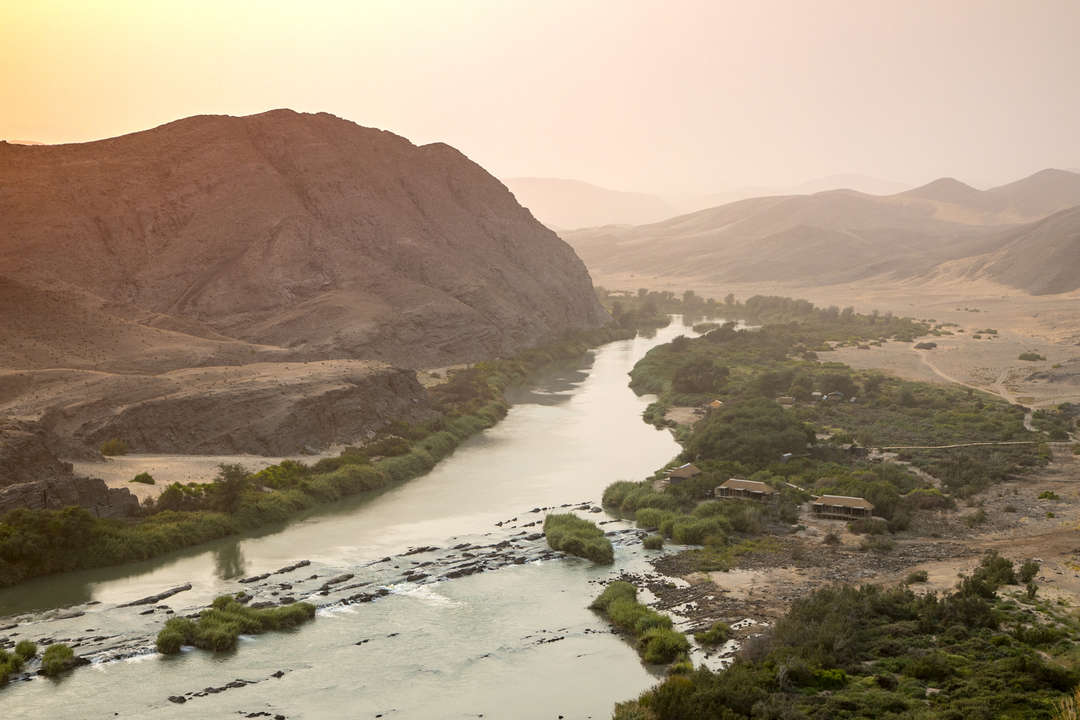 Sights from the Shore at Serra Cafema
Set under verdant trees on the banks of the Kunene River, Serra Cafema is one of the most remote camps in southern Africa. Guests can truly disconnect, unwind and relax to the sound of rushing water, and explore one of the driest deserts in the world. Respectful interaction with the semi-nomadic Himba community, fascinating nature walks, boating (water levels permitting), and low-impact guided quad-bike excursions complete the experience.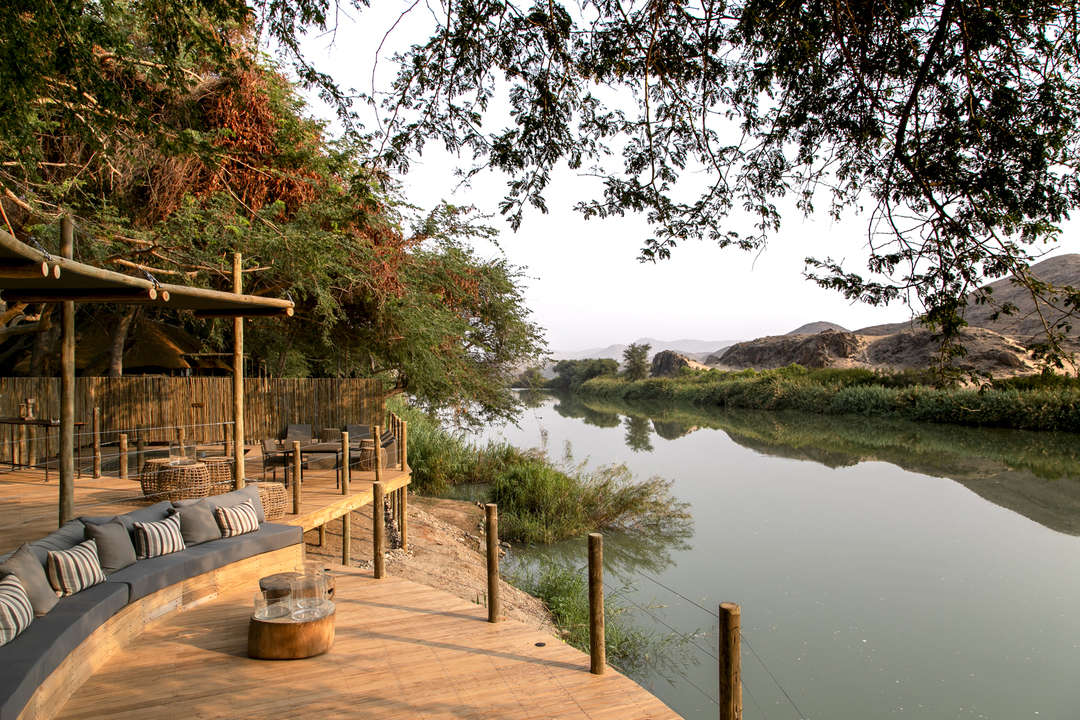 The secluded chalets are set on elevated decks and crafted in wood, canvas and thatch to create a unique camp that is at one with its surroundings and celebrates the culture of the Himba people. The Ozonganda (Herero, meaning "main area") affords spectacular views over the Kunene River.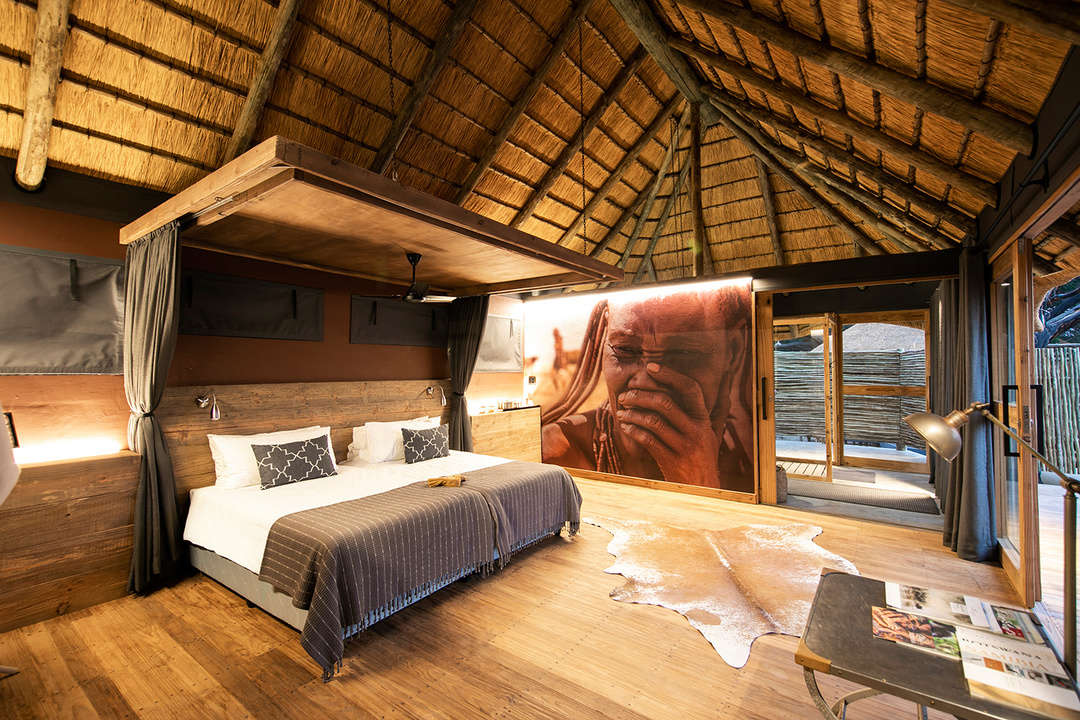 Delight in the Dream of Doro Nawas
Doro Nawas rests on the edge of the dry Aba-Huab River overlooking ancient plains with glorious views of the rugged Damaraland area. The camp provides an excellent base for exploring in game drive vehicles and on foot, as well as excursions to view fascinating geological phenomena and San petroglyphs. The World Heritage Site of Twyfelfontein (locally known as /Ui-//aes) is the highlight of a visit here, where millennia-old engravings cover the rocks, inviting reflection on the lives of our ancestors. Other fascinating geological features and game drives in search of desert-adapted wildlife and local communities complete the exploration of this rugged landscape.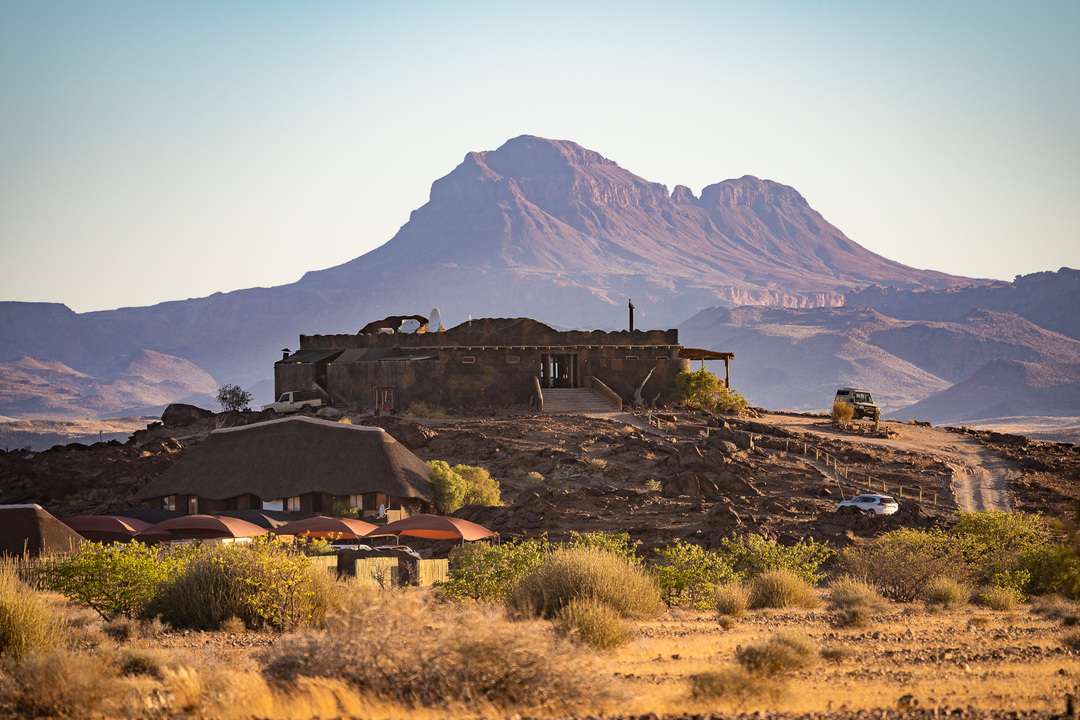 The design and décor of the natural-walled units (including a family unit) blend in with the surrounding scenery. Each unit comprises a bedroom, bathroom, outdoor shower, and veranda for stargazing or sleep-outs under the stars. There are indoor and outdoor dining areas, a pool area and a small Safari Trading Store.
Namibia is known for its clear night skies, and with no light pollution this is the ideal spot from which to learn about the stars and planets that whirl above us. And the ideal spot to do this from is the star-bed on your private deck and be lulled to sleep by the sounds of Africa.
Discover more about Doro Nawas here.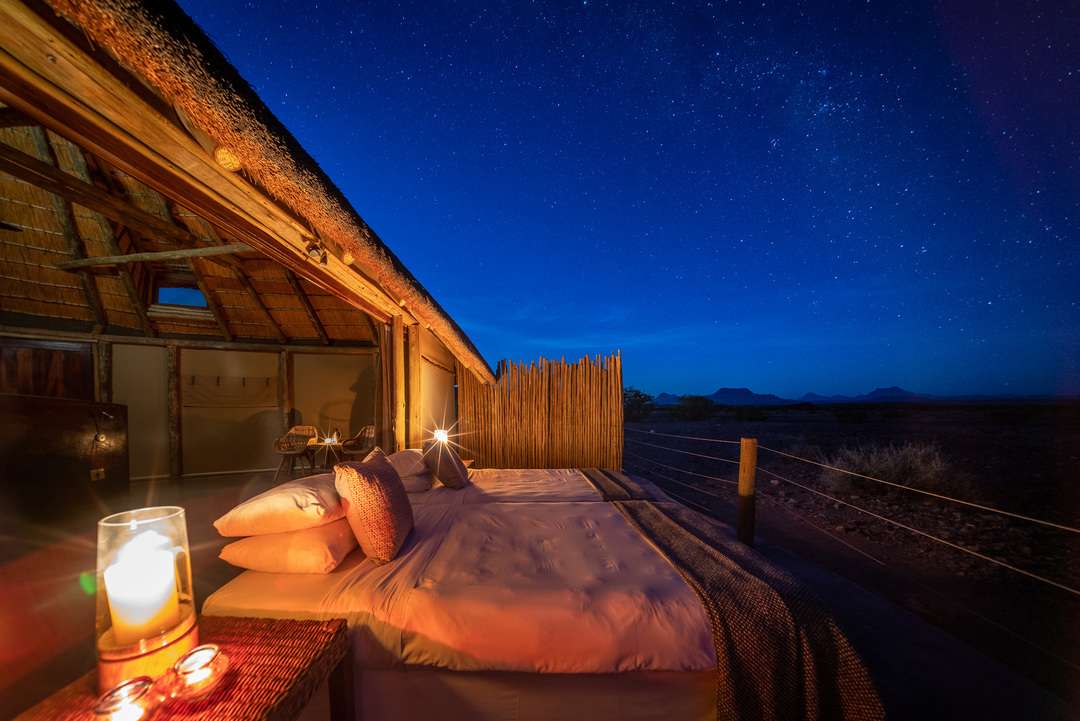 We have a mutually-beneficial partnership with the Marienfluss Conservancy, which is owned primarily by the Himba people, the benefits of which include lease fees, employment and skills transfer.
Discover more about Serra Cafema here.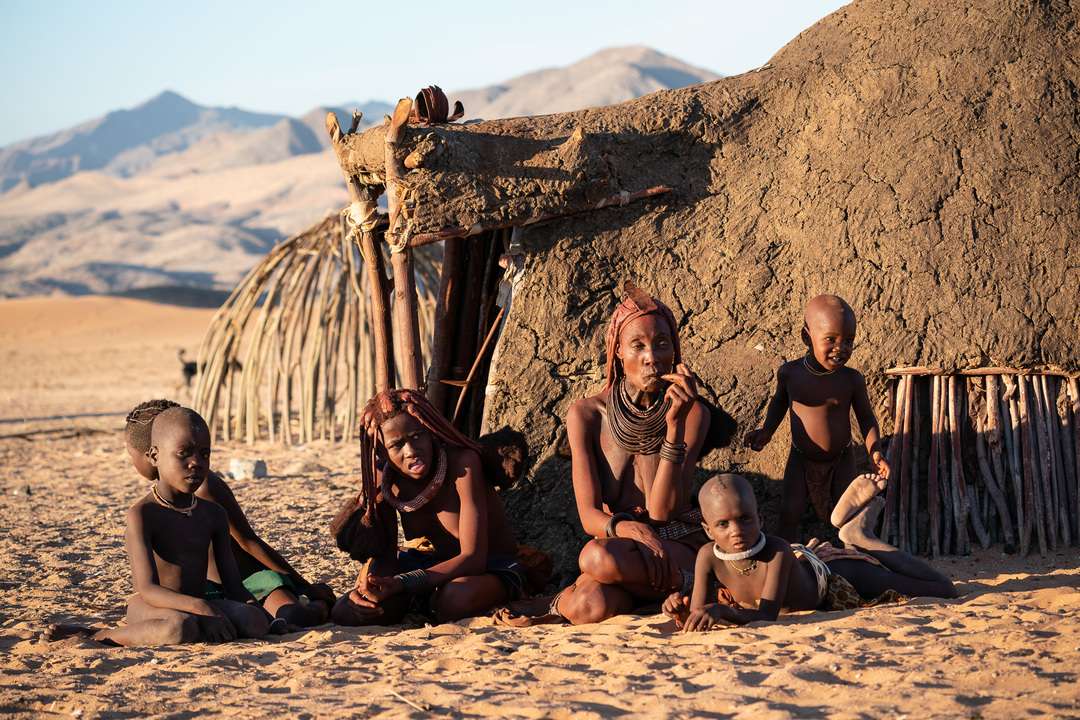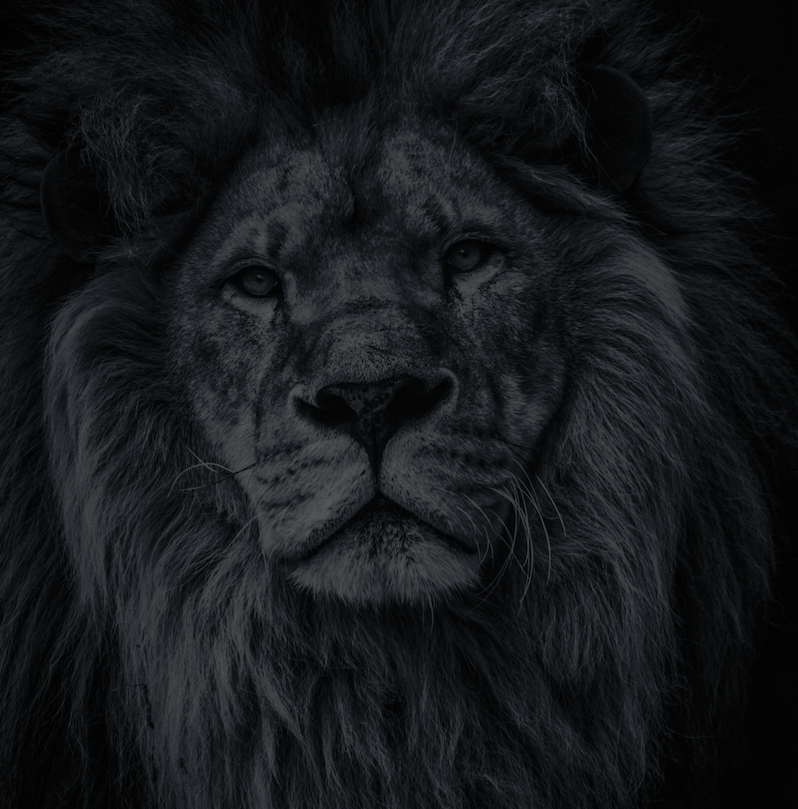 Let's plan your next journey
Ready?
When we say we're there every step of the way, we mean it, literally. From planning the perfect circuit, to private inter-camp transfers on Wilderness Air, and easing you through Customs. We're with you on the ground, at your side, 24-7, from start to finish. Ready to take the road less travelled? Contact our Travel Designers to plan an unforgettable journey.